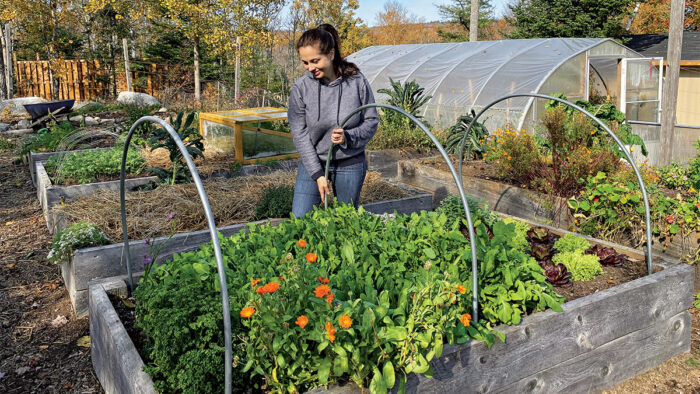 Whether you are trying to prevent rabbits from nibbling lettuce, protect newly transplanted tomatoes from frost, or shelter cool-season vegetables into late autumn or even winter, a mini hoop tunnel might be the solution for you. These pint-size polytunnels are perfect for small spaces, raised beds, and in-ground gardens. In my garden they are temporary structures, sometimes in place for a few weeks and other times for a few months.
The two main components of a mini hoop tunnel, the hoops and the cover, can be changed according to the season and the objective. The materials are inexpensive and easily sourced, and the tunnel is easy to put up without construction expertise or power tools. A tunnel can be shifted from bed to bed as needed, or it can be removed and stored between uses. I have been using mini hoop tunnels in my vegetable garden for almost two decades, and I consider them garden insurance, protecting my crops from hot and cold weather, hail, snow, frost, insects, and large pests.
Choose hoops based on strength and durability
Of the many types of hoops I've trialed over the years, the three that I've found to be most useful are 9-gauge wire, 1/2-inch PVC conduit, and 1/2-inch metal conduit. The type you choose to use depends on your goals. If you're looking for lightweight spring or autumn frost protection, or protection from summer pests like cabbage worms or flea beetles, 9-gauge wire hoops are fine. If you want to harvest into autumn and winter, and you live in a region where snow load needs to be considered, you'll want a hoop with more strength.
9-gauge wire. You can buy or make your own wire hoops. I make mine from 9-gauge wire, which I cut into 6- or 7-foot lengths, depending on the width of the bed. I use these to make low hoops, about 18 inches tall, for spring, summer, or early autumn covers.
| | |
| --- | --- |
| 9-gauge wire – Wire supports are lightweight, affordable, and quick to install. They work best for low-growing crops and lightweight covers. | 1/2-inch PVC conduit – Conduit supports are strong and durable whether made from metal or PVC. They can be used to cover taller crops and easily support covers of any weight; however, the PVC supports require reinforcement when used in snowy conditions. Photo: Carol Collins |
PVC conduit. My first mini hoop tunnels were made with 1/2-inch PVC conduit, and I'm still using those original pieces in my garden. They come in 10-foot lengths that are easily bent by hand to make durable hoops. For winter tunnels, I add a center support down the middle, as PVC can shift under heavy snow.
Metal conduit. Hoops made from metal conduit have been a game changer in my winter garden. I use a Low Tunnel Hoop Bender from Johnny's Selected Seeds. This tool bends the 10-foot lengths of 1/2-inch metal conduit into very strong hoops. These hoops stand up easily to winter snowstorms, but they can also be used in spring, summer, and autumn to hold a variety of covers.
How many hoops will you need? The answer depends on the size of the bed. Hoops should be spaced 3 to 4 feet apart. For a bed that is 4 feet by 8 feet, I would use three hoops; for one that is 4 feet by 10 feet, I would use four.
A range of cover materials adds versatility
Mini hoop tunnels can be made with a variety of covers, but which you choose will depend on the season of the year and the reason for building them.
Row cover. Protect your crops from frost, weather, insects, and other pests with specialized fabrics that come in several weights. In a home garden, a lightweight row cover is the most versatile; it allows the most light to pass through (about 85% to 90%) and offers several degrees of frost protection.
Insect barriers. These useful coverings prevent damage from pests such as flea beetles, cabbage worms, and squash bugs. Some are ultra-lightweight row covers, while others are mesh screening. Both allow about 90% of light to pass through to the crops.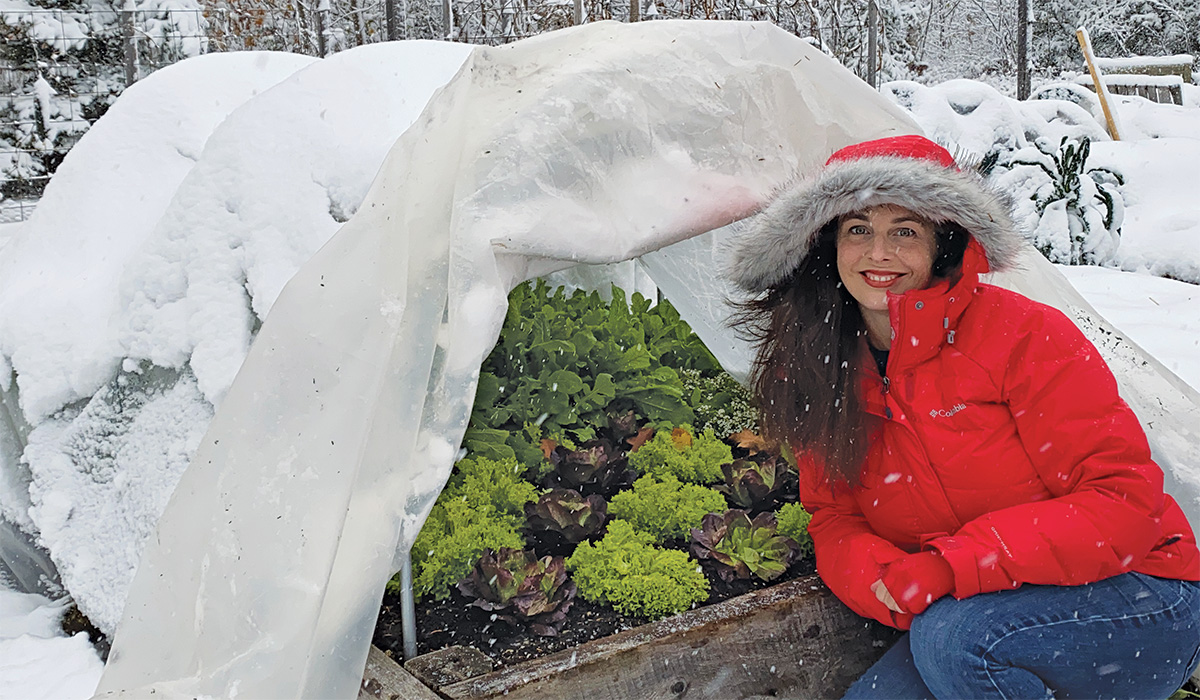 Polyethylene sheeting. Called "poly" for short, this material is sold at garden centers, hardware stores, and online companies. Some gardeners use drop cloth or construction plastic, but those are very lightweight, not UV treated, and typically last only a few months. Because I try to limit my plastic use, I want durable, long-lasting materials, and so I use 6-mil greenhouse poly on my mini hoop tunnels. It is UV treated and generally lasts four to six years. Poly sheeting is perfect for spring, autumn, or winter use and allows around 90% light transmission.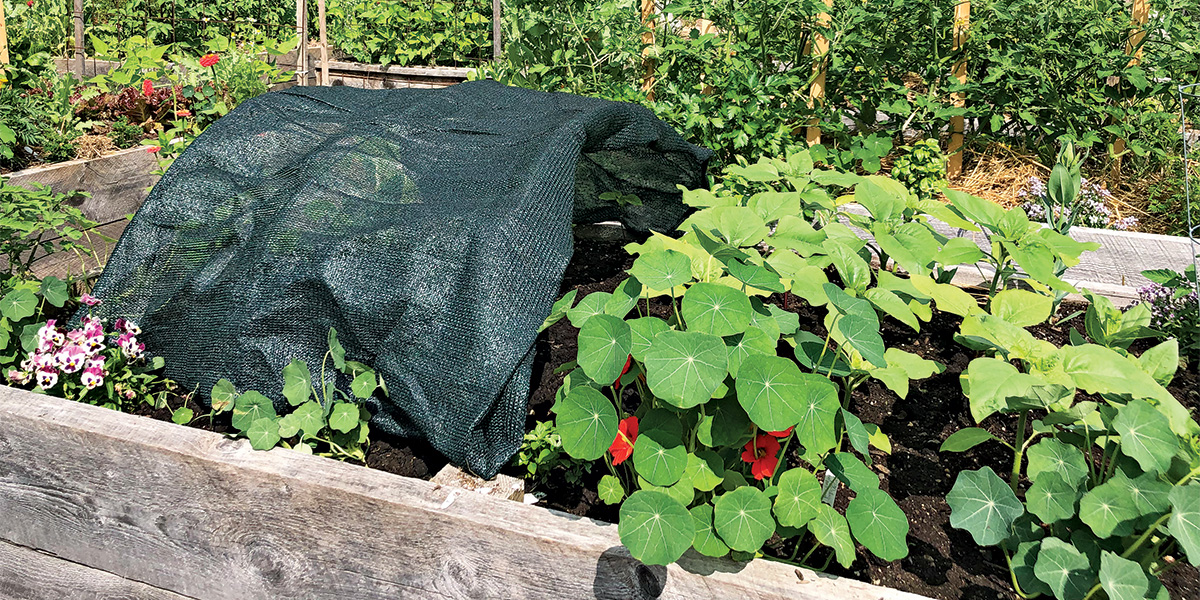 Shade cloth. This woven material is one of the most undervalued covers in a home garden. As the summers get hotter, I find myself relying on it to establish successive crops and late-season vegetables. Shade cloth is woven into different densities that block a percentage of sunlight. I use 30% to 40% shade cloth, which blocks 30% to 40% of the light. It is great for establishing crops in the summer by providing shade from the hot sun, helping the soil retain moisture, and reducing the ambient temperature beneath the cover.
Hoop tunnel planting chart
Because different varieties have different days to maturity, be sure to check seed packets for specific planting information. For fall and winter harvesting, certain varieties such as 'Marathon' broccoli or 'Winter Density' lettuce offer extra cold-hardiness. Click on the image to view chart as a PDF.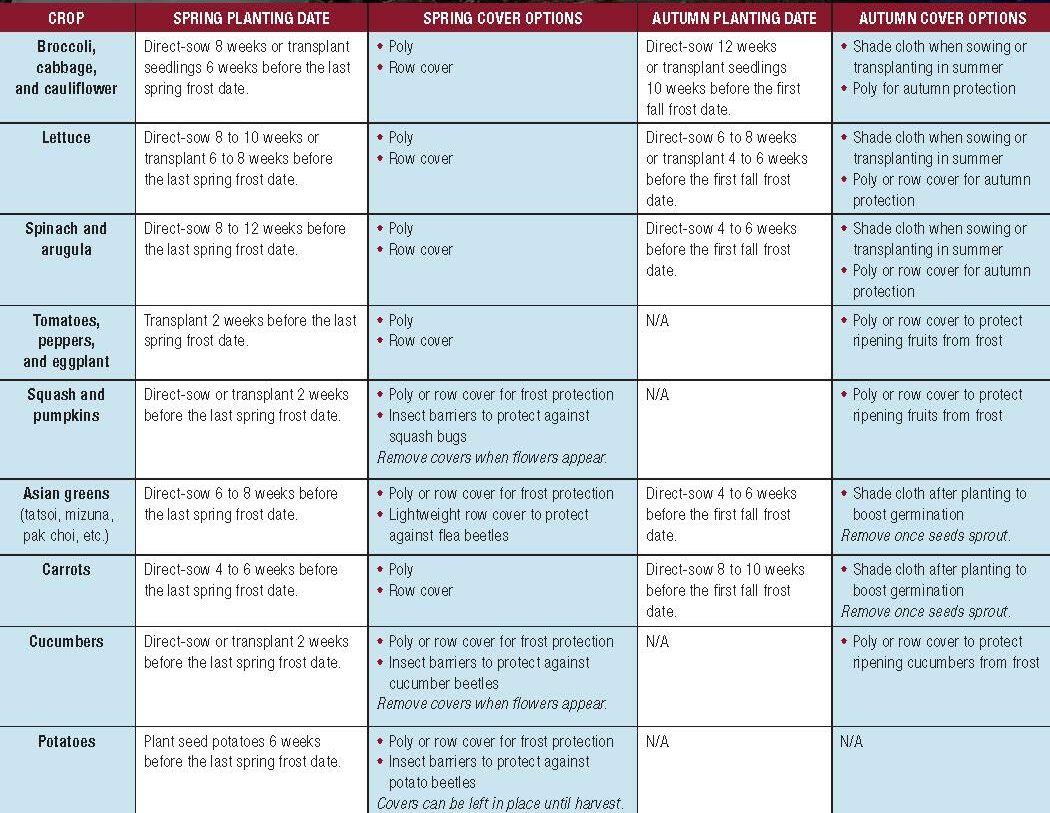 ---
Niki Jabbour, the award-winning author of Growing Under Cover and The Year-Round Vegetable Gardener, lives and gardens in Halifax, Nova Scotia.
Photos, except where noted: Niki Jabbour