Design
Create Easy and Amazing Terrariums
With these designs you don't need to limit yourself to a single plant enclosed in a foggy vessel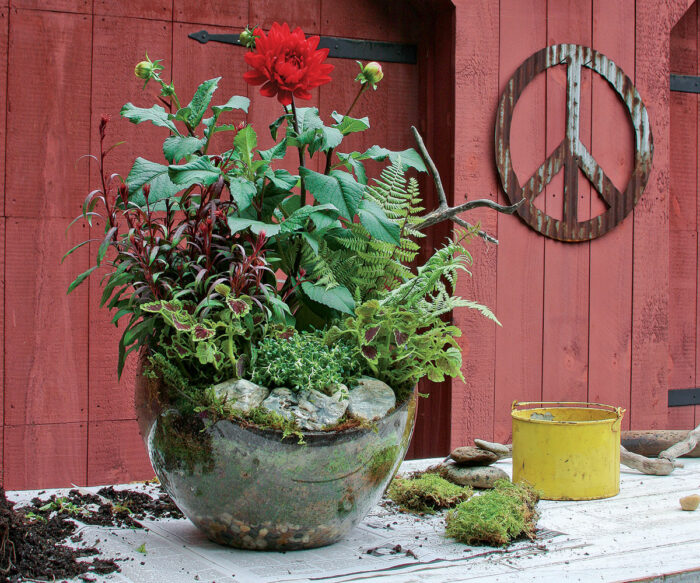 A well-designed terrarium can transform an indoor space. It becomes an instant focal point that invites us to draw close, examine small details, and enjoy the artistry of nature.
Early terrariums were built in closed containers. They showcased rare plant specimens, protecting them from Victorian England's chilly, polluted air. But today's designs need not be stuffy echoes of a bygone era.
For a chic, contemporary look, try grouping gorgeous plants in an open glass container. Imagine the possibilities: tall, dramatic plants bursting above the rim; flowers or fronds spilling out the front; or an orchid's arching stem rising within a slender cylinder. Almost any vase, jar, bowl, or basin could be called into service to hold an enchanting indoor display. Open-topped terrariums are simple to assemble.
My designs start with a base layer of stone and moss. Plants are tucked in next, with at least one show-stopper and companions that complement it and provide contrast. I add a mix of soil and horticultural charcoal to cradle the plants' roots, then top it with a layer of mixed mosses. Natural treasures or found objects add a playful finishing touch.
Maintenance is also straightforward. Compared to a closed container, which needs precise watering and ventilation to keep humidity levels balanced, an open terrarium is quite forgiving. Your plants will likely require only about one shot glass of water per week, with a bit of misting to keep mosses lush. Take care to avoid overwatering as standing water invites decay.
To keep the design fresh throughout the year, swap in new plants that are inspired by the changing seasons. Knowing that a combination will spend only a few months in its glass home, you can experiment with some unexpected plant choices, displaying them when they look their absolute best. The plants you retire can be recycled into new containers, moved to the garden, or given away. Switching out your plants is almost as easy as arranging cut flowers, and the designs you create can be displayed in much the same way. Serving as a centerpiece, enhancing an entryway, or beautifying a bedside table, a terrarium can be moved or changed whenever you want, providing seasonally inspired garden glamour to your home all year long.
Modern or vintage, open or closed, the vessel is as much a part of the design as the plants it contains. Prowl antique shops, flea markets, and home stores to build your collection, remembering that highly transparent containers will showcase your designs best. When you catch yourself coveting your neighbor's glass candy jar, you'll know that you're hooked.
Winter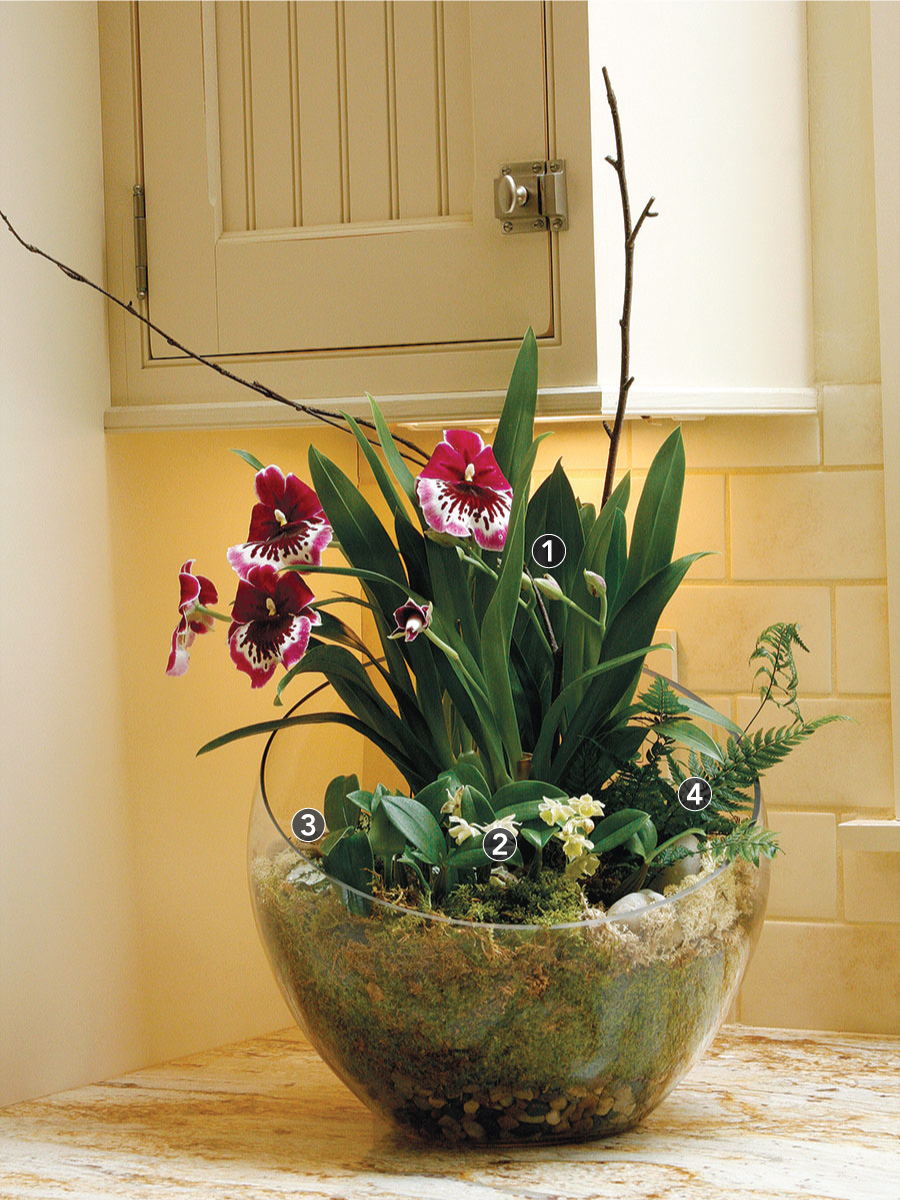 With both bright and mellow orchid colors and an airy fern, this simple textural terrarium is a welcome change from the bleak landscape outside.
Pansy orchid (Miltoniopsis cv., USDA Hardiness Zones 12–13)
'Microchip' dendrobium (Dendrobium 'Microchip', Zones 12–13)
'Wit' polka-dot plant (Hypoestes phyllostachya 'Wit', Zones 10–11)
Tassel fern (Polystichum polyblepharum, Zones 6–8)
Spring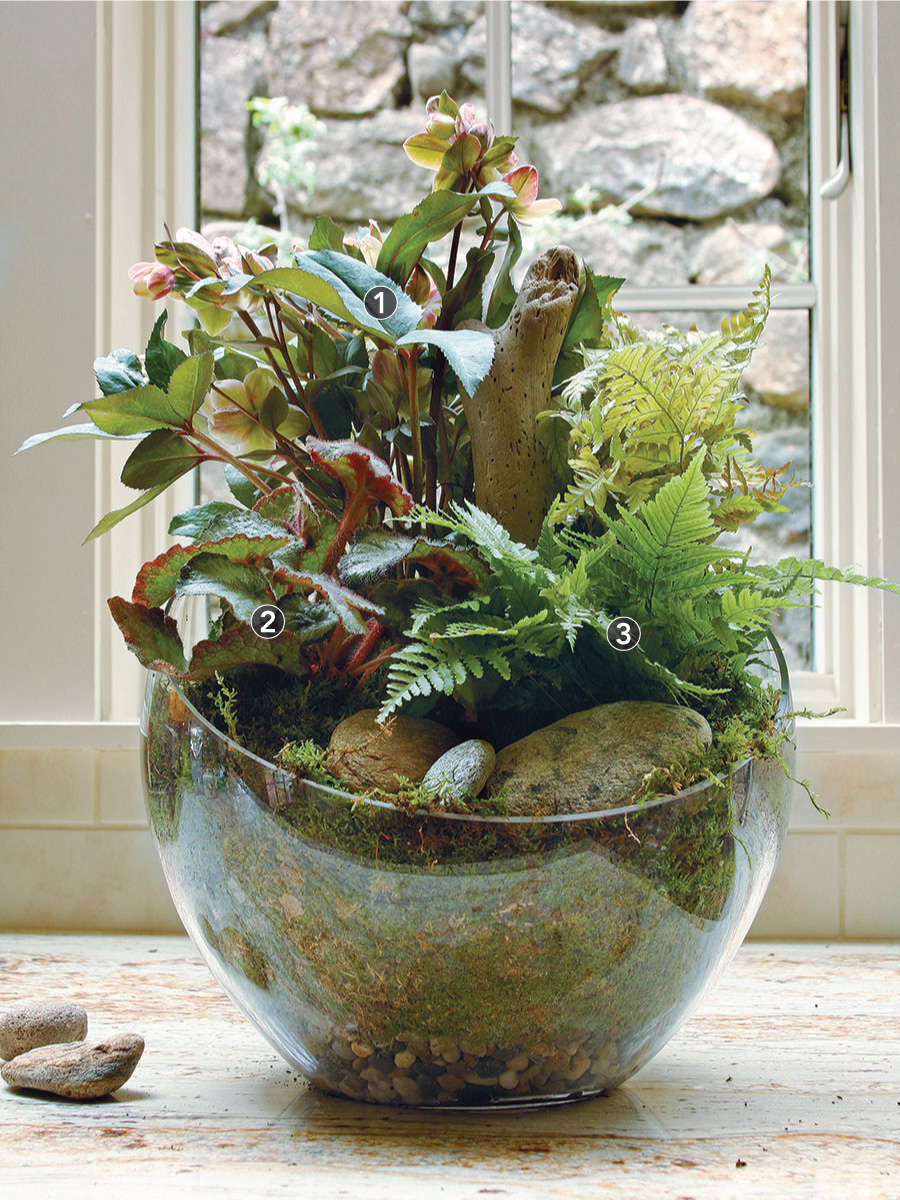 A shy hellebore takes center stage in this sweet spring combination. The rex begonia echoes the soft pink of the hellebore; the begonia's fuzzy leaves and the fern's finely cut fronds add tantalizing texture.
Gold Collection® Pink Frost hellebore (Helleborus 'HGC Pink Frost', Zones 5–9)
Rex begonia (Begonia cv., Zones 12–13)
Autumn fern (Dryopteris erythrosora, Zones 5–9)
Summer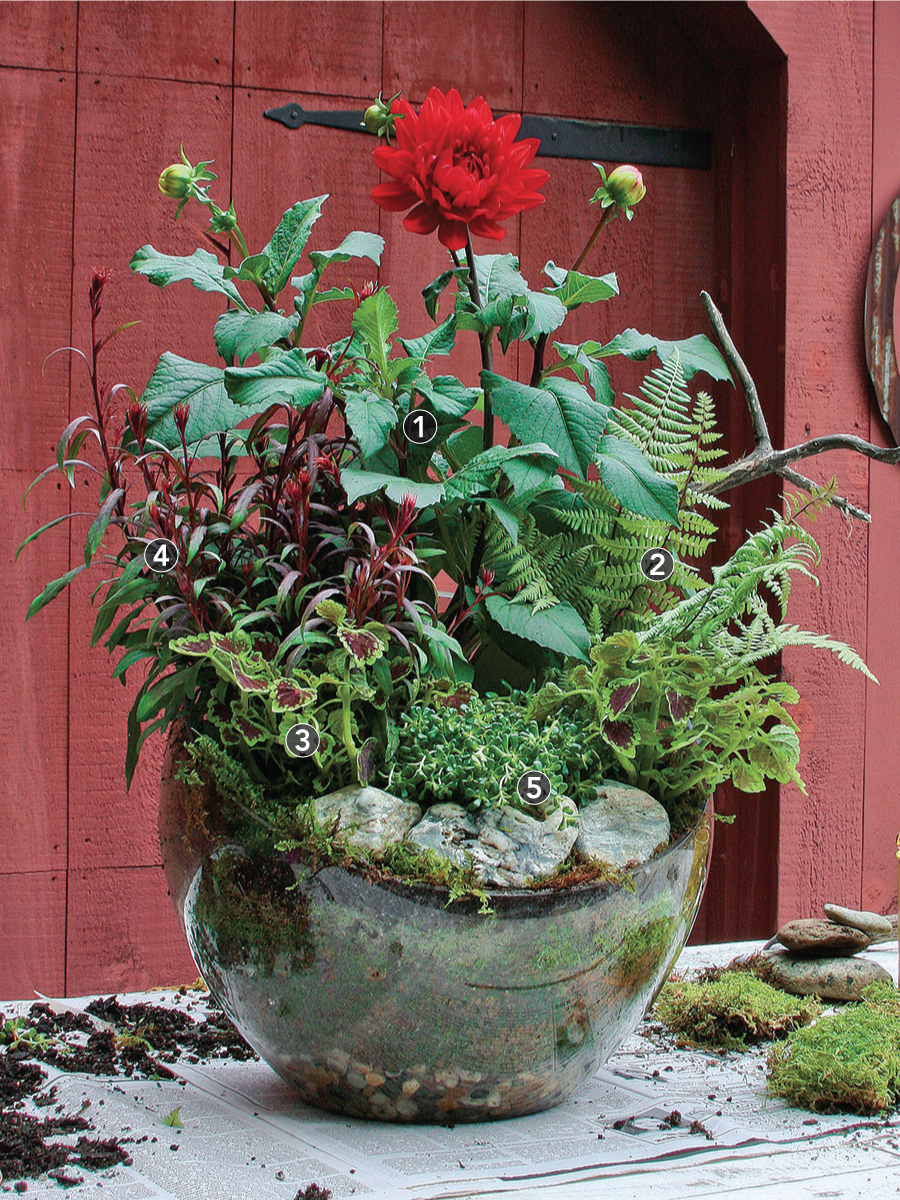 A sizzling red dahlia is tempered by the deeper scarlets of the coleus and windflower. Lush greens and a silver fern provide cooling contrast.
'Garden Wonder' dahlia (Dahlia 'Garden Wonder', Zones 9–11)
Lady fern (Athryrium filix-femina, Zones 4–9)
'Wedding Trails' coleus (Solenostemon scutellariodes 'Wedding Trails', Zones 12–13)
Karalee® Petit Pink windflower (Gaura lindheimeri 'Star Pink', Zones 6–9)
Sedum (Sedum cv., Zones 3–11)
Fall
An ornamental, edible pepper adds spice to this harvest-season arrangement. The heather and heuchera pick up on the pepper's purple tones, while a variegated sweet flag contributes a golden note.
---
Anatomy of a terrarium
Even with an open top, a terrarium isn't just a plant in a glass pot. Here's what it's made of:
1. Stone foundation. Use stones of different colors, sizes, and textures for a decorative base layer. You never want standing water at the bottom of your container, so keep an eye on the stone layer to make sure that you're not overwatering.
2. Bed of moss. A layer of sphagnum moss is an attractive way to absorb excess moisture and keep soil from sifting down into the stones.
3. Special soil mix. Use equal parts light, organic potting soil and horticultural charcoal. This will help keep your container healthy and sweet smelling. Horticultural charcoal is sold in garden-supply stores, but in a pinch, aquarium-filter charcoal will work just fine.
4. The main attraction. Positioning a large focal-point plant toward the back or off to one side establishes its prominence. Companion plants should complement your "thriller" in size, color, and texture.
5. Moss mulch. Dress up exposed soil with a layer of mixed mosses.
6. Found objects. For a finishing touch, add small natural treasures, such as fallen branches, driftwood, acorns, birch-bark curls, or river rocks.
Click here to see this terrarium being built in a time-lapse video.
---
Kimberly Charles is the owner of and designer at Cider Mill Designs in Newtown, Connecticut.
View Comments