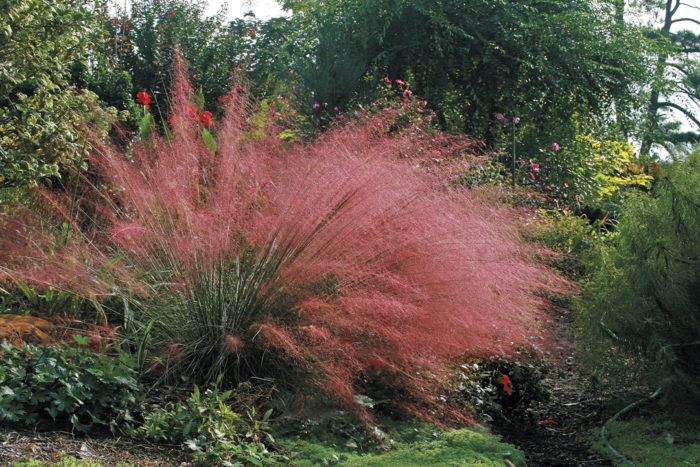 When you think of focal points, does your panic button go off as if you're back in school, you just got called on, but you don't have the answer? It sounds like a simple concept, but what, exactly, is a focal point? How do you create one, and more important, why do you need one? A focal point is your best friend in the landscape. It is a plant, container, or object that gives you an attractive visual entry point into the garden. It tells you where to look initially and then smoothly directs you to the surrounding garden. You can have one focal point or several strategically placed throughout your garden to help direct the line of sight. Focal points can also be used to hide or distract viewers from items you don't want them to notice (such as utility boxes). The scenes in this gallery depict just a few of the many ways you can create and use focal points, but they all fulfill two important duties: to grab attention and to create order
If you look at a border and feel as if something is missing, ask yourself, "Do I need a focal point?"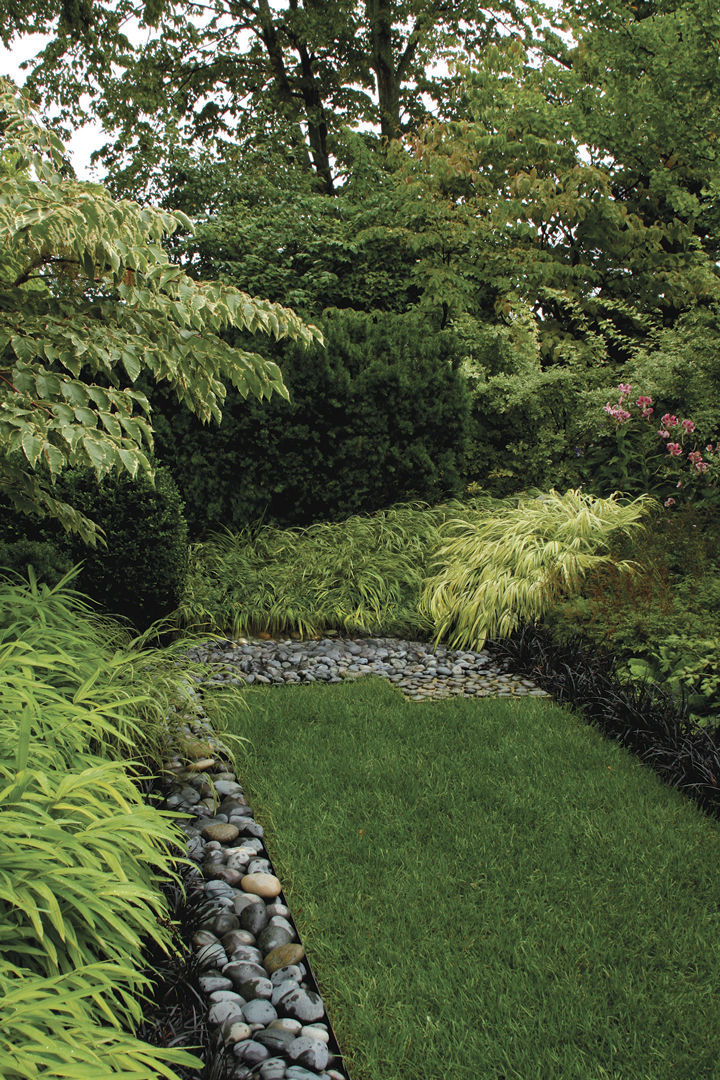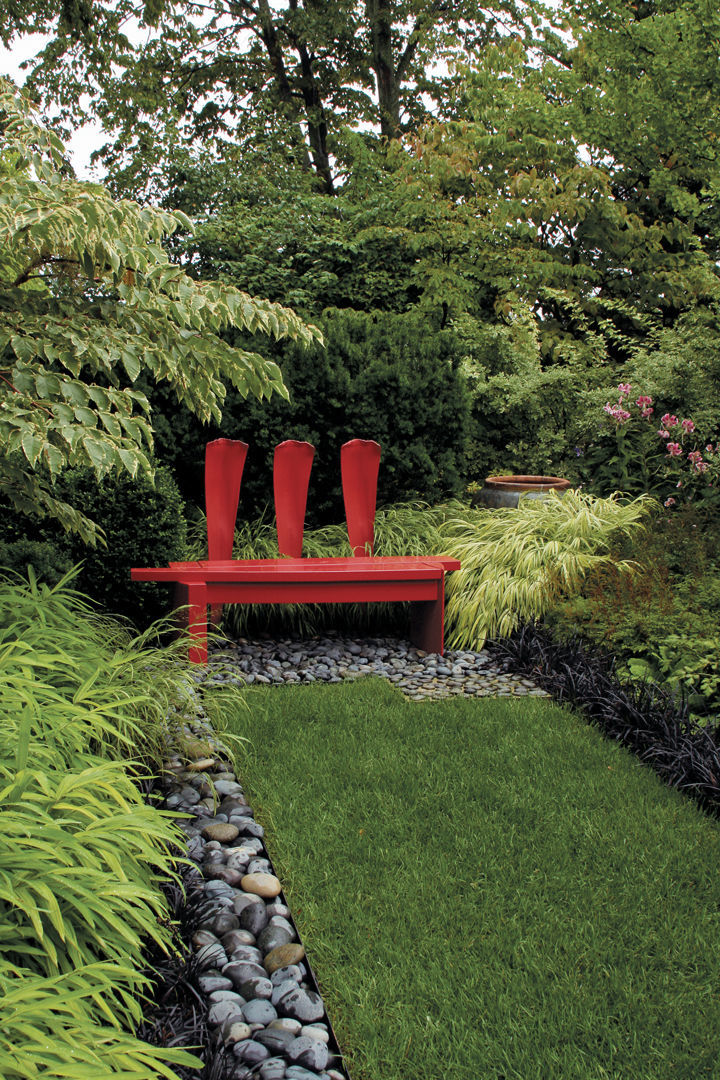 Three things a good focal point can do
It shows you where to look first. This bright red bench grabs attention and orients the viewer within the garden.
It intensifies the surroundings. The bench's warm color amplifies the gray tones of the stones and the yellow tones of the grasses.
It provides inspiration. Once you have attracted attention, you can play off the focal point to enhance the rest of your design (including the seated view from the bench).
Why settle for a boring lawn?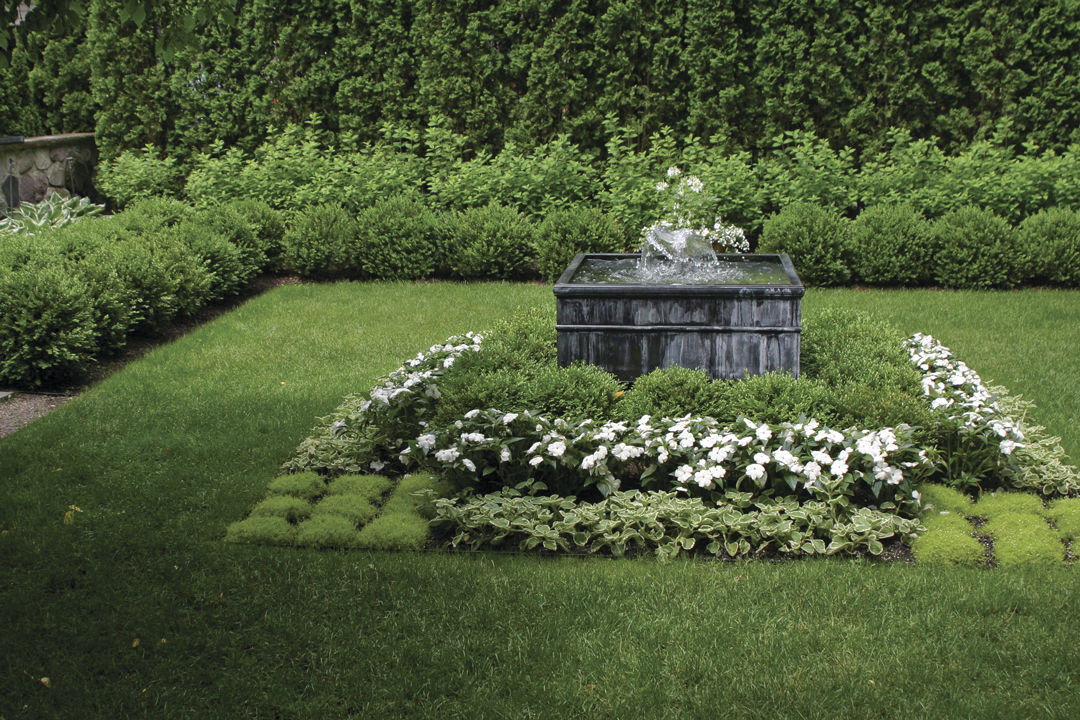 Focal points aren't just for big, fussy gardens. A patch of green is the perfect place for a simple yet attractive focal point. Left alone, this lawn and shrub border would be boring. A large steel fountain (from Detroit Garden Works; www.detroitgardenworks.com), however, breaks up the space and brings all eyes to the center. The surrounding plants add a touch of brightness without a ton of maintenance and also draw attention to the surrounding landscape, keeping the space feeling open.
A little height can make all the difference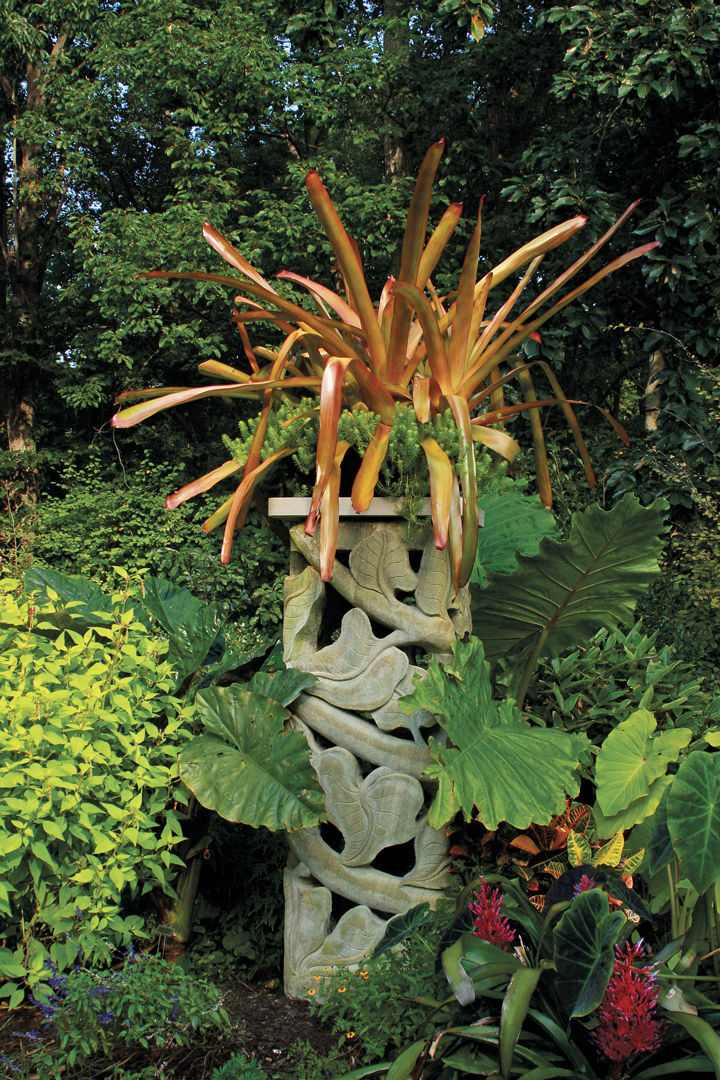 A focal point doesn't have to be large to grab attention; it just needs to be in the right spot. When you raise it up high, it's hard to ignore. This simple combo—an 'Angelina' sedum (Sedum rupestre 'Angelina', USDA Hardiness Zones 6–9) and a bromeliad (Aechmea blanchetiana, Zones 10–11)—wouldn't have the same impact down among the rest of the border plants, but it easily commands attention atop a decorative pillar. The bromeliad's leaves shoot out like lava, leading the viewer's eye toward the brightly colored plants below. The pale tones of the pillar keep it from diverting too much attention from the surroundings.
Sleek and simple can be bold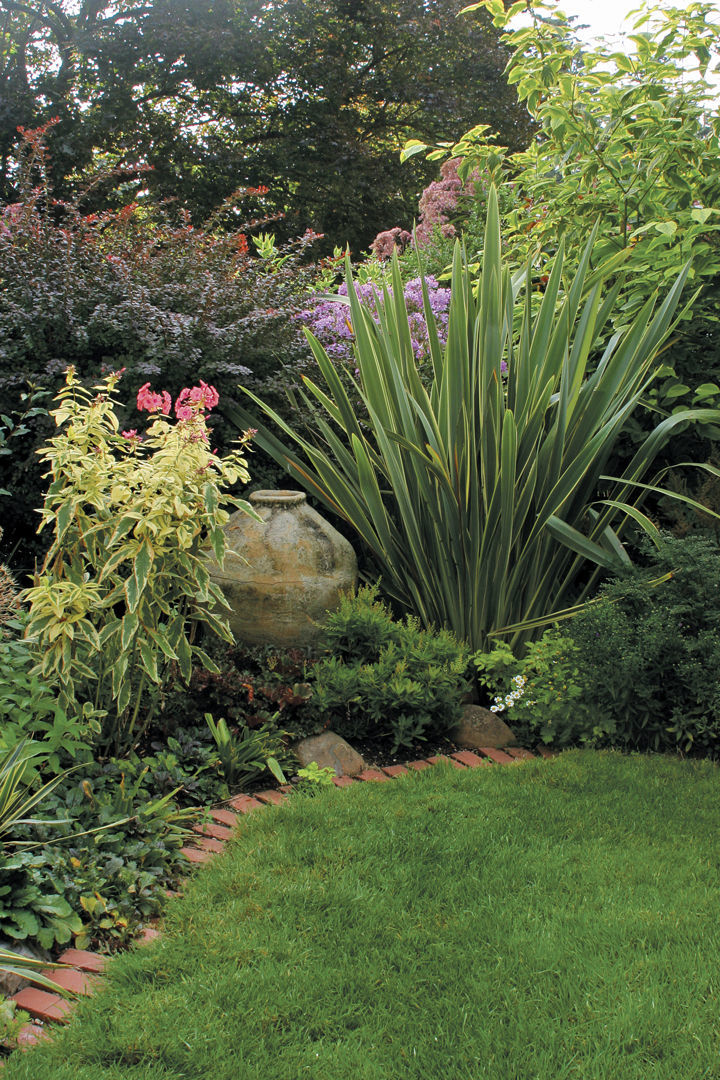 Sometimes sleek and simple is the boldest statement you can make. Size and form make this simple variegated New Zealand flax (Phormium 'Radiance', Zones 8–11) the standout in this scene. The tall, smooth, upright spikes are the perfect contrast to play up the effect of the surrounding colorful and curvy plants.
Accessorize your space
Umbrellas aren't just for keeping the rain off your shoulders. This brick-colored umbrella draws attention to itself while emphasizing the warm yellow tones of the nearby blooms, which might otherwise be lost among the greenery. The umbrella is also practical, providing the plants below with some partial shade from the sun.
Color puts the spotlight on your garden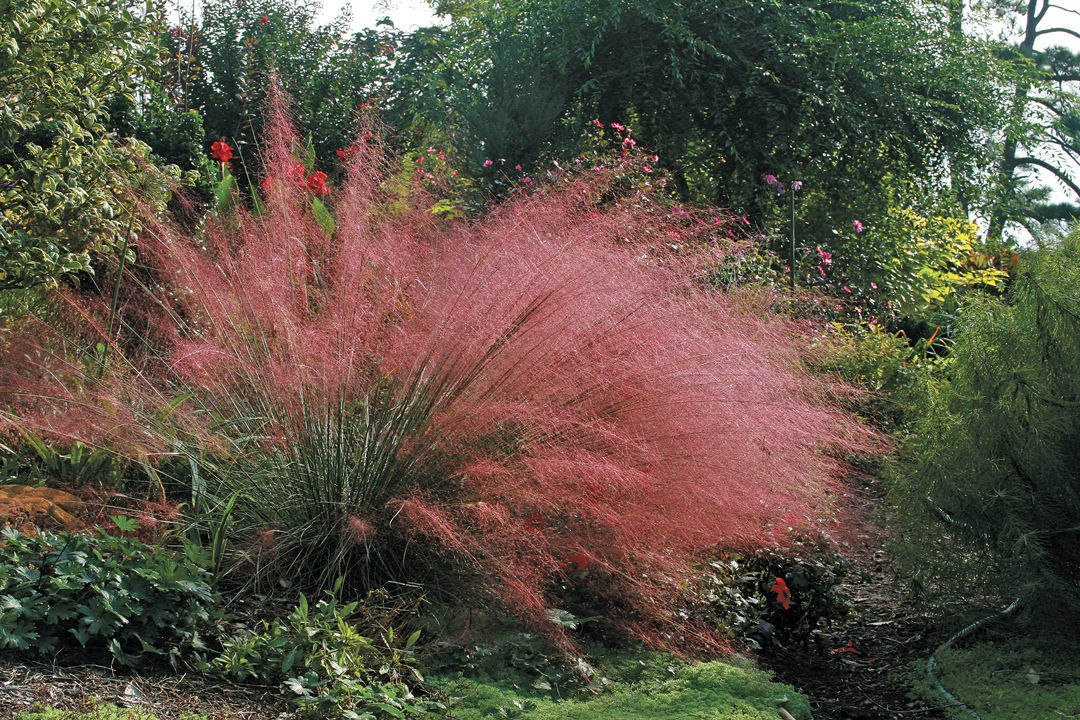 In a neat and tidy garden family, a little colorful and crazy plant life gets noticed. This pink muhly grass (Muhlenbergia capillaris, Zones 7–10) sets the color theme for the surrounding plants. Though the grass is big and dramatic on its own, the repetition of similar hues in the surrounding garden enhances the overall effect and draws attention to this corner of the garden.