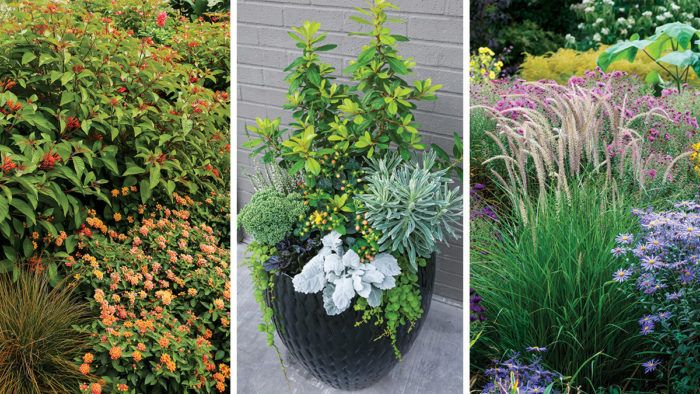 Late summer can be one of the trickiest times to garden. Often our plants aren't looking their best, due to prolonged heat and humidity. August brings drought stress, fungal diseases, and an overall sense that the best—when it comes to the garden—is behind us. But that doesn't have to be the case. Many annuals, tropicals, and even some perennials save their best show for late summer and early fall. These plants, when sited correctly, can be the answer to having a landscape that transitions beautifully from one season to the next.
The following collection is meant to offer inspiration for the weary, overheated gardener. Many of these summer-to-fall transitional plants may still be available at local nurseries and garden centers for planting now. (Just be sure you're a good waterer.) Or if the thought of any large-scale digging makes you sweat uncontrollably, we've provided an excellent article on creating gorgeous early fall container gardens. If this even seems like too much for the current steamy conditions, let these design tips and planting plans serve as inspiration for when the temperatures do finally cool, or even when it comes to planning for next year.
The editors here at Fine Gardening don't generally do a lot of planting after June. However, most of us can't resist adding a few fantastic fall perennials to freshen up our beds and borders. Ornamental grasses, in particular, are on everyone's shopping list this August. Lucky for us, author Brent Horvath wrote an article on his favorite flowering grasses that he describes as "ones that you won't be the least bit tempted to cut back in fall because you'll want to keep the show going for as long as possible."
So grab a cool glass of lemonade, check out the articles from this collection, get inspired to reenter the garden, and rest assured that cooler days are coming.
---