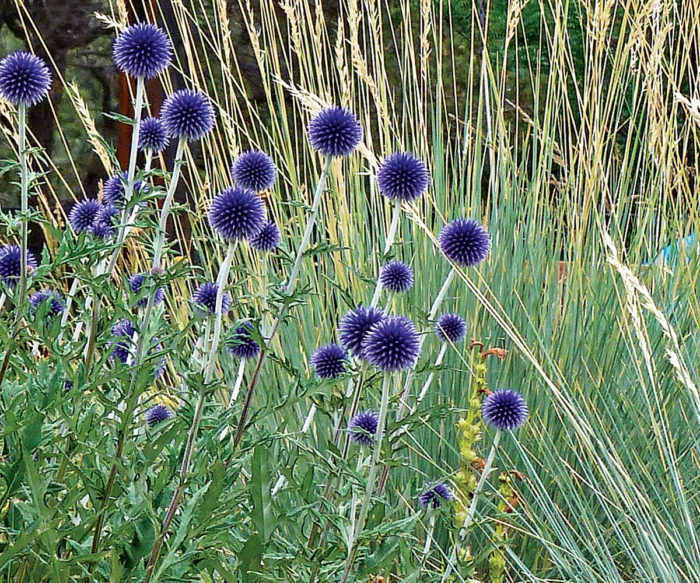 ---
1. 

Licorice Mint Hyssop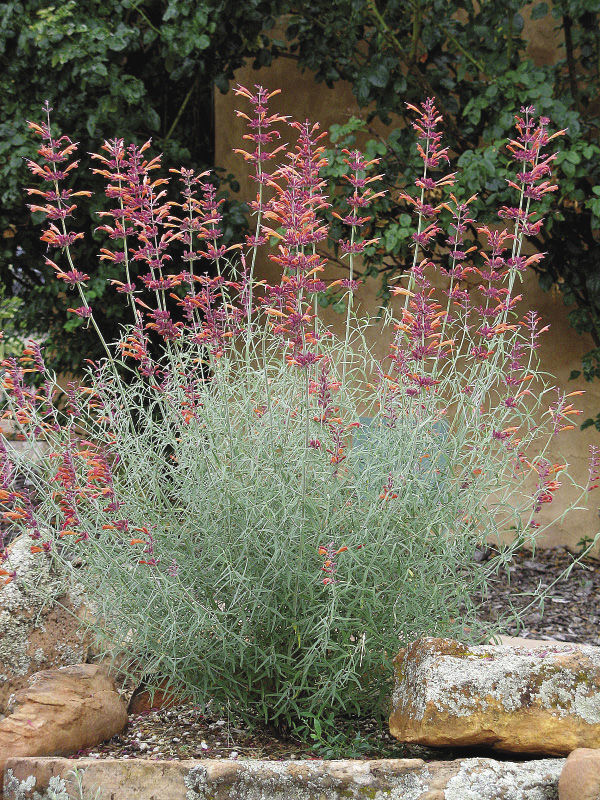 Name:
Agastache rupestris
USDA Hardiness Zones: 5 to 9
Size: 28 to 36 inches tall and 18 inches wide
Conditions: Full sun to partial shade; well-drained soil
This long-flowering native of the mountains of western New Mexico and south-central Arizona is a garden superstar. The first flowers appear in mid- to late summer, covering the plant with smoky orange, tubular flowers held by lavender-pink calyxes. The stunning, gray-green threadleaf foliage is intensely aromatic, releasing the scent of minty licorice when brushed. The nectar-rich flowers, equally aromatic, are "home cooking" to migrating hummingbirds, but browsing deer and rabbits leave them uneaten. Licorice mint hyssop doesn't require much moisture and grows well in mid- to high elevations.
2. 

'Furman's Red' Texas Bush Sage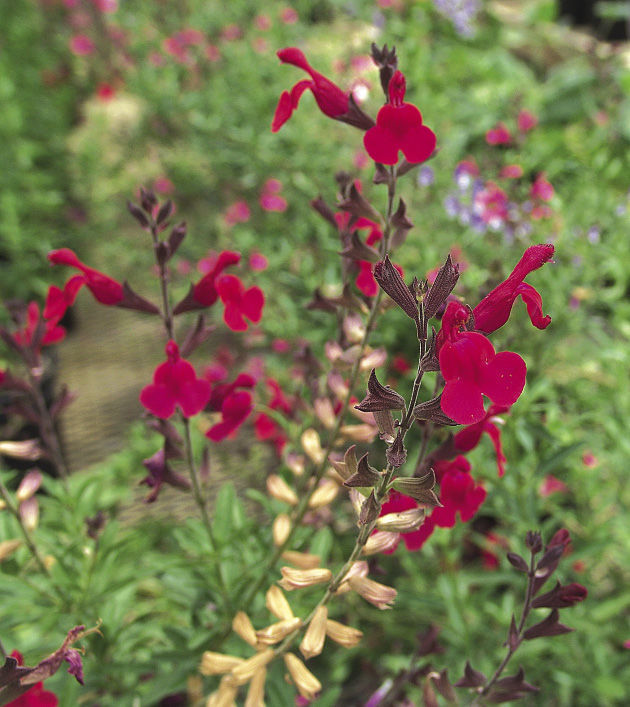 Name:

Salvia greggii 'Furman's Red'

Zones: 5 to 9

Size: 18 to 24 inches tall and wide

Conditions: Full sun to partial shade; well-drained soil

This selection of native Texas bush sage has a long season of bloom, with flowers covering the plant in late spring and again in early fall. 'Furman's Red' has bright, true-red flowers on short spikes over bright green, aromatic foliage. The plant is a small, stocky shrublet that is long lived and blooms on new growth. To encourage more flowers, prune it back to half its height when the leaves begin to push from the woody stems in early to midspring. Deadhead after the spring flush of flowers to encourage fall reblooming.'Furman's Red' has low water needs and grows well in all elevations. Hummingbirds and bees love its flowers, but rabbits and deer do not.
3. 

'Millenium' Ornamental Onion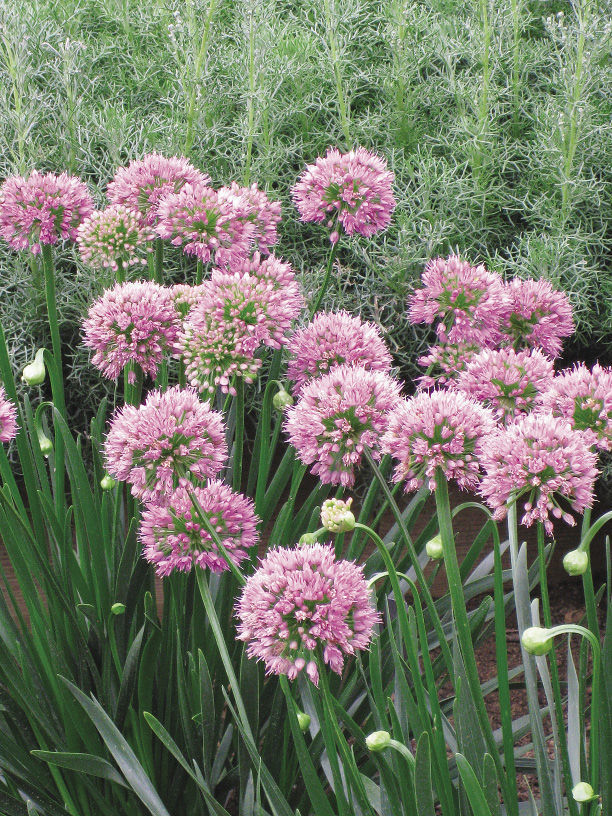 Name:

Allium 'Millenium'

Zones: 5 to 9

Size: 15 inches tall and 18 to 22 inches wide

Conditions: Full sun; moist to well-drained soils

"Fantastic" best describes this hybrid ornamental onion. In midsummer, the plant covers itself with tons of bright pink, ball-shaped flowers that are 2 inches in diameter and attract butterflies and bees from far and wide. Out of bloom, this vigorous cultivar forms dense clumps of glossy, bright green, grassy foliage that remains untouched by feeding deer and rabbits. Leave the old flowers standing until the following spring to provide fall and winter contrast to the seed heads of ornamental grasses. This ornamental onion is essentially sterile because it doesn't seed around like some common spring-blooming species. It's suitable for growing in mid- and high elevations and will tolerate clay soils.
4.

'Blue Glow' Globe Thistle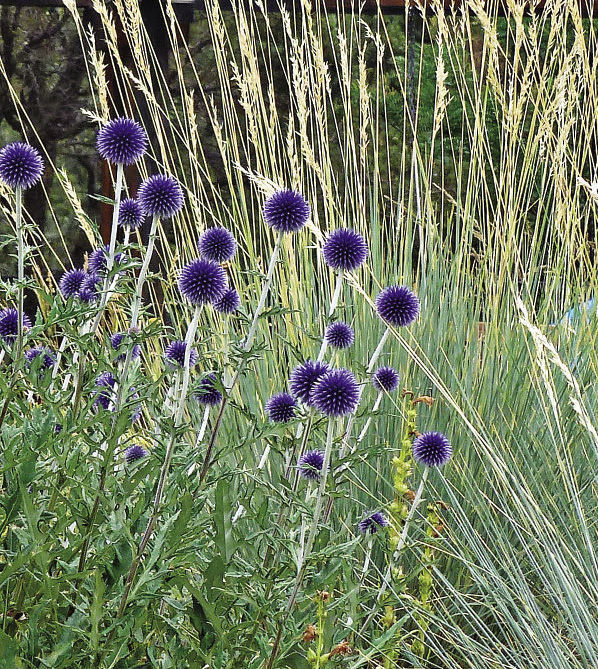 Name:

Echinops bannaticus 'Blue Glow'

Zones: 4 to 9

Size: 36 inches tall and 18 inches wide

Conditions: Full sun to partial shade; moist to well-drained soils

The metallic sheen of the 'Blue Glow' flowers make this plant a midsummer delight and provide a striking contrast when planted behind early blooming ornamental grasses. The blue-green, thistle-like foliage is very resistant to deer and rabbits. The flowers are excellent for dried arrangements but also hold on the plant through winter. The plant has low water needs, tolerates clay soils, and is suitable for all elevations.
---
David Salman is the founder of High Country Gardens in Santa Fe, New Mexico.