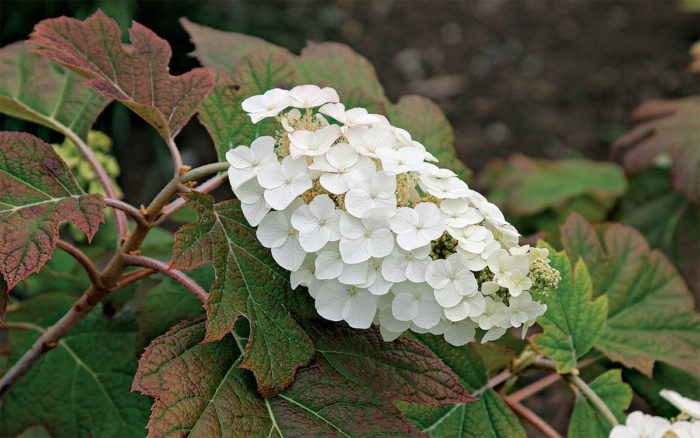 ---
1.
Chardonnay Pearls® Slender Deutzia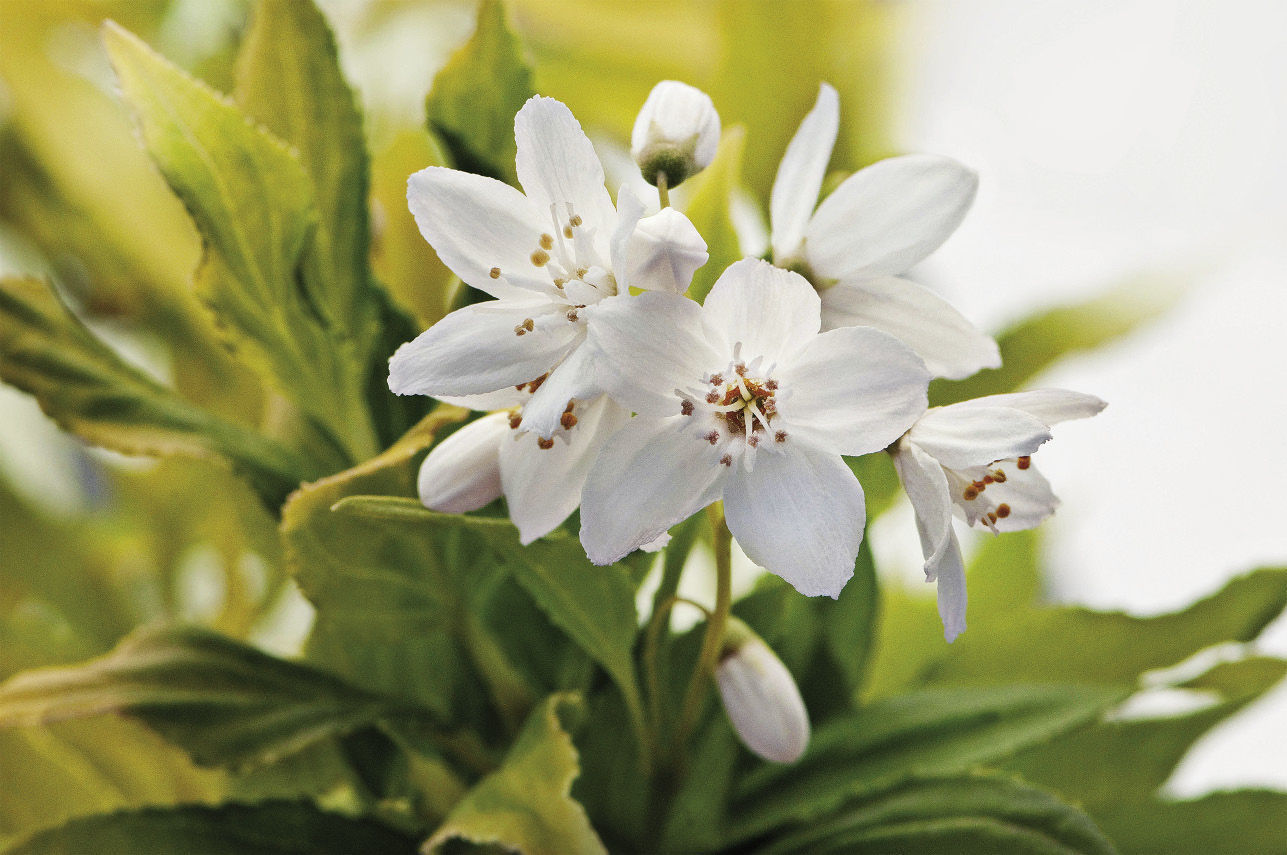 Name:
Deutzia gracilis
'Duncan'
USDA Hardiness Zones: 5 to 8
Size: 2 to 3 feet tall and wide
Conditions: Full sun to partial shade; well-drained soil
Deutzia has become one of my favorite underutilized, small spring-flowering shrubs, and the cultivar Chardonnay Pearls® is even more impressive because of its striking lemon-lime foliage. Delicate little white flowers cover the branches of this compact variety. It works well in a mixed border for contrasting form or color, for foundation plantings, or as a replacement for that leggy, struggling spirea (Spiraea spp. and cvs., Zones 4–9).
2.

Snow Hill Wood Sage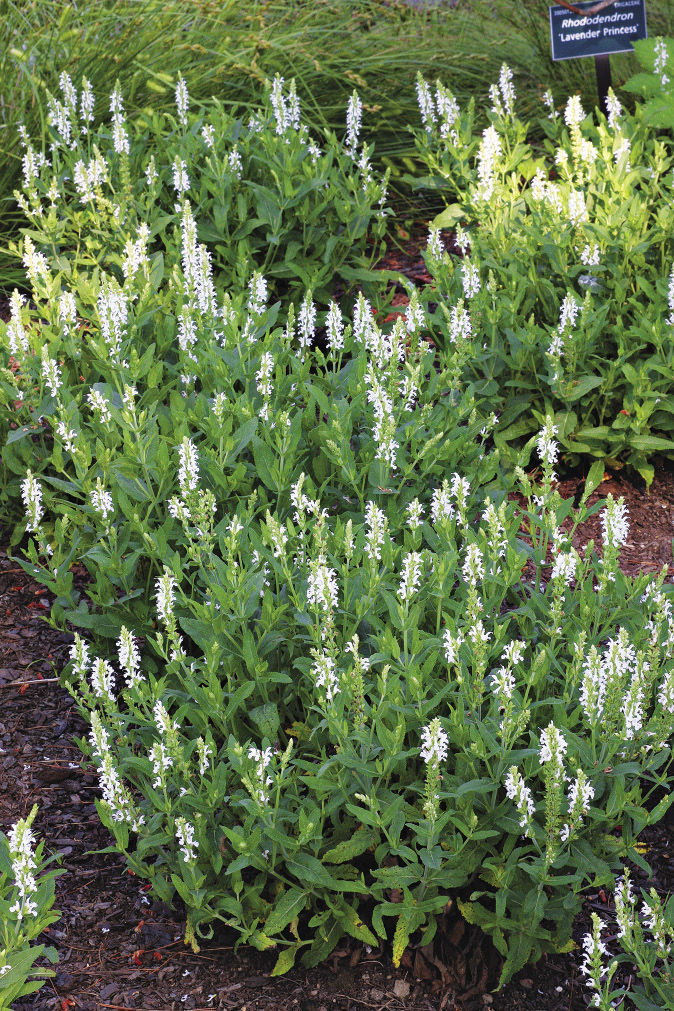 Name:
Salvia
×
sylvestris
'Schneehügel'
Zones: 4 to 8
Size: 18 to 24 inches tall and 12 to 18 inches wide
Conditions: Full sun; well-drained soil
This hybrid sage is an excellent performer in gravelly, sandy soil at Wellfield Botanic Gardens. Though it prefers moist, well-drained soils, it will tolerate drier conditions, too. Snow Hill sends up spikes of pure white flowers in midspring, making an interesting contrasting form to other, more rounded plantings. Wood sage tends to flop under the weight of expiring flower spikes, sending up new basal growth through the taller flowering stems, so it's a good idea to cut this plant back to new basal growth for sporadic extended blooming.
3.

'Norah Leigh' Garden Phlox
Name:
Phlox paniculata
'Norah Leigh'
Zones: 4 to 8
Size: 2 feet tall and 2 to 4 feet wide
Conditions: Full sun; moist, well-drained soil
'Norah Leigh' is a "two-for-the-price-of-one" perennial that provides wonderfully variegated leaves and showy, light pink flowers in late summer and early fall. The many colors in this one cultivar allows it to combine well with a variety of other plants. Cut it back by half in late spring or when the plants are 12 to 18 inches tall to create shorter plants with delayed flowering.
4.
Snow Queen™ Oakleaf Hydrangea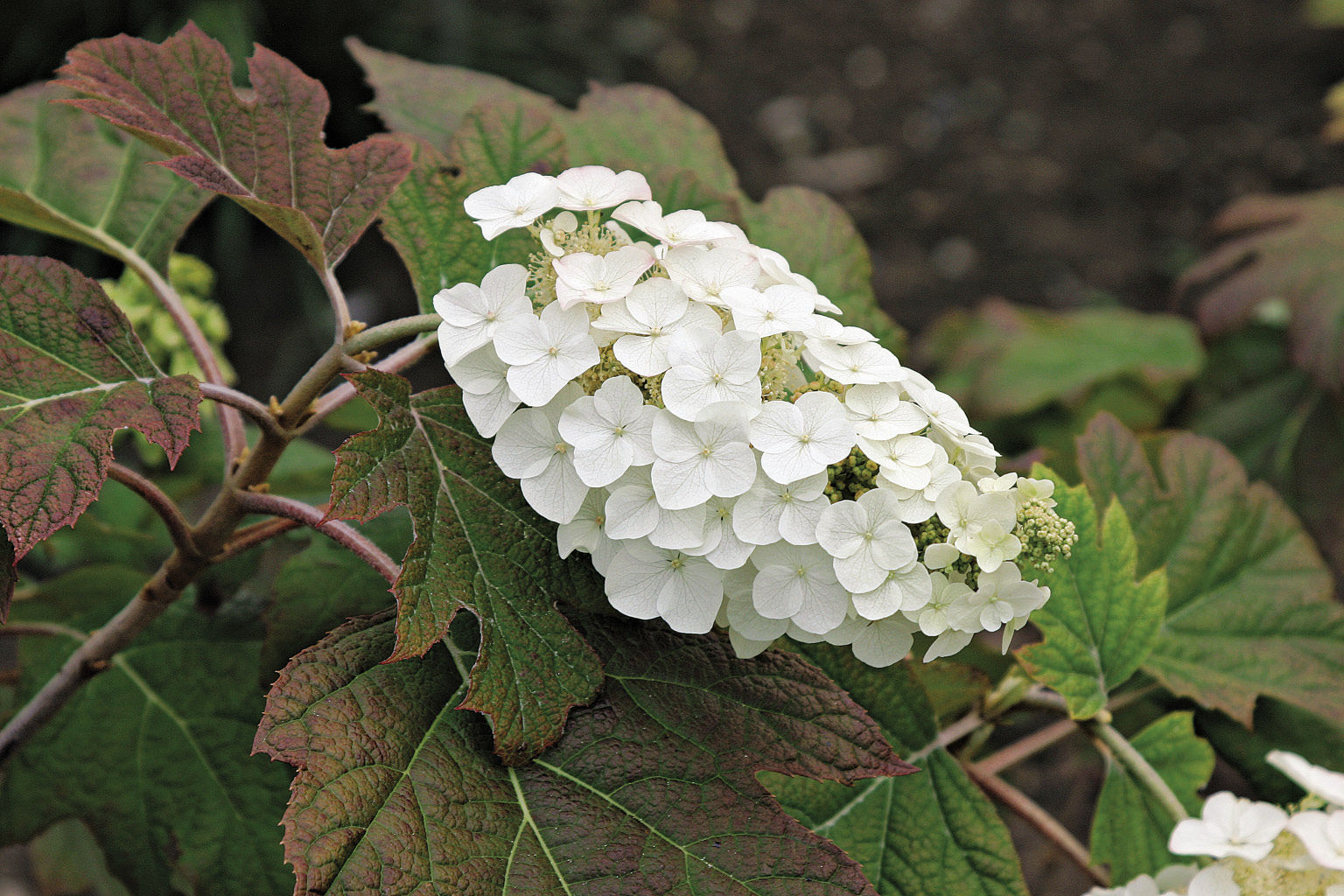 Name:
Hydrangea quercifolia
'Flemygea'
Zones: 5 to 9
Size: 4 to 6 feet tall and 6 to 8 feet wide
Conditions: Full sun to partial shade; well-drained soil
Oakleaf hydrangea is quite simply one of the best four-season plants in the midwestern garden:exfoliating bark in winter; oak-shaped spring foliage; summer flower spikes; and incredible red fall color. Snow Queen™ is a more erect, showier cultivar than the straight species. It combines well with blue rug juniper (Juniperus horizontalis 'Wiltonii', Zones 3–9), shrub roses, and variegated Japanese silver grass (Miscanthus sinensis * 'Variegatus', Zones 4–9). Position Snow Queen™ so that its many interesting features are not lost in a crowded border.
---
Josh Steffen is the horticulture manager for Wellfield Botanic Gardens in Elkhart, Indiana.