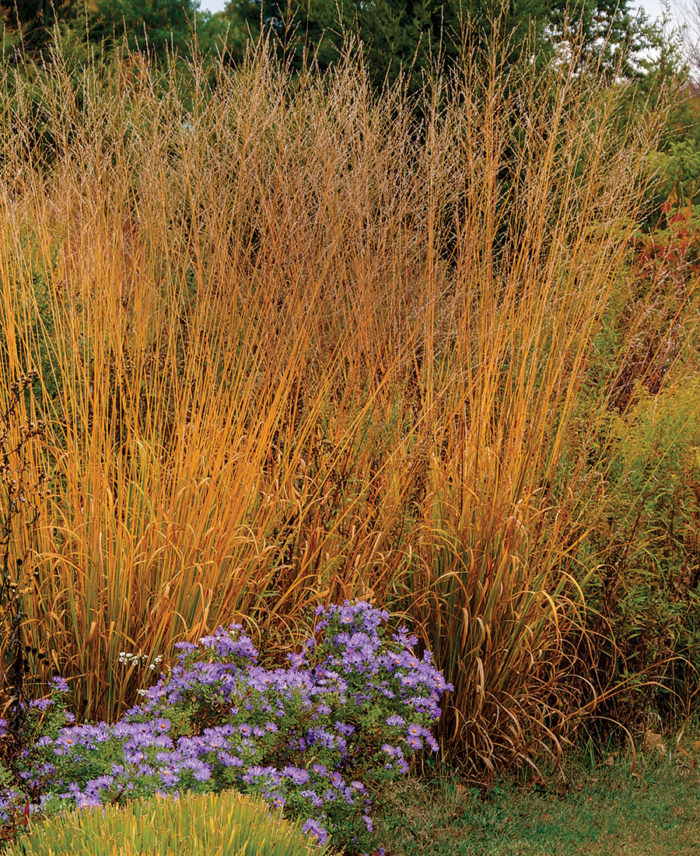 Grasses are dynamic garden plants. Whether large or small, for structure, motion, sound, and even light, grasses are unparalleled in their effect, and their charm increases tenfold when massed. Molinia, also known as purple moor grass, is no exception; in fact, its fountainesque form and tall stature exemp­lify the best attributes of grasses. It is especially prized in Europe—evident in so many of the cultivar names—but somewhat underappreciated here. With Miscanthus sinensis rightfully out of favor due to its invasive nature, molinia merits greater attention.
Promoting nonnative grasses can be a hot-button issue. I get it in the case of miscanthus and even fountain grass (Pennisetum alopecuroides and cvs., Zones 4–9), but from my experience, molinia isn't worri­some and is a good substitute for wayward grasses. Of course, I concede to anyone who has had it escape in their landscape; molinia has found its way into scattered natural areas in the Northeast, northern Wisconsin, and western Oregon. By most measures, it's probably not a thug, but caution is prudent. That said, I have never discovered a seedling in our trial. Based on this and its undeniable good looks, a molinia (or three) might be just the fine-textured treasure your garden has been missing.
At a glance: Molinia
(Molinia caerulea ssp. caerulea and cvs.; M. caerulea ssp. arundinacea and cvs.)
Zones: 4–9
Conditions: Full sun; moist, well-drained soil
Bloom time: Late summer through fall
Pests and disease: None
Traits: Slow growth to start; only infrequent dividing needed
Top performers for your garden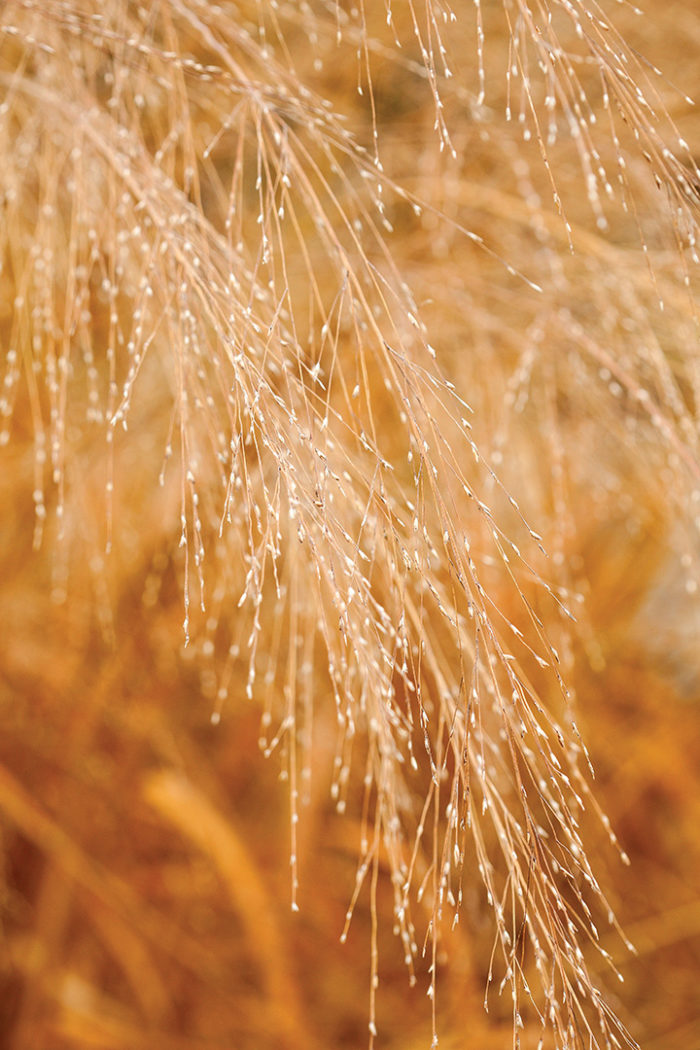 The wide, arching leaves of 'Bergfreund' have a coarser appearance—I think it's even a little wild-looking—than cultivars with thinner vertical foliage. Despite the coarse-textured leaves, the tall arching flower stems make it unexpectedly graceful. The dense flower clusters, up to 25 inches long, turn from green-and-purple flowers in summer to coppery seed heads by midfall. In late fall, the floral stems become pinkish orange as the leaves turn yellow. At 68 inches tall with flowers, 'Bergfreund' is a respectable size, and catching it backlit by the setting sun is a real treat.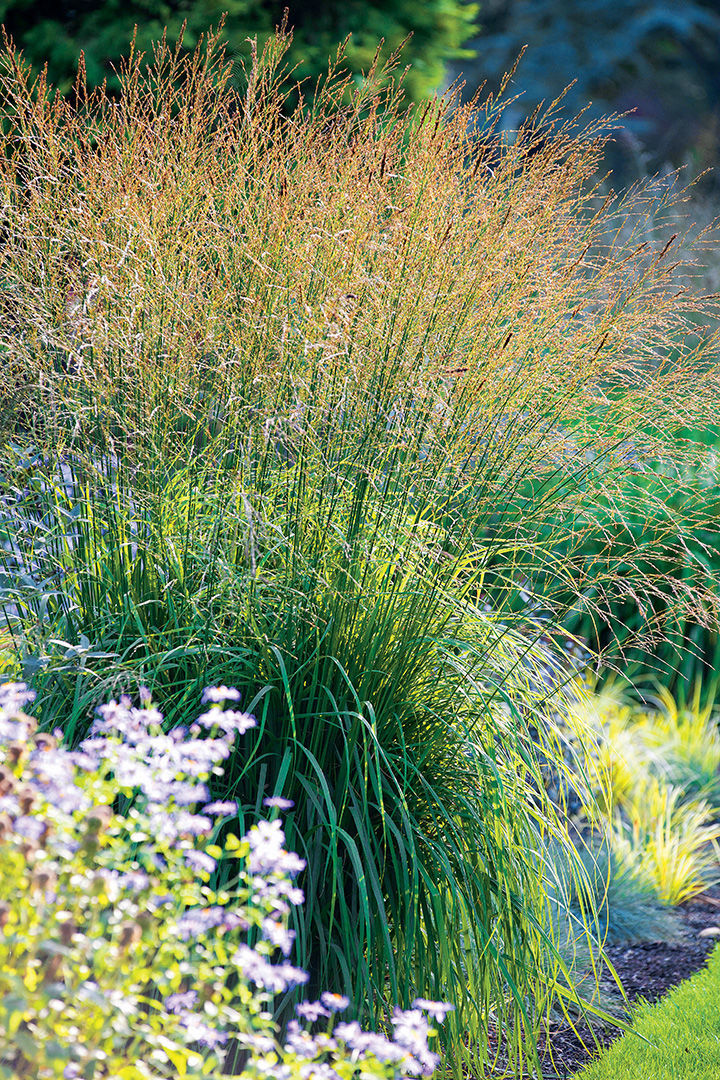 I liked the imposing size of 'Skyracer' from the first time I saw it rising up through a midsummer meadow. Our plants never reached the touted eight-foot mark, but at nearly seven feet tall they were no shirker. The distance between the compact leafy mounds and airy flower heads is what creates all the drama, both in soaring height and the playful movement of its supple stems in the wind. While the arching leaves are still green, the flower stems take on a pinkish tinge in late fall. 'Skyracer', like other molinias, eventually turns all gold to tawny and is particularly vibrant on gray winter days. Tall selections needn't be relegated to the back but can punctuate the midborder with surprising lightness due to the see-through quality of the thin stems and flowers.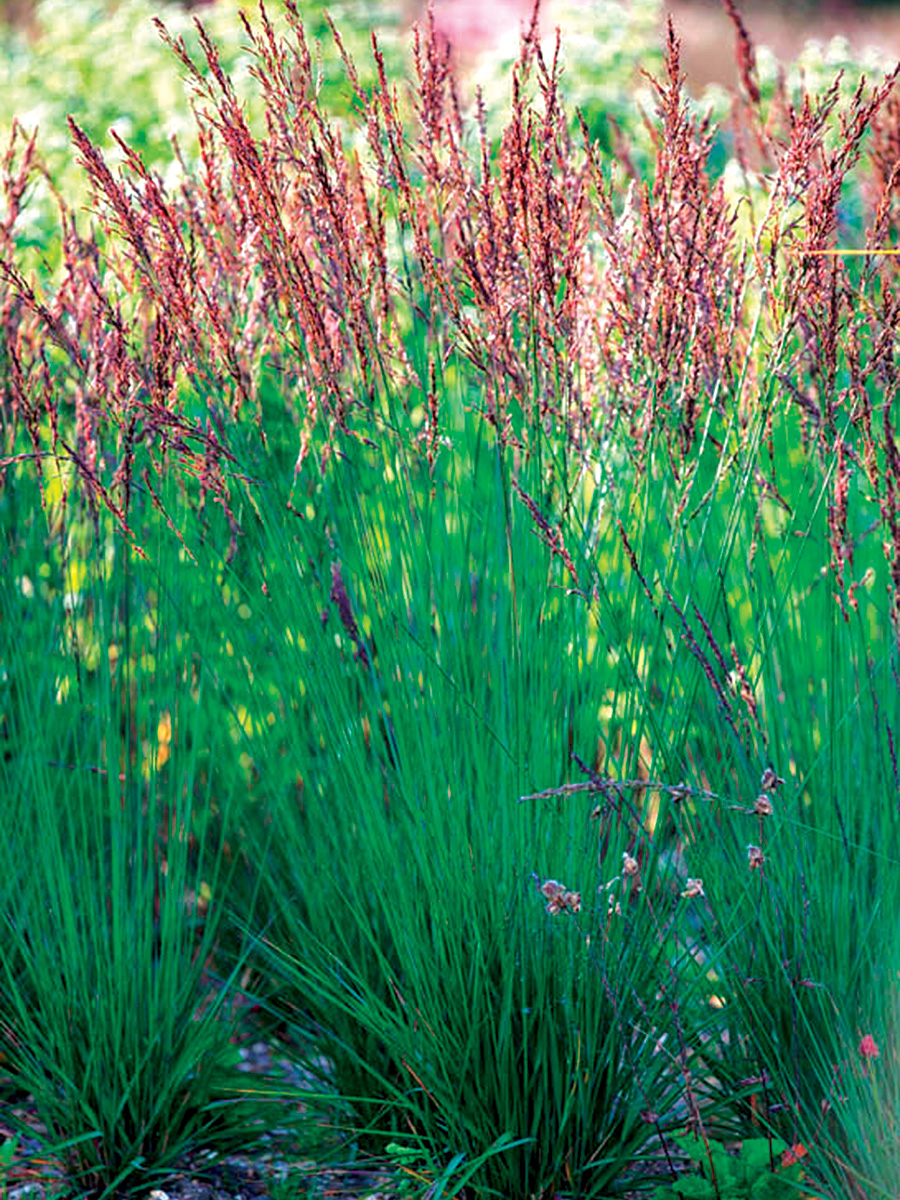 'Moorhexe' has vertical, thin, dark green leaves, which give it a refined habit; I like it better than its droopy-leaved cousins. Narrow heads of dark purple-green flowers age to golden tan in late summer before shattering in autumn. The spent inflorescences have a ghostly argent quality that is accentuated when backlit by morning or late-day sunlight. In early fall, the flower stems take on orange and bronze tones before turning deeply bronze a few weeks later. 'Moorhexe' has a fairly narrow upright habit to 4 feet tall and slightly wider. While equally robust and stunning in their floral effect, shorter molinias such as 'Moorhexe' and 'Dauerstrahl' are not as dramatic as the giant ones.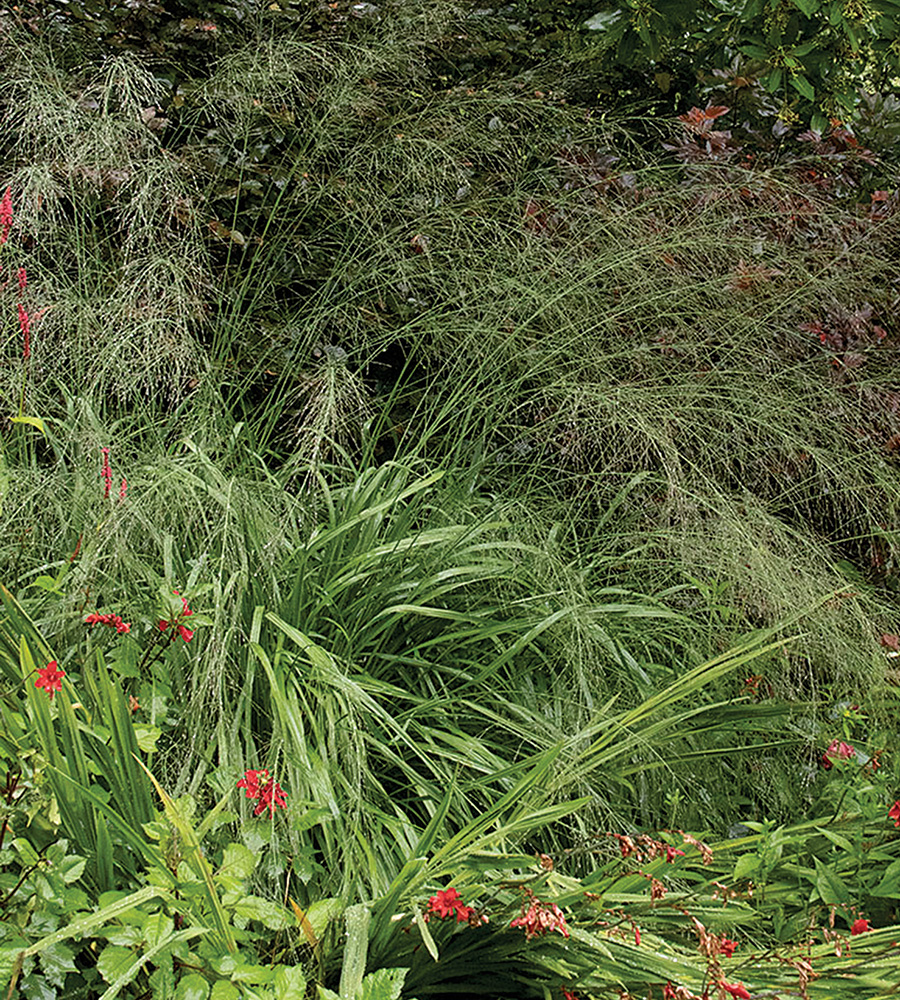 As names go, 'Transparent' is fairly expressive—it's a nod to the see-through quality of molinia's wispy flowers. In leaf, 'Transparent' is coarse, with a mix of vertical and arching broad leaves forming a robust bushy mound to 3 feet tall. The green-and-purple plume like inflorescences ripen to golden tan in late summer, and the flower stems turn yellow long before the leaves change to soft golden yellow in late fall. At peak, 'Transparent' was 7 feet tall and almost 5 feet across the fanned floral crown that's held high above the foliage.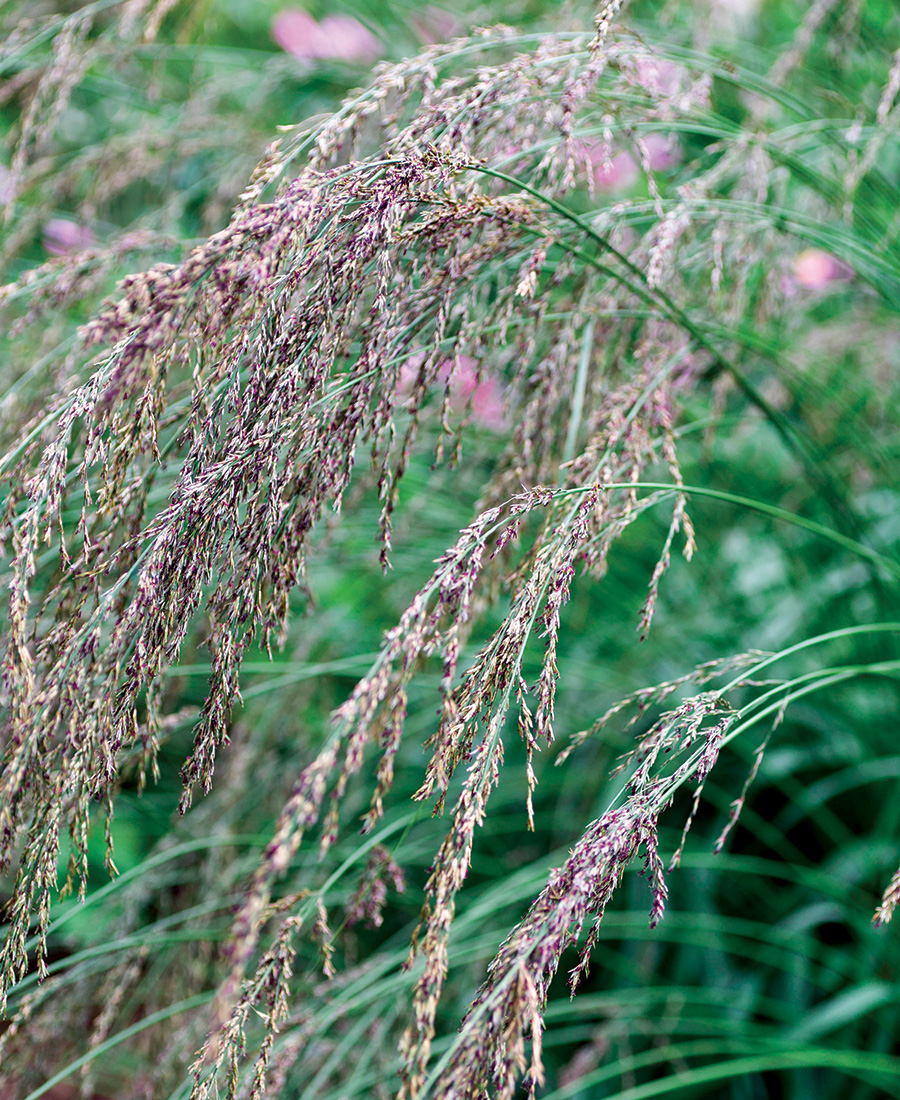 The differences between molinia cultivars can be subtle, relying on a change in height or slightly more color to set one apart from another. 'Fontäne' was one of a few selections with darker purple flowers. Low mounded clumps to 24 inches tall are topped with arched flower stems starting in early summer. Those plumes can be nearly 4 feet tall, giving the plant serious wow-factor. In autumn when the seed heads are a toasted golden tan, rich mahogany stems together with yellow leaves give 'Fontäne' a beautiful coppery golden glow.
Uncommon selections to hunt for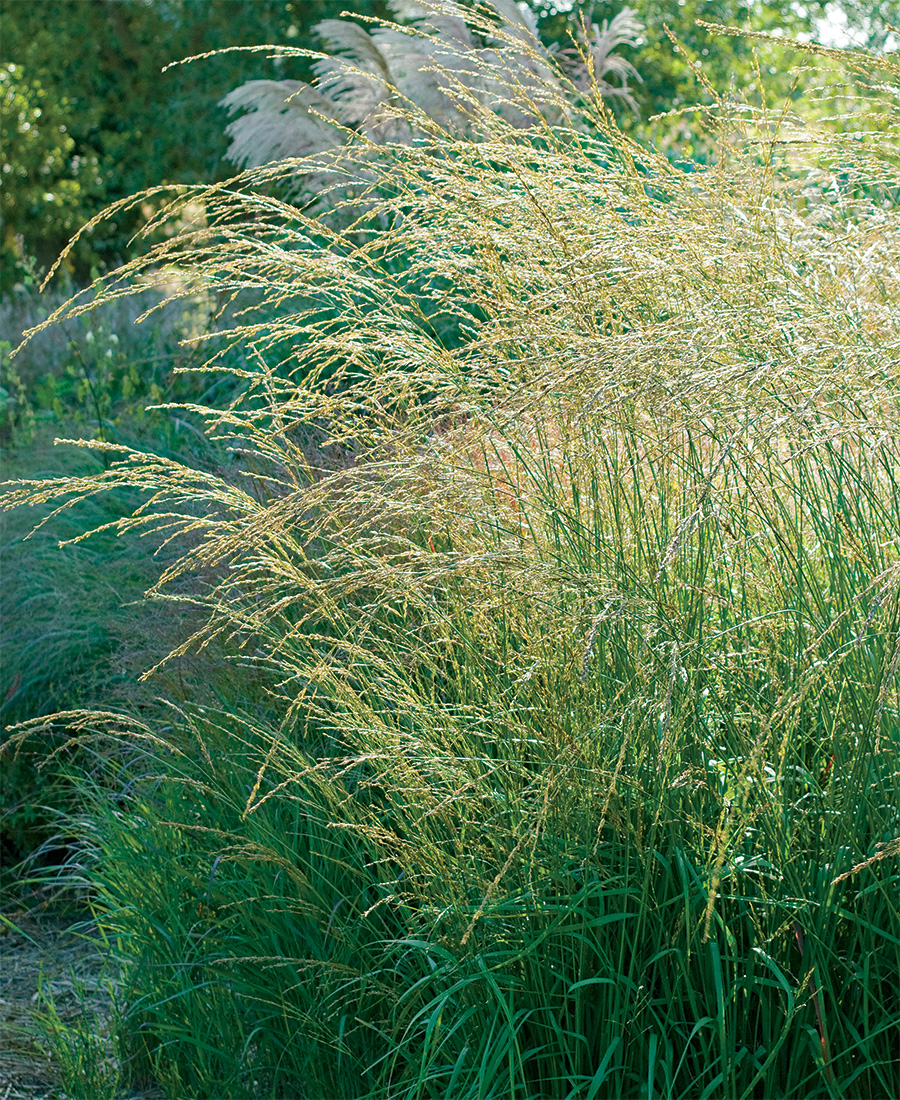 Interestingly, I grew 'Cordoba' several years before I started the trial. Though uncommon, it is definitely worth tracking down. 'Cordoba' has a commanding presence, with gracefully arching flower stems to 7 feet tall. It was a solid performer for eight years and became the one to beat in our trial. The strong architectural form is enhanced by copious, large purple-green flower heads, to 18 inches tall, which move and rustle in the gentlest breeze. Tawny seed heads shatter late in the season, leaving silvery skeletons atop ocher stems. 'Cordoba' ends it all cloaked in a vivid golden-yellow mantle; if winter is kind, this show can last almost into the following spring.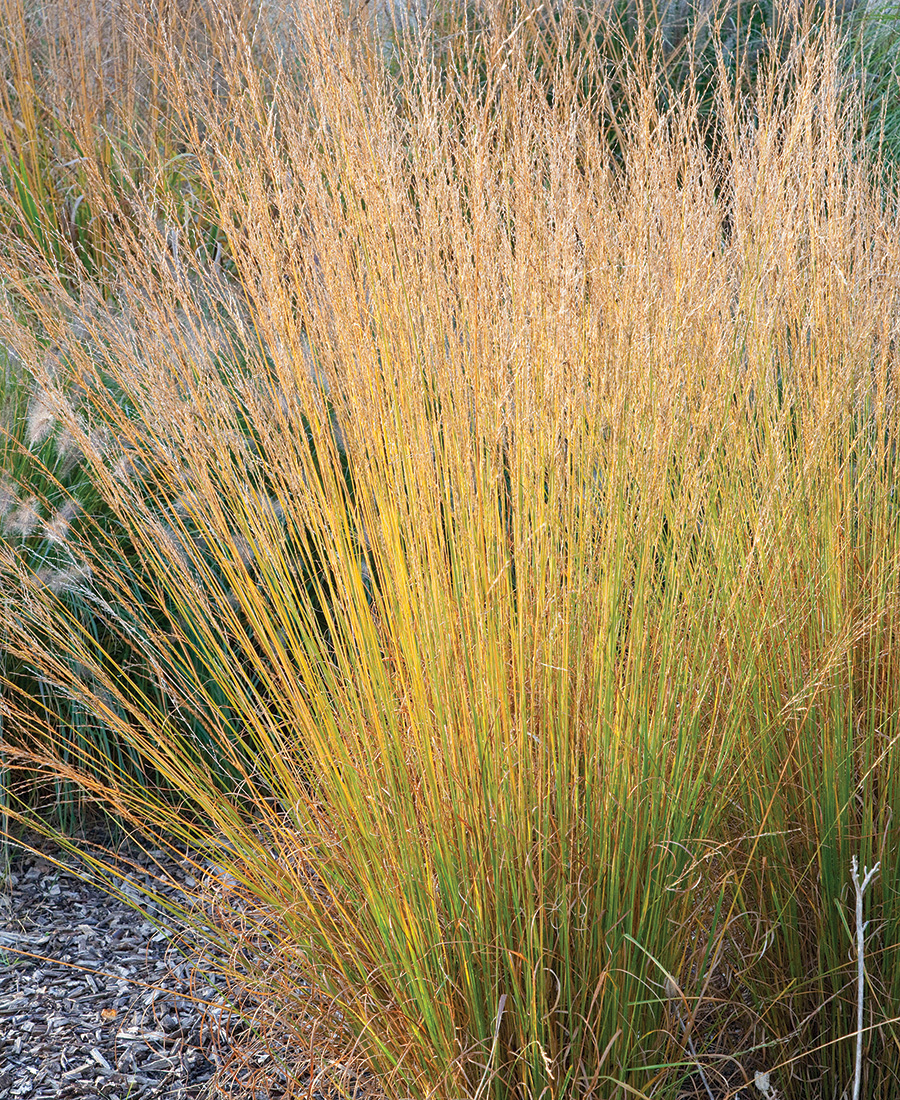 One of the first things I noticed about 'Heidebraut' was the swarthiness of its flowers; it is amazing that tiny purple-black anthers alone can create such an impressive display. In its eagerness to show off, the flowers begin blooming just as they poke out of the foliage, but eventually the stems rise a couple of feet above lush mounds of fine-textured green leaves. 'Heidebraut' has a strong upright habit, reaching a modest 5 feet tall with flowers. The muted golden yellow flower stems are the real autumnal show; the color holds even after the leaves have shriveled. And as the tan seeds shatter, the spidery silver inflorescences add a bit of interest in the early winter light.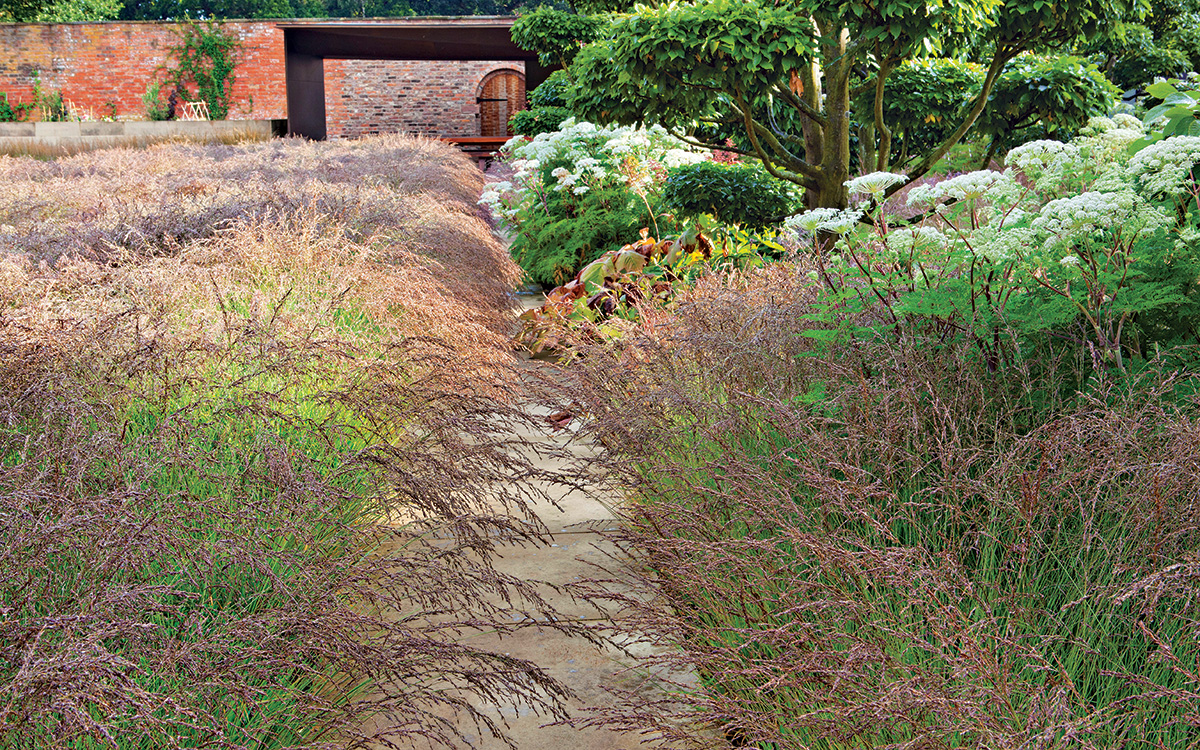 'Poul Petersen' is a compact, stocky selection named by Piet Oudolf for a Danish nurseryman. I don't know Poul, but I always love a back story. At 44 inches tall, 'Poul Petersen' is one of the shortest of the group and has a bushy vase-shaped habit and slightly arching green leaves. Feathery flower heads of green and dark purple make for a pretty show in early summer, followed by tan seed heads in late summer. The clear golden-yellow fall color stacks up well to any molinia.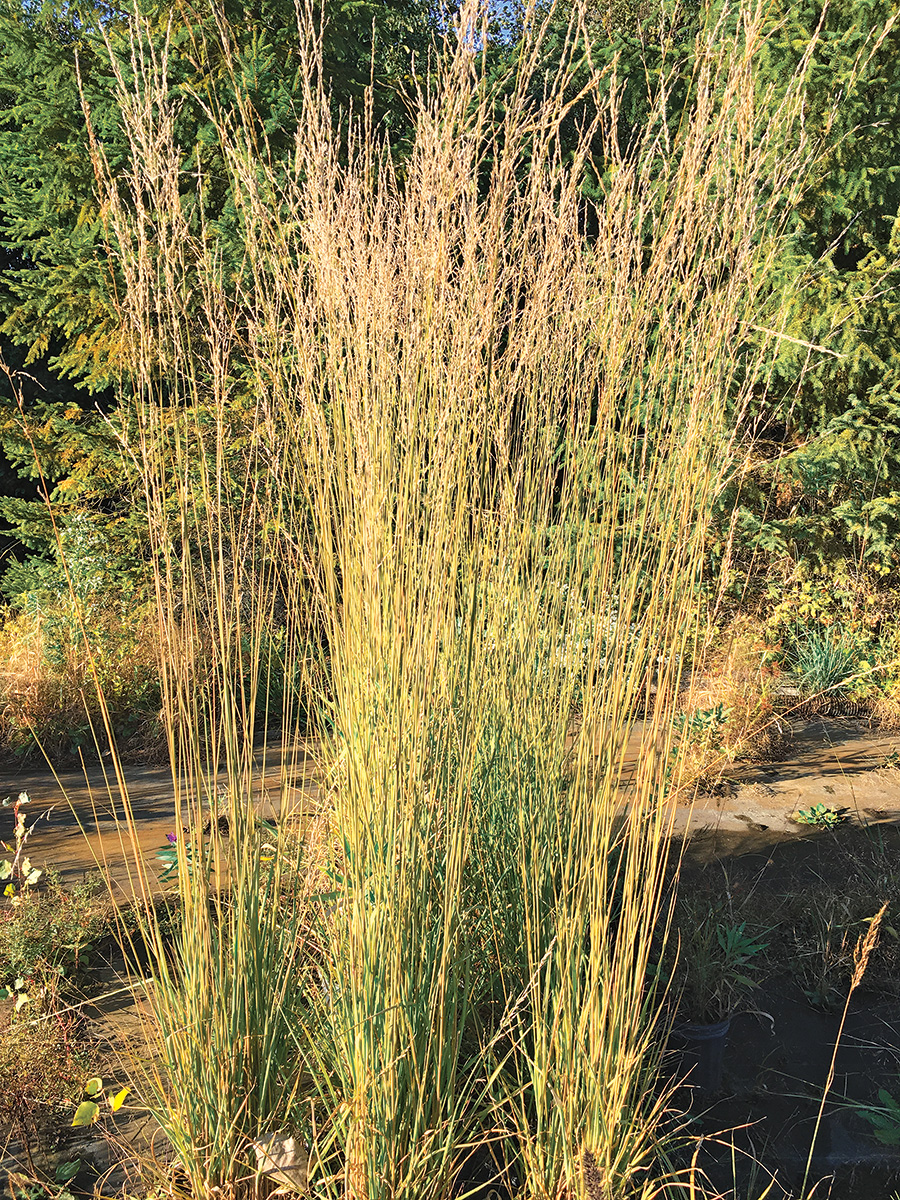 'Dutch Dreamer' is a brand-new selection of molinia that I have not personally grown but am eager to get after observing it in other gardens. I'm confident that it's worth a try because it comes from the breeding genius of Brent Horvath, who has created a variety of amazing perennials and ornamental grasses. At just 5 feet tall, 'Dutch Dreamer' neither towers above small plants nor is dwarfed by larger ones. Not to be outdone by the others, come autumn its broad blades and floral stems glow golden, too.
Trial parameters
Since 2013, the Chicago Botanic Garden has evaluated 16 selections of molinia.
Duration: Minimum of 6 years
Participants: A variety of Molinia caerulea ssp. caerulea and M. caerulea ssp. arundinacea and their cultivars were trialed.
Zone: 5b
Conditions: Full sun; well-drained, alkaline, clay-loam soil
Care: Minimal, allowing the plants to thrive or fail under natural conditions. Plants were irrigated in hot, dry weather. Besides observing their ornamental traits, we monitored how well they grew and adapted to environmental and soil conditions while keeping a close eye on any disease or pest problems and assessing plant injury or losses over winter.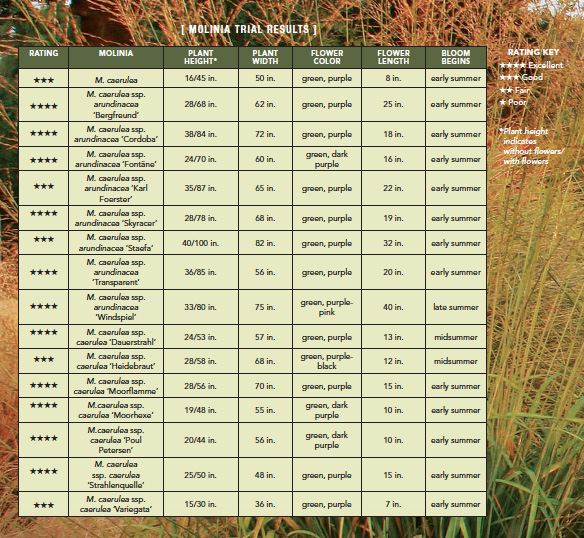 ---
Richard Hawke is plant evaluation manager at the Chicago Botanic Garden in Glencoe, Illinois.
Sources