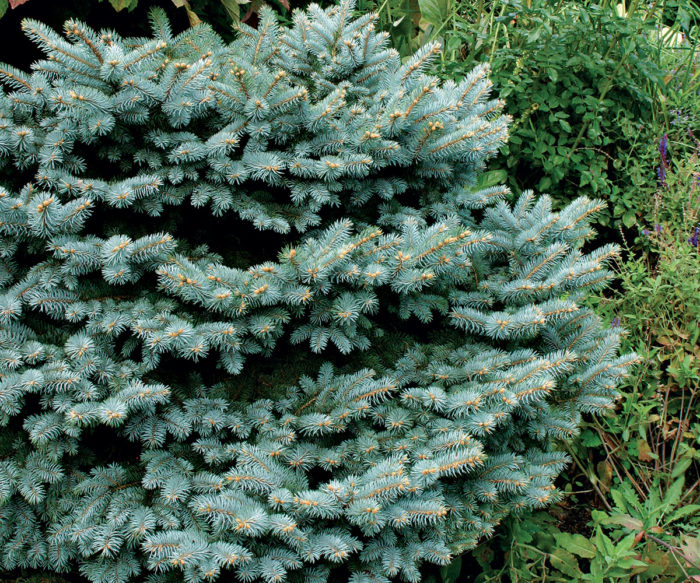 ---
1.

Pale coneflower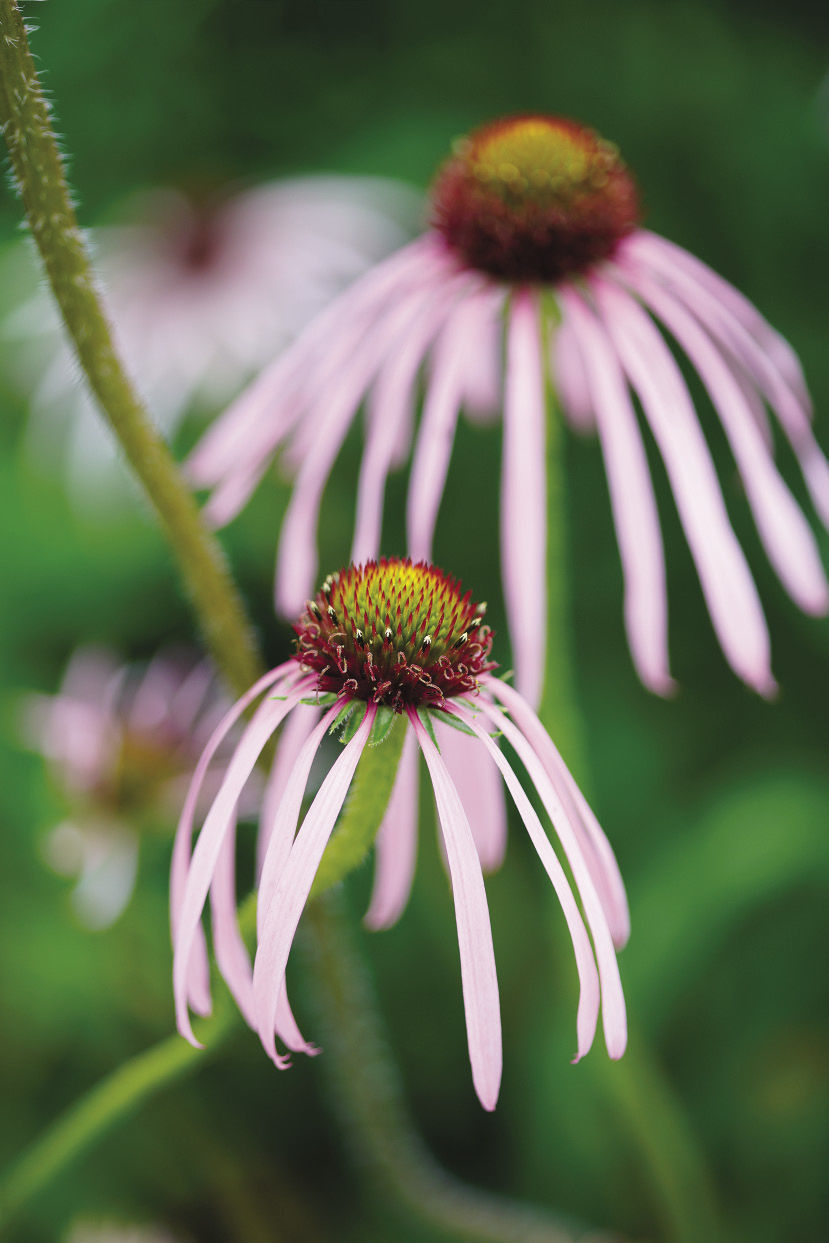 Name:
Echinacea pallida
USDA Hardiness Zones: 3 to 10
Size: 2 to 3 feet tall and 12 to 18 inches wide
Conditions: Full sun to partial shade; average, well-drained soil
This native coneflower stands tall in prairies across the Midwest and southern states, so it's no wonder it looks great when paired with the ornamental grasses that are its likely companions in the wild. The pale pink-purple of its drooping, narrow petals surrounds an orange cone, which provides colorful contrast to many diverse companions. The flowers attract butterflies and can also be used in cut-flower arrangements. This drought-tolerant perennial will self-sow freely if the seed heads are not removed.
2.

Wand flower
Name:

Gaura lindheimeri and cvs.

Zones: 5 to 9

Size: 3 to 5 feet tall and 1 to 2 feet wide

Conditions: Full sun; well-drained soil

This clumping perennial has white flowers that fade to pink atop tall, wand-like stems, giving the plant an airy feel. It looks as though there's a cluster of butterflies whirling around the plant ('Whirling Butterflies', unsurprisingly, is a popular cultivar name). The wispy flower stems dance among ornamental grasses to beautiful effect. When the blooms fade to pink, they look particularly beautiful alongside blue grasses such as blue oat grass (Helictotrichon sempervirens, Zones 4 to 9). There are several cultivars ranging from white to deep pink­—all of which are garden worthy.
3.

Globe blue spruce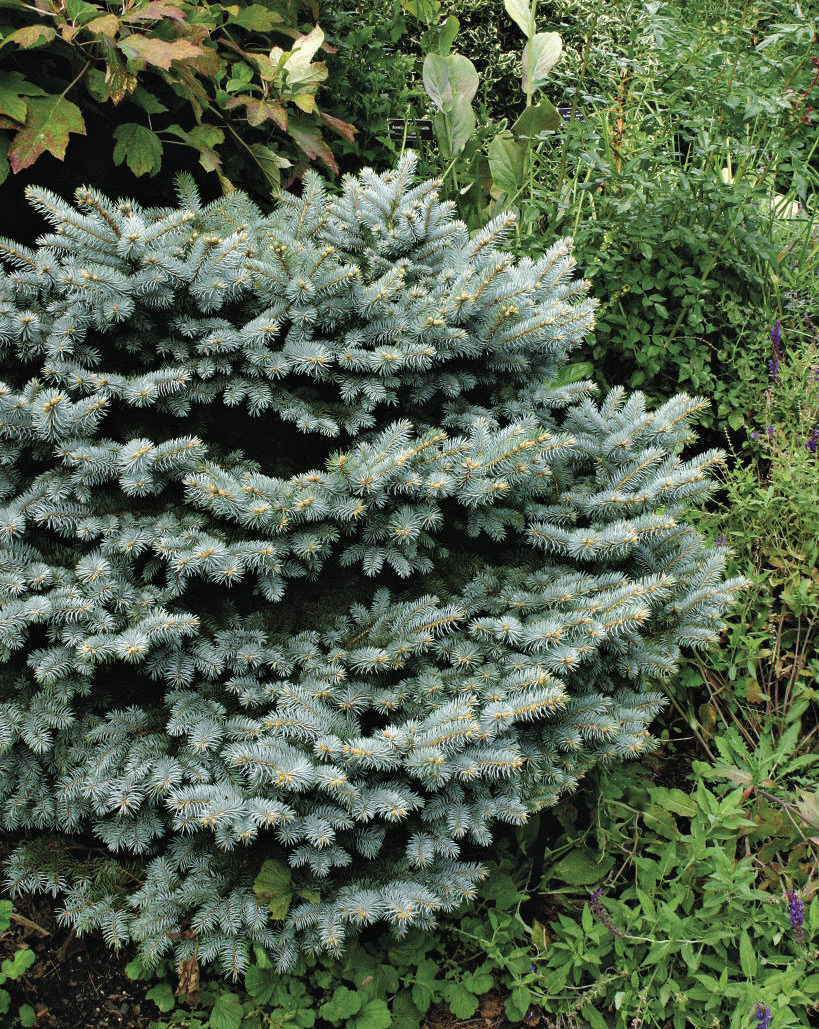 Name:

Picea pungens 'Globosa'

Zones: 2 to 8

Size: 3 to 5 feet tall and 5 to 6 feet wide

Conditions: Full sun; well-drained soil

With its silvery-blue needles and mounded shape, this slow-growing conifer makes a great specimen or accent plant. When framed by grasses, the contrast of form and texture provides year-round interest. Globe blue spruce works well both as a foundation shrub and in a mixed border. Prune the upright shoots judiciously to keep its rounded shape.
4.

'Mops' mugo pine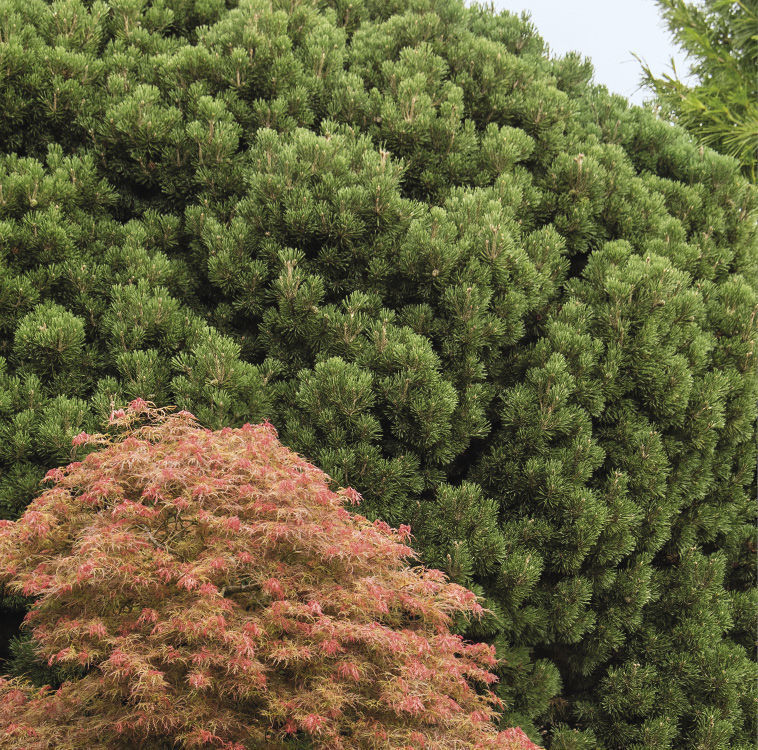 Name:

Pinus mugo 'Mops'

Zones: 2 to 7

Size: 3 to 4 feet tall and 2 to 3 feet wide

Conditions: Full sun; well-drained soil

This dwarf pine features small, emerald green needles and only grows 2 to 4 inches per year, making it a perfect foundation plant for small spaces. Its mounded shape requires little care but can be pruned if needed, although it's best to trim only the new growth. 'Mops' can be accented by smaller grasses, such as prairie dropseed (Sporobolus heterolepis, Zones 3 to 9) and 'Hameln' fountain grass (Pennisetumalopecuroides 'Hameln', Zones 5 to 9), or it can ground larger options, including feather reed grasses (Calamagrostis spp. and cvs., Zones 4 to 9).
---
Michelle Provaznik is the director of The Gardens on Spring Creek in Fort Collins, Colorado.