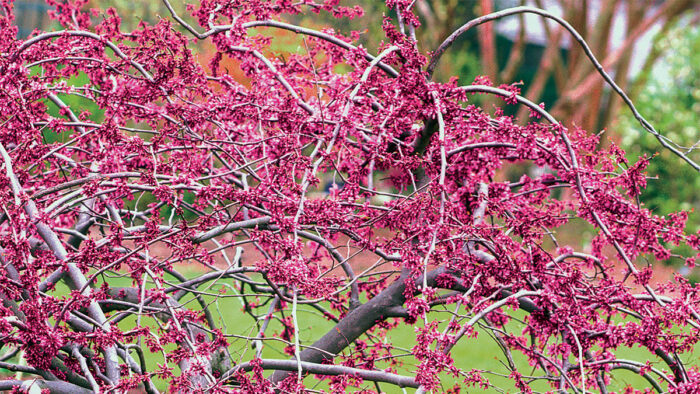 If the seasons of a garden were likened to a day, then the Northern Hemisphere's winter would undoubtedly be night. It is cold, it is long, and it is dark. Gone are the warmly colored trees of autumn, the sizzling perennials of summer, and the cheery ephemerals of spring. If, in fact, we focus on all we miss in winter, our hope in gardening might begin to fade.
But all is not lost. There are plants that brighten the void in winter (and, no, they aren't those predictable evergreens). Some winter stars have unique features such as incredible architecture and bark, which are always present but hidden most of the year by an abundance of foliage. Other ornamental options flower in this dark season or display out-of-the-ordinary stem color—temporary blips of color that remind us of brighter days. Some of these stellar plants, of course, shine more than others and, therefore, deserve a place in your landscape. Winter after winter, you can count on the following plants to be beacons of interest, pulling us into the garden for a show at an unexpected time of year.
'Winter Beauty' redtwig dogwood is a new version of an old favorite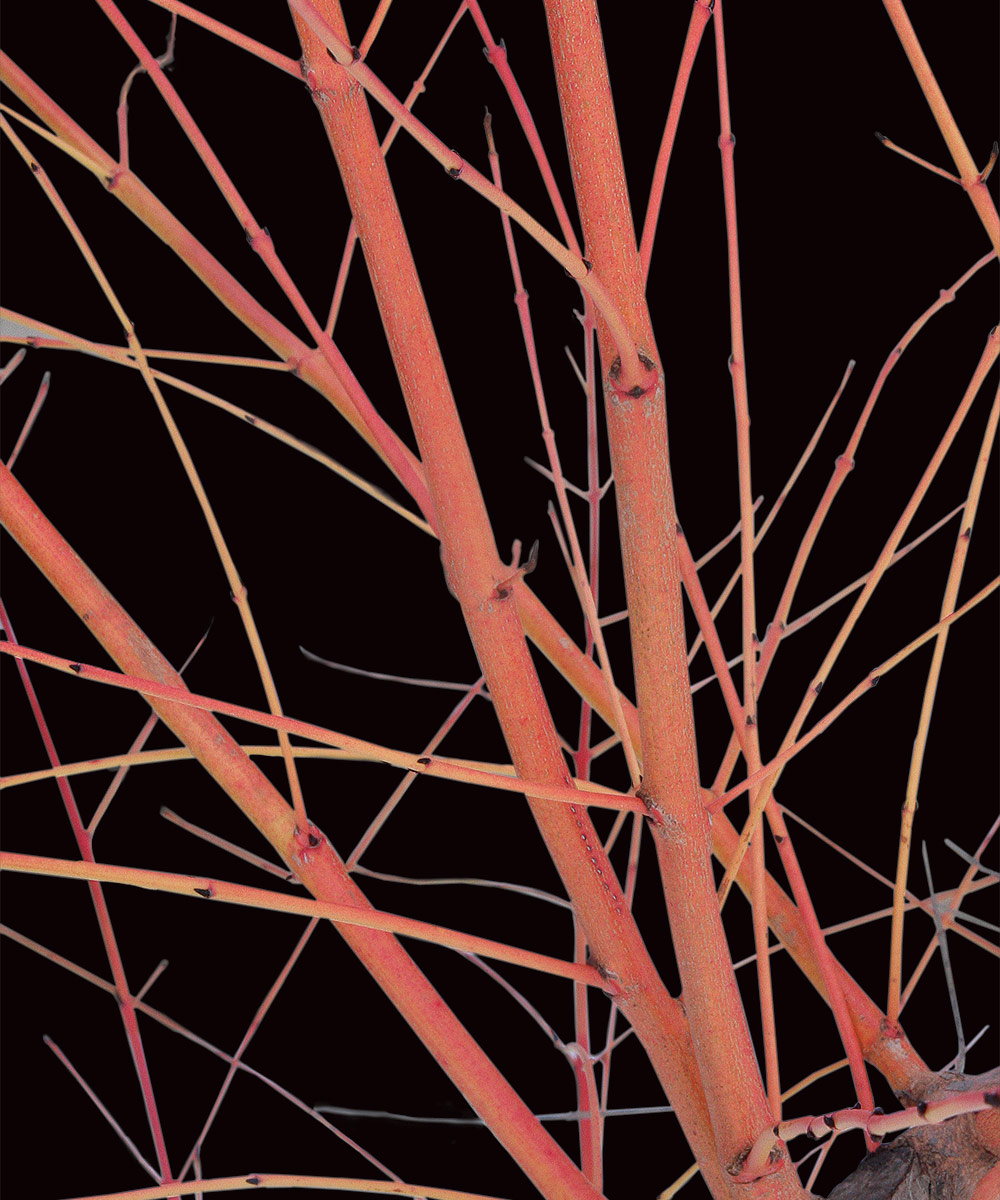 Name: Cornus sanguinea 'Winter Beauty'
Zones: 4 to 7
Size: 6 to 12 feet tall and wide
Conditions: Full sun to partial shade; moist, well-drained soil
'Winter Beauty' redtwig dogwood is a work of art. The broad green leaves that turn light yellow in fall are a veil hiding stems that change into a myriad of warm colors once cooler weather arrives. It's as if this dogwood has an underlying yellow primer and the sun's rays have airbrushed the youngest segments red; that's because the colors are most intense on the side facing the sun. This creates an unusual effect on the young stems: As you progress down the shoots, the color pattern starts as a bicolor red-yellow, tran­sitions to orange, and ends in yellow. If you avoid pruning the plant to the ground every year, you'll be able to enjoy the creamy white flowers that appear in midspring on old wood, followed by black fruit.
'Bihou' Japanese maple creates fireworks in the landscape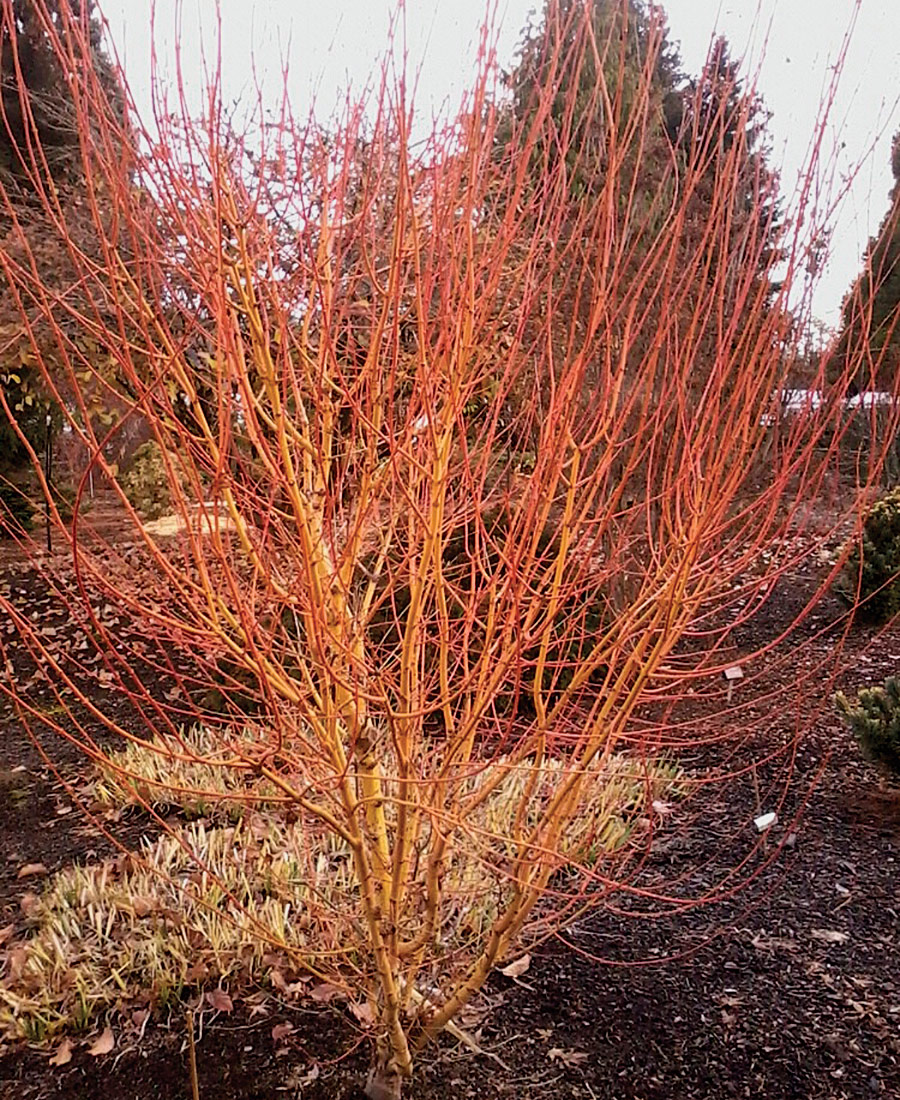 Name: Acer palmatum 'Bihou'
Zones: 5 to 8
Size: Up to 20 feet tall and 15 feet wide
Conditions: Full sun to partial shade; moist, well-drained soil
Most agree that coral bark Japanese maple (A. palmatum 'Sango-kaku', Zones 5–8) is eye candy in the garden. Most of the year, it is wrapped in green palmate leaves, which turn buttery yellow–orange in fall. When frost unwraps the tree, it reveals beautiful bark, usually a delicious cherry red color. With 'Bihou' Japanese maple, however, you get a show that tops any coral bark Japanese maple. The central branches turn orange and then banana-peel yellow from the outside in. 'Bihou' can be allowed to fully mature into a small tree, or it can be kept on a diet: Allow a 3- to 4-foot-tall frame to develop and then prune subsequent growth back every other year. This practice keeps the young stems fresh and bright and the delectable colors closer to eye level. As is the case with many Japanese maples, young twigs can suffer some dieback during winter; just clip off any dead branches when you see them. The color of 'Bihou' is worth the occasional maintenance.
'Flame' willow is a conflagration of color
Name: Salix 'Flame'
Zones: 4 to 8
Size: Up to 20 feet tall and wide
Conditions: Full sun; moist soil
For most of the year, the stems of 'Flame' willow are hidden in a haze of lance-shaped green leaves with an ashy-colored under­side. But in fall, when the foliage turns yellow and drops, it's as if someone lit this plant on fire; each stem is suddenly ablaze with a fiery red-orange color. The high-reaching kindling stems burn bright against the backdrop of freshly fallen snow. The color begins to smolder to orange-yellow in spring before the tree leafs out. Like most willows, 'Flame' is a fast grower, once established, and can quickly fill a hole in the landscape or serve as a fast-growing screen or windbreak.
'Lace Parasol' winged elm provides stately structure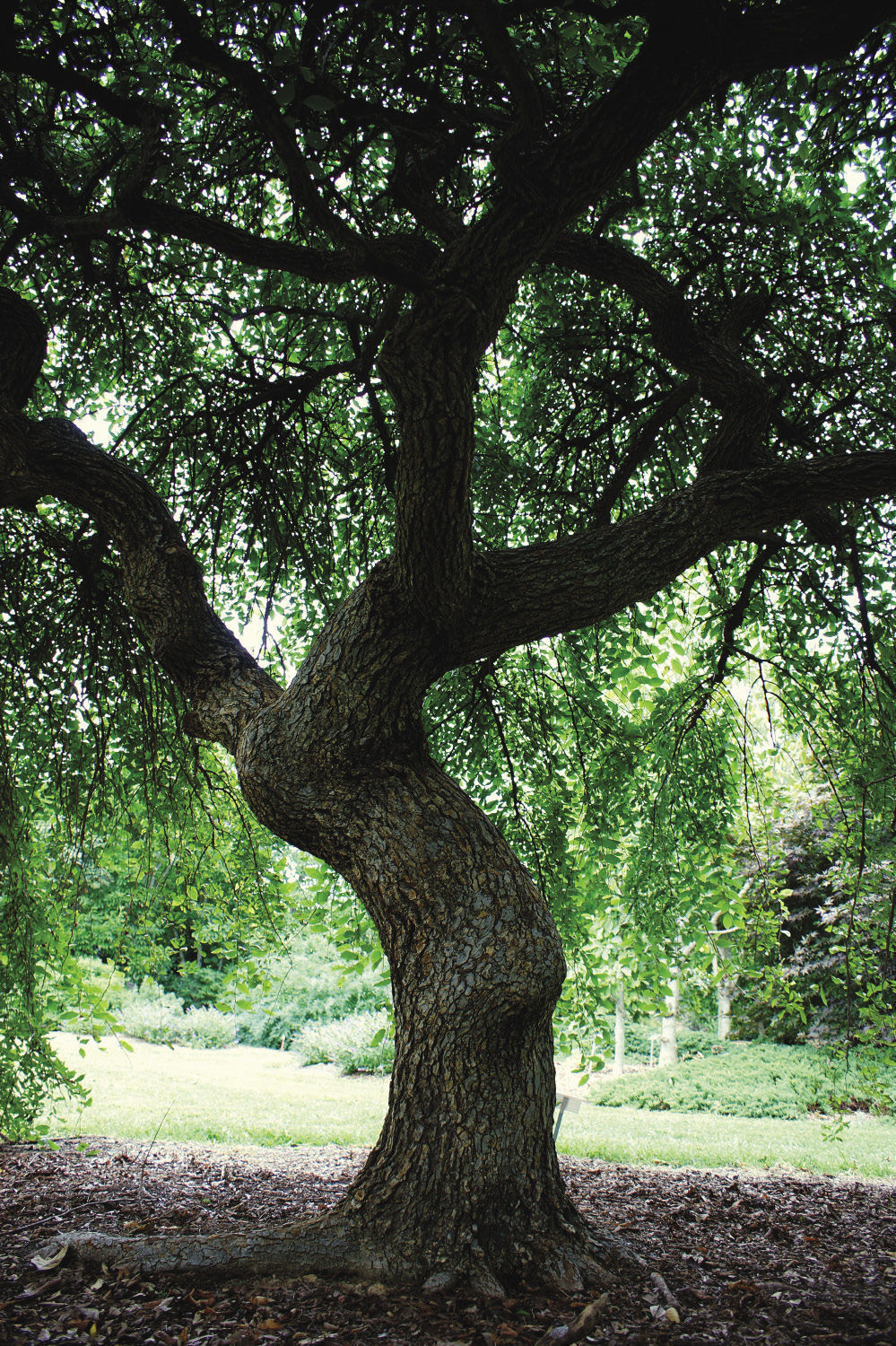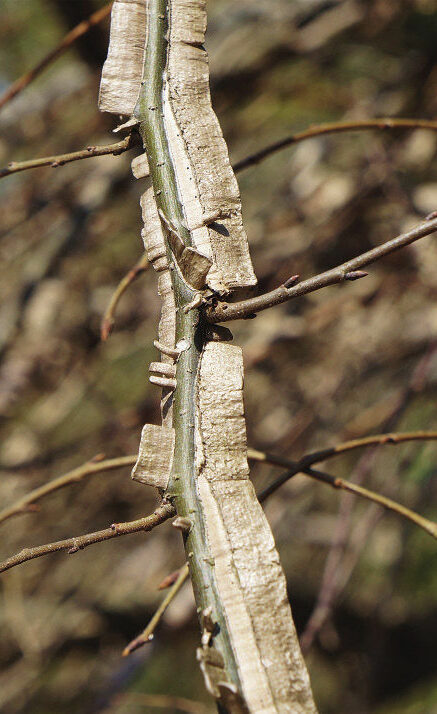 Name: Ulmus alata 'Lace Parasol'
Zones: 6 to 9
Size: Up to 20 feet tall and wide
Conditions: Full sun; well-drained soil
Winged elm has always been a fun find for me during my winter walks. Without the serrated green leaves that have covered it for most of the season, the corky wings on the young branches make it easy to flush out of the fencerows. Winged elm will typically become a moderate-size tree, 30 to 60 feet tall; the weeping habit of 'Lace Parasol', however, allows gardeners with small properties to enjoy this umbrella-shaped native tree in their yards, too. Underplanting it with perennials is a wise use of space, but if you have children, consider leaving the base bare; 'Lace Parasol' makes a great tree cave to run under and hide. Additionally, if a limb or two ever needs pruning, the corky branches add a rustic and unusual flair to seasonal decorations. Because of this cultivar's diminutive size, it is less likely to attract Scolytus bark beetles, vectors of Dutch elm disease, making the tree less likely to become infected.
Nothing comes close to resembling 'Flying Dragon' hardy orange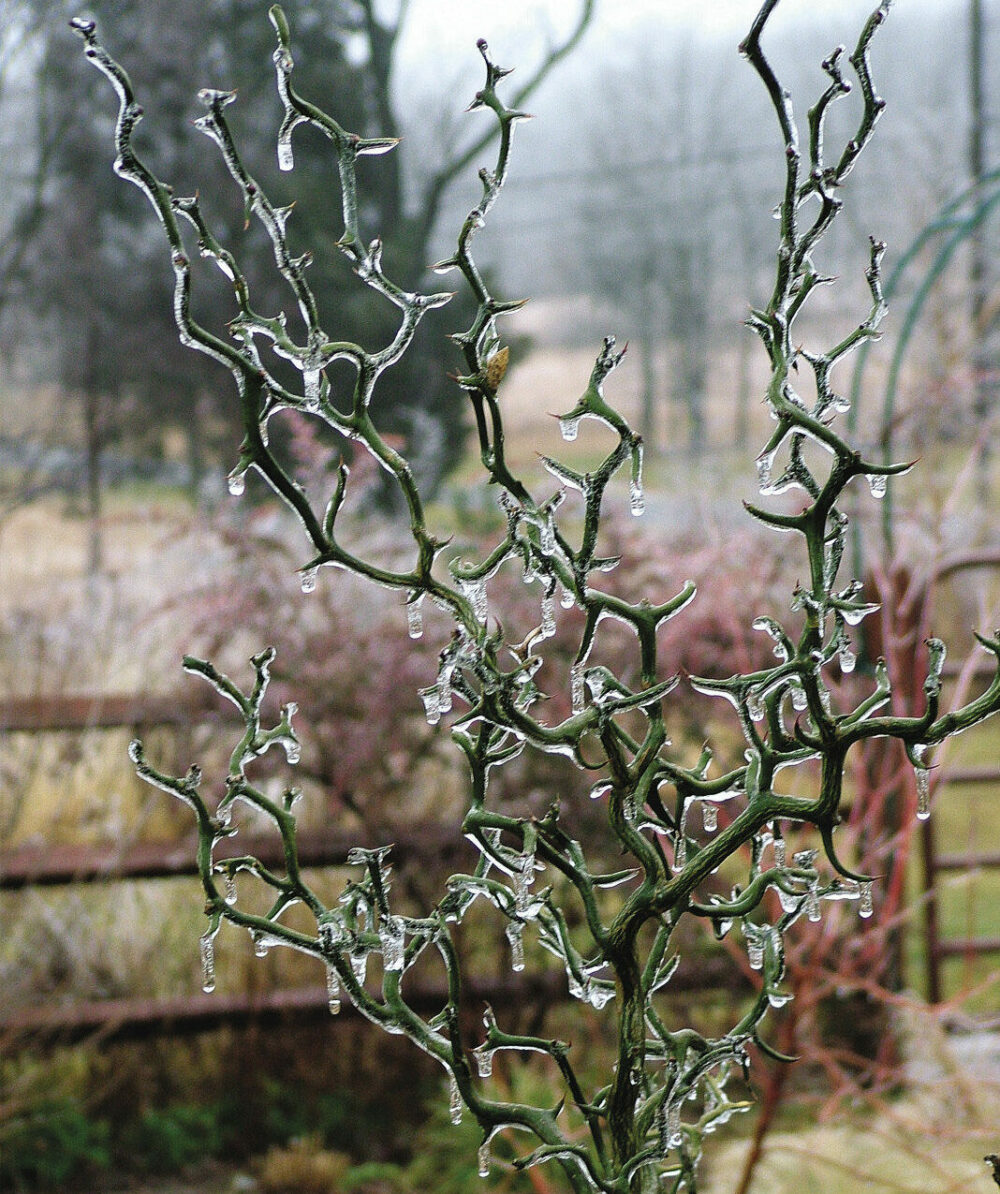 Name: Poncirus trifoliata 'Flying Dragon'
Zones: 5 to 9
Size: 8 to 20 feet tall and 8 feet wide
Conditions: Full sun; acidic, well-drained soil
Believe it or not, this close relative to oranges will grow in chilly zones and return reliably each year. The name of this cultivar of hardy orange alludes to the mystical feeling this plant evokes; when you see 'Flying Dragon' leafless, you'll think you've stepped into a fairy tale. Its impenetrable mass of contorted, twisted, spiny branches reminds me of the brambles that many a hero and heroine have faced in fables. But don't be fooled: No matter how evil it looks, these traits make the plant truly awesome. Stems laden with snow are abstract art at its best. The plant's dense and spiny growth allows it to be used as an effective hedge, too. And when everything else looks drab and brown in winter, its acid green stems are a welcome pop of color. Once the growing season returns, 'Flying Dragon' will continue to mesmerize. Its trifoliate green leaves, spring-flowering white blossoms, and green fruit that ripen yellow (and resemble small oranges) will leave gardeners "happy ever after" winter's departure.
'Sterling Silver' spiketail wears pearls in winter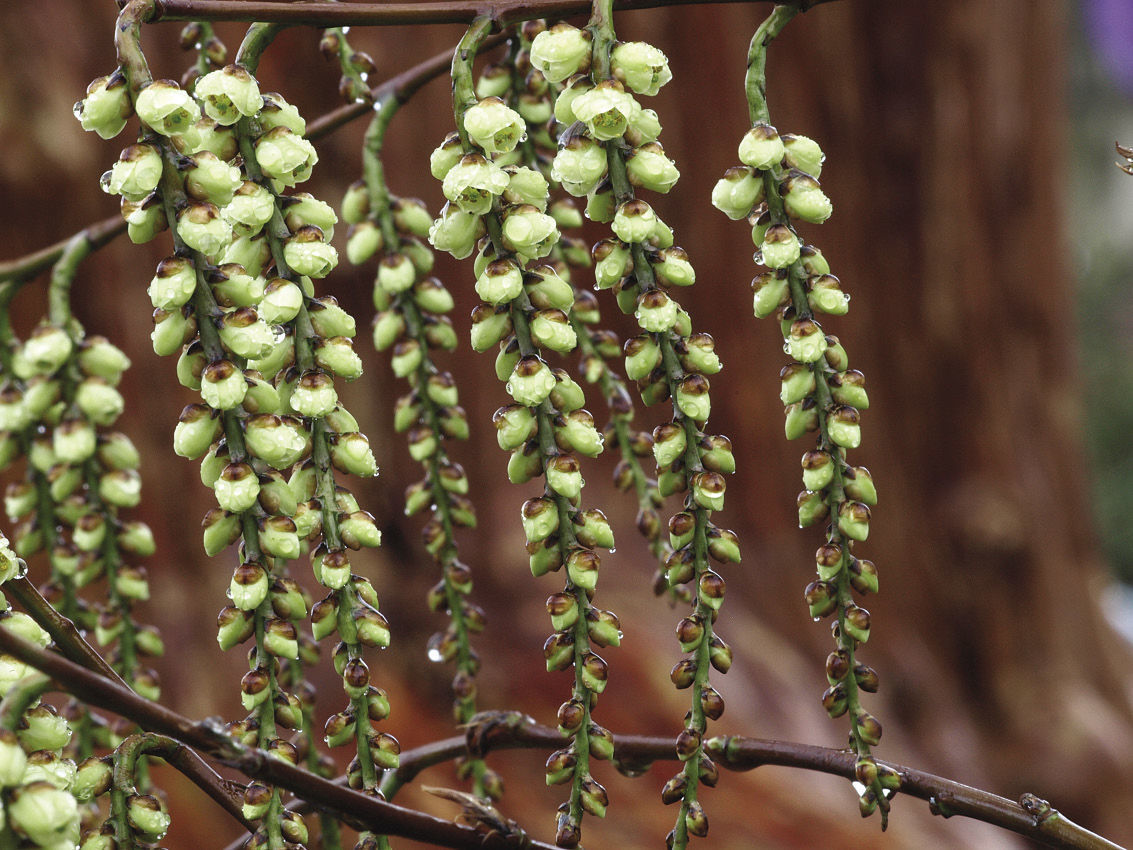 Name: Stachyurus praecox 'Sterling Silver'
Zones: 6 to 8
Size: 6 to 14 feet tall and wide
Conditions: Full sun to partial shade; moist, acidic, well-drained soil
Spiketails are sometimes tardy to the winter party: They can blossom late—so late, in fact, that they may sport flowers and foliage at the same time. But you cannot omit them from your garden because, despite their occasional unpredictable behavior, they are one of the best shrubs for winter interest. The buds, held on wiry black stems, swell—one by one—in a descending fashion before bursting into full flower in late winter, giving plants the appearance that they are draped in strands of pearls. 'Sterling Silver' is a wonderful selection that continues to shine after the winter soiree due to its bluish foliage with cream-colored margins. It is a good performer in a wide range of zones, but in the South, it should be given some shade to prevent scorching.
'Traveller' redbud has weeping architecture to adore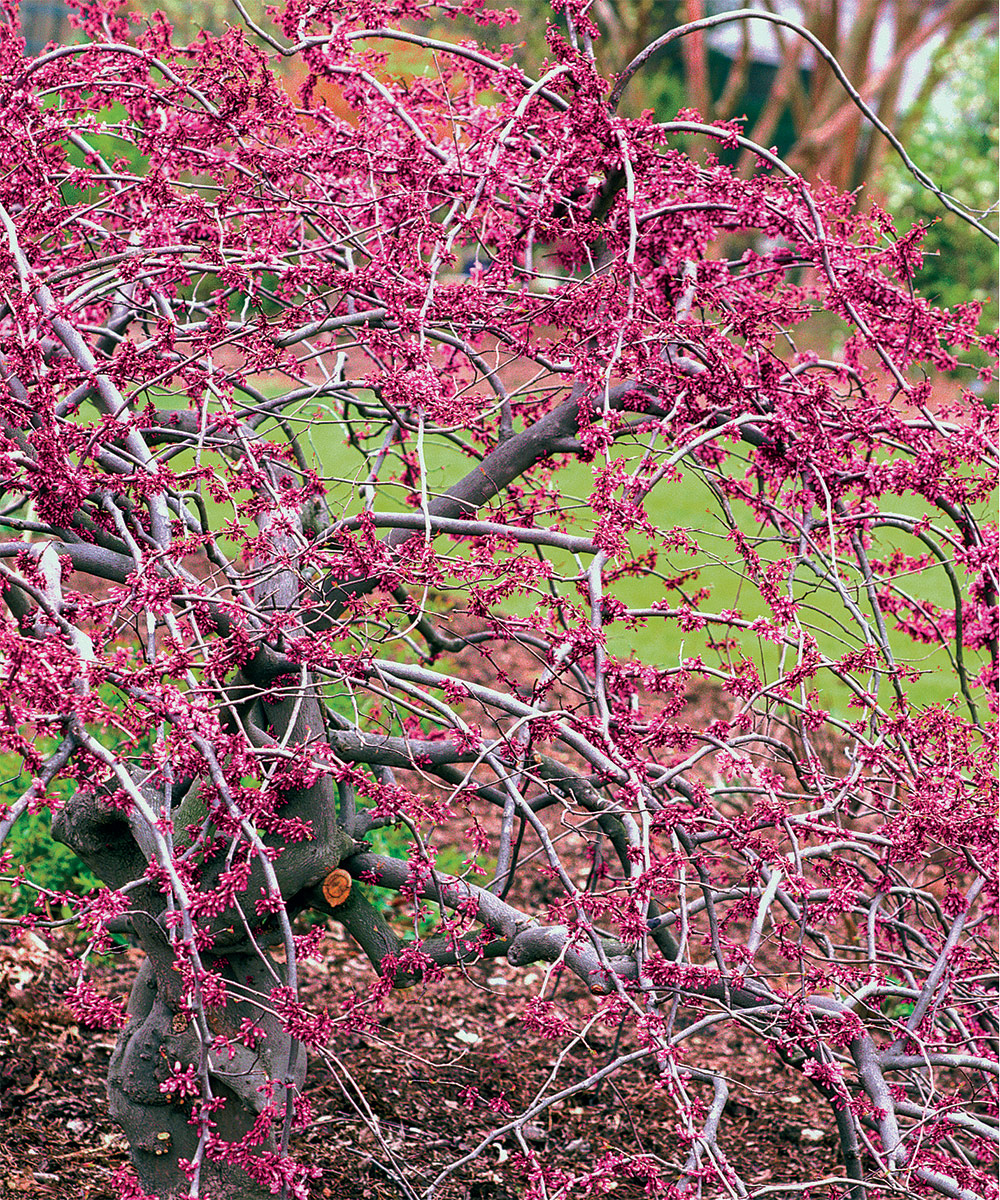 Name: Cercis canadensis var. texensis 'Traveller'
Zones: 6 to 9
Size: 5 to 10 feet tall and wide
Conditions: Full sun to partial shade; moist, fertile, well-drained soil
Admiration for redbuds continues to grow because of their foliage diversity: colors include purple, chartreuse, yellow, peach, and variegated green and white. While the current hype is focused on foliage, you cannot ignore the exceptional look of 'Traveller' redbud when it's devoid of leaves. Its weeping, sinuous branches resemble a relaxed waterfall. While redbuds are typically not mammoth-size trees, 'Traveller' offers gardeners a smaller option. Aside from its winter interest, the tree has stunning magenta flowers in early spring before its leaves emerge. If you get this plant when it's young, you have the option of training it to be more upright using a stake.
Fox Valley™ river birch provides exceptional bark without much height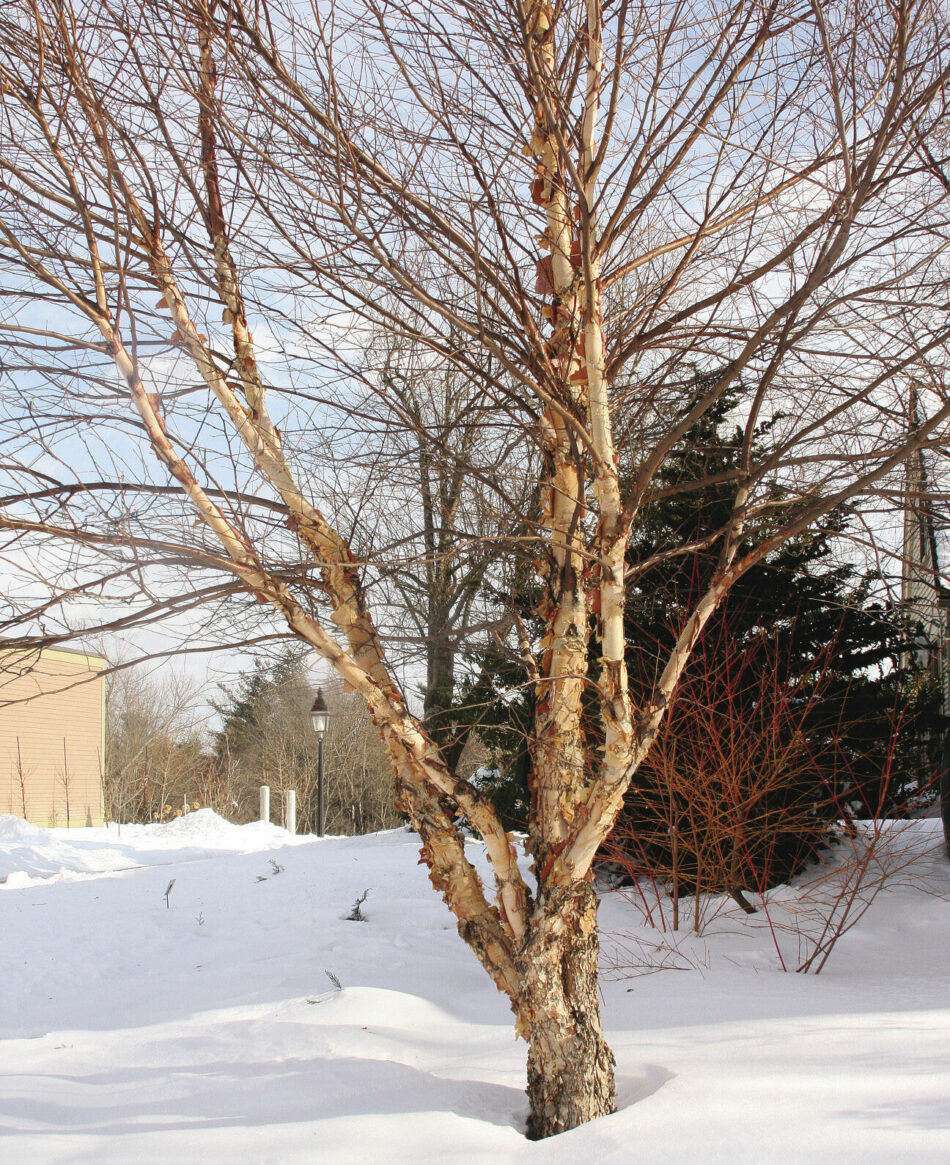 Name: Betula nigra 'Little King'
Zones: 4 to 9
Size: 10 to 20 feet tall and wide
Conditions: Full sun; moist, acidic soil
Plants with well-pronounced exfoliating bark are class acts all year because, even when they're covered with foliage, you can't miss the trees' best trait. River birch is the ultimate example, with its sheets of peeling, parchment-like, milky white bark. But it really puts on a show in winter, when the serrated leaves drop. Thanks to its dwarf stature, Fox Valley™ river birch keeps the performance visible at eye level. Lower limbs can be pruned to help display the legs of the tree, and groupings highlight the exfoliation better than a single specimen. If you're lucky enough to live somewhere where autumns are colorful, you might get a light yellow foliage transformation with this birch, as well.
'White Tigress' snakebark maple has bejeweled branches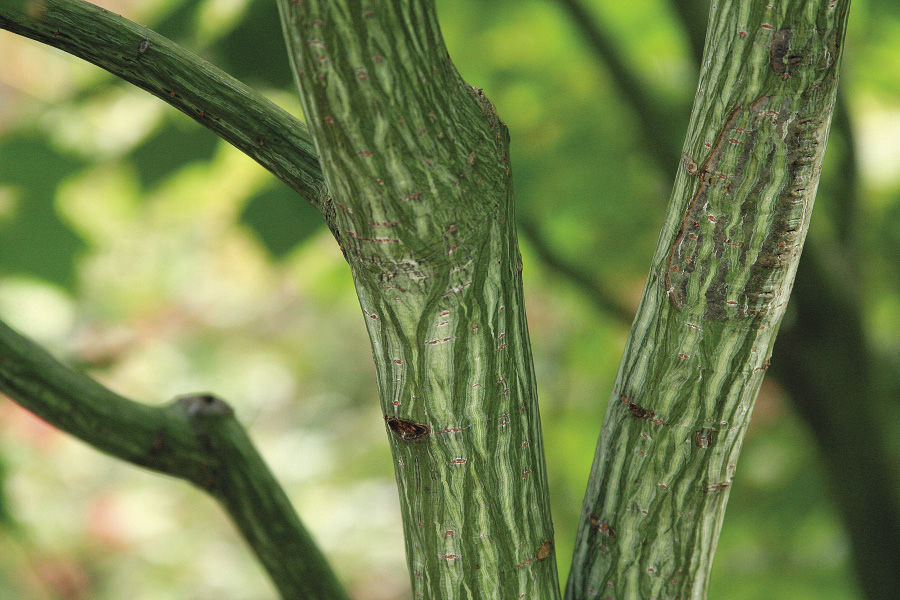 Name: Acer tegmentosum 'White Tigress'
Zones: 4 to 7
Size: 20 to 30 feet tall and 15 to 20 feet wide
Conditions: Full sun to partial shade; rich, moist, well-drained soil
The first time that I saw 'White Tigress' snakebark maple a full canopy of leaves shrouded the trunk and stems in dense shade, yet the incredible bark—emerald green with zig-zaggy diamond-like fissures—still shone through. That was in the dead of summer, so just imagine how this tree dazzles in winter. In addition to its fantastic bark, 'White Tigress' is an appealing choice for almost any garden because of its small stature, the lovely shade it casts, and its amber-colored fall foliage. Applying a yearly cup or two of lime around the root zone helps the bark look brighter and a little more polished. This tree is best sited in moist, well-drained soil (with some shade in southerly zones). Treat the thin bark with care by keeping mowers and string trimmers away to prevent any hazardous cuts that might invite disease or infection.
---
Want the best color? Grab those pruners
Many plants with colorful stems—willows, shrub-form dogwoods, and some Japanese maples—benefit from judicious pruning every year. This practice is especially important because it's the new growth that exhibits the most vibrant color. Pruning for these types of plants should be done in late winter to early spring.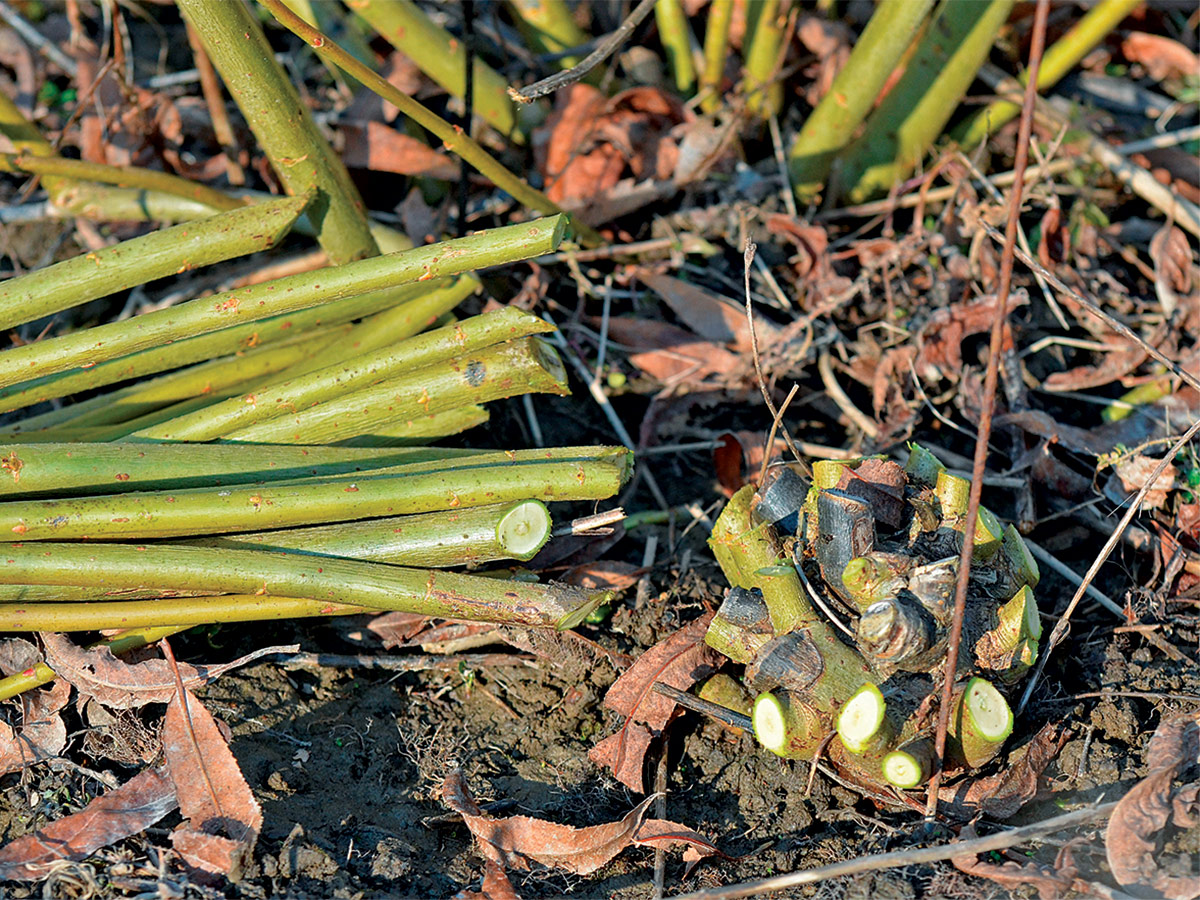 Cut willows back by one-third
For the first three years, prune roughly one-third of the largest willow branches down to the ground. Once established, the plants should be coppiced (cut back to the woody fistlike structure at ground level, photo above) every other year.
Use your thumb to determine when to trim dogwoods
Each year, cut out any branches of shrub-form dogwoods that are thicker than a thumb (half an inch in diameter). This allows colorful new growth to emerge but doesn't sacrifice all the blooms, which are set on old wood.
Prune Japanese maples with care
Cutting these trees is a delicate operation. By simply cutting off broken or crossing branches yearly, you'll maintain a pleasing shape but still get colorful new stems.
---
Jared Barnes is a gardener, horticulture speaker, and doctoral candidate in the Department of Horticultural Science at North Carolina State University.
Photos, except where noted: Danielle Sherry