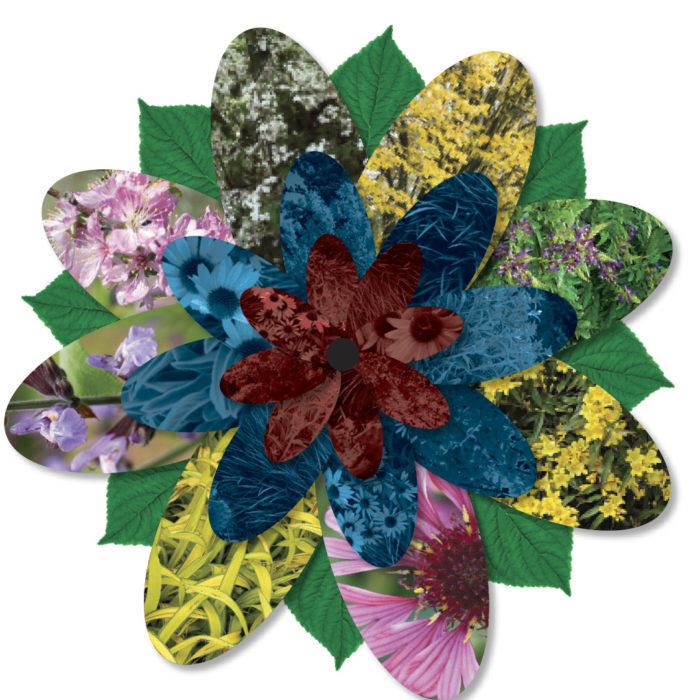 With the wide variety of plants at our fingertips, we should be experimenting with new plants all the time. But we often default to the same familiar cultivars, which is an easy shortcut, since we know what to expect. Some of our go-to plants should be dropped because they are weedy or unruly. Others are simply overused to the point of being a cliché. Even reliable performers sometimes need to step aside and let other selections take center stage. Here are some excellent options to try.
Plant This:
Silver linden is a fragrant pollinator magnet
Tilia Tomentosa
If you know you shouldn't plant callery pear but don't know what to grow instead, consider the elegant alternative silver linden. It has a regular, gumdrop-shaped crown and silver-backed leaves that are showy all season long. The shimmering foliage creates a beautiful backdrop for sweetly scented yellow flowers that bloom in early to midsummer. Bees and other pollinators are drawn like magnets to silver lindens, making them ideal for pollinator-friendly landscapes. With its uniform head, silver linden is perfect as a street tree or in formal applications, but even a single tree will scent an entire garden.
USDA Hardiness Zones: 4 to 7
Size: 50 to 70 feet tall and 30 to 50 feet wide
Conditions: Full sun to partial shade; prefers moist, fertile, well-drained soil but can adapt to drier conditions
Not That: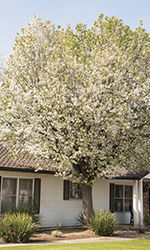 Callery Pear
Pyrus Calleryana

and Cvs.
This much-maligned tree is, inexplicably, still widely planted. Designers are taken by its uniform head, white spring flowers, and fall color. However, it is quickly becoming an invasive nuisance. The flowers are unpleasantly scented, to say the least, and it has a nasty habit of breaking apart by the time it reaches maturity.
Zones: 5 to 8
Plant This:
'Grape Sensation' blanket flower covers

itself in season-long color

Gaillardia

Aestivalis

var. W

inkleri

'Grape Sensation'
We see purple coneflowers everywhere. A more exciting and vibrant plant for a sunny, well-drained spot is the purple form of the Texas endemic blanket flower known as 'Grape Sensation'. It forms a loose mound of lacy foliage, topped from May to October with a bounty of blooms. Grape purple petals surround a burgundy center, and even after the petals drop, the central dome remains attractive for many weeks. Butterflies love this tough native, and reports indicate it may be hardy into Zone 6 if given excellent drainage.
Zones: 7 to 9, possibly into Zone 6
Size: 2 feet tall and 3 feet wide
Conditions: Full sun; lean, well-drained soil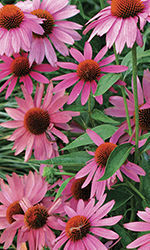 Not That:
Purple Coneflower
Echinacea Purpurea
Few garden plants are as ubiquitous as the celebrated purple coneflower. Recent breeding has led to a much wider diversity of selections, and it remains a good wildlife plant. But if we look objectively, in its basic form it really isn't a knockout plant with its drooping, washed-out lavender-pink petals.
Zones: 3 to 8
Plant This:
'Newe Ya'ar' sage is an elegant, edible alternative to lamb's ears
Salvia

'

Newe Ya'ar'
'Newe Ya'ar' gets its name from an Israeli regional research station. It is a hybrid between culinary sage (S. officinalis, Zones 4–8), which melts away in a humid southern summer, and heat-loving Greek sage (S. fruticosa, Zones 8–9). Combining the best of both parents, it is heat tolerant and hardy to at least Zone 7, and perhaps colder. It forms a low, shrubby perennial with felted, silvery evergreen leaves and masses of lavender spring flowers. To add to its undeniable ornamental appeal, 'Newe Ya'ar' can be dried and used in place of culinary sage.
Zones: 7 to 9
Size: 3 feet tall and wide
Conditions: Full sun; well-drained soil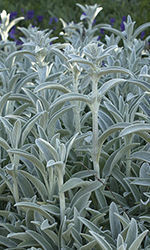 Not That:
Lamb's Ears
Stachys Byzantina
Gardeners value the silvery color and felted texture of lamb's ears, which explains why this plant has been used ad nauseam. Combine this with its tendency to become an unpleasant mush during a wet winter, and perhaps lamb's ears should be put out to pasture.
Zones: 4 to 8
Plant This:
Chinese snow bush has a tidy habit and blooms for weeks
Deutzia Setchuenensis

var.

Corymbiflora
If you're sick of the sprawling habit of bridal wreath spirea, Chinese snow bush by contrast makes a more manageable shrub. Masses of pure white flowers bloom for a month or more, from late spring into early summer. The gray-green foliage is attractive on its own, as are the peeling cinnamon stems of mature plants. Chinese snow bush is hardy through Zone 4, but also thrives in the Deep South.
Zones: 4 to 9
Size: 6 feet tall and 5 feet wide
Conditions: Full sun; moist, well-drained soil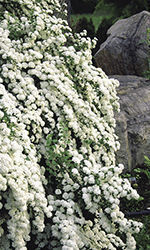 Not That:
Bridalwreath Spiraea
Spiraea ×

Vanhouttei
Bridalwreath spirea is a mainstay of old-fashioned gardens, where it forms an arching, sprawling mass of stems covered briefly in spring with small white flowers. The haystack mound grows easily to 8 feet tall and 10 feet wide, taking up valuable garden space during the 50 weeks it isn't in bloom.
Zones: 3 to 8
Plant This:
Carolina jasmine is a vigorous grower that stays in bounds
Gelsemium Sempervirens
This southeastern native, known as Carolina jasmine and jessamine, is a quick-growing vine, which will rapidly cover an arbor without becoming a nuisance. The evergreen foliage is brightened in spring with masses of cheery, sweetly fragrant yellow flowers shaped like small trumpets. Carolina Jasmine is tolerant of most garden conditions once established. If it isn't grown over a wall or structure, its stems will create a rambling, informal ground cover.
Zones: 7 to 10
Size: 12 to 20 feet tall and 3 to 6 feet wide
Conditions: Full sun to partial shade; moist, well-drained soil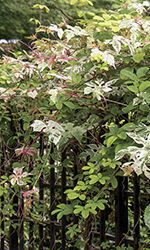 Not That:
Porcelainberry
Ampelopsis Brevipedunculata
Porcelainberry has tempted many a gardener with its vigorous growing habit and luscious lilac-blue to deep amethyst fall berries. Unfortunately, this Invasive vine can quickly spread out of control and cause more than its fair share of regret. Even the variegated form, 'Elegans', will seed into surrounding areas and should be avoided.
Zones: 4 to 8
Plant This:
Evergreen wisteria is worthy of a Tiffany window

but won't take over the world
Millettia Taiwaniana (

syn.

M. Taiwanensis)
Chinese and Japanese wisteria are well known for their tendency to escape into the wild. A more restrained option is evergreen wisteria. This wisteria relative grows to about 15 feet and is covered in glossy, evergreen foliage. From mid-summer into fall, it bears upright, branched flower panicles of deep purple-red with an intoxicating fragrance. While not as hardy as true wisteria, this evergreen vine is happy growing in a sunny spot across much of the southern United States into Zone 7.
Zones: 7 to 11
Size: 15 to 20 feet long and 3 feet wide
Conditions: Full sun to partial shade; well-drained soil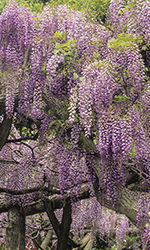 Not That:
Chinese and Japanese Wisteria
Wisteria Sinensis

,

W. Floribunda
The long lavender panicles dripping from the twining stems of Asian wisteria can seduce any gardener, but the invasive tendencies and aggressive growth of those species mean that they are best avoided in most gardens. Thick stems can crush arbors, and, in many cases, the wisteria waits years before even deigning to flower.
Zones: 5 to 8
Plant This:
'Banana Boat' is a bright,

broad-lea

v

ed sedge for shade
Carex Siderosticha

'Banana Boat'
Gardeners cover a lot of turf with lilyturf, but there are quite a few sedges (Carex spp. and cvs.) that can supply a similar texture without the yawn factor. Among the best is 'Banana Boat', which makes a bright statement with its low mounds of gold foliage, thinly margined with deep green. 'Banana Boat' politely spreads to form lovely patches of color in a woodland garden. It is perfect for a small-scale ground cover, edging along a path, or mingling with ferns and other perennials.
Zones: 5 to 9
Size: 6 to 12 inches tall and wide
Conditions: Full to partial shade; consistently moist soil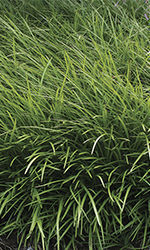 Not That:
Lilyturf
Liriope Spicata
Perhaps no plant is as widely grown in gardens as lilyturf. While it is a reliable, easy plant, its grassy texture has been used to the point of garden saturation. Even its variegated forms are so widely planted that they have become mundane.
Zones: 4 to 10
Plant This:
Plant Afghan bush cherry for a sweet new focal point in early spring
Prunus Jacquemontii
Forsythia is an undeniably cheerful presence in the spring garden, but the little-known Afghan bush cherry offers a more refined burst of early color and should be more widely grown. In early spring, the diminutive shrub's branches are covered in soft pink cherry blossoms. Afghan bush cherry is easy and disease resistant in the humid South but is equally at home into at least the coldest Zone 6 gardens. It is typically a low-branched shrub but is attractive if grown as a dwarf tree, as well. Expect a mature specimen to top out at about 5 feet tall and slightly wider.
Zones: 6 to 9
Size: 4 to 5 feet tall and 5 to 6 feet wide
Conditions: Full sun; moist to average well-drained soil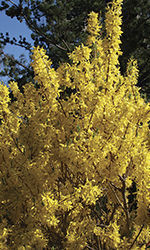 Not That:
Forsythia
Forsythia

S

pp. and Cvs.
Among the most widely planted spring flowering shrubs is the garishly gold forsythia. While it is among the most reliable of plants, it is over-used and routinely requires considerable pruning to keep it within bounds. After flowering, it has little ornamental interest to recommend it.
Zones: 4 to 9
---
Try a Virtual Plant Swap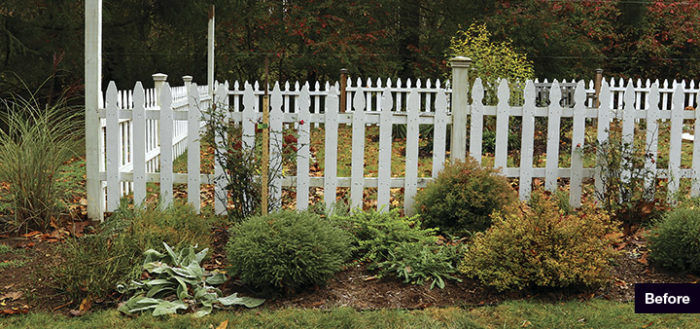 It's easy to preview how a new plant will look in your garden. For example, I think a 'Red Umbrellas' filipendula would be a great replacement for an ailing rose bush in the Fine Gardening test garden. Here's how I can convince our editor, Steve Aitken, that this plant is worth a try: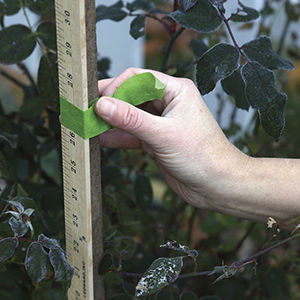 1. Put a stake in the ground next to the planting spot. Clearly mark your new plant's mature height on the stake. (I used painter's tape and a yardstick.) Take a photo and print it.
2. Find a photo of your new plant. A shot showing the whole plant will work best.
3. Calculate how much you'll need to reduce or enlarge your plant photo to fit into your location photo. First, measure the marked stake in your location photo, then measure the plant in your habit shot. Measuring in centimeters makes the math easier.
4. Divide the height of the marked stake in the location photo by the height of the plant in the habit shot, then multiply by 100 to get the percentage you'll need to reduce or enlarge the plant photo.
5. Reduce or enlarge the plant photo with a color copier, cut out the plant, and paste it into your location photo.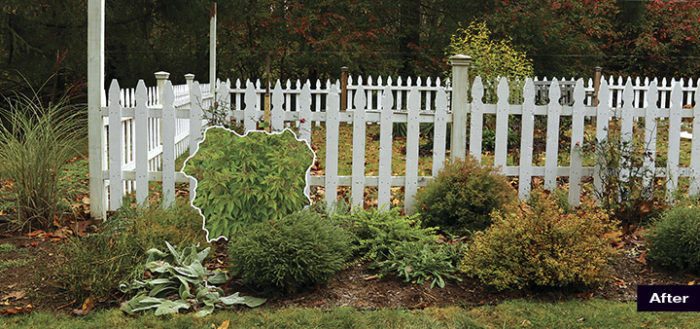 ---
Mark Weathington is director and curator of collections at the JC Raulston Arboretum at NC State University in Raleigh, North Carolina.
Photos: Howard Rice/gapphotos.com, Bill Johnson, Jennifer Benner, Michelle Gervais, Carol Collins, millettephotomedia.com, courtesy of JC Raulston Arboretum, Doreen Wynja, Jerry Pavia, Kerry Ann Moore
Sources: