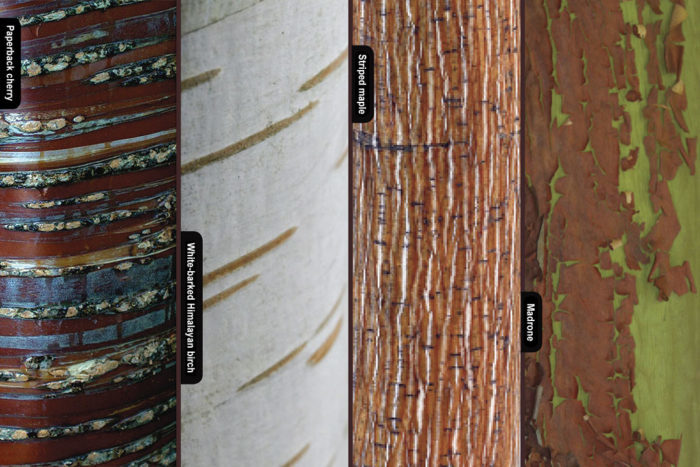 In my younger years, when my long history of saying dumb things was in a sort of golden age, I said something to the effect of, "Why would anyone be interested in a tree? All you see of it is the trunk." I haven't learned much since then, but I have come to understand the many charms trees have to offer, not the least of which is that trunk of which I was so dismissive.
Colorful and unique bark and stems are as valuable an ornamental asset as any flower or leaf. The artful inclusion of these elements into your garden is a perfect way to elevate your garden from a mere backyard planting to a work of art. If you think your garden could use more bark, then here are some options for you.
Paperbark Maple
Acer griseum
If you live in the Northeast, when you think of maples you might think of fall color, syrup, those little helicopter seed pods that are fun to play with, and the uncountable number of spring seedlings they create. But the genus Acer is home to numerous species with great-looking bark. The best is paperbark maple. Everyone who sees it falls in love with the cinnamon-colored strips of peeling bark this tree offers. Also impressive is the fall color, when the leaves turn shades of yellow, red, and orange. Paperbark maple is tough once established, and it produces few, if any, viable seeds, so it won't add to your list of spring chores.
USDA Hardiness Zones: 4 to 8
Size: 20 to 30 feet tall and 15 to 25 feet wide
Conditions: Full sun to partial shade; well-drained soil
Striped Maple
Acer pensylvanicum

and cvs.
For a native option in maples, look for striped maple. Its natural habitat is a forest understory in the eastern portion of the United States, which gives you a clue to the conditions it needs: partial to full shade and cool, acidic soil. Provide that, and you will have the pleasure of the white striped bark of this tree's branches. A red-branched cultivar, 'Erythrocladum', is even more exciting, but propagation is difficult, so it can be hard to find. A downside of striped maple is that it will almost assuredly be visited by any number of critters from rabbits up to deer and even moose (moosewood is another common name). If you are tempted to plant striped maple in the hopes of attracting a moose to your garden, just remember that is the kind of thing that sounds like a cool idea until it actually happens.
Zones: 3 to 7
Size: 15 to 20 feet tall and wide
Conditions: Partial to full shade; cool, acidic, well-drained soil
Paperbark Cherry
Prunus serrula
Similar in appearance to paperbark maple is paperbark cherry. It has a similar peeling mahogany/cinnamon/copper brown bark but adds a smooth shine that makes this tree hard to resist fawning over. Small spring flowers and narrow leaves vie for attention in their time, but nothing can take your eyes off that bark for long.
Zones: 5 to 7
Size: 15 to 20 feet tall and wide
Conditions: Full sun to partial shade; well-drained soil
Madrone
Arbutus menziesii
If coppery brown bark suits your fancy, but you would like something better suited to the warm, dry conditions of the West Coast try madrone. This tree's native range runs from British Columbia into California. As the tree ages, its bark grows smooth and the branches arch and twist gracefully. The long white panicles that appear in spring impress some but not others. The red berries that follow, however, are a definite favorite of the local birds. Make sure you site your madrone well: It does not like to be moved and is unlikely to survive if you try.
Zones: 7 to 10
Size: 20 to 35 feet tall and 10 to 15 feet wide
Conditions: Full sun to partial shade; well-drained soil
White-Barked Himalayan Birch
Betula utilis

var.

jacqumontii
For a tree that is hard to miss on the drab days that can plague us from late fall to early spring, look to white-barked Himalayan birch. The bark of this tree is an unforgettable white that will continue to dazzle even after the garden wakes up again in spring. As its name suggests, white-barked Himalayan birch is native to cool mountainsides. Provide a cool root zone in full sun by mulching or surrounding it with some low-growing evergreens, and keep it well watered. Then your only problem will be trying not to look at the stunning bark, unless you have Japanese beetles, as they reportedly love this tree.
Zones: 5 to 7
Size: 35 to 40 feet high and 15 to 20 feet wide
Conditions: Full sun to partial shade; cool, moist, well-drained soil
Heritage
®
 River Birch
Betula nigra 'Cully'
A birch that will be easier to grow for most people is Heritage® river birch. While it isn't as white as its Himalayan cousin, river birch has a much more dramatic peeling bark that reveals shades of cream and salmon, which sounds gross but looks great. Native to moist areas in the Eastern United States, river birch doesn't like overly dry conditions and needs acidic soil. This species of birch is resistant to bronze birch borer. Heritage® is widely considered to be the best cultivar in almost all respects.
Zones: 4 to 9
Size: 40 to 60 feet tall and wide
Conditions: Full sun to partial shade; moist, acidic soil
Japanese Stewartia
Stewartia pseudocamelia
Many of the trees and shrubs noted for their bark aren't in demand for their flowers as well. Japanese stewartia is one that has both. In summer, when most trees are just backdrops for other plants, Japanese stewartia covers itself in white, cup-shaped flowers with a cluster of yellow anthers in the center. In autumn, the leaves turn yellow and shades of red before dropping to reveal what has been there all along: a smooth trunk with patches of light brown, cream, red, and everything in between. This tree stays relatively small, so it is easy to incorporate it into a garden, but the downside is that it grows slowly.
Zones: 5 to 8
Size: 15 to 30 feet tall and 10 to 15 feet wide
Conditions: Full sun to part shade; moist, well-drained soil
'Midwinter Fire' Dogwood
Cornus sanguinea 'Midwinter Fire'
 Colorful stems are the equal of interesting bark, especially when it comes to winter interest. Nothing beats 'Midwinter Fire' dogwood for vibrant stem color. When this shrub drops its leaves, it sets the landscape aglow with its branches that are yellow at the base and gradually turn into a vibrant red. The younger the stems, the better the color, so cut back some or all of the branches in early spring for the best late season show. Some sources claim 'Midwinter Fire' is hardy down to USDA Hardiness Zone 4, but it can handle Zone 5 for sure.
Zones: 5 to 8
Size: 5 to 8 feet tall and wide
Conditions: Full sun to partial shade; tolerant of a wide variety of soils but prefers a moist spot
Lacebark Pine
Pinus bungeana
Lacebark pine is another tree that, once seen, can't be forgotten. The bark on this conifer exfoliates, leaving multicolored patches that run from creamy white to red to green and even purple. Although lacebark pine is slow growing, it develops multiple trunks (which means more bark) and a somewhat open habit. Growing one tree can make it feel like you have planted a thicket. It is adaptable to most soil types, and deer don't like to eat it.
Zones: 4 to 8
Size: 30 to 50 feet tall and 20 to 35 feet wide
Conditions: Full sun; well-drained soil
Planting any one of these trees or shrubs is certain to enhance your garden in all seasons. And you can take pride in having been smart enough to plant a tree just for its trunk.
---
Designing with bark
So you have a tree or shrub with awesome bark. How do you help it stand out in your design?
Here are some tips: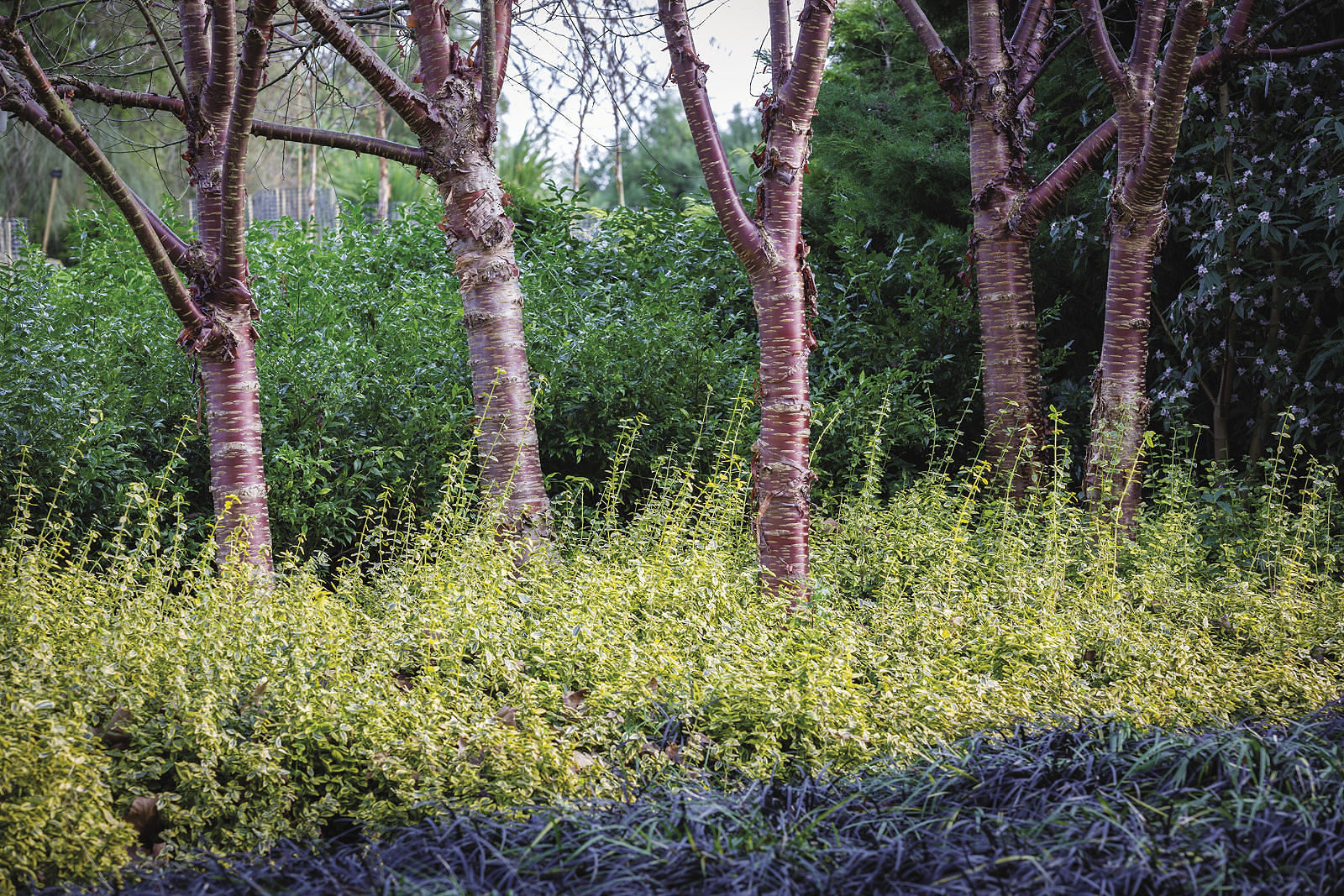 1. Thick trunk? Plant low-growing plants around the base of a tree to draw attention to the trunk. Normally, this is not a good idea, but when you want your tree to be seen, it is a smart move. Another good idea is to plant contrasting elements in the foreground.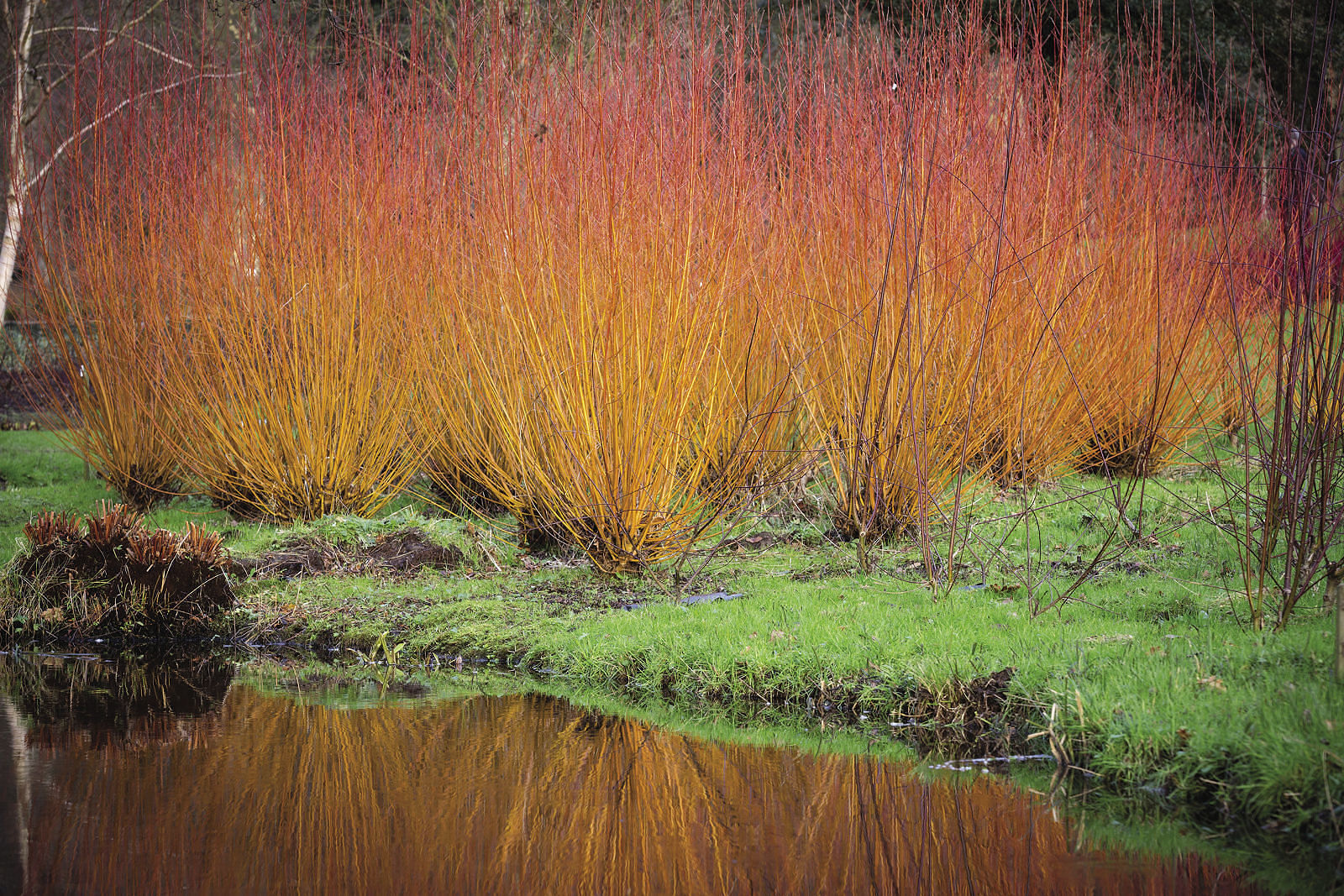 2. Thin stems? If your shrub has thin stems or your tree is still young, highlight the bark by planting in a mass, or, if you don't want seven trees growing that close together, plant it in front of a contrasting background.
---
Steve Aitken is the editor.
Photos: Joshua McCullough; millettephotomedia.com; Bill Johnson; Michelle Gervais; Jerry Pavia; Richard Bloom
Sources