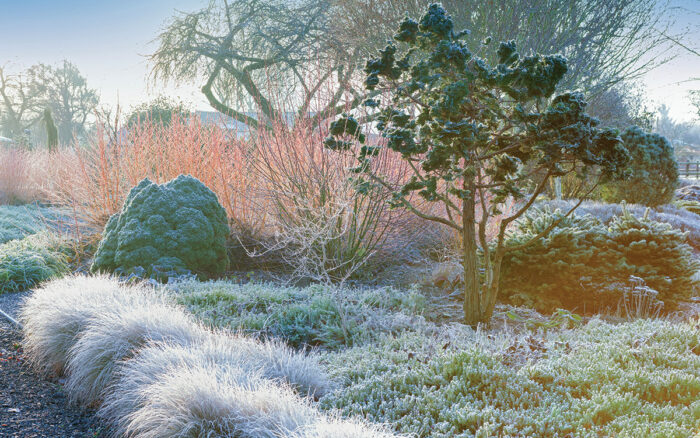 You have to plan ahead for winter interest. The downside of that is, you have to put in the effort first and hope for a payoff. The upside is that the payoff isn't hard to come by, and all you have to do in winter is walk around and enjoy the results. A large part of what becomes winter interest is stuff that was already there, but you notice it more now. Color and texture are still present, but their influences recede. Form, however, increases its presence in winter. Branch structures that had been hidden beneath leaves suddenly show their architecture. Evergreen mounds and spires that spent the growing season as mere backdrops to showier companions now become focal points. The following scenes demonstrate the effectiveness of forms in winter. Use the plant combinations as recipes, or, even better, understand the design lessons they hold. That effort is sure to pay off.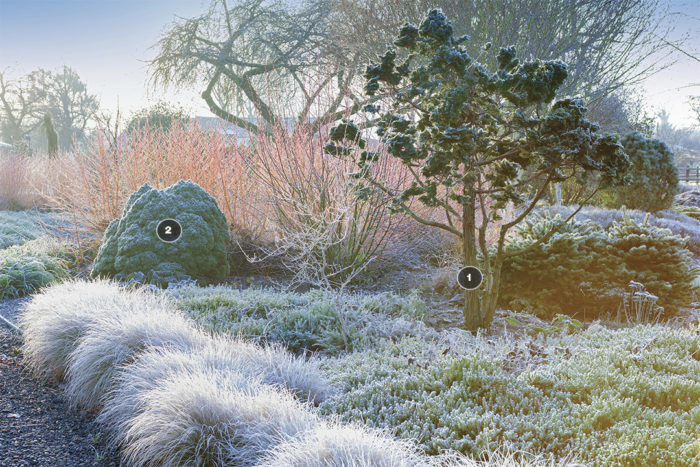 Key plants
Dwarf hinoki cypress

(Chamaecyparis obtusa 'Nana Gracilis', Zones 4–8)
'Alberta Globe' white spruce (Picea glauca 'Alberta Globe', Zones 3–9)
Every plant should get a time to shine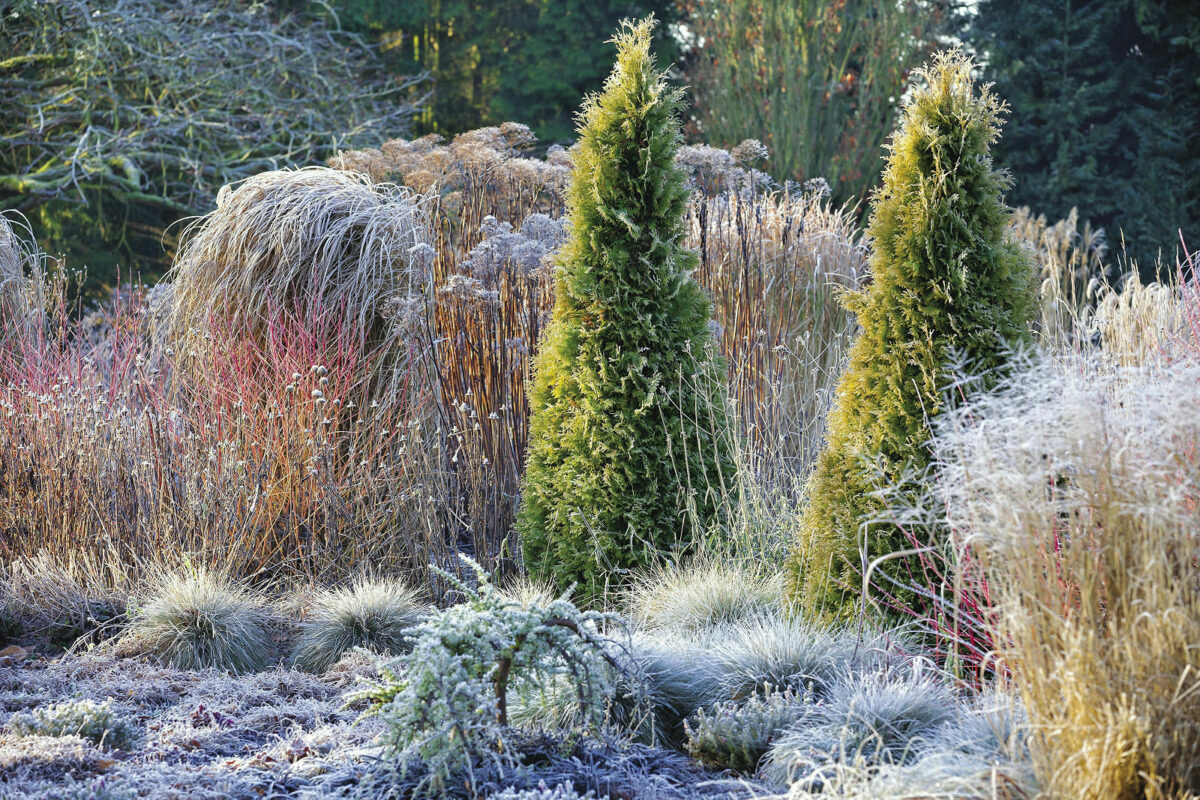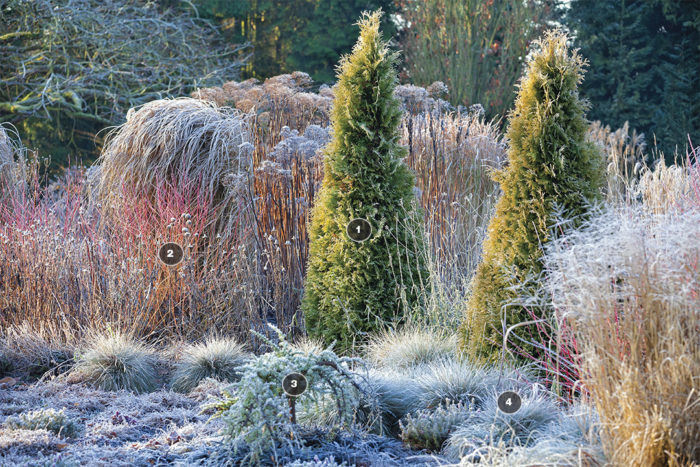 Now that all the grasses and perennials have faded away, this pair of Western arborvitae can steal the show. Their dense, distinct forms contrast with the thin stalks surrounding them. A shared vertical habit adds harmony, but because the arborvitaes are conical, they prevent the scene from feeling like a gathering of tall, skinny basketball players. This is one of the few times it is good to have a wide bottom.
Key plants
Where there's smoke, there's fire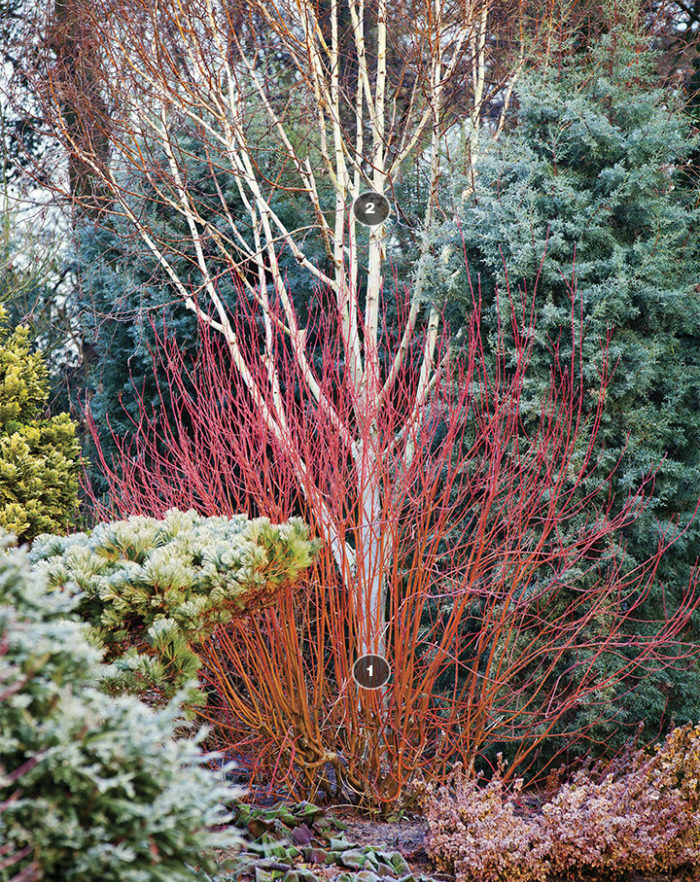 It is often recommended that one plant a redtwig dogwood in front of a green background to make it stand out. Here, the birch between the dogwood and its background invites one to notice the similar forms and branching patterns that make the tree look like white smoke rising from the flames.
Key plants
'Cardinal' redtwig dogwood

(Cornus sericea 'Cardinal', Zones 3–8)
White Himalayan birch (Betula utilis var. jacquemontii, Zones 5–6)
As color returns, form still plays a role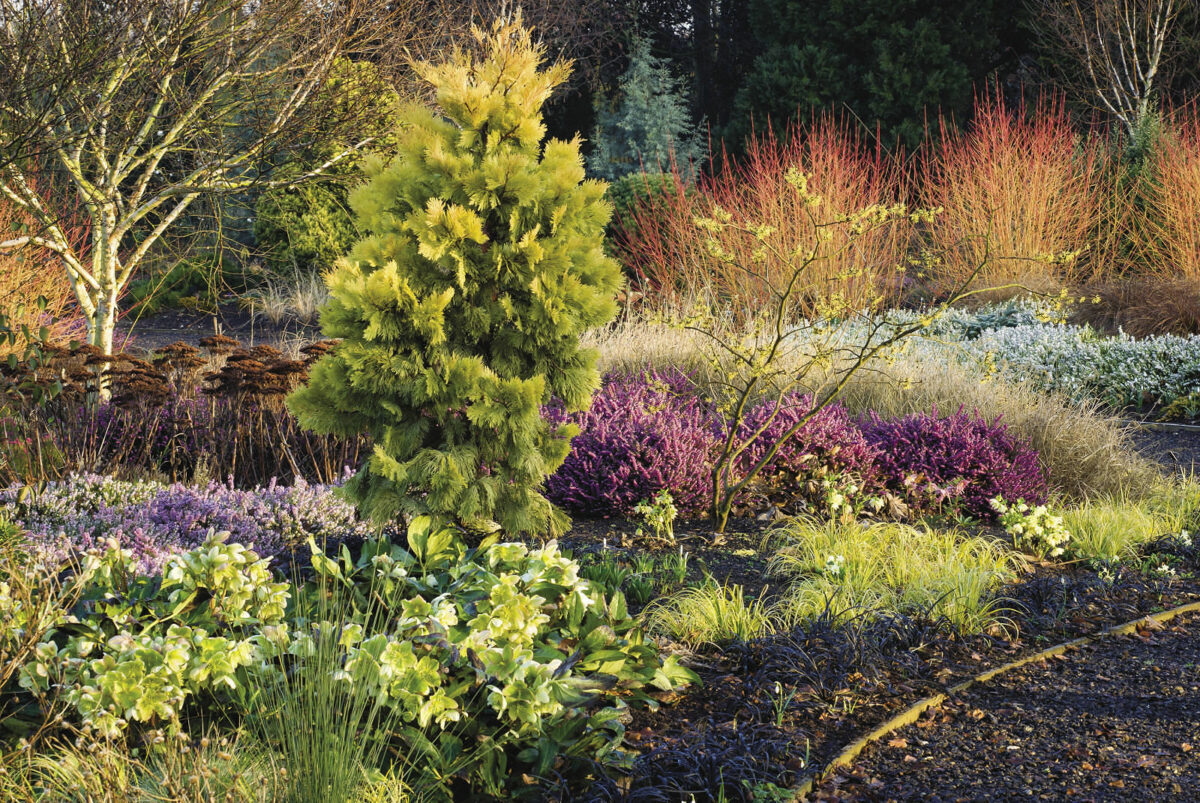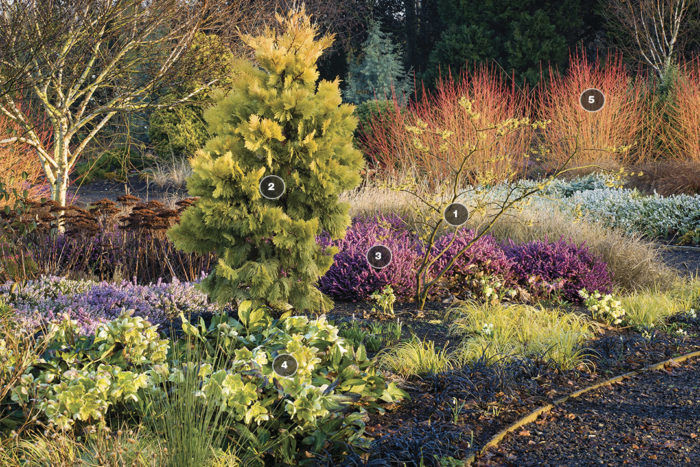 Late winter sees a return of flowers, but form can still steal the show. This colorful scene is made majestic by the elegant, bonsai-like stretch of the witch hazel.
Key plants
'Arnold Promise' witch hazel

(Hamamelis × intermedia 'Arnold Promise', Zones 5–9)
'Berrima Gold' incense cedar (Calocedrus decurrens 'Berrima Gold', Zones 5–9)
'Myertoun Ruby' winter heath (Erica carnea 'Myertoun Ruby', Zones 5–8)
Hellebore

(

Helleborus × nigercors cv., Zones 6-9)
'Midwinter Fire' redtwig dogwood (Cornus sanguinea 'Midwinter Fire', Zones 5–7)
---
Snow Happens
A good winter plant is one that only looks better with a little frosting.
1. Blackbird

™

euphorbia

(Euphorbia 'Nothowlee')

Zones: 6–10

Size: 18 inches tall and wide

Conditions: Full sun to partial shade; average to dry, well-drained soil

2. 'Arnold Promise' witch hazel

(Hamamelis × intermedia 'Arnold Promise')

Zones: 5–9

Size: 10 to 15 feet tall and wide

Conditions: Full sun to partial shade; moist, well-drained soil
3. 'Thunderhead' Japanese black pine

(Pinus thunbergii 'Thunderhead')

Zones: 6–10

Size: 5 to 10 feet tall and wide

Conditions: Full sun; moist, well-drained soil

4. 'Pusch' Norway spruce

(Picea abies 'Pusch')

Zones: 3–7

Size: 2 feet tall and 3 feet wide

Conditions: Full sun; well-drained soil
5. 'Little Bunny' fountain grass

(Pennisetum alopecuroides 'Little Bunny')

Zones: 5–9

Size: 16 inches tall and 24 inches wide

Conditions: Full sun to partial shade; moist, well-drained soil

6. Hellebore

(Helleborus × sternii)

Zones: 6–9

Size: 2 feet tall and wide

Conditions: Partial shade; moist, well-drained soil
7. 'Myretoun Ruby' winter heath

(Erica carnea 'Myretoun Ruby')

Zones: 5–8

Size: 6 to 12 inches tall and 18 inches wide

Conditions: Full sun; well-drained soil

8. Black mondo grass

(Ophiopogon planiscapus 'Nigrescens')

Zones: 6–10

Size: 8 inches tall and 12 inches wide

Conditions: Partial to full shade; moist, well-drained soil

9. Variegated silverberry

(Elaeagnus pungens 'Maculata')

Zones: 7–9

Size: 10 feet tall and wide

Conditions: Full sun to full shade; well-drained soil
---
Steve Aitken is the editor.
Photos: Richard Bloom