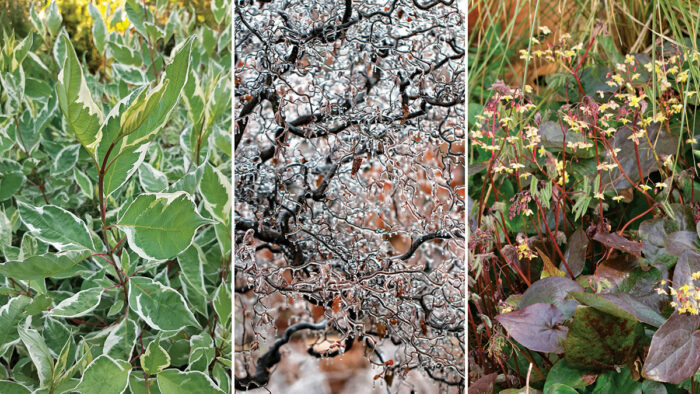 As the last autumn leaves reluctantly drop and as bare seed heads stand tall in the field, we can no longer deny that winter is upon us. Our lush summer gardens are a seemingly distant memory now that many horticultural treasures stand stark, twiggy, or brown and ready to be cut back. What many see as a dark and inhospitable season of dull dormancy, however, I view as a chillier continuation of my gardening season.
There are many reliable plants that will tolerate, even look their best, during the frosty days of winter. While winter gardens may run short of blooms, especially in cold climates, there is a wonderful selection of evergreen foliage, interesting bark, and richly colored twigs that can make anyone's winter brighter.
I approach winter gardening the same way I look at gardening in other seasons—by planting interesting-looking plants from the ground up. I want to have captivating bulbs and perennials bursting through the soil, dynamic shrubs with beautiful branching or evergreen foliage, and bold trees with incredible bark and eye-catching form making a framework for the garden. Throw in a few flowers and some berries, and I am set for the season and well on my way to creating an engaging outdoor space.
Captivating ground covers worth their weight in gold
---
Hardy cyclamen delivers charming winter blossoms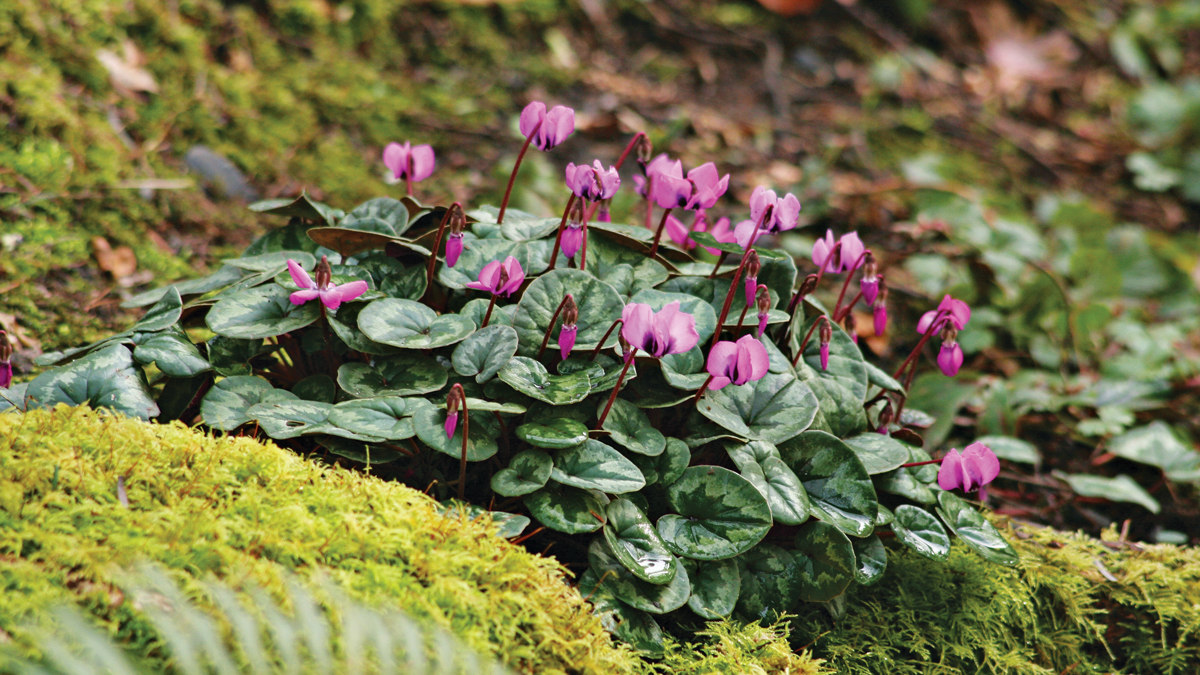 Name: Cyclamen coum
Zones: 5–9
Size: 2 to 6 inches tall and 6 to 8 inches wide
Conditions: Full to partial shade; rich, well-drained soil
Native range: Mediterranean to Caucasus region
Covering ground from November through March can seem like a tall order when we are accustomed to the botanical abundance and detail offered by other seasons. Fortunately, over the last several years more plants have become available to help fill this niche, including options from one of my favorite groups: cyclamens (Cyclamen spp. and cvs., Zones 5–9). Depending on where you live, several species may be able to thrive in your climate, but one of the most charming and hardy is the winter-blooming hardy cyclamen (C. coum).
This long-lived corm (a modified bulblike stem) naturally grows within and along the edge of shady woodlands. It's an adorable plant with brightly colored blooms in shades of magenta, pink, and white from December to late February. Although the flowers are beautiful, the real asset is the decorative foliage. The rounded dark-green leaves are embellished with variations of silver mottling, providing a long-lasting show before going dormant in late spring. Once hardy cyclamen has settled in, seedlings can appear around the garden—thanks to ants carrying the seed. Over time your plantings can only improve.
'Black Sea' epimedium leaves turn a striking inky purple during the colder months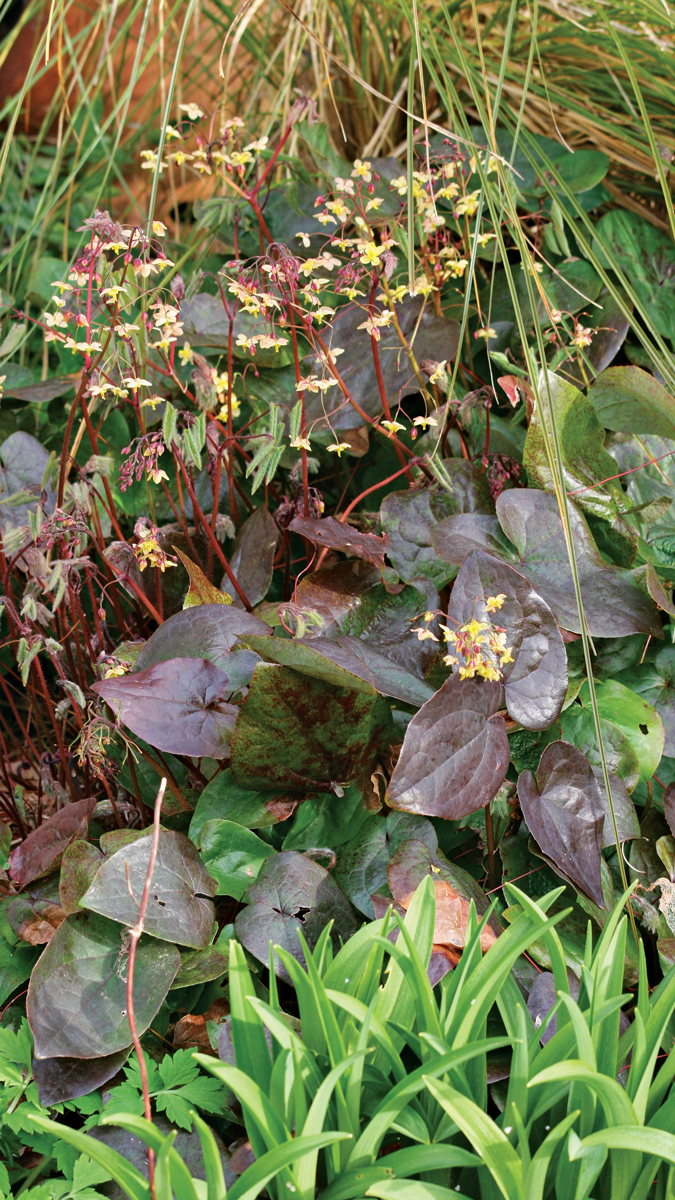 Name: Epimedium 'Black Sea'
Zones: 5–9
Size: 15 to 18 inches tall and 3 feet wide
Conditions: Full to partial shade; rich, well-drained soil
Native range: Hybrid
Another asset to the lower level is evergreen ground covers, which provide a welcome relief from winter dormancy. On my must-have list is epimedium (Epimedium spp. and cvs., Zones 4–9). There are several tough selections that hold up well to low temperatures, but one of the best is 'Black Sea' epimedium. This robust hybrid has large leaflets that are rich green during the growing season and then turn a striking inky purple-black in chilly weather—with the deepest winter coloring achieved in open bright shade.
The leaflets are held tightly on red stems in slowly spreading clumps. It can take up to five years for a plant to reach its maximum size. In late winter to early spring, 24- to 30-inch-tall flower stems produce airy panicles of small butterscotch-colored blooms that look great against the dark-colored leaves. This hardy perennial contrasts well with the tawny blonde of ornamental grasses and the vibrant greens of evergreen ferns.
HGC® Ice N' Roses® Red hellebore packs a punch with prolific late-winter blooms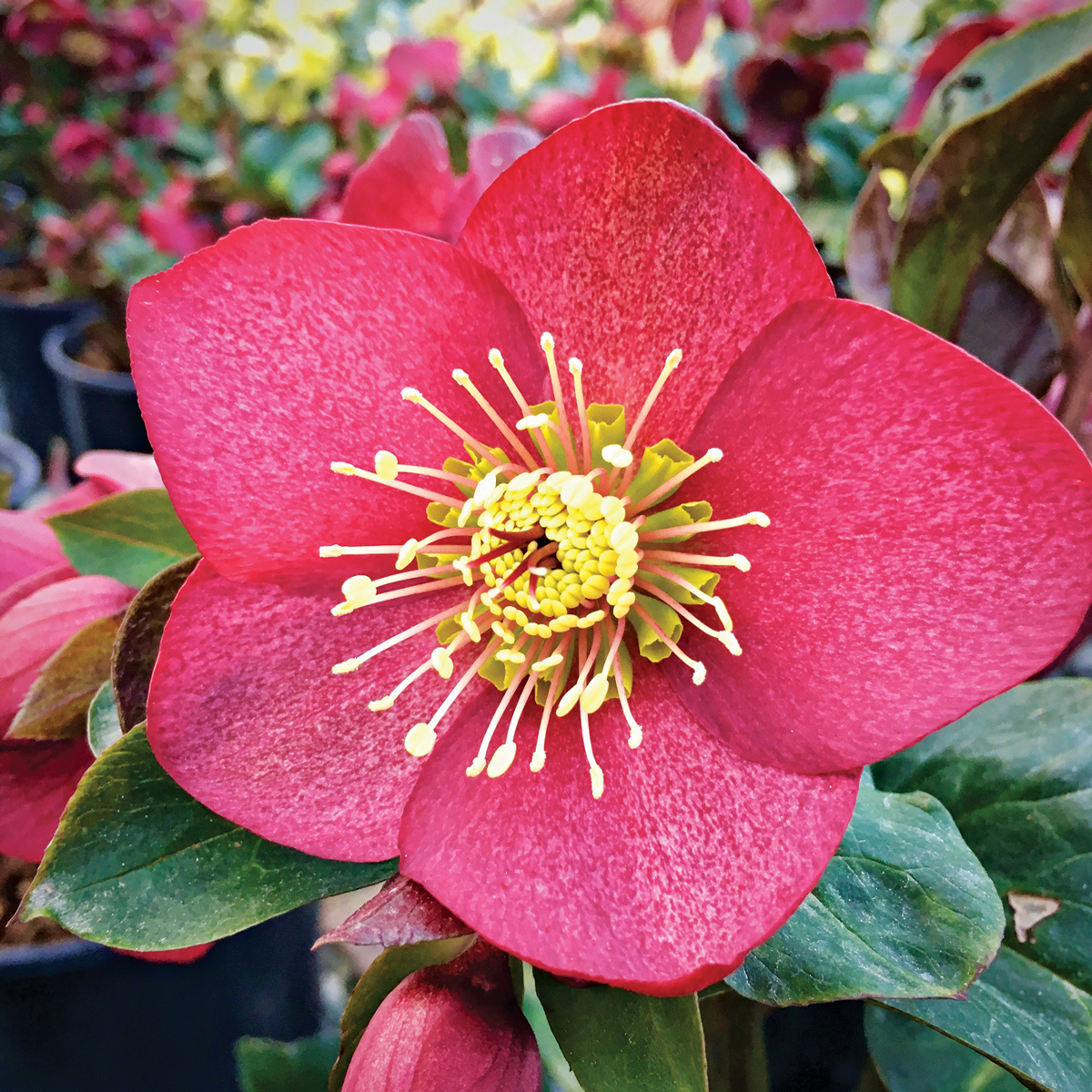 Name: Helleborus × glandorfensis 'Coseh 4100'
Zones: 5–9
Size: 18 inches tall and 24 inches wide
Conditions: Partial to full shade; moist, well-drained soil
Native range: Hybrid
No winter garden article is complete without a mention of hellebores (Helleborus spp. and cvs., Zones 4–9). These flora divas come into their glory in late winter, jump-starting our excitement for the coming of spring. Through the results of complex breeding, every year yields new selections that can be found at local nurseries. I try to plant as many newbies as possible to assess their value. One that I am particularly pleased with is HGC® Ice N' Roses® Red hellebore. Relatively new to nurseries, this is a solid winner with vigorous growth, dark ever­green foliage, and prolific blooms. For greatest impact, plant this hellebore where the early morning or low evening sun can stream through the maroon red flowers.
Fragrant Valley™ dwarf sweet box offers evergreen foliage and a divine scent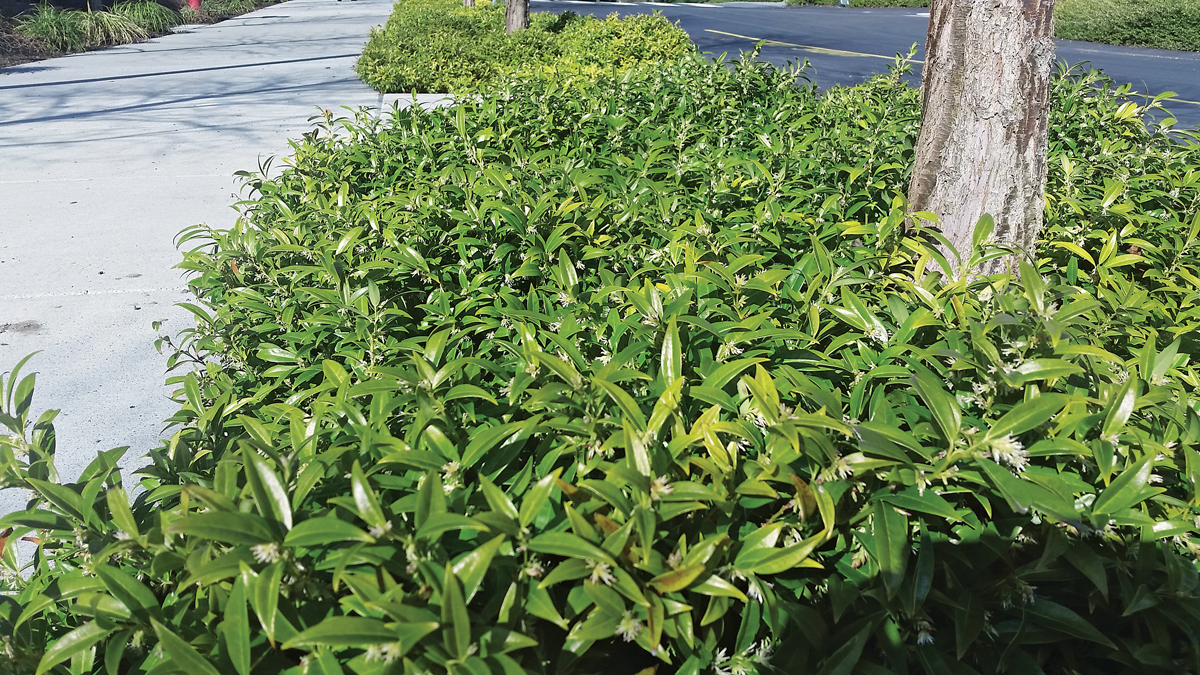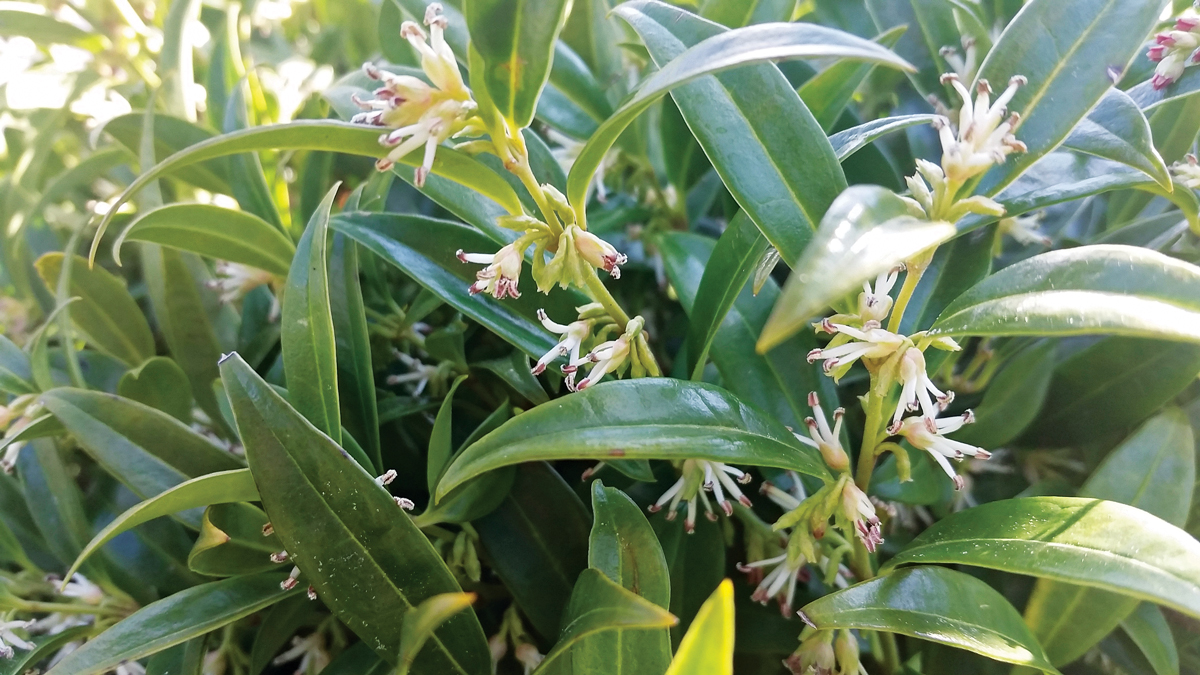 Name: Sarcococca hookeriana var. humilis 'Sarsid1'
Zones: 6–8
Size: 12 to 15 inches tall and 4 to 6 feet wide
Conditions: Full to partial shade; moist to dry soil
Native range: China
For a great shrubby ground cover, look to Fragrant Valley™ dwarf sweet box. Its tiny white flowers are hidden among the narrow, glossy evergreen leaves, but their intensely sweet vanilla-like fragrance cannot be missed. The divine perfume can start as early as Christmas and continue as late as the end of February, depending on your climate and local weather. A slow grower, sweet box can take up to 10 years to reach its full spread. This ground cover demands shade to look its best, but it is quite tolerant of soil types, including dry locations.
Shrubs that shine in winter and beyond
---
Ivory Halo® Tatarian dogwood pops with vibrant winter stems
Name: Cornus alba 'Bailhalo'
Zones: 3–7
Size: 4 to 6 feet tall and wide
Conditions: Full sun to partial shade; rich, well-drained soil
Native range: Asia
Shrubs add valuable structure to the garden, so it is important to add selections that have something to offer in as many seasons as possible. It's easy to go to evergreen shrubs to fill the winter void, but there are some deciduous shrubs that have much to offer. A longtime favorite is Tatarian dogwoods (Cornus alba cvs., Zones 2–8). A great compact variety that has impressed me recently is Ivory Halo® Tatarian dogwood.
Densely branched, Ivory Halo® has a rounded to slightly mounded form that reaches full size in about 10 years. During the growing season, this shrub glows with brightly variegated foliage in pale green and cream. In winter, its bare stems turn a vibrant red that is particularly striking after a snow. It can be cut back to 6 to 8 inches tall every other year to keep it smaller when needed. I love cutting the bright red stems in winter to use as a burst of color in my outdoor containers.
'Red Dragon' contorted filbert adds an intriguing twist to the garden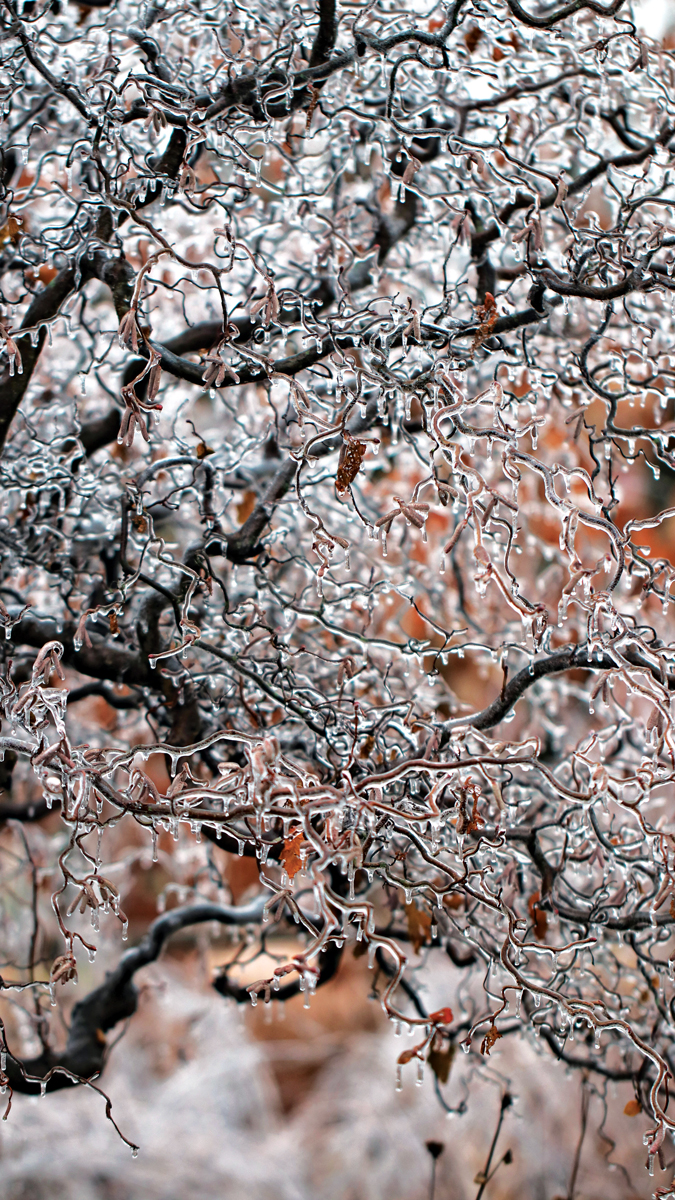 Name: Corylus avellana 'Red Dragon'
Zones: 3–9
Size: 6 feet tall and wide
Conditions: Full sun to partial shade; fertile, well-drained soil
Native range: Europe, western Asia, and northern Africa
The twisted branches of contorted filbert (Corylus avellana cvs., Zones 3–9) have long been a desired shrub, but eastern filbert blight has indeed "blighted" this option. However, thanks to Oregon State University's blight-resistant introduction of 'Red Dragon' contorted filbert, we are now saved from a bland winter.
This newer variety is quickly gaining popularity not only ­because of its warped and coiled branching but also because of its reddish-purple new growth and lovely pink catkins that grace the garden in March. Another plus is that this cultivar is often grown through micropropagation, not by grafting, which means the suckers from the base of the shrub are also curled and contorted—a huge improvement from the old cultivars that needed their suckers removed annually.
Trees that contribute more than just a framework
---
Trees are a must-have in the winter landscape, but without a doubt their large size and dominating presence make them an indispensable showpiece all year long. Two stunning choices that I would not be without are witch hazels (Hamamelis spp. and cvs., Zones 3–9) and stewartias (Stewartia spp. and cvs., Zones 3–9).
'Wisley Supreme' witch hazel is a standout with sunshine-yellow flowers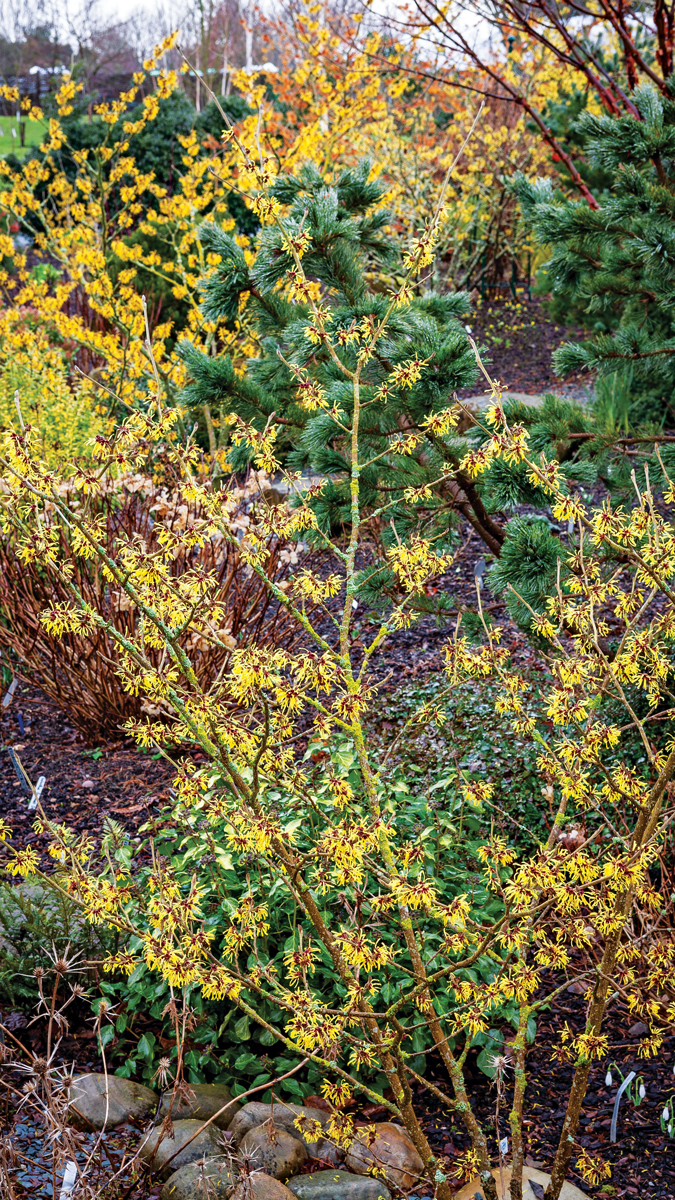 Name: Hamamelis mollis 'Wisley Supreme'
Zones: 5–8
Size: 10 to 15 feet tall and wide
Conditions: Full sun to partial shade; moist, well-drained soil
Native range: China
If you can only have one witch hazel, hold out for 'Wisley Supreme' witch hazel. This selection always tops my list for fragrance and sunshine-yellow flower color with a touch of red at the petal base. The blooms open from January to February, with frequent bloom curling and uncurling depending on the temperature. A smaller tree, this winter dazzler takes about 10 years to reach its full-size, vaselike form. The autumn color is a clear yellow with occasional touches of coppery orange. This selection is also less prone to hanging on to its dried brown foliage, an issue with many witch hazels.
Orange bark stewartia provides interest in every season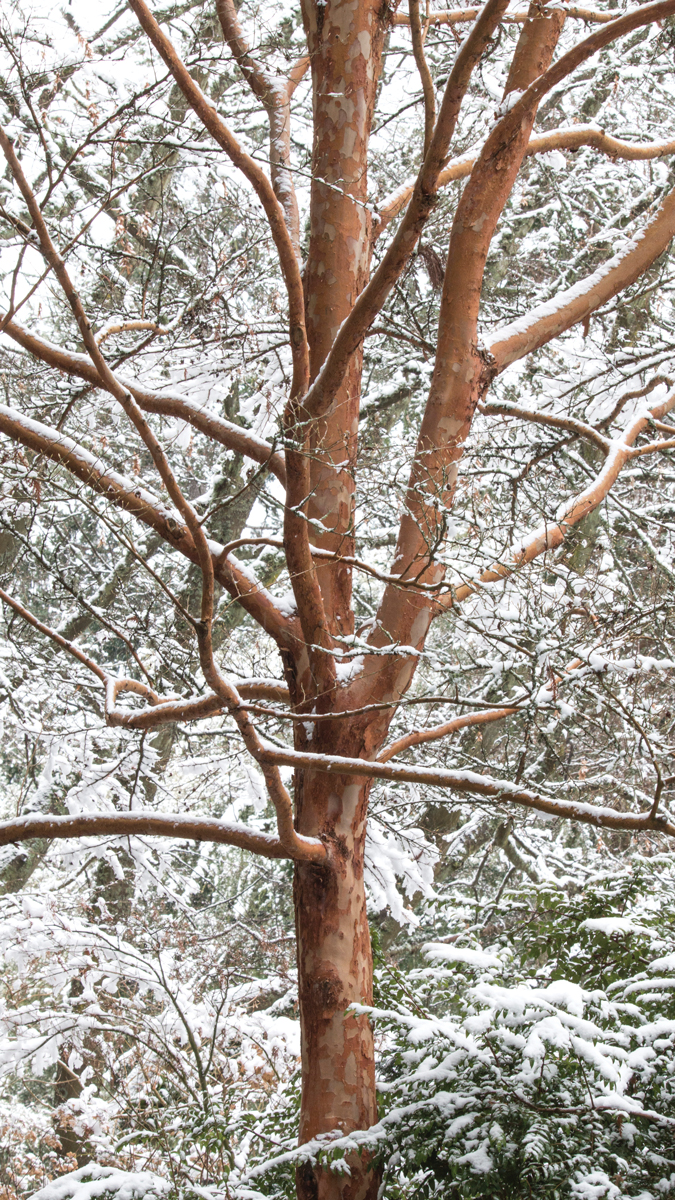 Name: Stewartia monadelpha
Zones: 6–8
Size: 15 to 18 feet tall and 10 to 12 wide
Conditions: Full sun to partial shade; moist, well-drained soil
Native range: Southern Japan and Korea
Stewartia is an amazing tree with year-round interest from beautiful white summer flowers to spectacular orange and red fall color, but the incredible bark on mature specimens is unparalleled. My favorite stewartia for bark color is orange bark stewartia. The lightly mottled bark is a burnt orange with amber and ginger tones often with patches of hazel brown. Young trees do not show this trait, so patience is needed, but the wait is worth the years of reward from this slow-growing tree. Orange bark stewartia is truly a garden treasure that only increases in value and beauty with time.
These few selections are a great way to get started with winter gardening. When placing my colorful cold weather additions, I try to locate them in a spot where I will see them from a window or as I walk in and out of the house. This ensures that I will be able to enjoy these gems no matter how miserable it may be outside. Plus, they're an uplifting reminder that spring is just around the corner.
---
Winter interest planning from November through March
---
Richie Steffen is executive director of the Elisabeth C. Miller Garden in Seattle and a leading expert on plants.
Sources