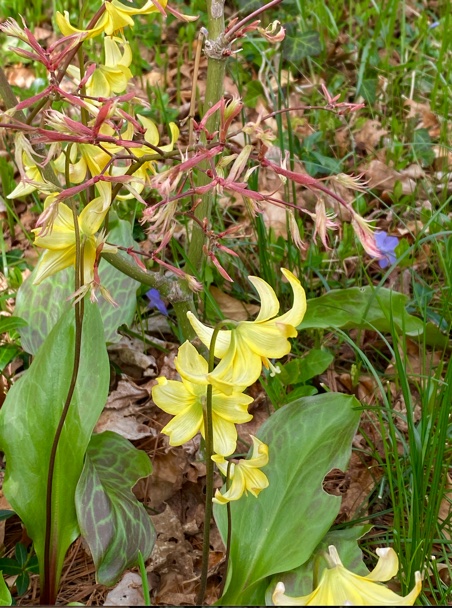 Today we're in Canton, Massachusetts, visiting with Jana Trusz.
Looking back at my garden during 2022, I have many lessons to learn. The drought was incredibly difficult and made me reevaluate what was in my garden, what survived and what didn't, and how I will move forward. First, I will be installing a drip-irrigation system as soon as it is warm enough to do so; second, I will research plants that are drought tolerant and propagate more of what survived. One of my favorite ways to propagate new plants is through winter sowing. I have had great success with it, planting digitalis, delphiniums, lupines, and cosmos, to name a few, in mini-greenhouses on my deck.
The difficult year made the successes so sweet. Here are some of the vignettes discovered in my garden.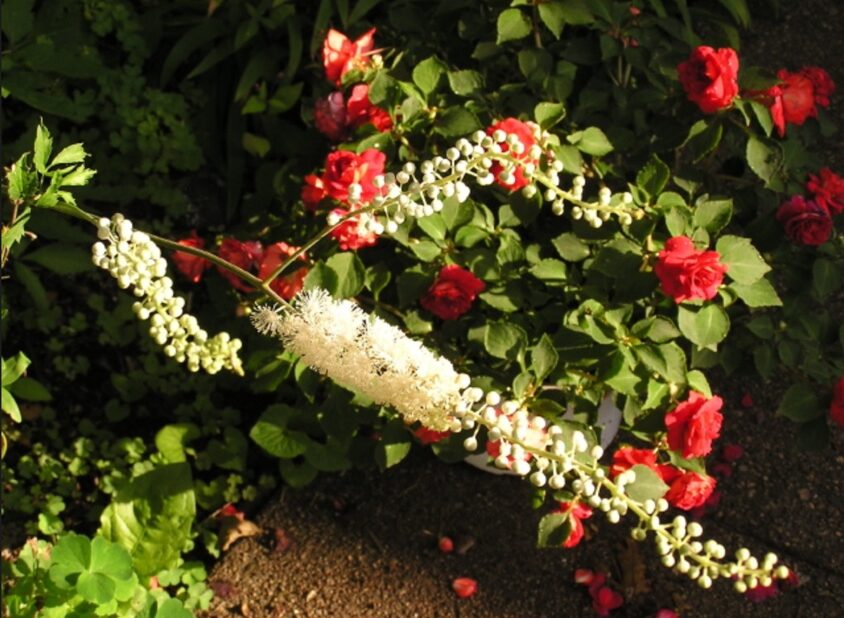 Black cohosh (Actaea racemosa, Zones 4–8) and impatiens (Impatiens walleriana, Zones 10–11 or as an annual)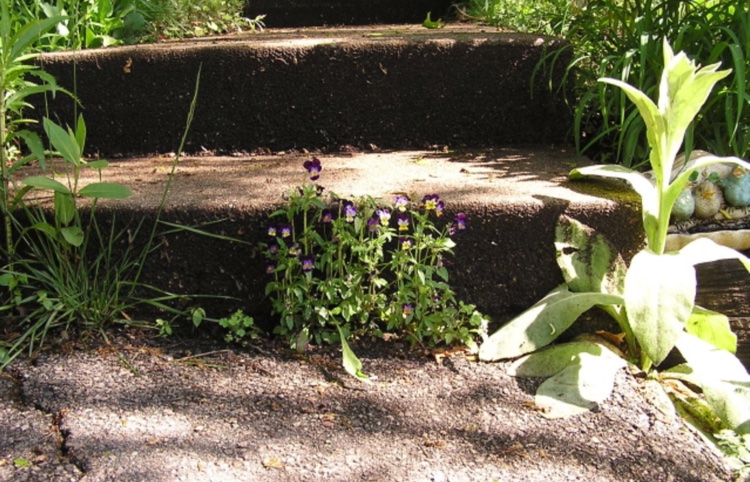 I am one of those gardeners who sees the beauty in unusual places. I saw these happy Johnny jump-ups (Viola tricolor, cool-season annual) growing from a crack at the base of my stairs, and they brought a smile to my face.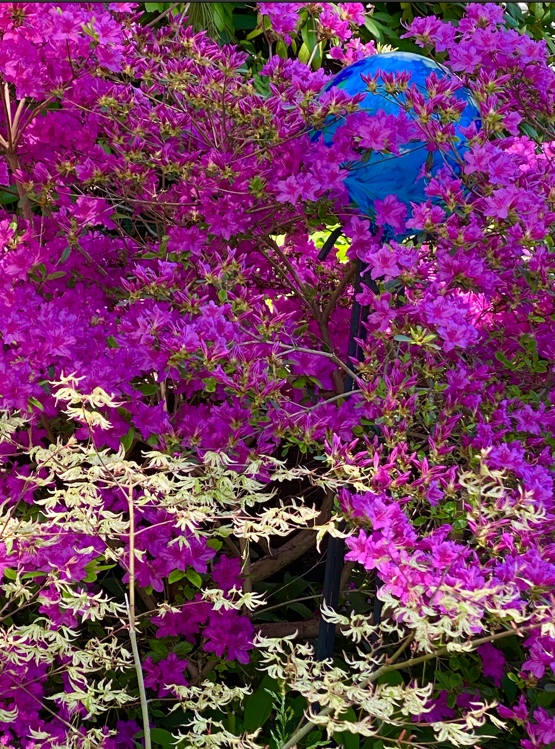 I bought this dwarf 'Ukigumo' Japanese maple (Acer palmatum 'Ukigumo', Zones 5–9) years ago coming all the way from California. I nurtured it, kept it in a pot, lugged it into my shed, and nestled it in straw for the winter. I knew that as it aged it had the possibility of having white leaves in the spring. This was why I had to have it. Finally, I decided this little tree had to go into the ground, and I hoped for the best. It has these beautiful pagoda-shaped leaves that start out white and turn to mottled pink and green as the season progresses. I planted dogtooth violets below to mimic the leaf shape. It survived the drought and put on such a display. I drag neighbors walking by to see this marvel, expecting them to write down its name and ask where I got it. I am so awed by this beauty, but they seem fine with just seeing it in my yard.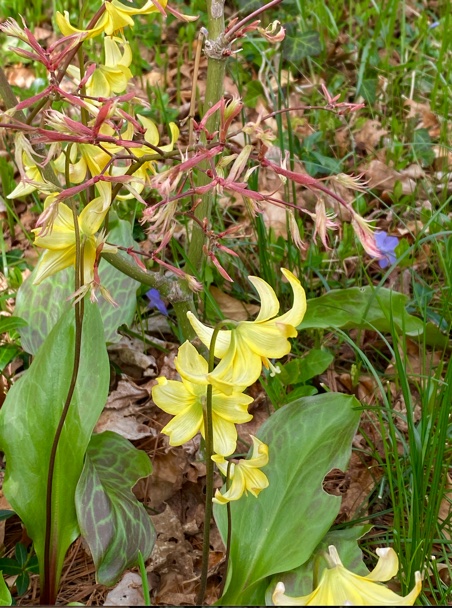 Here are the dogtooth violets (Erythronium 'Pagoda', Zones 4–9) with the budding leaves of the 'Ukigumo' maple above them.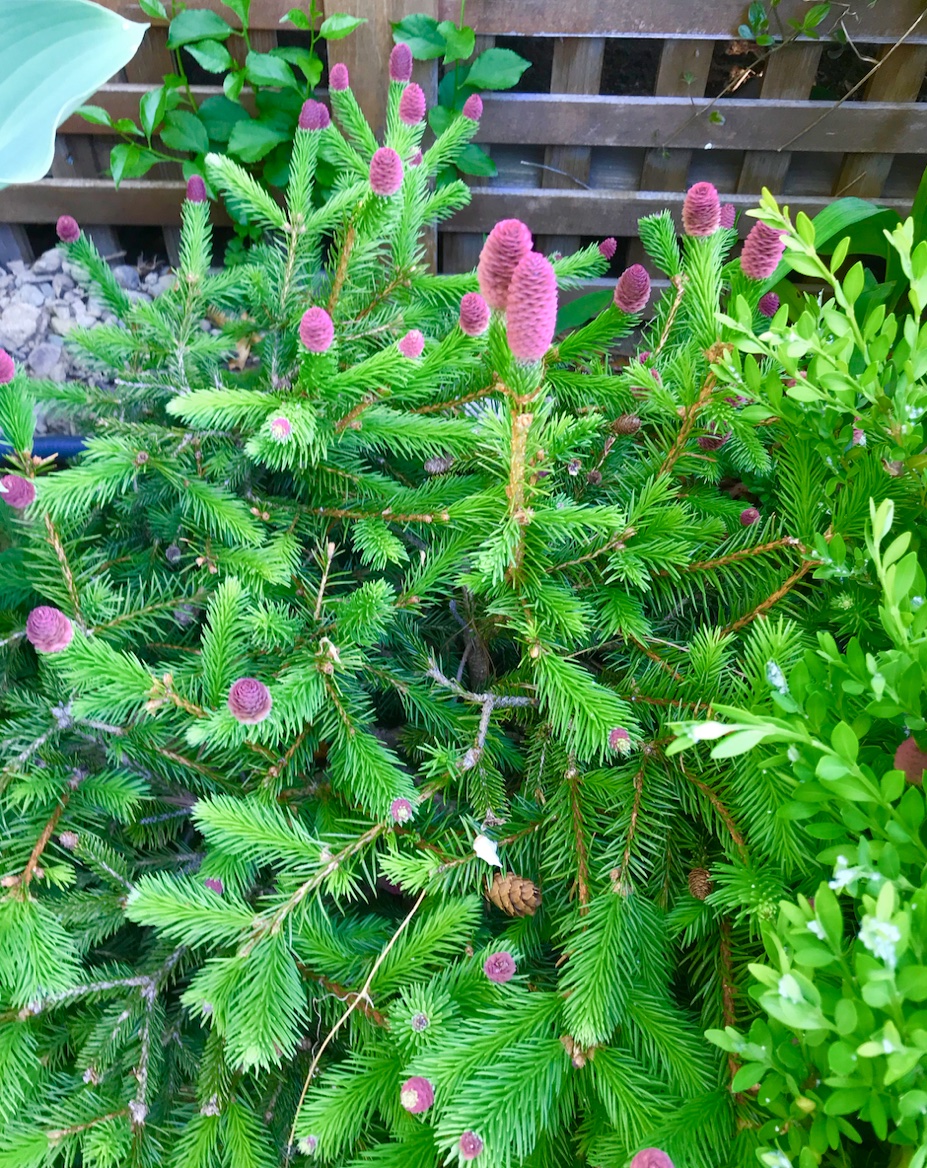 This was a Mother's Day gift, and it never ceases to give me a delight each spring. Picea abies 'Pusch' (Zones 3–8) is small, easy to grow, and produces these beautiful raspberry-colored cones that eventually turn a beautiful shade of brown.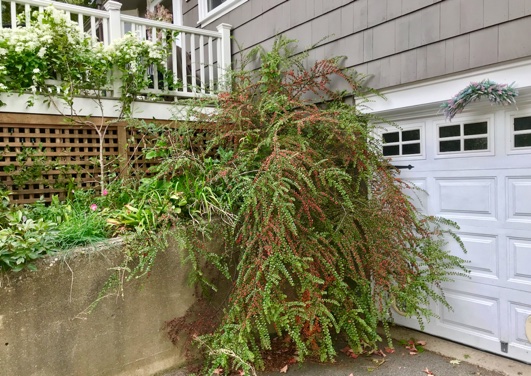 My cotoneaster (Cotoneaster sp., Zones 4–8), the plant that spurs many a conversation about its proper pronunciation. I planted this many years ago, and it has grown into a waterfall. I love the way it spills over the wall. It has tiny pinkish white flowers in spring that turn to berries loved by birds. Eventually it sheds its leaves and berries but still provides a beautiful structure in the winter. There is an espalier apple tree (Malus hybrid, Zones 3–8) to the left, covered by sweet autumn clematis (Clematis terniflora, Zones 4–9).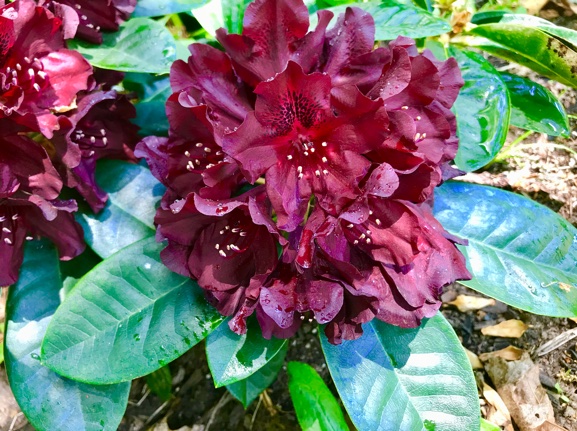 My rhododendrons suffered greatly, even some of the large ones that are more than 30 years old. This dwarf 'Black Widow' rhodie (Rhododendron 'Black Widow', Zones 6–9) managed these large flowers. The flowers actually appear much darker and more dramatic in less light, looking almost black.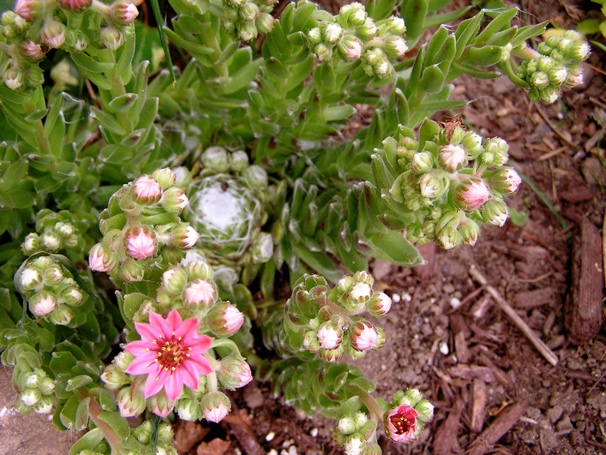 My Sempervivum arachnoideum (Zones 5–8) did well, but we have had an incredibly wet fall and winter and I am waiting to see what happens.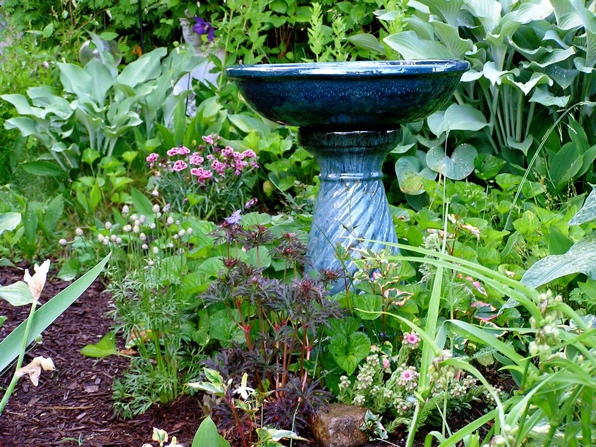 Here is the sempervivum growing under the birdbath. Again, this was earlier in the season.

Even though I have many types of milkweed throughout my garden, the monarchs were absent for a couple of years. Last year I had the privilege of following the growth of a fourth generation from egg to hatching!
I actually saw the monarch lay this egg and watched daily until it became a very hungry caterpillar. Then it attached to a leaf, created a gold-crested chrysalis, and hatched out at the end of September ready to start the journey south!!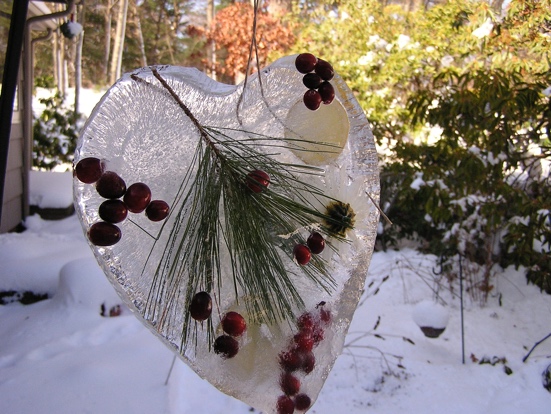 I would like to end with a simple activity I enjoy doing. Using any kind of pan, I gather items from my yard and/or slices of fruit, cranberries, whatever you like, and leave them outside to freeze. I do put a stick or straw near the top to run a string through to hang it. I have been known to give these as gifts to help recipients get through the winter.
Have a garden you'd like to share?
Have photos to share? We'd love to see your garden, a particular collection of plants you love, or a wonderful garden you had the chance to visit!
To submit, send 5-10 photos to [email protected] along with some information about the plants in the pictures and where you took the photos. We'd love to hear where you are located, how long you've been gardening, successes you are proud of, failures you learned from, hopes for the future, favorite plants, or funny stories from your garden.
Have a mobile phone? Tag your photos on Facebook, Instagram or Twitter with #FineGardening!
Do you receive the GPOD by email yet? Sign up here.