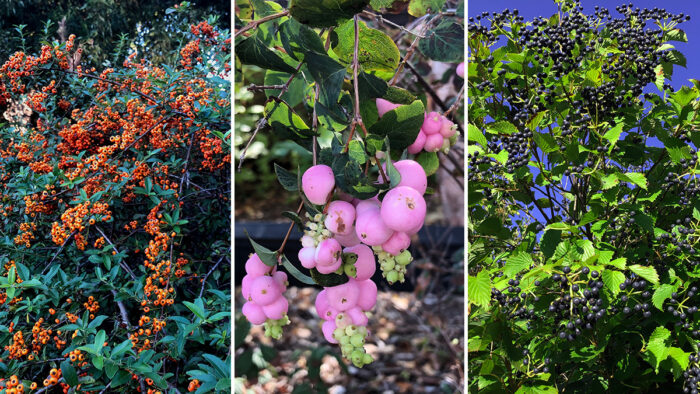 Looking to brighten up the fall and winter garden? Consider adding fruit-producing shrubs to your plant palette. Flowering shrubs that develop colorful fall and winter berries not only add beauty to the landscape but also invite pollinators and birds into the garden at different times of year. The berry-covered stems also look lovely in cut-flower arrangements. The following selections include native and nonnative species that stand up to both the cold winter weather and the heat of summer in the Southern Plains.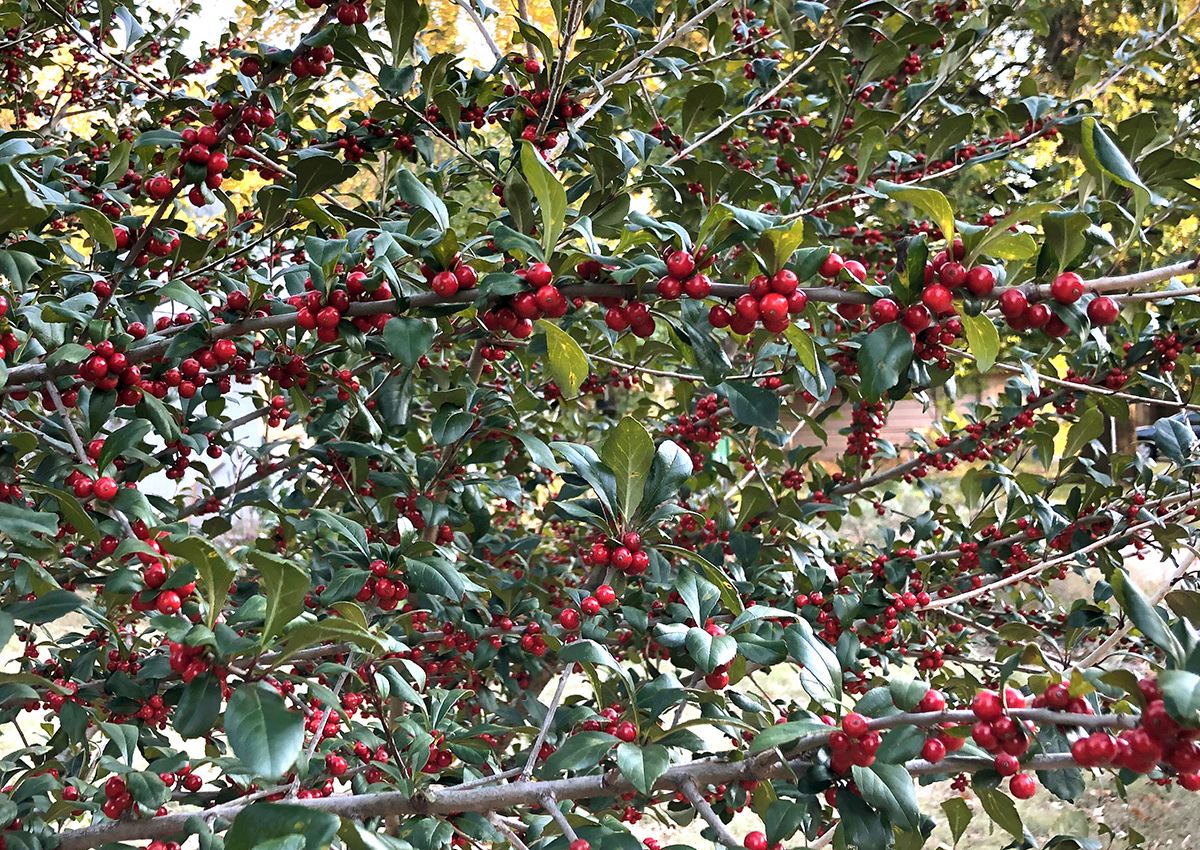 This native, deciduous holly takes center stage with vibrant red berries
Commonly called possumhaw (Ilex decidua spp. and cvs., Zones, 5–9), this native holly makes a striking specimen. Plants grow as large shrubs or small trees 7 to 15 feet tall with rounded crowns spreading up to 12 feet and are easily pruned into multitrunked trees. The smooth grayish bark makes a nice counterpoint to the bright red berries that remain throughout most of winter. My plants tend to be denuded of fruit in late winter to very early spring, when cedar waxwings migrate through the area on their way north.
Although the small white flowers are not particularly showy in spring, they do provide nectar to butterflies and other pollinators. Like other hollies (Ilex spp. and cvs., Zones 3–11), possumhaw is dioecious, with separate male and female plants. Only female plants produce berries, making them the preferred choice in the landscape. While a male pollinator is necessary to produce fruits, "wild" plants are often sufficient for pollination. If you find that your plant is not fruiting, add a male selection to the garden. Plants tolerate a variety of growing conditions, including clay soil and poor drainage. Plant possumhaw in full sun to partial shade for best results.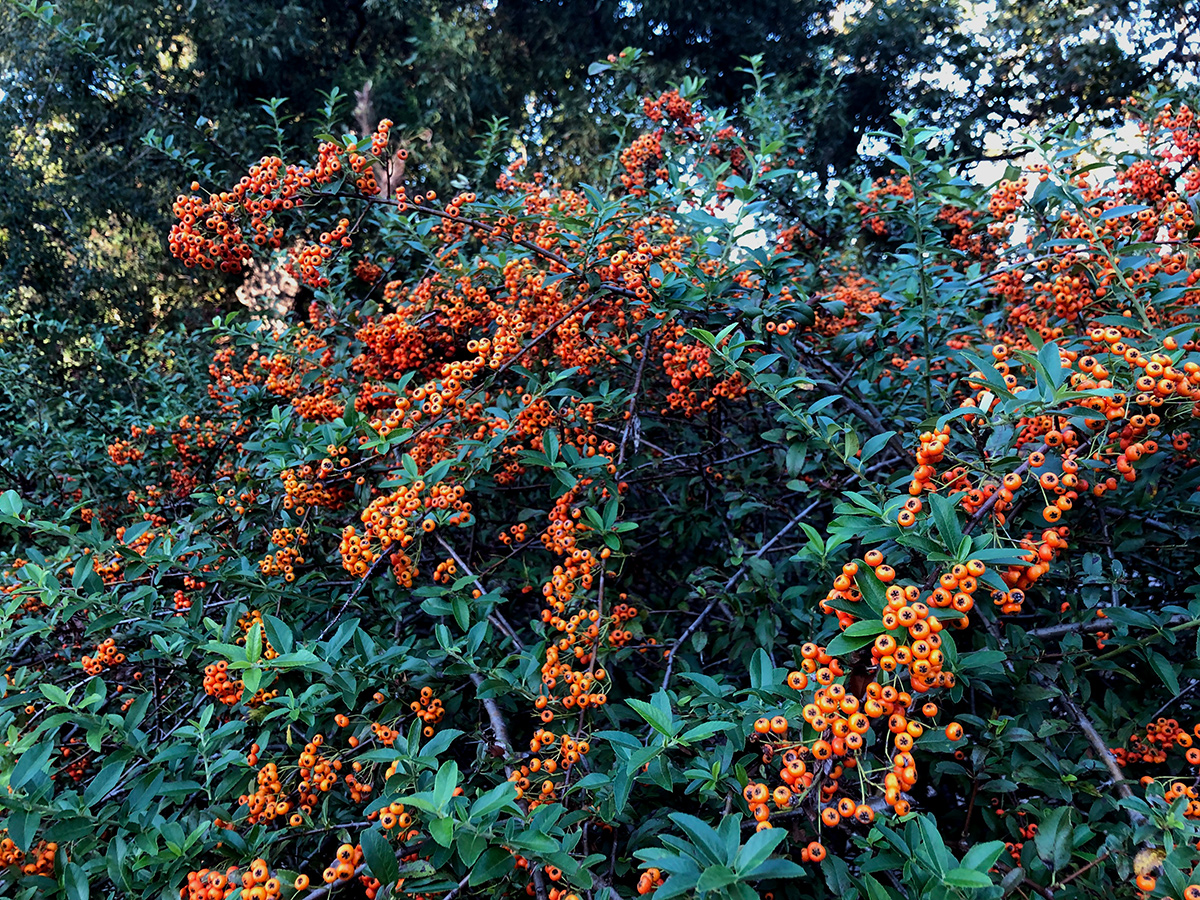 Yukon Belle® pyracantha delivers showy white flowers and bright orange berries
Yukon Belle® pyracantha (Pyracantha angustifolia 'Monon', Zones 5–8) is a hardy shrub for challenging growing conditions, tolerating drought and dry soil, both sandy or clay. Evergreen to semi-evergreen foliage provides a glossy, dark green backdrop to showy white flowers in spring and then bright orange berries that ripen in fall and persist into winter. A common name for pyracantha is firethorn, but don't let the thorns frighten you from this low-maintenance shrub, which provides ideal nesting habitat for songbirds. This selection is resistant to fire blight and is easy to grow in full sun. Plants grow quickly to reach 8 to 10 feet tall and 6 to 8 feet wide. Add them to mixed borders, or plant them as a hedge.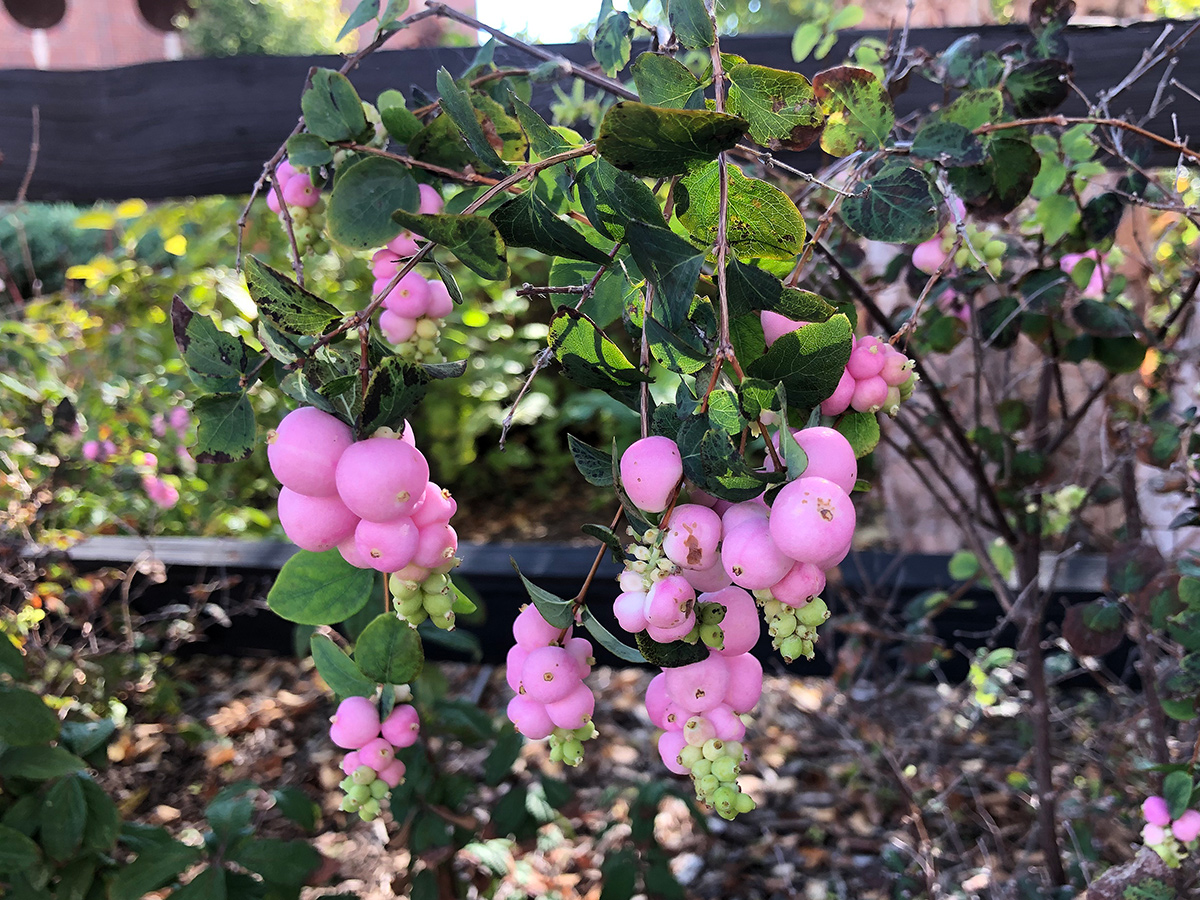 Proud Berry® coralberry is a beautiful choice that supports pollinators and birds
The bubblegum pink berries of this native hybrid are an unexpected addition to the fall and winter garden. Proud Berry® coralberry (Symphoricarpos 'Sofie', Zones 3–7) grows as an upright, open branching shrub reaching 3 to 4 feet tall and wide. This hybrid produces larger, more abundant berries than the native species, Symphoricarpos orbiculatus (Zones 2–7), which is found throughout the region.
Plant coralberry in mixed borders, wildlife plantings, or along the edges of woodland gardens in full sun to partial shade. Blue-green foliage provides summer interest. Creamy white bell-shaped flowers open early in the season and attract a diversity of pollinators. Fruits begin to mature in mid to late August and persist into the winter months. Songbirds, especially finches, feed on the fruits. For optimal fruiting, prune the entire plant back to 12 inches just as the new growth begins to appear in early spring.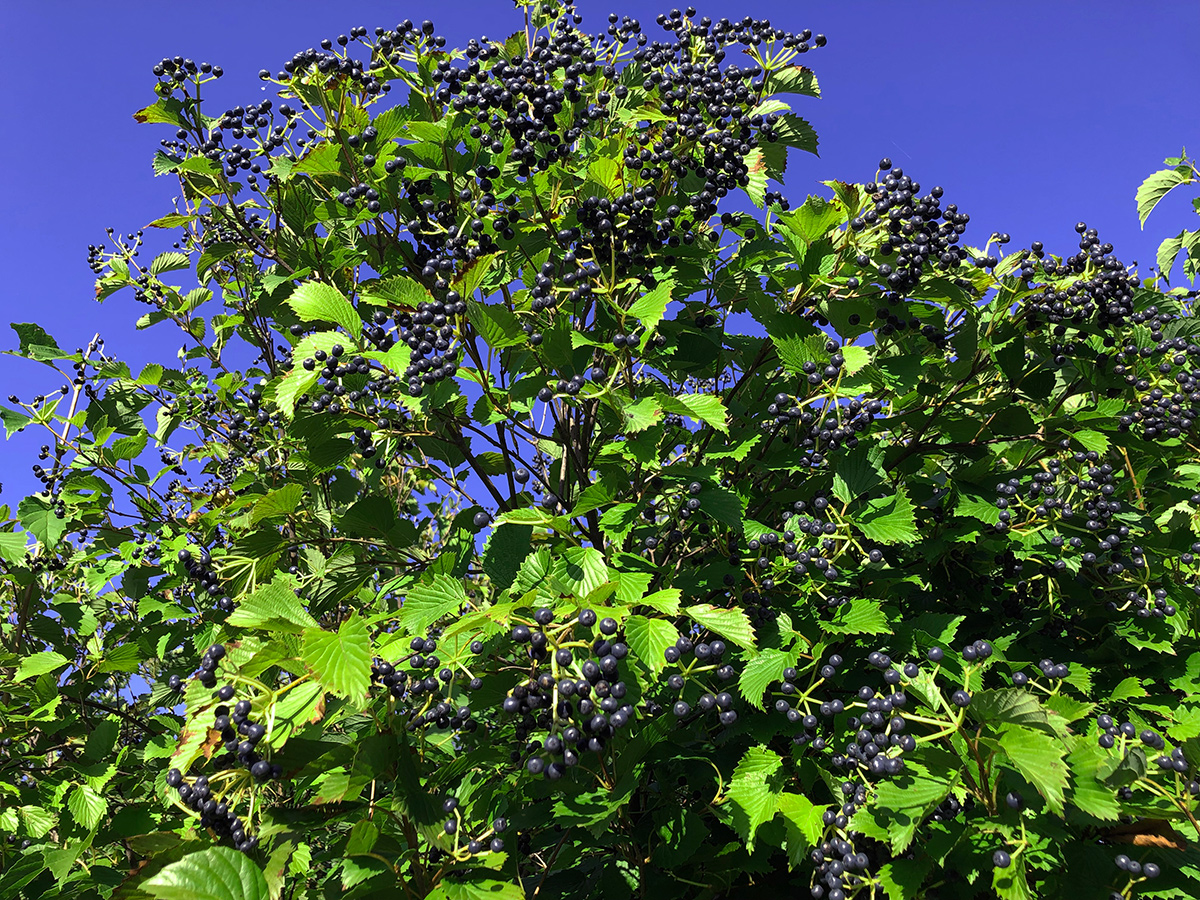 Viburnums are kings of the garden, with spring blooms, fall color, and attractive berries
Several species of viburnum (Viburnum spp. and cvs., Zones 4–8) are tough enough to grow in the Southern Plains. While many are listed for growth in full sun, I always plant viburnums in a location shaded from hot afternoon sun. In addition to producing plentiful berries, viburnum has blooms that are a spring highlight and never fail to attract pollinators to the garden. Many species also display yellow, orange, or red fall foliage. Viburnums are a favorite of songbirds, which means you never know how long the berries are going to last into winter.
Spring Bouquet® laurustinus viburnum (Viburnum tinus 'Compactum', Zones 7–11) is a rugged, heat-tolerant selection for more southerly regions that tends to hold its blue-black berries well into winter. This evergreen shrub grows 6 to 10 feet tall and 4 to 6 feet wide and performs well in partial to full shade, though it tolerates more direct sun than other varieties. The deciduous native Autumn Jazz® arrowwood viburnum (Viburnum dentatum 'Ralph Senior', Zones 3–8) is another crowd-pleaser, growing in a vase shape and maturing to 8 to 10 feet tall with a slightly larger spread. This selection attracts butterflies with its white blooms in spring and birds (such as eastern bluebird, northern flicker, gray catbird, and American robin) with its blue-black berries in fall.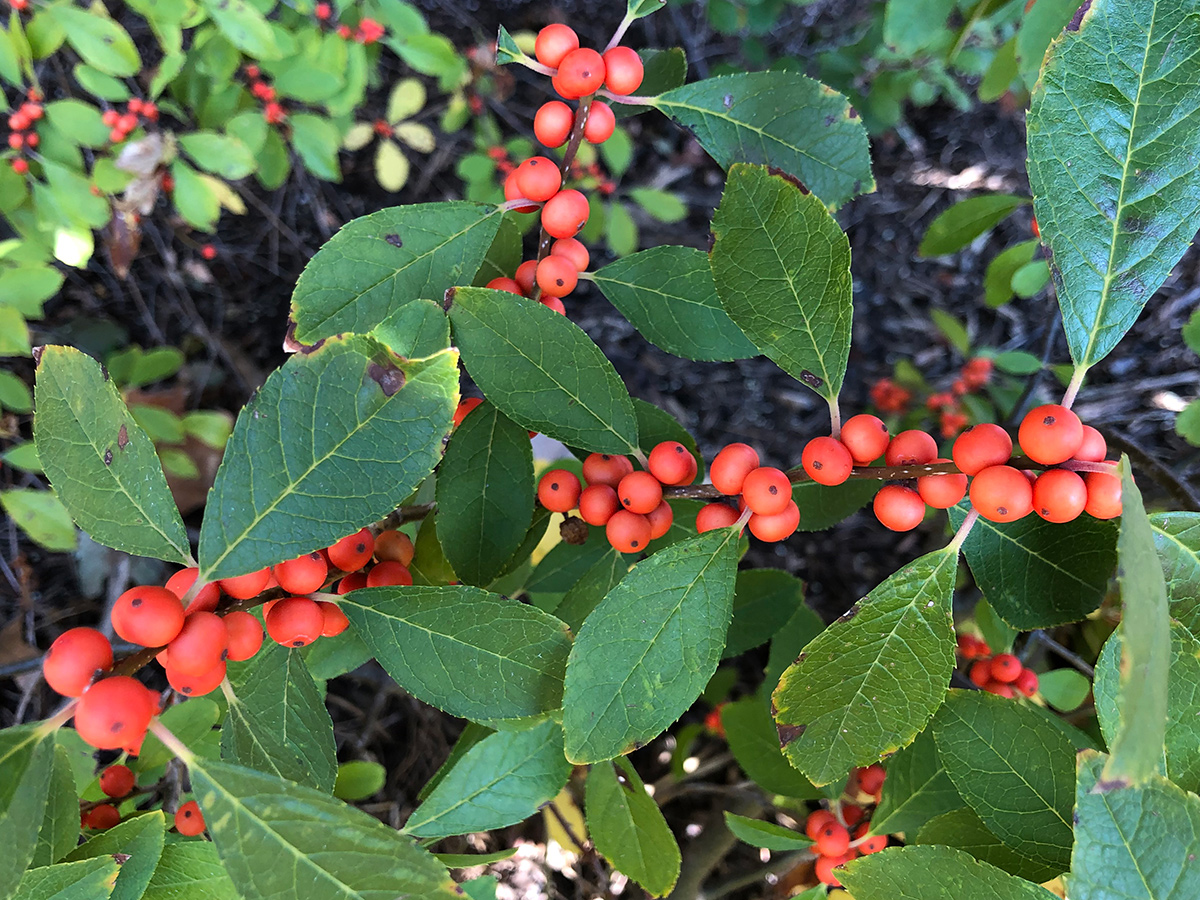 Winterberry hollies provide a compact option for containers and smaller spaces
Another holly? Yes, please! Few plants are as magical in the winter garden as hollies. While not every gardener has room for possumhaw, there is a pint-size holly that can be grown in the smallest of gardens—even containers. Little Goblin® Red winterberry holly (Ilex verticillata 'NCIVI', Zones 3–9) matures at just 3 to 4 feet tall and wide but produces greenish white flowers that yield loads of bright red berries, which begin to mature in early fall and persist through the entire winter (hence the common name). If orange is more your color, Little Goblin® Orange (Ilex verticillata 'NCIV2', Zones 3–9) is just as prolific.
Remember, hollies have separate male and female plants. For fruit production, you will need to plant Little Goblin® Guy winterberry holly (Ilex verticillata 'NCIV3', Zones 3–9) as a pollinator. One male plant can pollinate up to five female plants of the red and/or orange varieties. Plant male plants within 50 feet of females for the best fruit set. Winterberry holly performs well in a variety of soil types and tolerates wet soil, making it an ideal addition to rain gardens and swales. It makes a vibrant display planted en masse in full to partial sun.
—Kim Toscano is a horticulturalist based in Stillwater, Oklahoma. She previously hosted Oklahoma Gardening, a weekly PBS television program produced by the Oklahoma Cooperative Extension Service.
Photos: Kim Toscano