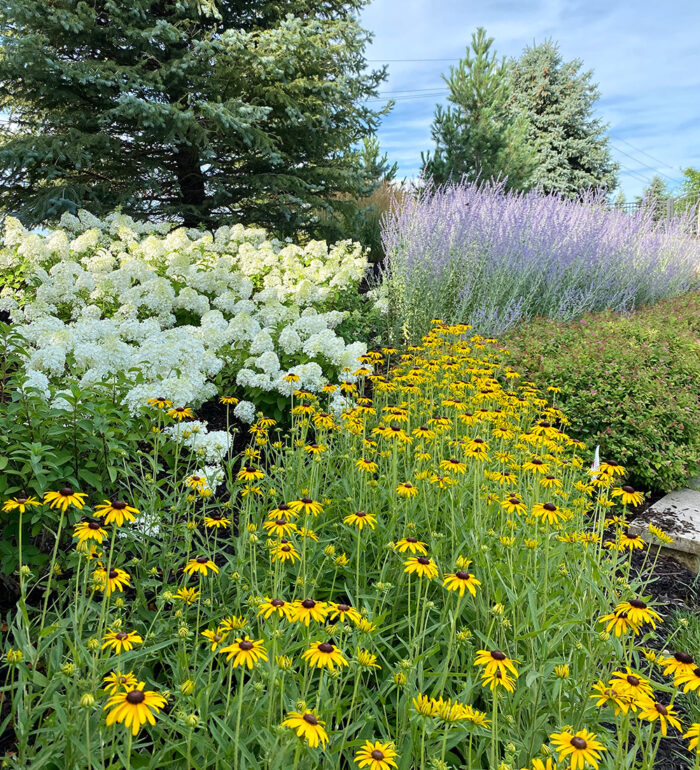 Soil composition plays a critical role in the success of any garden. Plants respond to a variety of factors, with soil structure being one of the most important. Few of us are blessed with the well-drained, moist, loamy soil that most plants prefer. Instead, we might have clay soil, which does not drain well and is hard for perennial roots to penetrate. Fortunately, many perennials, particularly native ones, are tolerant of less-than-perfect conditions, doing well and even thriving in clay soil.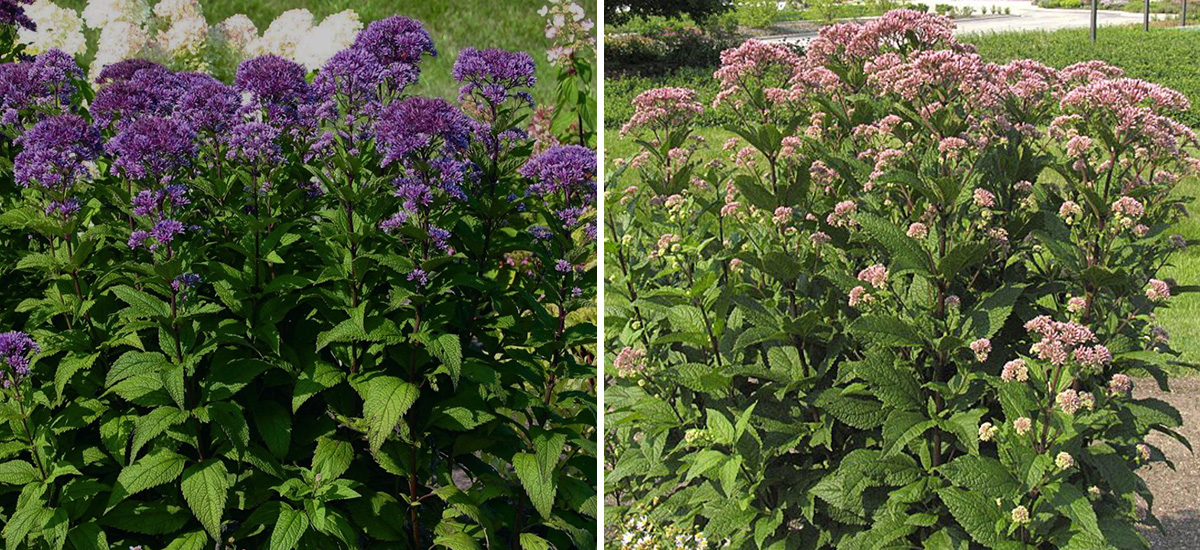 Joe Pye weed
Eutrochium spp. and cvs., syn. Eupatorium spp. and cvs., Zones 3–10
One of the Northern Plains' most bold and impressive perennials is Joe Pye weed. A native of North America, this genus of perennials is hardy to Zone 4 and may be hardy farther north with some winter protection. Joe Pye weed is useful in soggy sites like rain gardens and swales and can grow in clay soil, but it also works in well-draining soil. If the height of Joe Pye weed is causing you to hesitate on adding it to your garden, you can easily control its height. Pinch back the stems in mid-June, which will cause the plant to initiate the growth of side shoots. You will not have to sacrifice any flowers; you will just have to wait a bit longer for them. The result is a stockier plant that will have a tidier habit and be more suitable for a smaller space.
The best Joe Pye weed varieties
'Phantom' Joe Pye weed (Eutrochium 'Phantom', Zones 4–8) grows with a narrow, upright habit. Reaching 3 to 4 feet tall and only 1½ to 2 feet wide, it has an almost formal appearance. The wine-red flowers are magnets for butterflies in late summer. 'Little Joe' Joe Pye weed (Eutrochium dubium 'Little Joe', Zones 3–9) is another of the shorter varieties on the market. At 3 to 4 feet tall and 2 to 3 feet wide, it has a shrubby appearance, with dark pink to purple blooms and excellent flower production.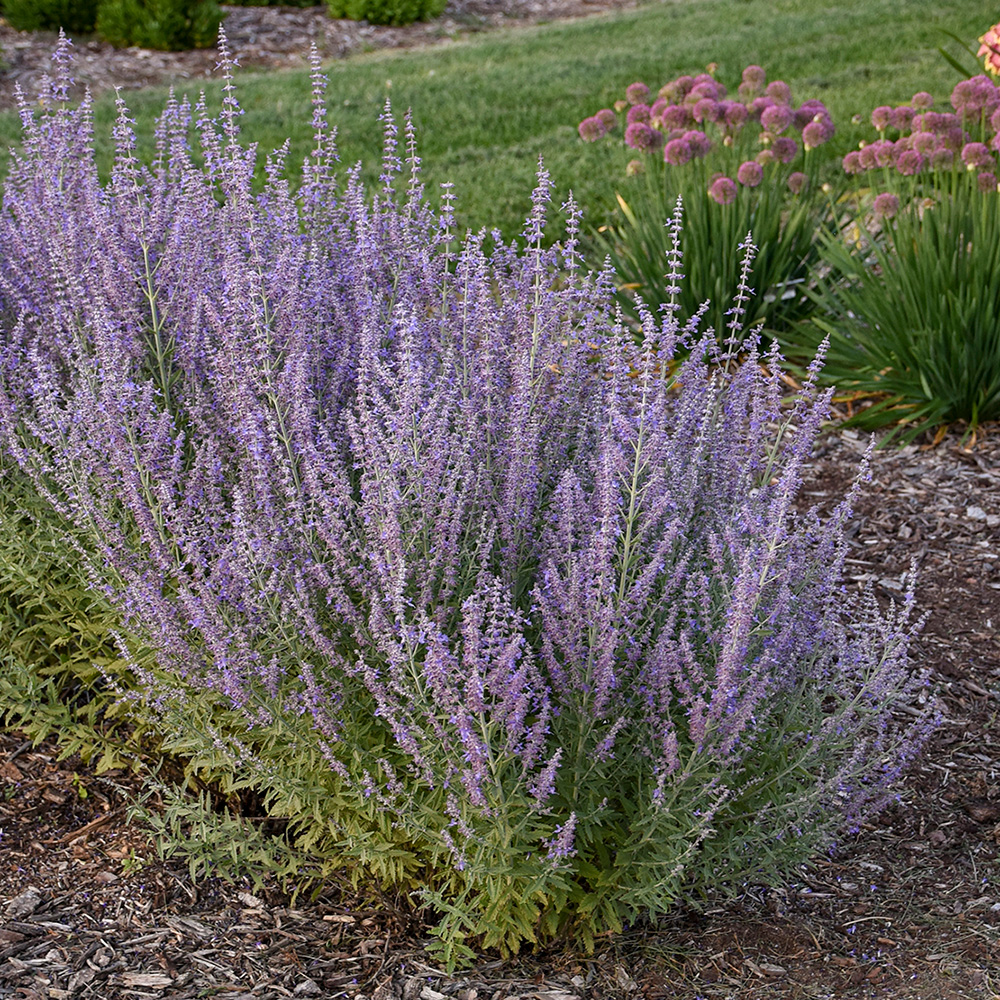 Russian sage
Salvia yanggii, syn. Perovskia atriplicifolia, Zones 4–9
A delightful perennial that is happy in less-than-perfect soil, Russian sage is capable of growing up to 5 feet tall, but newer cultivars keep this feathery sky-blue beauty within heights that are more suitable for most gardens. This plant performs better when soil is less than perfect; rich soil leads to floppy plants. Preferring to be a bit on the dry side, it does not mind the heaviness of clay soil, but don't place it in a low spot with even worse drainage. While pinching it back can create a plant that is more compact, why not try one of the new varieties that have improved habits and shorter heights?
The best Russian sage varieties
'Denim 'n Lace' Russian sage (Salvia yanggii 'Denim 'n Lace', Zones 4–9) does not flop, due to its shorter size and strong, erect stems. At only 2½ feet tall and 3 feet wide, it's a candidate for use in containers and planting en masse or in a hedge. The blooms hold color well into fall. The cultivar with the deepest purple flowers on the market is 'Sage Advice' (Salvia yanggii 'Sage Advice', Zones 4–9). An early bloomer like 'Denim 'n Lace', it's slightly taller at 2½ to 3 feet tall, with flowers that bloom from July through October and attract swarms of pollinators.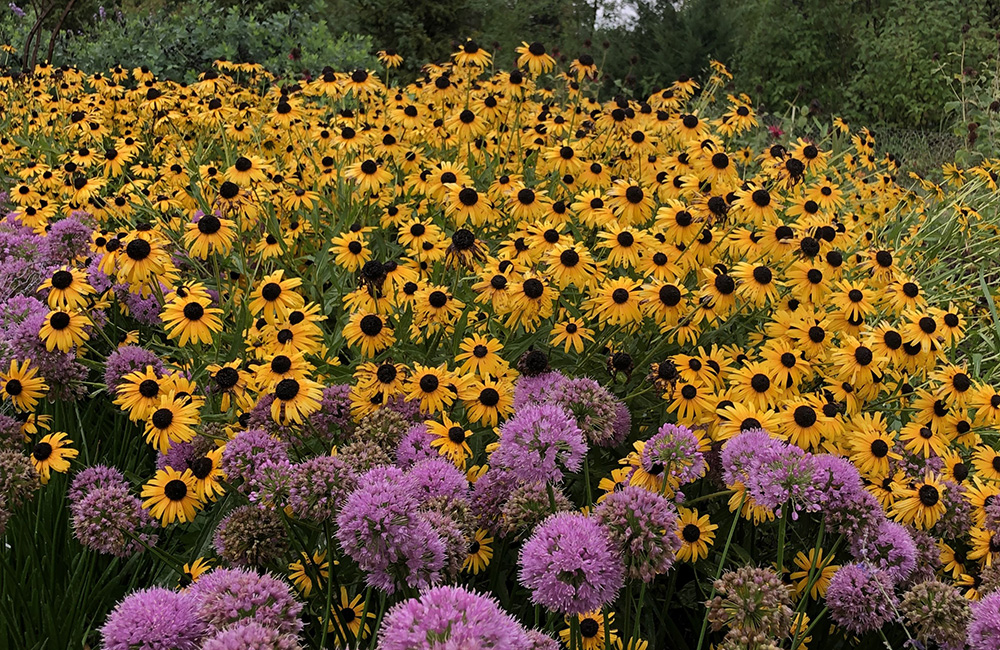 Black-eyed Susan
Rudbeckia fulgida, Zones 3–9
Black-eyed Susan is one of the most recognizable flowers of the Midwest and Plains regions with its golden yellow rays of petals and black seed heads. Adaptable to a wide range of soil types, it prefers full sun but will perform well in partial shade. Black-eyed Susan is a self-seeder and can be planted with plenty of space between each specimen, as it will fill in quickly if allowed to go to seed. Used in masses, it creates a spectacular display. After flowering, the seed heads of black-eyed Susan are a food source for native birds and should be left standing over winter for them to nibble on. This plant will also create excellent color contrast if planted next to Joe Pye weed or Russian sage.
The best black-eyed Susan varieties
'Goldsturm' black-eyed Susan (Rudbeckia fulgida var. sullivantii 'Goldsturm', Zones 3–9) reaches heights up to 3 feet tall and will grow 1½ to 2 feet wide. But more compact forms of black-eyed Susan have been developed for smaller gardens and are suitable for use in edging, growing in containers, or growing as ground covers. Blooming July through August, 'Little Goldstar' black-eyed Susan (Rudbeckia fulgida var. sullivantii 'Little Goldstar', Zones 4–10) is very small at only 1 to 1½ feet tall and 1½ to 2 feet wide. 'American Gold Rush' (Rudbeckia 'American Gold Rush', Zones 3–9) is a little taller, growing 1½ to 2 feet tall and wide, with flowers blooming from July through September that provide a slightly longer show than those of 'Little Goldstar'.
Individually or as a group, these three perennials will happily grow in your clay soil. For more recommendations on plants that can grow in clay soil, check out Clay Busters.
For more Northern Plains regional reports, click here.
—Marti Neely, FAPLD, owns and operates Marti Neely Design and Associates in Omaha, Nebraska.