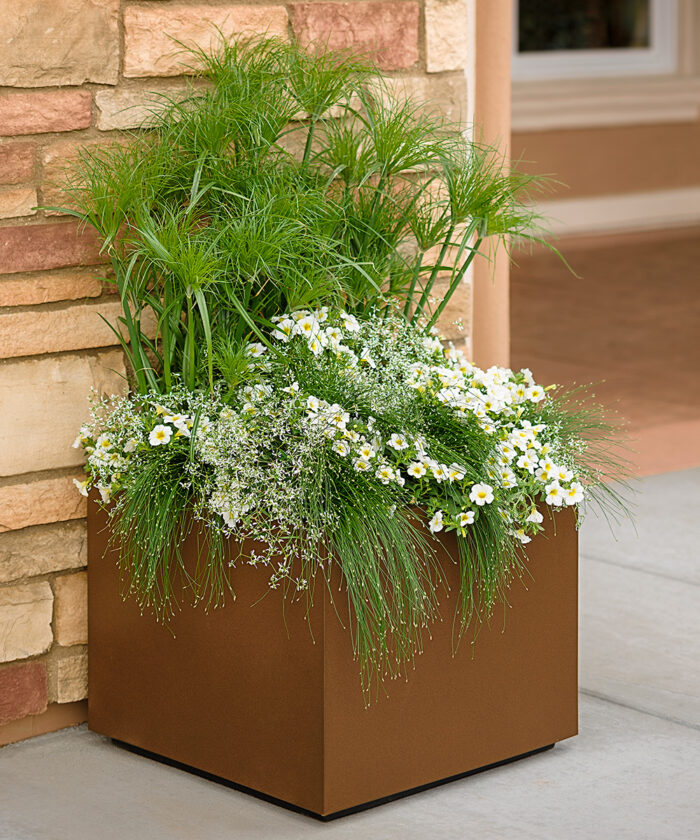 The formula for creating wonderful containers doesn't need to be difficult. First, find complementary plants you like that fit your growing conditions. Next, think of each plant's growing habit and combine contrasting habits together. There's a reason people say that great containers have thrillers, fillers, and spillers, or upright plants, midsize plants, and cascading plants. This combination always works. Need proof? Check out this set of simple container designs that uses only three plants.
Upright container plants anchor the design
Let's just forget the filler and spiller plants for a moment and focus on the thrillers. These upright plants draw your eye to the container. They extend the overall height of your arrangement and bring form and structure to the design. For me, these are the plants that the rest of the container will be anchored around. I always choose the thriller first and build the rest of the container around its color and structure.
When I worked retail at an independent garden center, I remember that one of the container questions I was asked most was about suggestions for a spiky plant. Shoppers were looking for the upright thrillers in their containers that would bring height to their arrangements. I haven't worked retail in many years, so for this article I reached out to a few wonderful independent garden centers for their top thriller plants. Here are a few of their suggestions.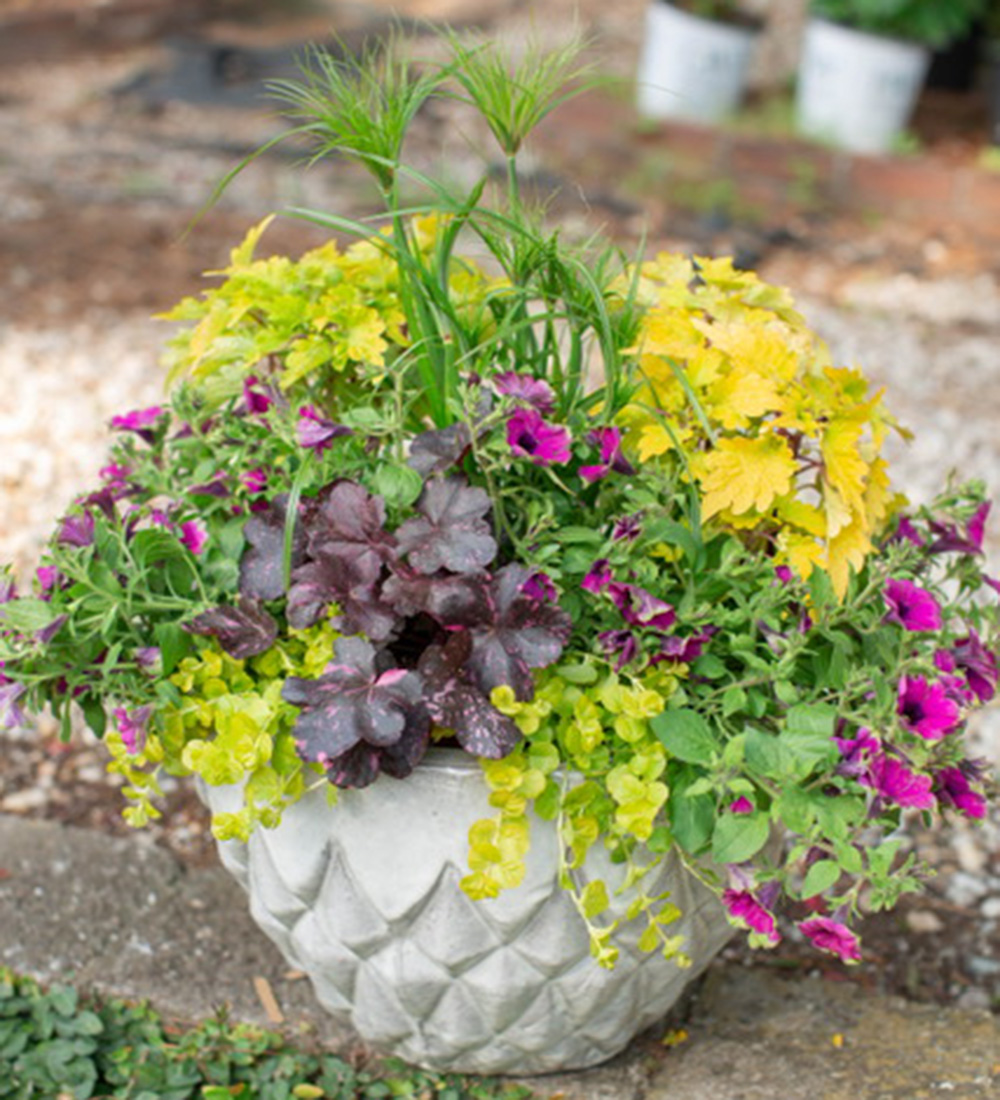 The Graceful Grasses® series of Egyptian papyrus has bold, textured grasses of all shapes and sizes
Cyperus papyrus cvs., Zones 9–11
Baby Tut®, Queen Tut™, Prince Tut™, and King Tut® are all members of the Graceful Grasses® collection of plants by Proven Winners. Each is a cultivar of Egyptian papyrus (Cyperus papyrus) with a different size or look. These grasses are not hardy plants for most, but they make wonderful annuals. They stand upright and play perfectly with other plants in a container. Beth Glaser of Ivy Nursery in Charlottesville, Virginia, said of this series of grasses, "We are constantly assisting our customers with their outdoor and indoor containers, year-round. For outdoor thrillers, we have several suggestions, but our consistent favorites are the Tut series papyrus grasses. These grasslike plants love full to part sun and humidity, and they can live in water gardens as well as containers."
Milledge Peterson from Bedford Greenhouses in Augusta, Georgia says of Prince Tut™, "We love the texture of this plant. The airy nature of the bloom provides a sharp contrast to the leaf shapes and sizes of the most commonly used container plants. It grows 18 to 24 inches tall, which makes a dramatic vertical presence in medium to large containers." I have been impressed that the grasses in this series can handle occasional dry periods, as well. These plants deserve a place in any container design.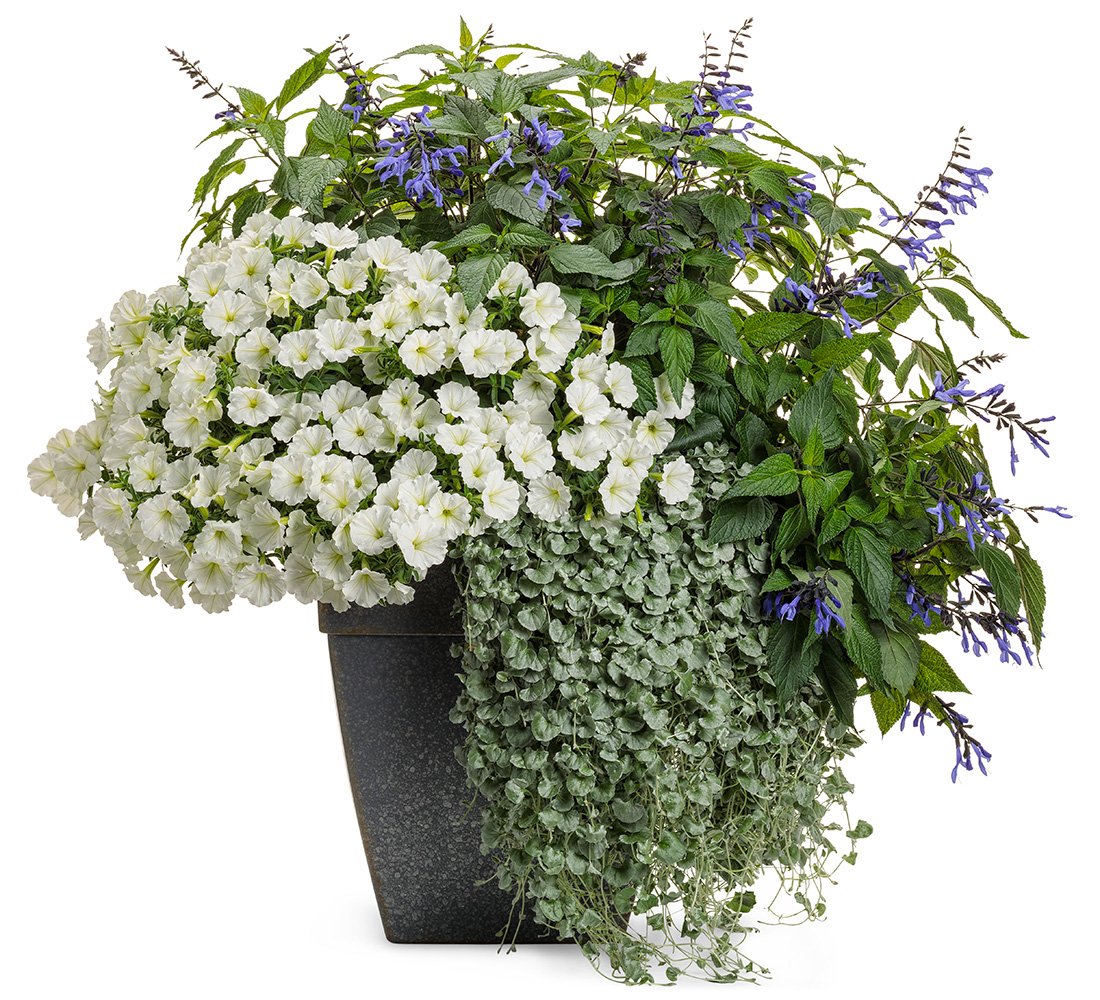 Blue Suede Shoes™ salvia pops at the back of a container with its long, tubular blue blooms
Salvia 'BBSAL01301', Zones 9–11
Salvias in general are always container favorites. In the Southeast, we can grow many different species, and several are hardy or half-hardy in the garden. When I asked Abby Stanley from Stanley's Greenhouse in Knoxville, Tennessee, about her favorite upright container plant, salvia was the first thing that came to mind. She said, "I would have to say my favorite thriller plant at the moment is Blue Suede Shoes™ salvia. It's an exceptional plant with great vigor and striking deep blue blooms that are hard to find in many plants."
I totally agree with her; the deep shade of blue complements a variety of color schemes, from warm colors (reds, oranges, yellows) to cool colors (pinks, purples, whites). Dark stems heighten the contrast between the blooms and foliage. And for gardeners looking for a pollinator-attracting plant, this is one of the best.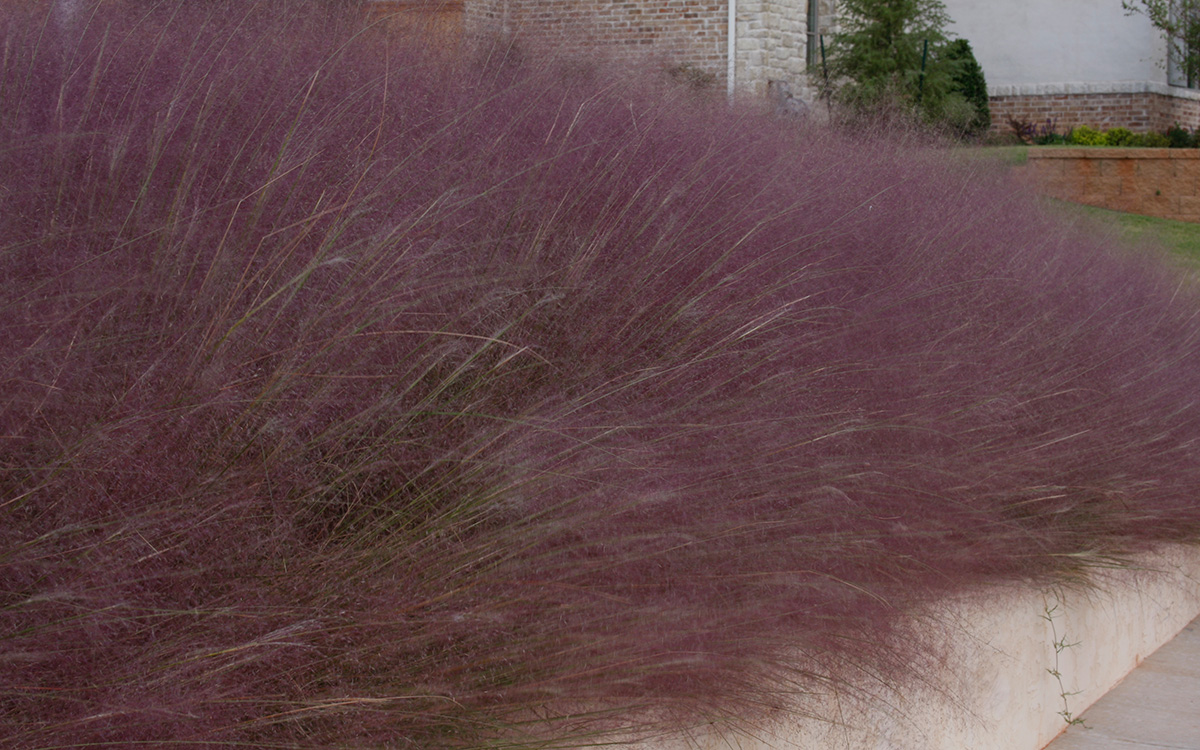 Adding texture and height all year long, pink muhly grass produces excellent pinkish red color in fall
Muhlenbergia capillaris, Zones 5–9
David Manger, owner of Roots and Shoots, a native plant nursery in Charleston, South Carolina, threw me a curveball with a great native-grass selection for a container. I asked David what he liked about pink muhly grass. He told me, "This upright native grass will load up your container with spiky and glossy greens that'll complement any flowers you choose. In the fall, it really bursts into action with a wild plume of pink seeds that sway in the wind." Well said, David!
Pink muhly grass, the most lauded of all Southeastern native grasses, rightfully deserves consideration as a main element in your containers. As a group, muhlies are easy to grow and disease resistant. The good drainage qualities of a container can be a plus for them as well as for most other grasses. If you have found pink muhly grass hard to grow, perhaps seasonal containers are the answer.
Muhlies can also be a season extender for a container. They bloom relatively late in the season, usually when other plants in your container might start looking tired. Mixed with other full-sun plants that like similar conditions, they are great choices for containers.
Keep looking for new, unusual plants
I am grateful for the diversity of plants that nurseries and independent garden centers now provide for gardeners. Over the last 20 years, the popularity of container gardening has exploded. When I first started to explore gardening, the most popular container combination was by far red geraniums (Pelargonium × hortorum, Zones 9–11) with a corn plant (Dracaena spp. and cvs., Zones 7–11) in the center. Many a gardener has used this combination, and I don't want to discount its impact. I'm sure many people got their start in horticulture by planting corn plants in the center of zonal geraniums.
Of course, there are many container plants to choose from. A plant with a big, bold texture often works as the upright element in a container. Think about grabbing a big-leaved houseplant or other out-of-the-box plant and growing it as the star of one of your containers this year. My go-to container plant has always been an upright elephant's ear (Alocasia spp. and cvs., Zones 9–11). I've also experimented quite a bit over the last several years using 'Warrior' bunching onion (Allium 'Warrior', Zones 5–9) in containers. This plant produces blue spikes like rhinoceros's horns and will often overwinter. Once you have your container all potted up, be sure to maintain it properly for best results.
—Andy Pulte is a faculty member in the plant sciences department at the University of Tennessee.