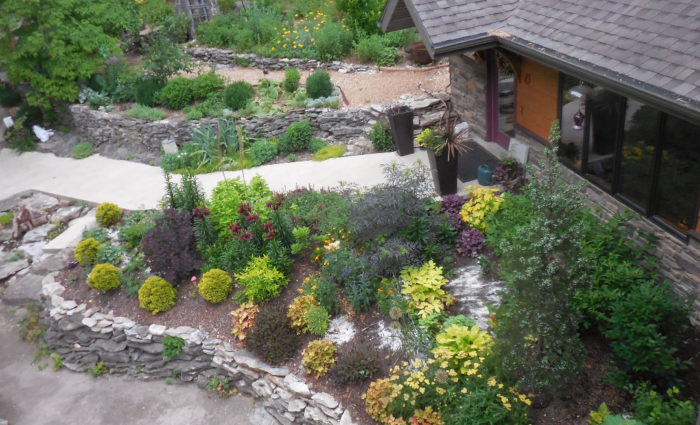 A couple of weeks ago we featured Cheryl Moon's southwest Missouri garden wrapped in snow, and she's back today with some images from warmer times.
I was pleased with the response to my photos, and I agree that many of us need some spring and summer color to brighten our winter days. We are sitting in the firing line of a new storm making its way across Kansas, so I am enjoying the summer colors in this set of photos.
I thought it would be good to start with some "macro" pictures of how our gardens looked this year.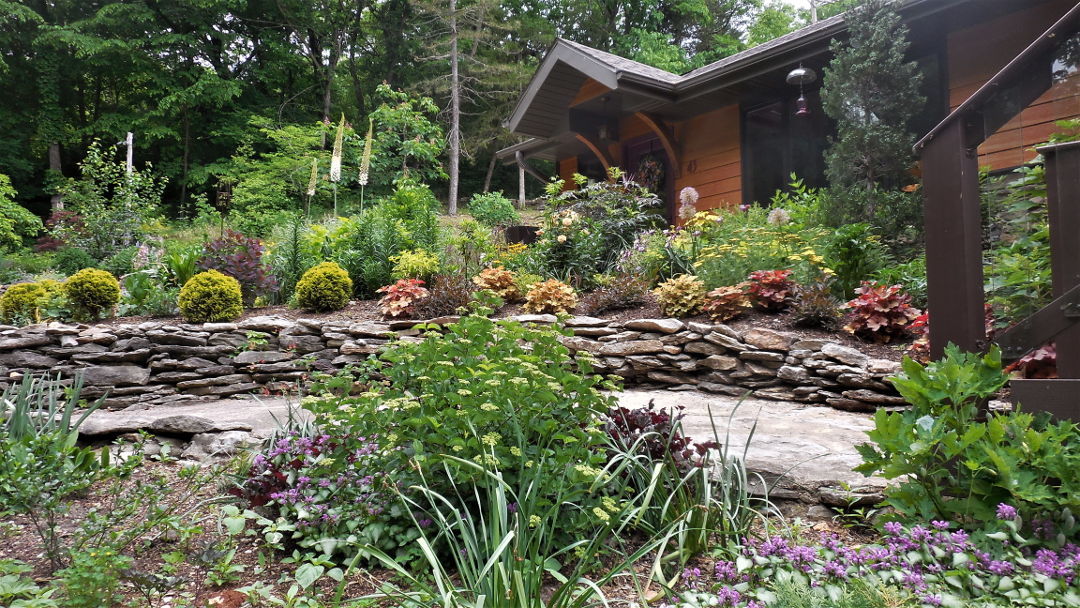 This is a wide angle of our front beds, taken from about halfway up the driveway. Front and center is Viburnum dentatum 'Blue Blaze' ('Blue Blaze' arrowwood viburnum, Zones 3–8), now in its fourth year at our home, though we moved it to a pot for a couple of years after the fire, until it could be replanted. There is also Lamium maculatum 'Purple Dragon' ('Purple Dragon' dead nettle, Zones 4–9), Heuchera 'Purple Petticoats' (Zones 4–9), native celandine poppy (Stylophorum diphyllum, Zones 4–9), and some Aronia melanocarpa 'Low Scape' ('Low Scape' black chokeberry, Zones 3–8) on the left.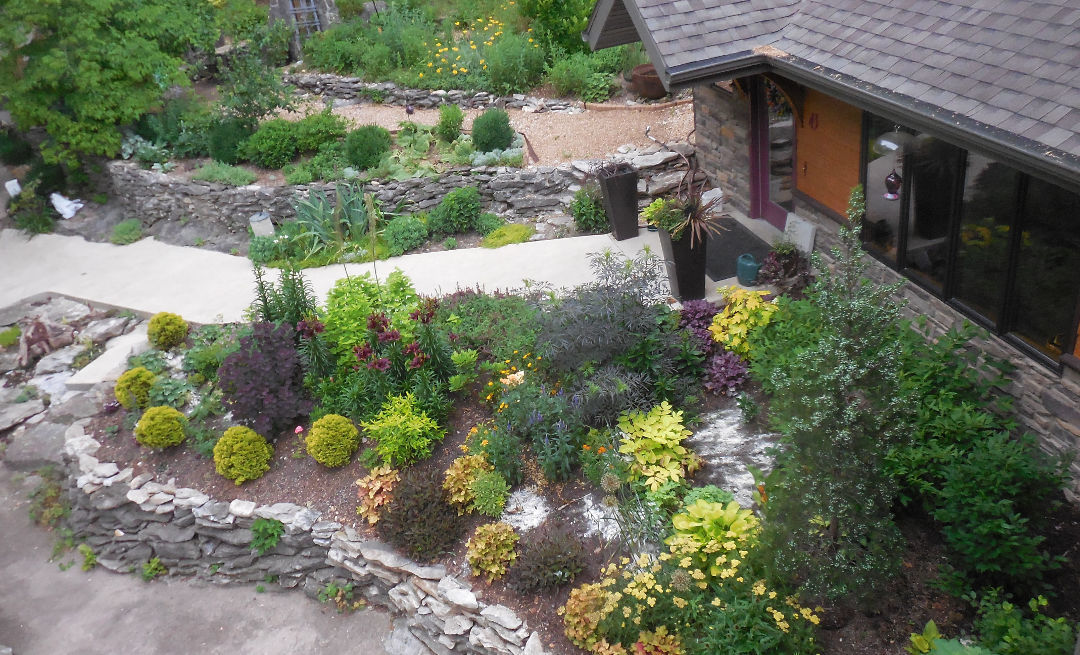 This photo is taken from our second-floor balcony of the same front bed about two weeks later. Some of the blooms you saw in the first picture have faded, but now you can see Lilium 'Landini' (Zones 3–9), Agastache foeniculum 'Golden Jubilee' (anise hyssop, Zones 5–8) filling in behind it, and, toward the front right, Achillea 'Terracotta' ('Terracotta' yarrow, Zones 3–8) in full bloom.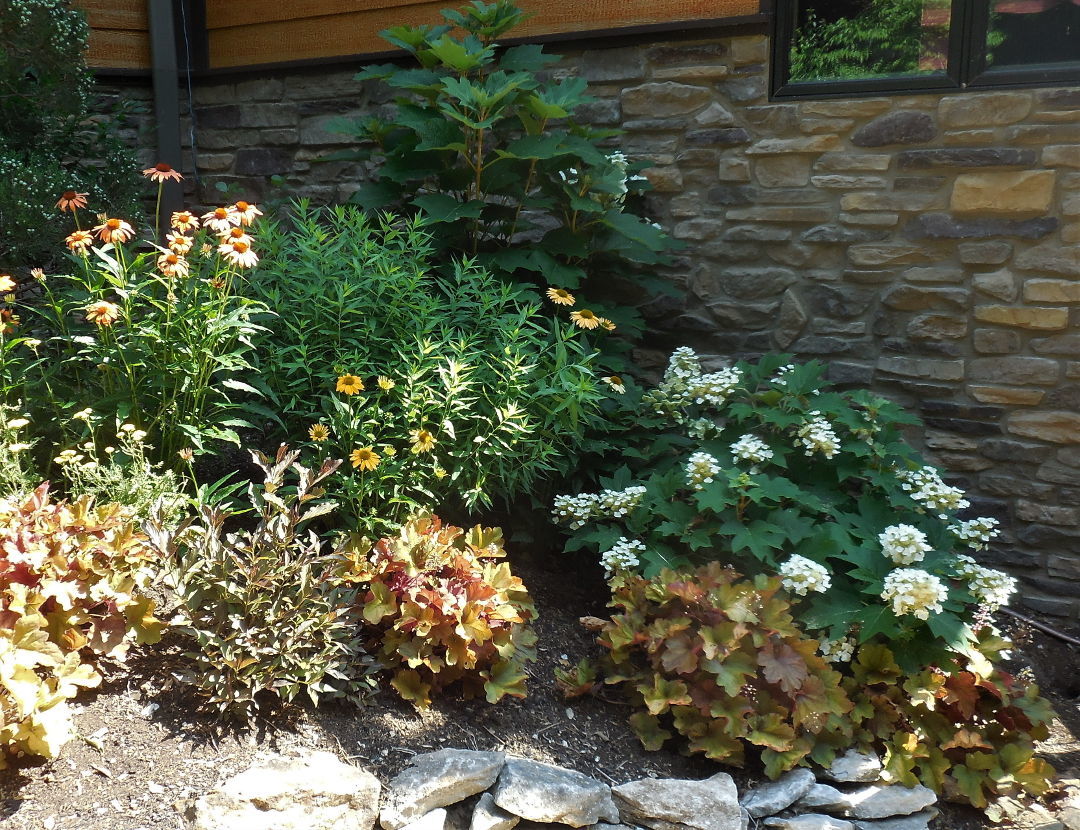 This photo was also taken two weeks later and is of the corner of the front bed that was further to the right, hidden in the first two pictures. Here I reveal my love for oakleaf hydrangeas (Hydrangea quercifolia, Zones 5–9); the tall one is 'Snow Queen', and the shorter one is 'Sykes Dwarf'. There is a Weigela 'Spilled Wine' (Zones 4–8) among the front border of mixed heuchera. The echinaceas are 'Cheyenne Spirit', which seem to persist better here than some of the fancy tissue-cultured plants. Our local grower always has a good supply, and I wait until they bloom so I can choose the colors I want.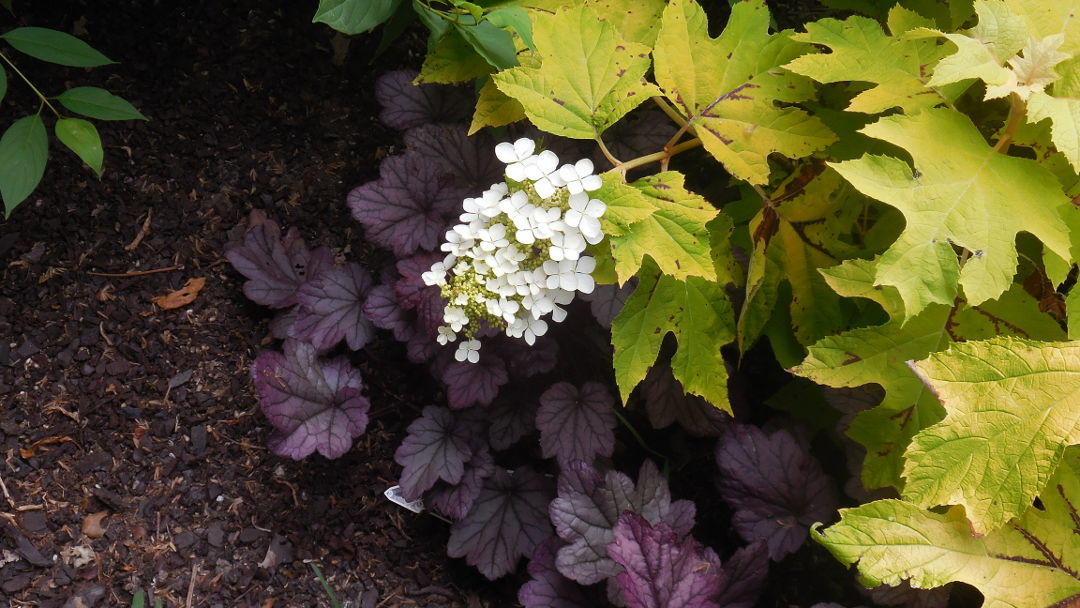 I took this photo of oakleaf hydrangea 'Little Lime' and Heuchera 'Electric Plum' in early June.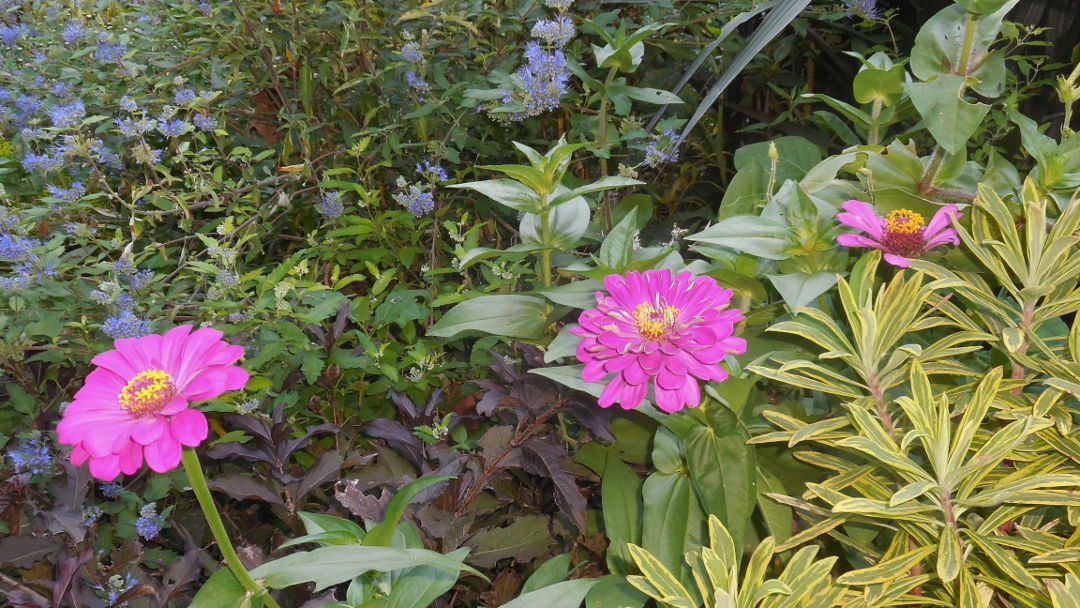 Here's a September picture of 'Purple Prince' zinnia (Zinnia elegans, annual), Euphorbia × martinii 'Ascot Rainbow' (Zones 6–9), and Caryopteris 'Lil' Miss Sunshine' (Zones 5–9). The weigela is another 'Spilled Wine'.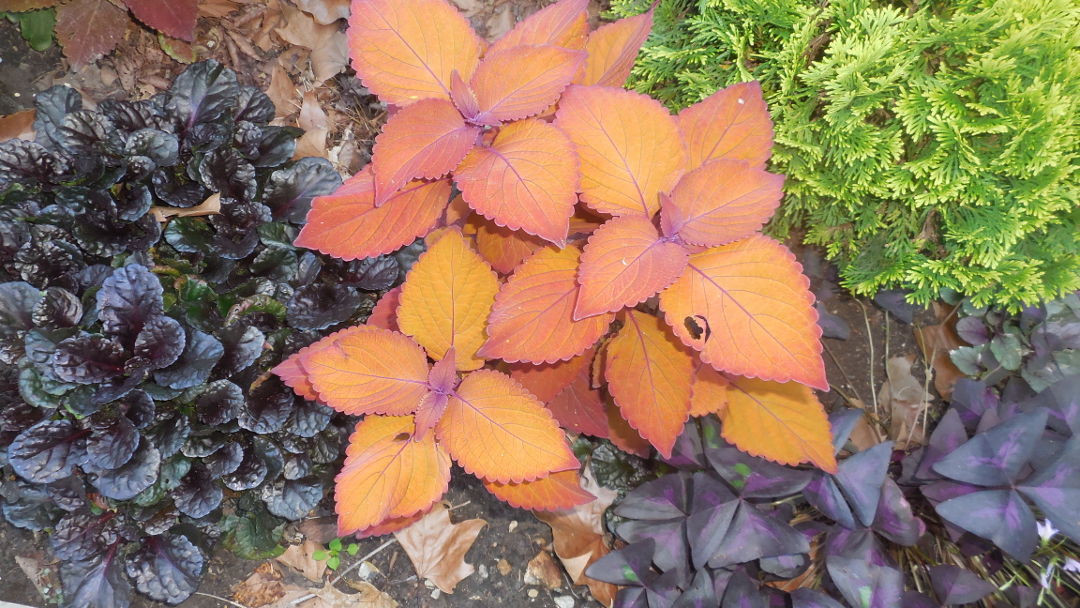 I just couldn't stop taking pictures of this coleus 'Campfire' (Plectranthus scutellarioides, Zone 11 or as an annual) showing tinges of purple mixed with the orange. Here it is flanked by ajuga 'Chocolate Chip' (Ajuga reptans 'Valfredda' Zones 4–9), Oxalis regnellii var. triangularis (purple shamrock, Zones 6–10), and Thuja occidentalis 'Anna's Magic Ball' (arborvitae, Zones 3–7).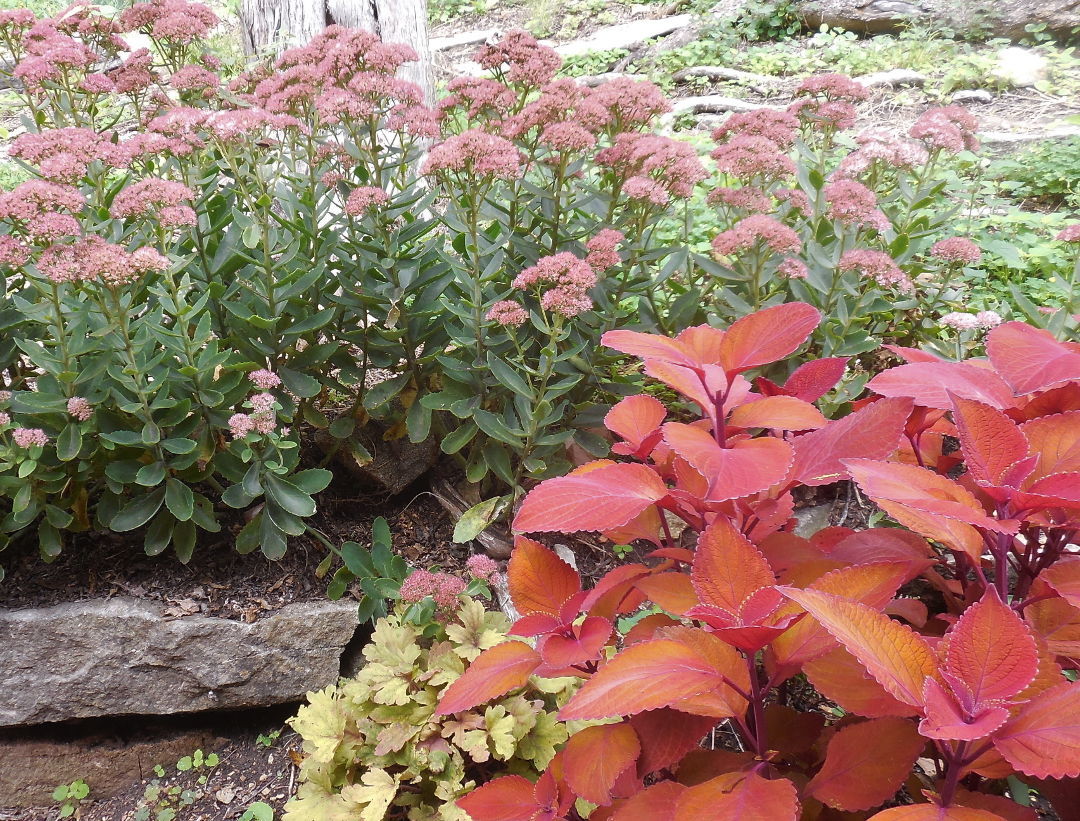 Here is 'Campfire' coleus, this time with heuchera (I think it's 'Sweet Tea') and Sedum 'Autumn Joy' ('Autumn Joy' stonecrop, Zones 3–11). This is what I see out my kitchen window in September.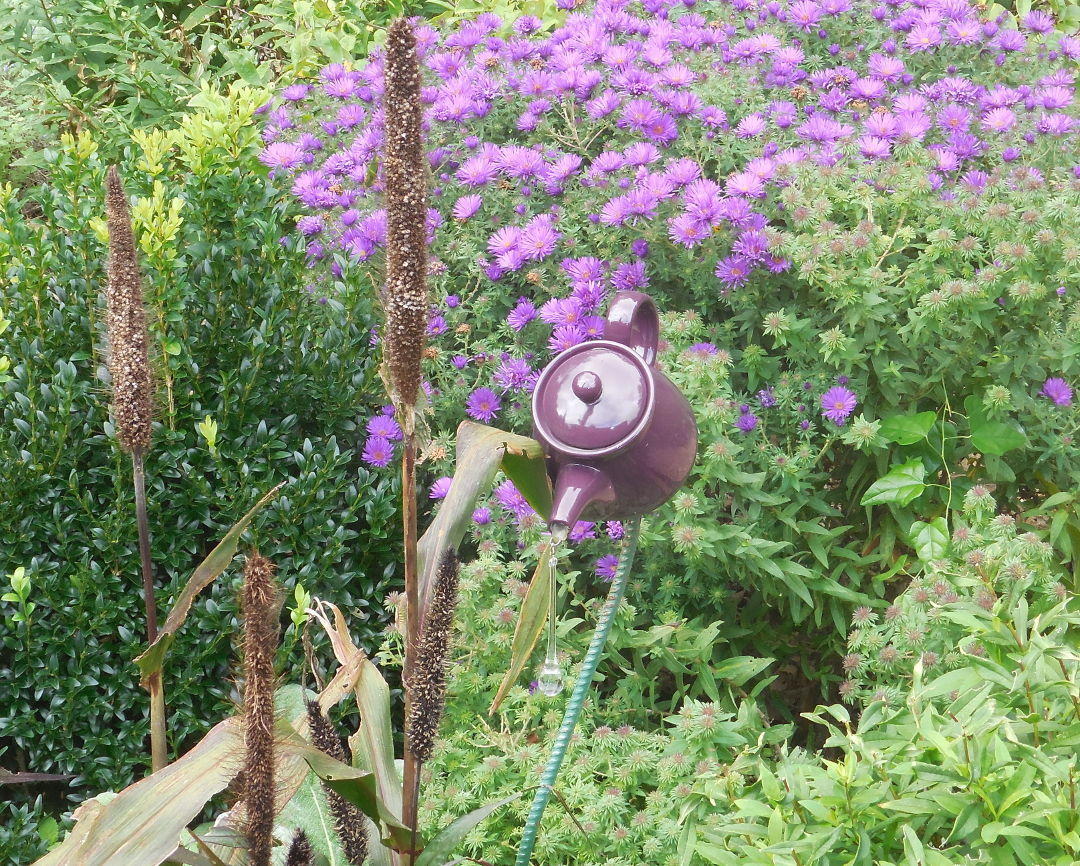 An experiment I will do again: This is 'Purple Majesty' millet (Pennisetum glaucum 'Purple Majesty', annual) that I started from seed. I didn't get a photo until September, so it is starting to look a bit tired. So far, none of our local birds are showing interest in the seed of the millet, but they are a picky lot. Normally only the mourning doves will eat millet around here.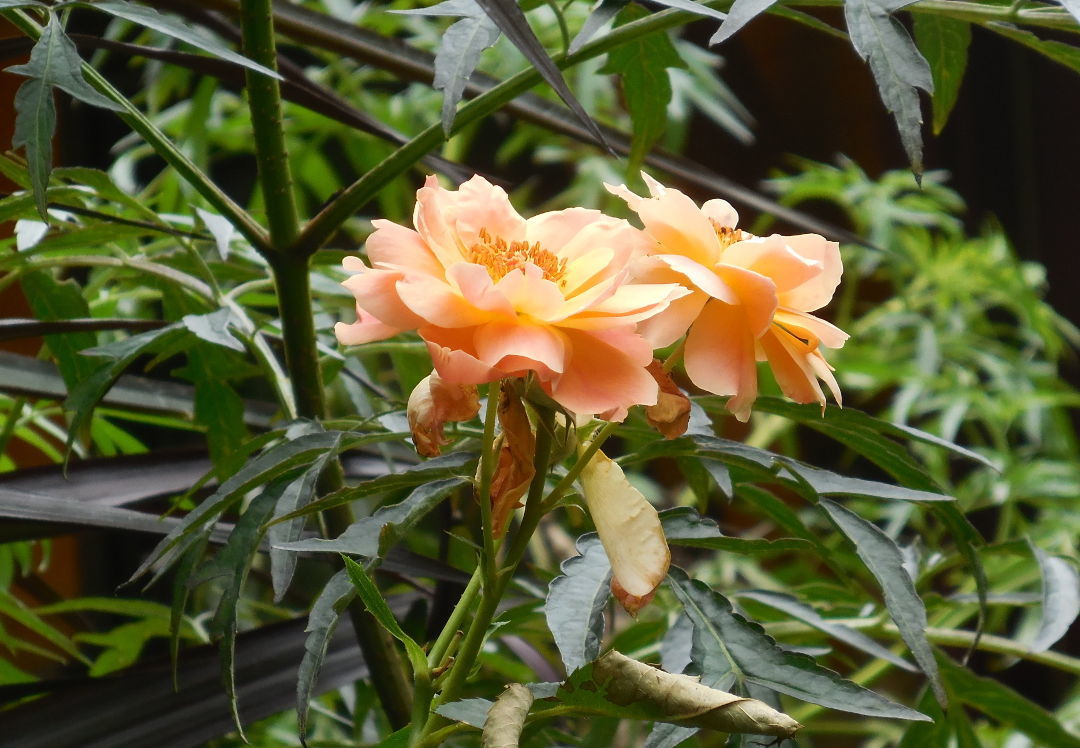 Appropriately, this is 'At Last', a delightfully fragrant and disease-resistant rose.
Have a garden you'd like to share?
Have photos to share? We'd love to see your garden, a particular collection of plants you love, or a wonderful garden you had the chance to visit!
To submit, send 5-10 photos to [email protected] along with some information about the plants in the pictures and where you took the photos. We'd love to hear where you are located, how long you've been gardening, successes you are proud of, failures you learned from, hopes for the future, favorite plants, or funny stories from your garden.
If you want to send photos in separate emails to the GPOD email box that is just fine.
Have a mobile phone? Tag your photos on Facebook, Instagram or Twitter with #FineGardening!
You don't have to be a professional garden photographer – check out our garden photography tips!
Do you receive the GPOD by email yet? Sign up here.