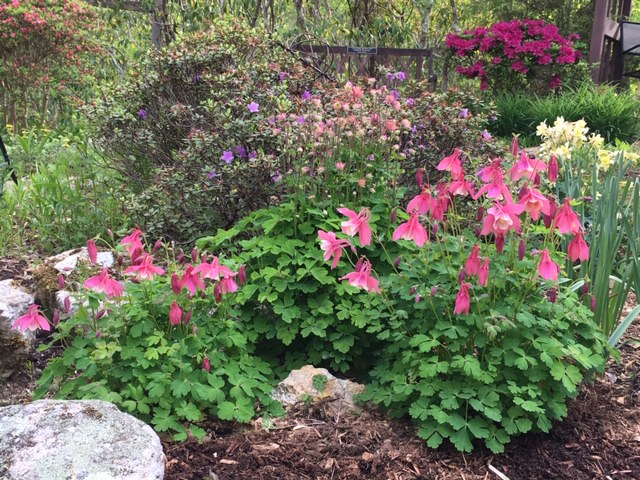 My name is Jesse, and I live in East Haddam, Connecticut (Zone 5). I love the vibrant spring colors in my garden against the backdrop of the woods when the leaves are just opening!
I've been building my gardens in stages for the last 17 years. We have a robust deer population in this rural area, so I designed an effective, reasonably priced, unobtrusive fence and had it installed about 15 years ago. My gardens have been growing and thriving ever since. I'm learning how to design a garden for greater visual impact, and I study the pages in your magazine like a scholar! In the last two years, I've been moving plants to create contrast in color and leaf shape, and transplanting self-sowers that scatter all over the garden into bigger clusters.
Last year I built a long, winding natural stone walkway through the garden and created two areas for a rest on a bench along the way. I love to sit and view the garden from these different vantage points. Last year a friend gave me a beautiful columbine for Mother's Day, and I added two more for a grouping. They came back this spring even larger than they were last year—so I've been adding more columbines to the garden. Their flowers are intriguing and so unique, and they like our rocky soil and cold winters.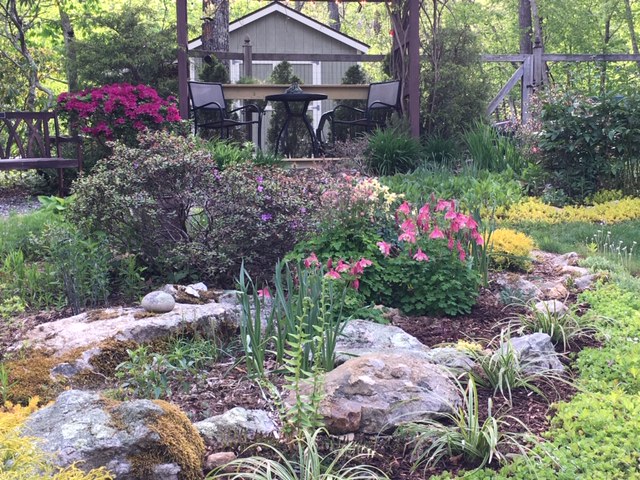 Sedum lines the edges of the curve in the foreground, a golden threadleaf cypress (Chamaecyparis pisifera 'Filifera Aurea', Zones 5–7) and creeping Jenny (Lysimachia nummularia 'Aurea', Zones 3–9) add a chartreuse palette, and false indigo (Baptisia australis, Zones 3–9) on the left is just emerging and will reach 3 feet with purple flowers.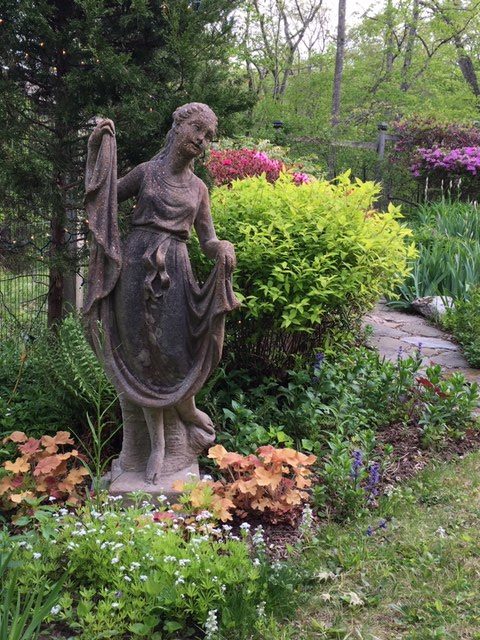 My husband and sons gave me this statue years ago for Mother's Day. I moved her this year so she greets visitors when they enter the garden, surrounded by golden spirea (Spirea japonica 'Goldmound', Zones 4–8), caramel heuchera (Zones 4–8), and sweet woodruff (Galium odoratum, Zones 4–8).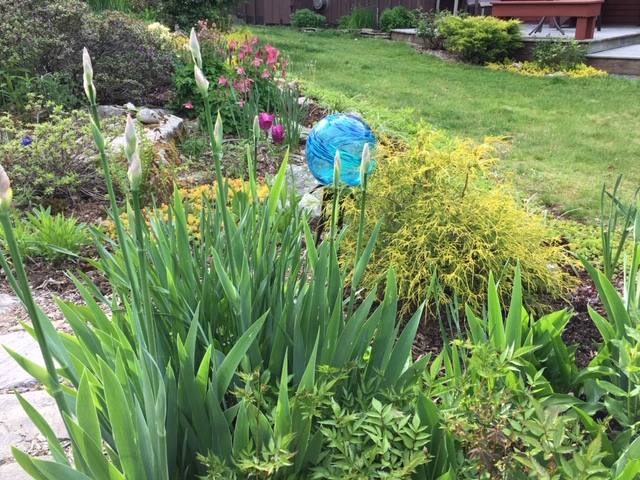 Bearded iris and astilbe in the foreground, with a blue glass sphere nestled in a golden threadleaf cypress.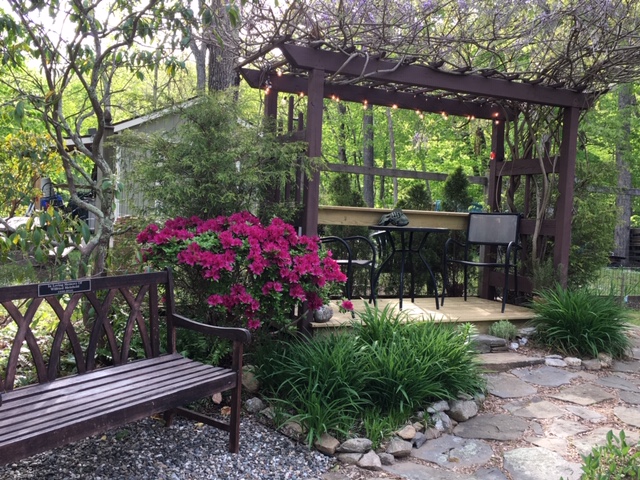 We built this trellis years ago and added a deck under it this spring. Wisteria climbs over the trellis, and next to it is a brilliant fuchsia-colored azalea in full bloom.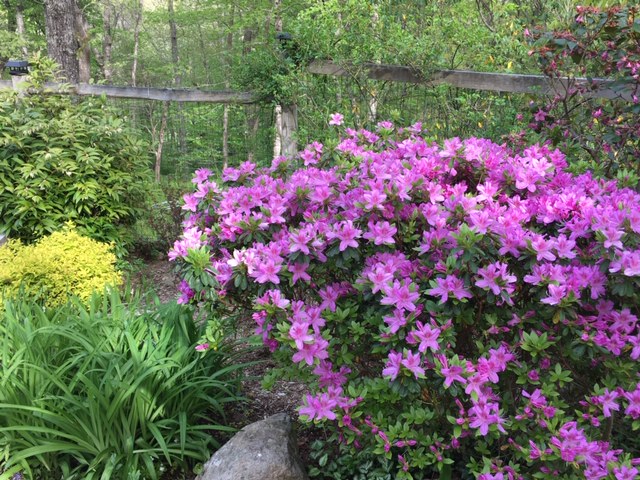 This beautiful azalea has lavender petals with fuchsia centers. Tiger lilies (Hemerocallis fulva, Zones 3–9) are just emerging, and a golden spirea and leucothoe (Leucothoe axillaris, Zones 6–9) create a natural enclosure next to the garden fence. The deer nibble the leucothoe through the back of the fence.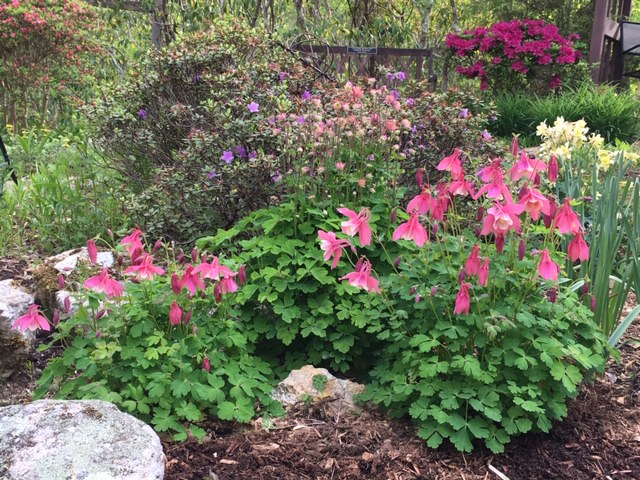 Columbines (Aquilegia hybrid, Zones 3–8) blooming in May.
Have a garden you'd like to share?
Have photos to share? We'd love to see your garden, a particular collection of plants you love, or a wonderful garden you had the chance to visit!
To submit, send 5-10 photos to [email protected] along with some information about the plants in the pictures and where you took the photos. We'd love to hear where you are located, how long you've been gardening, successes you are proud of, failures you learned from, hopes for the future, favorite plants, or funny stories from your garden.
If you want to send photos in separate emails to the GPOD email box that is just fine.
Have a mobile phone? Tag your photos on Facebook, Instagram or Twitter with #FineGardening!
You don't have to be a professional garden photographer – check out our garden photography tips!
Do you receive the GPOD by email yet? Sign up here.