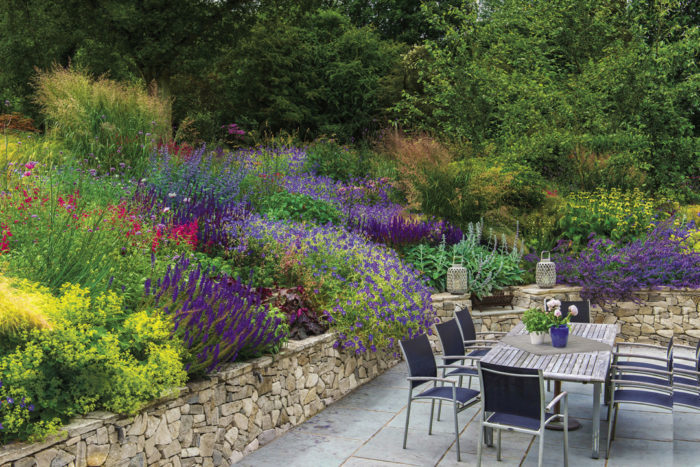 The kitchen may be the heart of a home, but for most of us, the patio is the center of the backyard. Whether we use it as a place for conversation, a second dining room, or simply an outdoor oasis to relax and unwind in, a thoughtfully planned border will bring out the best in this important piece of real estate. The right mix of plants will engage the senses, ground a patio without closing it in, and in larger yards, provide a lush transition to the lawn and gardens beyond.
To provide quiet contrast to colorful perennials, add some structural workhorses. Low-growing shrubs in the 2- to 5-foot range are ideal for the job—and for adding foliage color or scent. To avoid overwhelming the space, consider dwarf versions of classic favorites like 'Newport Dwarf' escallonia (Escallonia 'Newport Dwarf', Zones 7–9) or dwarf myrtle (Myrtus communis 'Compacta', Zones 9–11).
Creating the illusion of walls helps define a patio, especially one that is used for specific functions, such as dining or conversation.
Patios are the ultimate spot to appreciate a planting bed's complexity and beauty from a close perspective. If privacy or protection from afternoon sun is required, place screening trees and shrubs as far out on the perimeter as possible to keep from crowding the patio and to relinquish prime growing space to perennials and shrubs that shine when viewed at close range. Opt for small-scale trees with a more open branching pattern instead of those with dense canopies. Plants like 'Shishigashira' Japanese maple (Acer palmatum 'Shishigashira', Zones 5–9) and 'Ray Hartman' California lilac (Ceanothus 'Ray Hartman', Zones 8–10) provide dappled shade and seasonal interest with flowers or foliage.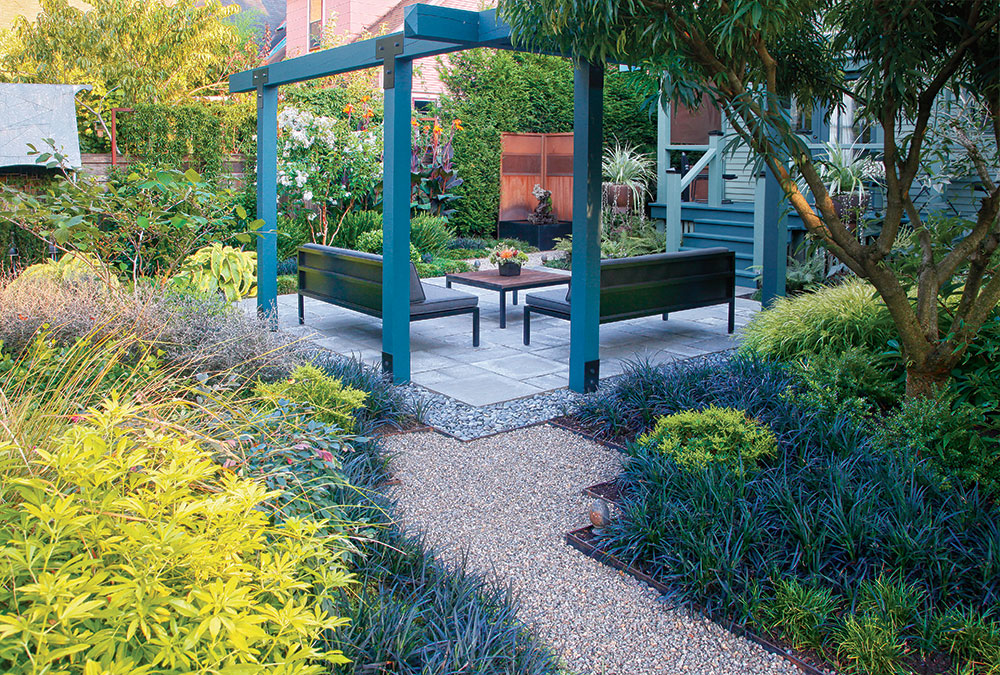 Creating the illusion of walls helps define a patio, especially one that is used for specific functions, such as dining or conversation. Sheared, dense plants, however, can have the undesirable effect of cutting off the patio from the rest of the garden, inadvertently creating a cramped feel. To add a sense of enclosure without crowding, try tall, airy "see through" plants, such as sea holly (Eryngium spp. and cvs., Zones 3–9) or 'Alcazar' torch lily (Kniphofia 'Alcazar', Zones 6–9).
Pockets planted along a patio's edge serve as an important transitional space. A mix of creeping ground covers and mounding perennials will visually extend the patio's size while providing a living transition to taller plants farther back. Fragrant ground-cover herbs that can handle some foot traffic, such as Roman chamomile (Chamaemelum nobile, Zones 6–9), are a particularly attractive choice, releasing scent when stepped on and allowing for maintenance access to plantings beyond.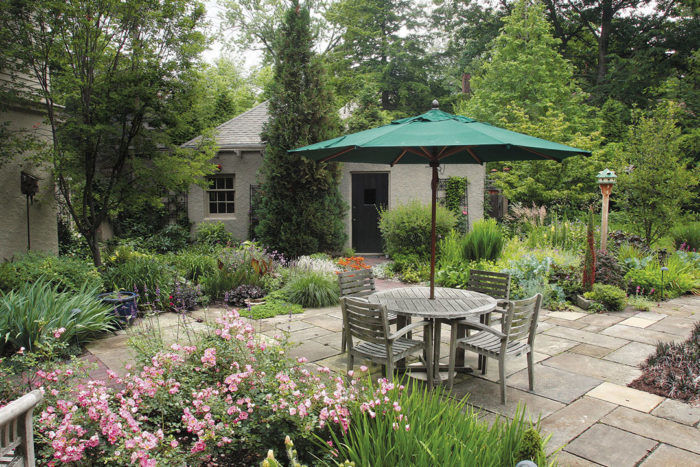 Tip: Target Your Ambience

Tailor your plant choices to reflect when and how your patio is used the most. if evening eating and entertaining are important, consider including plants with chartreuse or silver foliage that reflect the moonlight. if hot or humid summers make fall the best time to enjoy the patio, mix in ornamental grasses or shrubs that sport fall color.
---
5 Types of Plants for Patios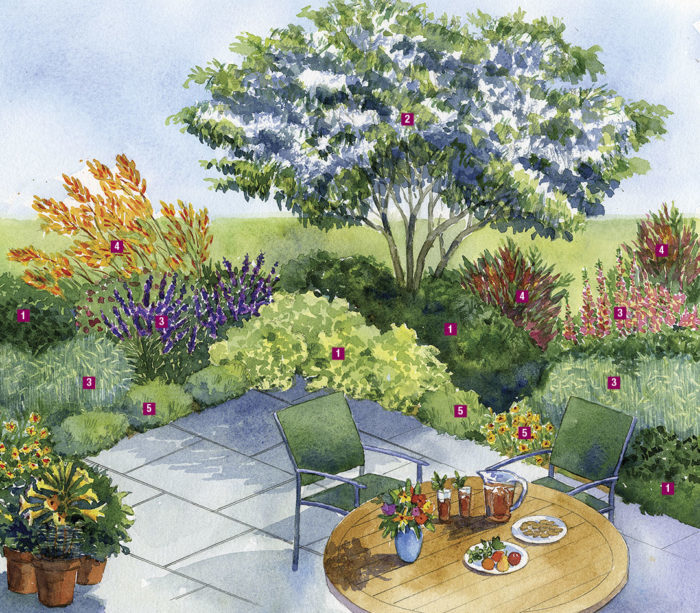 Your patio is the place where you'll sit and look out at your garden, so make sure the bed you're looking at is doing its job. To make your design successful, incorporate these kinds of plants.
1. Structural workhorses

A backbone of small to medium evergreen shrubs adds foliage, color, and contrast, and keeps the garden from disappearing in winter.

Good options

• 'Great Orme' hebe (Hebe 'Great Orme', USDA Hardiness Zones 8–10)

• Obsession™ heavenly bamboo (Nandina domestica* 'Seika', Zones 6–9)

*See invasive alert below.

2. Thoughtful screening

Smaller trees (in the 12- to 20-foot-tall range) provide dappled shade and maintain privacy without overwhelming smaller plantings.

Good options

• Chinese fringe tree (Chionanthus retusus, Zones 5–9)

• 'Ann' magnolia (Magnolia 'Ann', Zones 4–9)

3. Multiseason appeal

Fine-textured grasses and long-blooming perennials help the patio shine from spring through fall.

Good options

• 'Illumination Flame' digiplexis™ (Digitalis 'Illumination Flame', Zones 8–10)

• 'Hameln' fountain grass (Pennisetum alopecuroides 'Hameln', Zones 6–9)

4. Architectural elements

Tall, spiky plants help define the patio's space while still allowing views into the lawn or garden beyond.

Good options

• 'Harmony' kangaroo paw (Anigozanthos 'Harmony', Zones 9–11)

• Burnet (Sanguisorba menziesii, Zones 3–9)
5. Transitional plants
To soften a patio's edges and knit the space together, plant ground covers and smaller mounding plants in the front of the bed, allowing them to spill onto the patio and mingle with the plants behind.
Good options
• 'Archer's gold' lemon thyme (Thymus × citriodorus 'Archer's Gold', Zones 6–9)
• 'Elfin' thyme (Thymus serpyllum, Zones 4–8)
*Invasive alert: Heavenly bamboo (Nandina domestica)
This plant is considered invasive in AL, FL, GA, MO, and SC.
Please visit invasiveplantatlas.org for more information.
---
Susan Morrison is a garden designer in Northern California.