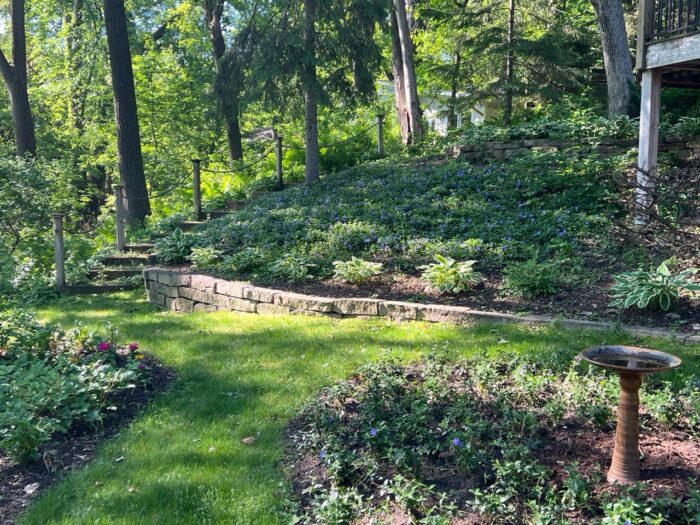 Today we're visiting with Karen Holmen.
A few years back I sent in some pictures of my garden (From Wild to Wonderful and Made for Shade ). Since it always looks different to me—plants die, grow, pop up, get moved or replaced—I decided to send in an update.
I live in White Bear Lake, Minnesota, and have worked with my property since 1985. When I first moved here we had a lot of old oak trees, several old cottonwoods, buckthorn, various shrubs and weeds, weeds, and more weeds, Some of the trees have died, the buckthorn is gone, and over the years I have developed a small front yard garden, a backyard garden—all within view from inside the house—and a "wayback" garden off by itself. It has been fun creating some order and color in the first two areas; the wayback area is a bit wilder and has a bit more shade to deal with, which has always been a challenge.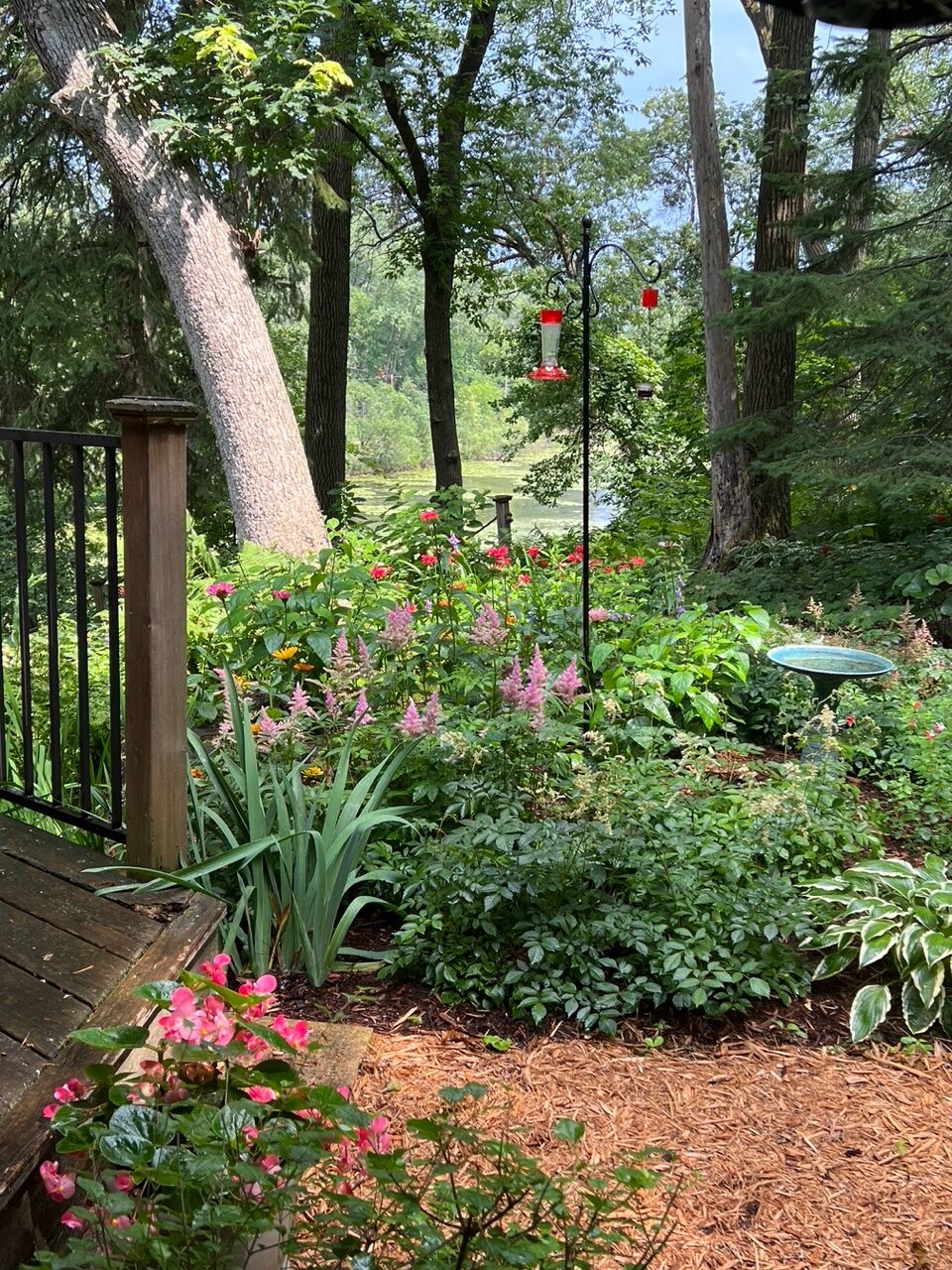 I planted this garden area, which is right outside our bedroom window, to attract our many birds, bees, and butterflies. It provides hours of entertainment, and it is a great place for me to sit with my camera and take pictures of our many visitors.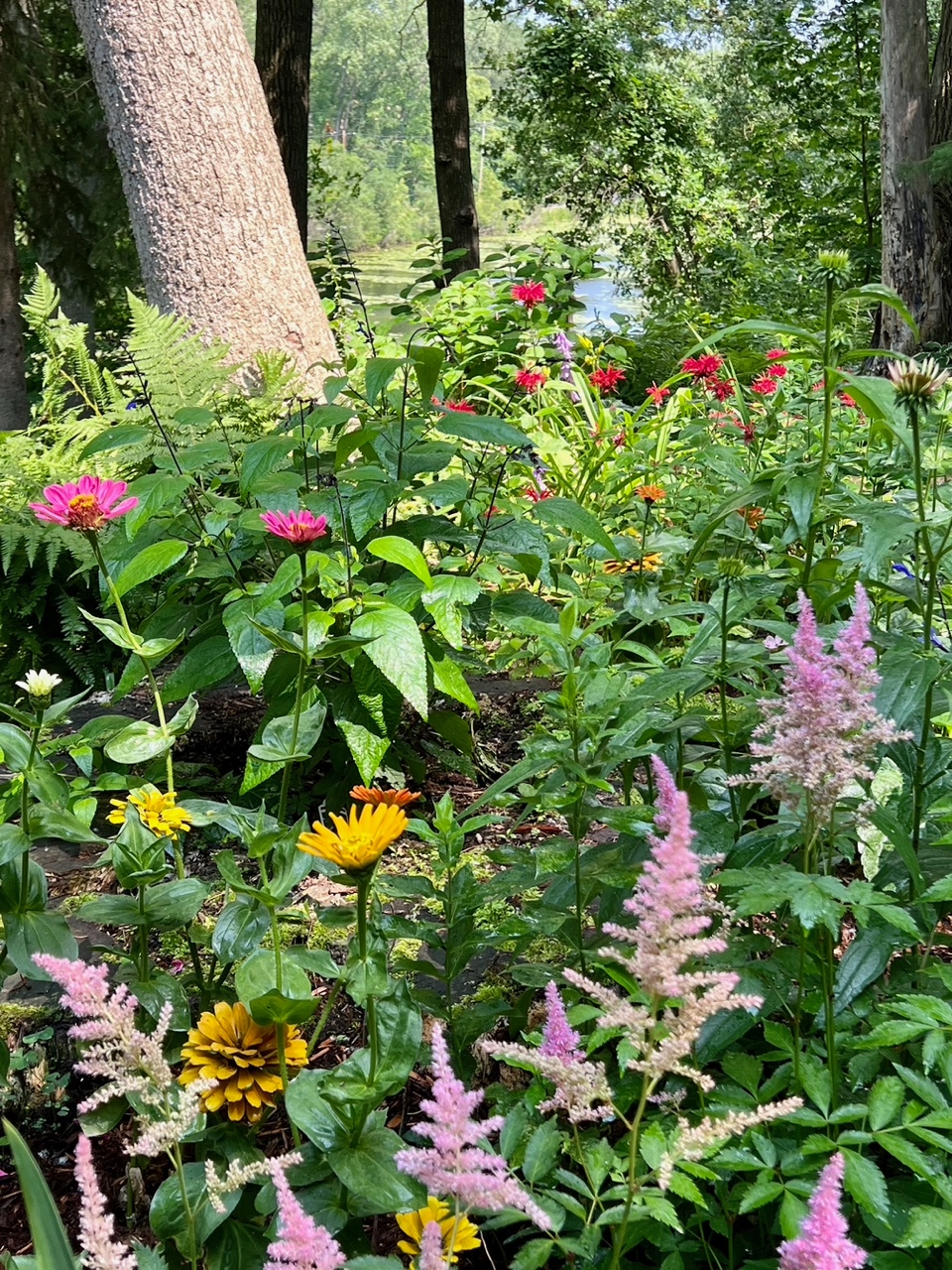 This is a close-up of the same garden right after a morning shower.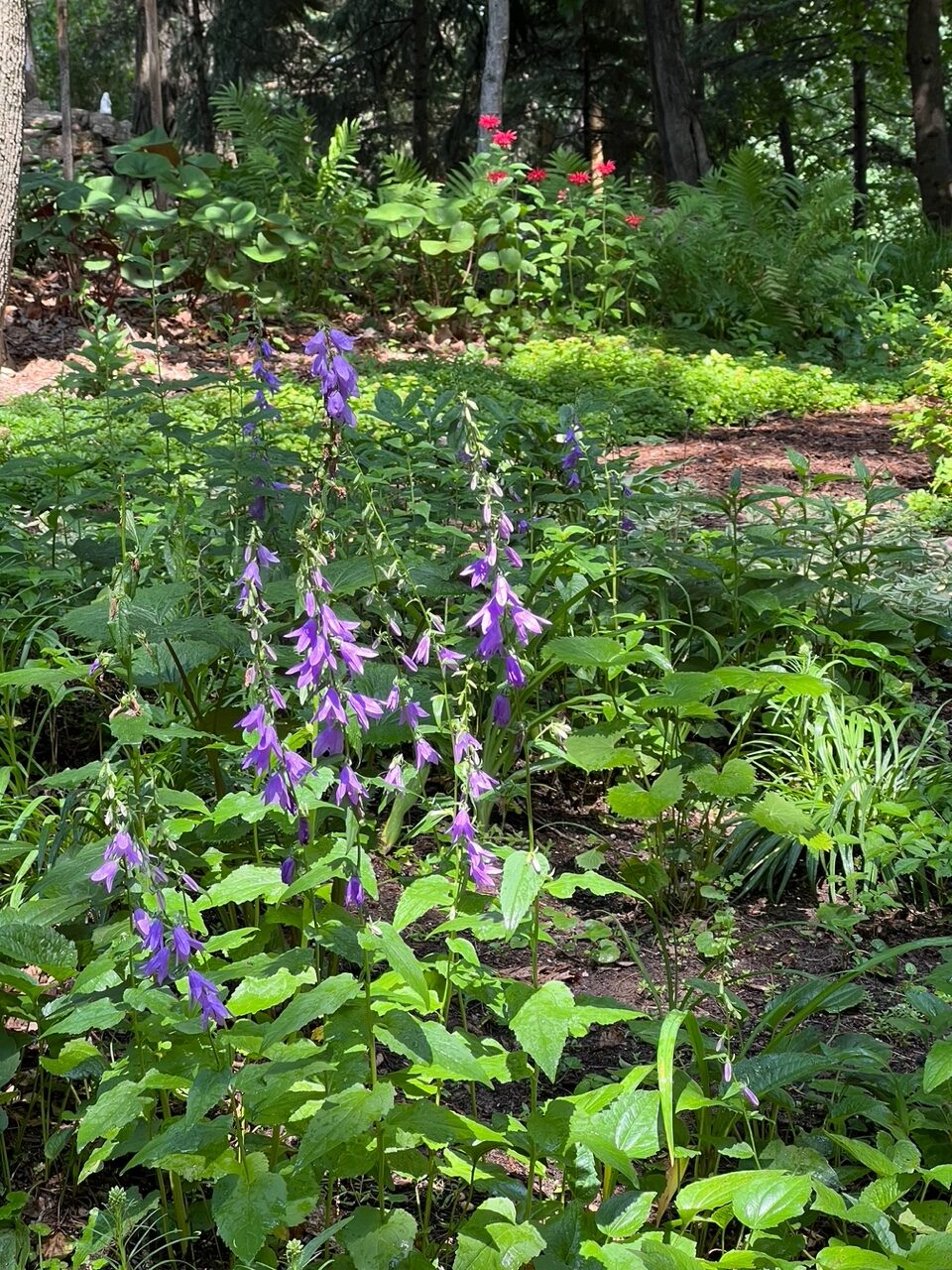 In the "wayback" garden, I typically pull up a lot of the blue bellflowers (Campanula rapunculoides, Zones 3–9) each year, but I do love them and have decided to let more grow in the years to come. Their clumps are stunning.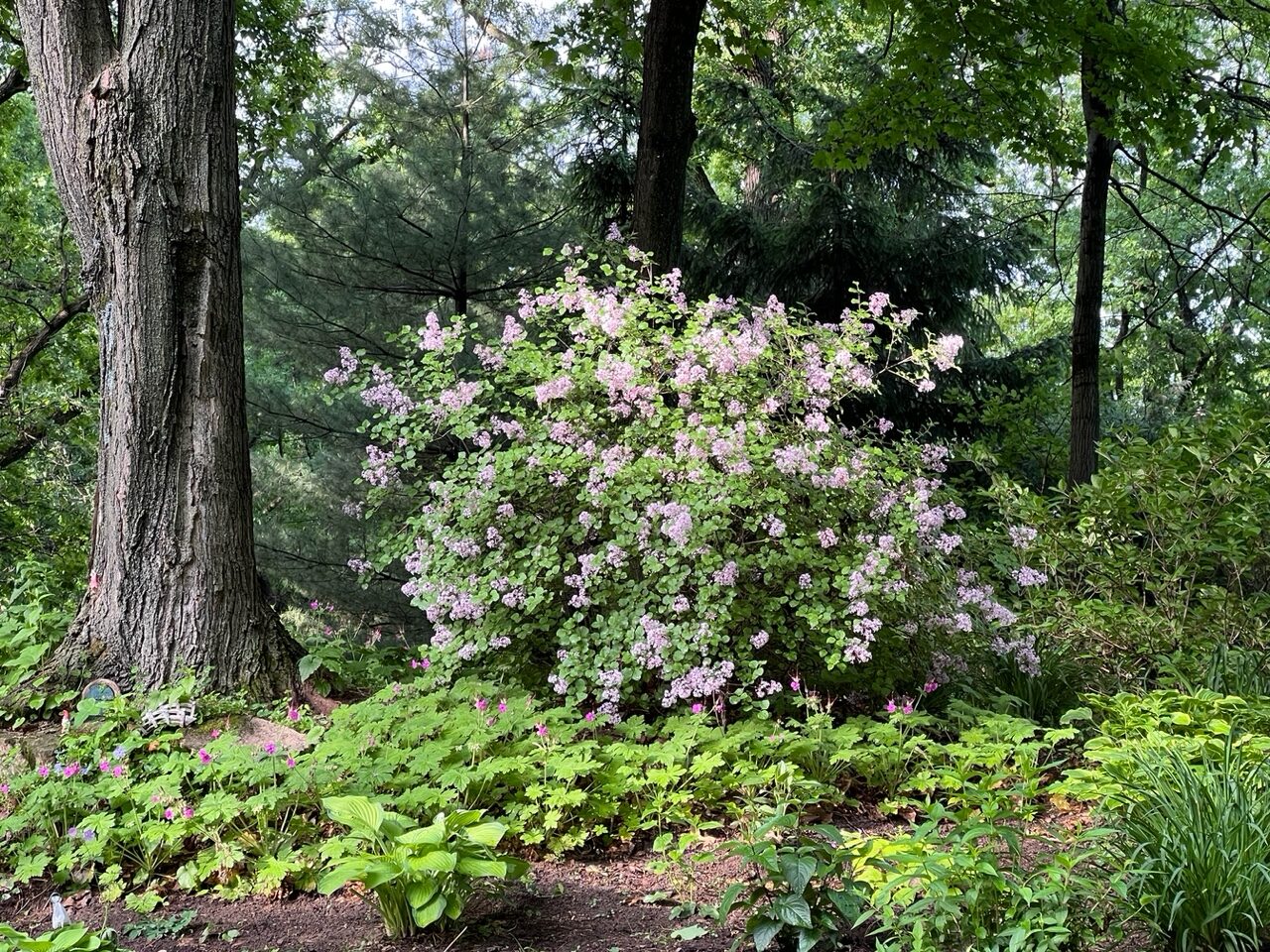 I have moved this 'Miss Kim' lilac (Syringa pubescens subsp. patula 'Miss Kim', Zones 3–8) a few times over the years and it finally seems to be very happy. Its fragrance in the spring is amazing.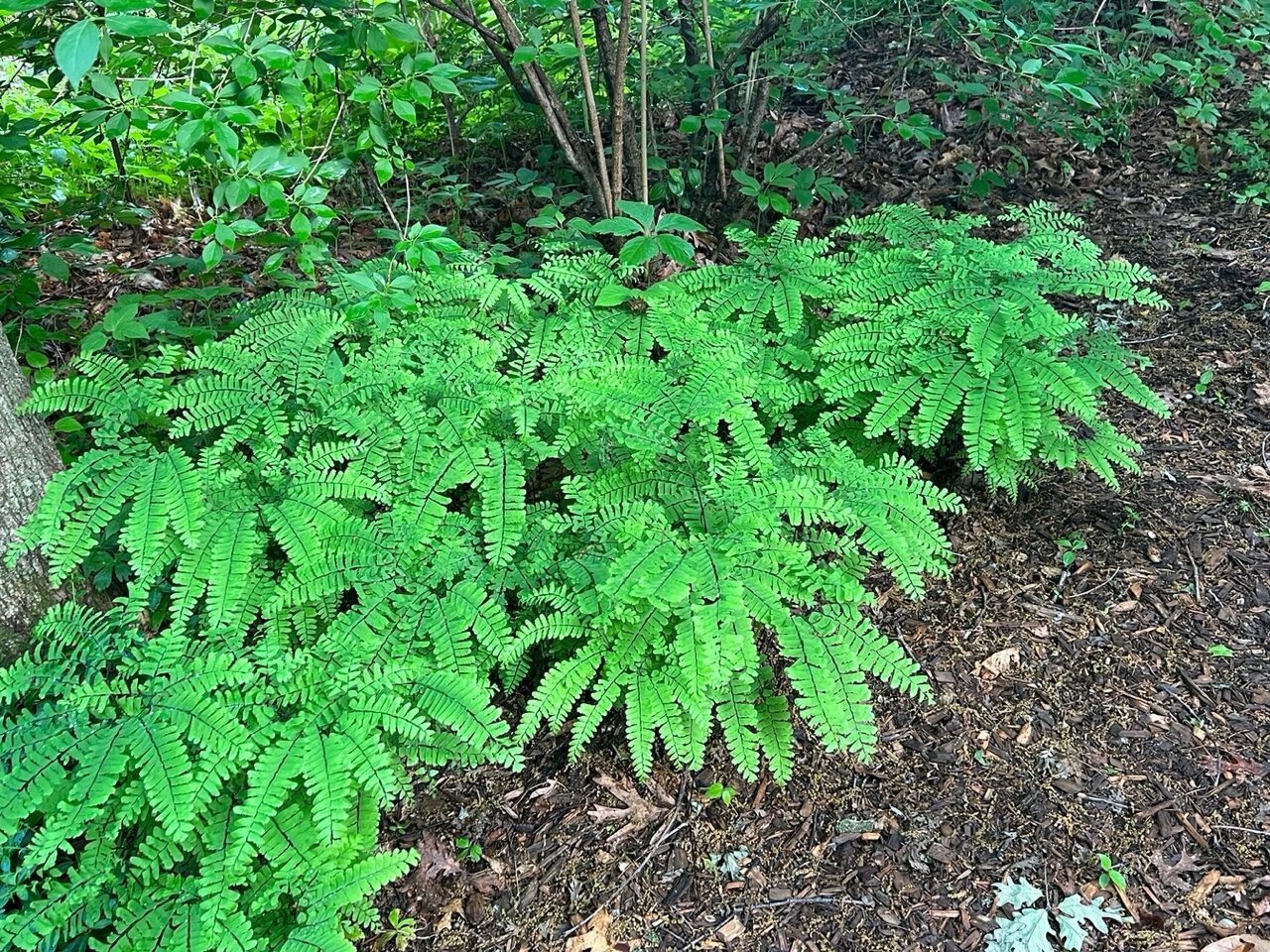 These maidenhair ferns (Adiantum pedatum, Zones 3–8) have found their happy place and thrive along a path in the wayback garden.
We were very fortunate to have a great horned owl family in our backyard this year, way up in one of the old oak trees. The parents had one owlet, "Isi," that we were able to watch grow up from early March to May. In past years the nest was occupied by Cooper's hawks and their young; this year the owls beat them to the nest.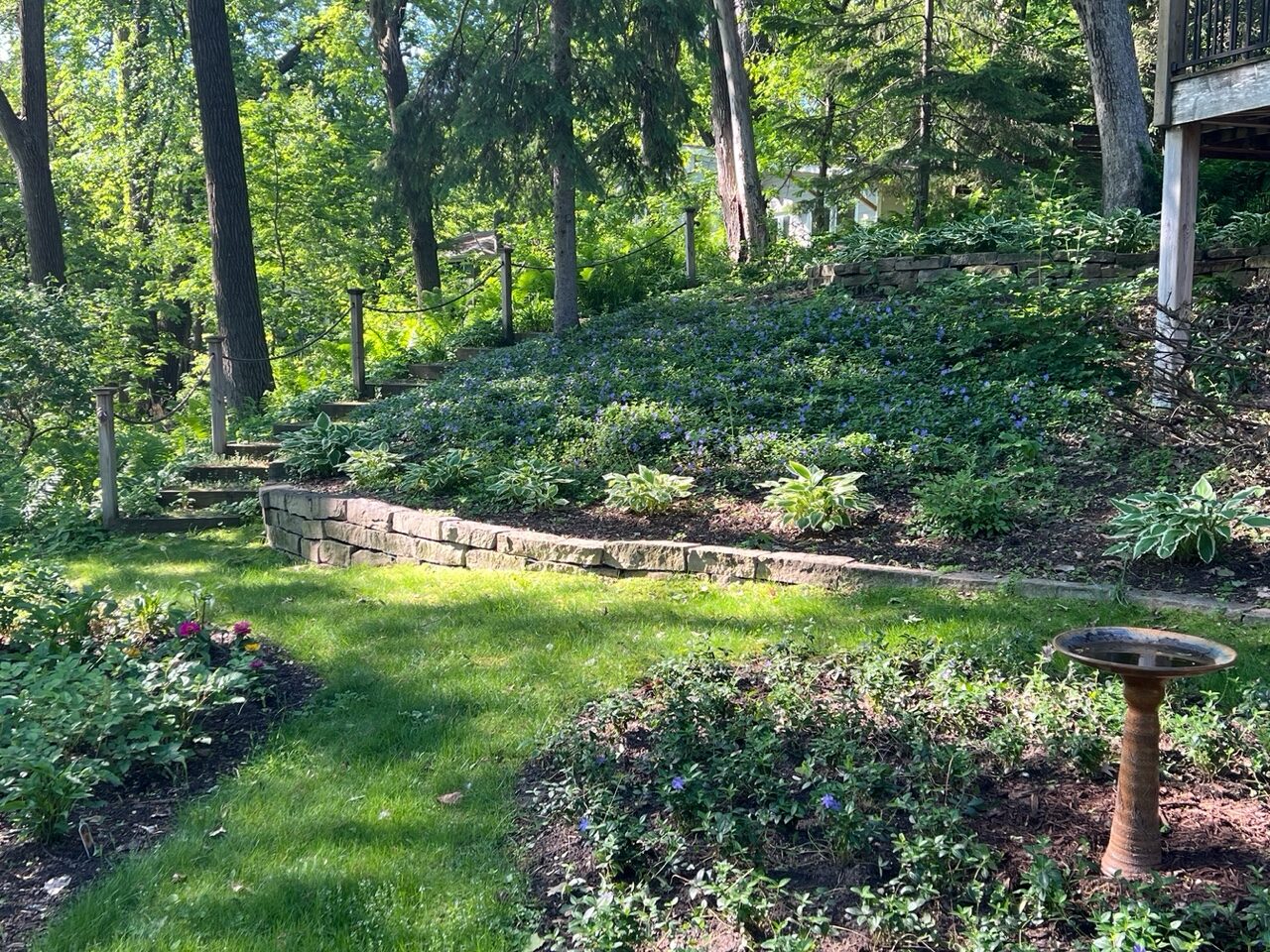 This hill on the east side of our house used to be filled with hostas and was a riot of blue flowers in late August/early September. However, a few years ago the deer decided that it was great for grazing. During the pandemic in 2020, I decided to replant the whole hillside with vinca (Vinca minor, Zones 4–8), which the deer have never bothered. I had so much in the wayback garden that having enough to dig up and replant wasn't an issue at all. This year the whole hillside was covered with the vinca and its little blue flowers. In addition to being beautiful, it keeps the hill from eroding.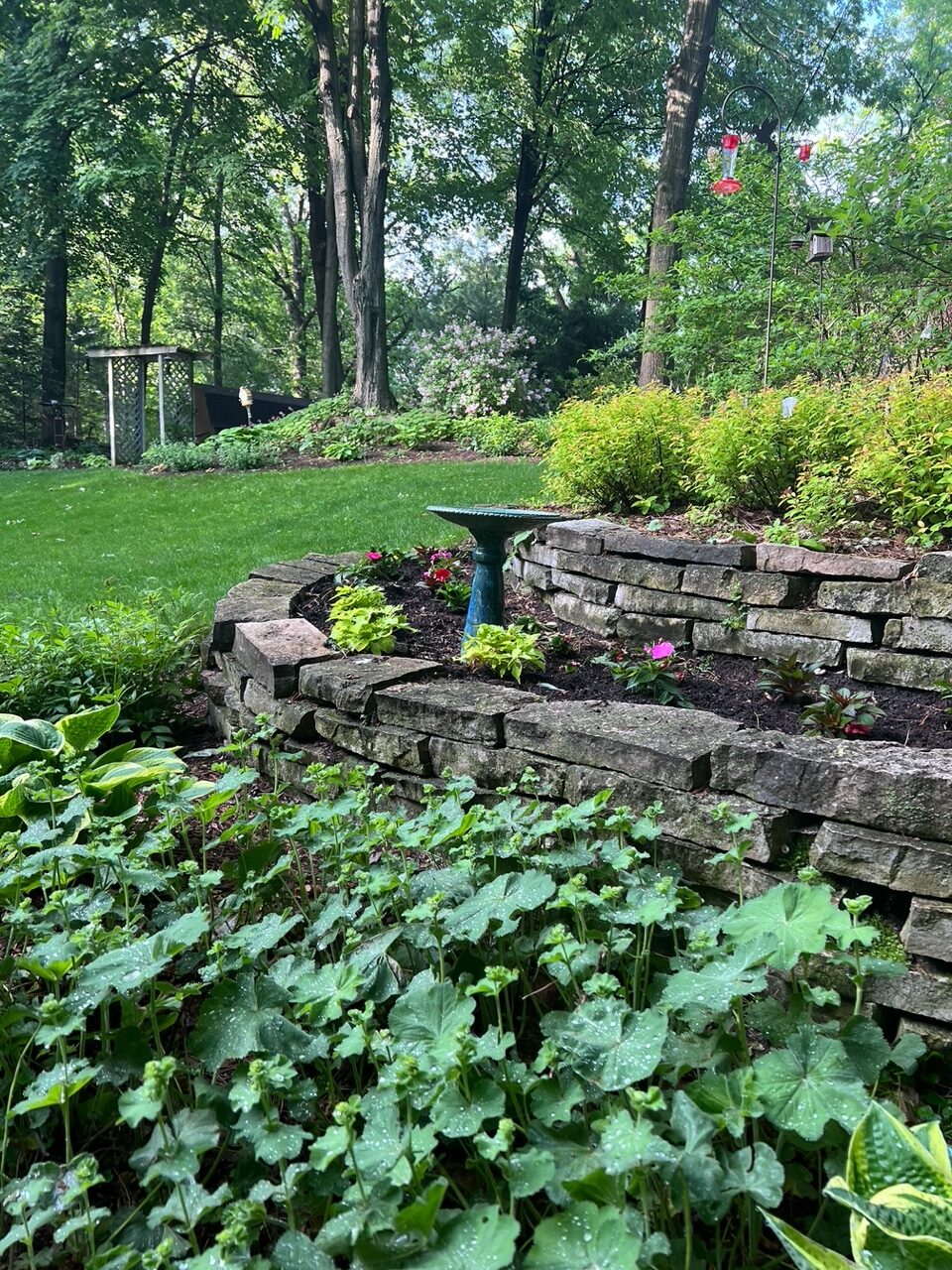 The path under the trellis leads you from the backyard garden to the wayback garden.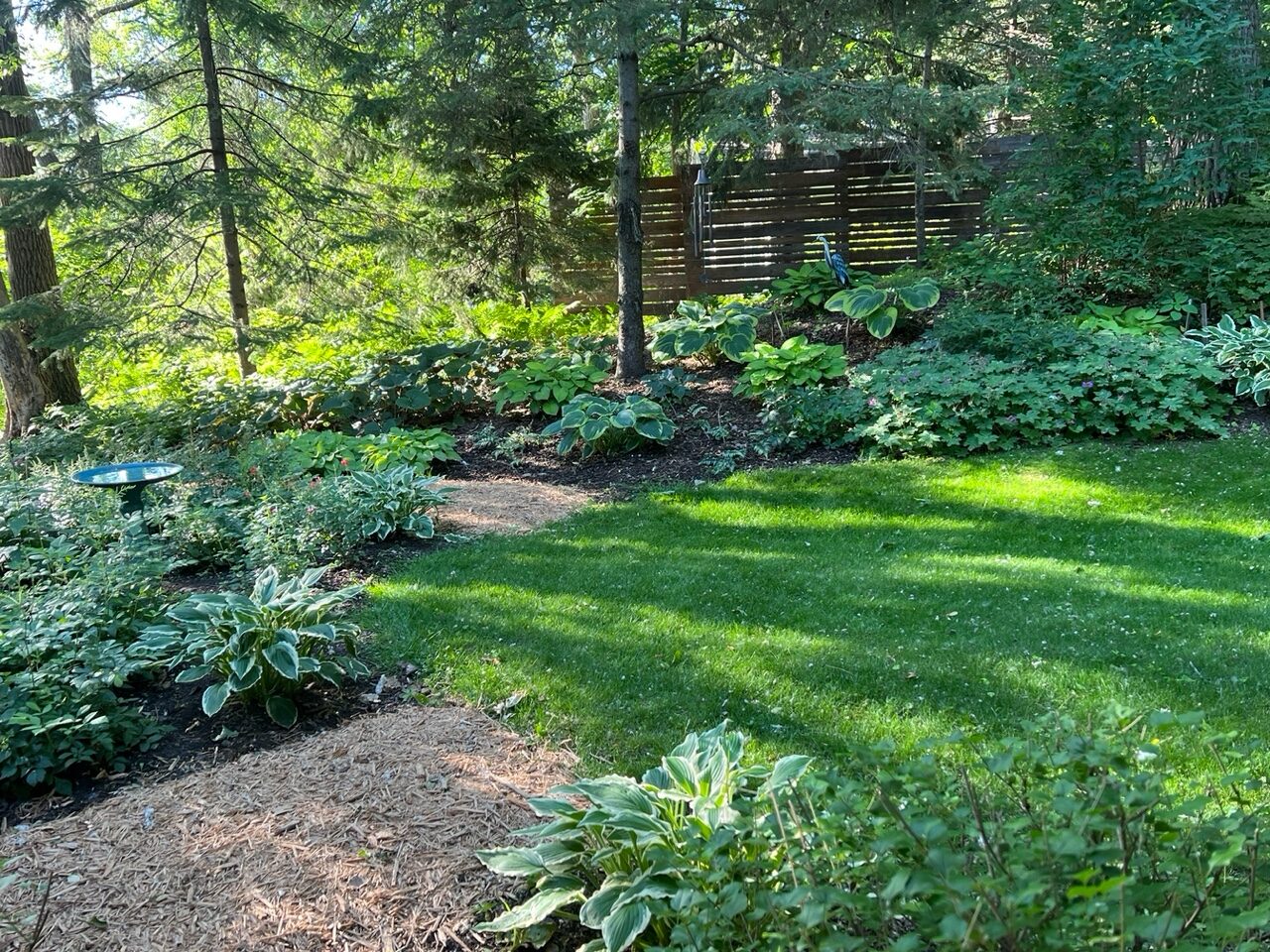 This was another COVID project. We decided to put up some privacy panels between our yard and the neighbors' yard. Just four panels in the woods and our privacy goal was accomplished.
It's amazing to look back at earlier pictures of our yard compared to today. We made many of the changes because of the huge deer problem we have. I have taken out so many daylilies, which I hated to do, and many hostas have been replaced with more deer-resistant plants. Plants the deer still like to graze on, that are near the house, I continue to spray with commercial products and even a homemade recipe I tried for the first time this year. They are working pretty well, as long as I am diligent about spraying.
Here's to all the gardeners in the world who create beautiful retreats for themselves and others to enjoy, including all the critters out there!
Have a garden you'd like to share?
Have photos to share? We'd love to see your garden, a particular collection of plants you love, or a wonderful garden you had the chance to visit!
To submit, send 5-10 photos to [email protected] along with some information about the plants in the pictures and where you took the photos. We'd love to hear where you are located, how long you've been gardening, successes you are proud of, failures you learned from, hopes for the future, favorite plants, or funny stories from your garden.
Have a mobile phone? Tag your photos on Facebook, Instagram or Twitter with #FineGardening!
Do you receive the GPOD by email yet? Sign up here.