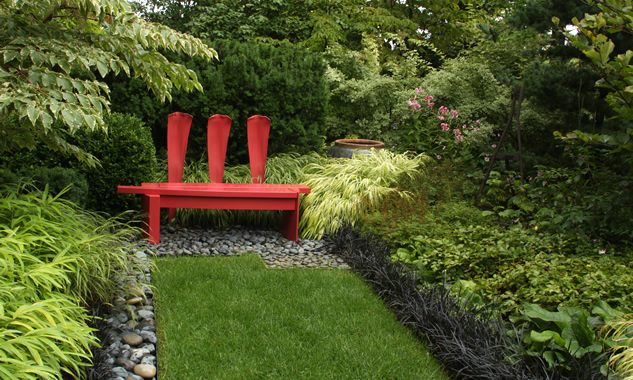 Every garden has a story. Whether you want to share your photos on Facebook, frame a photo as art, or submit photos of your garden to the Garden Photo of the Day, it all starts with understanding your garden's unique story. We are often asked for tips for taking stunning garden photos.
Tips
Shoot big to small. Give context to your story by capturing an establishing shot of your garden. Then zoom in for interesting vignettes and moments that are meaningful to you. From there, select some close up shots to add intimacy to the story.
Lighting. Overcast is almost always best. Colors really shine against Mother Nature's most neutral backdrop. But if you don't have time to wait for the weather to change, your best bet is early morning or early evening. Please don't use flash—it disturbs the flowers.
Shot selection. Mix up your shots—include hardscape, borders, fences, and pathways. Mix up vertical and horizontal shots. Try multiple angles to capture a unique way in to a plant!
Authenticity. Imperfect is perfectly fine! Keeping it real is one thing, but please do hide the garden hose!
Be flexible. Don't be afraid to crouch down, shoot upward or shoot from above. Contort yourself to find new angles. The sky makes for an interesting backdrop, and you can skip the gym that day.
Tripod. Use it. Even the steadiest of hands isn't steady enough most of the time.
Try "lock focus." This is available on the iPhone and many Android phones. Tap and briefly hold your subject's image on the screen; the focus and exposure will adjust to fit the subject.
Context. Capture interest in the foreground to add dimension.
Go with it. If it's windy, try video to capture the motion!
Scribe. Take notes of your shots. People will want to know what those plants are or what time of year it is.
Be spontaneous. Nature is spontaneous. Bugs, birds and butterflies are gifts. Capture them!
Be click happy. Take more photos than you think you'll need.
Share!
The best photo is a shared photo. Here are optimal sizes for posting on social media:
Pinterest: vertical images work best; aim for 736 x 1104
Facebook: 1,200 x 630
Instagram: photos are square and are uploaded at 1080 x 1080
Tumblr: 500 x 250
Twitter: uses a 2:1 ratio, such as 1025 x 512
Fine Gardening GPOD: full, nonreduced, high-resolution images are best
Be sure to tag your photos with #finegardening so we can see them!
If you'd like to submit your garden shots for the Garden Photo of the Day blog, send five to ten high resolution photos to [email protected] along with a brief story about your garden. For extra credit, identify the plants in each photo!
(No need to reduce photo size when sending photos in for our blog; they will appear sharper on our site in a higher resolution.)