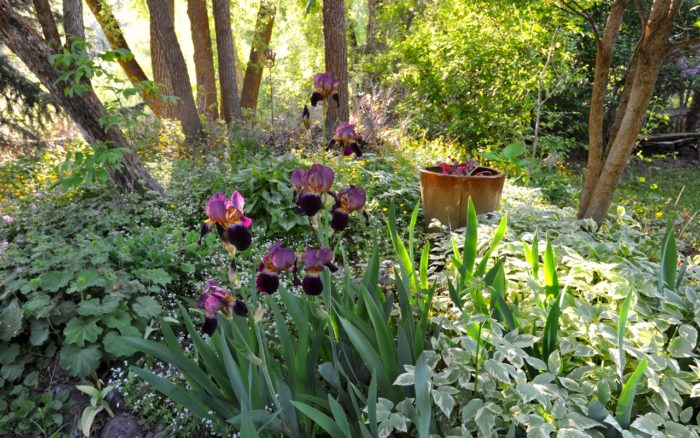 Last week we visited Cheryl Henley's garden, which she calls her Undisciplined Garden, but she sent in so many great photos that I wanted to share more of her garden today. She gardens in the heavy rocky clay soils of the Wasatch Mountain foothills at an elevation of about 4000 feet. It is Zone 5, in the shadow of mountains, but by finding plants that love her conditions, she's created a beautiful garden.
'Princess Irene' tulips bloom through blue forget-me-nots (Myosotis sylvatica, Zones 3–8) next to the foliage of growing lupines (Lupinus polyphllus, Zones 4–8).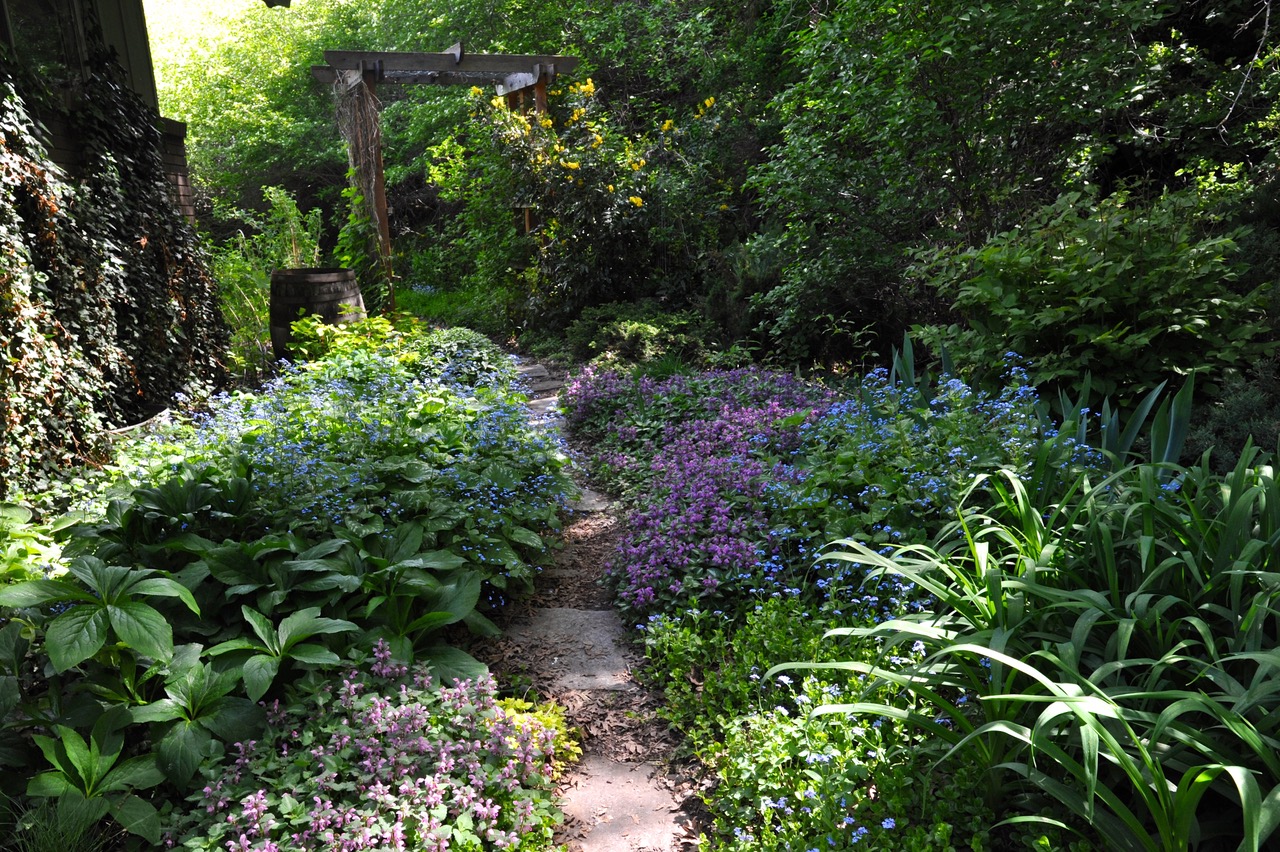 Plants are getting larger by the end of May. Hops (Humulus lupulus, Zones 4–8) climb up one side of the trellis, a large mahonia blooms with wonderful fragrance on the other side. The right side of photo shows daylilies (Hemerocallis hybrids), Aruncus, and lilac (Syringa vulgaris, Zones 3–7) not blooming yet.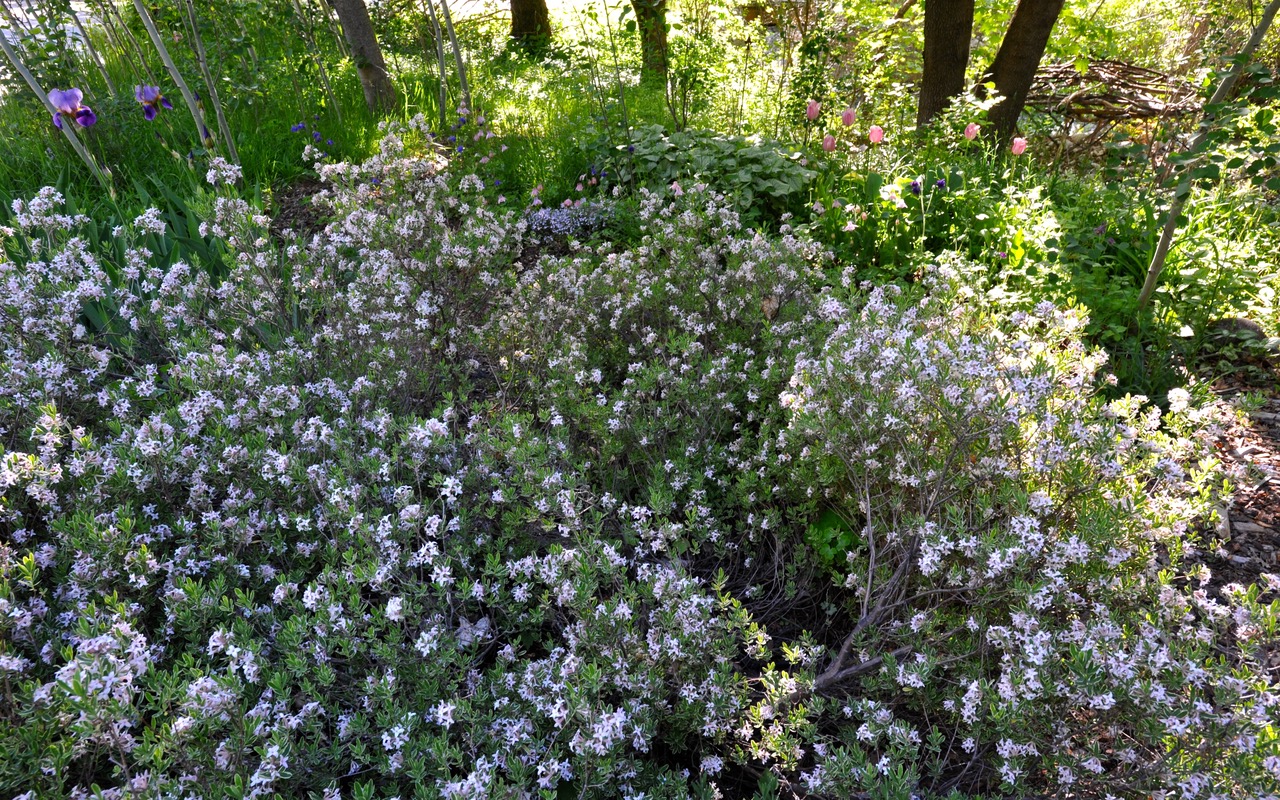 This is a massive 'Carol Mackie' daphne (Daphne × burkwoodii 'Carol Mackie', Zones 4–8), described as a "small shrub" in plant listings. The main trunk is about 10 inches in diameter, maybe more. She has been very happy in some sandier soil next to our driveway and perfumes the entire garden.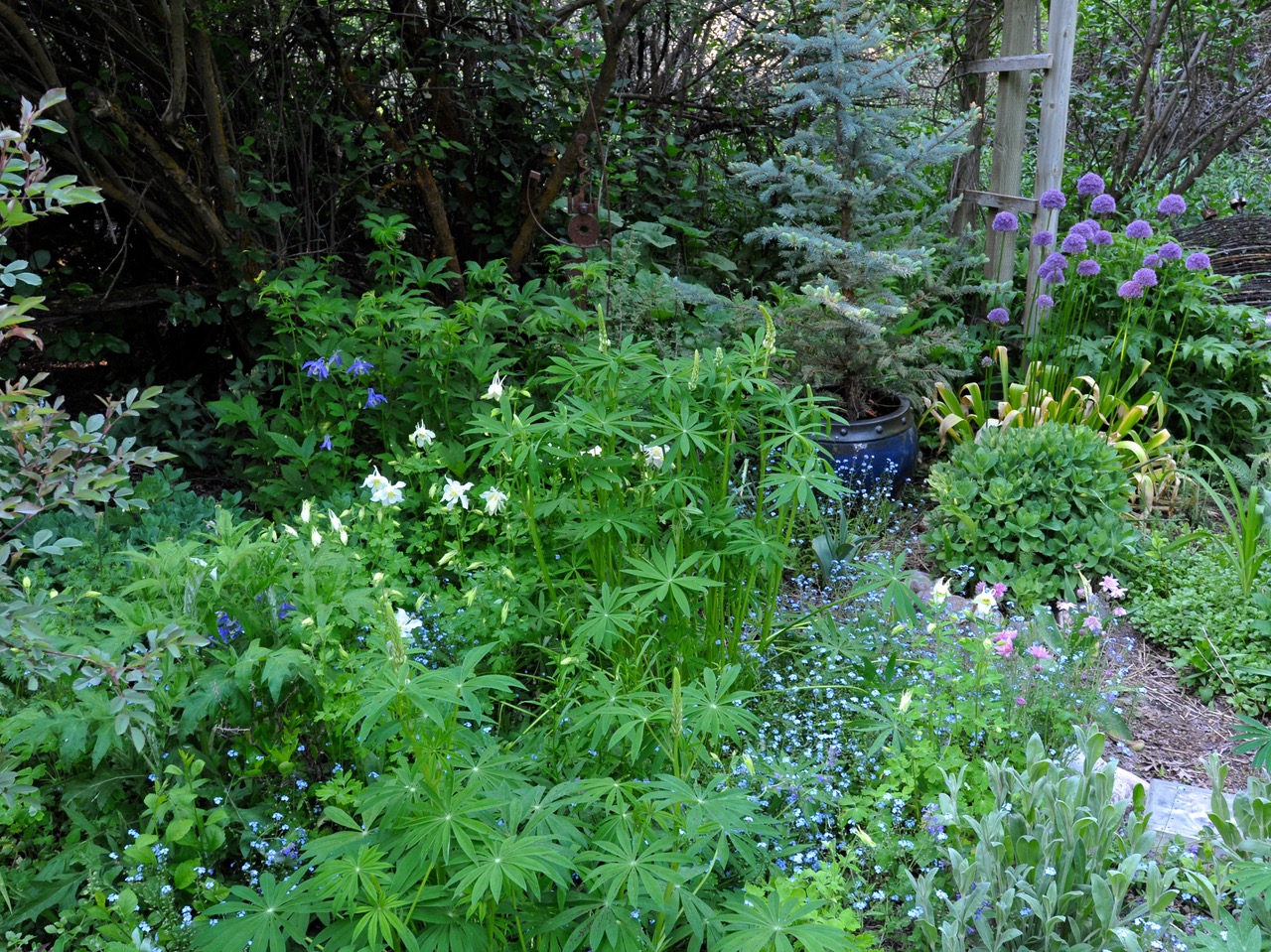 Lupines have reseeded themselves generously and are very pretty, but they can attract unbelievable numbers of aphids, which I try to blast off with the hose. Columbines (Aquilegia hybrids, Zones 3–8) also show up in new spots. Very large white columbines gave rise to the even taller blue ones farther back. Other volunteers here are the forget-me-nots and some rose campion (Lychnis coronaria, Zones 4–8). Echinops (grown from seed!) and Joe Pye weed (Eutrochium purpureum, Zones 4–9) aren't blooming yet. A young forsythia and a Clethra 'Vanilla Spice' (Zones 4–9) are in there too. The 'Fat Albert' spruce (Picea pungens 'Fat Albert', Zones 2–7) was our Christmas tree years ago.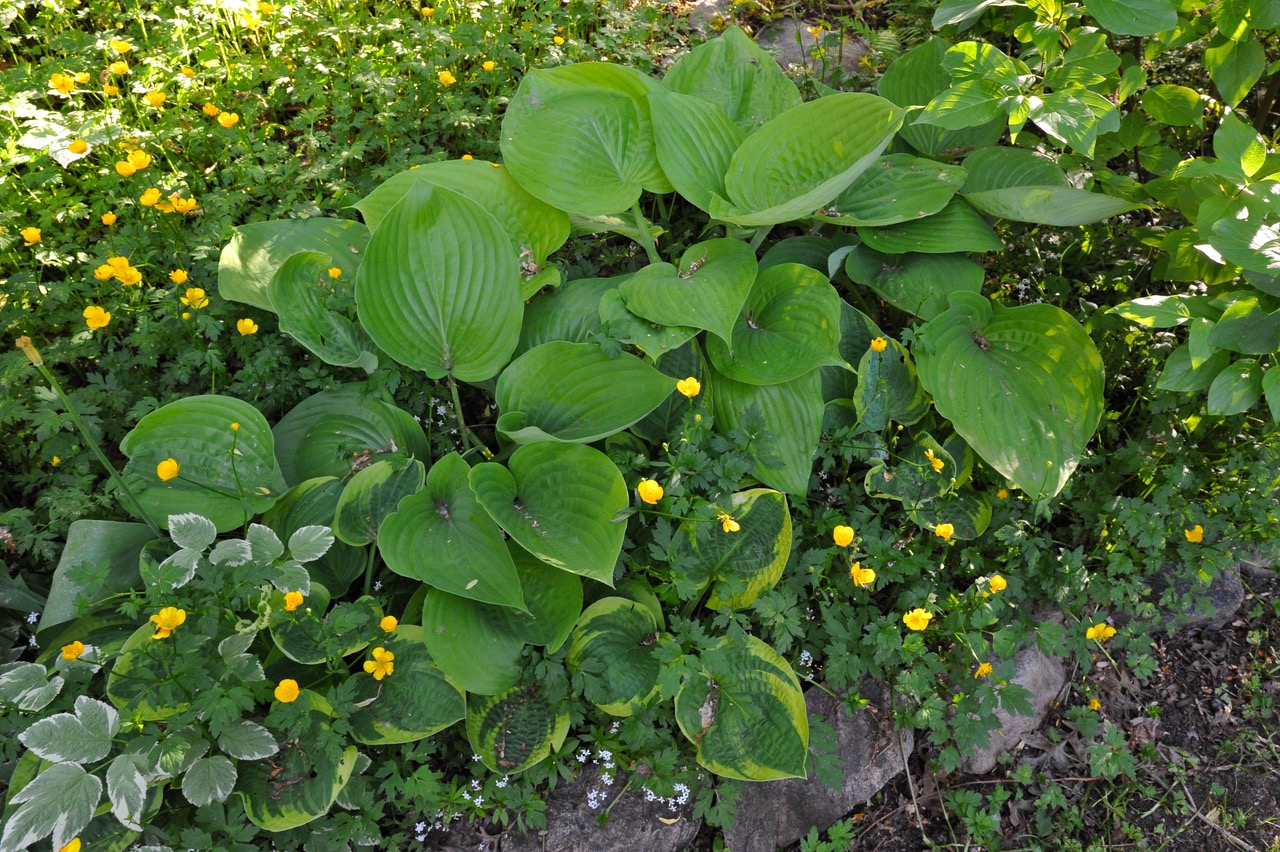 Sweet woodruff (Galium odoratum, Zones 4–8), buttercups (Ranunculus), and bishop's weed (Aegopodium podagraria 'Variegatum', Zones 4–9) duke it out around some hostas. The bishop's weed was here to start with, and I can't get rid of it. It can look fresh in shade, but it is a bully. The buttercups are almost as bad, but look at those bright flowers!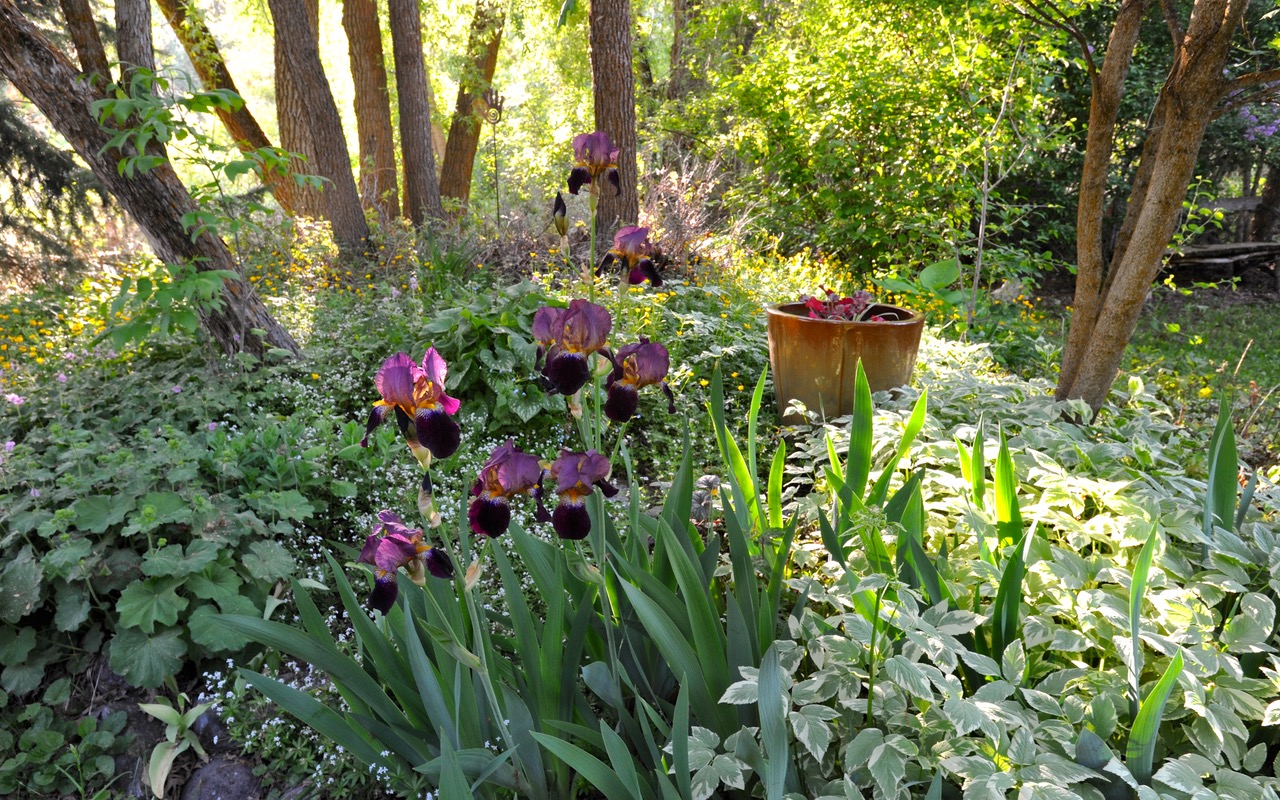 These wonderful irises are a 30-year legacy from the previous gardener, although I have moved them.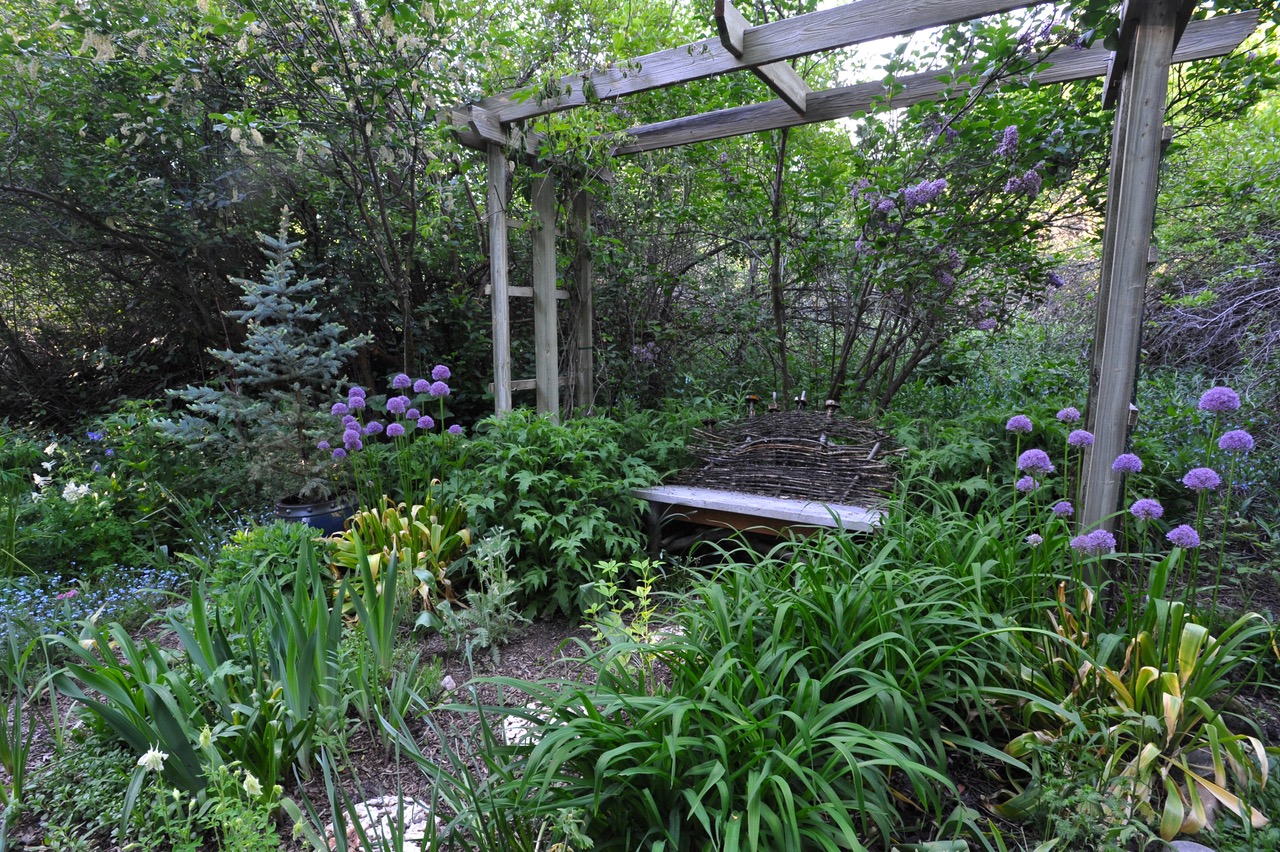 This is the first trellis my husband Jeff built for the garden. A Virginia creeper (Parthenocissus quinquefolia, Zones 3–9) reluctantly climbs the left side, and a later-appearing clematis graces the right side. Behind 'Fat Albert' right of the trellis is a native chokecherry (Prunus virginana, Zones 2–7) blooming.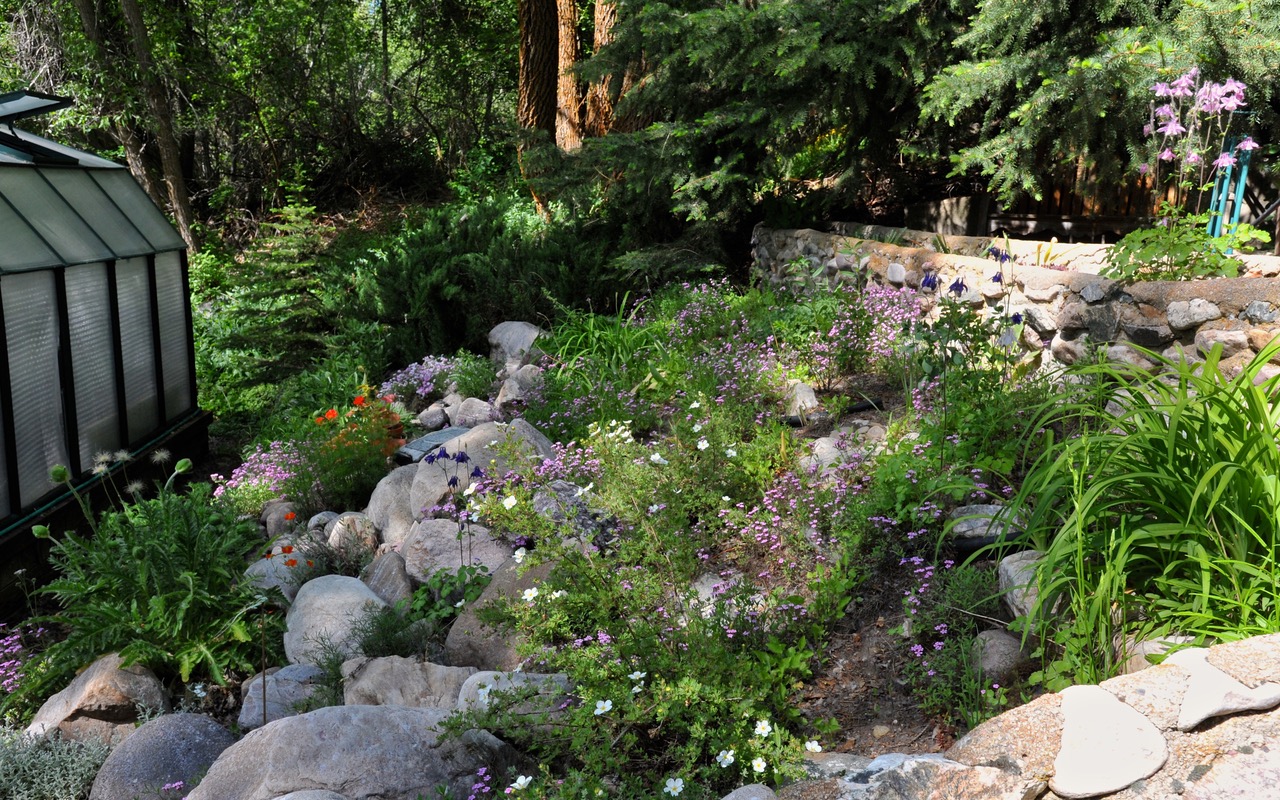 Not so much a rock garden as a boulder garden, this area was covered with the evergreen shrubs seen in the background. I dug those all out (not fun), and I'm still experimenting with what will grow in the boney poor soil. There are even two long-suffering Blanc de Coubert roses on their own roots; I offer them lots of compost and extra water for their fragrant blooms. The stone trough on the right in the photo has a mosaic of low-growing hardy succulents and a happy volunteer columbine.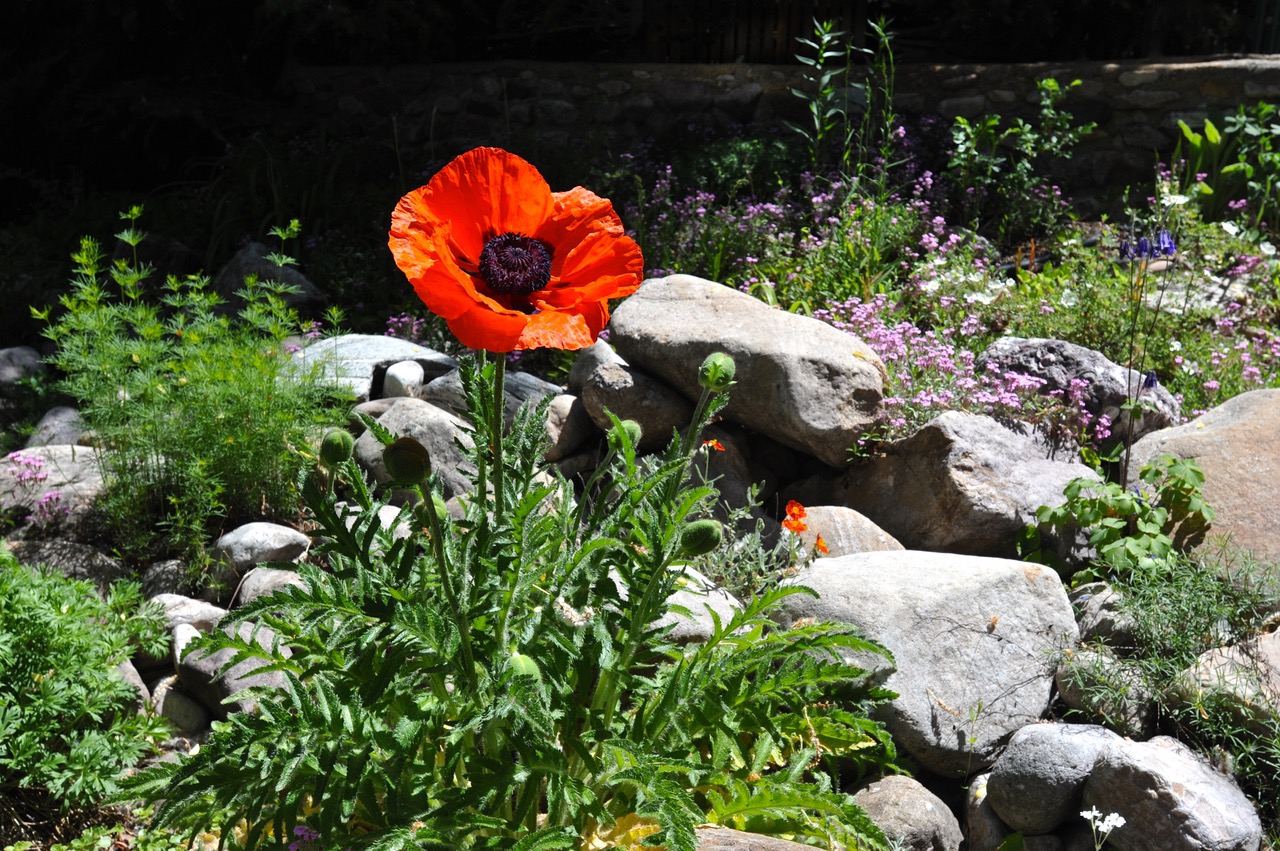 These flashy poppies (Papaver orientale, Zones 3–7) clash with the pink soapwort (Saponaria, Zones 3–8), but they've both proven themselves among the unforgiving boulders, so they stay.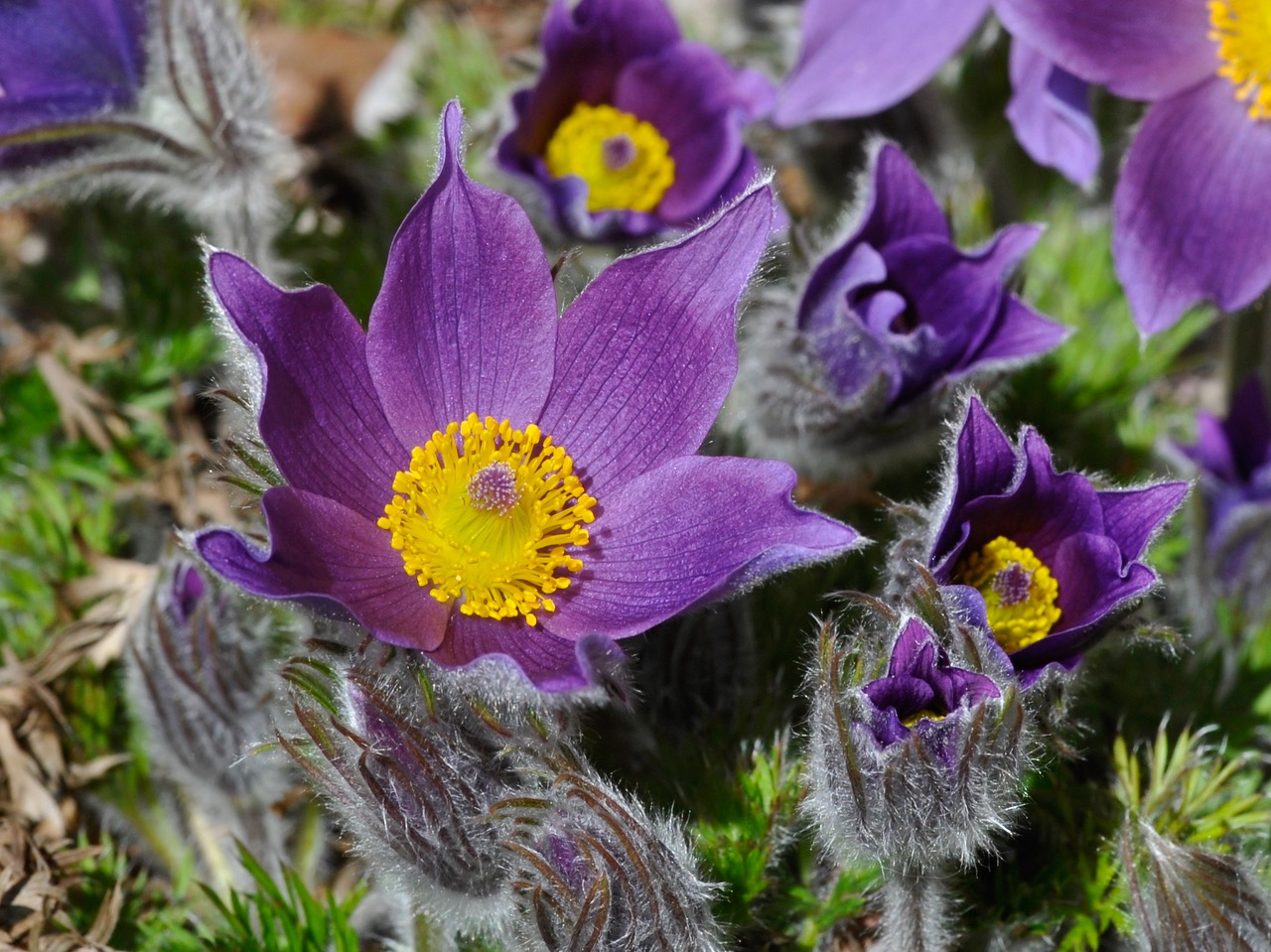 Pasque flowers (Pulsatilla vulgaris, Zones 4–8), one of my most-loved plants every spring. This photo is from another season, but they are faithfully the same every year wedged in between boulders!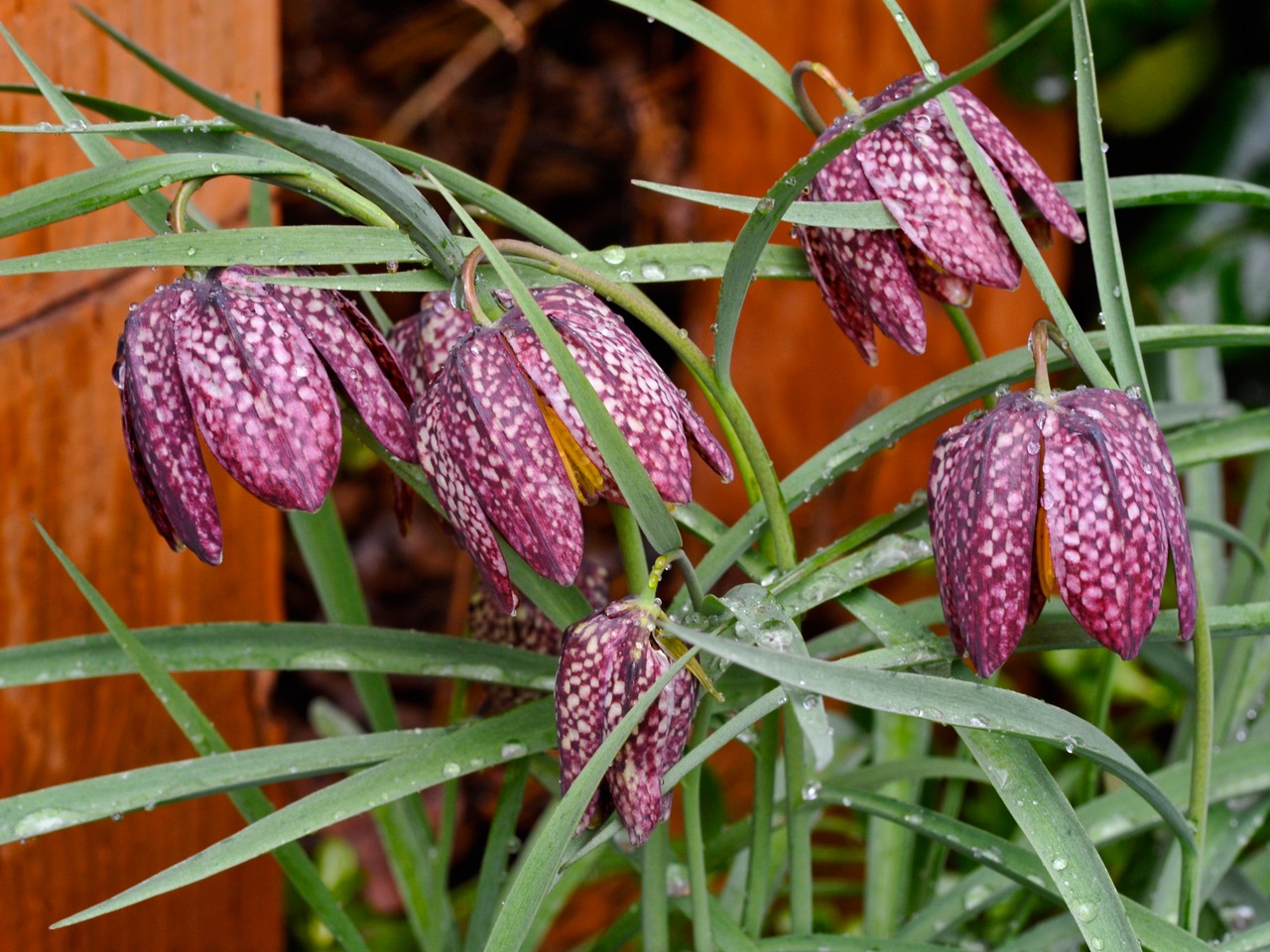 Snake's head fritillary (Fritillaria meleagris, Zones 4–8) by the back trellis seems like a jester in the lily family! I was surprised when they slowly started showing up as seedlings from year to year.
Have a garden you'd like to share?
Have photos to share? We'd love to see your garden, a particular collection of plants you love, or a wonderful garden you had the chance to visit!
To submit, send 5-10 photos to [email protected] along with some information about the plants in the pictures and where you took the photos. We'd love to hear where you are located, how long you've been gardening, successes you are proud of, failures you learned from, hopes for the future, favorite plants, or funny stories from your garden.
If you want to send photos in separate emails to the GPOD email box that is just fine.
Have a mobile phone? Tag your photos on Facebook, Instagram or Twitter with #FineGardening!
You don't have to be a professional garden photographer – check out our garden photography tips!
Do you receive the GPOD by email yet? Sign up here.