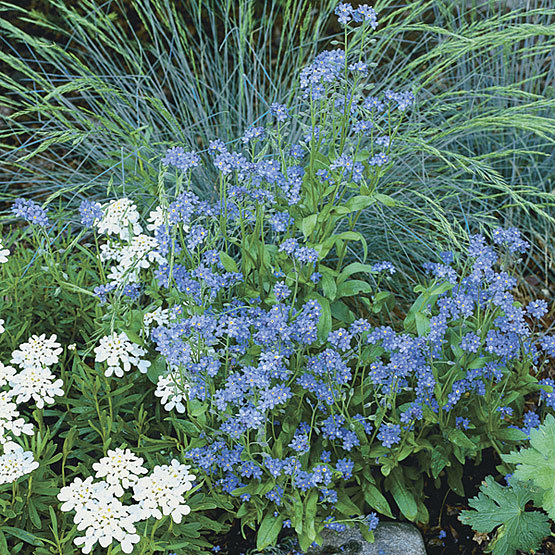 The genus Myosotis includes annuals, biennials, and perennials in about 50 species grown for their charming, small, daisy-like flowers in shades of blue, yellow, or white, often with yellow or white eyes. They are native to woods, meadows, and wet areas of Europe, Asia, Australia, New Zealand, and North and South America. Foliage is hairy and grows in clumps or mats. The flowers are the main show. Use forget-me-nots in rock gardens or beds, at waterside, or in a border where they can be appreciated up close. They are especially effective en masse.  
Noteworthy CharacteristicsDainty flowers with yellow or white eyes. Self-seeds freely.
CareSite in full sun with midday shade, or in part shade. Grow in moist but well-drained soil of poor to moderate fertility.
PropagationPlant annual and biennial seeds where they are to grow in spring or start in containers in early summer for the next spring's bedding. Perennial seed should be started in a cold frame in spring. Divide perennials when dormant. Plants are often short-lived.
ProblemsSlugs, snails, rust, mildew, gray mold.