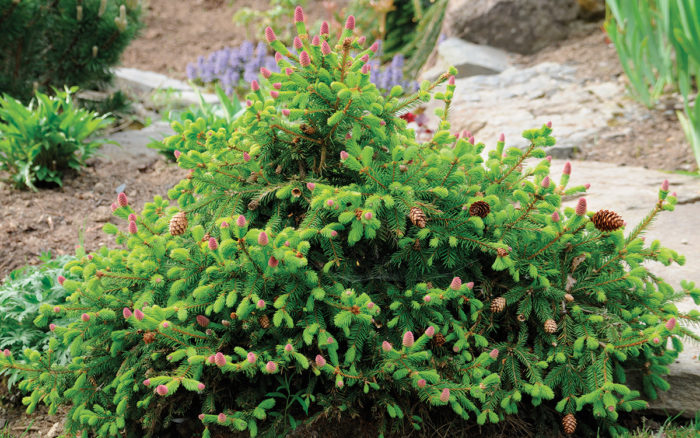 See regional picks for showy shrubs, and read the article by Paul Cappiello for even more ideas.
"Show-stopping shrubs—you know the kind. You're leading a group of friends around the garden, and they're politely following you with gin and tonic in hand, oooing and aaahing in slightly hushed tones. And then it happens. They spot something in the distance that throws the whole shebang into chaos. The formerly demure and proper garden folk are throwing sharp elbows as they vie for the best path to whatever it is that caught their collective eye. After all, they've got to be the first to Instagram the heck out of it." Read more Show-Stopping Shrubs.
---
1. 'Pusch' Norway Spruce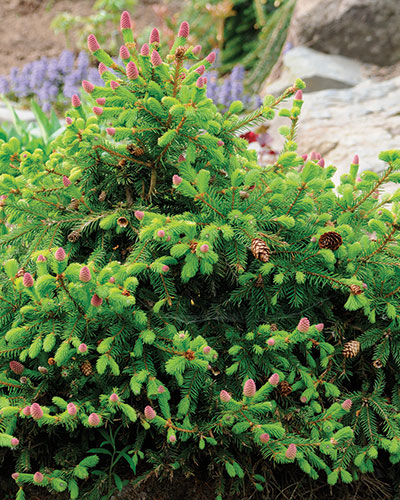 Name: Picea abies 'Pusch'
Zones: 3–7
Size: 2 feet tall and 3 feet wide
Conditions: Full sun, tolerates partial shade; average to moist, well-drained soil
Native range: Scandinavia
Each spring, this sweet little specimen pushes out bright red mini-cones on its branch tips. The cones hold that eye-popping color for weeks before aging to buff brown, and are retained until the next year for multiseason interest. The plant is roundish with somewhat stacked horizontal branches and short, olive green needles. It will reportedly develop a more upright silhouette after many years. It is hardy as the dickens in windswept or air-polluted urban sites and requires no pruning or maintenance.
2. Korean Azalea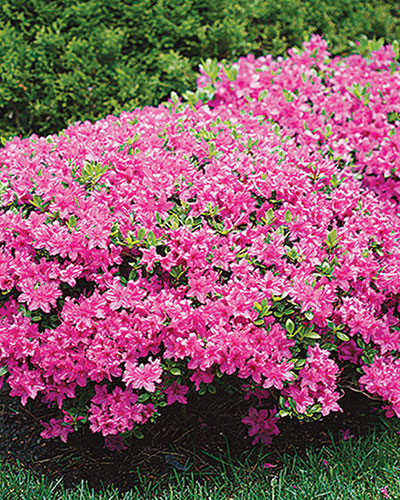 Name: Rhododendron yeodoense var. poukhanense
Zones: 4–7
Size: 3 to 4 feet tall and 5 to 6 feet wide
Conditions: Partial shade; rich, moist, acidic soil
Native range: Korea and Japan
Who isn't looking for a color splash in semi-shaded sites? This no-nonsense hardy azalea is an often overlooked broadleaf evergreen to fi ll that niche. In midspring it will yield a stunning crop of 2-inch funnel-shaped, fragrant flowers. The dark green leaves may turn orange-red with adequate fall sunlight, and a fair percentage will drop, so let's call it semi-evergreen just to be accurate. The plant silhouette is a boxy rectangle. It has a medium growth rate, flowering well even when young. While it is lime tolerant, employing an acidifying agent is a wise idea.
3. 'Formal Form' Western Bristlecone Pine
Name: Pinus longaeva 'Formal Form'
Zones: 4–8
Size: 8 to 10 feet tall and 5 to 6 feet wide
Conditions: Full sun; average to dry, well-drained soil
Native range: Southwestern United States
'Formal Form' has lustrous silvery blue foliage (with no white resin flecks) arranged with bottlebrush-like density. The silhouette is a narrow, perfectly symmetrical pyramid requiring no pruning. This deer-proof tree grows just 4 to 6 inches annually. Due to its Southwest origins, this beauty is heat and drought tolerant and requires really sharp drainage. It is an elegant specimen conifer that admittedly isn't at every corner garden center but is well worth the search.
4. 'Summer Snowflake' Doublefile Viburnum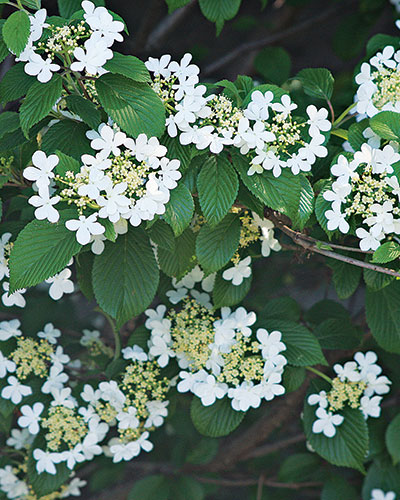 Name: Viburnum plicatum var. tomentosum 'Summer Snowflake'
Zones: 5–7 (temperatures consistently below –15°F can be fatal)
Size: 8 to 10 feet tall and 6 to 8 feet wide
Conditions: Full sun to partial shade
Native range: China and Japan
'Summer Snowflake' is a flowering overachiever bearing white, flat-topped lacecap blooms. After a heavy spring outburst, it produces intermittent shows in summer and fall. I've had plants still blooming at Halloween in Chicago—now that's a treat! The shrub itself is a little wider than it is tall, with handsome, matte green foliage held on horizontal branches. Its fall color carries orange, rust, and maroon possibilities, but the purported fruit has always been an unrealized promise in my garden. I would nominate this plant for specimenhood or use in small groups. It's a flowering exhibitionist but not a maintenance prima donna.
Tony Fulmer is chief horticulture officer at Chalet, a specialty nursery in Wilmette, Illinois.