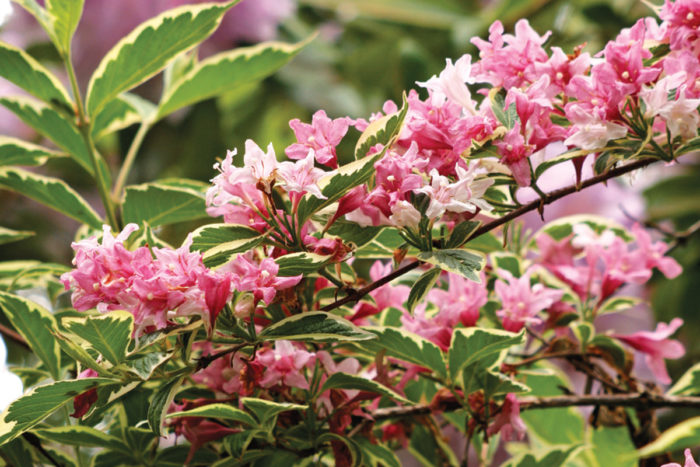 See regional picks for showy shrubs, and read the article by Paul Cappiello for even more ideas.
"Show-stopping shrubs—you know the kind. You're leading a group of friends around the garden, and they're politely following you with gin and tonic in hand, oooing and aaahing in slightly hushed tones. And then it happens. They spot something in the distance that throws the whole shebang into chaos. The formerly demure and proper garden folk are throwing sharp elbows as they vie for the best path to whatever it is that caught their collective eye. After all, they've got to be the first to Instagram the heck out of it." Read more Show-Stopping Shrubs.
---
1.
Paloma Blanca Euonymus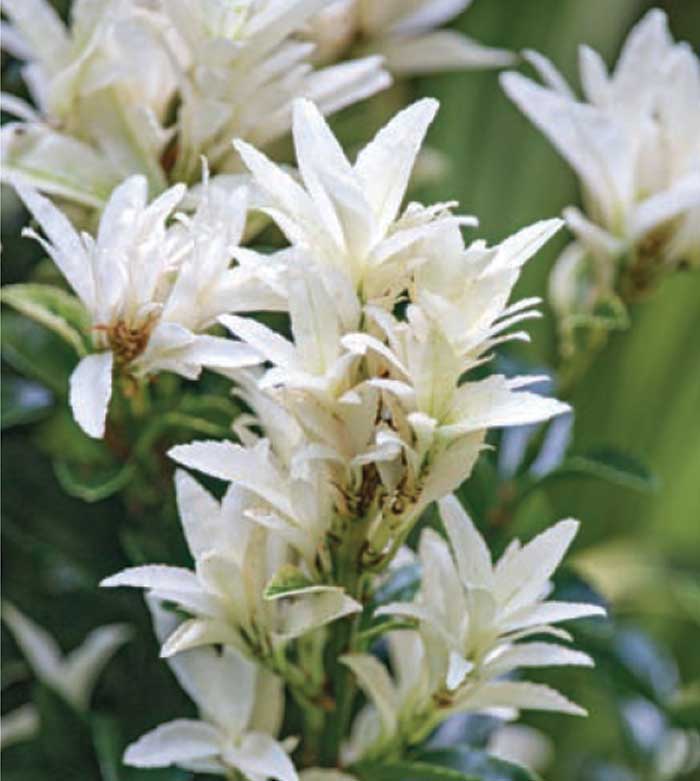 Euonymus japonicus 'Lankveld03'
Zones: 6–9
Size: 3 to 4 feet tall and 2 to 3 feet wide in 10 years
Conditions: Partial shade; moist, fertile, well-drained soil
Native Range: Japan and Korea
Euonymus is known for being a workhorse in the landscape, and this compact, slow-growing cultivar is no exception. What makes this such a treasure is its spectacular new growth. In spring, glowing creamy white shoots emerge on the tips of each upright branch, giving the appearance of fresh snow. As the shoots grow, the color intensifies to bright white. The effect is brilliant against the older dark green foliage and brightens the garden from spring until fall. It makes a beautiful container plant.
2.

Chardonnay Pearls

®

Deutzia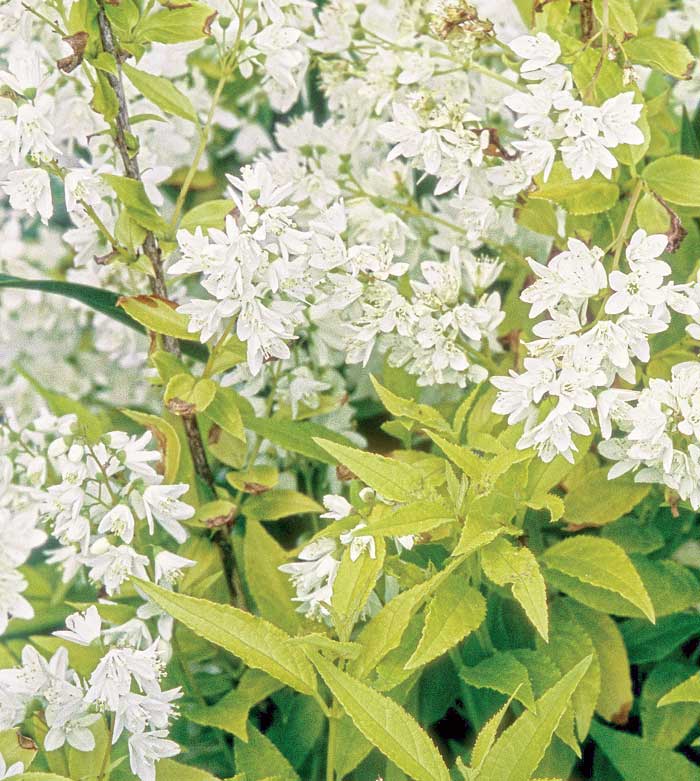 Deutzia gracilis 'Duncan'
Zones: 5–8
Size: 3 feet tall in bloom and 5 to 6 feet wide in 10 years
Conditions: Full sun to partial shade; moist, well-drained soil
Native Range: Japan
A graceful and flowing low-growing shrub, Chardonnay Pearls® adds a splash of pizzazz to the garden. In early spring, new leaves open a bright chartreuse before brightening quickly to lemon yellow. As the leaves expand, clusters of flower buds cover the shrub. The charming white buds hang delicately from the branch tips like strings of pearls. As the flowers open, this deutzia becomes a beacon of glowing yellow and white. Once established, it can be sheared back hard after flowering every few years to keep it even more compact and low. Protect it from the reflective heat of intense late afternoon sun.
3.
Variegated Weigela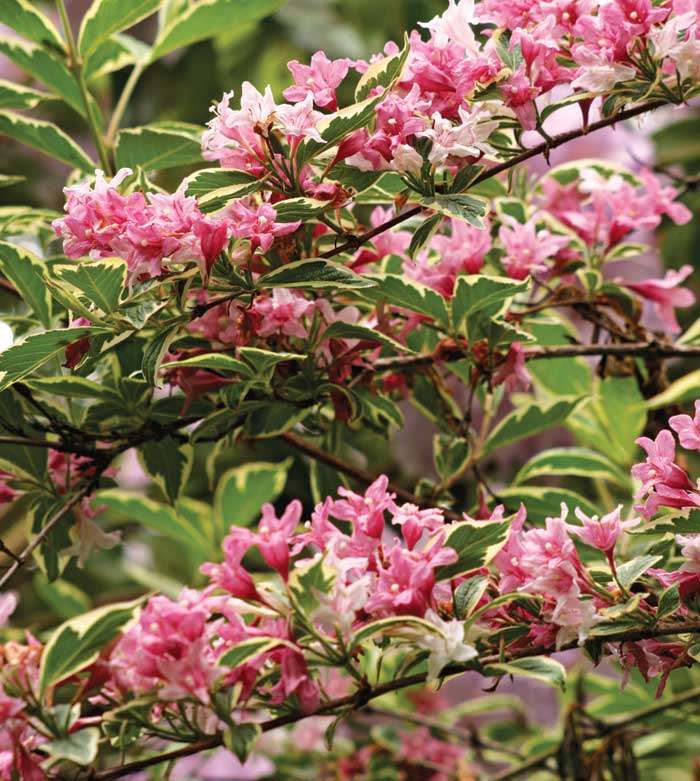 Weigela florida 'Variegata'
Zones: 4–8
Size: 5 to 7 feet tall and wide
Conditions: Partial shade, especially morning sun with light afternoon shade; tolerant of a wide range of soils
Native Range: Northeast China, Primorsky Krai (Russia), Korea, and Japan
Variegated weigela is a classic old-fashioned shrub that deserves continued use in gardens today. This tough and reliable selection develops a graceful fountainlike shape and provides color for the entire growing season. The show begins as soon as the leaves emerge in spring, with bright green centers edged in golden yellow. In late spring into early summer, rich pink buds open and gradually fade to soft pink, giving a lovely two-toned appearance. Once the flowers have finished, the brightly variegated foliage keeps the show going until the end of the growing season.
4.
First Snow
®
Japanese Clethra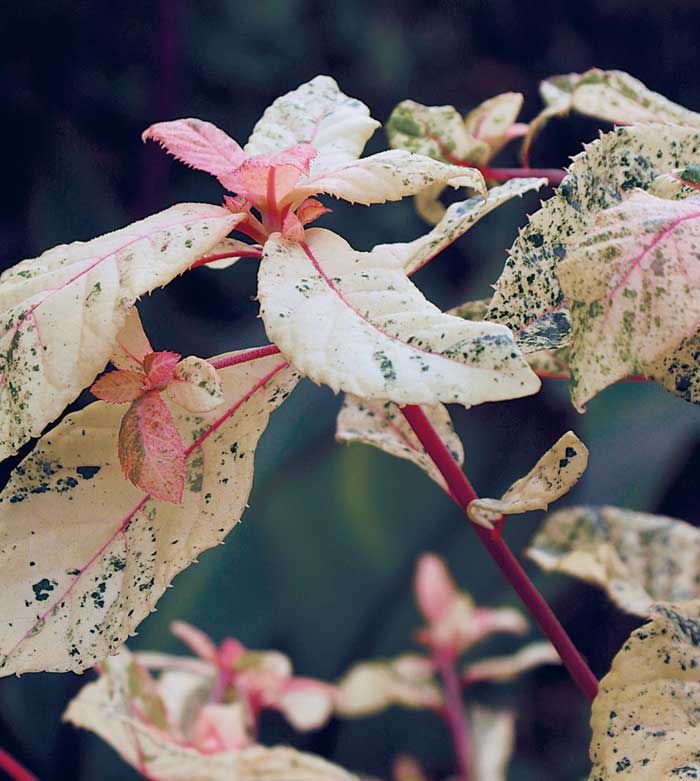 Clethra barbinervis 'Takeda Nishiki'
Zones: 5–8
Size: 5 to 7 feet tall and 5 to 6 feet wide in 10 years
Conditions: Full sun (with no reflective heat) to partial shade; moist, fertile, well-drained soil
Native Range: Eastern China and Japan
This uncommon selection of an uncommon shrub is a treasured jewel for collectors of variegated plants. In spring, the new leaves open creamy white with green flecks and a flush of pink. As the foliage matures, the variegation reverses, with dark green leaves splashed and flecked with creamy white. The beauty of this clethra is that it improves with age. In maturity, cascading spikes of fragrant white flowers develop in late summer. Older plants also develop beautiful mottled peeling bark on the main trunk. This shrub is a must for those who like something unusual.
---
Richie Steffen is the director/curator of the Elisabeth C. Miller Botanical Garden in Seattle.