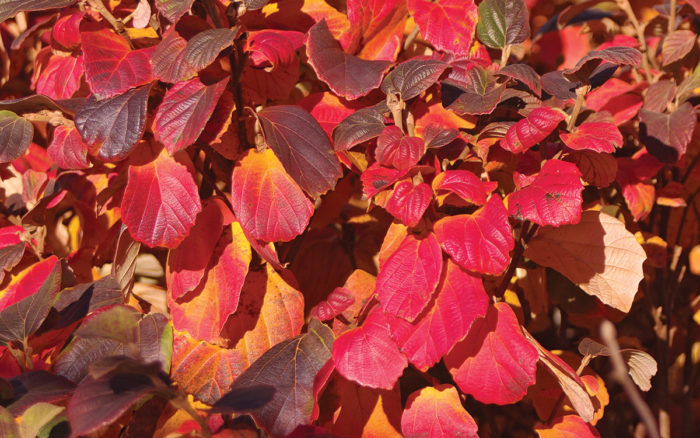 See regional picks for showy shrubs, and read the article by Paul Cappiello for even more ideas.
"Show-stopping shrubs—you know the kind. You're leading a group of friends around the garden, and they're politely following you with gin and tonic in hand, oooing and aaahing in slightly hushed tones. And then it happens. They spot something in the distance that throws the whole shebang into chaos. The formerly demure and proper garden folk are throwing sharp elbows as they vie for the best path to whatever it is that caught their collective eye. After all, they've got to be the first to Instagram the heck out of it." Read more Show-Stopping Shrubs.
---
1. Brandywine™ Possumhaw Viburnum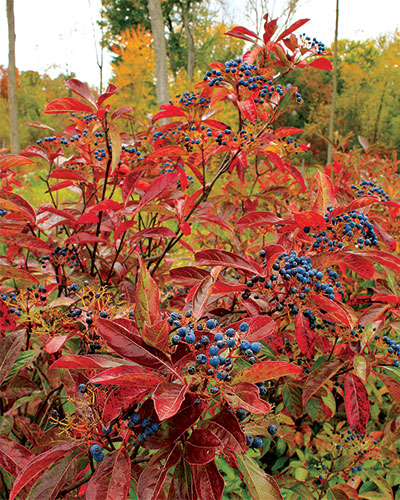 Name: Viburnum nudum 'Bulk'
Zones: 5–9
Size: 8 feet tall and 4 feet wide
Conditions: Full sun to partial shade; average to moist soil
Native range: Eastern United States
When a shrub blooms for a couple of weeks and then is uninteresting, can you justify planting it in your garden? From spring through fall, Brandywine™ possomhaw viburnum earns its place in the garden. Creamy white blooms appear in late spring, followed by lustrous deep green foliage throughout the summer. Autumn brings gorgeous fruit clusters in shades of pink and blue. If this were not enough, the dazzling fruit display of this viburnum also comes with eye-catching burgundy fall color.
2. Little Henry™ Virginia Sweetspire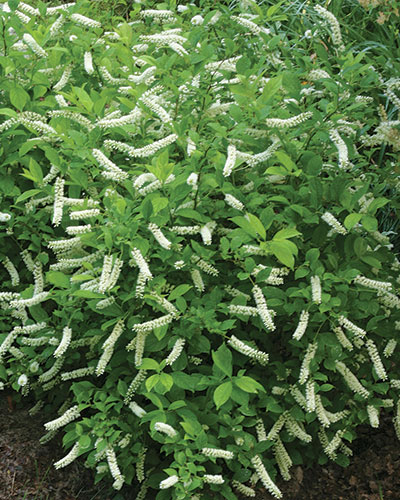 Name: Itea virginica 'Sprich'
Zones: 5–9
Size: 2 to 3 feet tall and spreading
Conditions: Full sun to partial shade; moist to wet soils
Native range: Southeastern United States
For charming multiseason interest in the garden, add some Little Henry™ Virginia sweetspire. White, bottlebrush flower clusters cover this tough and versatile shrub in summer and are followed in fall by impressive red to purple color. It performs well when grown in either sun or partial shade. This cultivar prefers moist to wet soils but will do well in dry conditions once it is established. Its small, compact size makes it ideal for small gardens. Little Henry™ is perfect for mass planting, as it suckers to form a thick woody ground cover.
3. 'Suzanne' Dwarf Fothergilla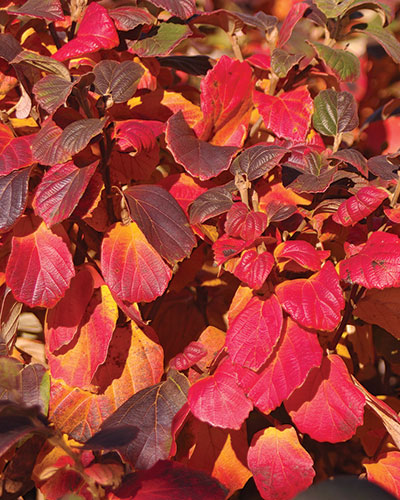 Name: Fothergilla gardenii 'Suzanne'
Zones: 5–8
Size: 30 inches tall and 3 feet wide
Conditions: Full sun to partial shade; moist, well-drained soil
Native range: Southeastern United States
This native spring-blooming shrub is covered with creamy white, fragrant, bottlebrush flowers. Throughout the summer, 'Suzanne' dwarf fothergilla has attractive blue-green foliage. In autumn, it erupts with stunning shades of yellow, red, and orange (pictured). A compact cultivar, 'Suzanne' is great for gardens where space is limited. It can also be used as a specimen or be planted in groupings for a dramatic fall effect. 'Suzanne' is one of those shrubs that needs little care but is always a show-stopper.
4. Pink-Shell Azalea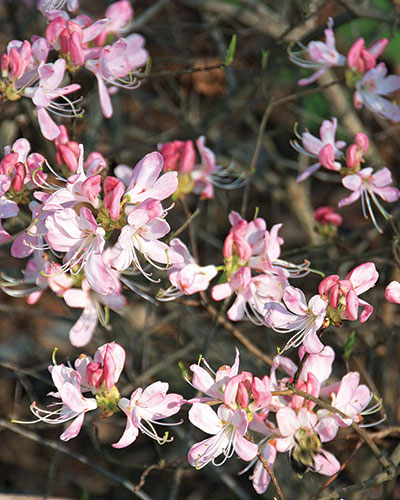 Name: Rhododendron vaseyi
Zones: 4–7
Size: 5 to 10 feet tall and 4 feet wide
Conditions: Full sun to partial shade; moist, rich, well-drained soil
Native range: High elevation meadows, bogs, and spruce forests of North Carolina
In general, azaleas are much loved, and yet they don't offer much once the flowering ends. However, pink-shell azalea, an underused native shrub, has more to give than pretty flowers—although it has those too. Delicate pink flowers in early spring give this azalea an elegant and refined presence. It blooms before the leaves emerge, allowing the flowers to stand out. Unlike with many azaleas, though, the show is not over. Pink-shell azalea's autumn color is a spectacular display in shades of pink, red, and burgundy.
---
Susan Boss is a horticulturist at Mt. Cuba Center in Hockessin, Delaware.