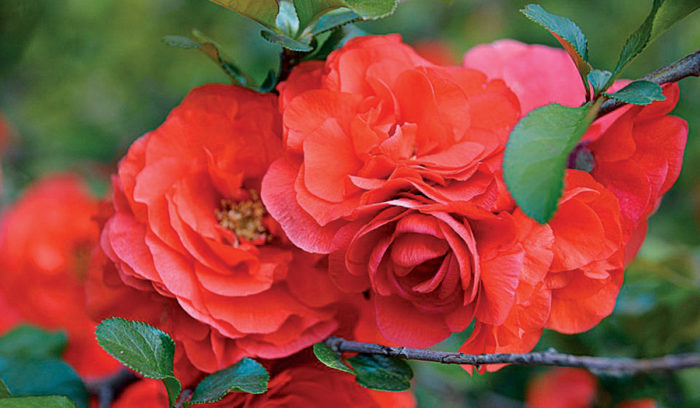 See regional picks for showy shrubs, and read the article by Paul Cappiello for even more ideas.
"Show-stopping shrubs—you know the kind. You're leading a group of friends around the garden, and they're politely following you with gin and tonic in hand, oooing and aaahing in slightly hushed tones. And then it happens. They spot something in the distance that throws the whole shebang into chaos. The formerly demure and proper garden folk are throwing sharp elbows as they vie for the best path to whatever it is that caught their collective eye. After all, they've got to be the first to Instagram the heck out of it." Read more Show-Stopping Shrubs.
---
1. 'Hummingbird' Summersweet
Name: Clethra alnifolia 'Hummingbird'
Zones: 3–9
Size: 3 feet tall and 4 feet wide
Conditions: Full sun to partial shade; consistently moist soil
Native range: Maine to Florida and west to Texas
As sweet and delightful as its avian name implies, 'Hummingbird' is more compact and mounded than the straight species, with a greater profusion of sweetly fragrant midsummer blooms. Its flowers attract bees and butterflies, adding to its charm and whimsy. Clethra is deciduous and has appealing golden yellow fall color. I prefer to leave mature seed heads through winter to maintain year-round interest, leaving any tidying and pruning for late winter. In its native habitat, it grows in sandy, wet soils but tolerates our Southern clay soils well. Plant it in an area where the soil does not dry out completely.
2. 'Pee Wee' Oakleaf Hydrangea
Name: Hydrangea quercifolia 'Pee Wee'
Zones: 5–9
Size: 4 feet tall and 3 feet wide
Conditions: Full sun to partial shade; rich, moist, well-drained soil
Native range: Southeastern United States
I love it when a plant in my garden draws the same amount of attention from nongardeners and professional horticulturists alike. 'Pee Wee' is my favorite of the compact oakleaf hydrangea cultivars for this reason and so much more. It has the most perfectly rounded form without any pruning on my part and without too much suckering. Its flower panicles and leaves are miniature in comparison to the species, making it great for folks with smaller gardens or who prefer a tidier garden. Flowers put on a show in early summer, but the fall color is also stunning, with leaves turning a marvelous deep red. Leave mature seed panicles from spent flowers for winter interest.
3. 'Orange Storm' Flowering Quince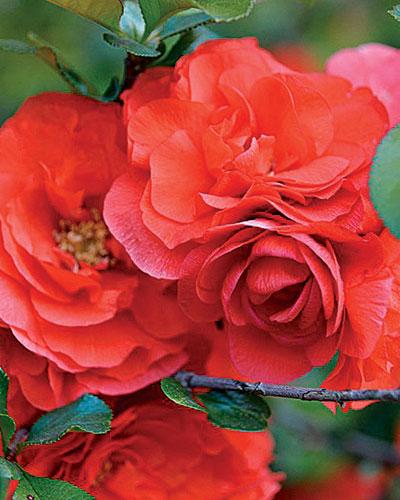 Name: Chaenomeles speciosa 'Orange Storm'
Zones: 5–9
Size: 4 feet tall and wide
Conditions: Full sun to partial shade; average to moist, well-drained soil
Native range: China and Japan
Nothing in my garden announces the arrival of spring as festively as 'Orange Storm'. Its bright, red-orange double blooms are positively electric, making it hard to believe that batteries are not involved. My specimen has been growing steadily over the years and just keeps getting better, with little to no involvement on my part. It is drought tolerant and does well in various soils, and since it blooms on old wood, it does not need heavy pruning to flourish. If it needs a little shaping, you don't need to fear injury, as this cultivar is mercifully thornless. Plant it in full sun for a profusion of blooms and greater visual impact.
4. Judd Viburnum
Name: Viburnum × juddii
Zones: 4–8
Size: 6 feet tall and 8 feet wide
Conditions: Full sun to partial shade; average to moist, well-drained soil
Native range: Hybrid; parent plants hail from Korea and Japan
This hybrid of Bitchiu viburnum (Viburnum bitchiuense, Zones 4–8) and Koreanspice viburnum (V. carlesii, Zones 4–7) differs subtly from its parents, with a denser form and more blooms. Its spreading, rounded habit makes an attractive foundation specimen or an interesting hedge anywhere you can admire its beauty and fragrance when it is in bloom. Summer fruit and dark green leaves that turn purple in fall give it multiseason interest. This low-maintenance shrub tolerates various soils and is drought-tolerant once established, making it even more difficult to resist.
---
Mae Lin Plummer is a horticulturist and a 2019-2020 Longwood Fellow. Her home garden is in Charlotte, North Carolina.