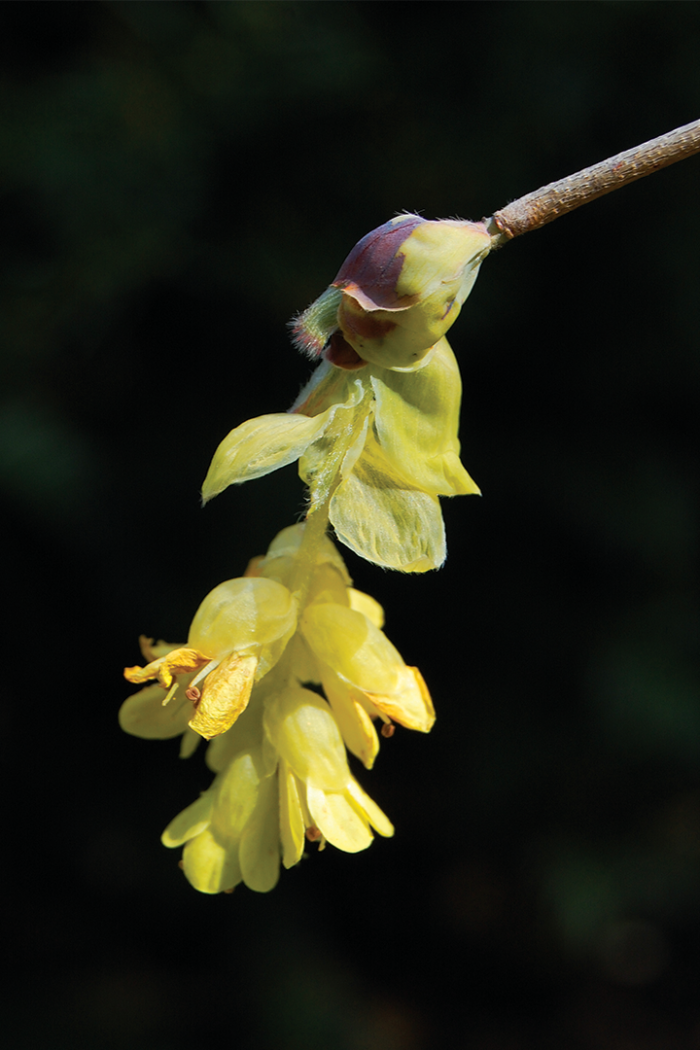 Show-stopping shrubs—you know the kind. You're leading a group of friends around the garden, and they're politely following you with gin and tonic in hand, oooing and aaahing in slightly hushed tones. And then it happens. They spot something in the distance that throws the whole shebang into chaos. The formerly demure and proper garden folk are throwing sharp elbows as they vie for the best path to whatever it is that caught their collective eye. After all, they've got to be the first to Instagram the heck out of it.
Show-stopping shrubs do just that. They may not engender spontaneous mud wrestling all 365 days of the year, but when they do their thing, they're impossible to ignore. It could be stunning texture or just an amazing blast of flowers. Maybe the summer foliage stands out as second to none. Often it's simply something unexpected that causes that gut reaction. But how to pick just a few to highlight? Fortunately, I have some serious plant nerd friends who are easily cajoled into just about any horticultural debate. On one recent evening, I assembled a few of Yew Dell's horticulture staff, nursery growers, retail folks, and landscape contractors, along with a sprinkling of private plant acquirers, to ask their opinions. After much debate and free-flowing consternation, here are a few of the show-stoppers that made the cut. See criteria to determine if a shrub is a show-stopper.
Plant Shape: Large Vases |  Large Mounds  |  Small Mounds
Large Vase-Shaped Shrubs
---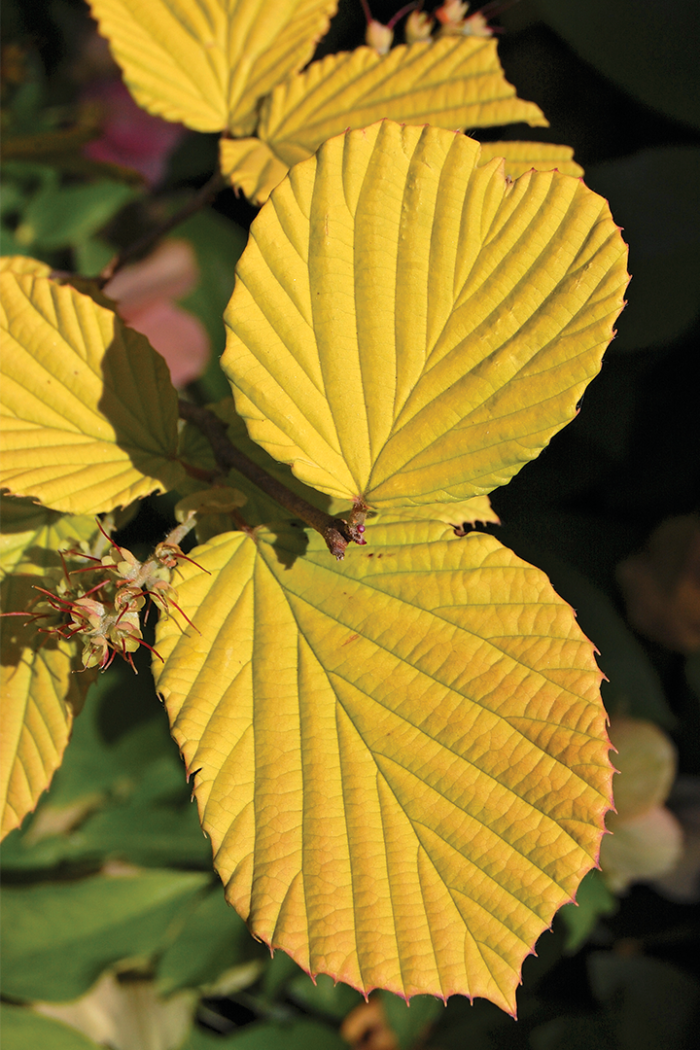 Subtlety is showy in this case
'Gold Spring' spiked winter hazel (Corylopsis spicata 'Gold Spring')
Zones: 5–8
Size: 8 feet tall and 6 to 8 feet wide
Conditions: Full sun to partial shade; well-drained soil
Native range: Japan
Most show-stoppers make big, brash statements, but some can command attention by being subtle and delicate. Spiked winter hazel is a delightful, early spring bloomer with an airy and layered presentation in branch and leaf. In flower, spiked winter hazel offers a soft, pendulous display of soft chartreuse flowers. To this delicate frame, 'Gold Spring' adds leaves that emerge with a hint of red on a background of soft yellow (pictured). As the leaves mature, they lose the red highlights and go all gold, fading a bit to a mellow yellow-green as the summer progresses: the more sun, the more yellow; the more shade, the more green. But throughout the growing season, they look fresh and bright and add a light touch that sometimes goes overlooked but is often much needed in the garden.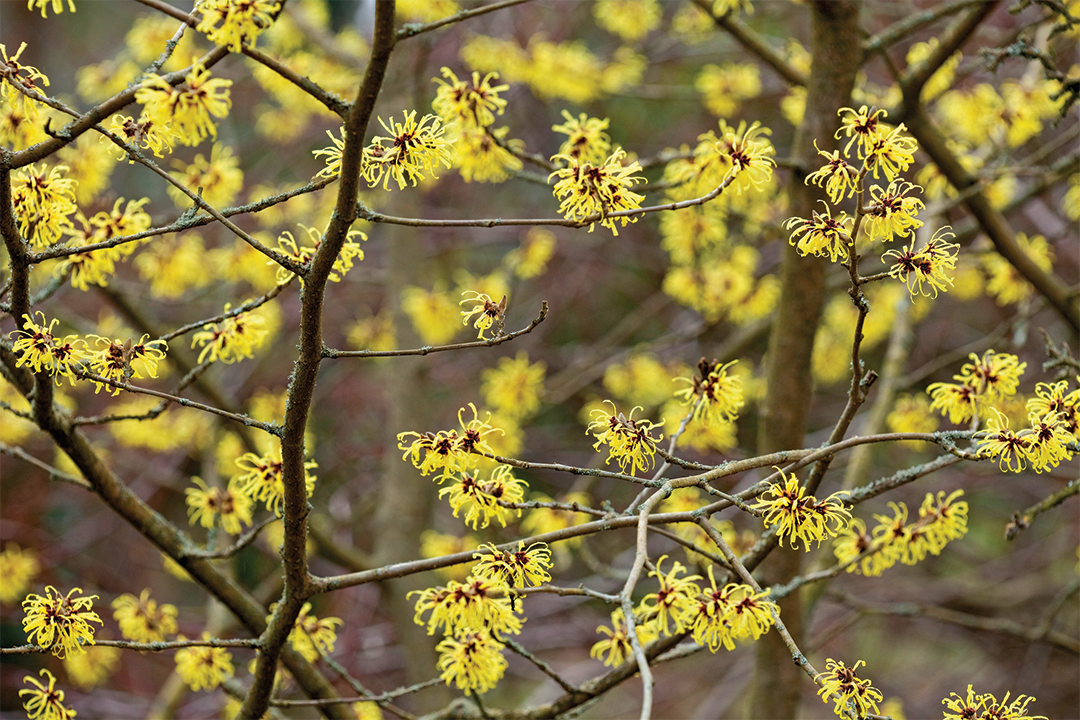 This wonder looks good in fall and in the doldrums of winter
'Wisley Supreme' witch hazel (Hamamelis mollis 'Wisley Supreme')
Zones: 5–8
Size: 8 to 10 feet tall and wide
Conditions: Full sun; well-drained soil
Native range: China
I am a big fan of witch hazels. Their combination of cultural adaptability, graceful form, and shining fall color make them tough not to love. But of course it is the winter flowers that really do the trick. The delicate, straplike flower petals of 'Wisley Supreme' probably wouldn't compete well with the gaudy bloomers of April and May. But to walk out the back door on a dreary February day and find this plant in full fragrant, golden-flowered glory is to define "show-stopper" in one fell swoop.
This variety can be grown as a multistemmed shrub or even a small tree with a little judicious pruning. While most witch hazels are shade tolerant (most books list them in the shade plants section), they are much better grown in full sun, where they produce the best crop of blooms and the most stunning fall foliage show.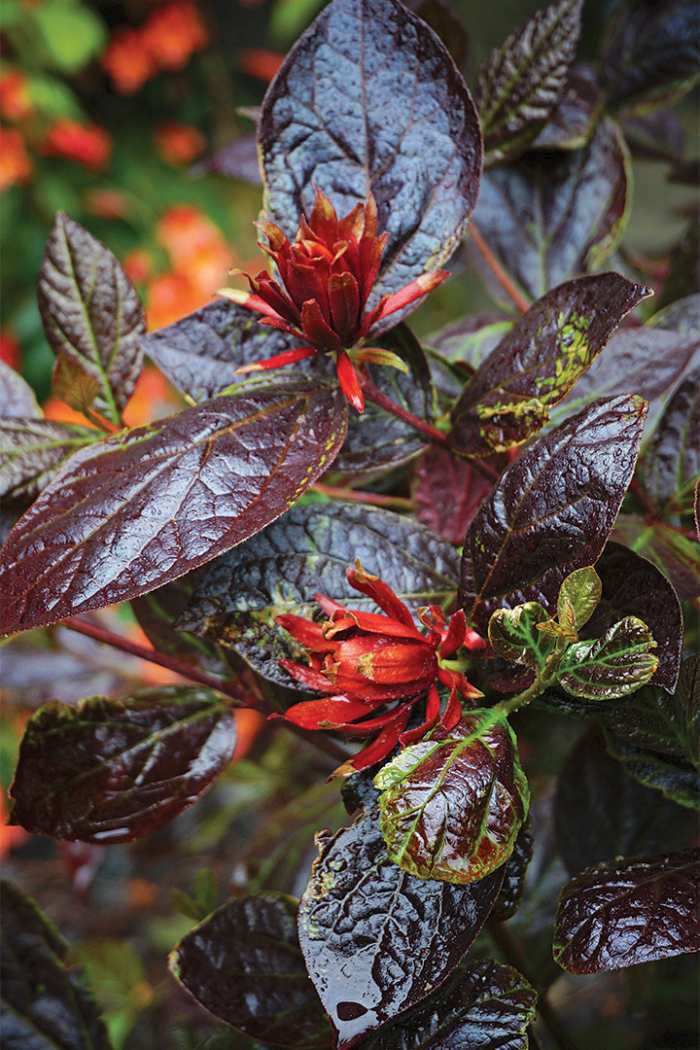 The darling of the native plant circuit
'Burgundy Spice' Eastern sweetshrub (Calycanthus floridus 'Burgundy Spice')
Zones: 4–9
Size: 8 feet tall and 6 feet wide
Conditions: Full sun to partial shade; moist, well-drained soil
Native range: Southeastern United States
A bomb-proof performer in sun or shade, Eastern sweetshrub has always been one of those "always a bridesmaid, never a bride" plants. Its medium green leaves and dark burgundy flowers typically relegate it to the back of the border. It has a nice fragrance when in bloom and quite lovely yellow fall foliage, but let's face it—people don't choose plants for yellow fall color. Doesn't sound like a show-stopper yet, does it?
Well, enter New Jersey plant wizard Richard Hesselein of Pleasant Run Nursery. He and his band of merry propagators took an obscure little Calycanthus variety that had a tiny bit of reddish color at the seedling stage, and then they selected and selected—and selected some more. What they ended up with is 'Burgundy Spice', a cultivar with intense burgundy foliage that is absolutely stunning. When it emerges in spring the leaves are almost black with a shimmering gloss. When everything else in the garden is going into the annual summer harrumph, this thing just keeps on going. As long as it's putting on new growth, the color is amazing.
Large Mound-Shaped Shrubs
---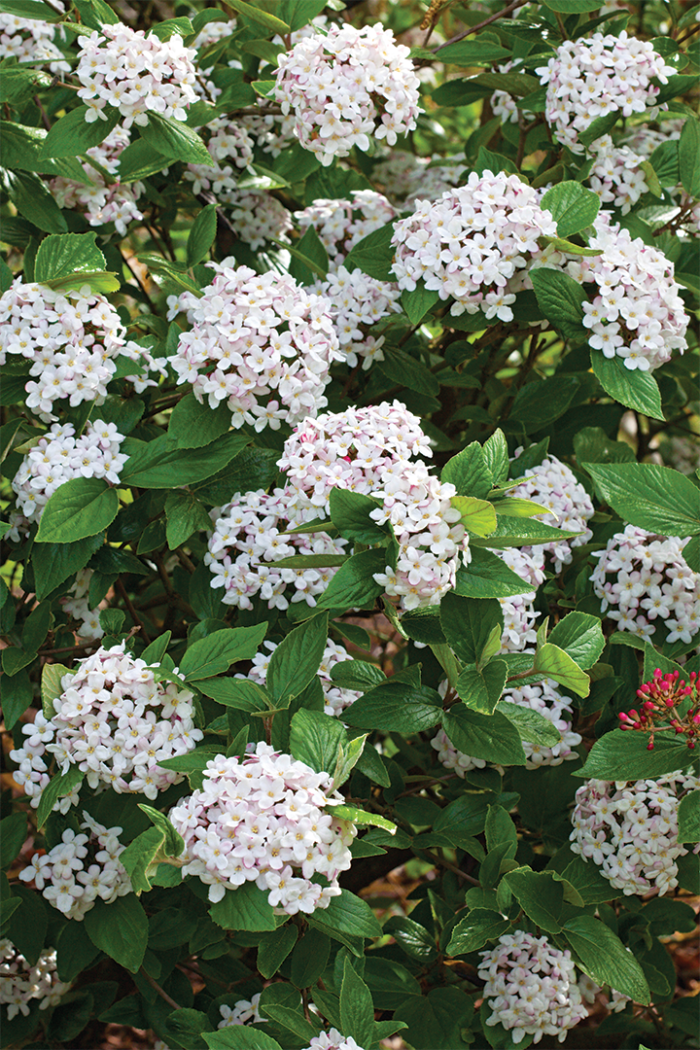 It's almost as gorgeous in bud as it is in bloom
'Mohawk' viburnum (Viburnum 'Mohawk')
Zones: 5–8
Size: 8 feet tall and wide
Conditions: Full sun to partial shade; moist, well-drained soil
Native range: Hybrid
| | |
| --- | --- |
| Red buds photo: millettephotomedia.com | Fall color photo: millettephotomedia.com |
It should be illegal to have a garden without a viburnum. Sorry, in the world according to Cappiello, this would be covered in article 1 of the constitution. Viburnums are tough, durable, and long-lived, and they suffer few pest problems. They grow in full sun, partial shade, and everywhere in between. They are drought tolerant and eminently whackable. Yet even amid the dozens of standouts, 'Mohawk' distinguishes itself as the most supreme.
Like many of its cousins, 'Mohawk' forms a large shrub. This United States National Arboretum introduction produces stunning masses of sweetly fragrant blooms in spherical trusses 3 inches or more in diameter. They start almost carmine red in bud and fade to nearly white when fully open. In addition, 'Mohawk' gets amazing burgundy color in fall.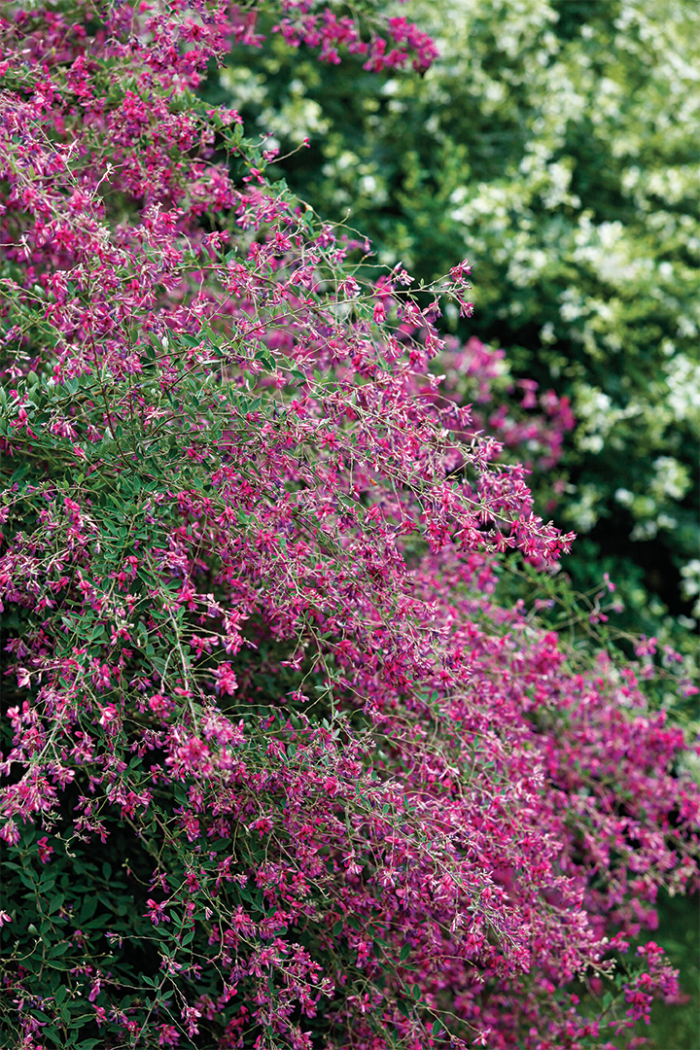 Fall fireworks from a bush that flies under the radar
'Gibraltar' bush clover (Lespedeza thunbergii* 'Gibraltar')
Zones: 4–8
Size: 6 to 8 feet tall and 10 feet wide
Conditions: Full sun to partial shade; moist, well-drained soil
Native range: China and Japan
Sometimes timing is everything. We revel in the bounty of spring blooms, then we suffer through the heat of summer. It's nice to be greeted in fall with an unexpected burst of color. That's just what bush clover brings to the garden.
'Gibraltar' forms a big, graceful, arching mass, looking all green and not attracting much attention in summer. But when autumn rolls around, instead of a blaze of fall foliage, color explodes in a mass of rose-colored blooms. Every fall the Yew Dell Botanical Garden's phones ring off the hook with people asking for the name of the big purple thing blooming in the gardens—the thing they called about last year and then promptly forgot.
This woody bush clover is best grown as a cut-back shrub. Prune the branches back to the ground in late winter for a vigorous mass of new growth through the growing season. And while it is quite drought tolerant, it does benefit from a little drink of water here and there throughout the driest part of summer.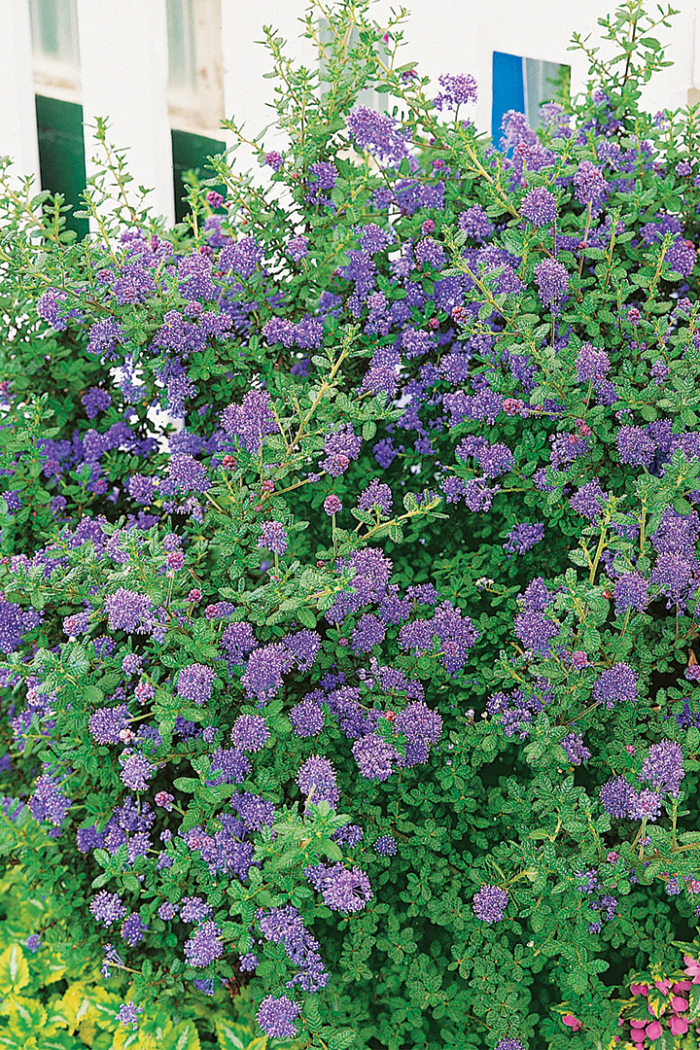 Want blooms that won't quit? This is it
'Julia Phelps' California mountain lilac (Ceanothus 'Julia Phelps')
Zones: 8–10
Size: 6 to 8 feet tall and wide
Conditions: Full sun; well-drained soil
Native range: North American hybrid
Go ahead, Californians, rub it in. We know you have the sun and sand. You have the Beach Boys, the mountains, and the Monterey Jazz Festival—and you have Ceanothus too. If anyone is looking for a show-stopper, this blue-blooming shrub is it. Unfortunately, the many Ceanothus species and cultivars from the far-western United States are almost impossible for Easterners to grow. They want hot, dry summers, well-drained soils, and gentle winters—exactly what I could never provide in my Kentucky garden.
But if I could grow California mountain lilac, 'Julia Phelps' would be the one I would choose. This dense, evergreen beauty explodes into an almost instant mass of screaming blue in late spring and is unrivaled by any other group of blooming shrubs. A butterfly magnet, this shrub is fragrant and doesn't need supplemental summer irrigation. There are two caveats: deer will browse from time to time, and—pruners beware—it doesn't resprout from heavy cut-backs.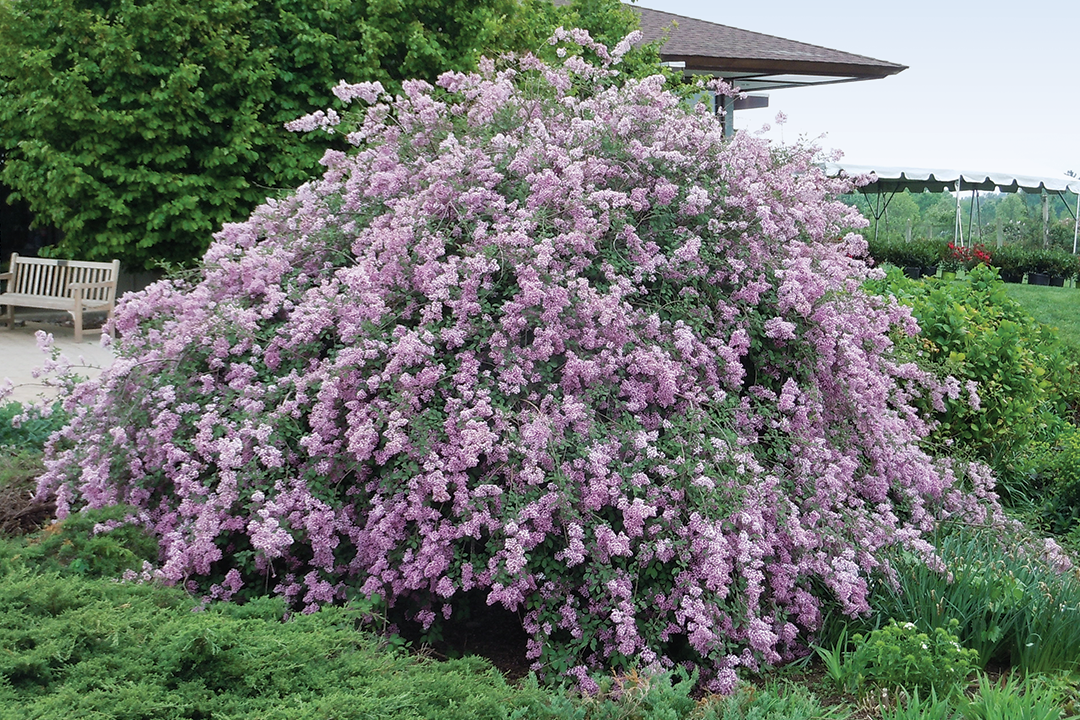 Excellent form and disease resistance set this lilac apart
'Hers' weeping lilac (Syringa pubescens ssp. julianea 'Hers')
Zones: 3–8
Size: 6 to 8 feet tall and 10 to 12 feet wide
Conditions: Full sun to partial shade; moist, well-drained soil
Native range: Korea and China
This is quite simply my favorite lilac on the planet—and there are a lot of lilacs out there. A vigorous and free-growing plant, 'Hers' weeping lilac forms a broad arching mass. Small lavender blooms cover the entire plant in spring, making it look like a purple waterfall with a delicate fragrance filling the air for two to three weeks. This lilac is reasonably drought tolerant and highly resistant to the powdery mildew that plagues so many lilacs. It roots easily, grows quickly, and needs little attention throughout the year. I prefer siting where it can drape over a stone wall or down a gentle slope.
The cultivar is named for plant collector Joseph Hers, who collected seed in the early 1900s in China. Interestingly, there is much debate about the actual identity of the plants now circulating around the country under the cultivar name 'Hers'. The original was described as having pink blooms rather than pale lavender. It seems that the few nurseries actually growing it today all have the same thing, but it doesn't match the original description of the cultivar. Few taxonomists can even agree on the appropriate species name to use. Be that as it may, what is available today under the name 'Hers' is a show-stopper to be sure.
Small Mound-Shaped Shrubs
---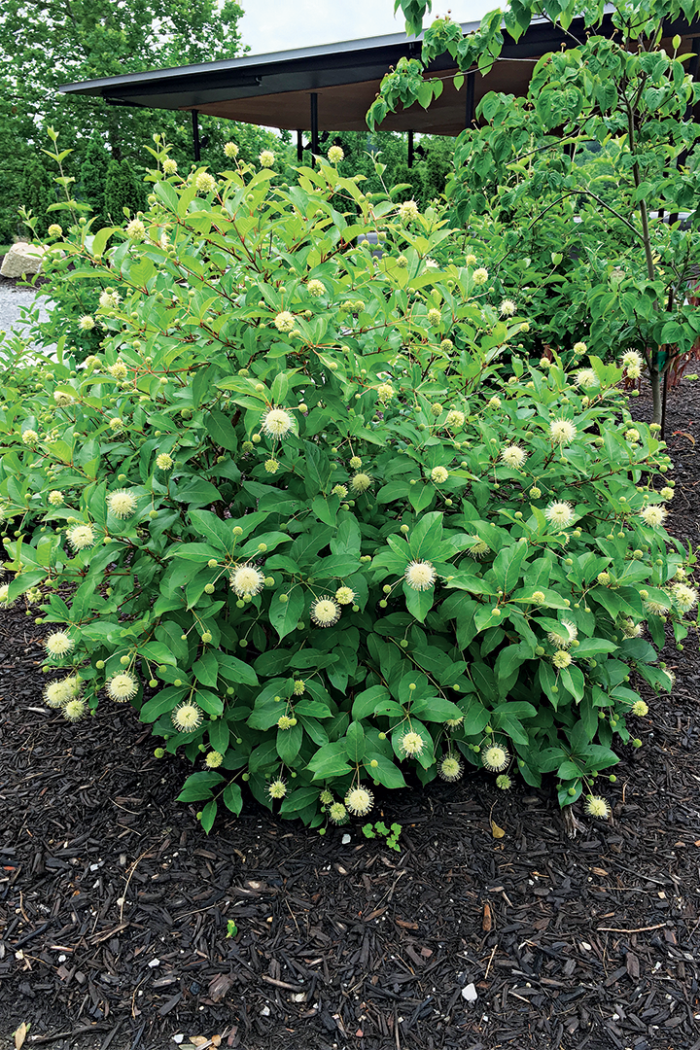 A petite version of a much-loved pollinator magnet
'Moonlight Fantasy' buttonbush (Cephalanthus occidentalis 'Moonlight Fantasy')
Zones: 4–9
Size: 3 to 4 feet tall and wide
Conditions: Full sun to partial shade; wide range of soils
Native range: Eastern North America
Buttonbush is a gem found in the wild in water's edge situations, but it excels in the garden everywhere from standing water to drought-parched soils. Although it has gorgeous, glossy, medium green leaves, buttonbush is best known for its Sputnik-like white balls of flowers with a light honey scent. When in bloom, it is an absolute magnet for all types of pollinators: bees, butterflies, hummingbird moths, and more.
I am indebted to northern Ohio nursery man and uber plantsman Bill Hendricks for introducing me to 'Moonlight Fantasy'. This compact selection grows about two-thirds the size of the species and is an even heavier bloomer. You can also expect exceptionally glossy foliage all summer long, followed by brilliant yellow fall color.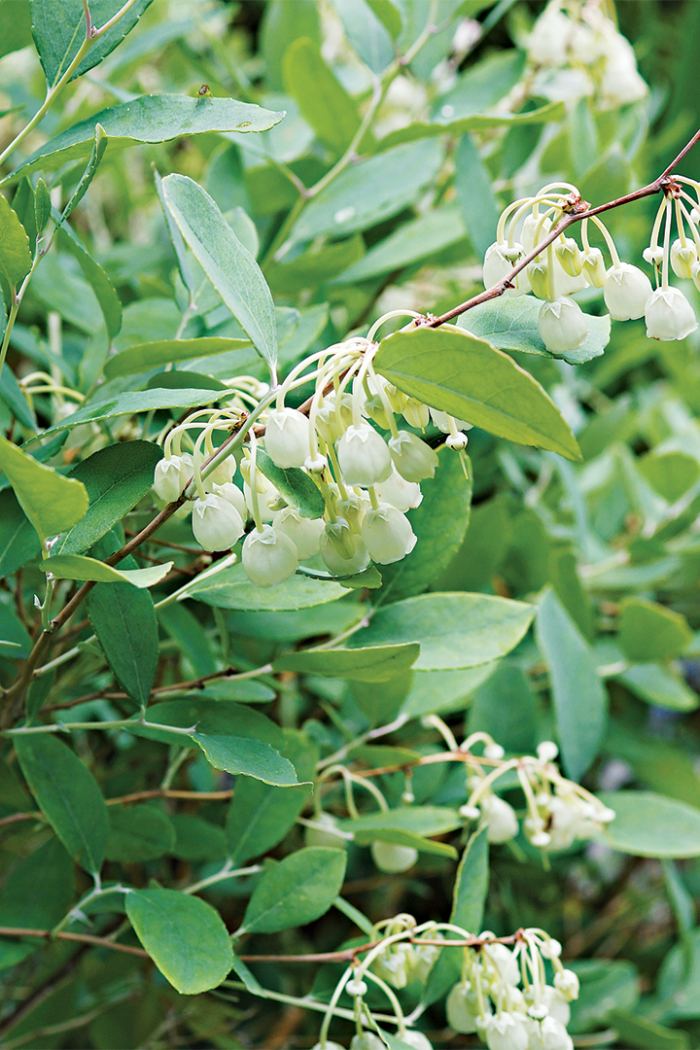 Weird? Yes. Wonderful? Absolutely!
'Woodlanders Blue' honeycup (Zenobia pulverulenta 'Woodlanders Blue')
Zones: 5–9
Size: 2 to 4 feet tall and 3 to 4 feet wide
Conditions: Partial shade; acidic, moist soil
Native range: Southeastern United States
I have come to accept that I have an inner juvenile who pops out from time to time—sometimes in the form of a desire to populate my garden with horticultural head scratchers. This shrub feeds my inner child. The straight species is a rather nondescript Appalachian native that makes a broad, slowly spreading shrub. Being a member of the Ericaceae family (blueberries and azaleas), it has the typical pendant, white, urn-shape spring flowers and does best in an acidic soil with even moisture. 'Woodlanders Blue', a selection from the fabulous Woodlanders nursery in South Carolina, is a splendid blue-leaved selection that mesmerizes all who see it. The newest foliage emerges a bright, dusty, silver-blue that darkens a bit as it ages. The flowers add a slight touch of pink over the typical white of the straight species. It is a fantastic plant to sprinkle in with ferns, azaleas, hostas, and other denizens of the lightly shaded garden.
---
*Invasive alert: Lespedeza thunbergii
This plant is considered invasive in KY.
Please visit invasiveplantatlas.org for more information.
---
SOURCES
Broken Arrow Nursery, Hamden, CT; 203-288-1026; brokenarrownursery.com
Camellia Forest Nursery, Chapel Hill, NC; 919-968-0504; camforest.com
Far Reaches Farm, Port Townsend, WA; 360-385-5114; farreachesfarm.com
Woodlanders, Aiken, SC; 803-648-7522; woodlanders.net
McKay Nursery, Waterloo, WI; 920-478-2121; mckaynursery.com
Paul Cappiello is executive director of Yew Dell Botanical Gardens in Crestwood, Kentucky.