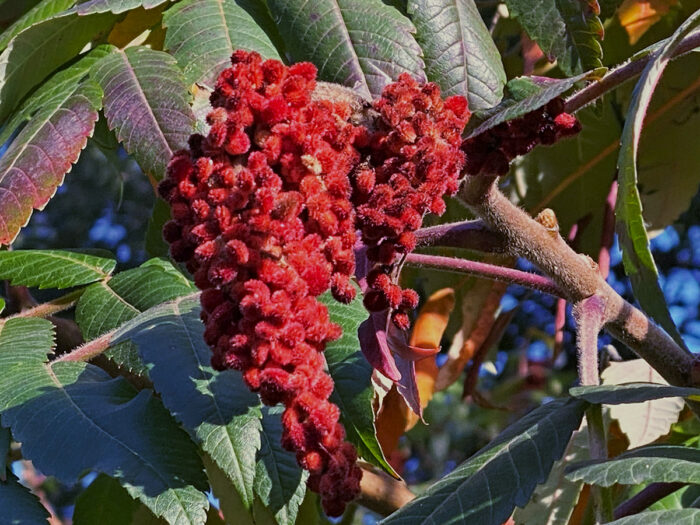 Some may see little more than bare twigs and dry leaves as the remnants of a vibrant summer fade away. But for those creatures that spend their lives outdoors, dormant winter plants are sources of shelter and food. Plants with fall and winter berries or fruit are useful to both humans and all manner of animals. When selecting plants, we should consider choosing ones that serve as a food source to our feathered and furry friends as well as providing beauty in our gardens.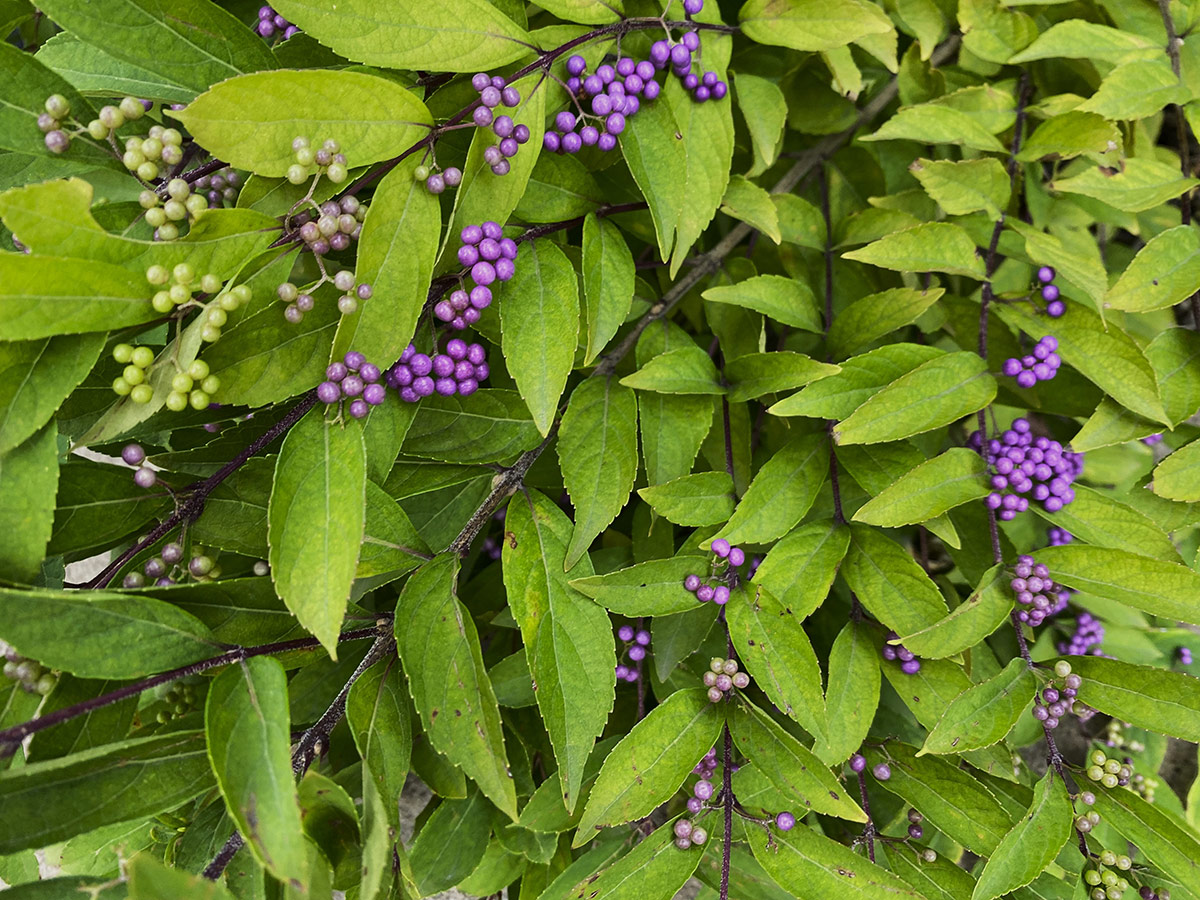 Beautyberry
Callicarpa spp. and cvs., Zones 5–12
Beautyberries are incredible shrubs with many merits. Small flowers cluster along the stems in late spring to early summer. Beautiful berries in shades of pink, purple, blue, or white then develop in late summer or fall and are enjoyed by songbirds and small mammals. It's worth noting that fruit set is often heavier in group plantings. Preferring full sun to partial shade, beautyberry is not tolerant of full shade. It's rather forgiving of the type of soil it grows in, as long as it is well drained. This shrub makes a welcome addition to pollinator gardens, sensory and children's gardens, and, of course, gardens with winter interest in mind. As flowering occurs on new growth, prune in late winter to control for size, remove any old canes, or do any major renovations. In colder regions, winter dieback to the crown will do the pruning for you. Since many beautyberries are marginally hardy in much of the Northern Plains, I suggest planting them in a protected location and mulching them heavily for winter.
Recommended beautyberry species and varieties
American beautyberry (Callicarpa americana, Zones 6–12) is a native shrub of the central and southeastern United States. Its natural habitat includes woodlands, open meadows, and thickets. Growing up to 8 feet tall and 6 feet wide, its broad, cascading form is suitable for mass plantings, draping over the top of a wall, or naturalization in large areas. Callicarpa dichotoma (Zones 5–8) is a hardier species that is much smaller than American beautyberry, with a mature height of 4 feet and a spread of 5 feet. Consider the excellent cultivars 'Issai' beautyberry (Callicarpa dichotoma 'Issai', Zones 5–8), which has dark bluish-purple berries, or the classic 'Early Amethyst' beautyberry (Callicarpa dichotoma 'Early Amethyst', Zones 5–8) which has bright purple berries and chartreuse fall foliage.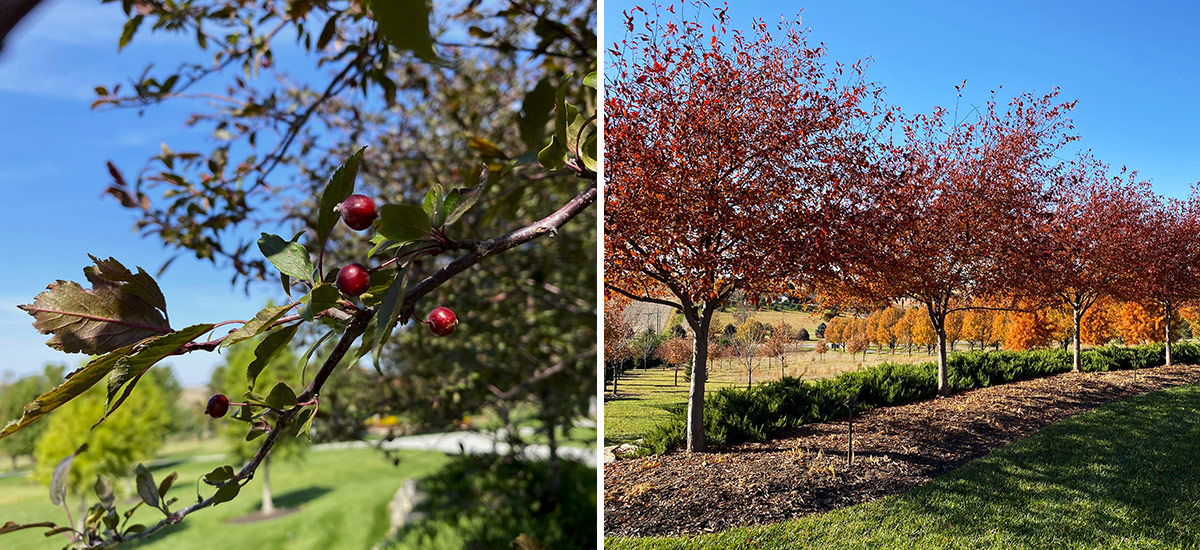 Crabapples
Malus spp. and cvs., Zones 3–9
Spring-flowering crabapples are well-known for their fall and winter fruit. Many cultivars are native to the United States and have been developed with superior disease resistance and improved seasonal color. Crabapples generally do best when grown in full sun, and they prefer soil that is well-drained and with average moisture. They are also known to be rather drought tolerant once established and adaptable to less-than-perfect situations. I recommend that any extensive pruning be done in late winter. If you prune in spring, you may sacrifice some of the flowers and fruit or even expose the tree to fireblight infections through open wounds, as spring is when this disease is active. There are dozens of cultivars of crabapples on the market, but these are a few of my favorites. All of the following are disease resistant and easy to grow.
Recommended crabapple varieties
For darker leaves with interesting shapes, try Royal Raindrops® crabapple (Malus 'JFS-KW5', Zones 4–8). This is a small tree with an upright and spreading habit that grows 15 to 20 feet tall and 12 to 16 feet wide. It has a dense canopy with fruit that persists into winter. Birds enjoy the small apples, leaving few to germinate later. With single deep pink flowers in spring, maroon-red fruit in late summer, and orange leaf color in fall, this one is a winner.
'Prairifire' crabapple (Malus 'Prairifire', Zones 5–8) is a highly disease-resistant cultivar with fragrant deep pink flowers followed by purple-red fruits. Leaves emerge purplish, maturing to a dark green with reddish veins and in the fall turning to shades of orange. Growing up to 20 feet tall and 15 feet wide, this tree works well in almost any landscape.
Harvest Gold® crabapple (Malus 'Hargozam', Zones 4–8) is the perfect choice for anyone looking for something a little different. At 15 to 20 feet tall and wide, this tree, which has an upright and open form, starts out the season with an abundance of pink buds that open to white blossoms. Later, the green foliage is contrasted with golden fruit, which persists until spring.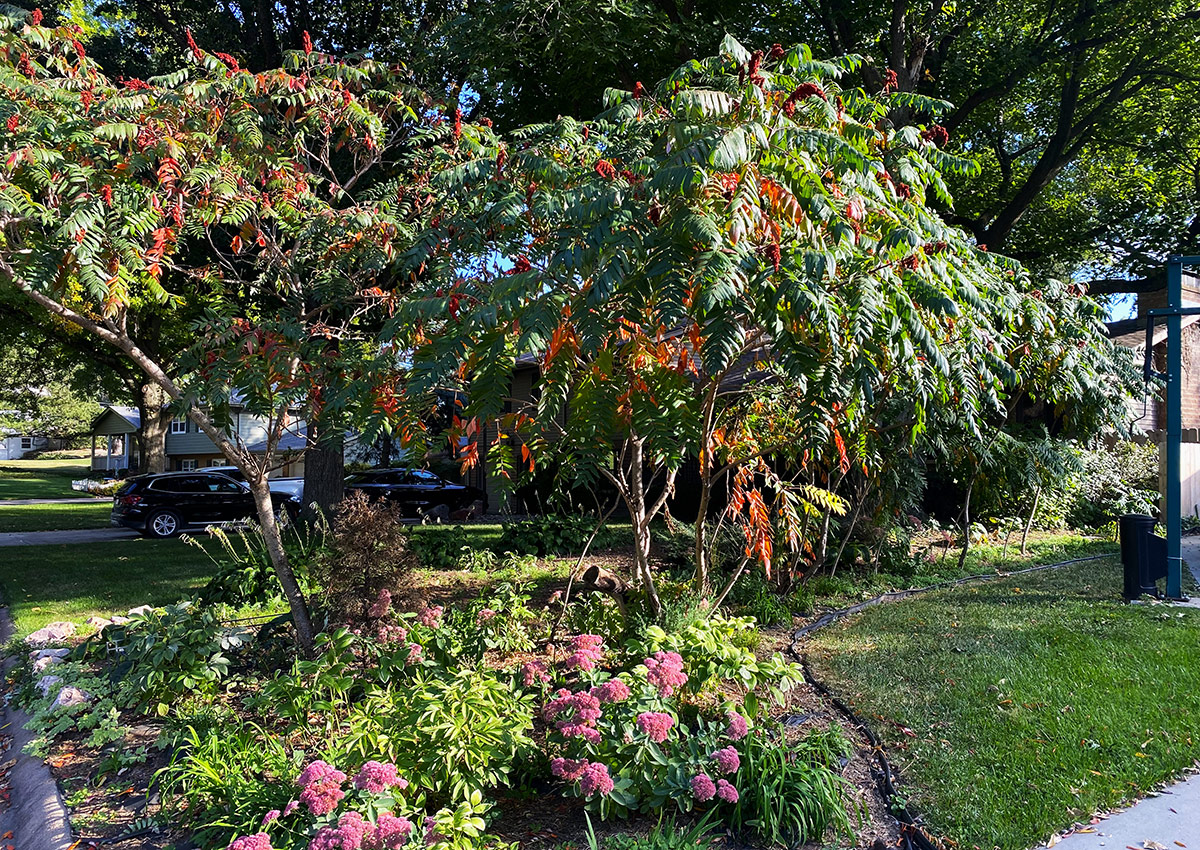 Staghorn sumac
Rhus typhina, Zones 3–8
The true sign that autumn is on the way is when we see staghorn sumac change color. This native is as emblematic of the southern and western part of our region as corn and cattle. Seen along the edges of woodlands and roadsides throughout the Great Plains, it grows upwards of 25 feet tall and 20 to 30 feet wide. The common name comes from the velvety hairs that cover young branchlets, much like the fuzzy hairs that cover the immature horns of a stag. This native shrub or small tree colonizes by means of suckers, some that can pop up several feet from the main trunk. The showy pyramidal clusters of fruit grow up to 8 inches long, ripening to a rich red and darkening as winter moves in. Attractive to birds and small mammals, these persist well into spring. Sumacs provide strong forms in the landscape and are best used in back corners, dry and difficult soil, or wherever they are given room to grow. This is not a plant for the timid gardener; if it's given too much love, it will overwhelm you with its happiness, so be careful where you site it. This plant will be happy growing where other plants will not grow, such as on steep slopes or even in parking lot islands.
Plants that provide winter food sources for animals are beneficial on several levels. They feed the wildlife, and their presence feeds our souls. For more information on plants for wildlife, check out:
And for more Northern Plains regional reports, click here.
—Marti Neely, FAPLD, owns and operates Marti Neely Design and Associates in Omaha, Nebraska.
Photos: Marti Neely