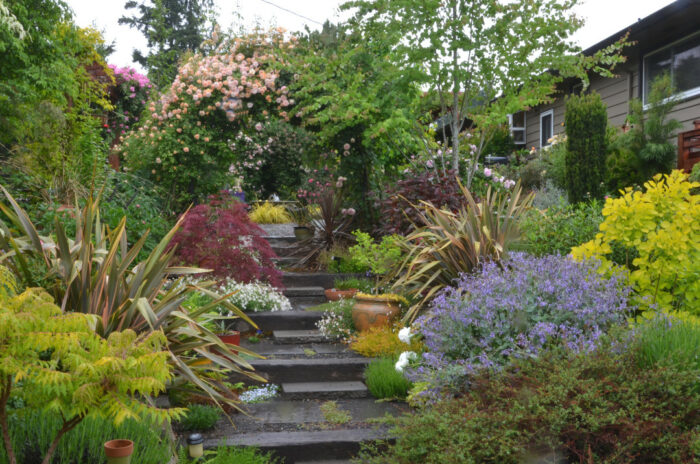 My name is Phillip Oliver, and I sent you photos of my Alabama garden many years ago. Since that time, my husband (Michael) and I relocated across the country to Vancouver, Washington. It has always been a dream of mine to live and garden in the Pacific Northwest. We have been here six years now and have started a new garden from scratch. We downsized when moving here, so this garden is smaller, about a quarter of an acre. I work at a local garden center, which helps (or hinders, depending on how you look at it) my gardening obsession.
Here are some photos from this past year. As you can see, the garden has already filled in. Most of it was only grass when we moved in.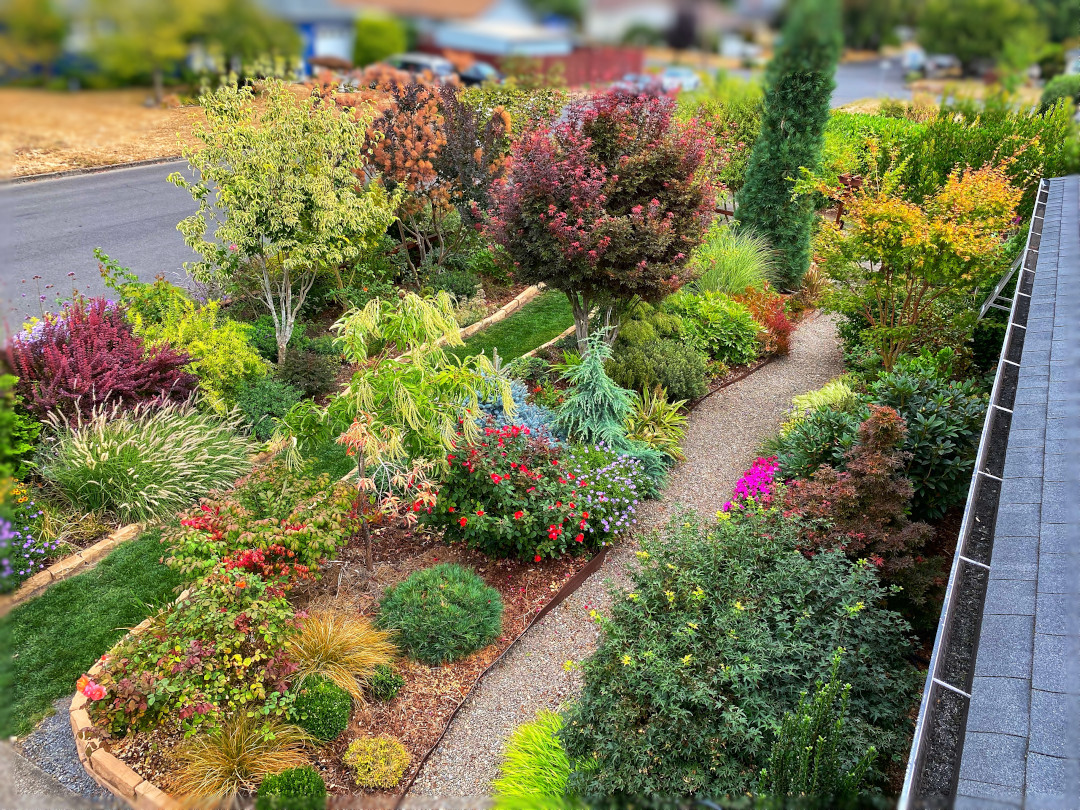 This is a view of our front garden from the roof, taken in September. The front garden is the smallest area and extends about 20 feet from the house to the street.
And here's the view from the street side. The first thing I did was have a fence built to garden around. I am very fond of roses, especially the David Austin varieties. The orange rose is 'Lady of Shallot'. Other roses (not David Austin) are 'Robin Hood' and 'Radway Sunrise'. Behind the rose is the shrub Salix integra 'Hakuro Nishiki' (dappled willow, Zones 5–7) and smoke tree (Cotinus 'Royal Purple', Zones 3–9). The tree is Acer pseudoplatanus 'Esk Sunset' (Zones 4–7). Perennials include Geranium 'Rozanne' (Zones 5–8), Santolina 'Lemon Queen' (Zones 6–8), and Salvia 'Caradonna'.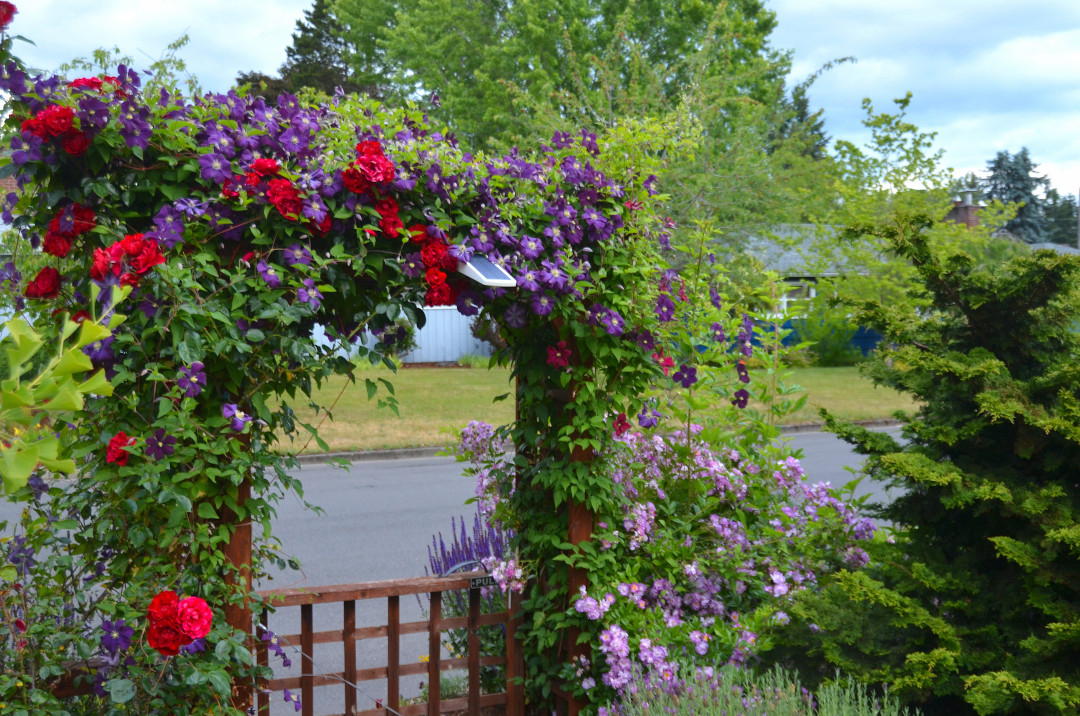 The front garden gate features climbing roses 'Dublin Bay' and 'Veilchenblau' and two clematis: 'Jackmanii Superba' (Zones 4–8) and 'Madame Julia Correvon' (Zones 4–9).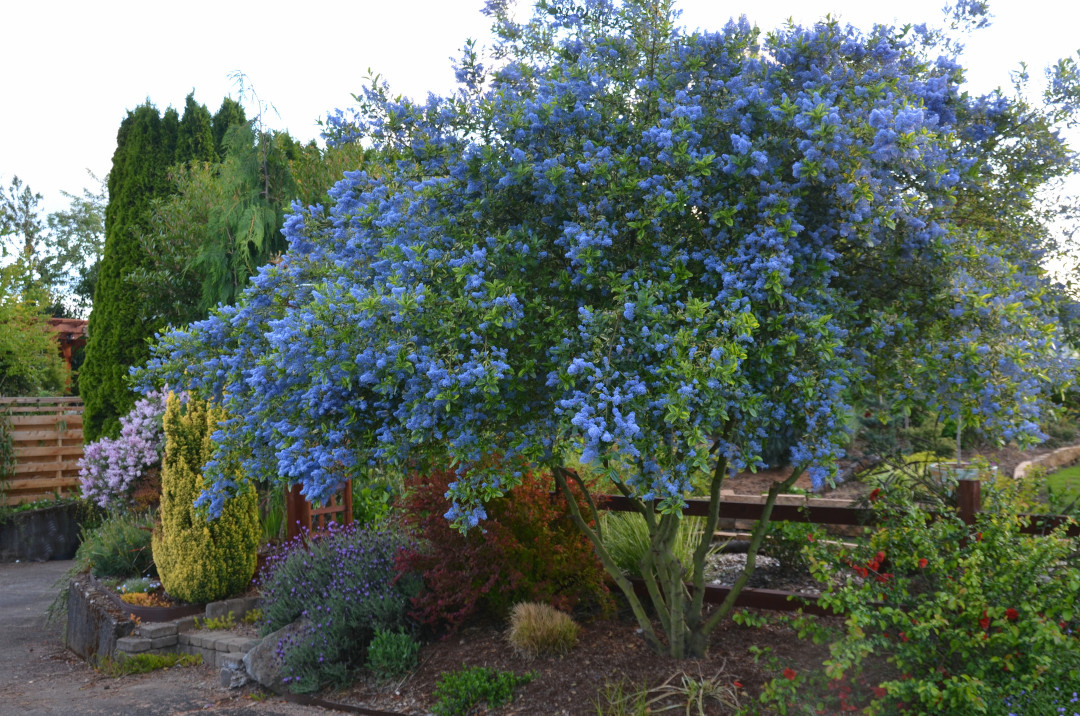 I was unfamiliar with Ceanothus 'Black Diamond' (California lilac) until moving here, and now I love it. It grows incredibly fast. Michael has trained this one into a small tree.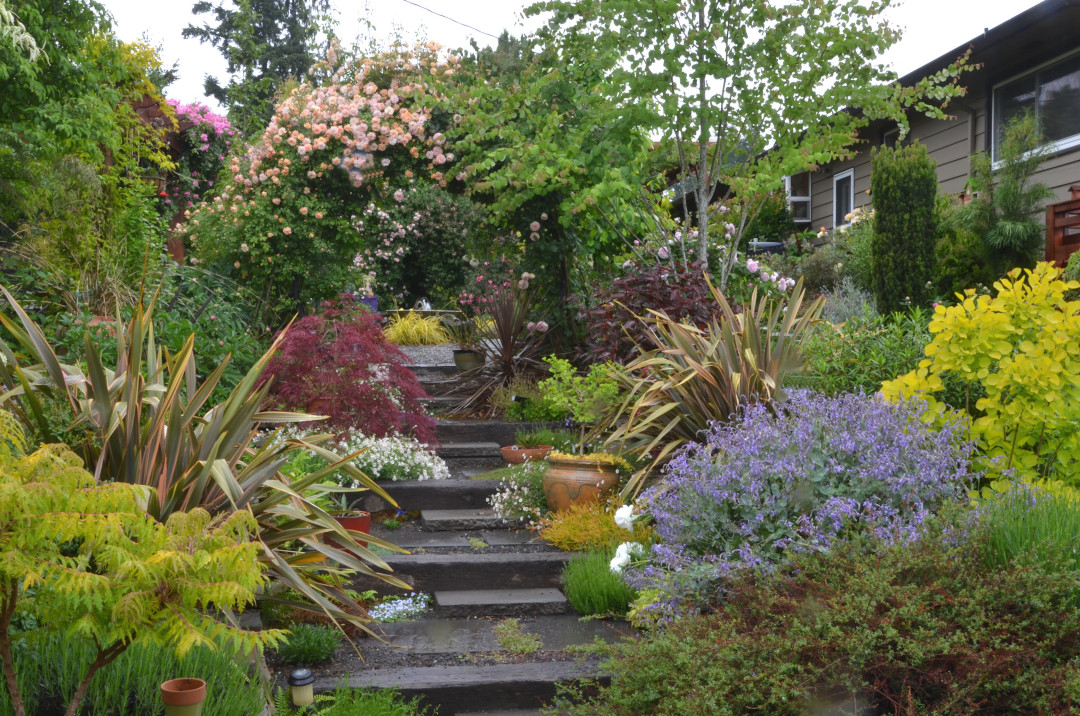 Our back garden is larger than the front. It is partially on a slope, and I created terraces here. Some of the plants here are Phormium 'Rainbow Queen' (New Zealand flax, Zones 8–10), 'Tiger Eyes' sumac (Rhus typhina 'Bailtiger', Zones 4–8), Persicaria 'Red Dragon' (Zones 6–9) and Cotinus 'Golden Spirit' (Zones 3–9). The rose on the moon arch at the top of the steps is the rambler 'Phyllis Bride'.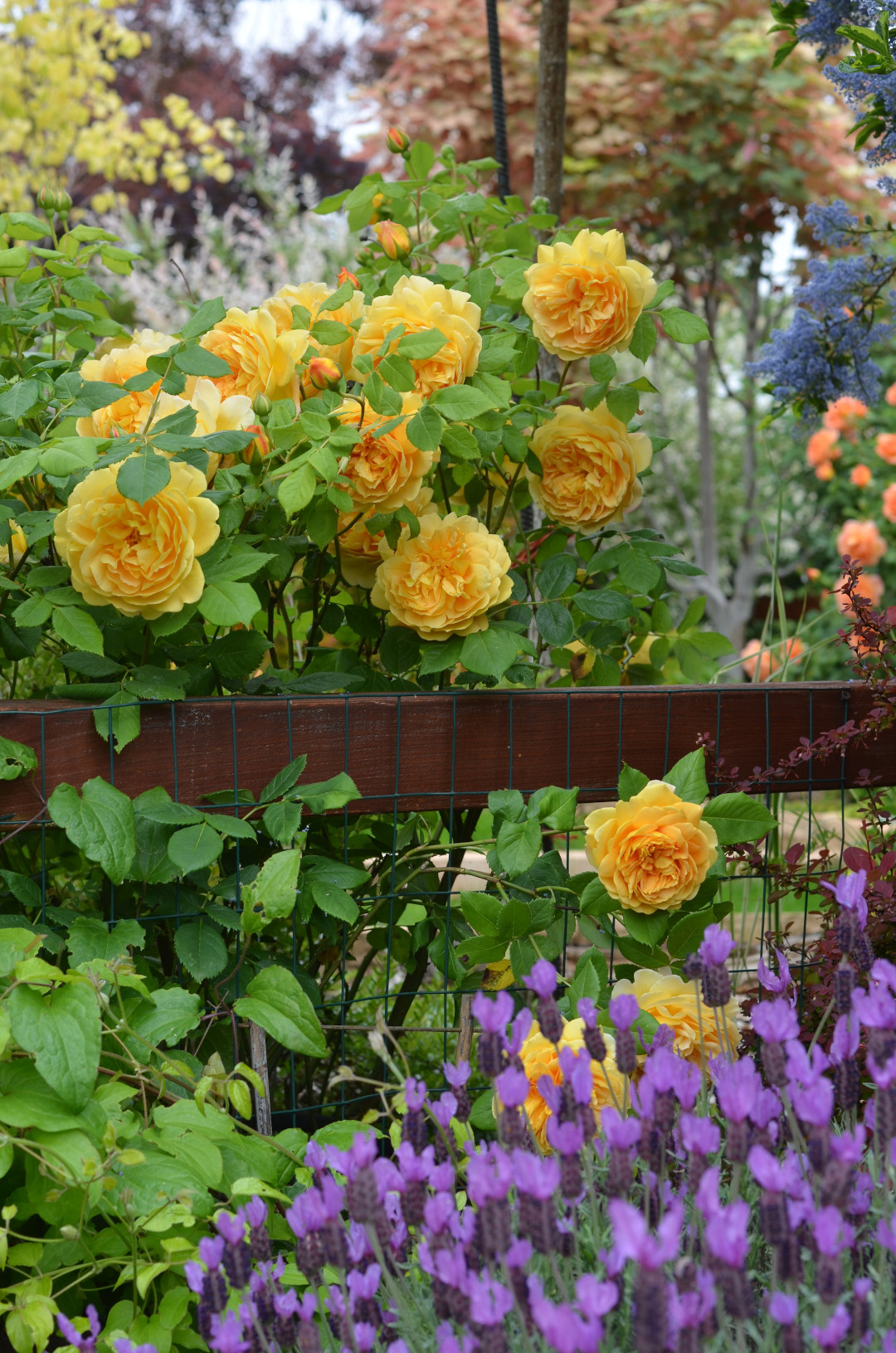 David Austin rose 'Golden Celebration' and Spanish lavender (Lavandula stoechas, Zones 7–10)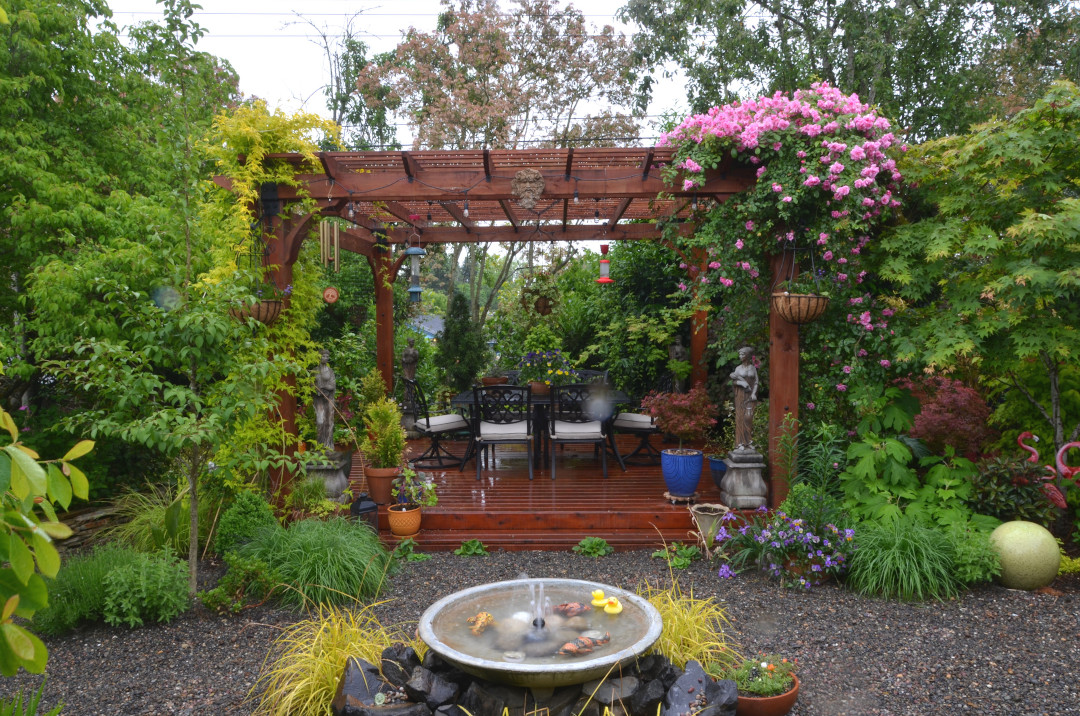 The center of our back garden is a gravel courtyard and pergola. We initially began with a vegetable garden but took it out after two years. The vine on the pergola on the left is 'Fiona Sunrise' jasmine (Jasminum officinale 'Fiona's Sunrise', Zones 7–10). The rose on the right is 'Climbing Pinkie'.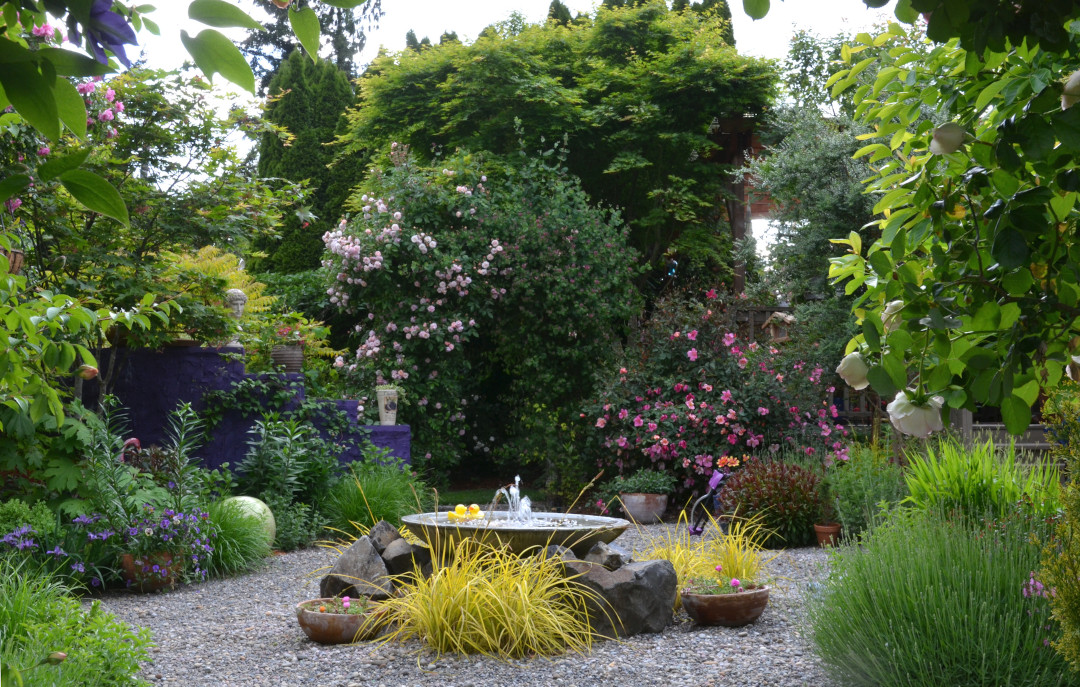 Here's another view of the courtyard from the side. The roses are 'Cornelia' and 'Mutabalis'. Like in our former garden, we built a wall and painted it purple. It separates the courtyard from a smaller garden just off the deck.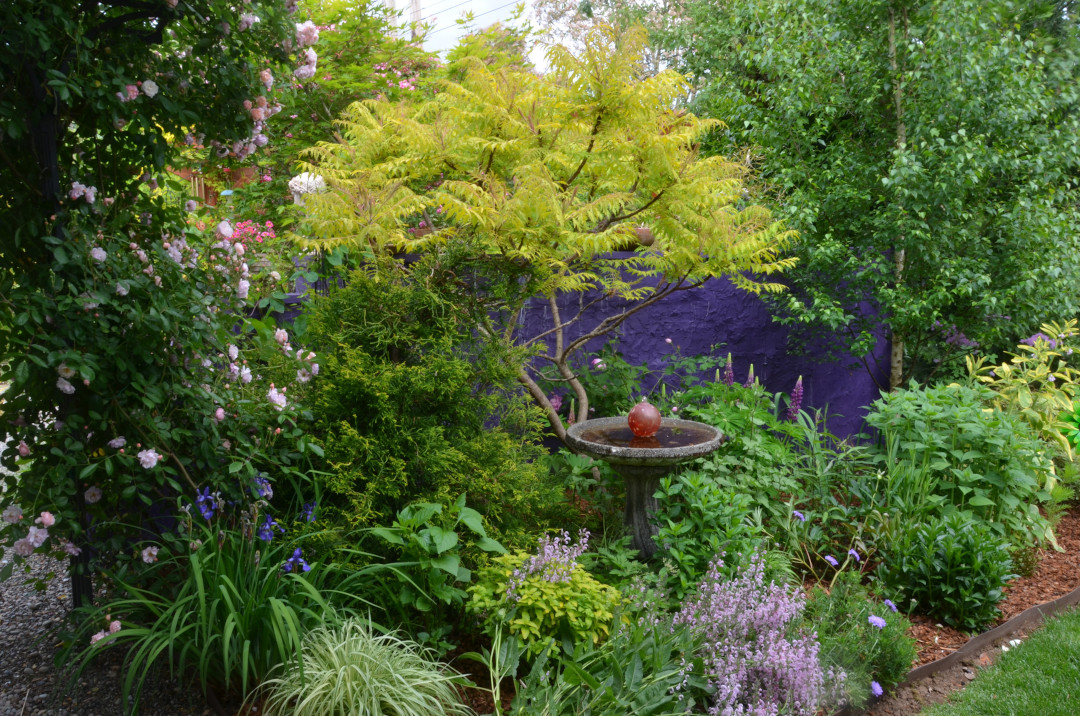 The smaller garden (we call it the "Pan Garden" because it features a statue of Pan) is just off the deck. This is the first area we worked on after moving in.