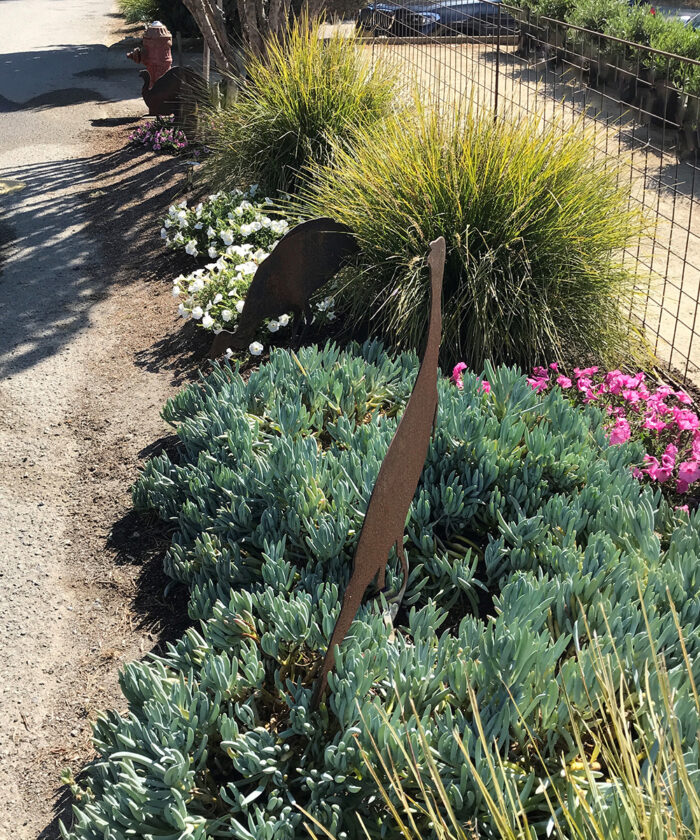 Reflected heat, passing foot traffic, poor soil, restricted space, and irrigation obstacles are just a few of the challenges faced by any plant grown in a "hellstrip." This spot is the narrow strip of dirt between the street curb and sidewalk (or along a driveway) in front of a house. Compacted, heat-baked, and home most often to weeds, dog waste, and wind-blown trash, hellstrips are ripe for reclamation and transformation into a street-side pocket paradise.
Though there's not much a gardener can do about the heat, foot traffic, or the median strip's square footage, the soil's fertility, moisture-holding capacity, drainage, and texture can be greatly improved with the addition of well-aged, humus-rich, organic compost. First, remove all weeds, then dig deeply, breaking up the compacted soil and working in as much organic matter as possible. Add well-balanced, all-purpose, granular organic fertilizer at the same time. Fluff it all up, and water it well. Then prepare to fill your newly improved—soon to be heavenly hellstrip—with rugged yet beautiful plants.
The plants you choose must be resilient, easy to care for, and able to withstand periods of neglect. They should be heat and drought tolerant and, in many parts of Northern California, deer resistant. Your choices should also be tidy in growth habit and easily kept within the confines of the limited space. A tall order? Not for many native plants or the following bomb-proof perennial beauties.
Note: If you're within city limits or part of a homeowner's association, it's a good idea to check ordinances before you start digging in case there are restrictions dictating what you can do with your median strip.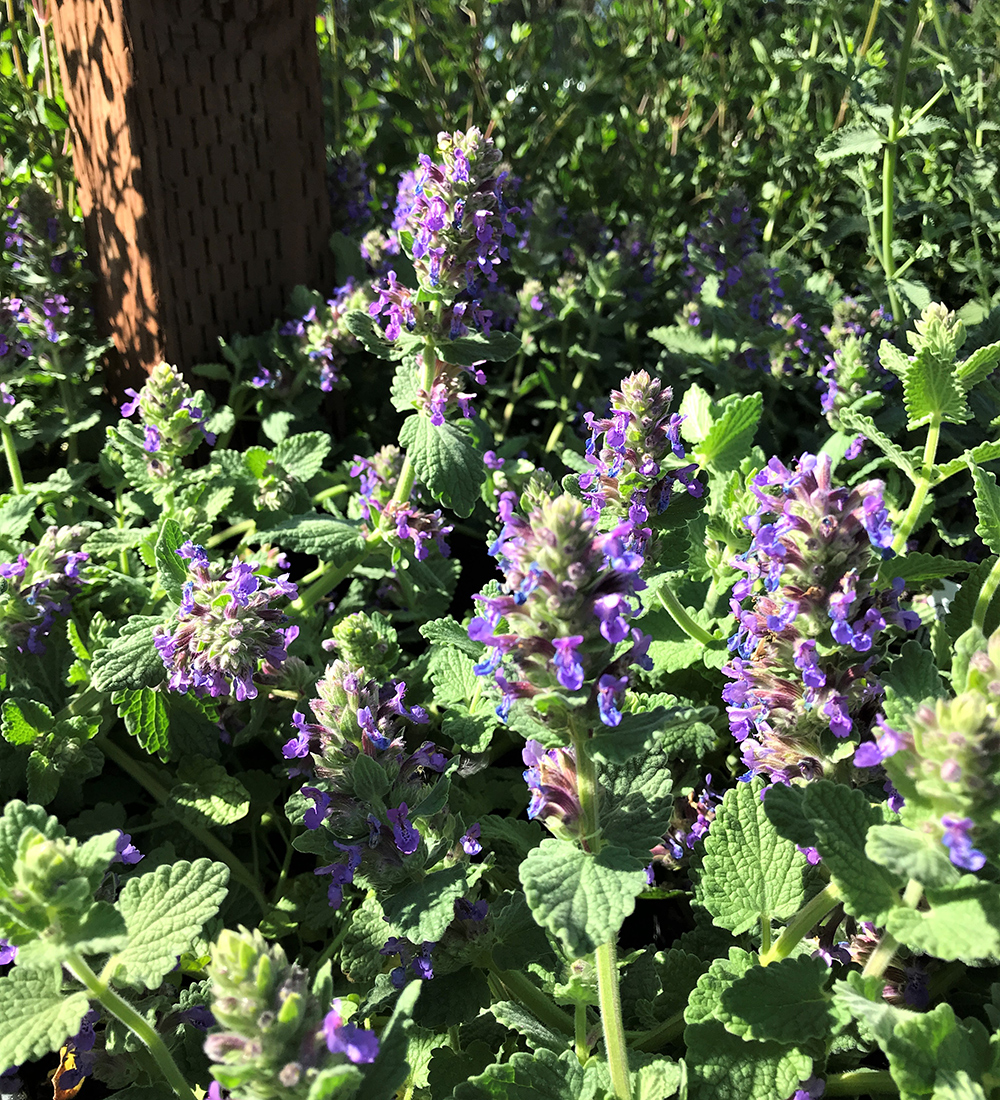 'Purple Haze' catmint
Nepeta 'Purple Haze', Zones 6–9
The felt-textured, blue-green leaves of 'Purple Haze' are aromatic and remarkably large for a catmint. The foliage is carried on outward-spreading, sprawling stems. The mass of greenery is topped with fat, fragrant, lavender-blue flower spikes (that can measure up to 6 feet long) from late spring through fall. This well-behaved, ground-hugging perennial reaches 8 inches tall in full flower and spreads 30 inches wide in full sun, preferring well-drained soil and light watering during hotter summer months. Heat loving, drought tolerant, and deer-proof too boot, 'Purple Haze' can be sheared back in late winter to refresh its appearance.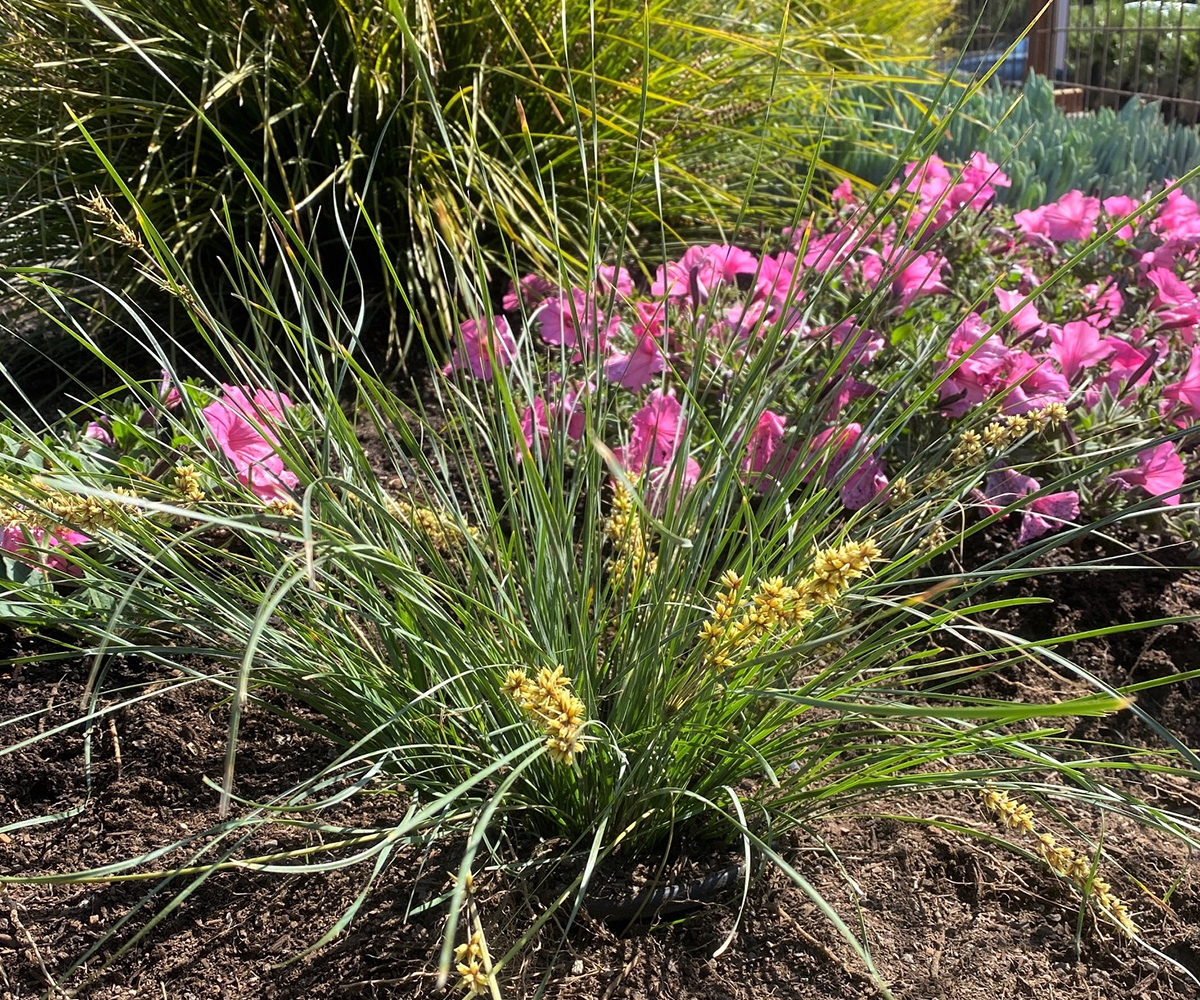 Shara™ mat rush
Lomandra fluviatilis 'AU807', Zones 8–10
For an elegant evergreen with a grassy-look, try this blue-green clumping perennial from Australia. One of the easiest plants you can grow, Shara™ mat rush has graceful, fine, arching, grasslike foliage that moves almost hypnotically on a windy day. Abundant fat, spiny, creamy yellow, honey-scented flower spikes are nestled among the slender blades from late spring through summer. This pest-free plant is tolerant of sun, shade, wind, salt air, clay soil, and dry soil, and it grows 1 to 2 feet tall and 2 to 3 feet wide. It's truly fabulous when massed or when edging a dry creek. It also has minimal care and water needs.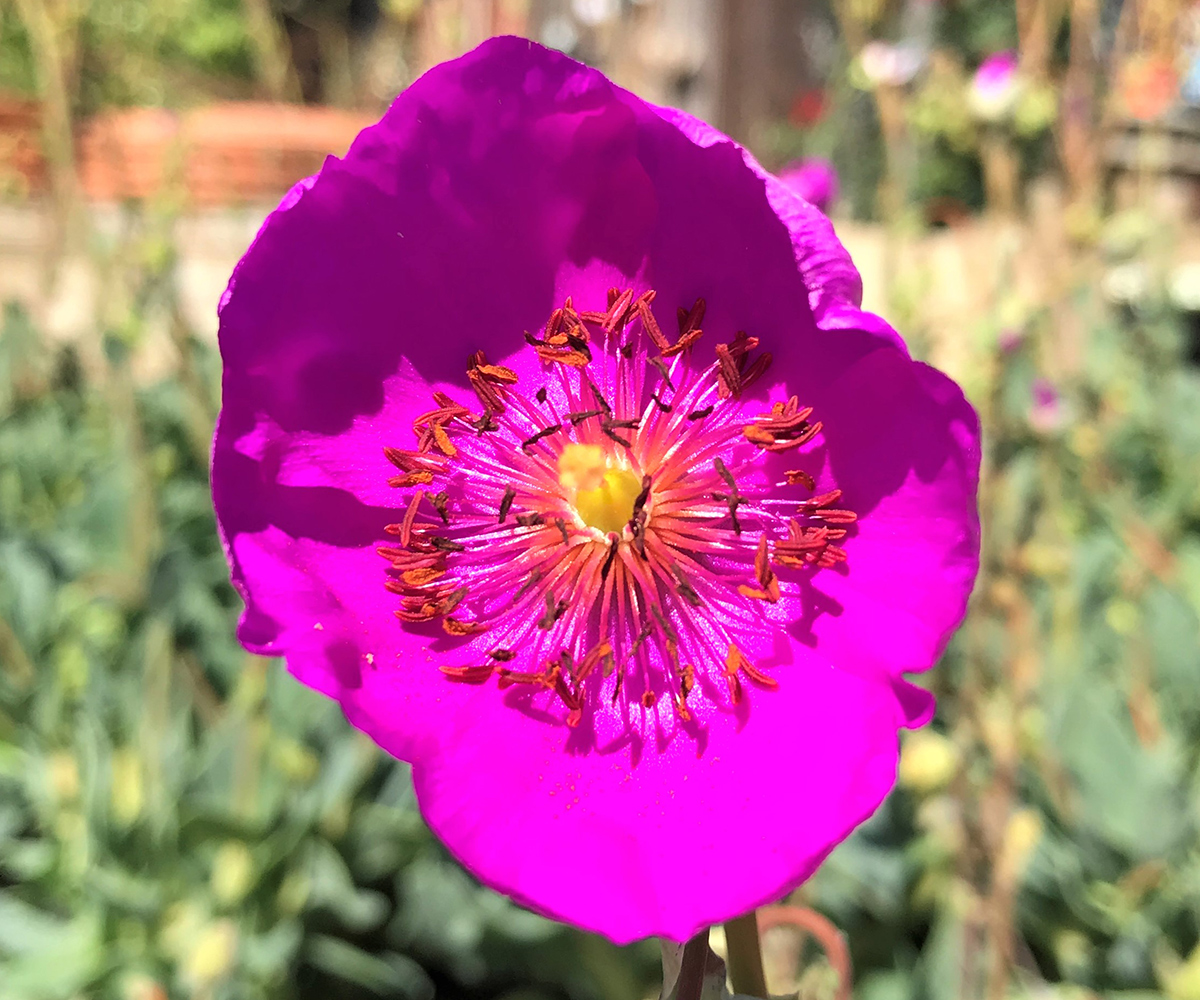 Rock purslane
Calandrinia spectabilis, Zones 8–10
This is a spectacular Chilean perennial with close to nonstop production of hot-pink-to-purple single blooms from spring until fall's first frost. These blossoms dance beautifully over the low-growing, dense mat of blue-green succulent foliage. The showy blooms are attractive to bees and other pollinators. Easy to grow, deer-proof, water-wise (perfect for any hard-to-irrigate spot), rock purslane grows 16 to 18 inches high (in bloom) and spreads up to 4 feet wide. Grow it in full sun and well-drained soil, and irrigate it lightly during the summer months. Cut it back to 6 inches tall in late winter.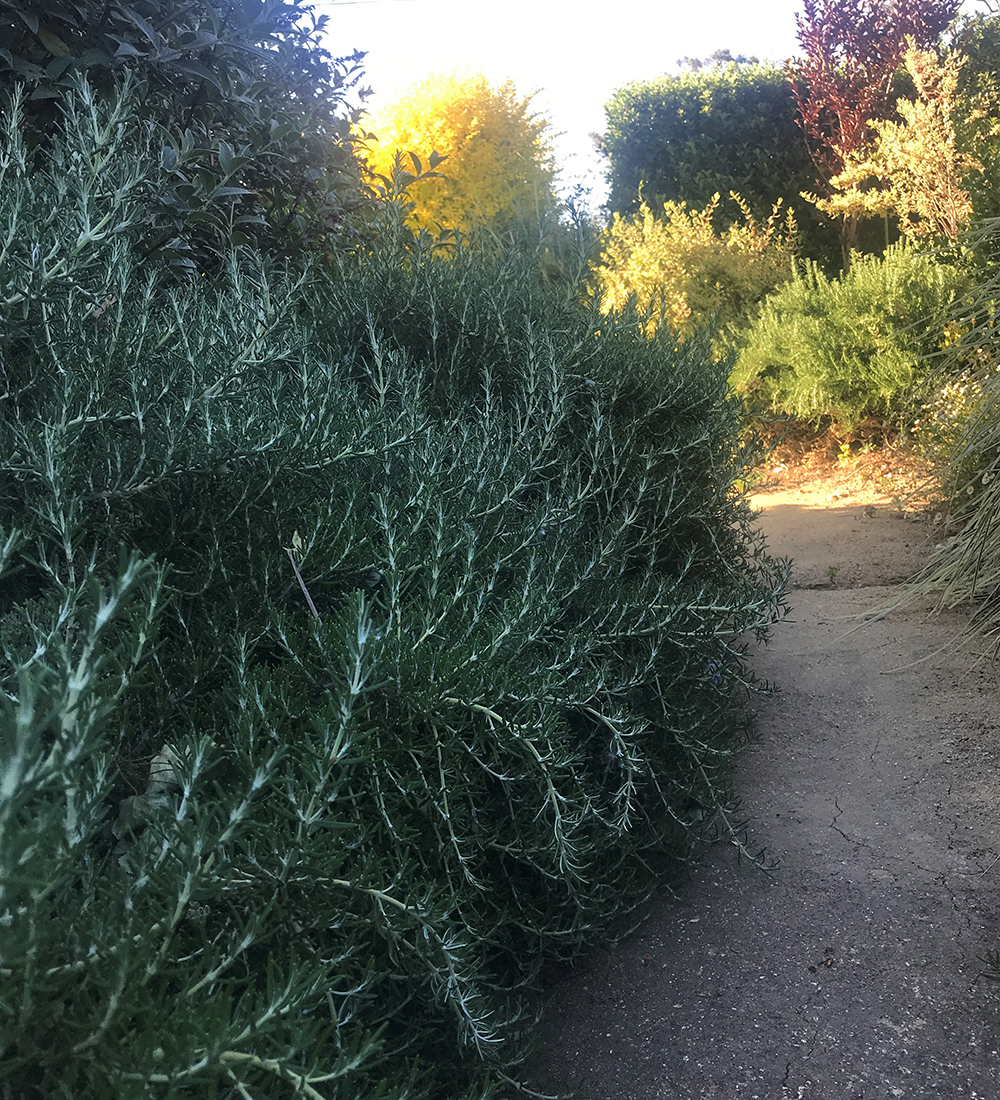 Chef's Choice® rosemary
Rosmarinus officinalis 'Roman Beauty', Zones 8–10
Chef's Choice® is a compact, dense, slow-growing, ornamental edible from the Mediterranean. It is perfectly suited for difficult spots such as the dreaded hellstrip. Tough, sun loving, drought and deer tolerant, this rosemary also gracefully copes with heat, poor soil, and intermittent watering. Its woody, arching stems—covered with aromatic, needlelike evergreen foliage—will easily fill your hellstrip or spill freely over a rock wall or container edge with ease. Delightful violet-blue flowers appear in spring. You can expect this perennial to grow 1 to 3 feet high and wide in full sun.
Hairy canary clover
Dorycnium hirsutum (syn. Lotus hirsutus), Zones 8–10
This soft-textured, billowy, low-growing Mediterranean native is the perfect choice for softening up the hard edges of a sidewalk. Well suited to our Northern California climate, it thrives in any sunny, water-conscious landscape with minimal care and minimal water. Clusters of pink-veined, white, cloverlike blooms—much loved by bees—are held on the branch ends from summer through fall. These blooms are followed by shiny seedpods. Drought tolerant and not at all fussy about soil conditions, this low-growing evergreen reaches 1 to 2 feet tall, spreading 2 to 3 feet wide, and is happiest in full sun. Cut it back in late winter or early spring to tidy and refresh.
A helpful tip
When your work is done and your plants are planted, be sure to mulch your new garden with 3 to 4 inches of compost to continue to improve the soil's nutrient level and water-holding capacity. Come up with a plan for meeting your new planting's watering needs; though the plants mentioned here are all tough and drought tolerant, some supplemental summer water will be necessary to get them established.
—'Fionuala Campion is the owner and manager of Cottage Gardens of Petaluma in Petaluma, California.
Photos: Fionuala Campion