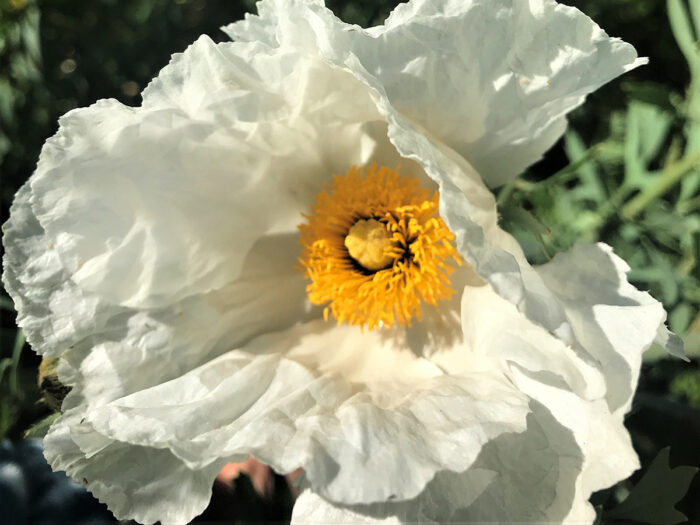 Many plants native to California—and the hybridized cultivars of those natives (aka nativars)—are attractive, easy-to-grow pollinator magnets, plus they have evolved strategies to survive California's long, rainless summers. Even during "normal" years, these plants make wonderful, colorful additions to the containers and flower beds of the water-conscious gardener. During drought years, it's even more important to choose plants adapted to water scarcity. In most parts of Northern California, the best time to plant these rugged and usually pest-proof beauties is in fall or early spring. Planting then will help your new additions establish healthy, deep root systems before the rainless summer months arrive, enabling them to thrive where thirstier plants might struggle or fail. The following are some noteworthy natives for Northern California.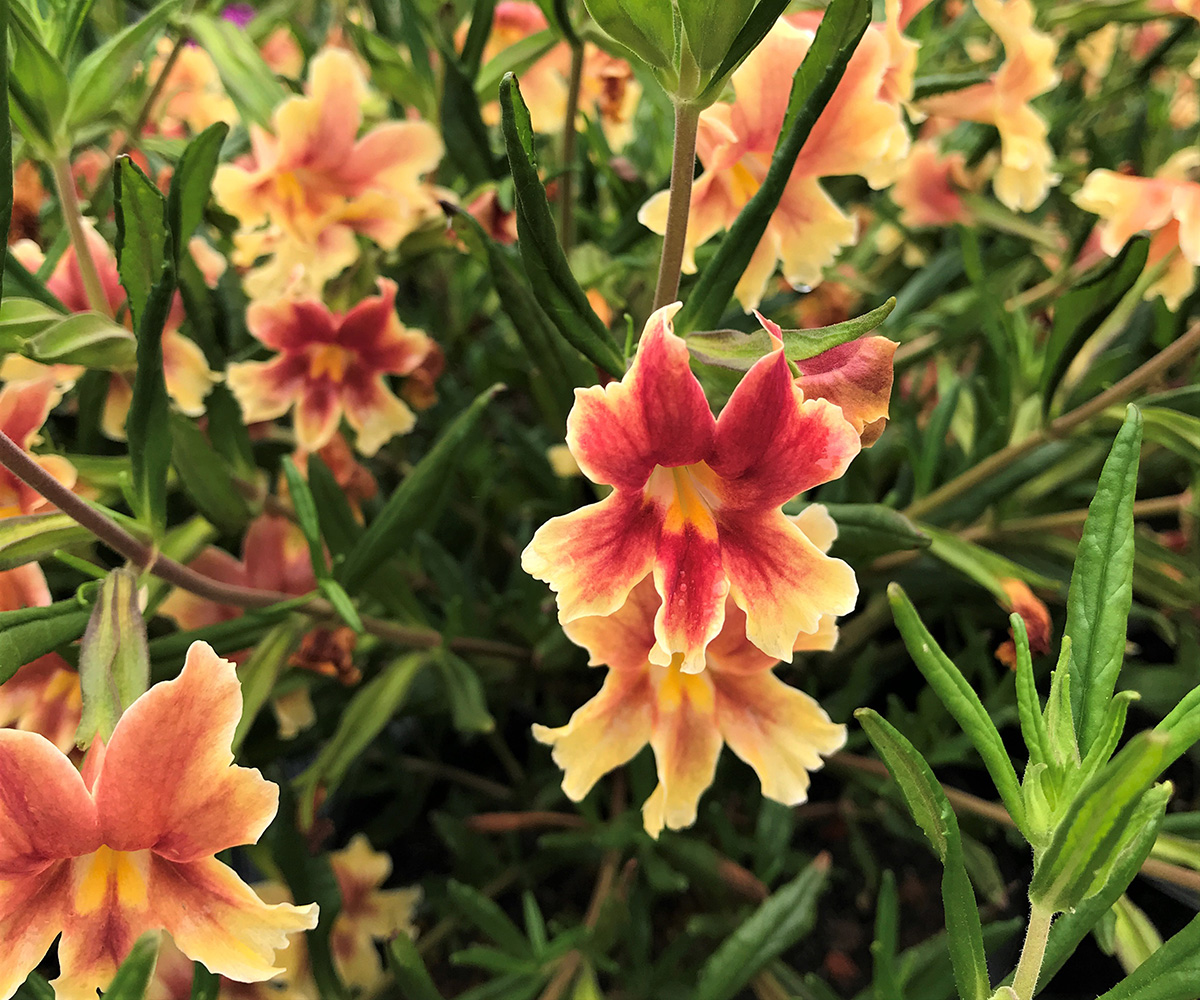 'Changeling' monkey flower (Mimulus 'Changeling', Zones 6–9)
I love the blend of mottled hues splashing each flaring, ruffle-edged, trumpet-like bloom of this charming hybrid. Monkey flowers have long been a beloved California native wildflower. 'Changeling' has an informal, freely branching growth habit and is covered in blooms almost all year long in NorCal, with the main peak occurring in spring and summer. Each bloom is a little different from the next (adding to its interest), tending toward soft orange brushed with terra-cotta, red, and cream. Easy to care for, pest-free, and drought-tolerant, this appealing evergreen grows to a billowy 3 feet tall and wide in full sun to partial shade in well-drained, enriched soil. Tidy it up in early spring by cutting it back by half to promote fresh growth and abundant blooms.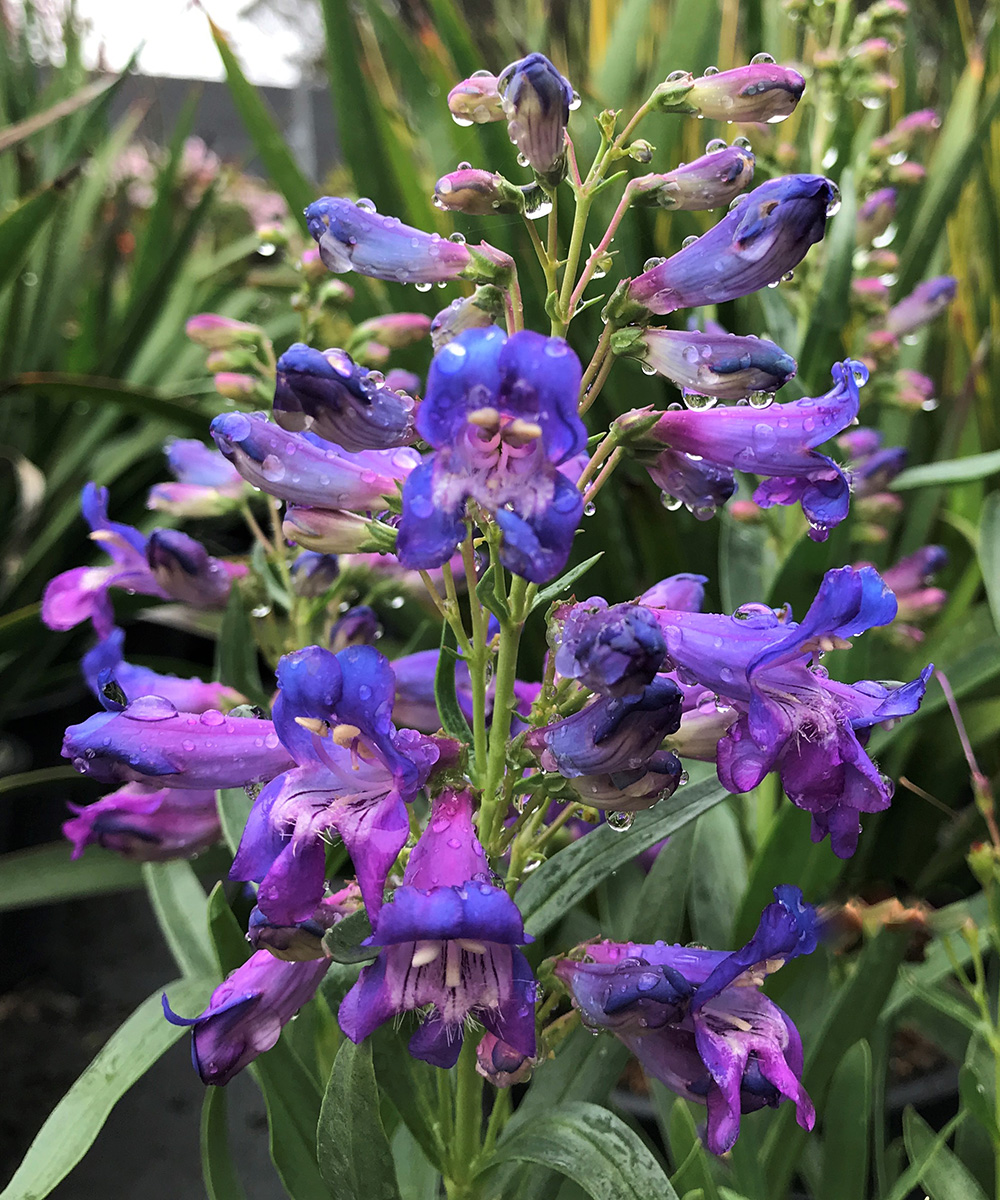 'Pristine Blue' penstemon (Penstemon barbatus 'Pristine Blue', Zones 3–9)
Big, tubular, sapphire-blue blooms clothe the sturdy stems of this native penstemon cultivar. Deep green, glossy, evergreen foliage makes the perfect backdrop for the stunning blossoms. This vigorous plant has a compact, multibranching, and upright growth habit. It reaches only 16 to 20 inches tall in full bloom and is a great container choice either on its own or alongside other sun-lovers. Fabulous in the perennial border too, and much loved by pollinators and hummingbirds, 'Pristine Blue' performs best in full sun and in rich, amended soil with regular to light watering. Prune it back in late winter to 6 inches tall.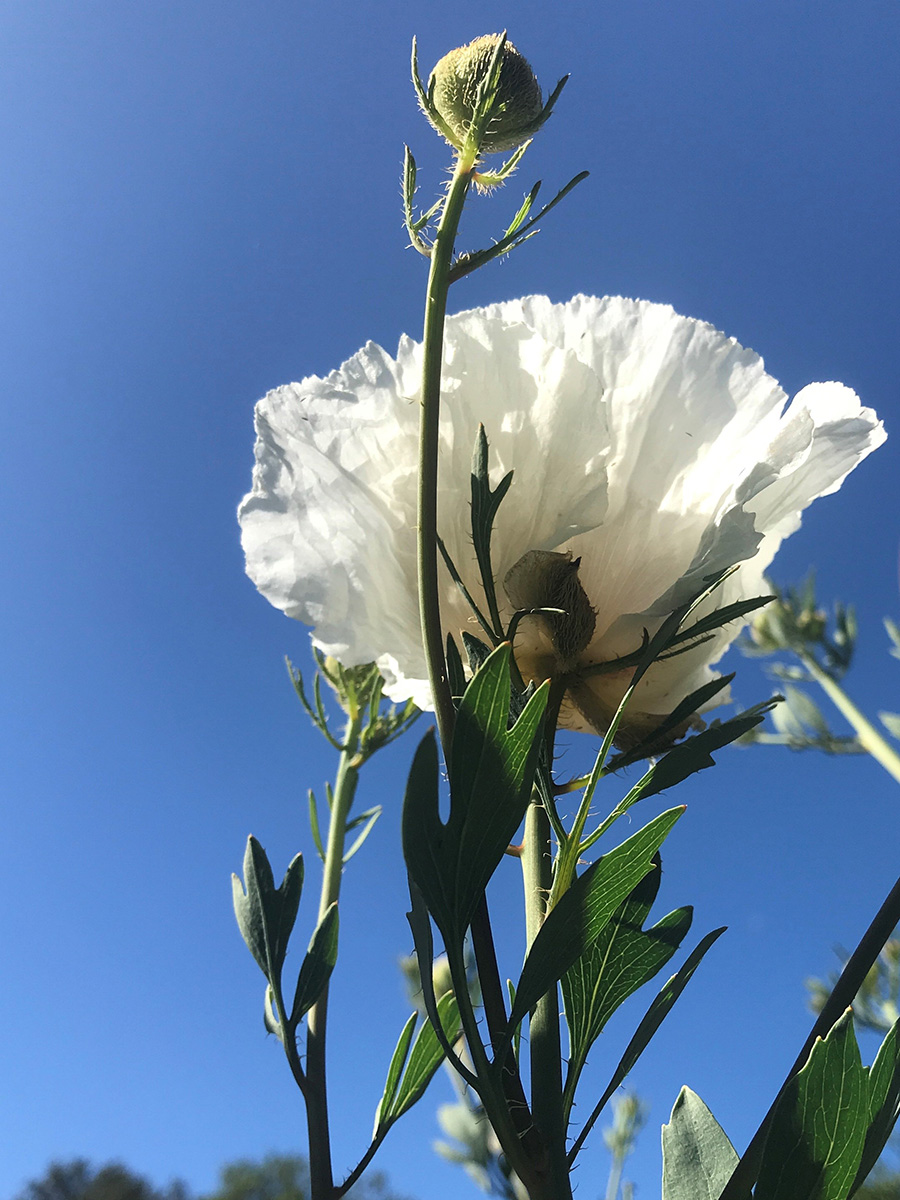 Coulter's matilija poppy (Romneya coulteri, Zones 6–10)
This impressive California native grows 8 to 10 feet tall and spreads to 10 feet wide when it's happy. Stately woody stems, covered in waxy blue-gray foliage, are topped with enormous, showy, delicately fragrant blooms from spring through summer. With each bloom being a vision of papery, snow-white crinkled petals surrounding a golden yellow center, it's no wonder its nickname is "Fried Egg Poppy." Caring for this shrubby perennial is easier if you neglect it rather than fuss over it. Plant Coulter's matilija poppy in full sun, in well-drained, unamended soil. Water it in well at planting time, then once a week throughout its first summer. No water is needed once it's established. This fabulous plant is perfect for in the back of a dry garden border, and it's super hardy and deer-proof too.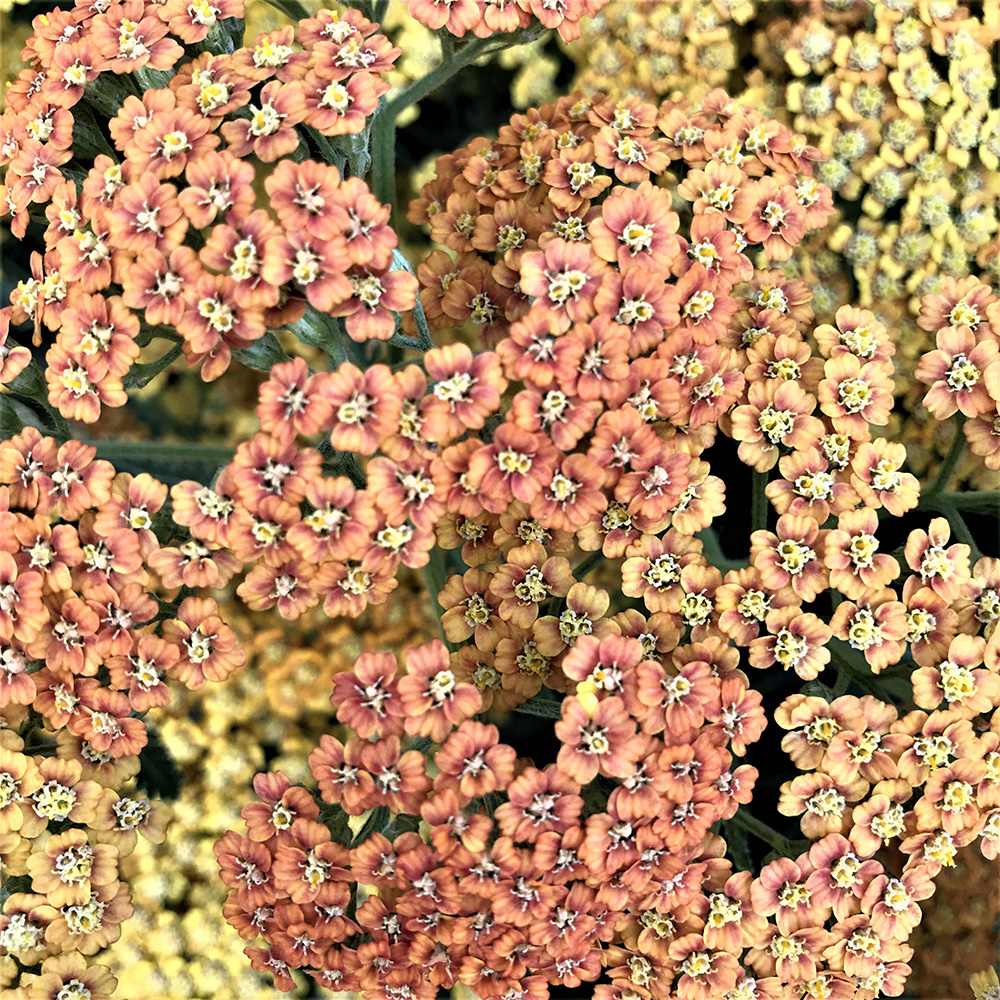 'Terracotta' yarrow (Achillea millefolium 'Terracotta', Zones 3-9)
Delightful, silver-frosted and fragrant foliage bears tall blossom heads all summer long on this native cultivar. The flowers come in an array of subtle, muted hues ranging from peachy cream all the way to burnt orange, with all of the colors appearing on the plant at the same time! The subtle beauty of this vigorous, easy-to-care-for perennial combines beautifully with deep-blue-, orange-, or yellow-flowered companions, making it a great addition to a mixed perennial border or container. The mat-forming, fragrant, ferny foliage makes a lovely contrast to the summer-to-fall-blooming flowers. Deadhead to promote a fresh flush of blooms. Grow this 2- to 3-foot-tall-and-wide beauty in full sun and in well-drained soil nicely amended with compost.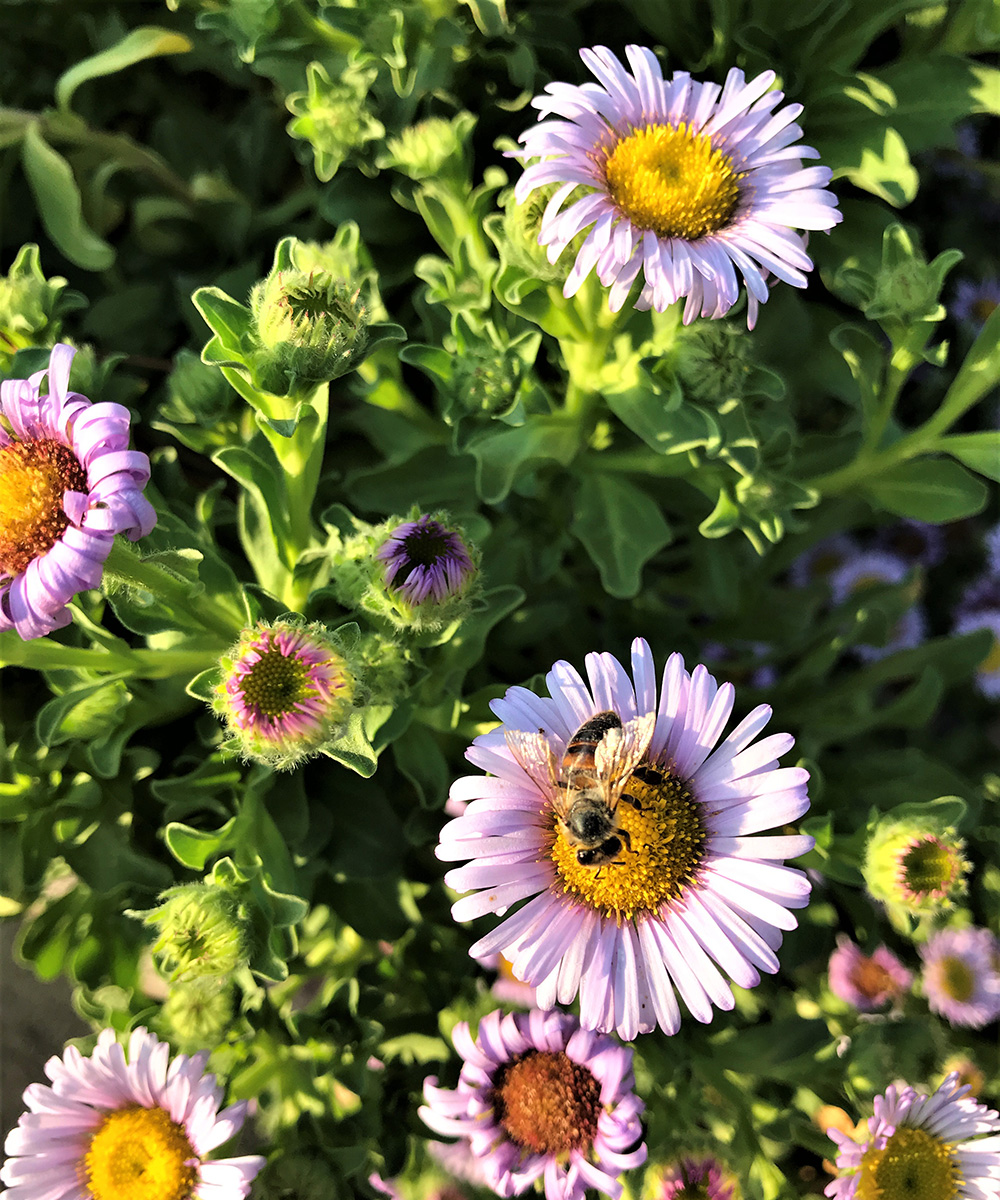 'Cape Sebastian' seaside daisy (Erigeron glaucus 'Cape Sebastian', Zones 6–10)
Pollinators adore this drought-tolerant, carefree native for its nonstop profusion of charming, golden-centered, lavender-colored daisies. The flowers adorn the tight, dense mound of blue-green, slightly succulent foliage in masses. With its bloom period spanning from March to November, it's a good choice for any sunny bed, border, or container, filling it with nonstop color all season long. Tolerant of coastal conditions and even clay soil, 'Cape Sebastian' seaside daisy performs better if the soil has been amended with compost, and although it's quite drought tolerant, it is happier with occasional summer irrigation. The plant only grows 3 to 4 inches tall but forms a tight mound that's 2 feet wide. Trim off the old flowers when the plant appears "stretched," and cut it back to 2 inches in winter to refresh and renew for the following spring.
—Fionuala Campion is the owner and manager of Cottage Gardens of Petaluma in Petaluma, California.
Photos: Fionuala Campion
For more on Northern California native plants, go here.