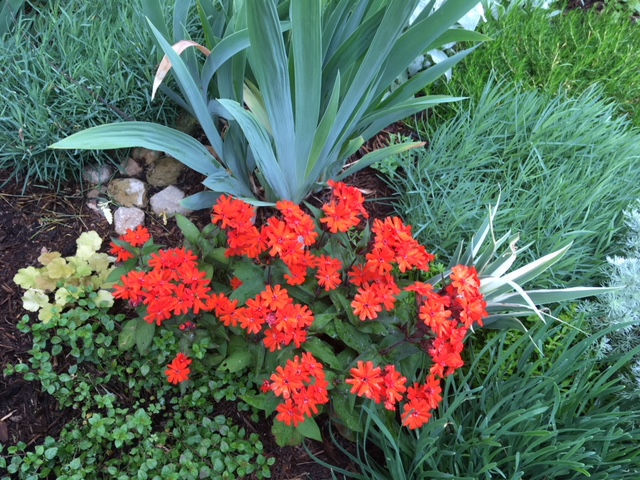 Today's garden belongs to Laurie Robertson.
Hello! I garden in Zone 5A, with a lot of shade and part shade. I also tend toward moist soils. This year is season 6 at my current home in Wisconsin, which was pretty much a blank slate when I began. I am mostly a self-taught gardener, although now I am a Master Gardener and also work as a nursery manager for a landscape architecture firm. You could say I caught the gardening bug big time, and my kids call me a major plant nerd!
Besides all the normal garden chores that occupy one in his or her garden, I also spend a lot of time in my garden LOOKING AT IT. Really staring at it. Looking at it from a general view, as well as up close, scrutinizing. I like to think about what's working, how the colors, patterns, and shapes are interacting, as well as the health of the plants and what I may want to add or subtract. I stand there dreaming about other plants I wish I had, things I should divide or move around, and other changes I wish to make in the future.
The following photos are views of different spots in my garden that I like to stare at.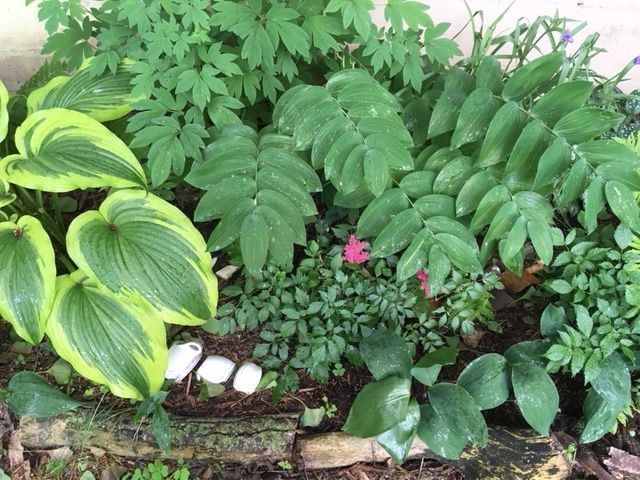 This little dry shade strip is on the north side of the house. The little pieces of pottery and glass and metal you see are all from the property, which was a town dump in the early 1900s (think: no plastic, lots of glass bottles and china cups). I decided to incorporate the shards and pieces I've dug up as a part of this section of my garden.
Plants in this picture: hosta (Hosta sp. Zones 4–9), bleeding heart (Dicentra spectabilis, Zones 3–9), Solomon's seal (Polygonatum sp. Zone 3–9), astilbe (Astilbe chinensis, Zones 4–8), and lily of the valley (Convallaria majalis, Zones 3–8).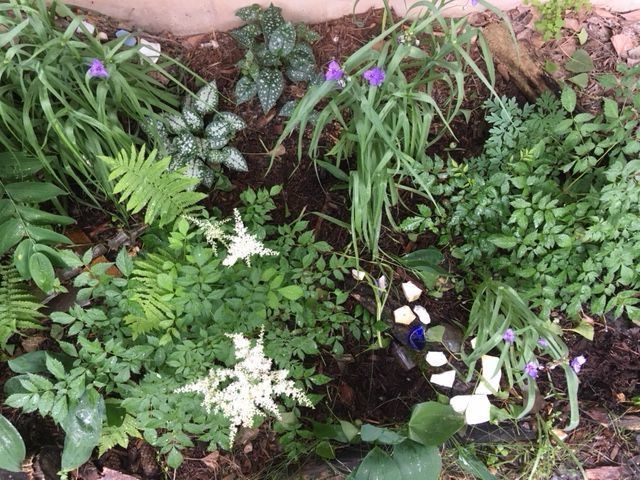 The strip continues with ostrich fern (Matteuccia struthiopteris, Zones 3–8) and lungwort (Pulmonaria sp., Zones 4–9). In spring there are red trillium as well.
Here is a view of the shadiest corner in my backyard. My husband and son built this koi pond two years ago. The backdrop is native Virginia creeper (Parthenocissus quinquefolia, Zones 3–9). Among many things in here are bee balm (Monarda sp., Zones 4–10), Japanese iris (Iris ensata, Zones 3–9), maiden hair fern (Adiantum pedatum, Zones 3–8), lady and Japanese ferns (Anthyrium filix-femina, A. niponicum), moneywort (Lysimachia nummularia, Zones 4–8), globeflower (Trollius sp., Zones 4–8), and a few annuals tossed in.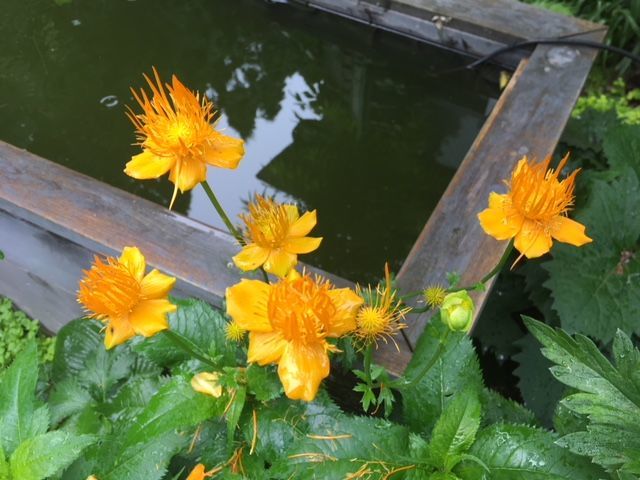 Sometimes your eye zooms in. I like the way this clump of globeflower shows blooms in each state: full bloom, passing bloom, and new bud.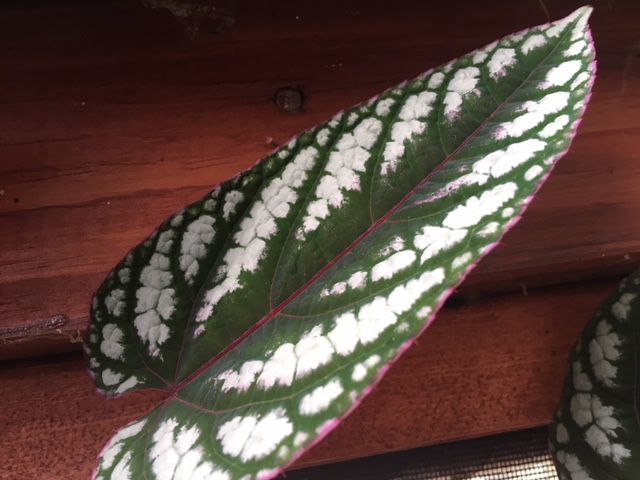 Here I just like the way my house plant Cissus discolor (rex begonia vine, Zone 11) looks against the stain on the screened-in porch when I bring it out each summer.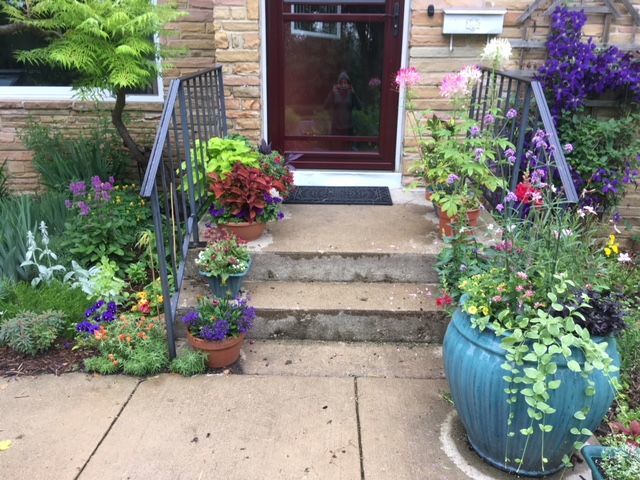 This is a view of my front steps. I always do pots with annuals and change it up each year from color to type. To the left is my main front garden bed. The purple blooms on the right belong to Clematis 'Jackmanii' (Zones 4–8).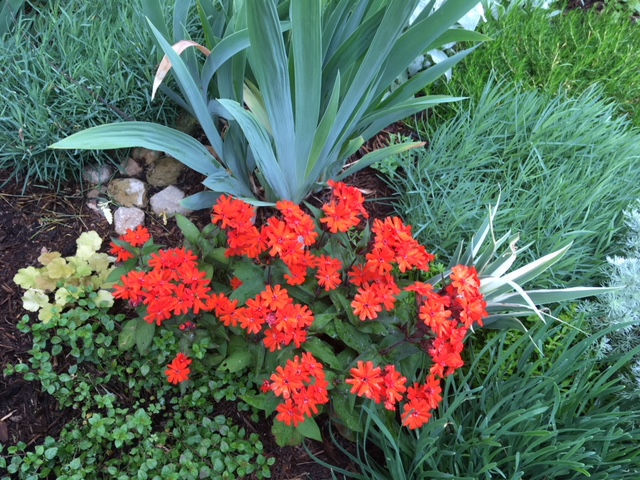 This photo zeros in on some stunning Maltese cross (Lychnis chalcedonica, Zones 3–8) in the front bed, along with adjacent colors and textures.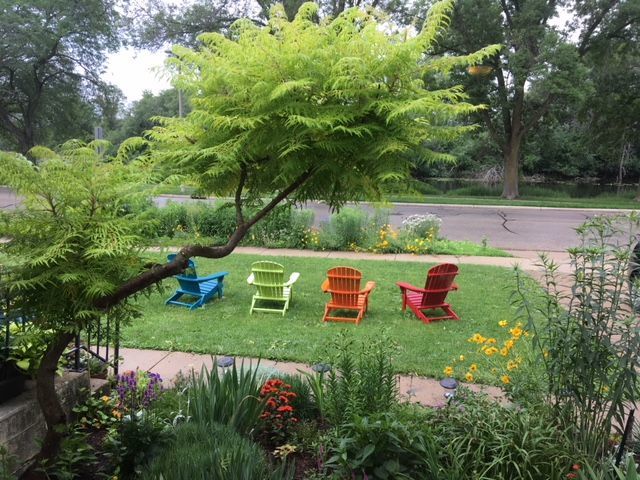 A lot of staring at my garden happens from my favorite spot inside the house, where, from my couch, I am able to look out the window to my front garden bed from within. The bed is framed by the Tiger eyes sumac (Rhus typhina 'Bailtiger', Zones 3–8) on the left and ironweed (Vernonia fasciculata, Zones 3–7) on the right. Note the Maltese cross from the earlier picture, front center.
We get many compliments on our bright chairs, and neighborhood kids especially love to sit in them (as do we as long as the mosquitoes aren't bad). It is always a joyful time in spring when we bring them out after (what we think and hope is) the last snowfall.
Thanks for stopping and "looking" at my garden!
Have a garden you'd like to share?
Have photos to share? We'd love to see your garden, a particular collection of plants you love, or a wonderful garden you had the chance to visit!
To submit, send 5-10 photos to [email protected] along with some information about the plants in the pictures and where you took the photos. We'd love to hear where you are located, how long you've been gardening, successes you are proud of, failures you learned from, hopes for the future, favorite plants, or funny stories from your garden.
If you want to send photos in separate emails to the GPOD email box that is just fine.
Have a mobile phone? Tag your photos on Facebook, Instagram or Twitter with #FineGardening!
You don't have to be a professional garden photographer – check out our garden photography tips!
Do you receive the GPOD by email yet? Sign up here.