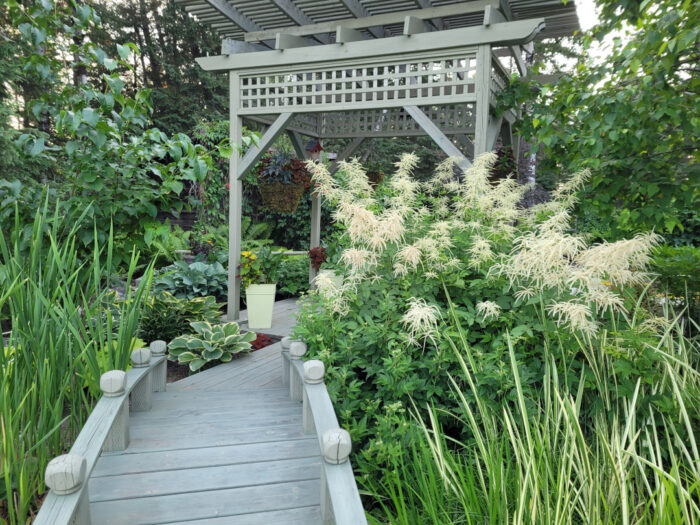 Keith Irvine, in chilly Zone 3 in Canada, shared his gorgeous vegetable garden with us last week (Keith's Vegetable Garden), and today we're visiting a different section of the garden.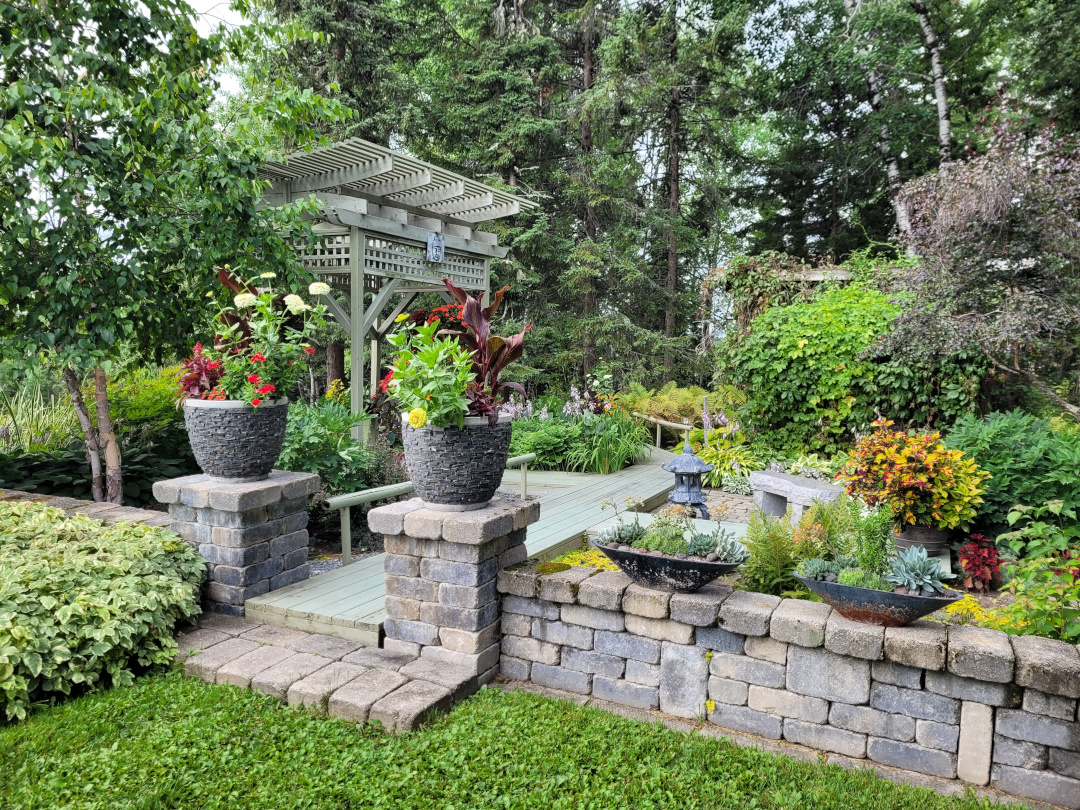 The Japanese Garden was built in the area where we had formerly raised chickens. The original chicken coop is still standing and is now covered by climbing Virginia creeper (Parthenocissus quinquefolia, Zones 3–9) and hops vines (Humulus lupulus, Zones 3–8 ), forming the back boundary of the garden. A low border of Barkman Concrete Roman Stack Stone defines the entry to the garden. An open pagoda forms the central focal point. A network of boardwalks provides a path through the pagoda and over a bridge to the back exit. Other Japanese elements include a concrete lantern, Buddha, bamboo rails, and a beautiful granite bench given to me as a retirement gift from my employer and coworkers.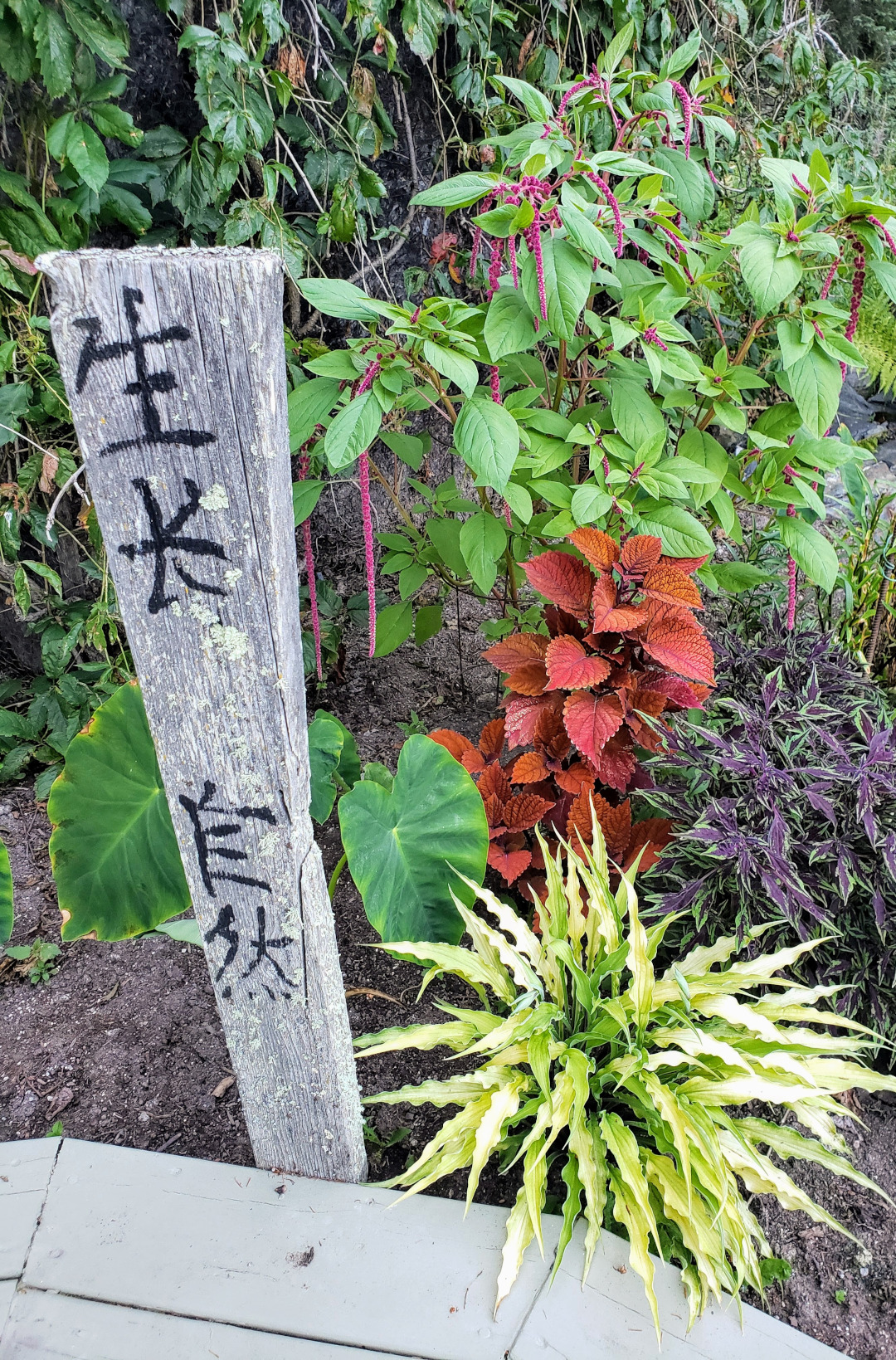 Small, but contributing to the theme in a major way, is this sign that one of my daughters made for me to christen the garden. She tells me it says "Growth" and "Nature." I can't remember which is which.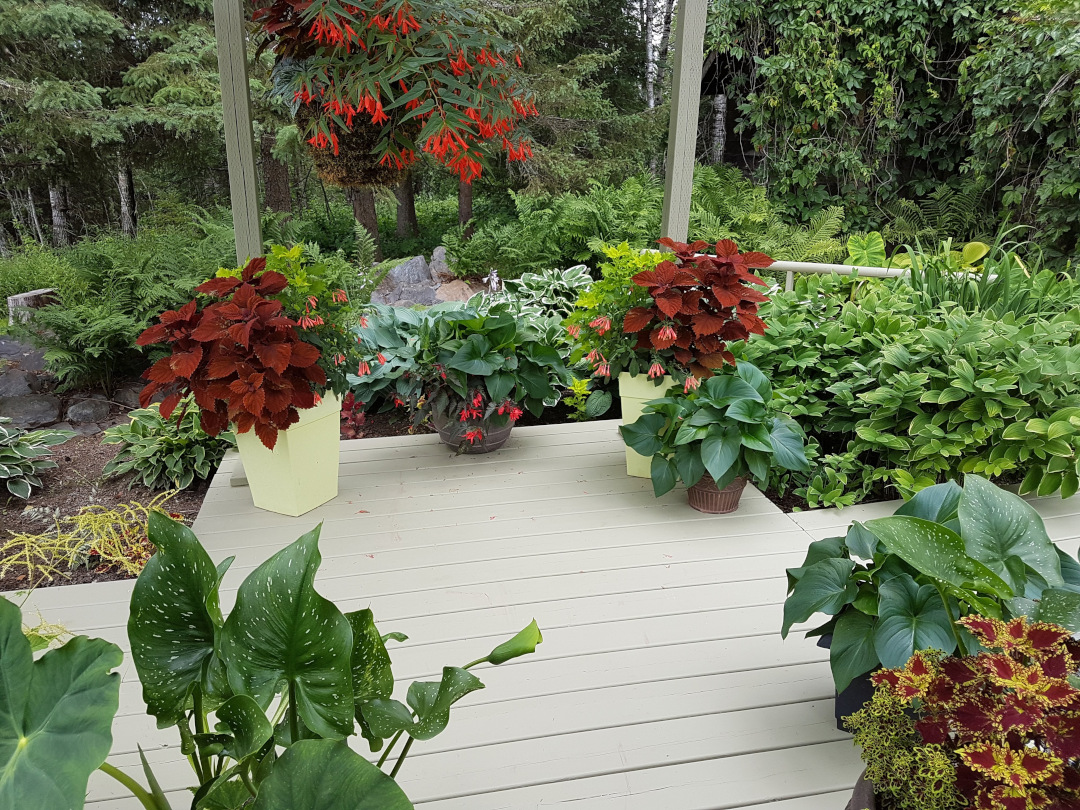 This 2018 photo is one of the better plantings of the pots adorning the deck under the pagoda.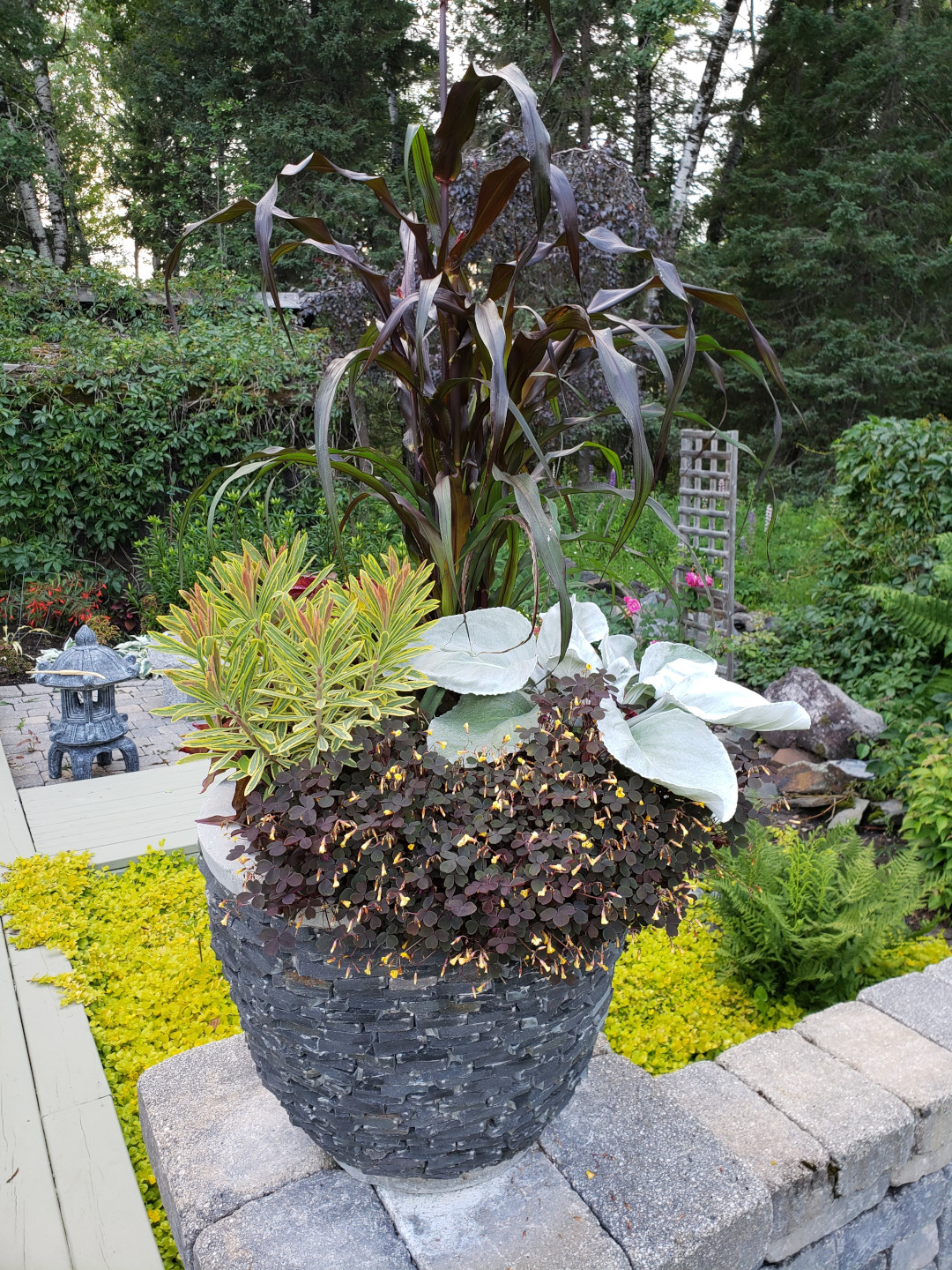 I believe this front entry pot from 2019 is probably the most appropriate that I have come to convey the theme. The planting consists of purple millet (Pennisetum glaucum, annual) , 'Zinfandel' oxalis (Oxalis vulcanicola 'Zinfandel', Zones 9–11 or as an annual), 'Angel Wings' senecio (Senecio candicans 'Angel Wings', Zones 8–10 or as an annual) and 'Ascot Rainbow' euphorbia (Euphorbia × martinii 'Ascot Rainbow', Zones 5–9), some of which are not regularly available in our area.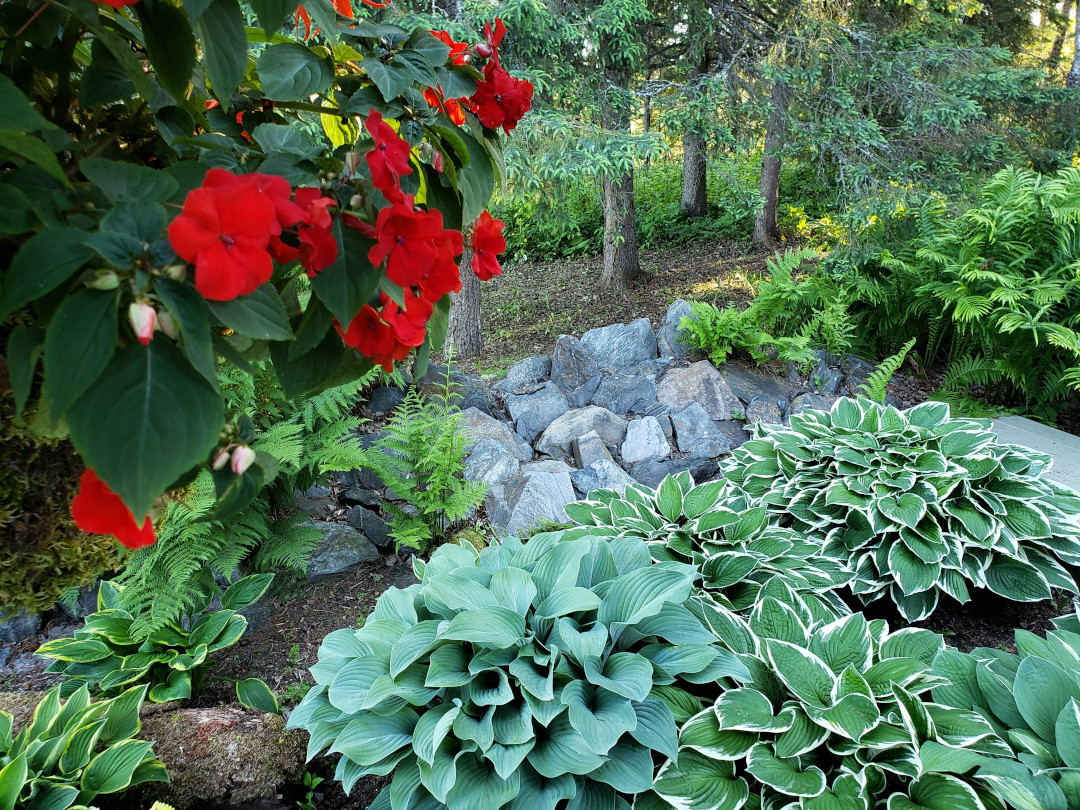 I love how the scarlet-red tumbler impatiens (Impatiens walleriana, Zones 10–12 or as an annual) in this 2020 moss-basket planting pops against the mixed foliage and rock setting. We hauled literally tons of rock to border two open sides of this garden.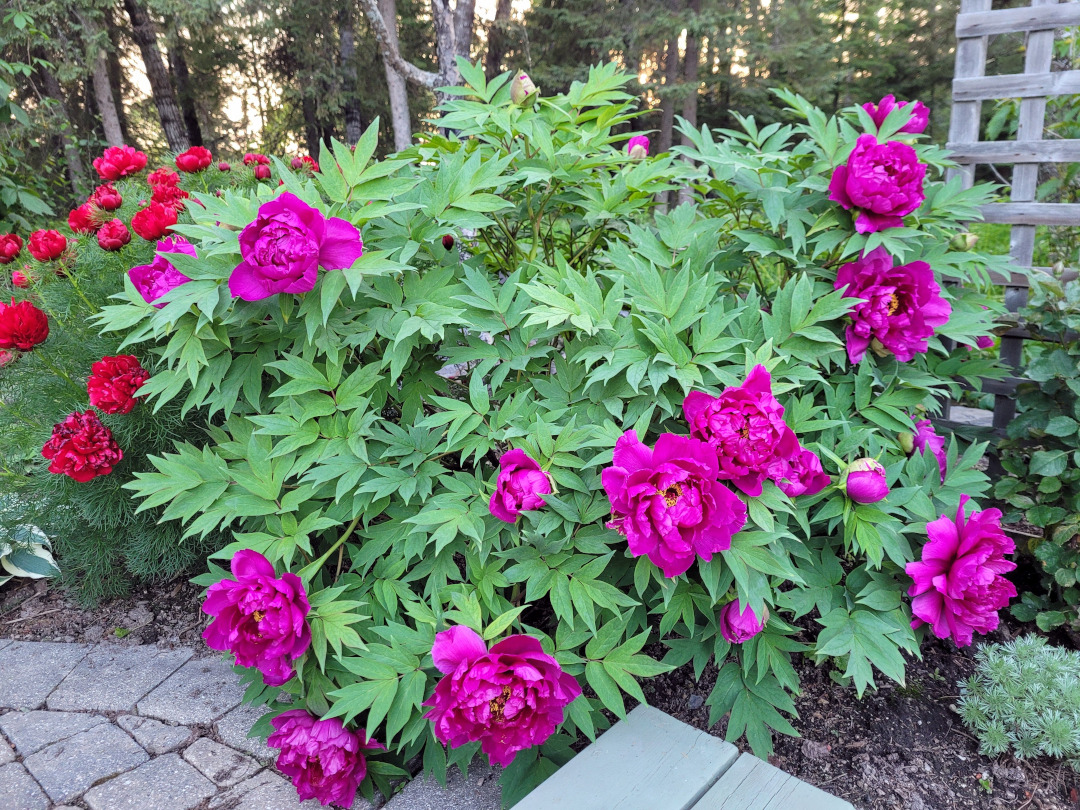 The early spring blooms of Japanese tree peonies (Paeonia hybrid, Zones 3–8) and fernleaf peony (Paeonia tenuifolia, Zones 3–8) are short-lived but dramatic.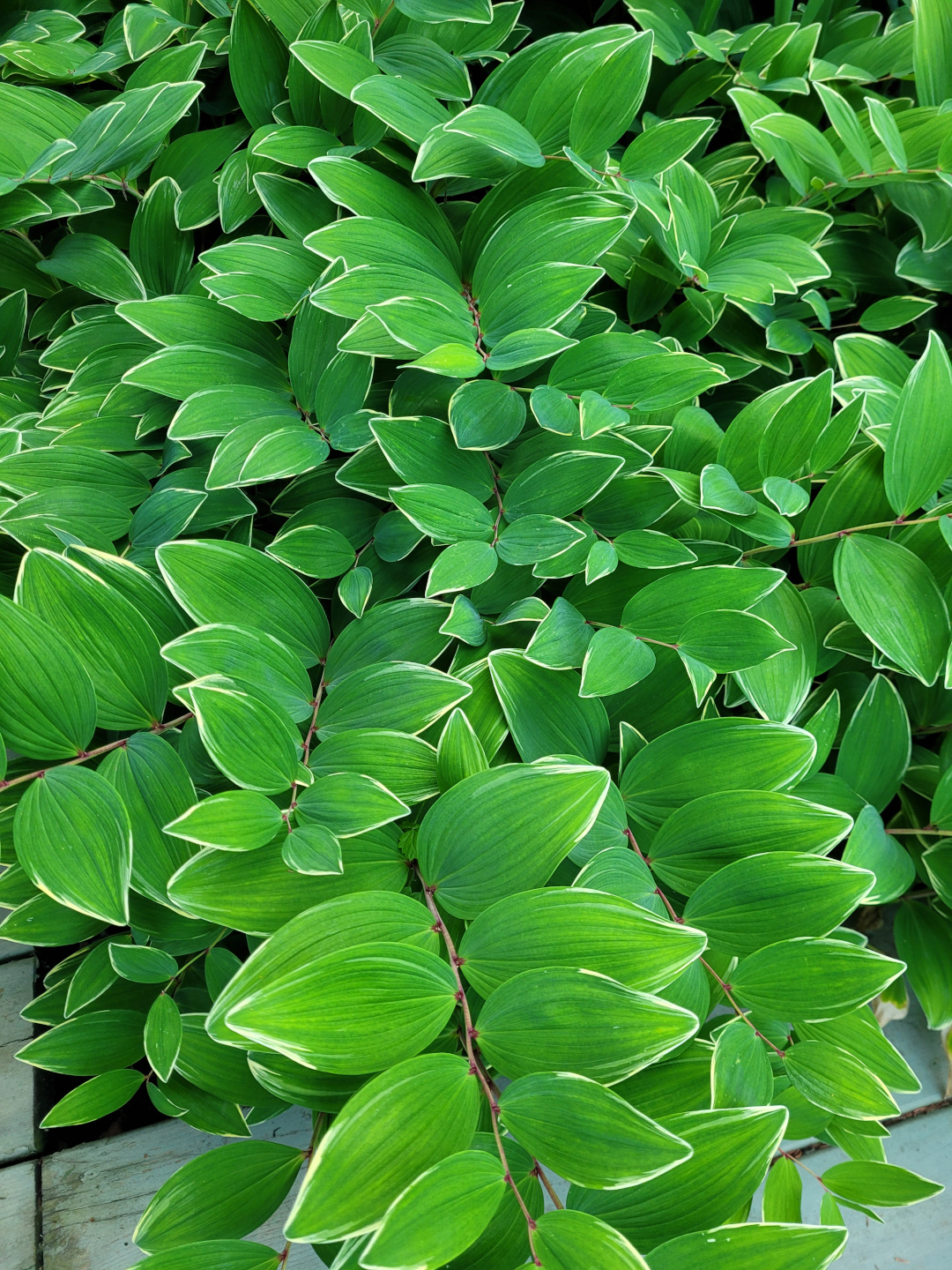 To me the "almost hand-painted" look of this Solomon's seal (Polygonatum odoratum 'Variegata', Zones 3–8) is perfect for a Japanese garden.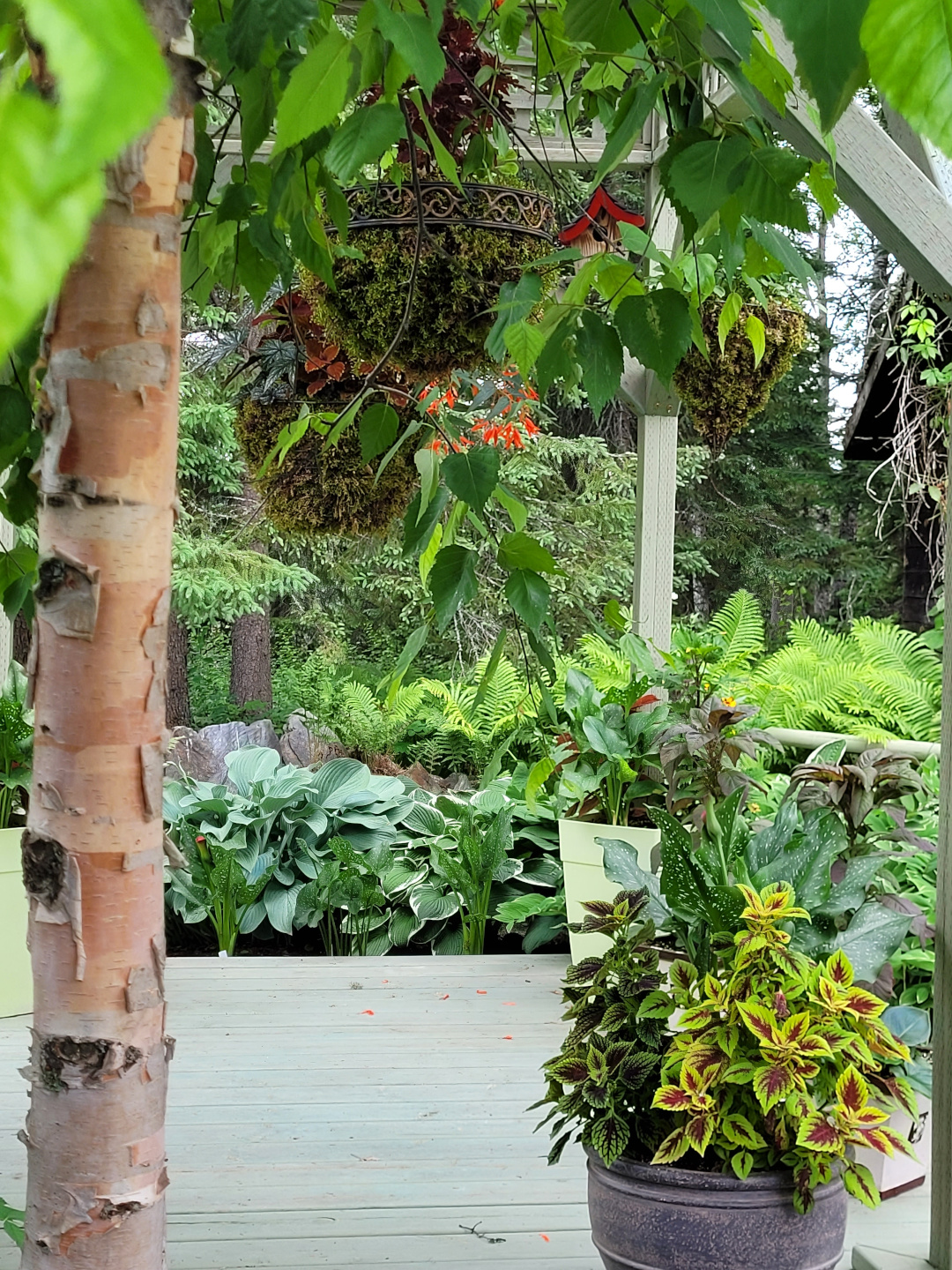 The white birch tree (Betula sp., Zones 2–7) that I planted as a seedling near the pagoda is increasing the shade for the hostas, ferns, and Solomon's seal and decreasing watering needs for all the pots.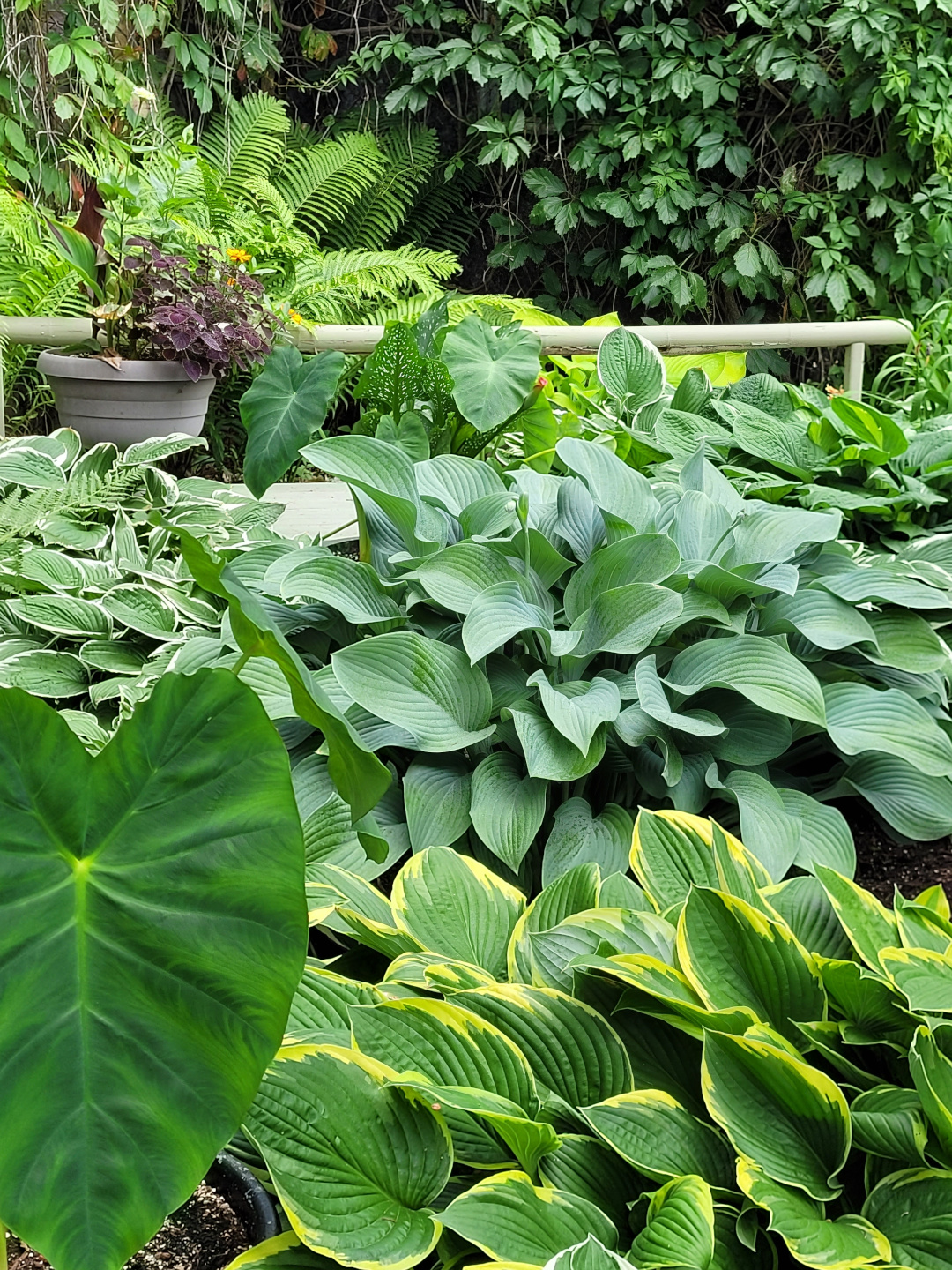 This photo perfectly displays the look that I am trying to achieve here. Foliage is almost entirely wrapping the abandoned chicken coop, with the 4-inch bamboo rail on the boardwalk completing the Japanese look. Unfortunately, a Japanese maple (Acer palmatum, Zones 5–9) to really top it off is not possible in (barely Zone 3) Oxdrift, Ontario.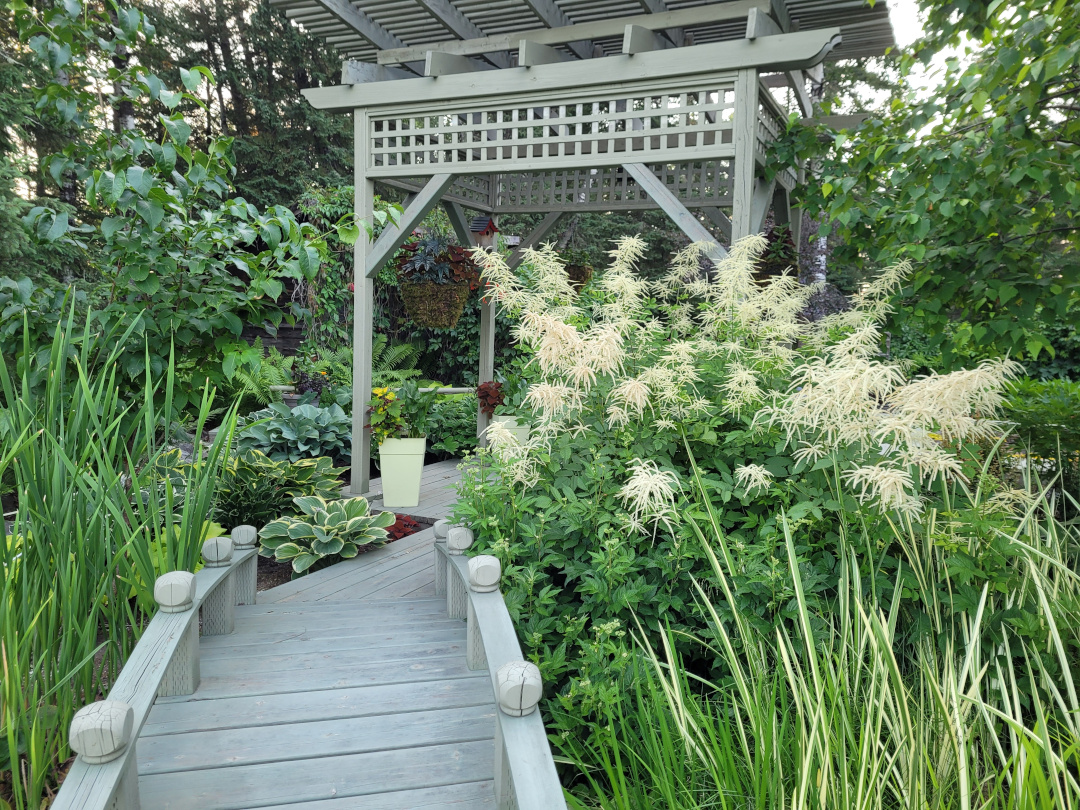 The back exit area has an underground pond liner making a bog area, which the bridge crosses. The bog creates the perfect environment for the native cattails (Typha latifolia, Zones 3–10) on the left and the goatsbeard (Aruncus dioicus, Zones 3–8) and variegated sweetflag (Acorus calamus 'Variegatus', Zones 3–10) on the right.
Have a garden you'd like to share?
Have photos to share? We'd love to see your garden, a particular collection of plants you love, or a wonderful garden you had the chance to visit!
To submit, send 5-10 photos to [email protected] along with some information about the plants in the pictures and where you took the photos. We'd love to hear where you are located, how long you've been gardening, successes you are proud of, failures you learned from, hopes for the future, favorite plants, or funny stories from your garden.
Have a mobile phone? Tag your photos on Facebook, Instagram or Twitter with #FineGardening!
Do you receive the GPOD by email yet? Sign up here.