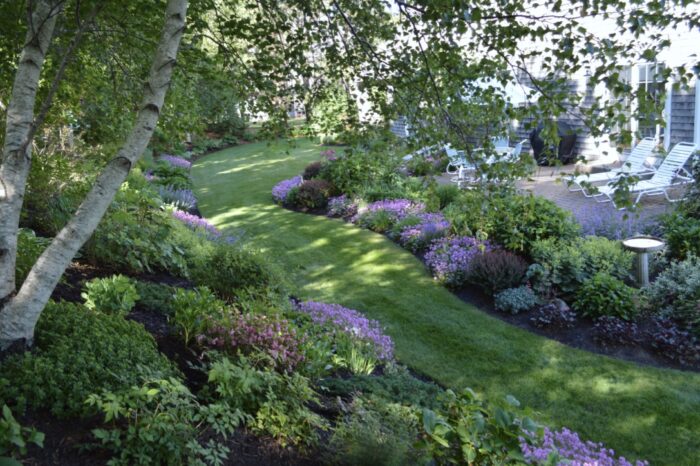 Today's photos are from Ellie Gilbert.
This is my fifth submission to Fine Gardening's Garden Photo of the Day. (See previous posts Seasonal Views of a Special Garden in MA and Making a Garden That Takes the Drought.) I'm located in Plymouth, Massachusetts, and have been gardening on our property for about 18 years, although gardening has been part of my life for over 75 years! The gardens I've highlighted here consist mainly of the perennials and shrubs that surround our patio and the ones I've planted over the years on a steep and featureless hill behind our house.
As a way to keep busy and entertained during the pandemic and these cold winter months, I've been going through hundreds of old photos of my garden. The ones I have chosen have not appeared in my earlier submissions but still show some of my favorite garden views and the plants I especially love.
June and early July are among my favorite times to be in my Zone 6b garden. Shrubs and perennials are bursting with blossoms, exposing an early palette of pinks and purples. As the summer progresses, these give way to more blues, yellows, and deep wine colors. Here are some examples of what my garden has to offer.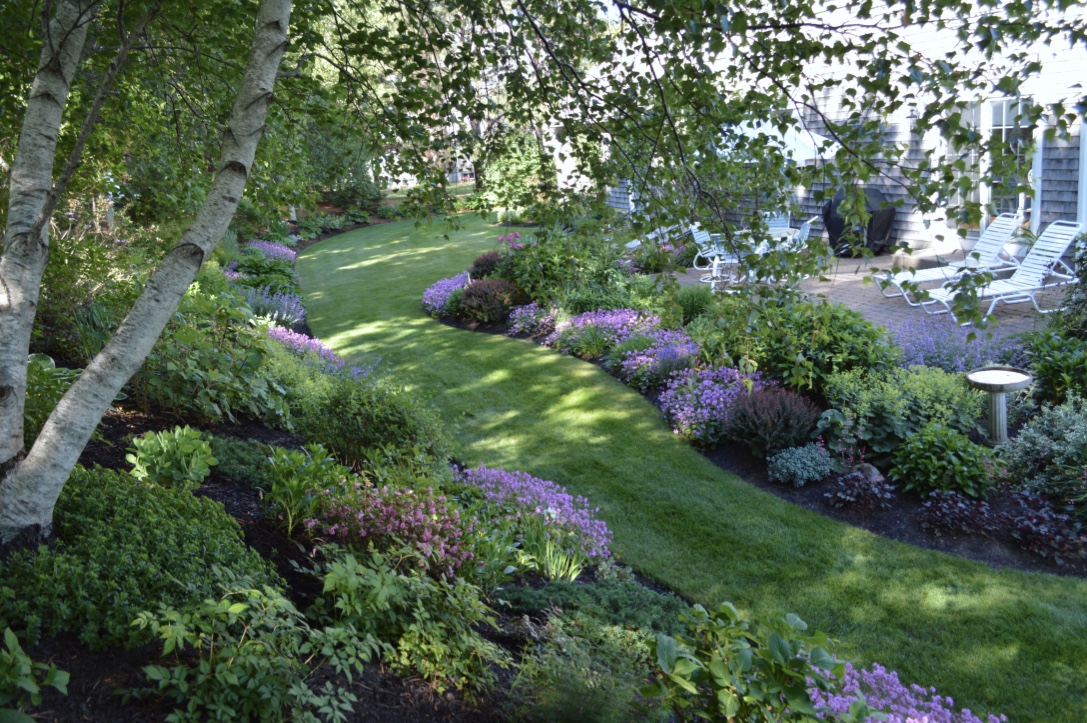 The patio garden as seen from the top of the hill.
The hill garden in early spring includes a 'Rosebud' azalea (Rhododendron 'Rosebud', Zone 5–9).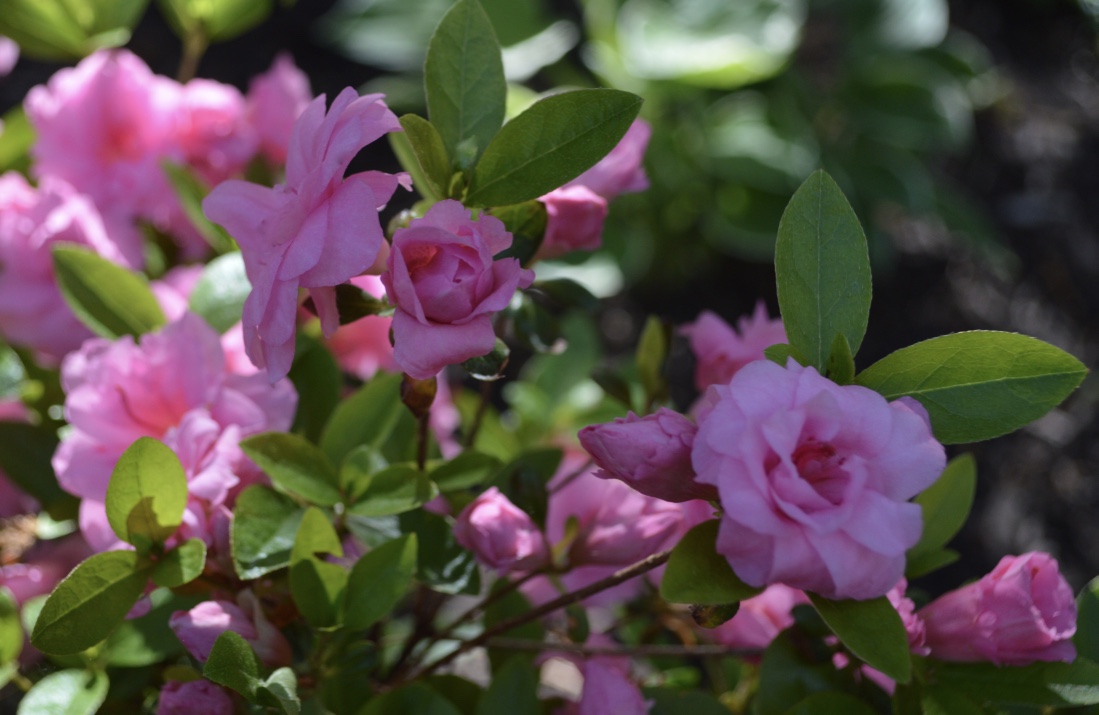 This close-up shows how the blossoms on 'Rosebud' got their name.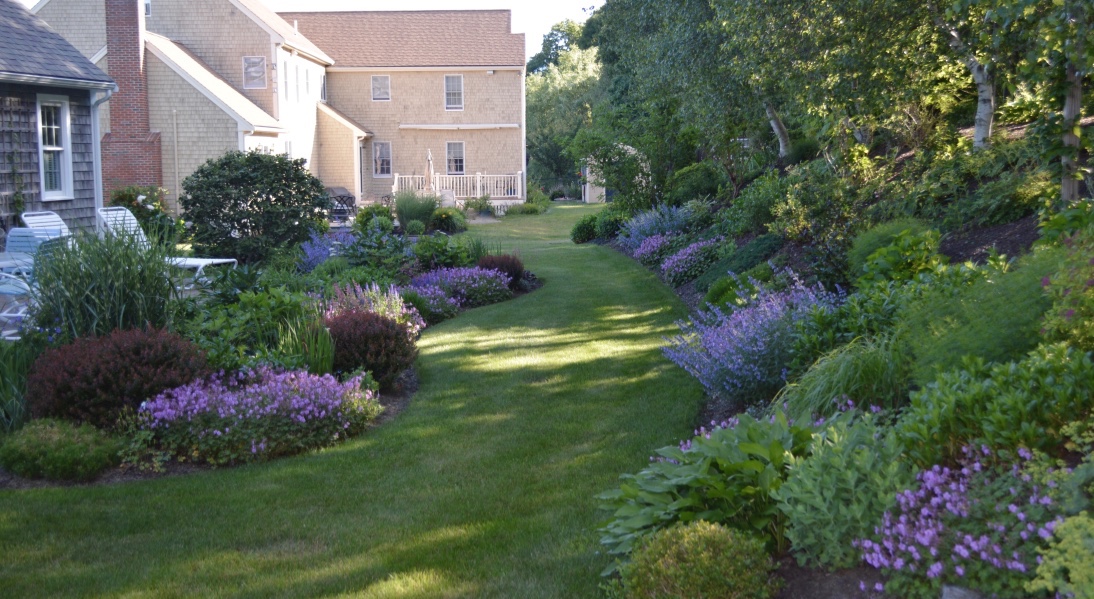 The patio and hill gardens in June highlight 'Karmina' geranium (Geranium × cantabrigiense 'Karmina', Zones 4–8) and 'Walker's Low' catmint (Nepeta × faassenii 'Walker's Low', Zones 3–8).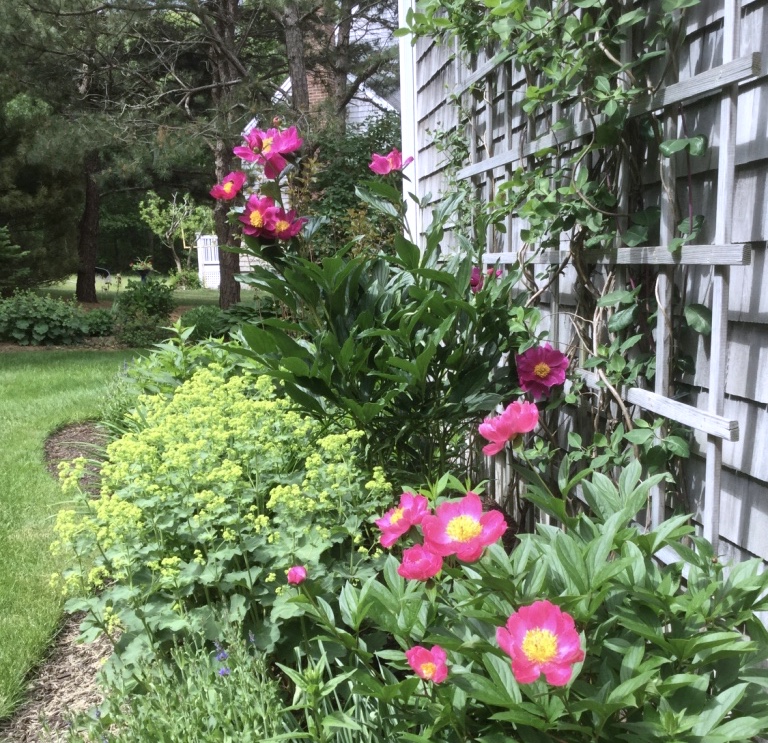 The garden at the rear of the garage includes 'Dancing Butterflies' peonies (Paeonia 'Dancing Butterflies', Zones 3–8), lady's mantle (Alchemilla mollis, Zones 3–8), and 'Serontina' honeysuckle (Lonicera periclymenum 'Serotina', Zones 5–9) on the trellis.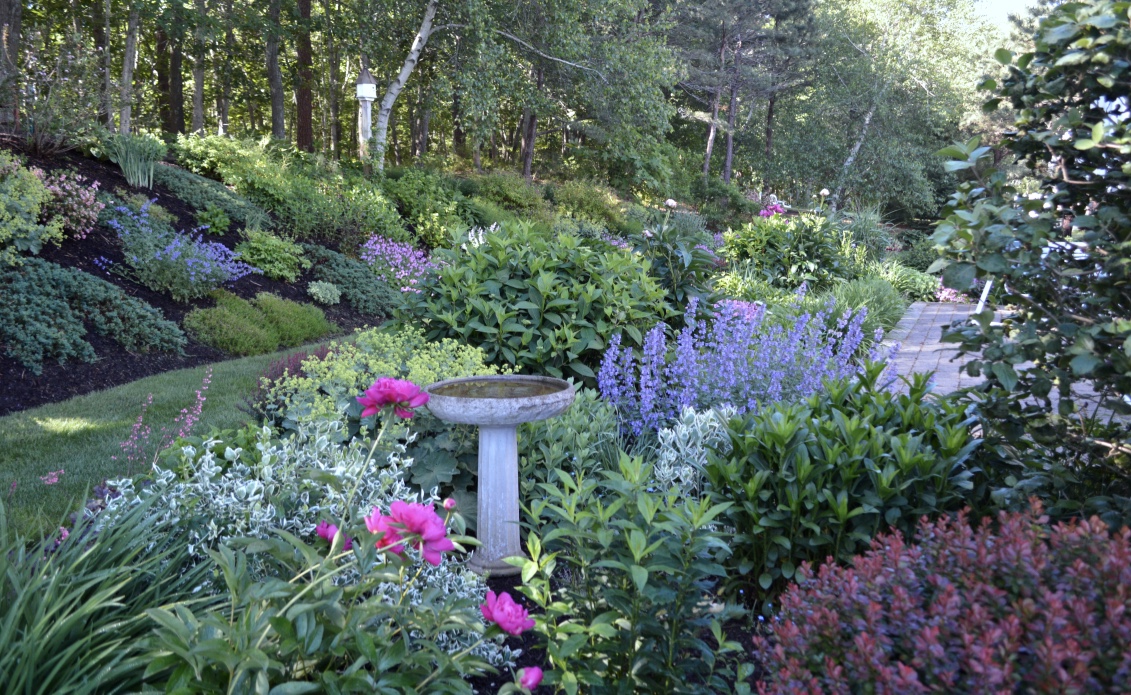 This corner of the patio garden includes 'Humei' peony (Paeonia 'Humei', Zones 3–8), catmint, dwarf barberry (Berberis thunbergii, Zones 4–8), lady's mantle, and Heuchera.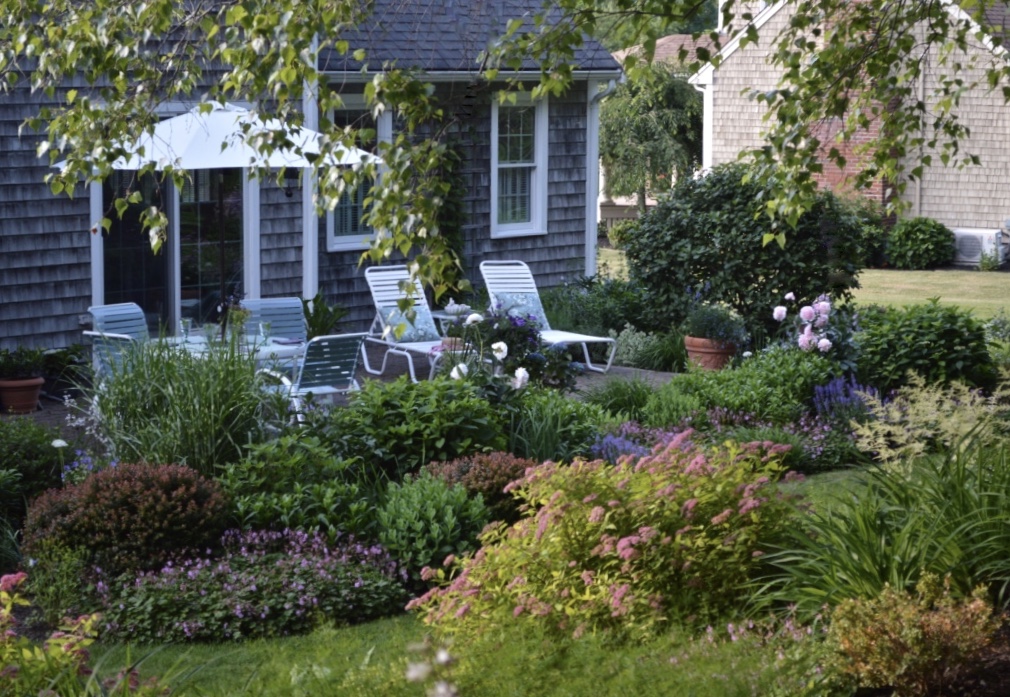 In this June photo, the hill garden in the foreground shows 'Goldflame' spirea (Spiraea japonica 'Goldflame', Zones 3–8), with 'Sarah Bernhardt' peony and 'Blue Hill' salvia (Salvia sylvestris 'Blue Hill', Zones 4–9) highlighting the patio garden.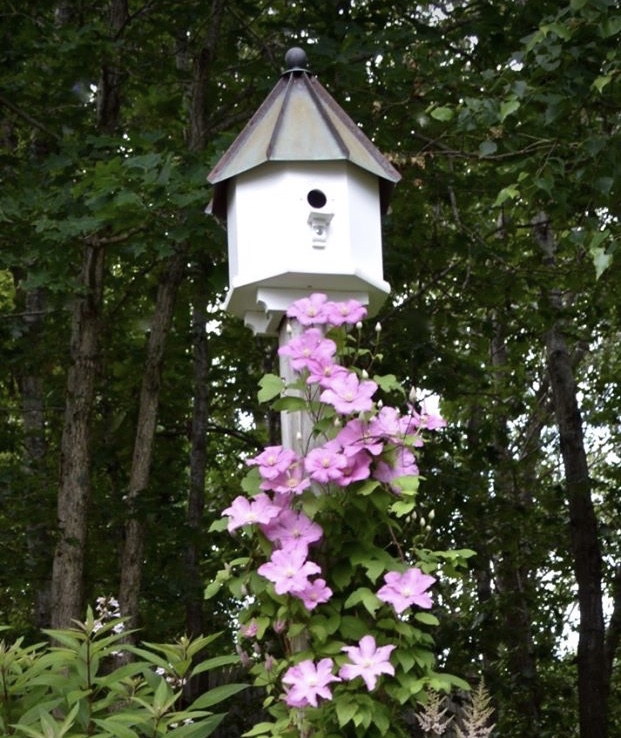 'Comtesse de Bouchaud' clematis (Clematis 'Comtesse de Bouchaud', Zones 4–9) climbs up the birdhouse.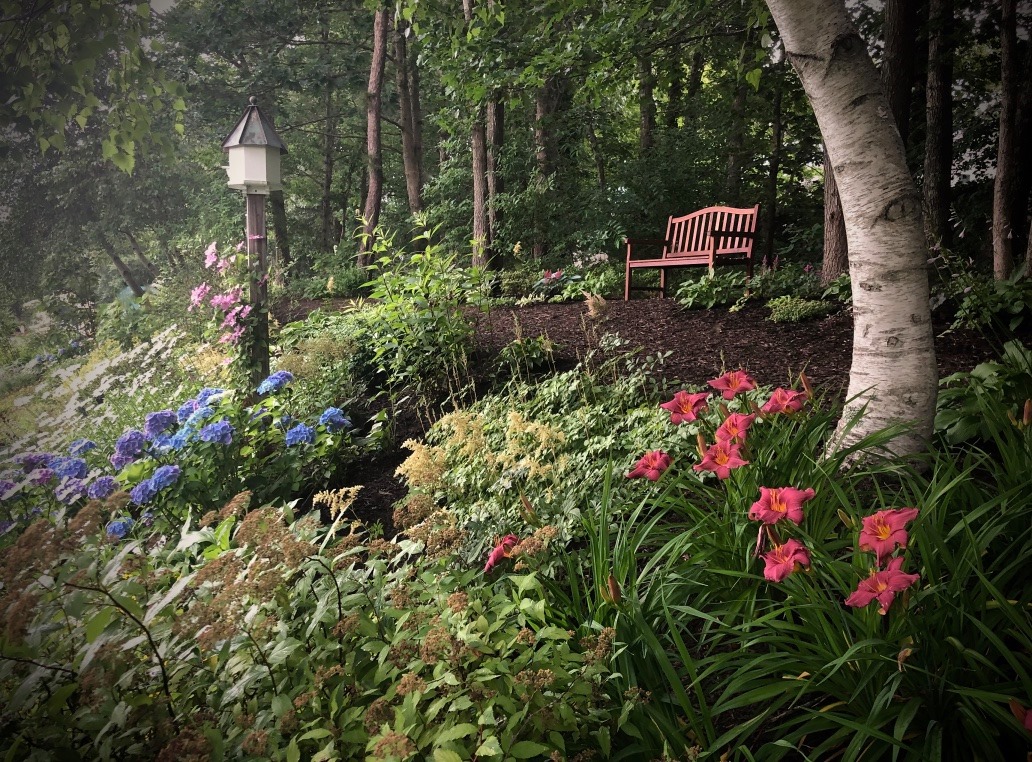 On a misty day, here is the hill garden showing 'Summer Wine' daylily (Hemerocallis 'Summer Wine', Zones 4–11), 'Nikko Blue' hydrangea (Hydrangea macrophylla 'Nikko Blue', Zones 5–9), and 'Comtesse de Bouchaud' clematis.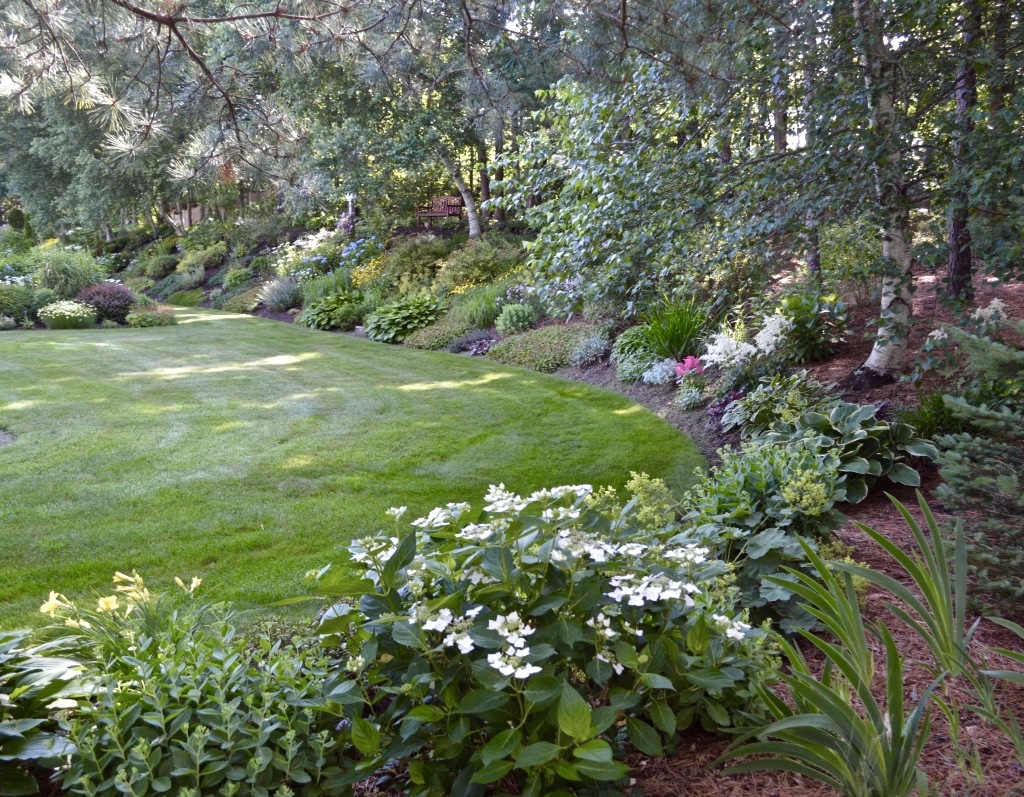 Looking from the southwest, the hill garden shows 'Lanarth White' lacecap hydrangea (Hydrangea macrophylla 'Lanarth White', Zones 5–9) and Astilbe 'Deutschland' (Zones 4–9).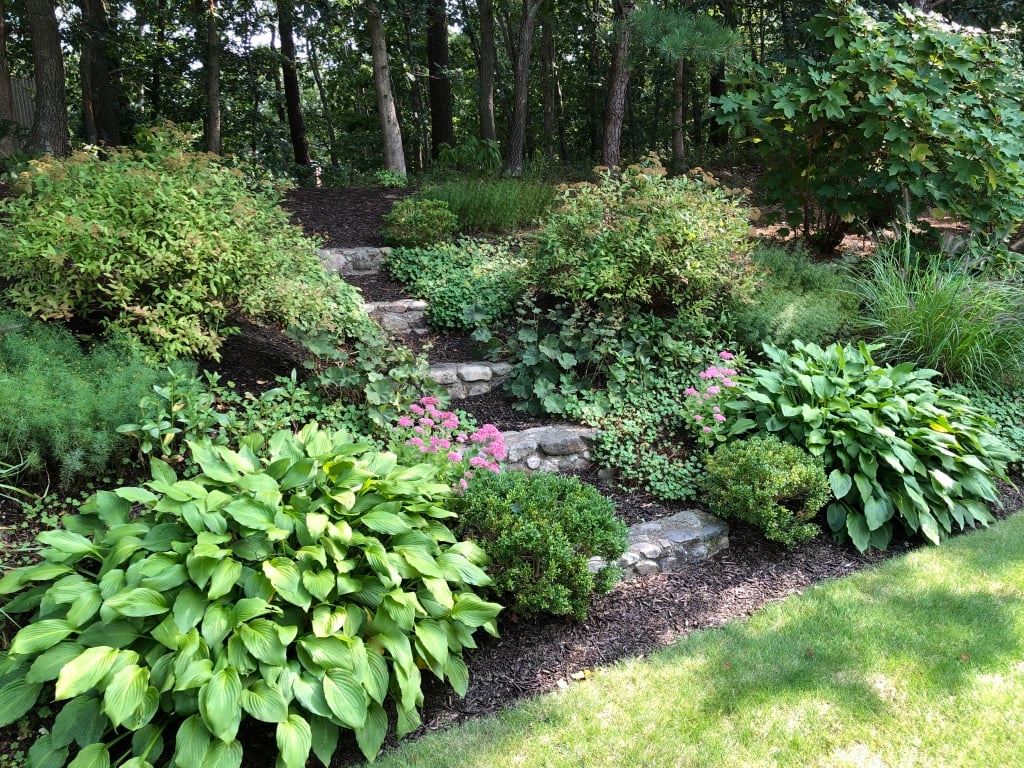 Stone steps leading up the hill garden are edged with Spirea 'Goldflame', hostas, 'Autumn Joy' sedum (Hylotelephium 'Herbstfreude', Zones 3–9), and boxwood (Buxus sp., Zones 5–9).
Have a garden you'd like to share?
Have photos to share? We'd love to see your garden, a particular collection of plants you love, or a wonderful garden you had the chance to visit!
To submit, send 5-10 photos to [email protected] along with some information about the plants in the pictures and where you took the photos. We'd love to hear where you are located, how long you've been gardening, successes you are proud of, failures you learned from, hopes for the future, favorite plants, or funny stories from your garden.
If you want to send photos in separate emails to the GPOD email box that is just fine.
Have a mobile phone? Tag your photos on Facebook, Instagram or Twitter with #FineGardening!
You don't have to be a professional garden photographer – check out our garden photography tips!
Do you receive the GPOD by email yet? Sign up here.