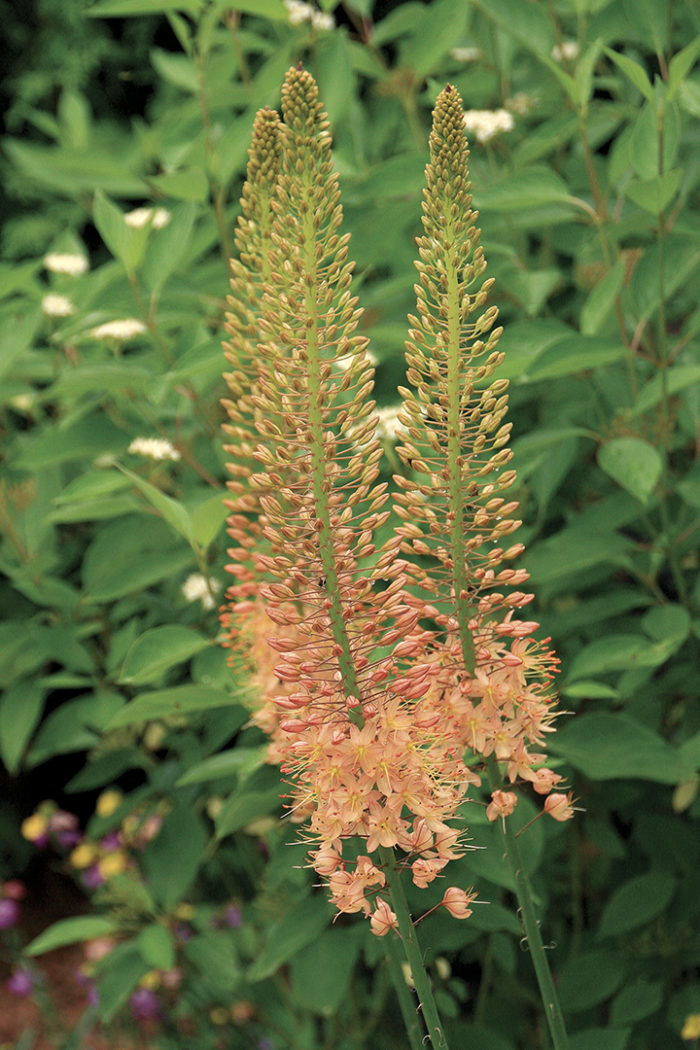 Like most gardeners, I swoon at the sight of a border filled with towering delphiniums, head-high dahlias, and deliciously fragrant peonies. These are the coveted candies of the quintessential cottage garden. Yet such beauty comes at a price. All of these plants are prima donnas in their own way, requiring various contraptions, cages, frames, stakes, or string to stay upright. I know I'm not alone in being slow to take preventive action only to find myself trying to rescue collapsed stems after a freak windstorm wreaked havoc overnight.
To make matters even more complicated, plant breeders love to propagate new plants that will entice us with their bigger and better blooms, but sometimes that goal is achieved, inadvertently, at the expense of strong stem growth. Because few of us have the time or patience for fussing with floppy plants, I've made it my mission to find options that offer big blooms and sturdy stems. Thankfully, I've found more than a few that put on a show without a single stake in sight.
Sturdy spires

g

ive the garden structure
Tall perennials at the back of the border need to provide impact with minimal fuss. The following plants have abundant and dramatic flowering spires that can be seen from a distance yet reliably stand up straight—and, as a bonus, provide scaffolding for smaller shrubs and perennials. In short, they are a busy gardener's dream.
It looks like an astilbe on steroids
Goatsbeard (Aruncus dioicus)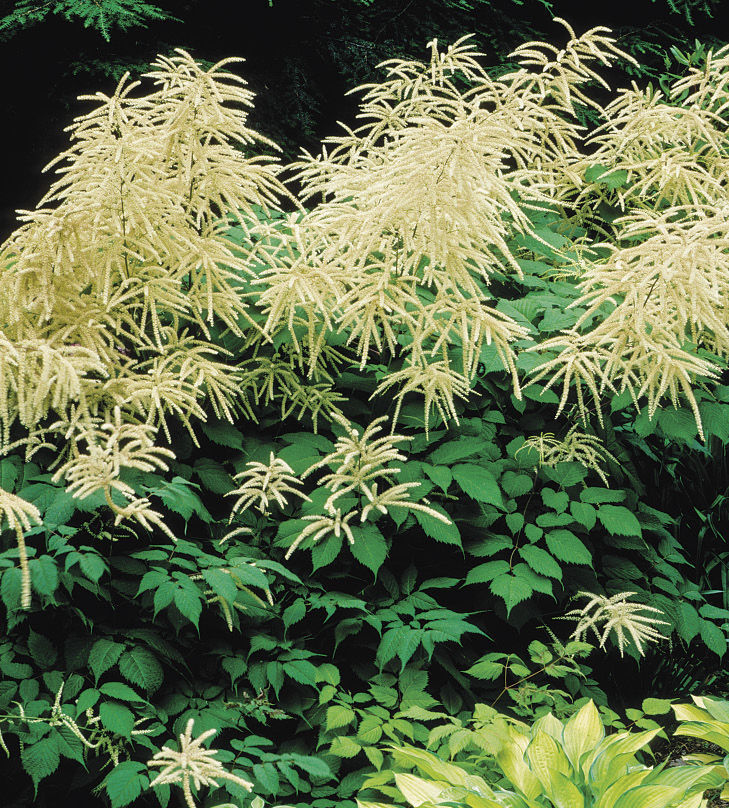 This is the perfect perennial to add some oomph to your shady spots. Goatsbeard has noteworthy stature, resembling a gigantic astilbe in many ways. In spring, the finely cut basal foliage throws up a mass of feathery plumes (12 to 15 inches long) in a soft creamy white, while the bright green leaves continue to look attractive all summer. A native in many parts of the country, this perennial is tolerant of clay soils and wet conditions as well as being notably deer resistant. This vigorous perennial makes a spectacular statement at the edge of a woodland, as an understory to tall trees, or as a dense seasonal screen in partial shade.
USDA Hardiness Zones: 3 to 7
Size: 4 to 6 feet tall and wide
Conditions: Partial shade; moist soil
This lily shoots o

f

f rockets in summer
'Cleopatra' foxtail lily (

Eremurus

isabellinus

'Cleopatra')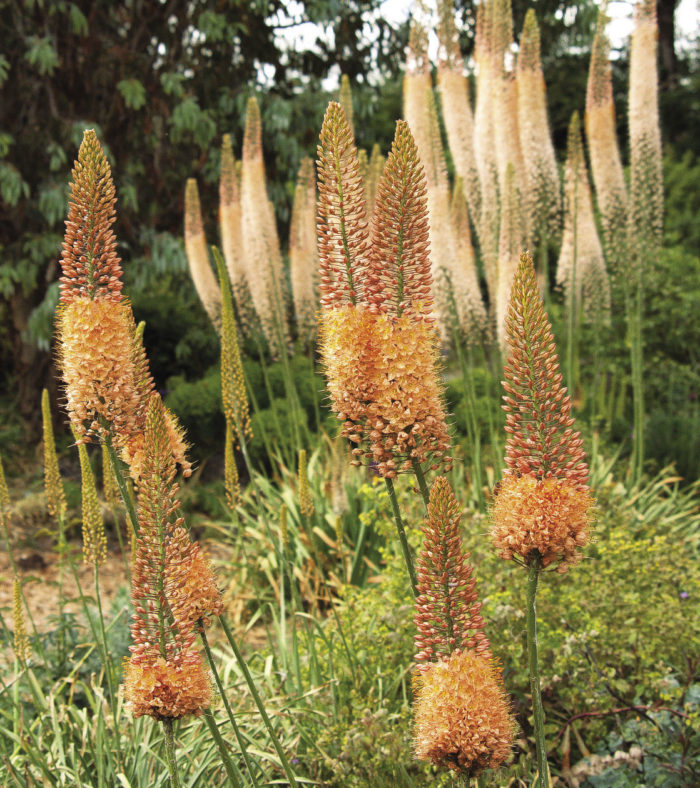 A mass planting of these stately plants is an unforgettable sight. 'Cleopatra' foxtail lily produces 2-foot-long flower spikes that soar like fiery rockets in midsummer, beginning their bloom at the base of each spire and spreading slowly to the tip. Each starry flower is a warm shade of burnt orange and sports a dark red midrib for extra drama. To thrive, this tuber needs a warm, sheltered site in well-drained soil; avoid placing soaker hoses or sprinkler heads nearby because it can mean instant death. Given its preferred dry condition, this robust flower needs no primping and will reward you with weeks of color.
Zones: 5 to 8
Size: 4 to 5 feet tall and 2 feet wide
Conditions: Full sun; well-drained soil
A trumpet lily with beefier stems than bamboo
'African Queen' trumpet lily (

Lilium

'African Queen')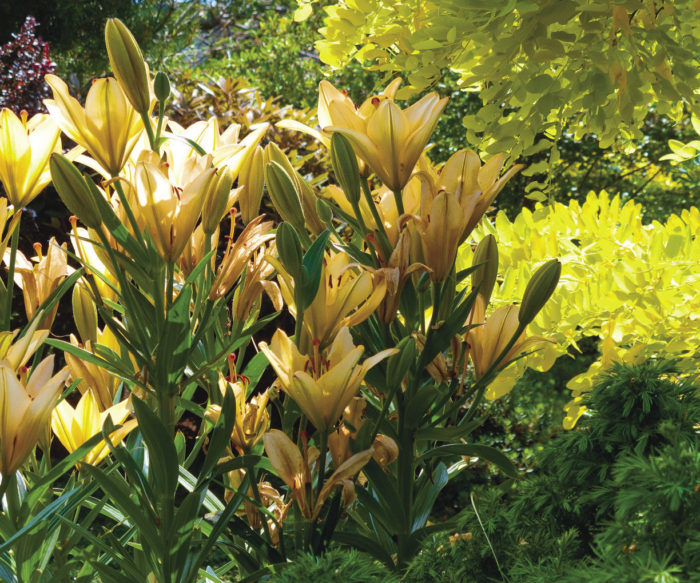 I first saw this stunning lily with the sunlight streaming through its translucent petals. The melon tones glowed as each upward-facing bloom—8 inches long and wide—seemed to reach for the sky. Planted as a large group, trumpet lilies make a dramatic statement with a golden locust tree (Robinia pseudoacacia 'Frisia', Zones 4–9) towering overhead and a mounding Japanese cedar (Cryptomeria japonica 'Nana', Zones 6–9) at their feet. What really surprised me was that this lily, despite the heaviness of its blooms, has never needed staking. Its sturdy stems are thick as bamboo and support the flowers easily.
Zones: 4 to 8
Size: 5 to 6 feet tall and 2 feet wide
Conditions: Full sun; well-drained soil
Get gorgeous foliage and even prettier blooms with this beauty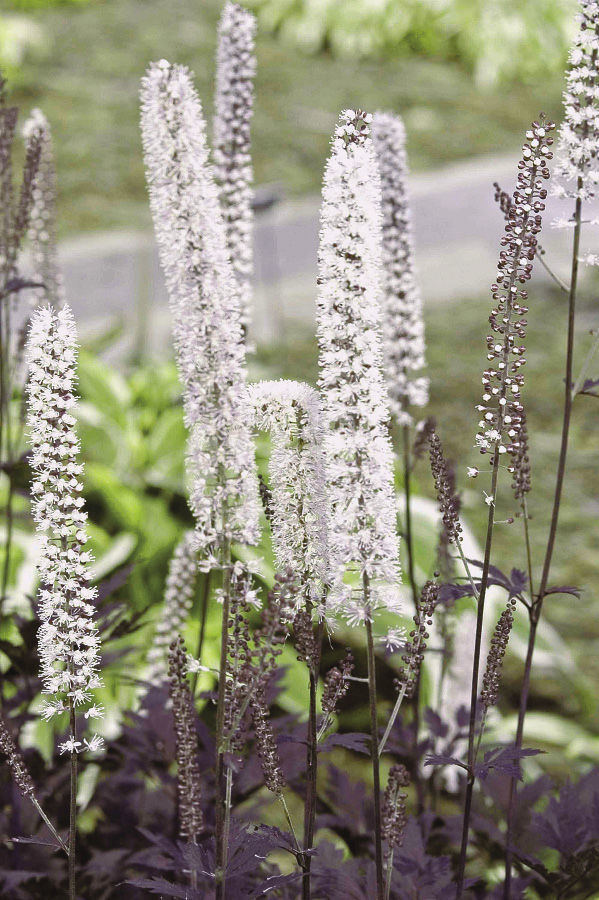 'Hillside Black Beauty' bugbane (Actaea simplex 'Hillside Black Beauty')
Even if this perennial never bloomed, I would love it for its lacy dark foliage. But the 18-inch-long spires of vanilla-scented flowers are too amazing to ignore, exploding skyward from the handsome foliage in late summer. And despite the plant's overall height while in bloom (sometimes topping 7 feet), it never needs staking. 'Hillside Black Beauty' bugbane grows quickly to form dense clumps, which can be divided in early spring as necessary. I have mine planted adjacent to a Golden Spirit smoke bush (Cotinus coggygria 'Ancot', Zones 5–9) and the clear blue flowers of 'Mari­posa Violet' pincushion flower (Scabiosa columbaria 'Mariposa Violet', Zones 3–8), where the almost iridescent blue-black foliage of the bugbane really stands out.
Zones: 4 to 8
Size: 5 to 7 feet tall and 3 feet wide
Conditions: Partial shade; moist soil
Saucer-size blooms

a

dd drama to the front of the border
These plants may be compact, but they pack a punch with their plethora of dishlike flowers. At the front of a bed, any sticks or frames holding up plants are hard to disguise. By selecting some of these sturdy, floriferous cultivars, you can spend more time relaxing in your garden and less time performing triage.
This poppy takes big and blowsy to a new level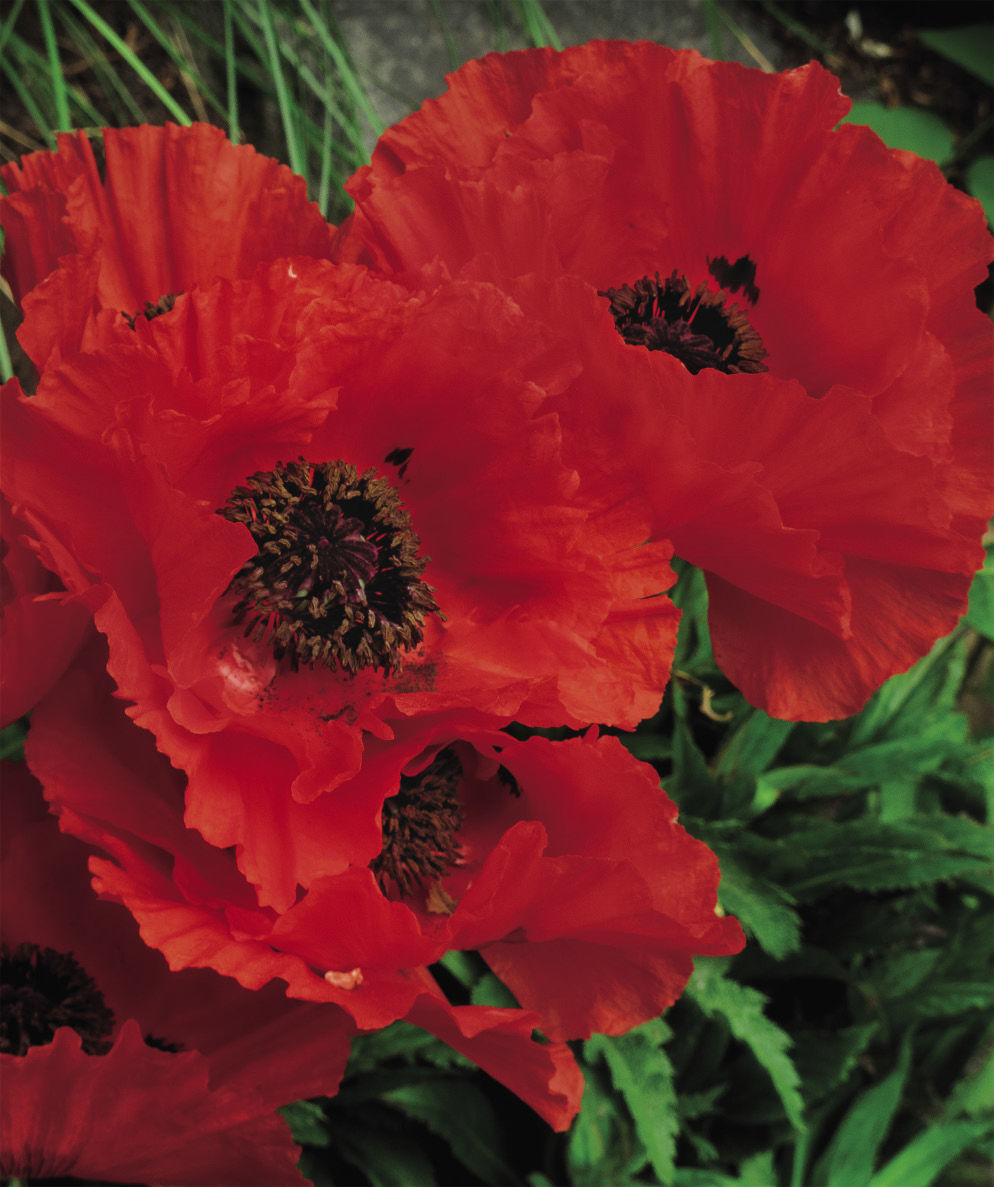 'Turkenlouis' Oriental poppy (Papaver orientale 'Turkenlouis')
This is a poppy with serious attitude. Oversize ruffled petals in a shocking orange-red ensure that this plant will get noticed, yet it asks for little in return. Each bloom can be up to 6 inches in diameter, yet I have never had to fuss with supporting the plant stems. Providing I keep the soil on the dry side and plant in full sun, 'Turkenlouis' Oriental poppy gets bigger and better every year. Because Oriental poppies bloom early in the season, they can leave something of a gap in the border when their flowering is done. To solve this, plant late-blooming perennials nearby, such as black-eyed Susan (Rudbeckia spp. and cvs., Zones 3–11) or a soft billowing mass of gaura (Gaura lindheimeri, Zones 6–9), to fill in those spots quickly.
Zones: 3 to 9
Size: 2 feet tall and wide
Conditions: Full sun; well-drained soil
A sturdier version of a classic favorite
'Arizona Sun' blanket flower (Gaillardia 'Arizona Sun')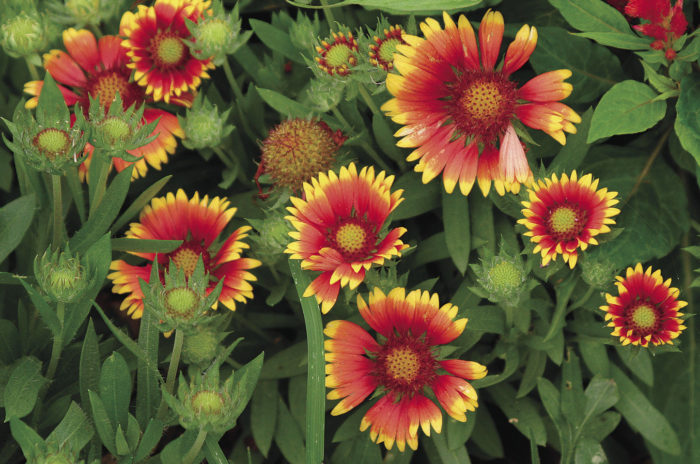 Blanket flowers are considered somewhat needy in the daisy world, requiring careful support from a network of sticks to prevent them from becoming an unsightly, floppy ground cover. 'Arizona Sun' is a breakthrough, with its shorter, sturdier stems that hold up throughout summer despite a flush of heavy blooms. The flowers, which are 3 to 4 inches in diameter, are a dazzling pinwheel of color—striking bands of red, orange, and yellow—with each petal having a casual ruffled appearance. Occasional deadheading will result in an extended bloom time, but otherwise, this perennial is entirely care-free. Plant it at the front of a sunny bed for an eye-catching display, or tuck it into the edge of a container, where it will do equally well.
Zones: 3 to 8
Size: 1 foot tall and 2 feet wide
Conditions: Full sun; fertile, well-drained soil
Plant this gem if you want the biggest bang for your buck
'Luna White' hibiscus (Hibiscus moscheutos 'Luna White')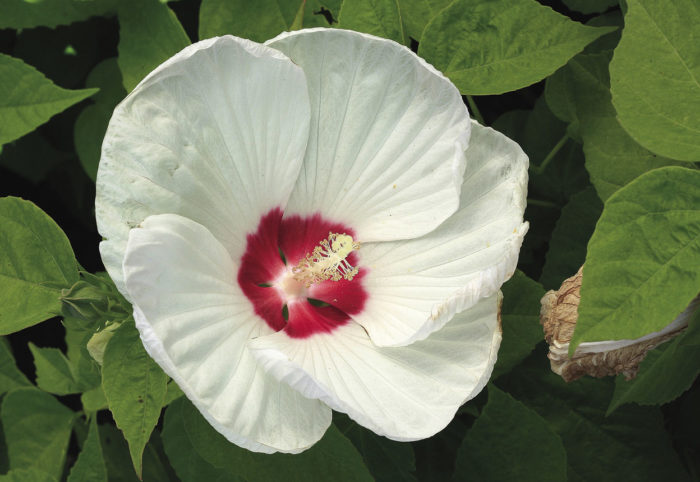 While this perennial may be slow to emerge in spring, it quickly makes up for lost time by producing an overwhelming number of dinner plate–size (1-foot-diameter) blooms in pure white, each with a bright red eye. Although many perennial hibiscus require careful staking, 'Luna White' is an improved, compact cultivar that needs no such effort. Large, glossy green leaves remain attractive all season and are the perfect foil to show off the blooms. Combine this stunning plant with a finely textured variegated grass, such as variegated miscanthus (Miscanthus sinensis 'Variegatus', Zones 4–9), to highlight the flower color. Cut back the stems in late fall, but remember to mark the position of this perennial so that you don't accidentally damage the dormant crown while cleaning up in early spring.
Size: 2 to 3 feet tall and wide
Conditions: Full sun; moist, well-drained soil
Don't worry: This sedum is better behaved than its floppy cousin
'Beach Party' sedum (Sedum 'Beach Party')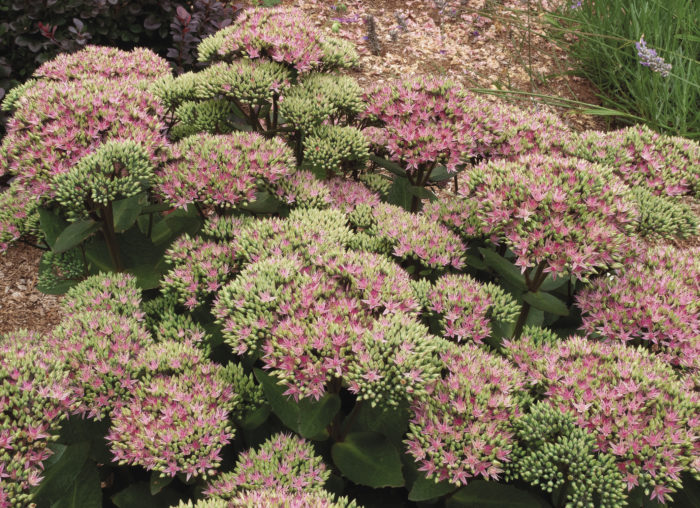 Sedums are invaluable for providing nectar for bees and butterflies, thriving in poor soils, reveling in hot sun, and even providing seed heads for winter interest. Yet for those of us who associate sedum with the ubiquitous 'Autumn Joy' cultivar, these benefits are offset by the rather unfortunate sat-on-by-an-elephant look. Unless we pinch and primp or we add sticks to support the long stems, 'Autumn Joy' collapses by midsummer to reveal its ugly bare center. At just 1 foot tall, 'Beach Party' is the little sister of 'Autumn Joy' yet offers equally beautiful coloring and 6-inch-diameter flowers on a sturdy frame. Resembling pink sand dunes, this well-behaved cultivar will quickly become a favorite. I planted it near a plum-colored 'Concorde' Japanese barberry (Berberis thunbergii 'Concorde', Zones 5–8); seeing the soft pink sedum flowers adjacent to this deeper-colored foliage adds vibrancy, and because the plants require the same soil and light conditions, they make natural partners.
Zones: 4 to 10
Size: 1 foot tall and 18 inches wide
Conditions: Full sun; well-drained soil
Don't Let The Light Make Your Plants Flop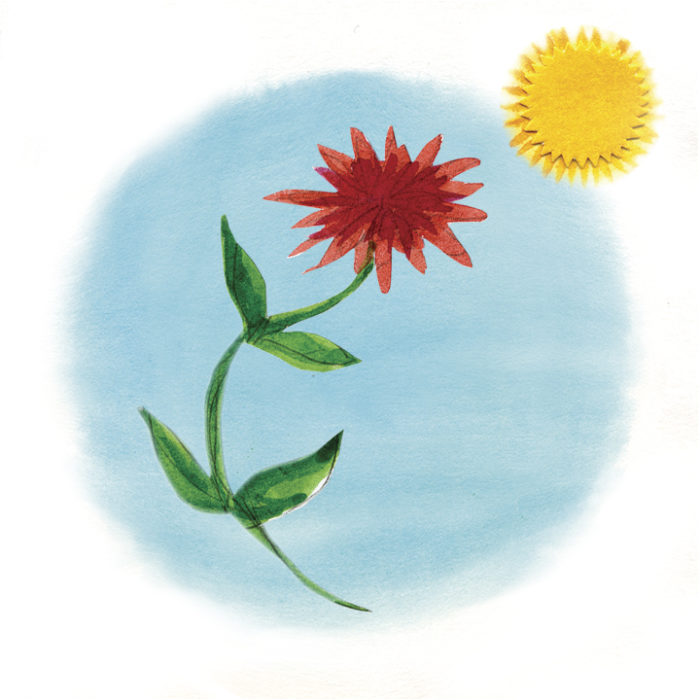 There is a difference between the conditions a plant needs to thrive and those in which it merely survives. No matter how sturdy a plant is, if it isn't given the proper light conditions, it will flop. Plants naturally grow toward the light. When a light source is from one side only, the plant will grow or lean in that direc­tion; it could end up stretching out and looking leggy or floppy in the process. This effect is known as phototropism.
To get sturdy, upright growth, a plant needs to receive light evenly from all sides. Plants that require partial shade can make siting tricky, so you may need to rely on trial and error. If a plant starts looking stretched, it's time to relocate it. If you site your plants carefully, abiding by the specific sun requirements given, then these big bloomers won't let you—or themselves—down.
---
Karen Chapman is a garden designer from Duvall, Washington, and a coauthor of Fine Foliage.
Photos: Karen Chapman; Bill Johnson; Jerry Pavia; doreenwynja.com; courtesy of perennialresource.com; Jennifer Benner. Illustration: Carol Collins
Sources:
Bluestone Perennials, Madison, Ohio; 800-852-5243; bluestoneperennials.com
Brent and Becky's Bulbs, Gloucester, Va.; 877-661-2852; brentandbeckysbulbs.com
Old House Gardens, Ann Arbor, Mich.; 734-995-1486; oldhousegardens.com
Santa Rosa Gardens, Gulf Breeze, Fla.; 850-202-4899; santarosagardens.com
White Flower Farm, Litchfield, Conn.; 800-503-9624; whiteflowerfarm.com