1. Tiger Lily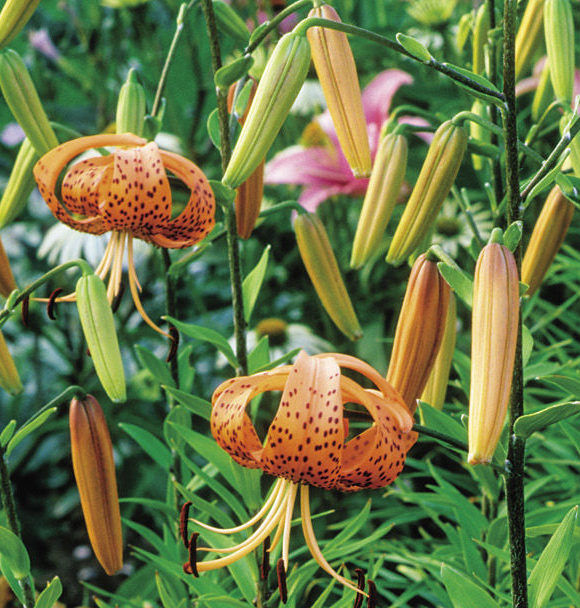 Name:
Lilium lancifolium
USDA Hardiness Zones: 3 to 9
Size: 4 to 5 feet tall and 2 feet wide
Conditions: Full sun; well-drained soil
This is not a plant for the prim. In summer, each sturdy stem supports several hot orange flowers boldly flecked with black. Its heirloom status is earned by its equally bold constitution. Tiger lily not only will endure heat, drought, and severe winters but also will multiply generously. Small bulbils form in the leaf axils and will root once they come in contact with soil. These new stems will flower in a couple of years.
2. Baby Lace
®

Panicle Hydrangea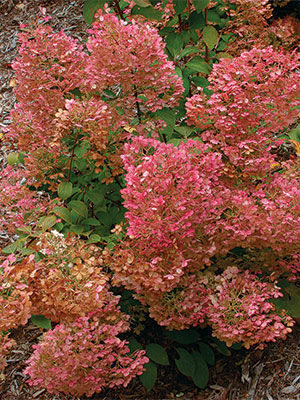 Name:

Hydrangea paniculata 'PIIHP-I'

Zones: 4 to 8

Size: 4 feet tall and wide

Conditions: Full sun; moist, well-drained soil

Some new cultivars of panicle hydrangea are prized for the "gee whiz" size of their flower panicles, though sometimes the very weight of those flowers gives the plant an awkward, drooping silhouette. Baby Lace® has buxom blooms that stay pointed skyward, plus the plant is a more manageable size for a small landscape. Drought tolerant once established, Baby Lace® is for those gardeners who have no shade but who crave hydrangeas. The lacy white summer flowers, which turn pink in fall, are fabulous in arrangements—whether fresh or dried.
3. 'Lord Baltimore' Hibiscus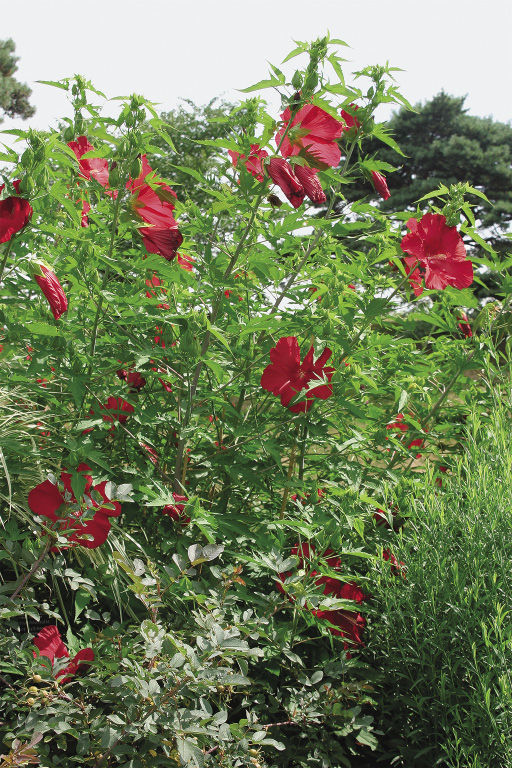 Name:

Hibiscus 'Lord Baltimore'

Zones: 5 to 9

Size: 5 to 8 feet tall and 3 to 4 feet wide

Conditions: Full sun to partial shade; moist soil

Perhaps we should borrow Emeril Lagasse's term "Bam!" for this flower. What else can describe the impact of a bright red bloom that's 10 inches across? While 'Lord Baltimore' hibiscus will grow in well-drained soil, it flourishes in damp sites and is a good candidate for rain gardens. Extra water will prolong the summer bloom season well into autumn, too. This complex hybrid of four native hibiscus species is long-lived and low maintenance—if you ignore the sawfly larvae that might munch on the leaves during summer but don't do any real harm.
4. 'Bishop of Llandaff' Dahlia
Name:

Dahlia 'Bishop of Llandaff'

Zones: 7 to 11

Size: 3 to 4 feet tall and 2 to 3 feet wide

Conditions: Full sun to partial shade; well-drained soil

Dahlias, once considered vulgar for their showy flowers, have steadily gained in popularity over the past few decades. That change is due, in part, to less fussy forms that are now readily available to the gardener. 'Bishop of Llandaff' was a forerunner of that low-maintenance trend. The plant's dark foliage provides drama throughout the growing season, but it is its brilliant red flowers that jazz up the late-summer and fall garden. Feel free to cut them for arrangements as this will simply increase the number of new blooms.

Carol Reese is the ornamental horticulture specialist at the University of Tennessee's West Tennessee Research & Education Center.

Photos: (1), Jerry Pavia; (2), Danielle Sherry; (3), Michelle Gervais; (4), Bill Johnson