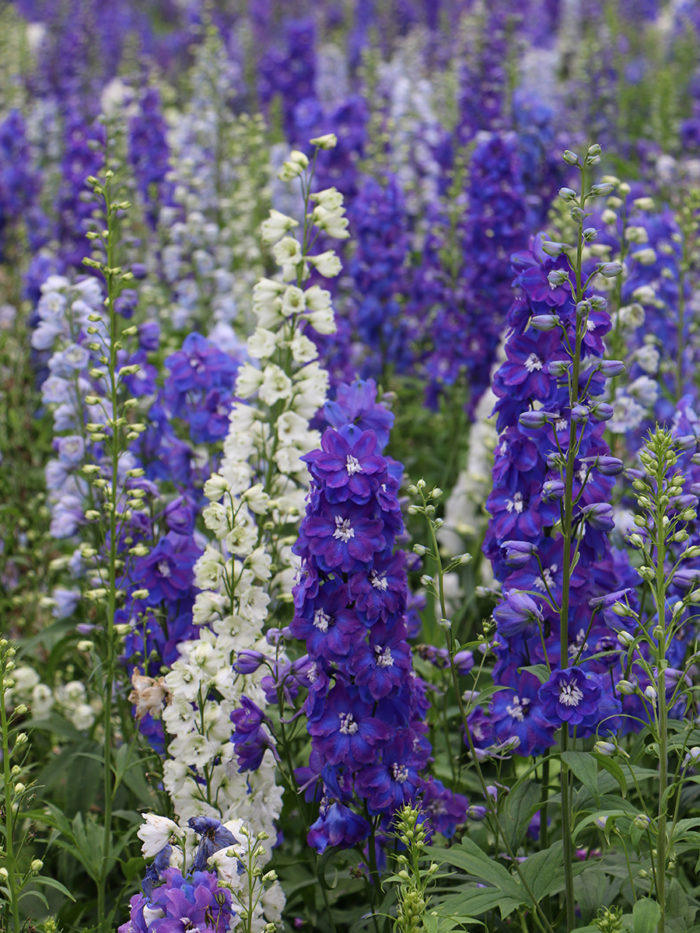 Tall, handsome delphiniums (Delphinium spp. and cvs., Zones 3–7) are rarely seen in Northeastern gardens; we see them in our dreams more than we do in real life. A century ago, few estate gardens were without their towering columns of sparkling sky blue, purple, pink, or white. But trends change as do gardening styles. While I may think that delphiniums fell out of favor, it may be more accurate to admit that few Northeasterners were ever trained in how to properly grow them, and the few who did have them in their gardens probably had full-time gardeners. With a renewed interest in old-fashioned flowers, many new gardeners are trying delphiniums once again, buying plants at nurseries or online but discovering that they rarely perform as they might have imagined.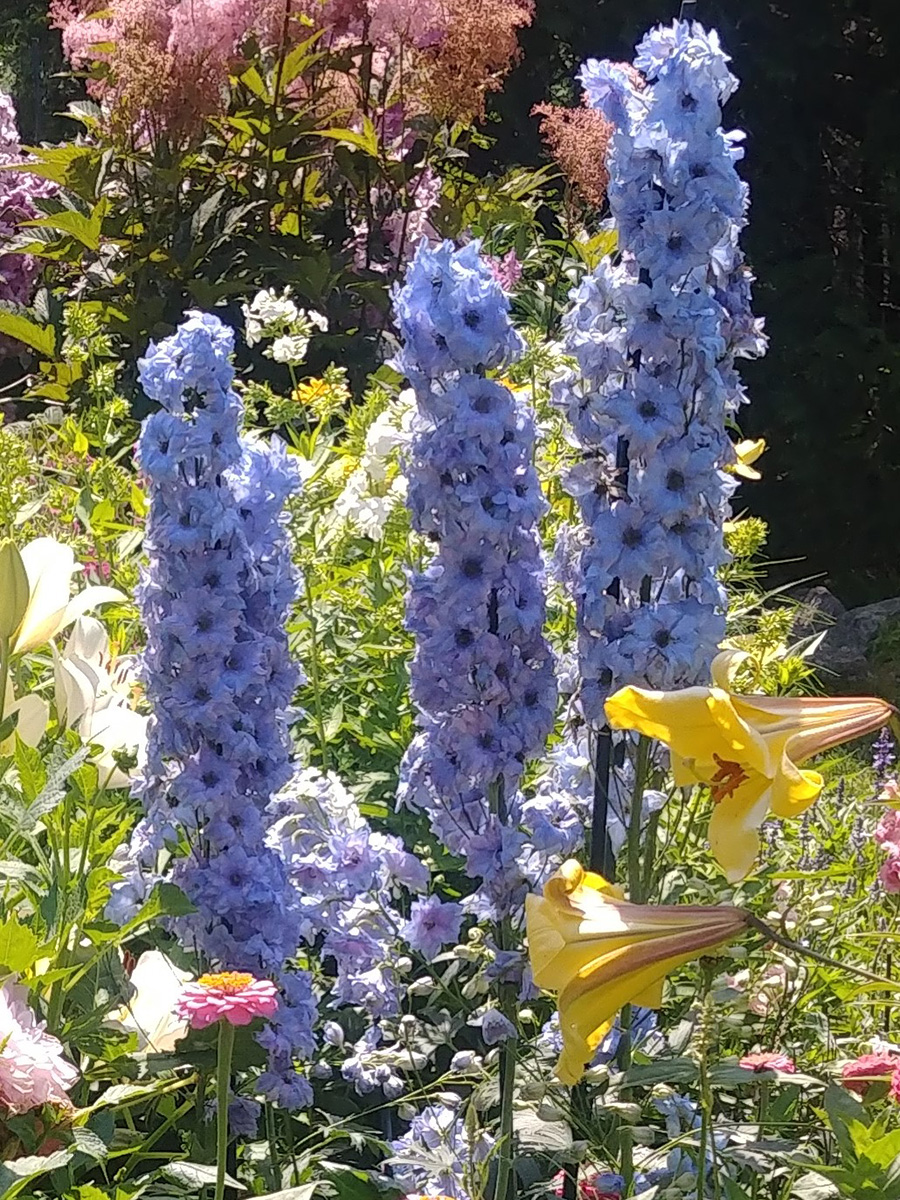 Diminished returns are not inevitable
The answer to why delphiniums underperform for many isn't as simple as poor horticultural talent. Don't feel like you need to settle for the delphinium cousin, humble giant larkspur (Consolida ajacis, annual), which was once considered a delphinium but has since been assigned to a different genus. Many dream of having tall delphiniums towering to 6 feet tall or more, but it seems that plants set out into our beds and borders reach a paltry 3 feet and rarely return for a repeat performance. What's up?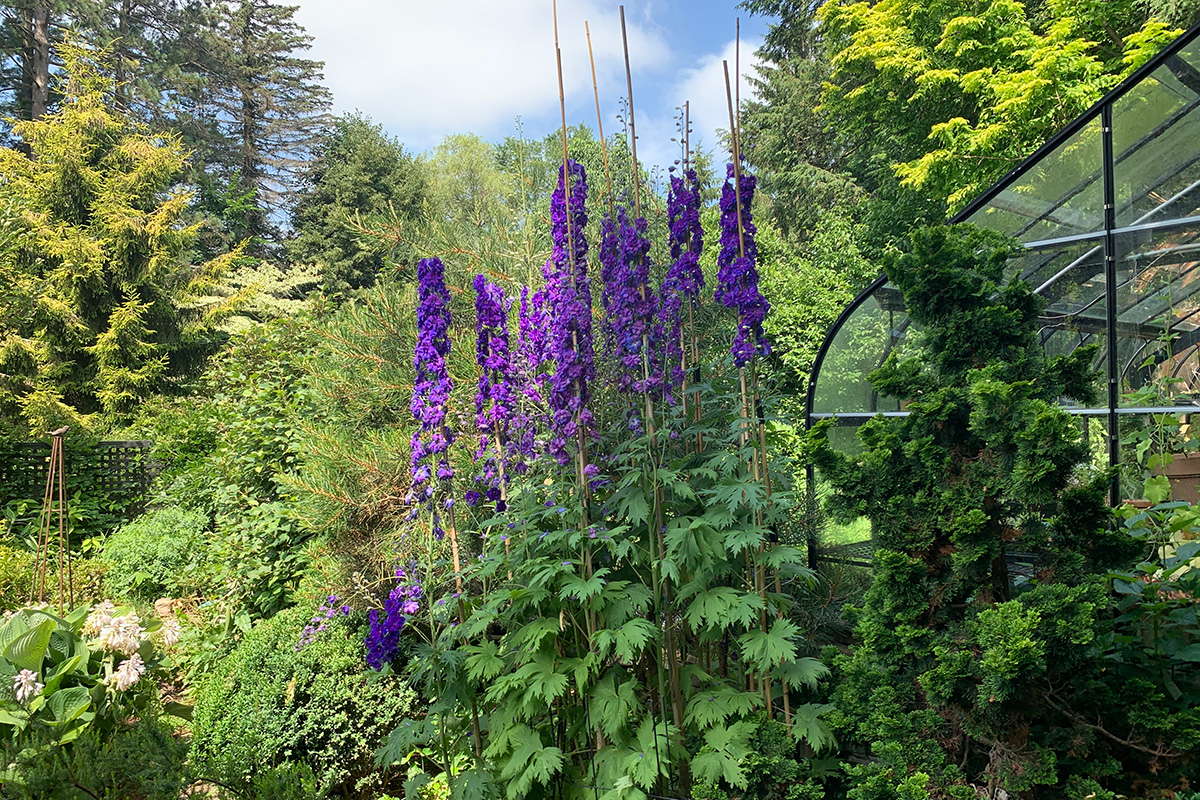 Proper siting and unique irrigation requirements
Delphiniums demand high fertility and insist on proper and strong staking to keep flowers upright in rainstorms, but I think few people realize that the perennial border may be the worst place one can plant delphiniums. Delphiniums need space to stretch out, and they need excellent air circulation. Using wood bark mulch to retain water and automated drip irrigation systems can prove fatal to these plants. Delphiniums have the unique need of a drier crown under the leaves but plenty of water at their perimeters, where the feeder roots can access it. The crowded aspect of a conventional perennial border (dense with plants tightly packed together) will only result in short plants that rarely return the following season. They certainly won't get better with each season.
What delphiniums crave is a bed of their own, like a row in the vegetable garden, or better yet, a raised bed where they can be placed out 3 feet apart without mulch or any competition. It is here where delphiniums will thrive, and tower to over 10 feet with plenty of stems. If one does wish to grow them in a border, be sure to leave lots of room around the plants and to adjust watering methods to meet their needs.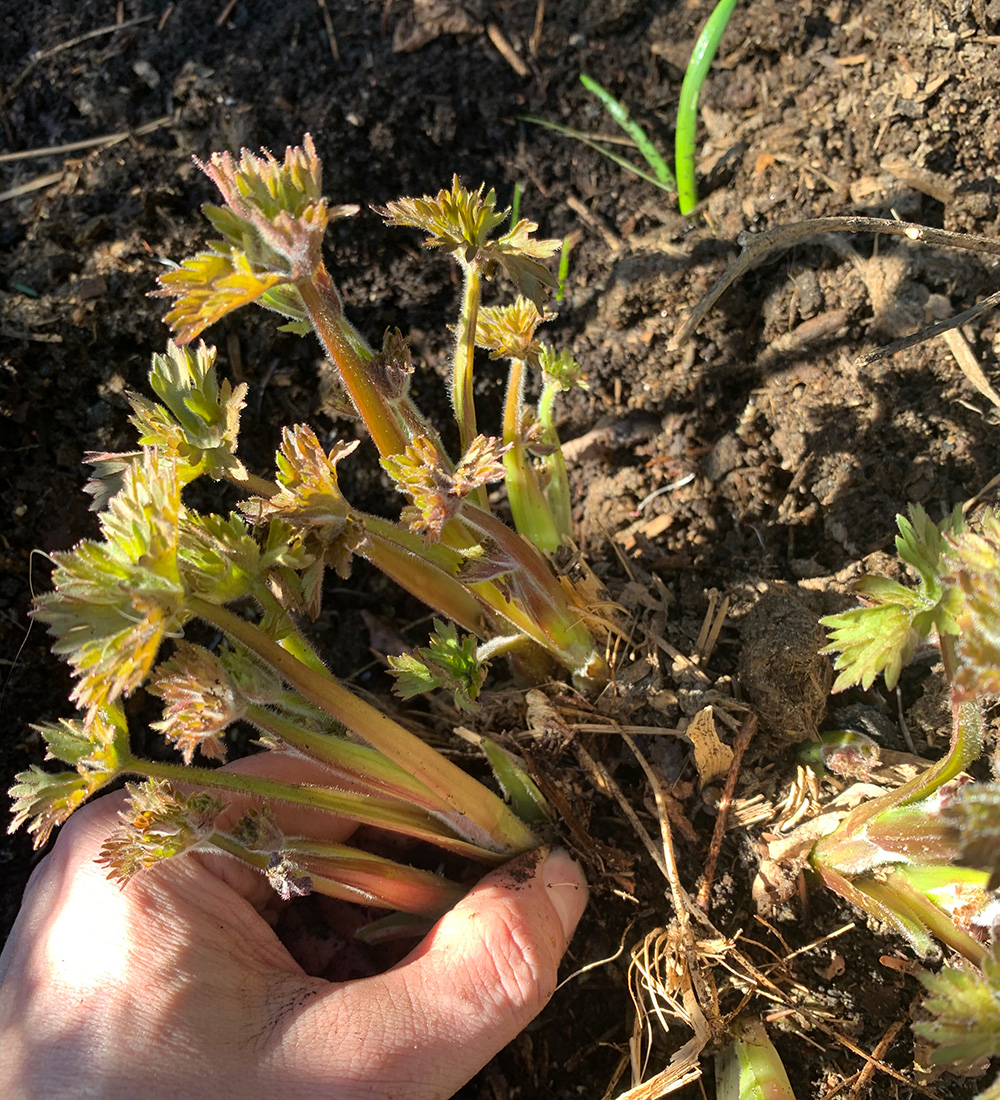 Hardiness and routine maintenance
Common garden delphiniums (Delphinium elatum, Zones 3–7) are very hardy. The long, cold winters in the Northeast suit them well. The farther north one goes, the better they will perform. The cool, Canadian maritime summer weather is ideal for delphinium growing, but in my Massachusetts garden, I have plants nearly 12 feet tall even in temperatures that reach well into the 90s in summertime.
Trouble can occur once the heat and humidity of summer arrive. Most dangerous are long, unpredictable droughts in early summer and the droughts that happen even later in early autumn when plants are setting up for winter. Irrigating is crucial during those times for crown health and the health of dormant buds that are forming. Good management includes watering plants in late summer after deadheading stems to where the foliage is still growing. In early winter, cut stems in their entirety back to 3 inches.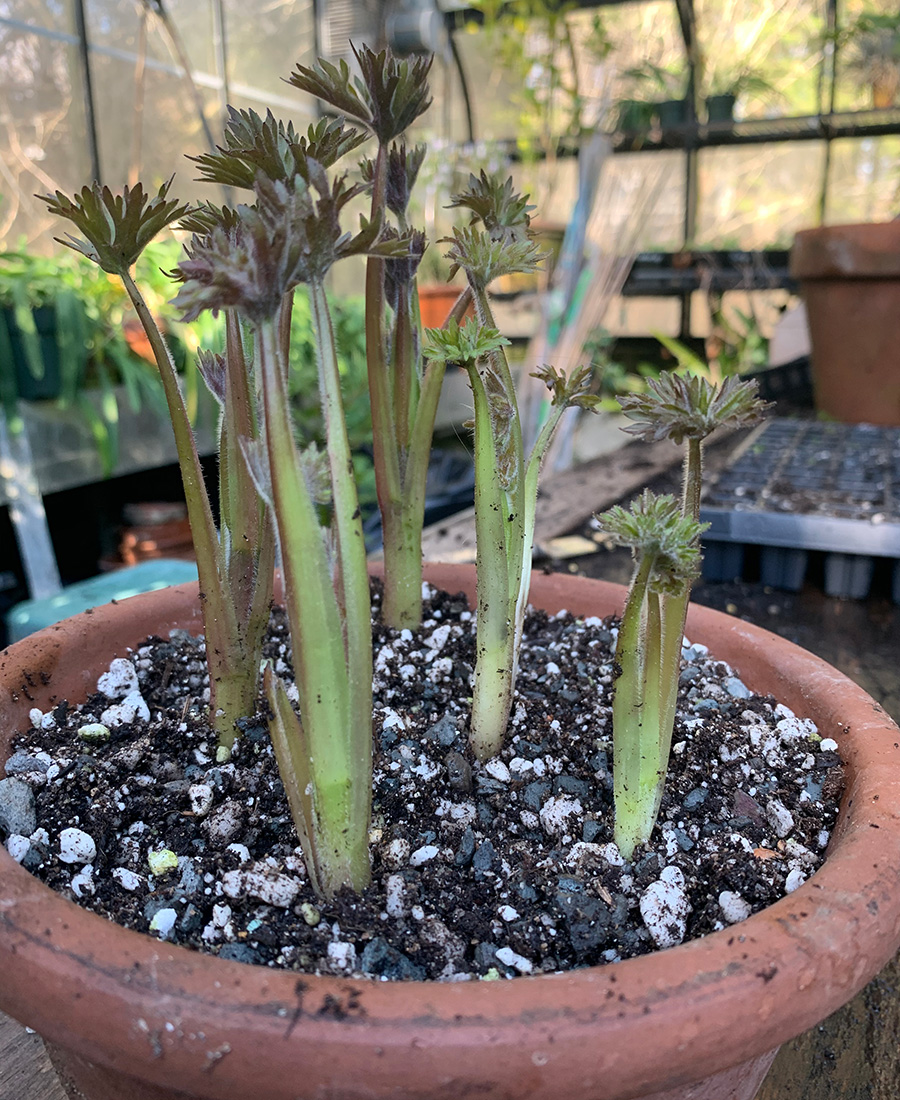 Where and how to get the best delphiniums
Delphiniums grow well in containers while young, so nurseries are the best place to obtain stock. Spring is the best time to buy, but few nurseries carry plants that are not in bloom, so the second-best time is summer. In summer, you can see the color of the flowers if a few are open. Containerized plants, however, are only a shy cousin to what the plants will eventually look like once set out in the ideal spot.
Raising plants from seed is possible too, with seed sown in late winter indoors under lights. However, the finest-performing delphiniums come from cuttings, which until now have been impossible to find in North America, where only seed-raised strains have been available for over 100 years.
So while my parents never had access to plants such as the ultra-premium Blackmore & Langdon varieties—which include 'Strawberry Fair', 'Moonbeam', and 'Blue Nile'—that one sees towering high in displays at the Chelsea Flower Show, one U.S. source is now offering plants that are clones: White Flower Farm.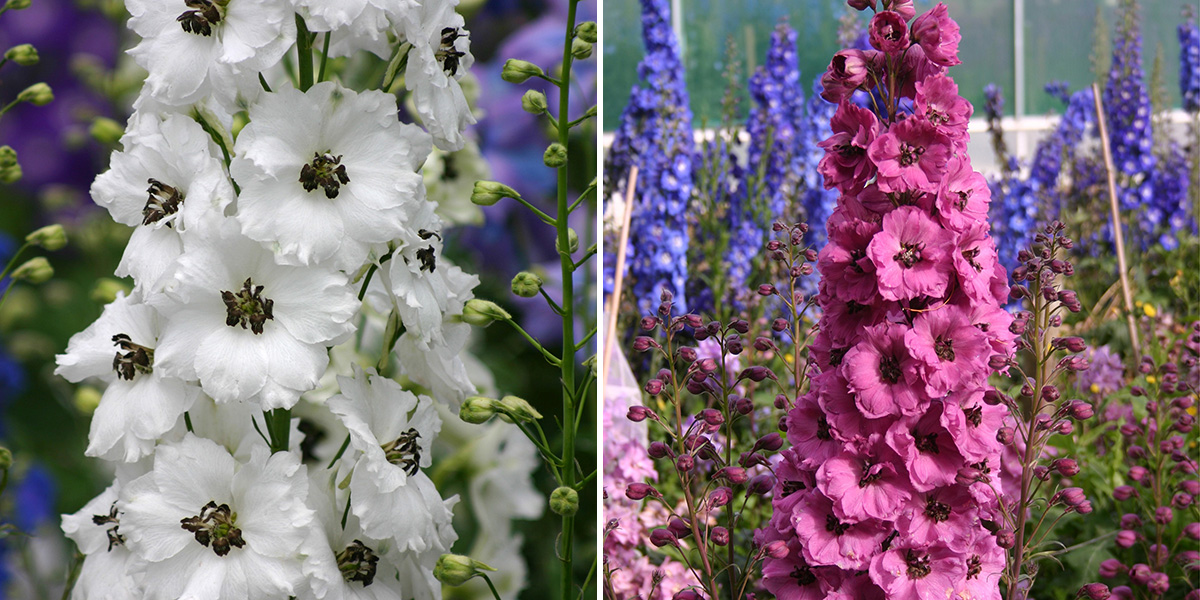 The good news is that recently micropropagated clones are being marketed from some of the world's finest breeders. Look for the New Millennium™ 'Stars' series, with varietal names such as 'Pink Punch', 'Blue Lace', 'Black Eyed Angels', and 'Pagan Purples' showing up at many Northeastern nurseries. These once-connoisseur plants are now available to anyone who dreams of tall, elegant delphiniums in their garden.
Don't give up on delphiniums in the Northeast. You can enjoy their colorful towering stems for much of the summer if you just adjust and tweak watering, soil fertility, and siting.
—Matt Mattus is a lifelong gardener and vice president of the Worcester County Horticultural Society. He's written two books: Mastering the Art of Flower Gardening and Mastering the Art of Vegetable Gardening.