1. Summerific® 'Cranberry Crush' Perennial Hibiscus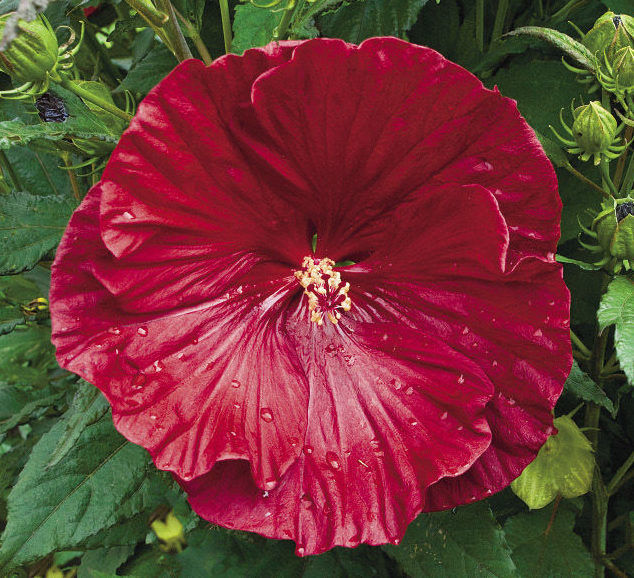 Name:

Hibiscus

'Cranberry Crush'

USDA Hardiness Zones: 4 to 9

Size: 3 to 4 feet tall and 4 to 5 feet wide

Conditions: Full sun to partial shade; tolerates most soils but prefers acidic soil

This hardy, deer-resistant hibiscus blooms at the ends and nodes of branches, resulting in more flowers over a long period. It has glossy, 7- to 8-inch-diameter flowers and dark green foliage tinged with purple, which becomes more intense in cool weather. The plant is late to emerge in spring but blooms from mid- to late summer through early fall. Summerific® 'Cranberry Crush' perennial hibiscus is compact, making it ideal for small gardens or containers.
2. 'Ivory Queen' Turkestan Onion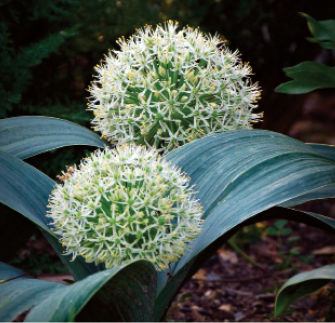 Name:

Allium karataviense

'Ivory Queen'

Zones: 5 to 9

Size: 6 to 10 inches tall and 8 to 12 inches wide

Conditions: Full sun to partial shade; well-drained soil

'Ivory Queen' Turkestan onion is a border allium bearing 5-inch-round balls of off-white blooms on short stems of no more than half a foot tall. They often appear to be floating slightly above the wide strappy blue-green foliage. This late-spring bloomer is especially attractive when used as a front-border plant or as a specimen planting in a rock garden; it can be grown in containers, as well. As with all bulbs, it requires good drainage to avoid rotting. And here's a bonus to this bulb: Its light onion fragrance is a deterrent to deer, rabbits, voles, and squirrels.
3. Tree Peonies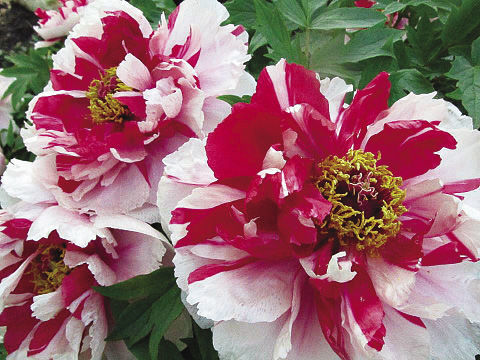 Name:

Paeonia suffruticosa

cvs.

Zones: 4 to 8

Size: 3 to 4 feet tall and wide

Conditions: Full sun to partial shade; average soil; tolerates clay if amended to provide adequate drainage; drought tolerant once established

Tree peonies, such as 'Shimanishiki' (pictured), differ from herbaceous peonies in that they have a woody stem that doesn't die back in winter. Their blooms are a bit looser and larger, and they look like crepe paper. When planting, be sure that the graft union—the knobby knot on the stem at the base of the plant—is 1 to 2 inches below the soil (and deeper in cold zones). This plant performs well if top-dressed with compost in fall, and the blooms last longer if protected from wind. Tree peonies, like their herbaceous cousins, can live for 50 years or more.
4. Ohio Buckeye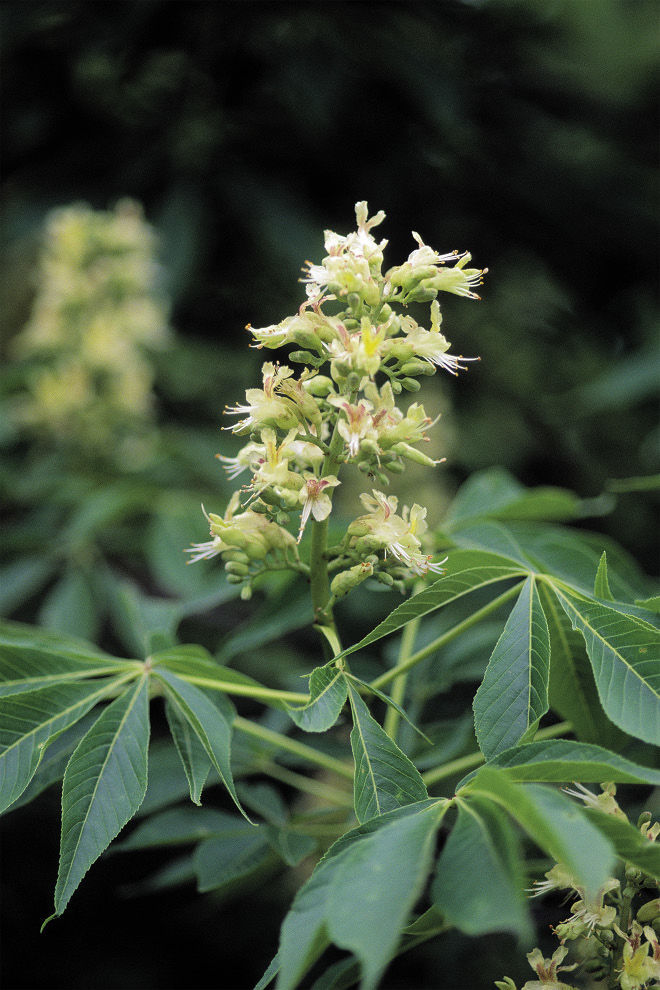 Name:
Aesculus glabra
Zones: 3 to 7
Size: 40 feet tall and 30 to 40 feet wide
Conditions: Full sun to partial shade; fertile, moist soil; suitable for rain gardens
Ohio buckeye is often confused with horse chestnut, and while it is easy to see why, it is also easy to distinguish the two. Ohio buckeye usually has five leaves on a leaflet, whereas horse chestnut has seven. Native to the Midwest, Ohio buckeye sometimes experiences leaf drop during periods of dry weather, so the plant is recommended for moist areas, such as woodland gardens. Known for its characteristic satin brown fruit with a light tan eye (or buckeye), the plant has beautiful tall candelabra clusters of yellow blooms, which are fragrant and attract butterflies and other pollinators.
Kylee Baumle is an author and avid gardener who grows hundreds of plants, both inside and outside her home, in northwest Ohio.
Photos: (1), courtesy of perennialresource.com; (2 and 3), Kylee Baumle; (4), Bill Johnson