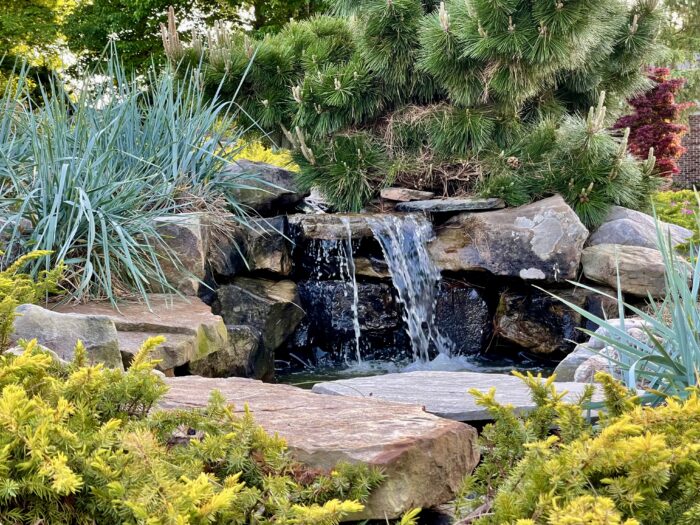 We're visiting with Jay Sifford today. We've visited his personal gardens in North Carolina before (Summer in Jay's Garden), but today he's sharing a garden he created for one of his garden design clients:
I have been working with this client for over four years. She came to me wanting a contemporary garden with an Asian feel, something that would complement her contemporary home. Phase 1 is shown here. It consists of a front yard garden, carved into a hillside in full sun. She wanted to have a garden near the street, a place where she could sit in the evenings with a glass of wine and greet neighbors as they walked by. The garden is full of color and texture, functioning as an exuberant and immersive platform upon which to live out the good life.
Highlights include a seating area with stone seating wall, stone steps that are interplanted to soften the hardscape, and an Asian-inspired dry creek bed that morphs into a real waterfall that empties into a small pond. "Magical" is the most common adjective we hear used to describe this special garden.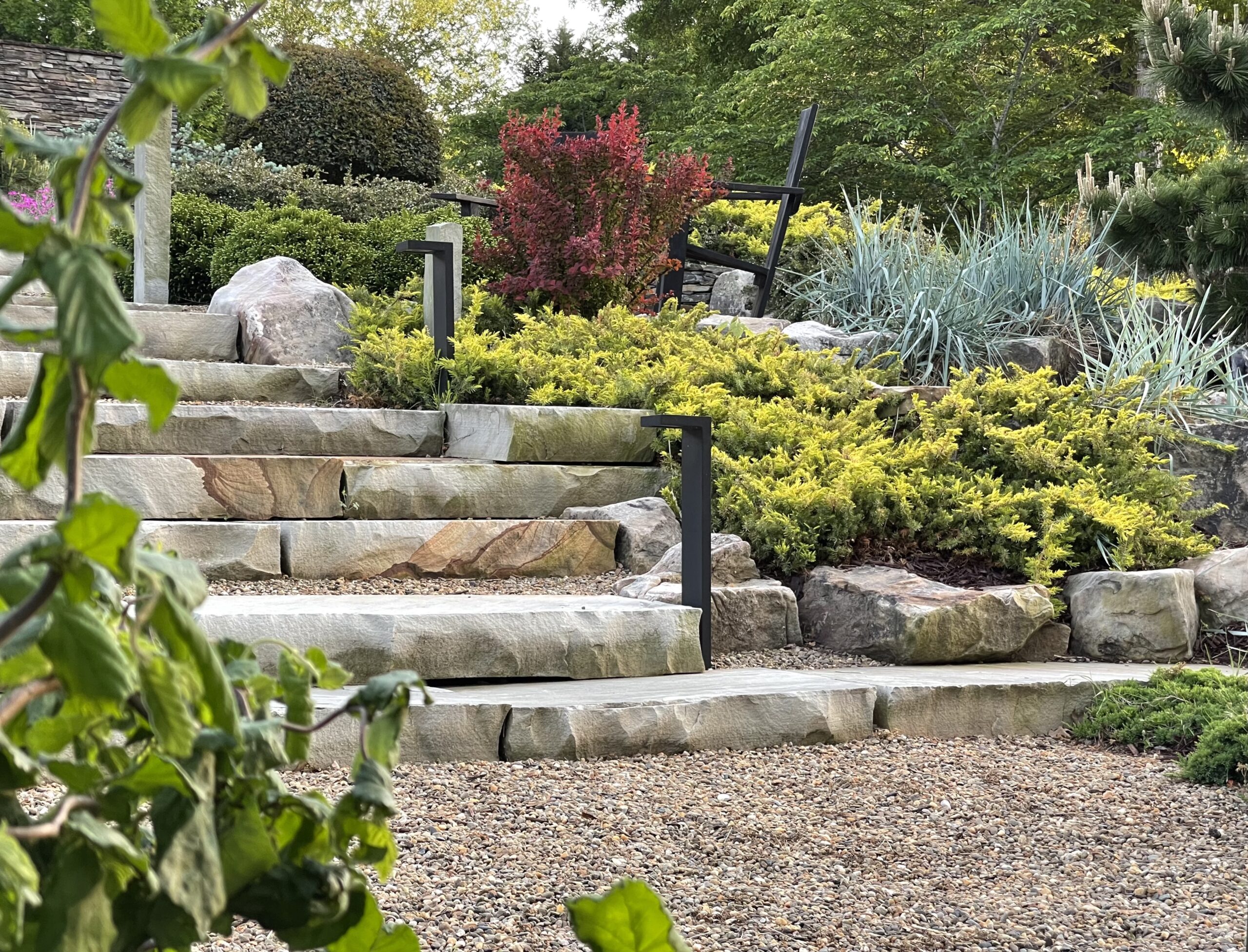 A staggered installation of long stone steps was necessary. They are interplanted with low spreading and mounding plants to soften the look and to provide a cohesive colorful and textural garden. The street-side area is anchored by a contorted filbert (Corylus avellana 'Contorta', Zones 4–8).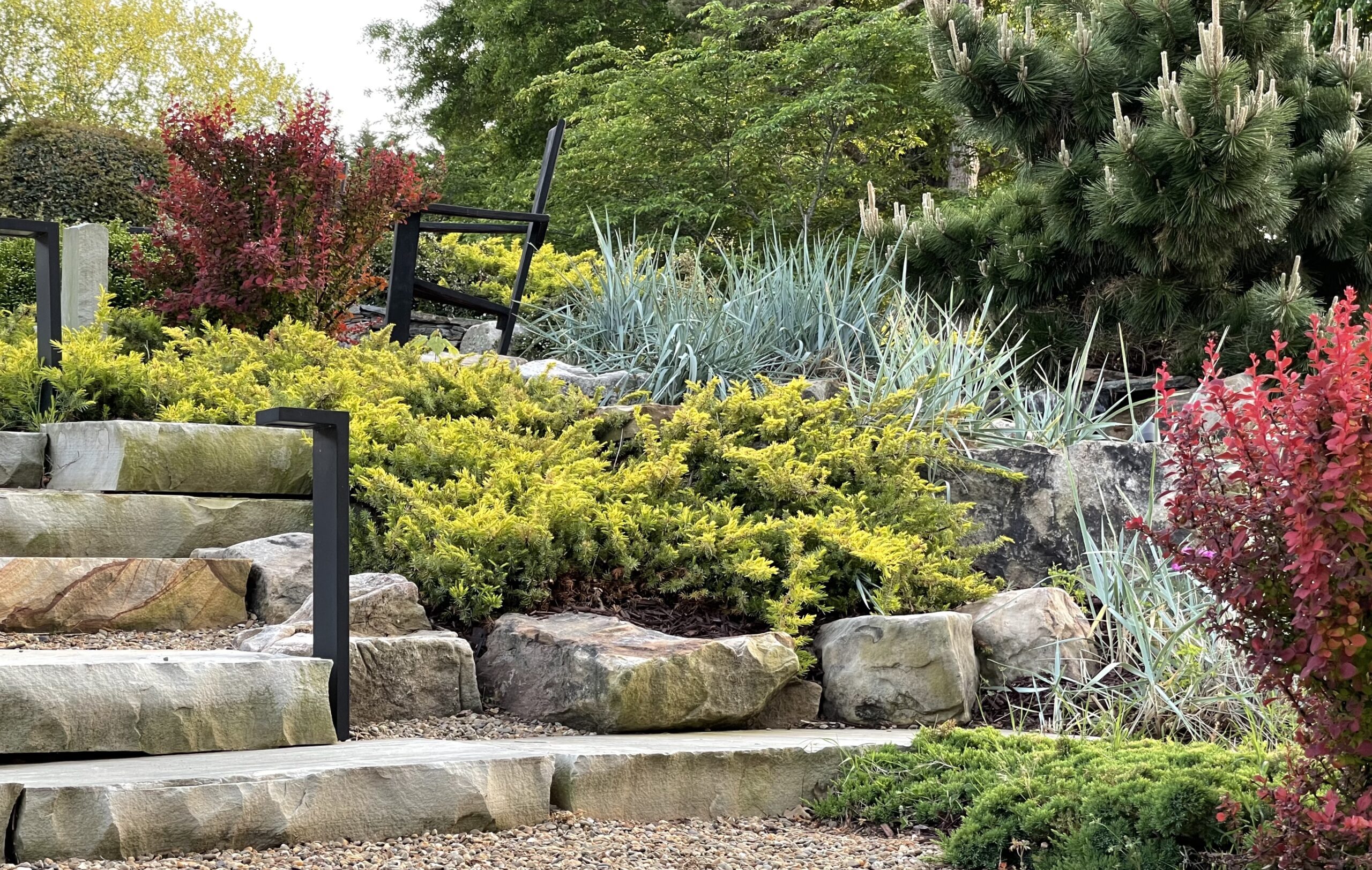 A close-up of one area shows 'Golden Pacific' shore juniper (Juniperus conferta 'Golden Pacific', Zones 6–9), blue dune lyme grass (Leymus arenarius 'Blue Dune', Zones 3–10), 'Orange Rocket' barberry (Berberis thunbergii 'Orange Rocket', Zones 4–8), Procumbens nana juniper (Juniperus procumbens 'Nana', Zones 4–9), and a thunderhead pine (Pinus thunbergii 'Thunderhead', Zones 5–8).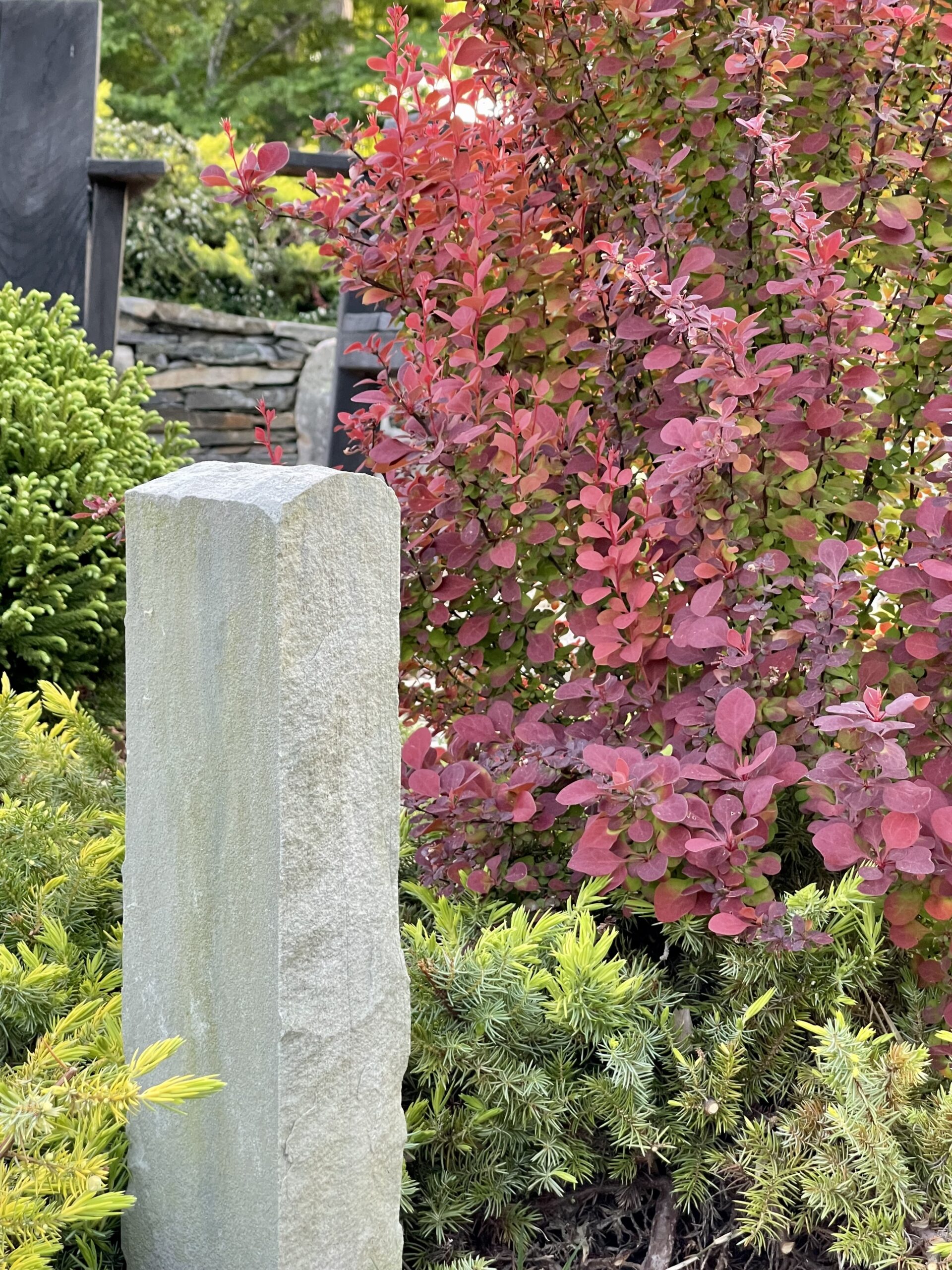 Vertical stone pillars play nicely with the vertical path lights to create an installation that pulls elements from the home's architecture down into the garden, particularly the porch columns.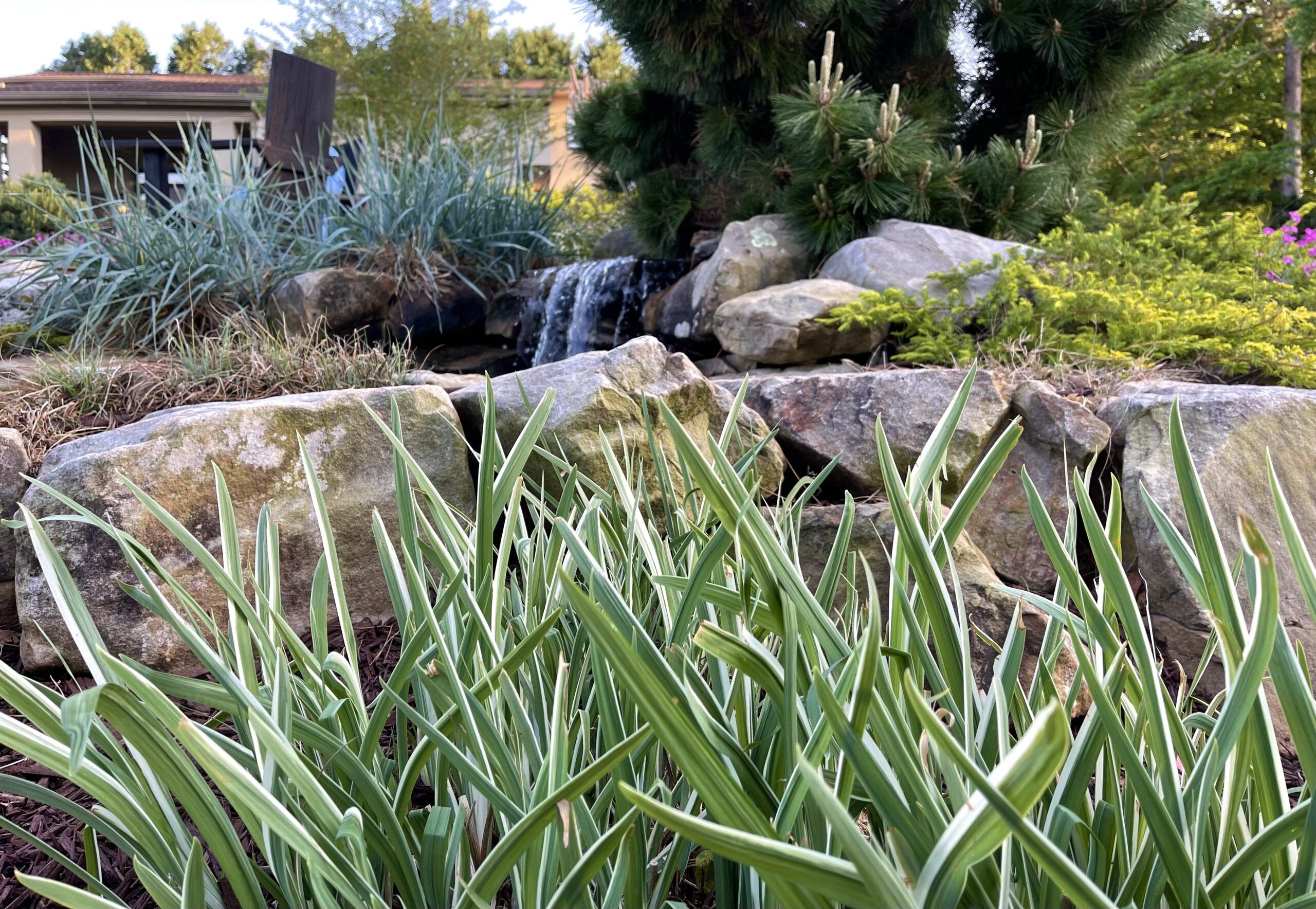 I love to plant Iris ensata 'Variegata' (Zones 4–9). I plant it for the foliage, not the blooms. Spiky is a "happy shape" that juxtaposes mounding and horizontally growing plants for an interesting composition.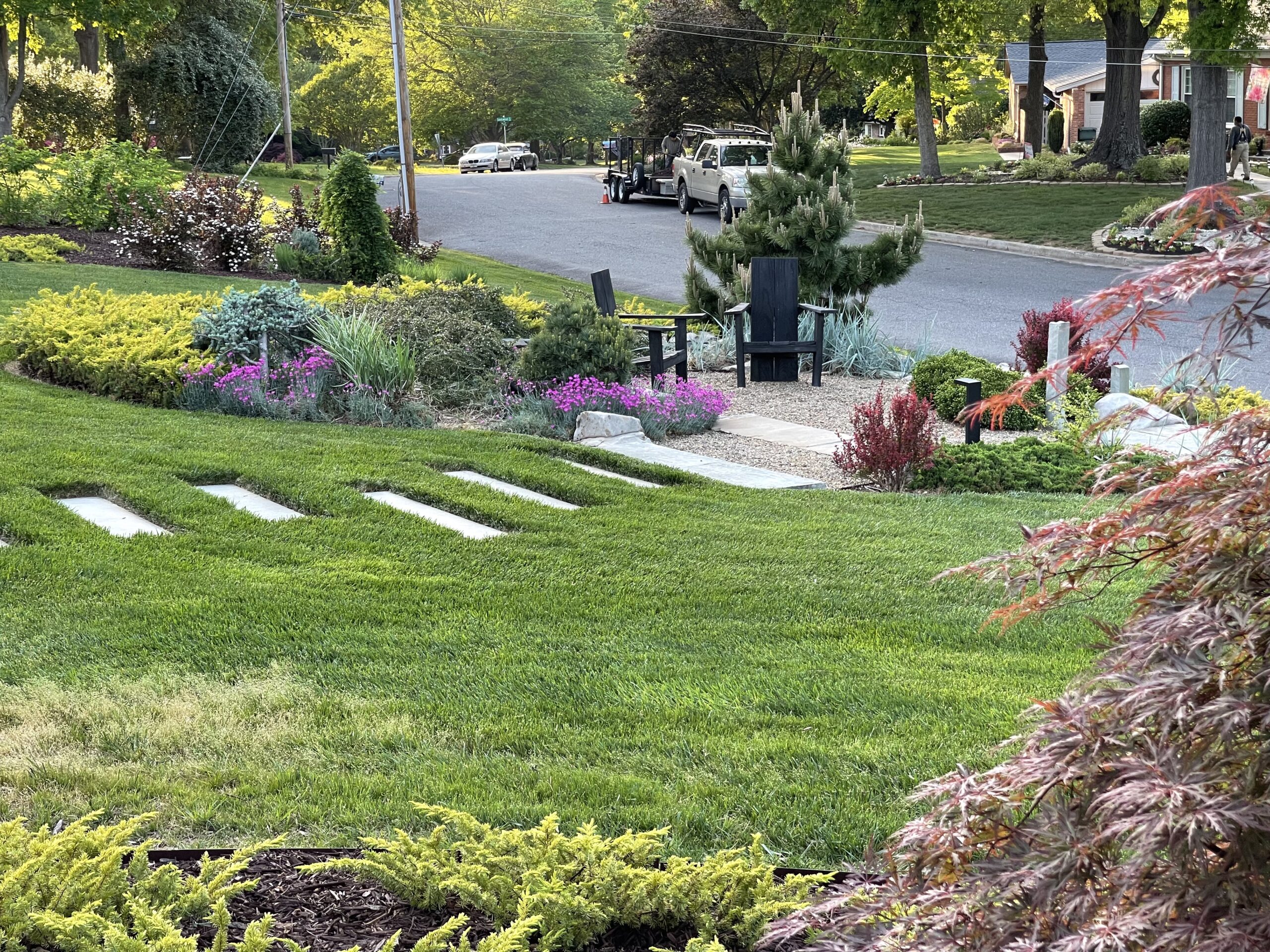 Here is a wider view of the main portion of the front garden that shows the context. Using the large rectangular stone steppers did not visually cut the yard in half like a solid sidewalk would have done.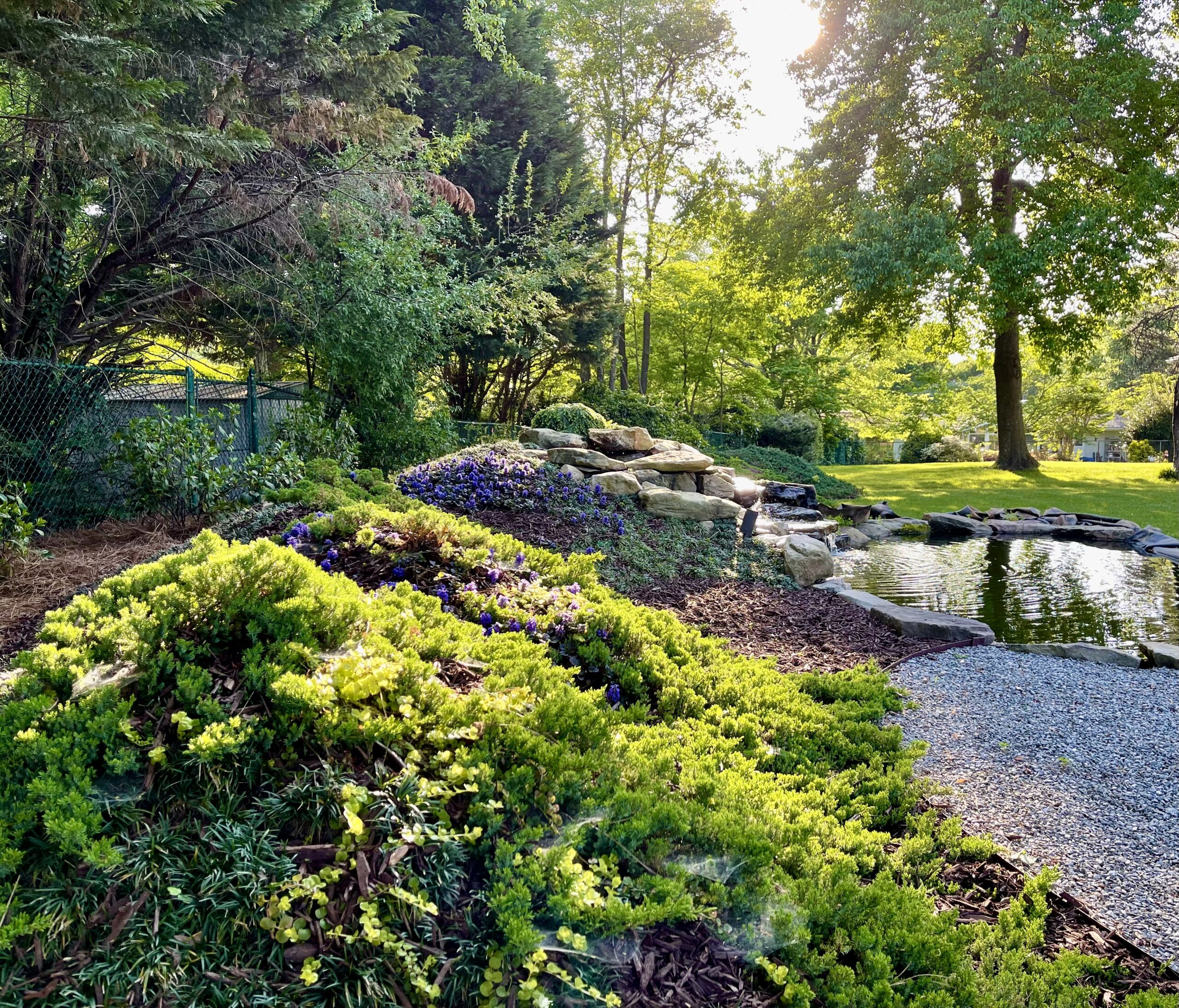 One of the most fascinating features of the garden is the Asian-inspired dry creek bed that turns into a running waterfall. The stones, meticulously stacked on edge, create the illusion of cascading flowing water.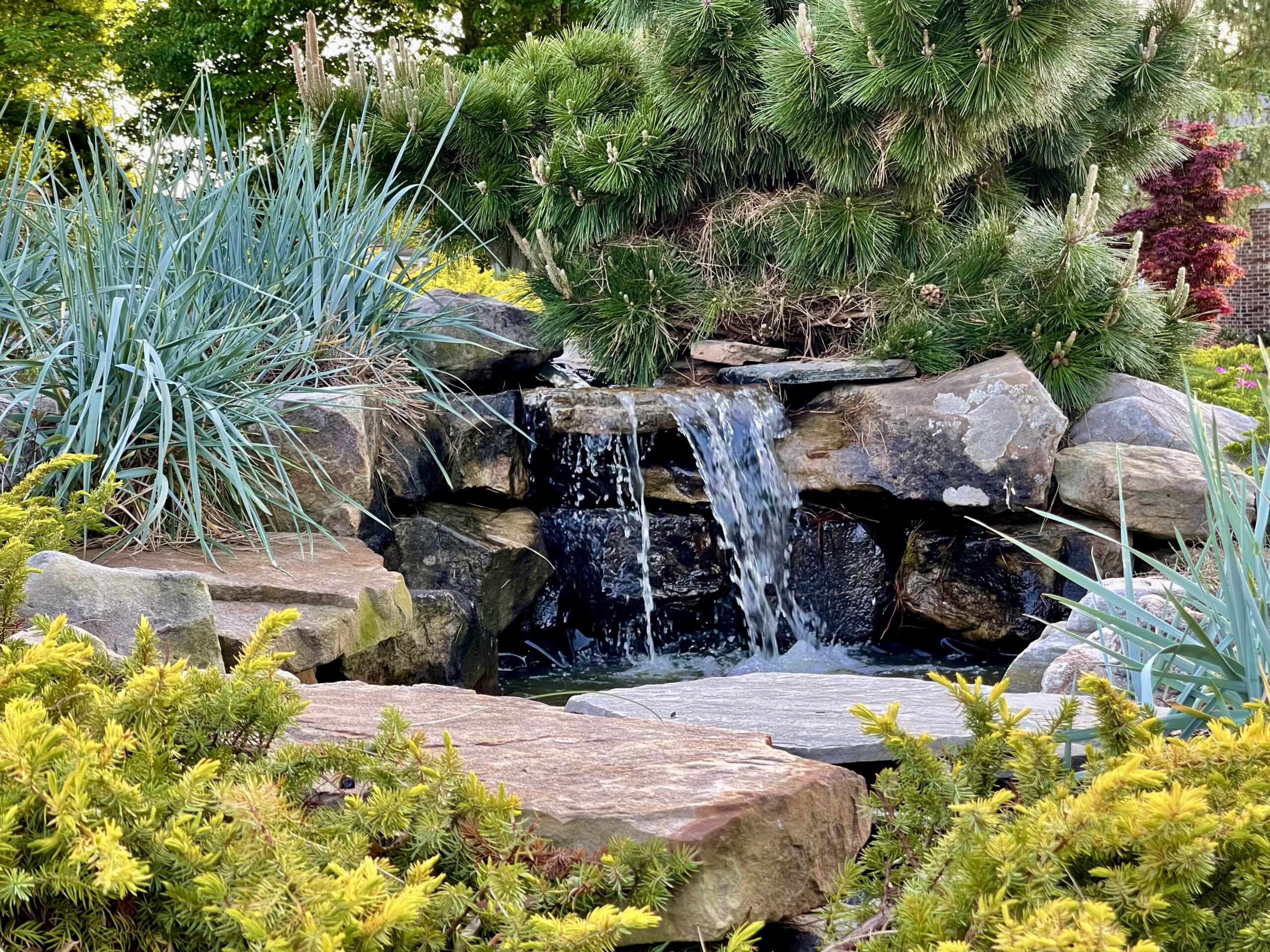 This photo shows the transition point between dry creek bed and "wet waterfall." The engineering was a bit tricky but works well.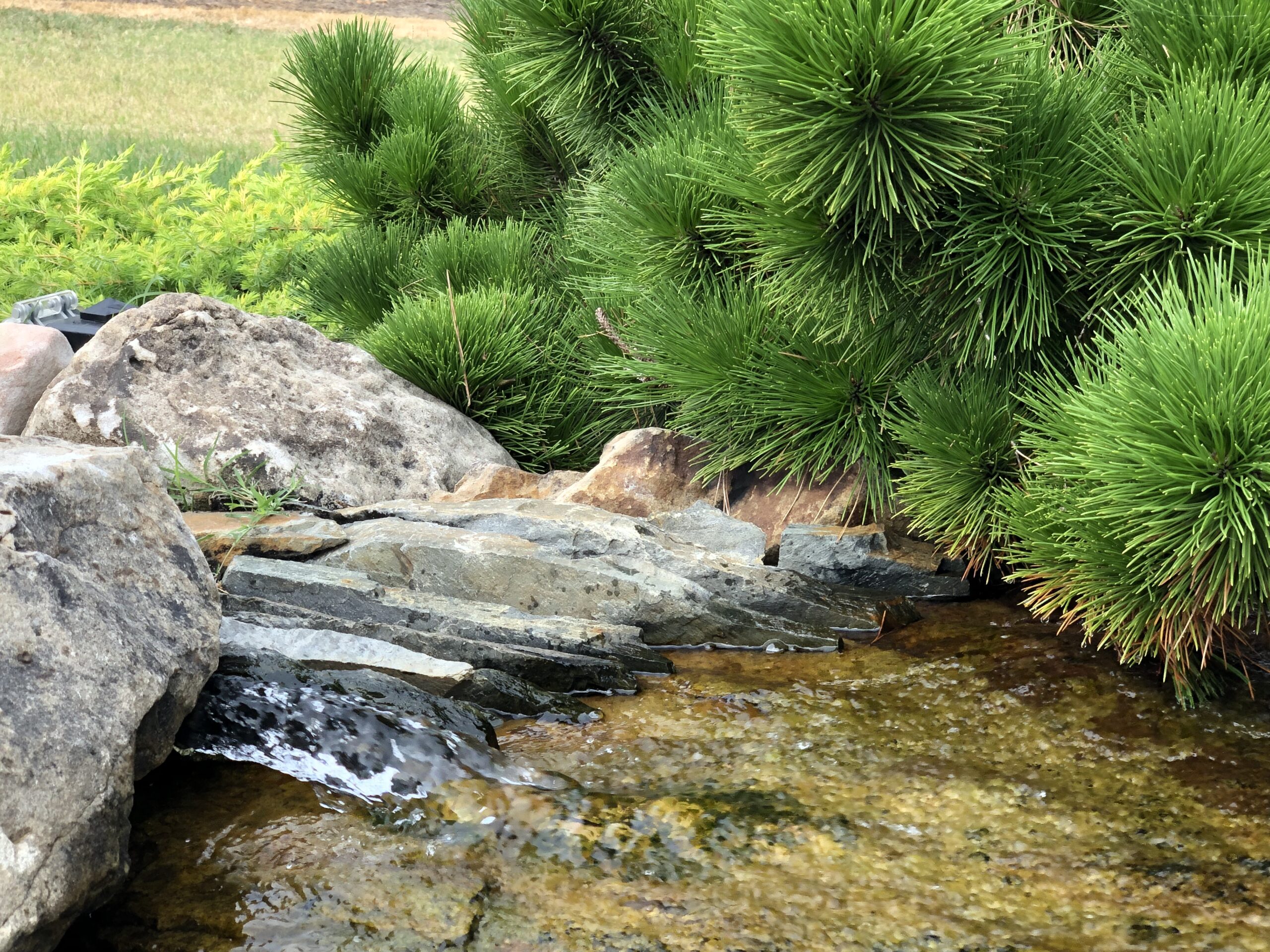 The 2-foot-high waterfall plunges into a small but deep pond. This creates some wonderful ambient noise that adds to the tranquil feeling of the garden, even though it was exposed to the street.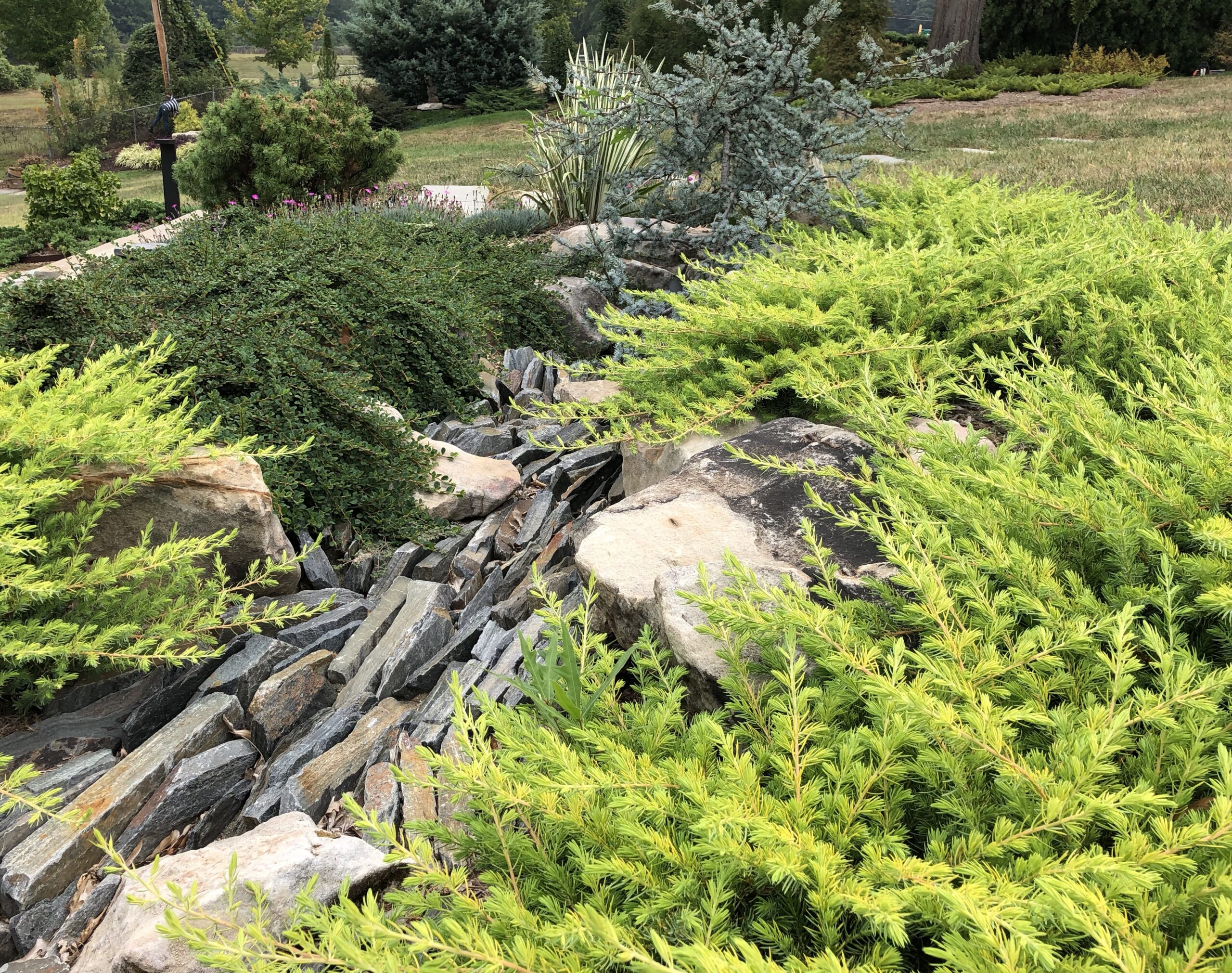 Here is a glimpse of phase 2 in the backyard. The client asked for a miniature mountain range that included a waterfall. I was a bit skeptical as I thought to myself: "This could either go really right or really wrong." Fortunately, it went "really right." The mountains are planted in a way that mimics green masses of trees, with 'Blue Rug' juniper (Juniperus horizontalis 'Blue Rug', Zones 6–7) to pick up the blue color of the Blue Ridge Mountains and dwarf mondo (Ophiopogon japonicus 'Nanus', Zones 6–11), along with black scallop ajuga (Ajuga reptans 'Black Scallop', Zones 3–10) to simulate shadows on the mountain side. Eventually this area will host a blackened cedar Japanese pavilion that will be cantilevered out over the large U-shaped pond.
Have a garden you'd like to share?
Have photos to share? We'd love to see your garden, a particular collection of plants you love, or a wonderful garden you had the chance to visit!
To submit, send 5-10 photos to [email protected] along with some information about the plants in the pictures and where you took the photos. We'd love to hear where you are located, how long you've been gardening, successes you are proud of, failures you learned from, hopes for the future, favorite plants, or funny stories from your garden.
Have a mobile phone? Tag your photos on Facebook, Instagram or Twitter with #FineGardening!
Do you receive the GPOD by email yet? Sign up here.