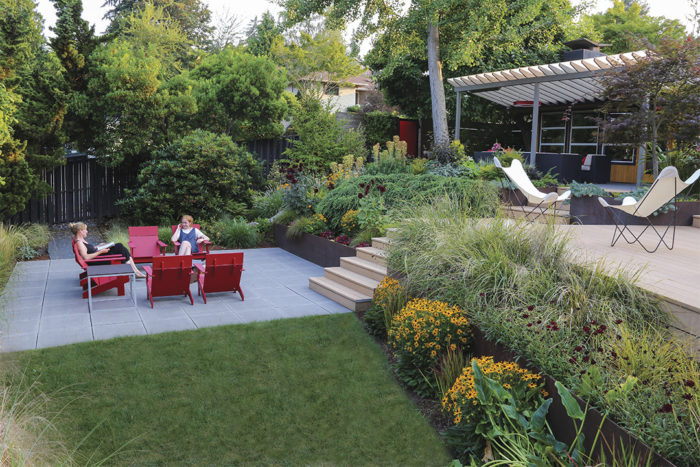 One of the first times I met Ahna and Ryan, the homeowners of a property in Seattle I'd just been asked to landscape, I knew they were a creative, industrious, and ambitious pair. They had just renovated a "tear-down listing" into a model of modern chic, though the lack of storage at their new dream house prompted the need for an outdoor shed. Unfortunately, nothing they saw matched their contemporary aesthetic, so the couple ended up designing and building their own. This custom shed ended up being not only the impetus for a new company, Modern Shed, but also the inspiration for a contemporary and stylish garden I got to design.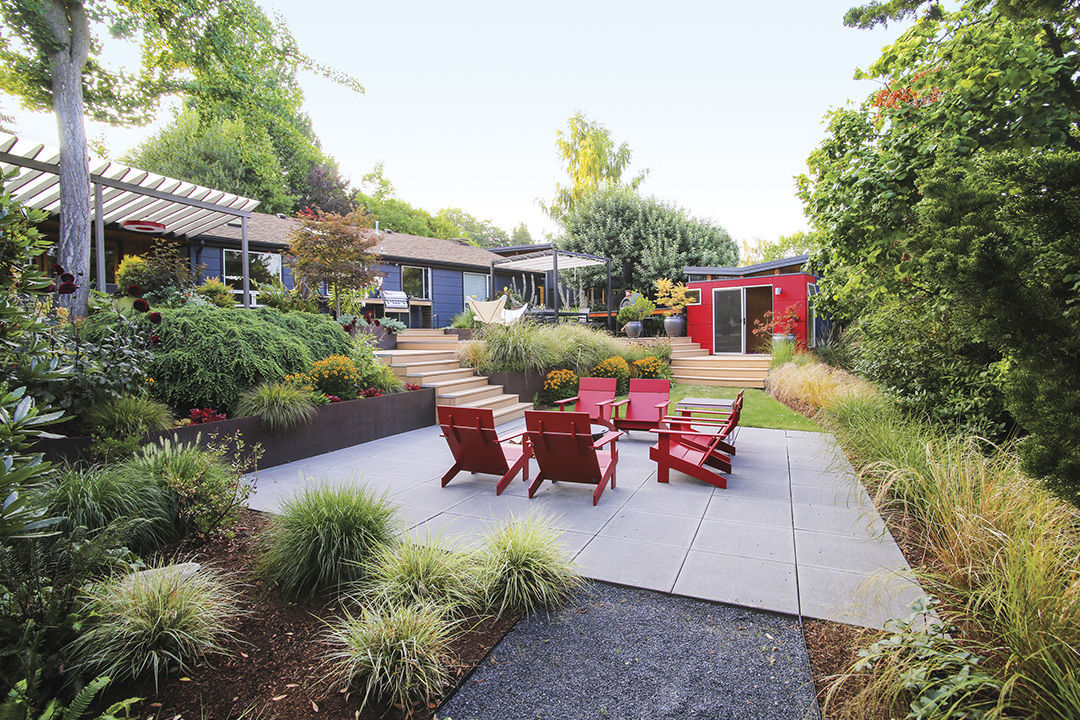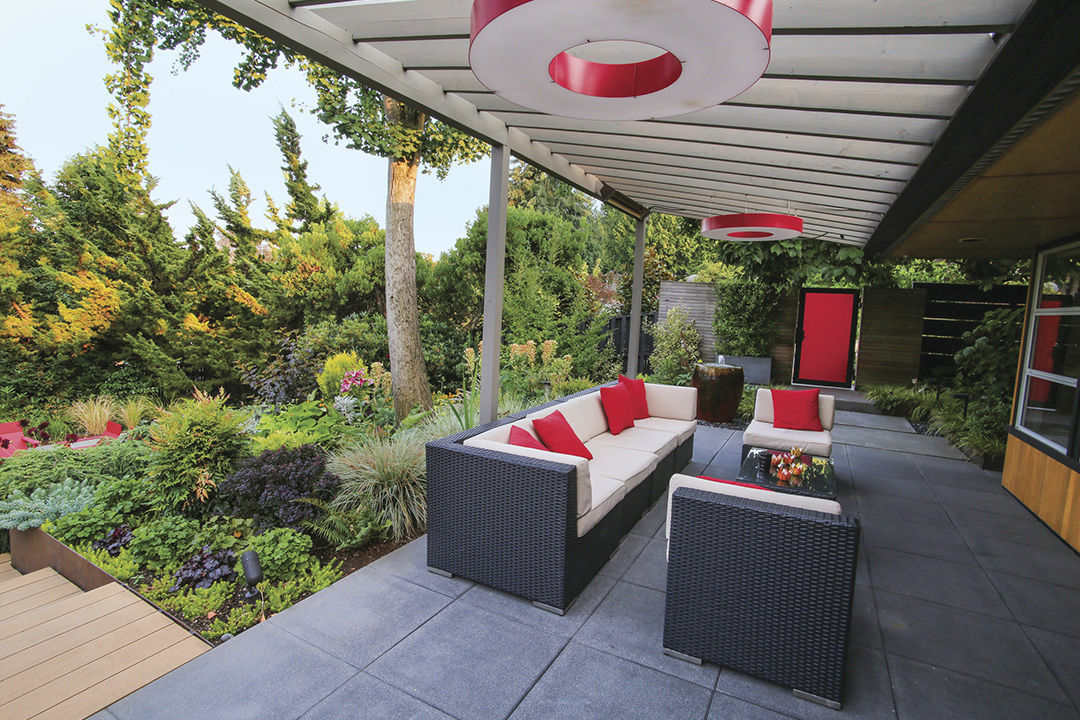 Terrace to add both form and function
All that existed in the backyard when Ryan and Ahna bought their home was a small concrete patio directly off the back door. Beyond the patio was a dense thicket of shrubs that dominated the yard and screened the view to the sloping lawn below. There was no reason to enter the largely unusable yard except to hack back at the wall of foliage that seemed to ever encroach on the back door.
The overgrown shrubbery was removed, except for a stately gingko tree and a mature weeping hemlock. Then, tapping into their architectural backgrounds, Ryan and Ahna reimagined the yard as a network of livable spaces: living room, dining room, kitchen, and sitting area with a fire pit. Through calculated terracing and retaining (a necessity given the grade of the backyard), a collection of rectilinear rooms at various heights developed. These were connected by paver pathways and Corten steel planters, with decking and stairs made of a bamboo composite material called ZomTek.
Once Ahna and Ryan finished the hardscape framework, I got to step in. The garden obviously needed to stay in keeping with the modern style that was created through the sharp lines and sleek materials used in the hardscaping. But the plantings also had to help add warmth and another level of interest, since modern spaces can often feel bleak and sterile.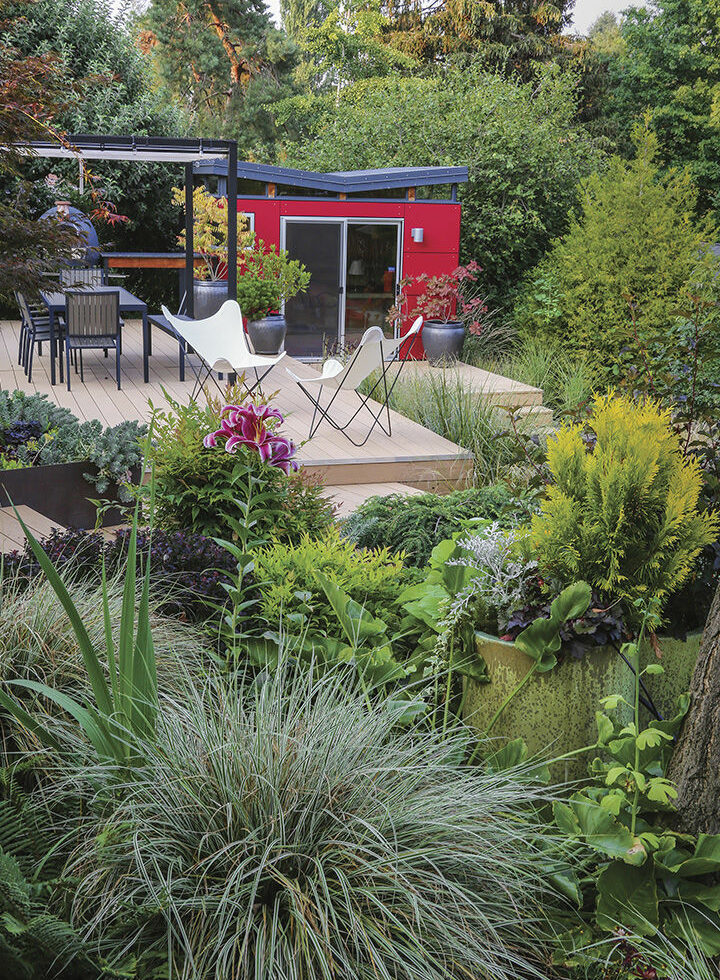 Decide how and when to exploit—or soften—the angles
A big challenge with contemporary gardens is creating a space that feels welcoming. One of my primary goals was to make this new space as inviting as possible.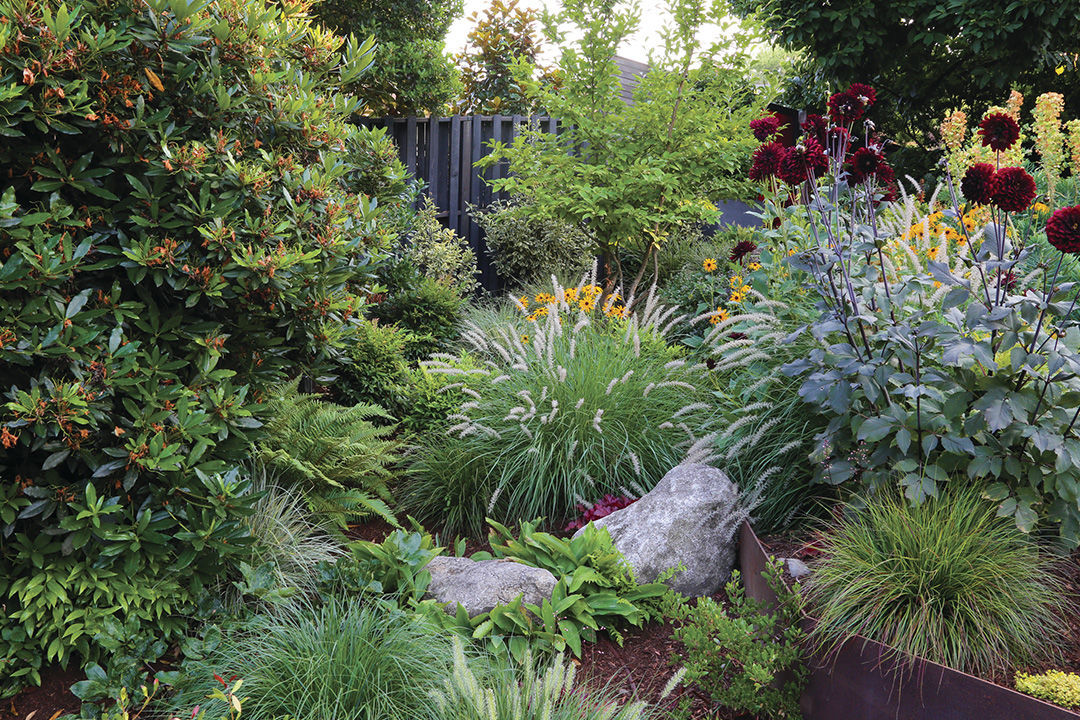 Although modern spaces are often open and airy, that can also come across as barren. Ahna and Ryan wanted to live in their garden, not just look at it, and so they needed it to feel full of life. They wanted to host pizza-making parties with their new outdoor pizza oven and have their daughter's friends over to play. With my ­focus narrowed, I delved into figuring out how to soften the sharp edges of the space in some instances to make things friendlier. But in other spots I needed to accentuate the many angles to keep the contemporary vibe intact. I decided to balance those two goals throughout the elevations while also maximizing the livability and beauty of the garden.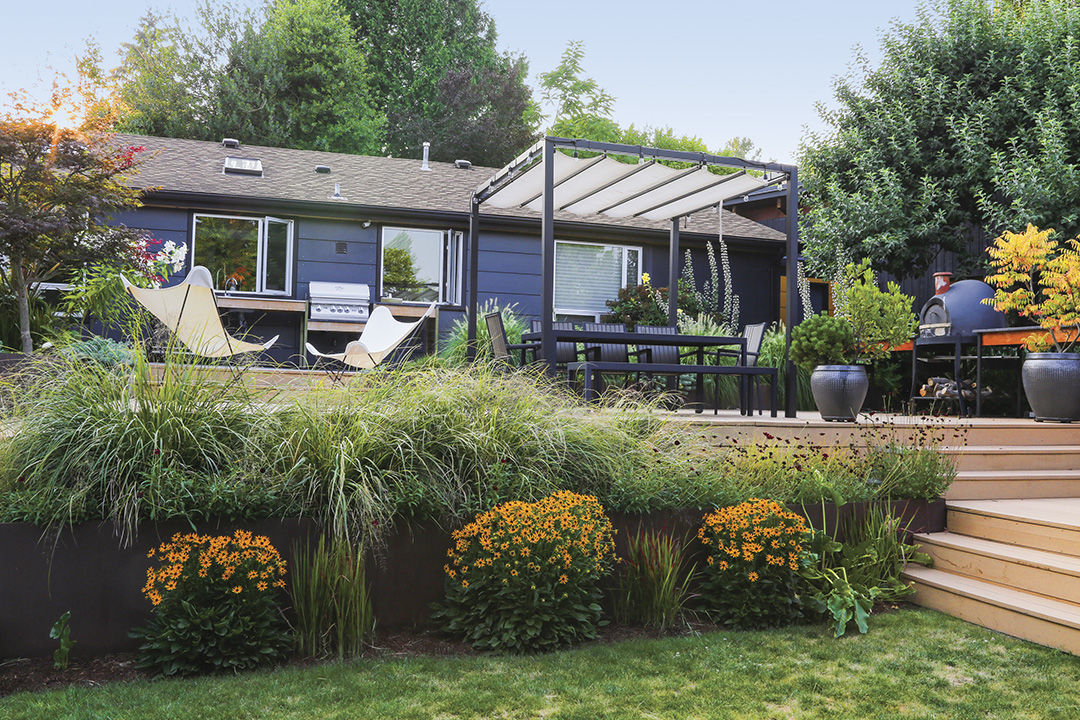 It was important to retain the perimeter plantings of Hollywood juniper, dwarf strawberry trees, and rhodies for privacy. Without those bones in the background, the backyard would be too exposed, and the upper terrace levels in particular would be on display for the surrounding neighbors. However, I knew for certain that I didn't want to close off or wall in any of the new sightlines or garden rooms with new plantings after the homeowners had worked so hard to open the space. Masses of ornamental grasses work perfectly for accentuating the separation between rooms on the edges of the deck and steel planters, but the grasses stay low and are unobtrusive. In addition, their soft texture contrasts wonderfully with the sharp terrace lines. Donkeytail spurge, planted at the corners of the steel planters, creates a spilling effect and softens the hard edges.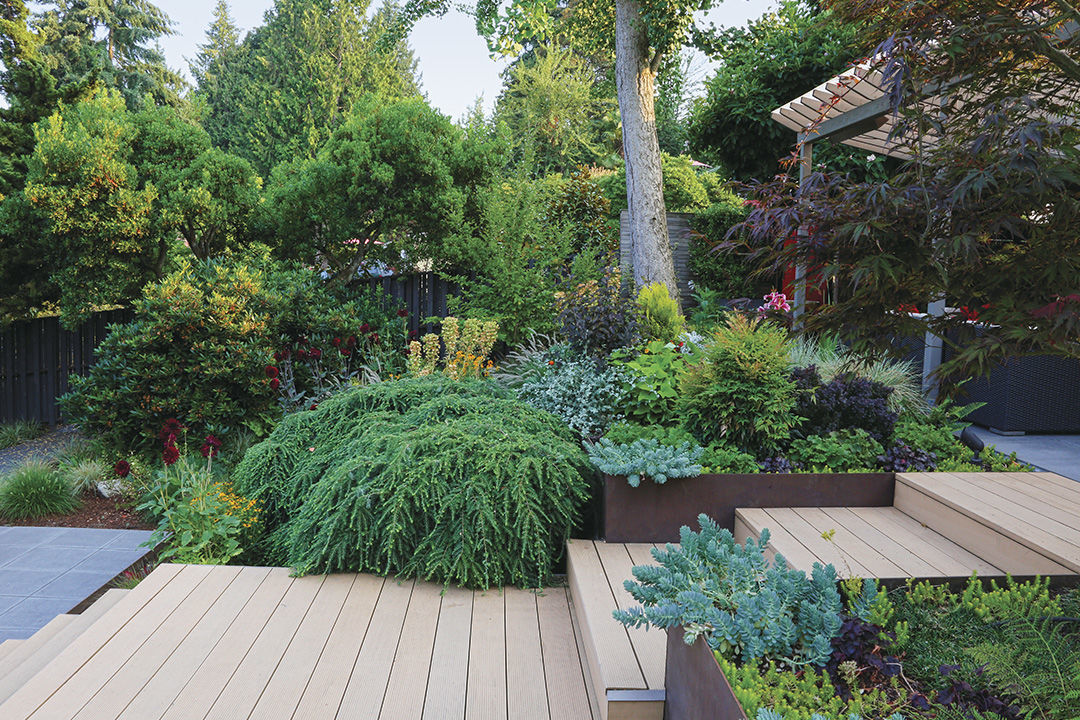 Not all of the plants are small in this space. Trees also play a role, although they were placed carefully in ­order to preserve sightlines and to keep the linear layout ­intact. Because of a slight bend in the layout of the house, a triangle-shape planting bed lies just off the kitchen that once was home to a gnarled old tree. Ahna and Ryan missed the canopy it provided, but they didn't want anything that heavy or dominating in their newly lightened space. We decided to plant a 'Sherwood Flame' Japanese maple that would not only stay small but also provide a focal point, especially when light filtered through it, casting a brilliant red glow.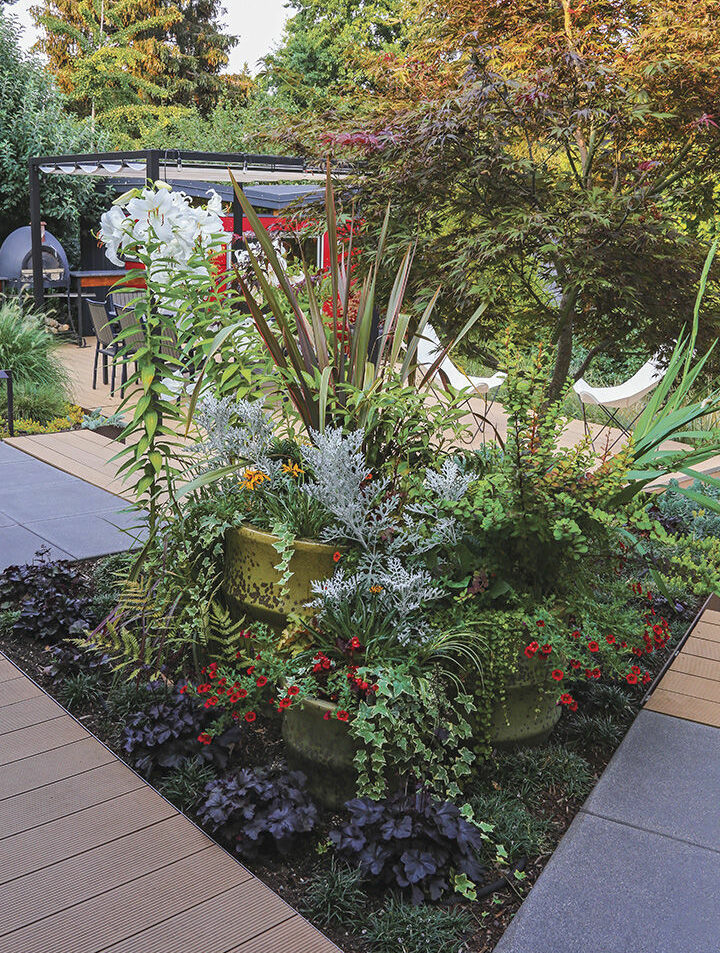 Add warmth through the color palette
The other big challenge—or rather inspiration—for this project was color. As part of the backyard layout, an empty 10-foot by 12-foot space lay designated for a new modern shed. But what color should it be? The home already had mustard yellow doors that provided a vivid contrast to the charcoal gray exterior. Knowing that the shed would be a focal point of the garden, Ahna and Ryan decided to maximize the warm tones and go for a bright red. Various pieces of outdoor furniture and accessories in the same hue followed. As a landscape designer, I dream of this kind of creative hook, because it sets the inspirational palette for the plants I choose.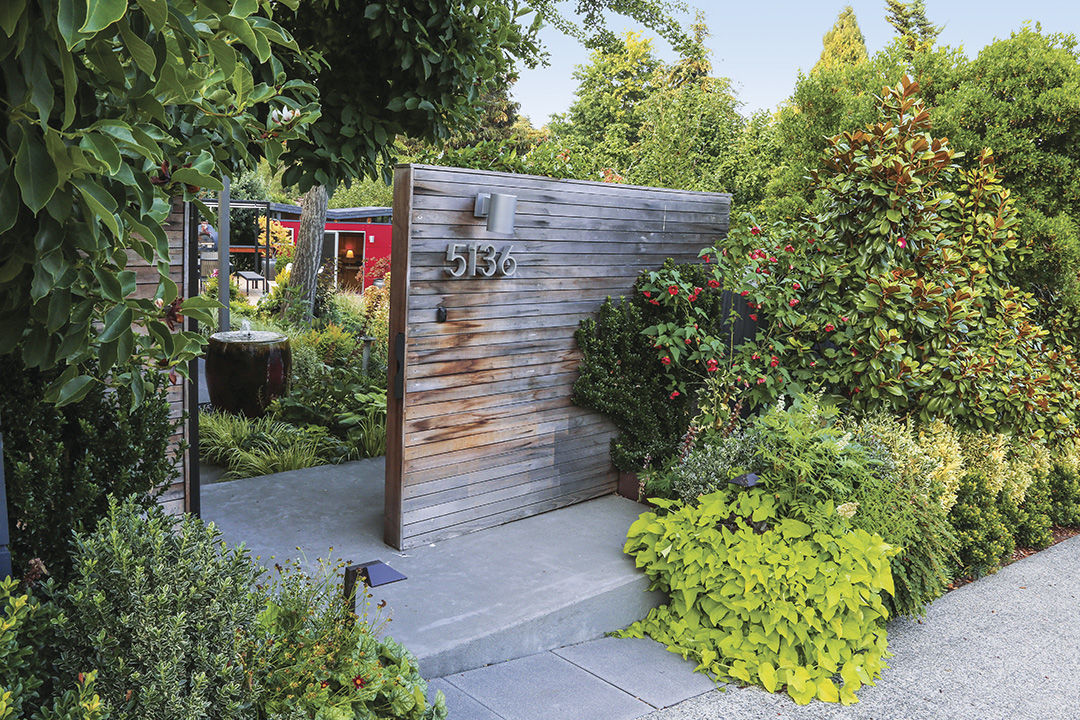 I selected foliage and flowers in shades of burgundy and gold to tie the plantings to the shed and door colors. Chocolate cosmos float with the strappy foliage of the pheasant grass, 'Little Goldstar' black-eyed Susan and Japanese blood grass pop against the purple-gray of the steel planters, and an array of red-hued plants fill in the beds between the terraces. The golden flower heads of upright feather reed grass contrast brilliantly with the red of the new shed while providing a vertical accent. The tall flower heads of 'Morning Candle' bear's breeches mimic the vertical feather reed grass on the opposite side of the garden, their purplish-gray bracts echoing the charcoal house color.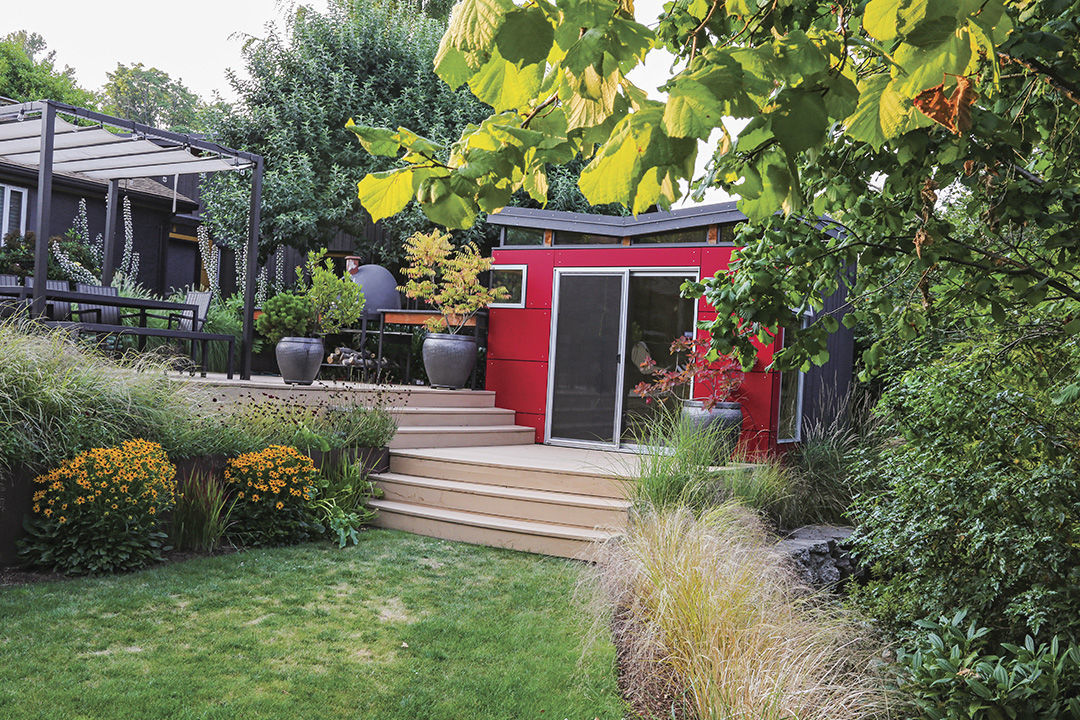 Container plantings were also included to provide low-lying vignettes visible from multiple vantage points both inside and out. Transition points from one room to another or at the edge of the stairs and deck are favorite locations for those. The pop of color they provide makes them subtle focal points. Within containers, I like to plant seasonal treasures and evergreens with a mix of foliage textures. 'Sun Downer' New Zealand flax (Phormium 'Sundowner', Zones 7–9), 'Lemon Lime' heavenly bamboo (Nandina domestica* 'Lemon Lime', Zones 6–9), and 'Kramer's Rote' heath (Erica × darleyensis 'Kramer's Rote', Zones 6–9) are all great options for providing colorful, year-round interest.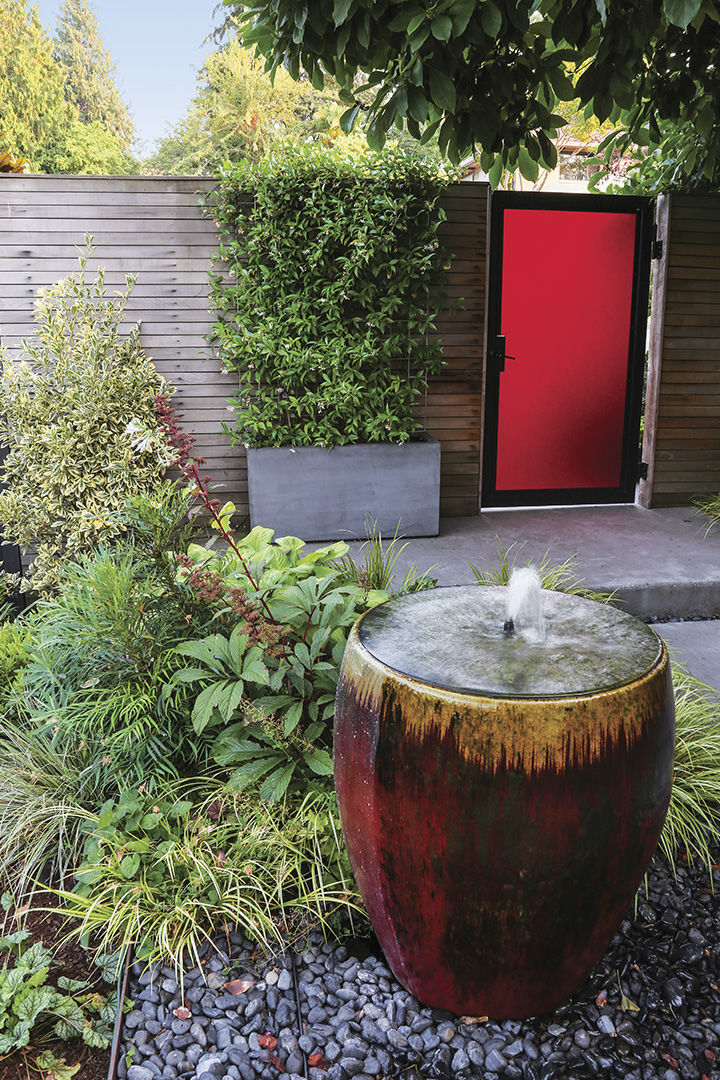 Several months into the project, Ahna and Ryan decided to create a new entry point to the garden from the street. Again, playing off the warm tones already present, a polycarbonate gate in brilliant red was ­selected. Just outside the new gate are steel planters filled with a mix of evergreens and seasonal stars in hues of red and yellow, such as red flowering maple (Abutilon 'Vesuvius Red', Zones 7–9) and 'Gold Zebra' heucherella (Heucherella 'Gold Zebra', Zones 4–9). The dramatic combination pops against the dark cedar fence.
Just inside the gate is a red and gold bubbler fountain that signals the colorful and welcoming contemporary outdoor living space visitors are about to enter and, no doubt, thoroughly enjoy.
---
A modern and welcoming plan
This plan created various levels of interest, with a reliance on plants with strong architecture. The trees, shrubs, and perennials all had a warm hue and/or interesting texture that enabled them to balance out any perceived coldness in the contemporary design.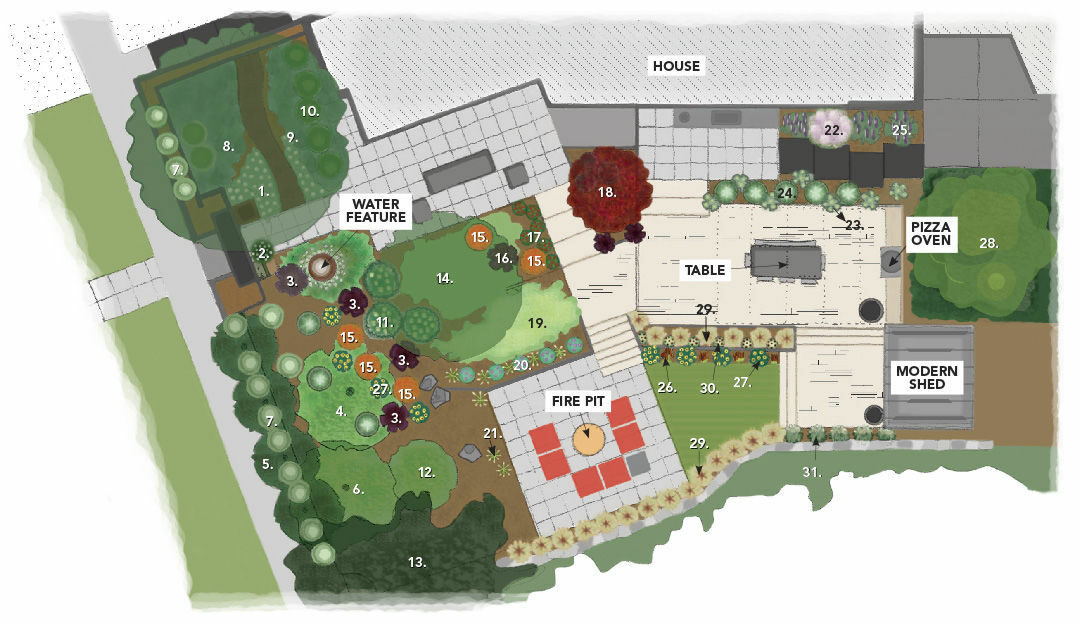 Plant Key
Snowdrop anemone (Anemone sylvestris, Z 2–9)
Star jasmine (Trachelospermum jasminoides, Z 8–10)
'Rotlaub' rodgersia (Rodgersia podophylla 'Rotlaub', Z 5–8)
Japanese stewartia (Stewartia pseudocamellia, Z 5–8)
'Little Gem' magnolia (Magnolia grandiflora 'Little Gem', Z 7–9)
Compact strawberry tree (Arbutus unedo 'Compacta', Z 7–9)
'Silver King' euonymus (Euonymus japonicus 'Silver King', Z 6–9)
Wild ginger (Asarum caudatum, Z 7–10)
Saucer magnolia (Magnolia × soulangeana, Z 6–9)
Sweetbox (Sarcococca ruscifolia, Z 7–9)
Spurge (Euphorbia characias subsp. wulfenii, Z 6–9)
Rhododendron (Rhododendron cv., Z 4–9)
Hollywood juniper (Juniperus chinensis 'Kaizuka', Z 4–9)
Ginkgo (Ginkgo biloba, Z 3–8)
'Moon Bay' heavenly bamboo (Nandina domestica* 'Moon Bay', Z 6–9)
'Concorde' barberry (Berberis thunbergii* 'Concorde', Z 6–9)
'Blazing Sunset' geum (Geum 'Blazing Sunset', Z 3–9)
'Sherwood Flame' Japanese maple (Acer palmatum 'Sherwood Flame', Z 5–8)
Weeping hemlock (Tsuga canadensis 'Pendula', Z 2–7)
Heuchera (Heuchera cv., Z 4–8)
'Burgundy Bunny' fountain grass (Pennisetum alopecuroides 'Burgundy Bunny', Z 4–9)
Mountain laurel (Kalmia latifolia, Z 4–9)
Donkeytail spurge (Euphorbia myrsinites*, Z 5–9)
'Hameln' fountain grass (Pennisetum alopecuroides 'Hameln', Z 4–9)
'Morning Candle' bear's breech (Acanthus mollis 'Morning Candle', Z 6–8)
Japanese blood grass (Imperata cylindrica* 'Rubra', Z 5–9)
'Little Goldstar' black-eyed Susan (Rudbeckia fulgida var. sullivantii 'Little Goldstar', Z 3–9)
Apple tree (Malus cv., Z 3–9)
New Zealand wind grass (Anemanthele lessoniana, Z 8–10)
Chocolate cosmos (Cosmos atrosanguineus, Z 7–9)
'Karl Foerster' feather reed grass (Calamagrostis × acutiflora 'Karl Foerster', Z 5–9)
---
Favorite plants for a modern yet warm feel
'Sherwood Flame' Japanese maple

Size: 12 to 14 feet tall and wide

Conditions: Full sun to partial shade; moist, well-drained soil

Native range: Japan, Korea

This option stays undersize and retains excellent burgundy foliage through spring and summer. It also blazes a brilliant crimson in fall.

'Concorde' barberry

Size: 18 to 24 inches tall and wide

Conditions: Full sun; well-drained soil

Native range: Japan

This shrub flaunts deep purple foliage that intensifies in fall. Its compact habit makes it perfect for small gardens.

Red leaf rodgersia

Size: 3 to 5 feet tall and wide

Conditions: Partial to full shade; moist, well-drained soil

Native range: Japan, Korea

With its large stature and bold maroon leaves that can spread up to 18 inches in diameter, this perennial adds drama to a shady moist area.

'Burgundy bunny' fountain grass

Size: 12 to 16 inches tall and wide

Conditions: Full sun; well-drained soil

Native range: Eastern Asia, Western Australia

A petite grass with hints of red in late spring, 'Burgundy Bunny' sports narrow, strappy foliage that transforms into all-over fiery red by fall.

Donkeytail spurge

Size: 6 to 12 inches tall and wide

Conditions: Full sun; well-drained soil

Native range: Southern Europe, Asia

This is a sun-loving ground cover with silver-blue evergreen foliage that radiates around its trailing stems like a bottlebrush. Showy chartreuse bracts emerge in early spring.

Chocolate cosmos

Size: 2 to 3 feet tall and 1 to 2 feet wide

Conditions: Full sun; moist, well-drained soil

Native range: Mexico

This plant's deep reddish-brown velvety flowers float delicately on narrow stems. Its unusual flower color delivers exceptional contrast against green foliage. As a bonus, the blooms actually smell like chocolate.
---
—Courtney Olander is the lead designer and owner of Olander Design in Seattle. This article first appeared as Contemporary Cool in Issue 189 of Fine Gardening.