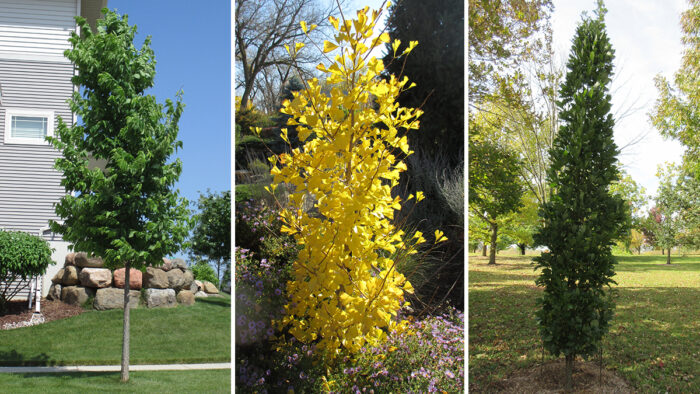 Vertical elements in the landscape become "visual beacons" and act not only as focal points but as elements of accent and contributors of scale. Narrow and columnar deciduous trees can be positioned and utilized to be major contributors throughout the landscape but also certainly have value in those smaller gardens and limited spaces that won't accommodate a wider specimen. There is an enormous range of potential candidates to serve as a strong, vertical "exclamation point" in the landscape, and they are typically varietal selections of woody plant species that we might already have encountered at our local nurseries and garden centers. As the eye travels and visually absorbs the landscape, these well-positioned, columnar trees will be long appreciated for their amazing contribution of form and structure throughout our gardens.
Look for columnar trees that have other ornamental qualities as well
Consider the value not only of scale and form of these narrow contributors as they grow in the garden, but also the individual characteristics provided by each selection. These features may include beautiful flowers, fragrance, intriguing texture, colorful foliage, fall color, ornamental stems or bark, and certainly a strong winter silhouette. It's vital to consider, in advance, the needs of those selections in terms of proper siting, soil preferences, sunlight, and other cultural factors. Research available selections and pick a columnar candidate that is right for you. Become familiar with the ultimate height and width of these trees as well, and understand their increasingly dramatic contribution in the locations in which they are placed. Keep in mind that references to size might be based on a certain age and relative rate of growth. Here are 10 tantalizing selections for the Midwest.
Check out these 8 amazing columnar trees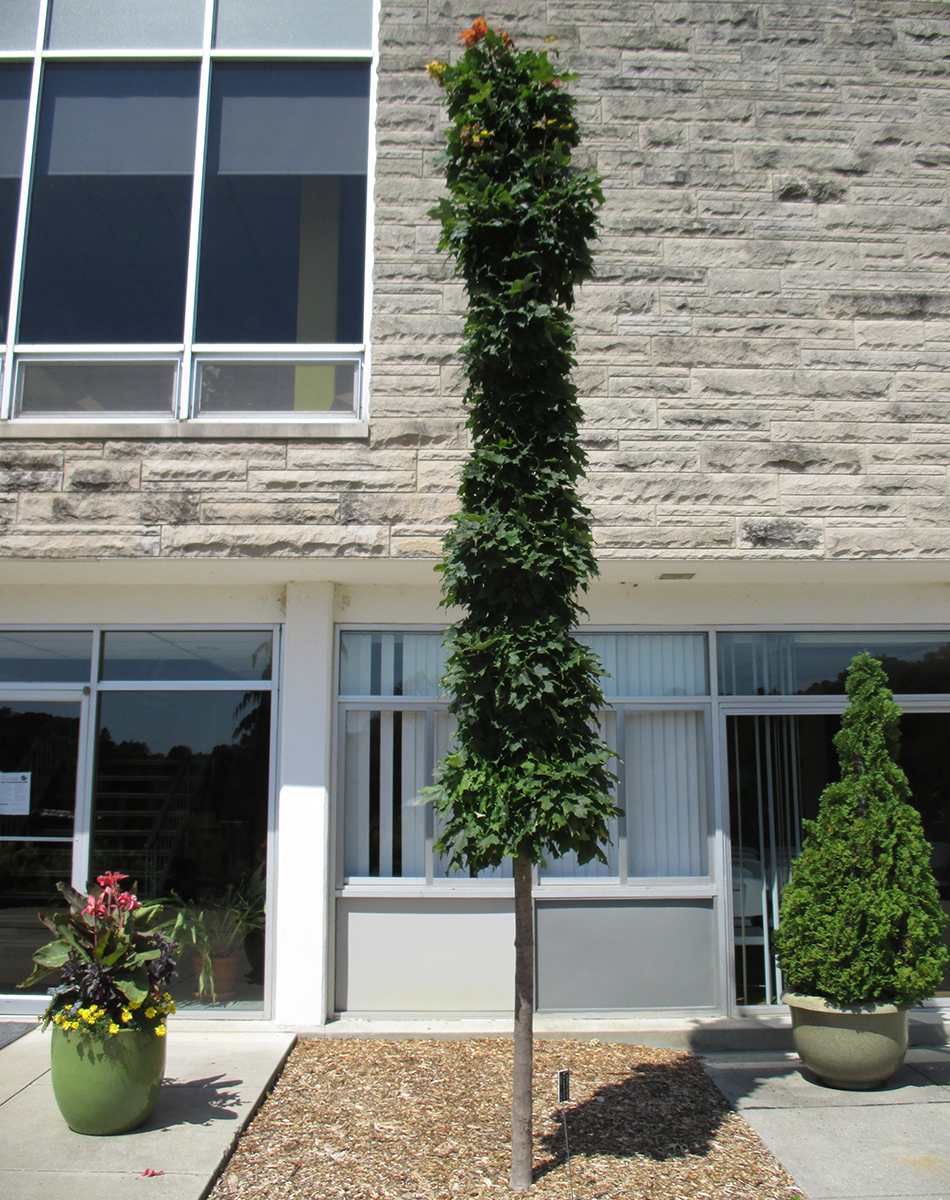 1. 'Monumentale' sugar maple
While there are many amazing selections of sugar maple (Acer saccharum and cvs., Zones 3–8) on the market, the variety 'Monumentale' (Acer saccharum subsp. nigrum 'Monumentale', syn. Acer saccharum subsp. nigrum 'Temple's Upright') is a strikingly narrow and uniform tree that grows to 30 feet tall and 3 feet wide. Great for a tight spot or used in repetition as a strong vertical element in full sun to partial shade, it will also get some nice fall color in the orange range and needs very little pruning or shaping over time. The variety 'Newton Sentry' (Acer saccharum subsp. nigrum 'Newton Sentry') is also an excellent columnar selection.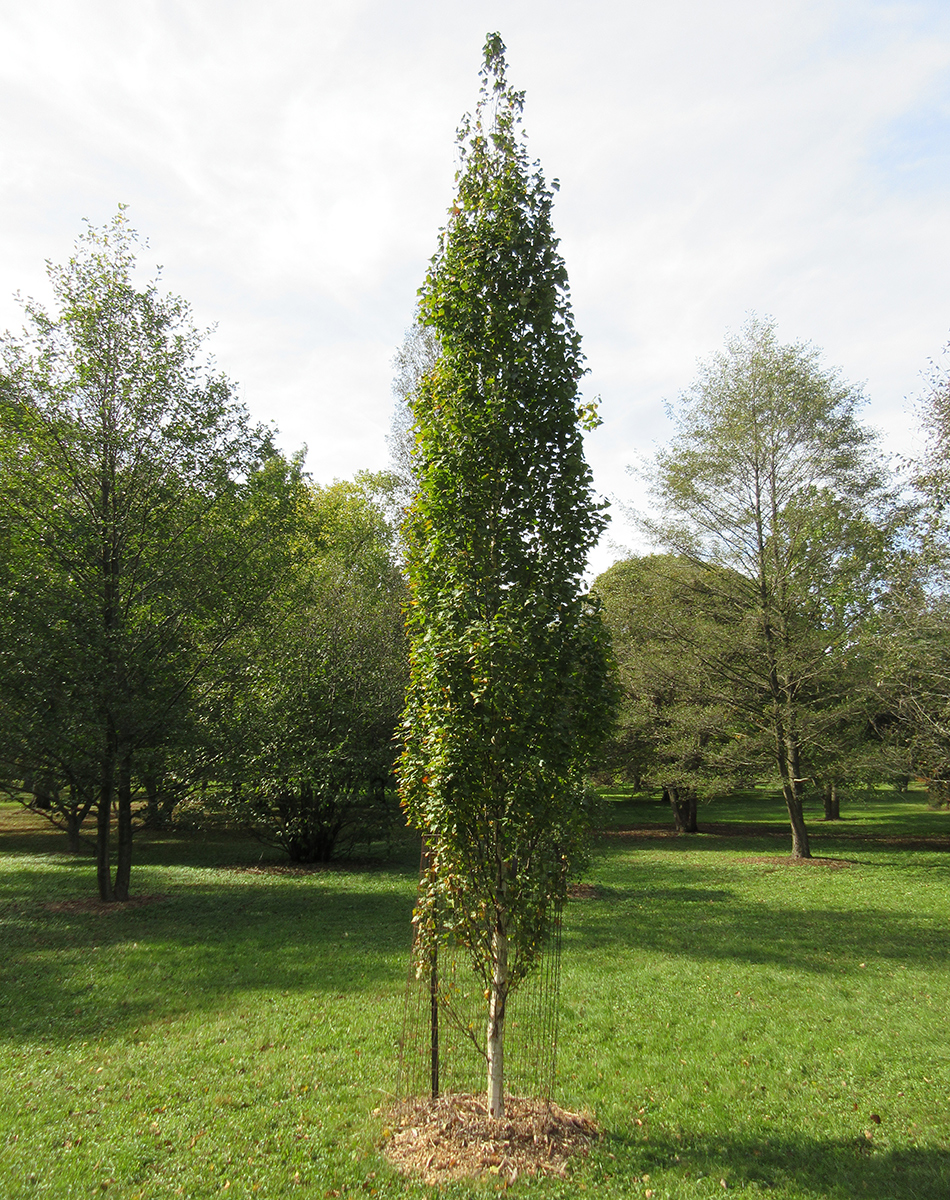 2. Parkland Pillar® Asian white birch
I just planted five of these along the pathways of a small garden to offer a strong vertical element, consistent symmetry, and golden fall color and white ornamental bark. Narrow, upright, and dense, Parkland Pillar® Asian white birch (Betula platyphylla 'JEFPARK', Zones 3–7) is a great accent tree, or multiple specimens will work in tandem as a privacy screen in full sun to partial shade. Both heat and drought tolerant, this fast-growing selection reaches up to 40 feet tall and 6 feet wide.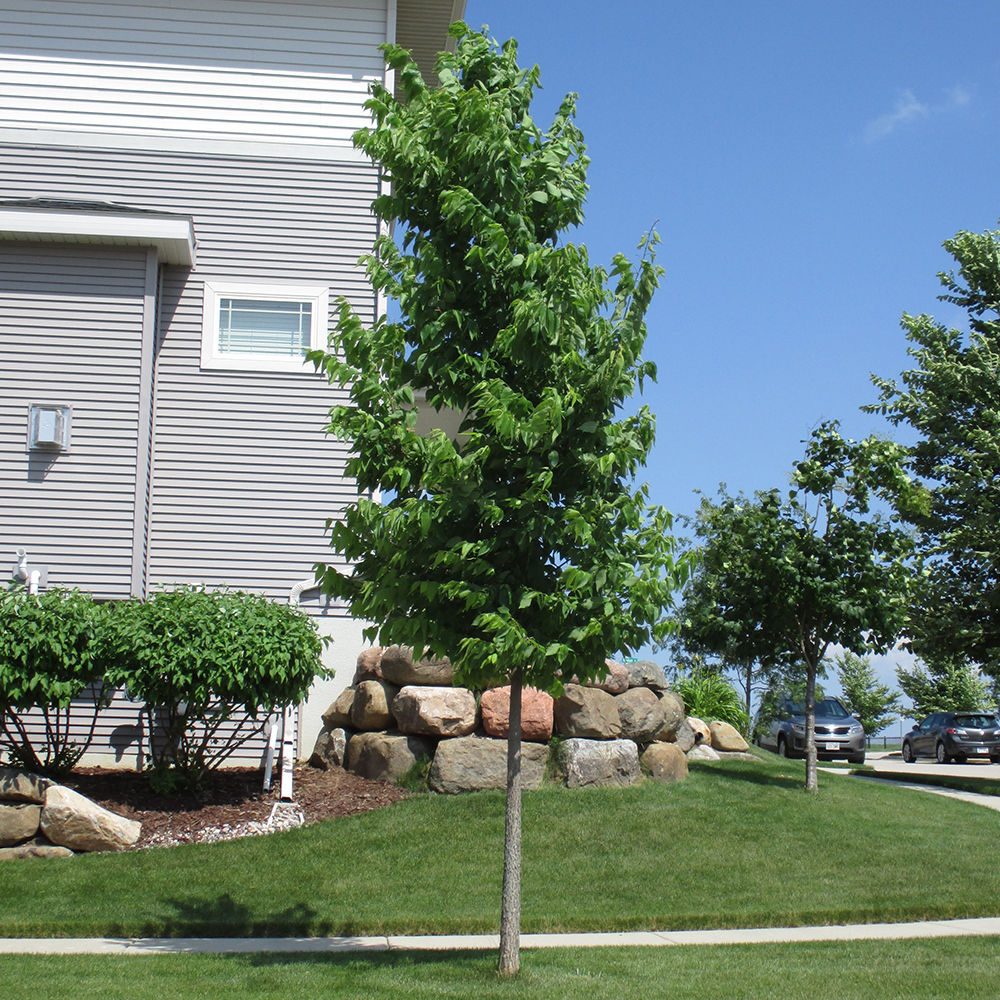 3. Prairie Sentinel® hackberry
The upswept branches of Prairie Sentinel® hackberry (Celtis occidentalis 'JFS-KSU1', Zones 4–7) make for a uniformly narrow look described as "tightly fastigiate." At 40 feet tall and 10 feet wide, it has become quite popular as both an urban parkway tree in those traditional narrow street medians and in the home landscape in full-sun locations. The yellow fall color and interesting bark are of note, as is the extreme urban tolerance of this species (drought, heat, cold, wind, pollution, and a wide range of soils).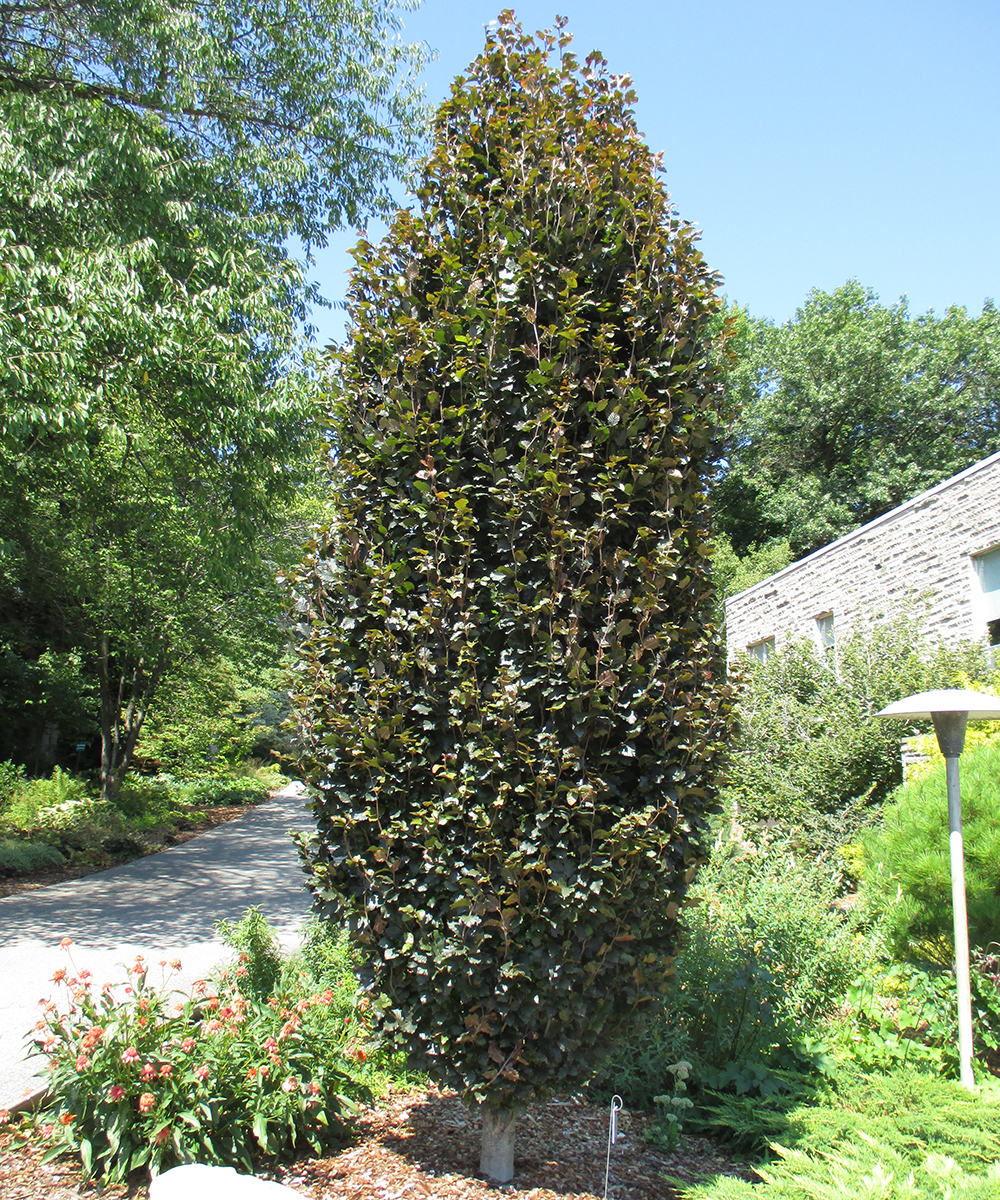 4. 'Red Obelisk' European beech
Deep maroon, crinkled foliage makes 'Red Obelisk' European beech (Fagus sylvatica 'Red Obelisk', Zones 4–7) a very striking vertical specimen in the landscape. The form for this variety, regardless of age, is always rigid and uniformly proportional as a "maroon column." The smooth silver bark is nice as well. This tree does require full sun, decent soil, and adequate moisture, so a bit of pampering is in order and will be worth the effort. Like other European beeches, 'Red Obelisk' is slow growing. It will eventually reach 25 feet tall and 5 feet wide at maturity.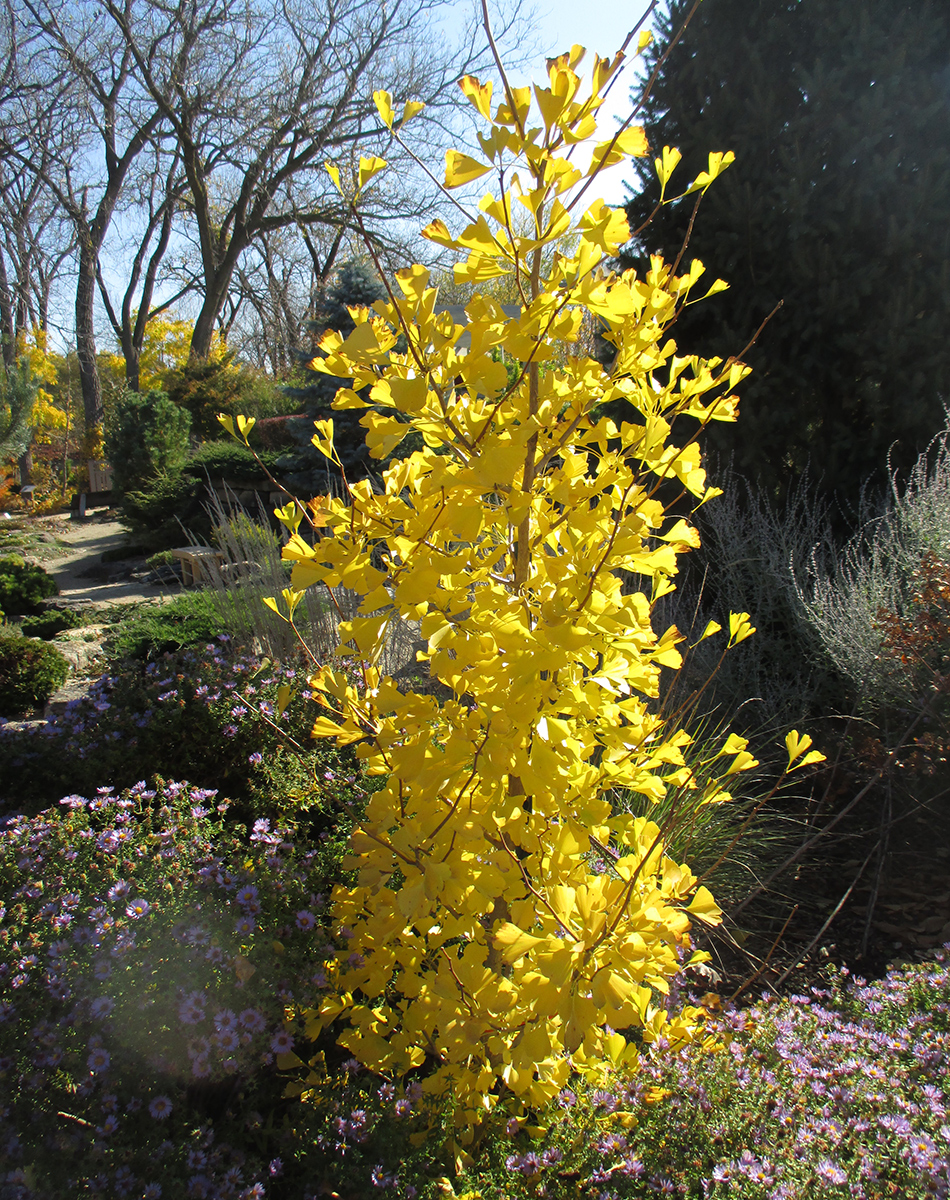 5. Goldspire™ ginkgo
A nonfruiting male, Goldspire™ ginkgo (Ginkgo biloba 'Blagon', Zones 4–9) is a narrow and upright variety that stands 25 feet tall and 7 feet wide. It showcases beautiful foliage that turns a clear golden yellow in autumn and brings all the toughness of the ginkgo into a narrower presentation and tight form. Tolerant of air pollution, heat, and other stresses, Goldspire™ will have impressive longevity in a wide range of growing situations.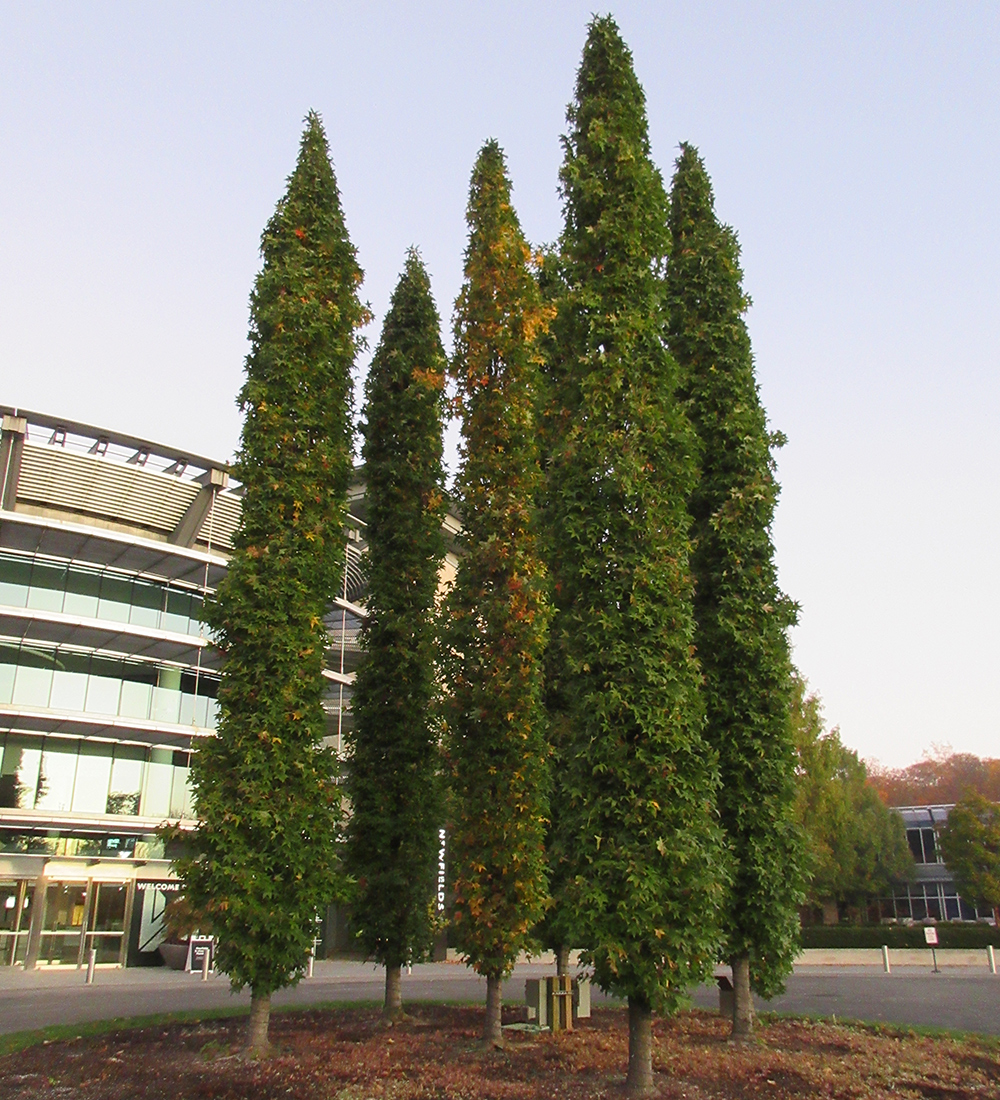 6. 'Slender Silhouette' sweetgum
If you ever find yourself at the beautiful Newfields campus right in front of the Indianapolis Museum of Art, check out the planting of 'Slender Silhouette' sweetgum (Liquidambar styraciflua 'Slender Silhouette', Zones 5–8; photo above). What a strong statement this uniformly erect, extremely narrow, and columnar tree provides! As with the straight species of sweetgum, moisture is important and slightly acidic soils in full sun are preferred. This variety has very few fruits and does exhibit nice hints of orange, yellow, and maroon fall color on the star-shaped leaves. At 40 feet tall and 5 feet wide, 'Slender Silhouette' is a striking vertical element in nearly any setting.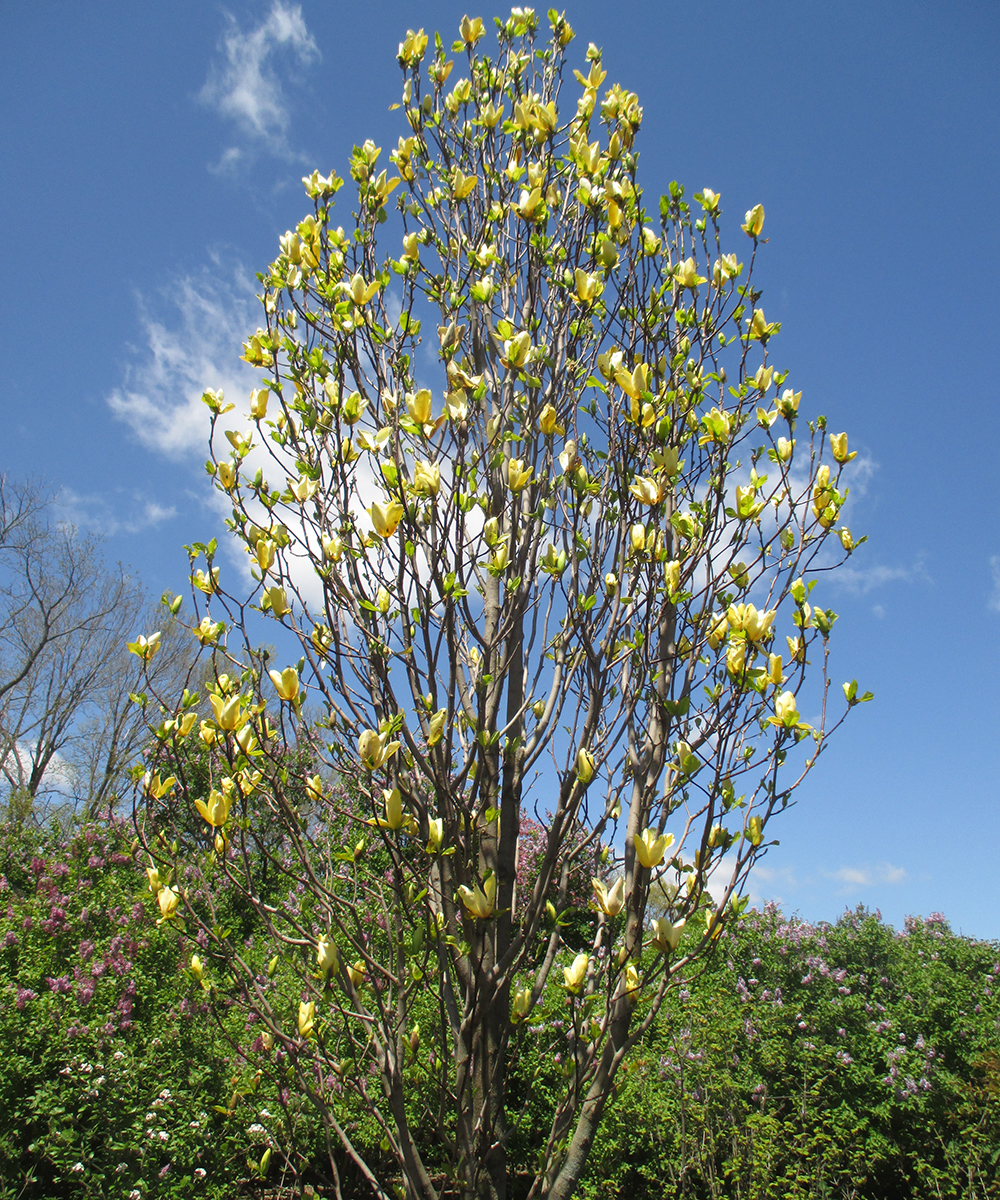 7. 'Sunspire' magnolia
It is a rarity to see an upright magnolia (Magnolia spp. and cvs., Zones 3–9), and this hybrid selection is conspicuously columnar with fastigiate branching. With age, 'Sunspire' magnolia (Magnolia 'Sunspire', Zones 5–8) reaches 25 feet tall and 8 feet wide with a slightly wider base that tapers to the top. The deep yellow flowers, held upright, arrive late in spring and avoid most of the later frosts that plague other early blooming species and varieties. Fun sun and evenly moist but well-drained soils are ideal for this tree. But watch out—'Sunspire' is not pollution tolerant. As an accent or focal point, this magnolia has few rivals in the spring.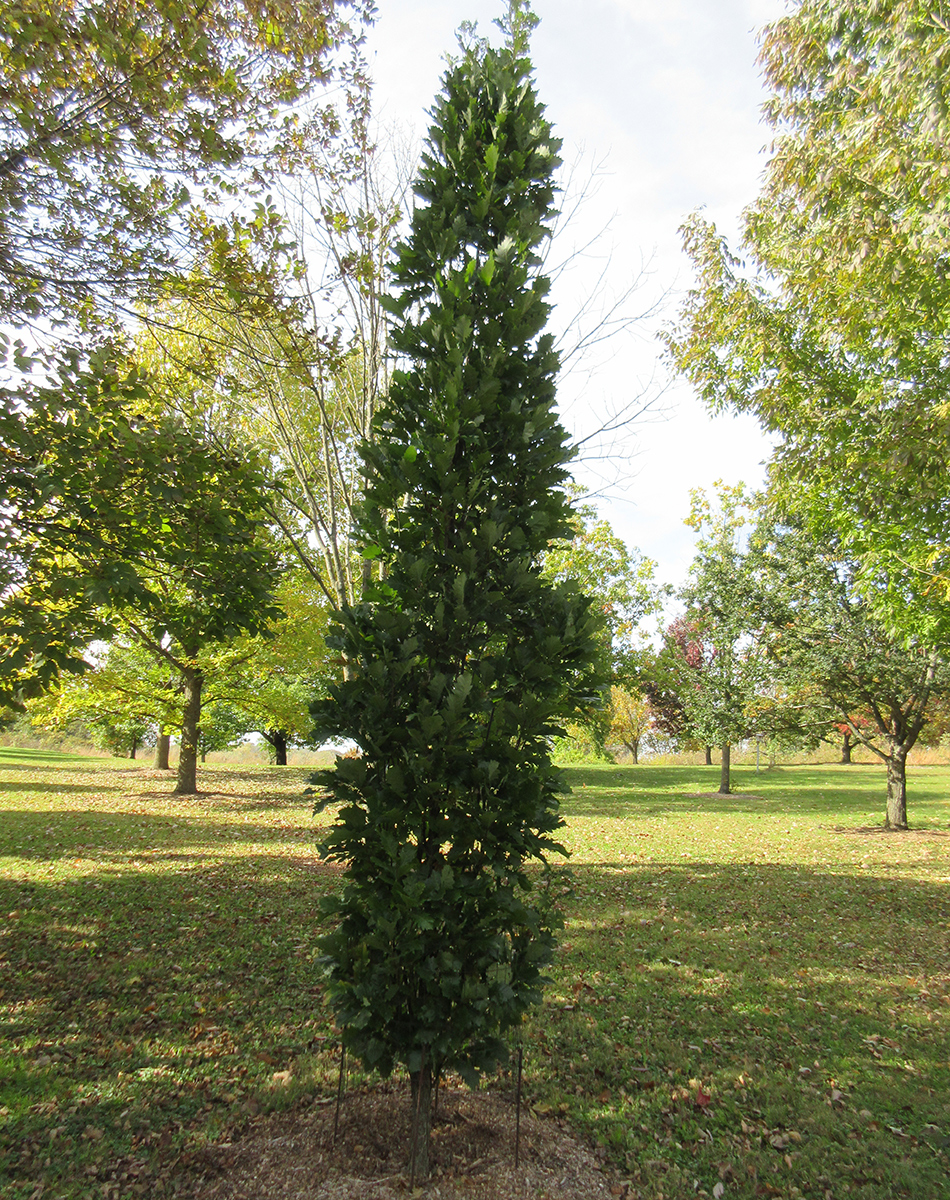 8. Kindred Spirit® oak
With quite a few columnar oaks on the market, Kindred Spirit® oak (Quercus × warei 'Nadler', Zones 4–9) is one of my favorites for a consistently tight form. This hybrid was created with the crossing of upright English oak (Quercus robur, Zones 5–8) and swamp white oak (Quercus bicolor, Zones 4–8). At 35 feet tall and 6 feet wide, it is a great selection for full-sun urban environments, where it displays drought, pollution, and salt tolerance and will handle clay soil. Kindred Spirit® stands up to wind and ice stress as well. It also has nice yellow color late in the fall. Two other notable columnar oaks to keep a look out for are Crimson Spire™ oak (Quercus 'Crimschmidt', Zones 4–7) and Beacon® swamp white oak (Quercus bicolor 'Bonnie and Mike', Zones 4–8), both of which grow in the range of 40 to 45 feet tall and 15 feet wide.
—Mark Dwyer is the garden manager for the Edgerton Hospital Healing Garden in Edgerton, Wisconsin, and he operates Landscape Prescriptions by MD.
Photos: Mark Dwyer