I love vertical plants for their ability to stop your eye and let your mind rest for a moment among the sumptuous, blowsy mounds of smaller annuals and perennials. A strongly upright plant provides an exclamation point in the landscape and supplies an element of contrast that makes an entire garden more exciting. Vertical plants can be used effectively in gardens of any size. But because their primary direction of growth is upward and not outward, tall slender plants can be used to great effect—especially in small spaces—to bring a much-needed element of height without having to worry that, in a few years' time, the plants' breadth might engulf everything around them.
When considering an exclamation-point plant, look for one with a strongly upright habit—a plant that is considerably taller than it is wide. In a tree, look for a strong central leader and short or upright-growing side branches. In a shrub, the exclamation-point effect might come from all of the shrub's stems emerging from a central point and growing directly upward. A perennial should bear a strongly vertical habit that separates it from its mounding, billowy neighbors. Here are a few of my favorites from each category.
Trees
Tall slender trees break our line of sight as they reach skyward. These trees will be permanent vertical elements of your landscape, so choose wisely and place them thoughtfully to maximize their usefulness in every season.
---
'Slender Silhouette' sweetgum is superskinny
Name: Liquidambar styraciflua 'Slender Silhouette'
USDA Hardiness zones: 5 to 9
Size: Up to 50 feet tall and 3 to 6 feet wide
Conditions: Full sun; moist, fertile, well-drained soil
'Slender Silhouette' sweetgum is a strongly vertical form of one of our most popular native trees. Fast growing, it can quickly reach 35 feet tall but remains only 3 to 6 feet wide—even at maturity. It has beautiful fall color in rich shades of burgundy, orange, and yellow, and while not completely fruitless, it produces significantly fewer of the round spiky seedpods that so many gardeners dislike.
'Green Arrow' false cypress is a sculptural weeper
Name: Chamaecyparis nootkatensis 'Green Arrow'
Zones: 4 to 7
Size: Up to 20 feet tall and 3 feet wide
Conditions: Full sun; moist, slightly acidic, well-drained soil
A unique and outstanding selection of the Nootka cypress, 'Green Arrow' false cypress is an exceptionally narrow weeping evergreen. As the tree ages, side branches become increasingly pendulous, hanging almost straight down and hugging the trunk. Nootka cypress, though native to the Pacific Northwest, is also well adapted to growing conditions in the eastern half of the United States, making it a popular and useful ornamental tree in gardens from Boston to Atlanta.
Lindsey's Skyward™ bald cypress grows at a slow and steady pace
Name: Taxodium distichum 'Lindsey's Skyward'
Zones: 5 to 9
Size: Up to 20 feet tall and 6 feet wide
Conditions: Full sun to partial shade; moist to wet, acidic soil
A new introduction from Oklahoma breeder Mike Lindsey, Lindsey's Skyward™ is a compact and very distinct form of our native bald cypress. It forms a dense, narrow spire, reaching only 10 feet tall and 3 feet wide in 10 years. In autumn, the leaves turn coppery gold to bronze before they fall, and the tree's architectural form gives it outstanding winter interest. Lindsey's Skyward™ is excep­tionally heat and humidity tolerant and is a good choice for problematic wet areas where other trees might suffer.
Shrubs
Upright-growing shrubs provide strong accents at the understory level. Many varieties are evergreen and some have brightly colored foliage, adding year-round color to the garden, as well.
---
'Beanpole' English yew punctuates all year long
Name: Taxus

×

media

'Beanpole'
Zones: 5 to 7
Size: Up to 10 feet tall and 1 foot wide
Conditions: Full sun to partial shade; fertile, well-drained soil
Few plants are more vertical than 'Beanpole' English yew. It is one of the narrowest evergreens on the market, making it useful in gardens of any size. As with all yews, it performs best in loose, well-drained soil in full sun in the North or in partial shade farther south. A mature specimen sometimes produces red berries in autumn, adding to its beauty and interest in the garden. Yew is a deer favorite, so boxwood might be a wiser choice in gardens where deer are a problem.
'Gold Cone' juniper is a plump golden sentry
Name: Juniperus communis 'Gold Cone'
Zones: 2 to 6
Size: 3 to 5 feet tall and 1 to 2 feet wide
Conditions: Full sun to light shade; well-drained soil
'Gold Cone' is among the best of the golden junipers, selected both for its bright yellow new growth and its strictly upright growth habit. Holding its color well through summer is an added advantage over other cultivars, which might fade to green in summer's heat. With a growth rate of less than 6 inches per year, there are no concerns of it outgrowing its space, so it is useful in even the smallest of gardens. Full sun will guarantee the brightest color.
'Graham Blandy' boxwood doesn't need trimming
Name: Buxus sempervirens 'Graham Blandy'
Zones: 6 to 8
Size: 6 to 8 feet tall and 15 inches wide
Conditions: Partial shade; fertile, well-drained soil
The beloved boxwood's typical rounded and billowy nature is dramatically altered in this staunchly vertical form. The exceptionally narrow shape of 'Graham Blandy' boxwood makes it perfect to use in even the smallest courtyard gardens, and it is an outstanding vertical accent for pots. This is one of the best exclamation-point plants for regions where deer are a problem because boxwoods are highly deer resistant.
Grasses
Exclamation-point grasses are useful in small spaces or as accent plants tucked in between broader-growing shrubs and perennials, and mass plantings of these grasses can make dramatic statements in roomier gardens. Large varieties, like these, are rarely bothered by deer.
---
'Northwind' switchgrass adds a cool blue accent
Name: Panicum virgatum 'Northwind'
Zones: 5 to 9
Size: Up to 5 feet tall and 3 feet wide
Conditions: Full sun; fertile, well-drained soil
'Northwind' is a tall ornamental switchgrass with one of the best vertical forms of any of the switchgrass cultivars. Bluish green foliage forms a compact, narrowly erect clump of foliage growing 4 to 5 feet tall. In late summer, the plant is topped by finely textured, sandy yellow plumes that hover over the foliage like an airy cloud. The blooms turn beige in autumn and persist well into winter. In flower, the plant can reach up to 6 feet tall. This is one of the best ornamental grasses for small gardens or anywhere a dramatic vertical accent is needed.
'Peppermint Stick' giant reed is the definition of "bodacious"
Name: Arundo donax* 'Peppermint Stick'
Zones: 6 to 9
Size: Up to 12 feet tall and wide
Conditions: Full sun; moist soil
'Peppermint Stick' giant reed is one of the most dramatically variegated of all ornamental grasses, but it's not for the small garden: It gets big! For gardeners who have the room, its stunning green-and-white leaves hold their variegation throughout summer, even in the heat and humidity of the South, where other cultivars fade to green. Growing up to 12 feet tall and eventually as wide, it does need some elbow room, and in the Deep South, it can be invasive in certain climates. It is not, however, invasive in every climate and is quite useful in more temperate gardens.
'Skyracer' purple moor grass creates a tall veil of stems
Name: Molinia caerulea spp.

arundinacea

'Skyracer'
Zones: 5 to 9
Size: Up to 8 feet tall and 3 feet wide
Conditions: Full sun to partial shade; moist, well-drained soil
'Skyracer' purple moor grass has been a favorite in my garden since I first planted it almost a decade ago. It is a deciduous grass with narrow, arching foliage forming a clump that is 2 to 3 feet tall and wide. In late summer, the stiffly upright and see-through flower stalks with tiny purplish flowers rise well above the foliage—to a height of 6 to 8 feet—and quiver in the slightest breeze. The plumes and foliage turn golden yellow to orange-yellow in autumn, eventually aging to tan.
Perennials
Vertical perennials help break up the monotony of the garden at eye level. By interplanting strongly vertical varieties among your more blowsy and billowy perennials, you will give your eye a place to stop amid the garden's chaos.
---
'Autumn Minaret' daylily looms above all others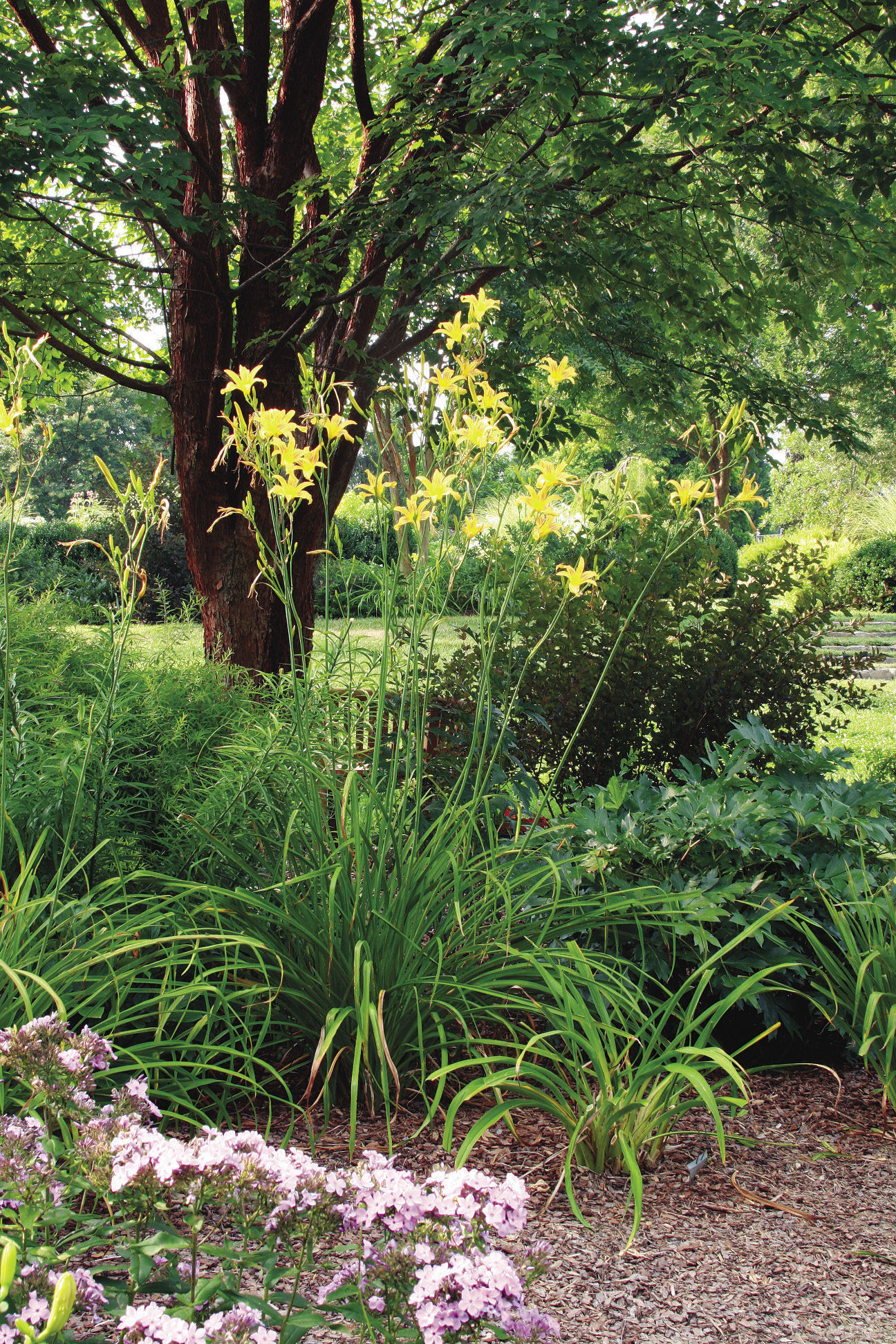 Name: Hemerocallis 'Autumn Minaret'
Zones: 3 to 10
Size: Up to 7 feet tall and 2 feet wide (when in bloom)
Conditions: Full sun; moist, fertile, well-drained soil
Visitors to my garden always ask about 'Autumn Minaret' daylily, partly because of its late season of bloom in July, August, and early September but mostly because of its towering height. Its foliage remains in a neat and tidy mound only 2 feet tall and wide, but its bloom stalks rise above almost everything else in the garden, standing at least 6 feet tall. Strong and sturdy, these stalks remain firmly upright and do not flop, bearing a seemingly endless succession of golden flowers for almost two months. Daylilies are deer favorites and should be avoided in deer-prone gardens—unless you're willing to spray deer repellent regularly.
Culver's root

f

launts whorls of foliage on upright stems
Name: Veronicastrum virginicum and cvs.
zones: 4 to 8
size: Up to 7 feet tall and 18 inches wide
conditions: Full sun to partial shade; moist, fertile soil
Culver's root is a large erect native peren­nial reaching up to 7 feet tall when in bloom. Its foliage, borne in attractive whorls around the stem, is just as interesting as its flowers and lends a unique archi­tectural air to the plant. Dense, slender, 9-inch-long spikes of tiny white to pale blue flowers open from the top down in late spring to early summer atop strong upright stems. Because the inflorescence branches, flowering continues well into summer in most climates. Often relegated to shady wildflower gardens, this plant needs a moist location in full sun to reach its full potential.
---
1–2–3 ways to use exclamation points
1. To add excitement
A simple single specimen, standing alone among other garden plants, gives your garden the vertical lift it needs, breaking your line of sight and guiding your eye out of the primary eye-level plane.
2. To signal a transition
A pair of vertical plants flanking a gate or an arbor reinforces an entrance to a path that leads you to another part of the garden.
3. To set a boundary
A large grouping of vertical plants can define a garden boundary or divide a large space into smaller garden rooms.
---
 Troy B. Marden is a plantsman and garden designer who has lived and gardened in Nashville, Tennessee, for more than 20 years.
Photos, except where noted: Michelle Gervais, Adrian Bloom/gapphotos.com, and millettephotomedia.com, courtesy of Greenleaf Nursery/Monrovia Nursery, Joshua McCullough, J S Sira/gapphotos.com, Richard Bloom/gapphotos.com, Troy Marden, Elke Borkowski/gapphotos.com.
Illustrations: Martha Garstang Hill
SOURCES
The following mail-order plant sellers offer the widest selection of the plants featured:
• Broken Arrow Nursery, Hamden, Conn.; 203-288-1026; brokenarrownursery.com
• Gossler Farms Nursery, Springfield, Ore.; 541-746-3922; gosslerfarms.com
• Joy Creek Nursery, Scappoose, Ore.; 503-543-7474; joycreek.com
• Klehm's Song Sparrow Farm and Nursery, Avalon, Wis.; 800-553-3715; songsparrow.com
• Niche Gardens, Chapel Hill, N.C.; 919-967-0078; nichegardens.com
Get our latest tips, how-to articles, and instructional videos sent to your inbox.