How-To
Weeding Made Easy
These hand tools may look strange, but they're designed to get the job done right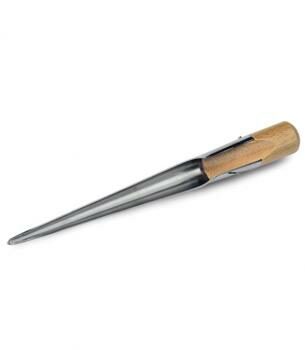 The Garden Bandit weeds near plants without harming them
One reason why weeds are such a nuisance is that they are smart. They somehow know to sprout right next to one of our desirable seedlings because we're afraid that pulling the weed out will damage the plant we want. The weed is then free to take up the water and nutrients we intend for our seedling.
The fulcrum weeder relies on leverage to extract weeds
As an all-purpose tool that excels at prying out weeds with fibrous roots or taproots, the fulcrum weeder has yet to be surpassed. Also known as a ball weeder, this tool has a two-pronged fork at its business end. Just above the fork is either a round, steel strap or a wooden ball. The tines of the fork are set at an acute angle, forming a deep, narrow V. Shove the tines almost vertically into the soil at the base of a weed, and push the handle toward the ground. The steel strap serves as a fulcrum, allowing leverage to pop the weed from the ground without straining the wrist.
The Fid reaches deep to get out taproots
Weeds that store energy in underground bodies (taproots, corms, and bulbs, for example) are especially difficult to eradicate. If you cut them off at the surface, they will grow a new set of leaves. If you don't remove the underground energy supply, you'll have to do some timely and repeated weeding until you exhaust the plant's reserves.
The Fid, a tool consisting of a tapered trough of stainless steel protruding from a hardwood handle, excels at removing plants with taproots, such as dandelion and Queen Anne's lace. It also works well with nut grass and other weeds with buried tubers and corms. This precise tool works in tight plantings where a ball weeder would damage adjacent plants. Hold the tool vertically, and push it straight down alongside the main taproot. Then pull or pry out the weed.
We haven't been able to locate a source for The Fid. Check garage sales for this item. Lee Valley Tools sells a comparable tool, the All-Purpose Lifetime Weeder.
Get weeds before they sprout
Weeds are a problem because of the large amount of seed they spread. If you can prevent seeds from germinating, you'll win a major battle.
Corn gluten kills weeds belowground
Spreading corn gluten in your beds doesn't prevent germination, but it does inhibit the formation of root hairs through which a seedling absorbs water. Without these root hairs, a seed will die before it pushes above the soil. A natural product, corn gluten is what's left of corn after the sugars and starches have been extracted to make syrup, cornstarch, and other food products. One application of corn gluten can suppress successful germination by 80 percent. A second application 30 days later can increase suppression to 90 percent. That's on a par with highly toxic postemergents like Roundup. A third application after another 30 days will produce nearly complete suppression.
Mulch keeps seeds in the dark
Since seeds need light to germinate, simply applying a thick layer of mulch can inhibit germination. A 2- to 4-inch-deep layer of compost, leaves, wood chips, or any organic material is enough to do the trick. The mulch will break down, and new weed seeds will arrive as surely as bills in the mail, so reapplication will be necessary.
The crack weeder gets into hard-to-reach places
Wind is the great disperser of weed seed, depositing it in every tiny crevice on your property: among pavers, in the smallest sidewalk cracks, between planks on your porch, or even around the edge of a water-meter cover. Weeds that germinate in these tight, moist crevices quickly send roots deep in search of the meager nourishment available there. Removing weeds from cracks is one of the most difficult and frustrating of garden chores. That is why, of all the many special-purpose weeders, the crack weeder is indispensable.
The Weed Shredder tackles big areas in little time
One of the most daunting weeding scenarios is facing a large patch of little weeds—the kind that are too small to pull out easily. In this situation, I reach for the Weed Shredder, a tool with a sharp-edged, steel blade at the end of a wooden handle, which looks like a Batman logo on a stick. Slide it just below the soil surface to sever the weed tops from their roots. The tool cuts on both the forward and the back stroke, much like the common scuffle hoe. The blade is 4 inches wide, so you can weed large areas quickly. The notches in the bat-shaped blade catch and sever tough stems that would slide off straight-bladed tools.
View Comments