Design
A Fresh Approach to Foundation Plantings
Adding small trees, shrubs, and perennials to the mix can give this prominent area a much-needed lift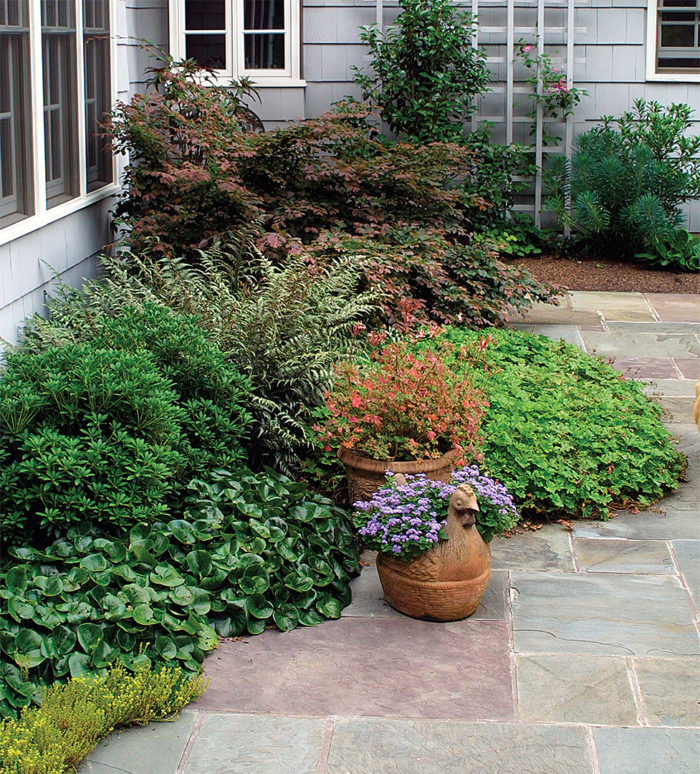 Given the practical advantages of foundation plantings, it's not surprising that most houses feature them. What is surprising is the uniformity expressed in this realm of the garden: a ubiquitous row of evergreens lined up along the front of the house, pruned tightly beneath the windows like a mustache under a nose. If your foundation doesn't sport them, your neighbor's likely does. In an age of unconventional gardens and an endless supply of unique plants, this may be the last bastion of conformity in the garden.
Learn more: Foundation-Friendly Plants for Your Region
It doesn't have to be this way. You are free to design your foundation plantings as you would for any other area of your landscape, and you can reap many rewards by redesigning the green row of shrubs at your foundation. The benefits include reduced maintenance; a new emphasis on the best features of your house; year-round interest from color, texture, and form; a unified garden layout; and an enticing view from the street. Though this project will be highly visible, you shouldn't feel intimidated. A few design principles and the right kinds of plants are all you need to keep in mind for a new and exciting foundation planting.
Adding small trees, shrubs, and perennials to the mix takes advantage of the wide variety of textures, colors, and shapes that plants have to offer.
A straight line isn't the only way to go
An easy first step in enlivening your foundation plantings is to abandon the straight-row look and reshape your bed. An effective design will connect this area either visually or physically to the rest of your garden.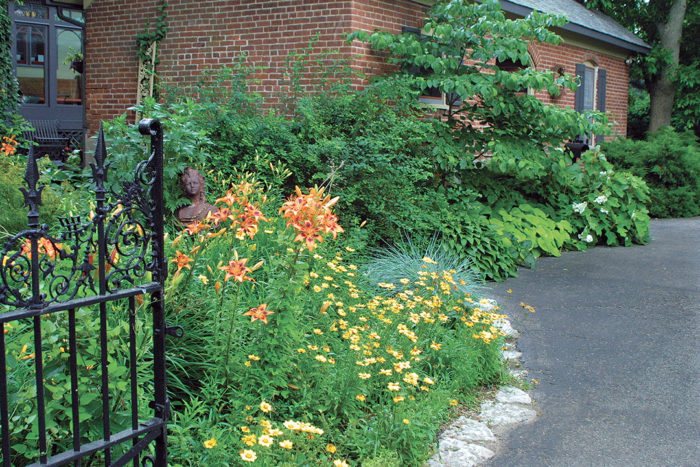 Curving a foundation planting into the rest of the beds unifies the entire property.
One way to improve your foundation design is to stretch the shape. Instead of working with a 5- to 6-foot-wide strip that follows the perimeter of the house, pull the bed lines out to encircle a nearby tree in the yard or bump out a circular bed near the front door or at the corner of the house. Extending the foundation bed connects the house to the larger landscape, simplifies the design, and gives the yard a more unified, less cluttered look. One layout that works for many yards is to extend the bed in a large curve so that the house foundation becomes one of the walls in a new garden room.
When reshaping the lines of a foundation bed, remember that circulation paths around the yard should be kept open to prevent beds from being trampled by people seeking shortcuts. Ultimately, the bed shape you choose will depend on the existing features in your yard. The best layouts are fairly simple and not arbitrary, bending in response to something in the environment, such as a tree, bench, or special shrub.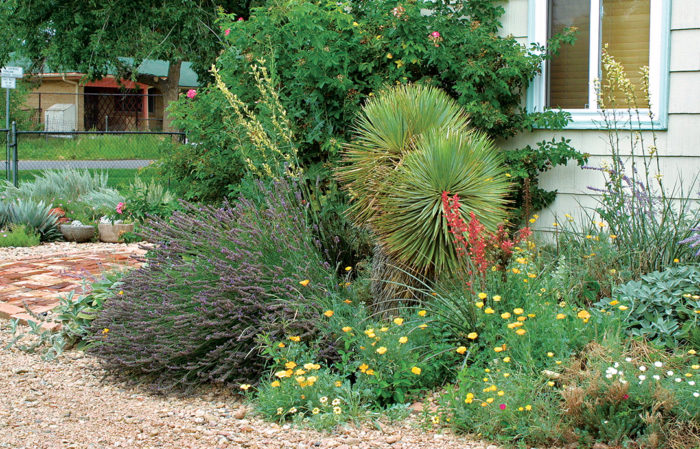 A good foundation planting should settle the house into the landscape, making the structure look like it belongs right where it is.
Look beyond evergreens
Another way to enhance your foundation plantings is to consider a new palette of plants. Forgoing the usual evergreen shrubs provides the opportunity for flowers, fragrance, seasonal change, and a wider variety of foliage colors. All types of plants—from shrubs and perennials to grasses and trees—can be featured in a design next to the house.
Traditionally, people avoid using deciduous plants, fearing the appearance of the foundation in winter. Don't be deterred by this phobia. Dense deciduous shrubs such as 'Hidcote' St. John's wort (Hypericum 'Hidcote', USDA Hardiness Zones 6–9) and 'Crimson Pigmy' barberry (Berberis thunbergii 'Crimson Pigmy', Zones 5–8) are thick enough to screen the foundation throughout the year. Other shrubs brighten the foundation in winter with their attractive stems, berries, or winter blooms.
Your foundation planting can also include shrubs whose forms are less dense, such as fothergillas (Fothergilla spp. and cvs., Zones 4–8) and deciduous azaleas (Rhododendron spp. and cvs., Zones 5–9). Their distinct shapes or neat outlines make them attractive for winter use, working best against a dark foundation to highlight their colored bark. Deciduous shrubs that have a loose, informal habit, like weigela (Weigela spp. and cvs., Zones 4–9) and beautyberry (Callicarpa americana, Zones 5–9), appear unkempt in winter and leave the foundation looking bare. Used, however, as single accents next to clusters of shrubs with compact form or dense branch structure, they perform superbly. Often, a dwarf cultivar of these large shrubs can offer the best qualities of the species without the bedraggled winter character.
When broadening the scope of plants for your foundation garden, don't forget about perennials. The best choices have long-lasting foliage and good form. Plants with lasting seed heads, such as coneflowers (Echinacea spp. and cvs., Zones 3–9), or with strong residual stems that hold over winter, such as Amsonia hubrictii (Zones 6–8), have the added benefit of extending their interest into winter. Avoid perennials that flop in summer heat, causing them to droop below plants in the foreground and leave the foundation bare. The same goes for perennials whose foliage gets ragged toward the end of the year. They are worth growing, but consider their location carefully. They'll be easier to ignore during their ugly phase if they aren't near the welcome mat.
Ornamental grasses also make marvelous foundation plants. Many species hold up through the winter unless there is heavy snow or ice. There will be a month in early spring, after the grasses are cut back, when you may glimpse the foundation. Plant early spring bulbs among the grasses so that you'll have something to enjoy at that time. Before you know it, the grasses will be looking their best again, requiring no care for the rest of the year.
Small trees can also be planted near a foundation, reducing the scale of the house, arching over an entry landing, or serving as a focal point between two high windows. Because roots will take the path of least resistance, small trees are unlikely to harm your foundation unless it is already cracked and a source of water exists to encourage the roots. For best results, however, give your tree enough room to mature without contorting itself at the wall or pushing against the gutters. Avoid trees with heavy fruit drop, thorny branches, or malodorous blooms.
After scrutinizing your foundation from these design angles, you'll undoubtedly see that its garden beds can transform the landscape in much the same way that a beautiful silk scarf transforms an ordinary outfit. A new garden wrapped around the foundation of your house may be the very accessory needed to tie your landscape together.
---
Tips
A balanced design is best
Another consideration when designing a foundation planting is the concept of balance. In garden design, there are two types of balance.
Symmetrical balance occurs when both sides of an axis are mirror images. Boxwoods on either side of a front door are a classic example of a symmetrical planting. Less common but often more effective, asymmetrical balance uses plants of different types, shapes, and forms placed so that each side of the axis has roughly the same mass and holds equal importance for the eye; think of two kids balancing one grown-up on a seesaw. Asymmetrical balance takes a bit more thought than symmetry, but it creates excitement and interest while maintaining the design's harmony.
As you balance your design, also keep in mind that some plants appear to have more mass or "visual weight" than others because of their shape or color. Visual weight equals visual impact and has nothing to do with a plant's physical weight. Dark foliage and geometric shapes carry more visual weight than light colors and informal shapes because they grab and hold the eye's attention. Also, coarse textures and bold forms appear heavier than wispy shrubs.
Build around a plant with mass. The hydrangea's large size, bold blooms, and big leaves project visual weight and anchor this side of the planting.
Mass lightweight plants. A single feathery astilbe lacks heft, but massing the plant creates enough visual weight to balance the planting in front of the hydrangea.
Add visual weight with big leaves. The hostas' large leaves, combined with the smaller hydrangea, balance this bed and help it hold its own against the other side.
Maintain harmony without symmetry. The hydrangea unifies the entire planting without being a mirror image of its counterpart.
---
Plants
Expand your plant palette
Small trees suitable for foundation plantings

'Autumn Brilliance' serviceberry (Amelanchier × grandiflora 'Autumn Brilliance', Zones 3–7)

'Avondale' Chinese redbud (Cercis chinensis 'Avondale', Zones 6–9)

Crape myrtles (Lagerstroemia indica and cvs., Zones 7–9)

Japanese snowbell (Styrax japonicus, Zones 6–8)

Seven-son flower (Heptacodium miconioides, Zones 5–9)

Star magnolias (Magnolia stellata and cvs., Zones 5–9)

Seven-son flower (Heptacodium miconioides, Zones 5–9)
Shrubs with winter interest

'Flaviramea' red osier dogwood (Cornus stolonifera 'Flaviramea', Zones 3–8)

Harry Lauder's walking stick (Corylus avellana 'Contorta', Zones 3–9)

Japanese kerrias (Kerria japonica and cvs., Zones 4–9)

Japanese maples (Acer palmatum cvs., Zones 5–9)

Orange-twig dogwood (Cornus sanguinea 'Midwinter Fire', Zones 4–7)

Paper bush (Edgeworthia papyrifera, Zones 8–10)

Japanese maples (Acer palmatum cvs., Zones 5–9)
Perennials with long-lasting foliage

'Fireworks' goldenrod (Solidago rugosa 'Fireworks', Zones 5–9)

Log fern (Dryopteris celsa, Zones 5–9)

'Miss Manners' obedient plant (Physostegia virginiana 'Miss Manners', Zones 2–8)

Peonies (Paeonia spp. and cvs., Zones 3–8)

'Santa Barbara' sage (Salvia leucantha 'Santa Barbara', Zones 9–11)

Variegated Solomon's seal (Polygonatum odoratum 'Variegatum', Zones 3–8)

'Fireworks' goldenrod (Solidago rugosa 'Fireworks', Zones 5–9)
---
—Amy Fahmy is the owner of Regional Gardens, a landscape design and build firm in Asheville, North Carolina.
View Comments