Design
Fast-Growing Fillers
Say goodbye to bare spots with these eight herbaceous dynamos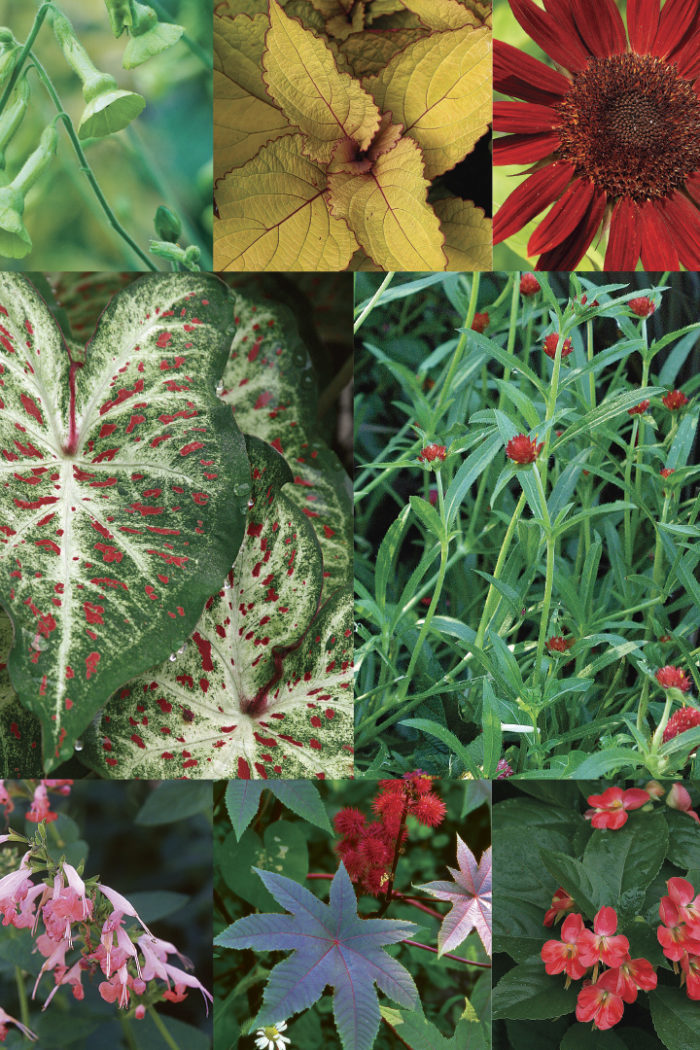 Let's be honest. Everyone has them: gaping, unwanted holes smack-dab in the middle of their plantings. Not long after the promise of spring has sprung, problem areas start rearing their ugly heads. Signs of pests attacking a prized container specimen become evident; your favorite spring ephemerals say "Sayonara" for the rest of the year; and that hot, new perennial you planted last fall turns out to be not so hot. But don't let these flops get you down. Failing plants are just a routine part of gardening and an excellent excuse to go shopping. To salvage the season and plug those garden holes, reach for annuals or tender perennials that are long lasting and quick to mature. Here are eight that will carry you into fall, while your display barely misses a beat.
'Orange King' coleus is a dazzling quick fix in sun or shade
Solenostemon scutellarioides

'Orange King' (syn. 'Gold Giant')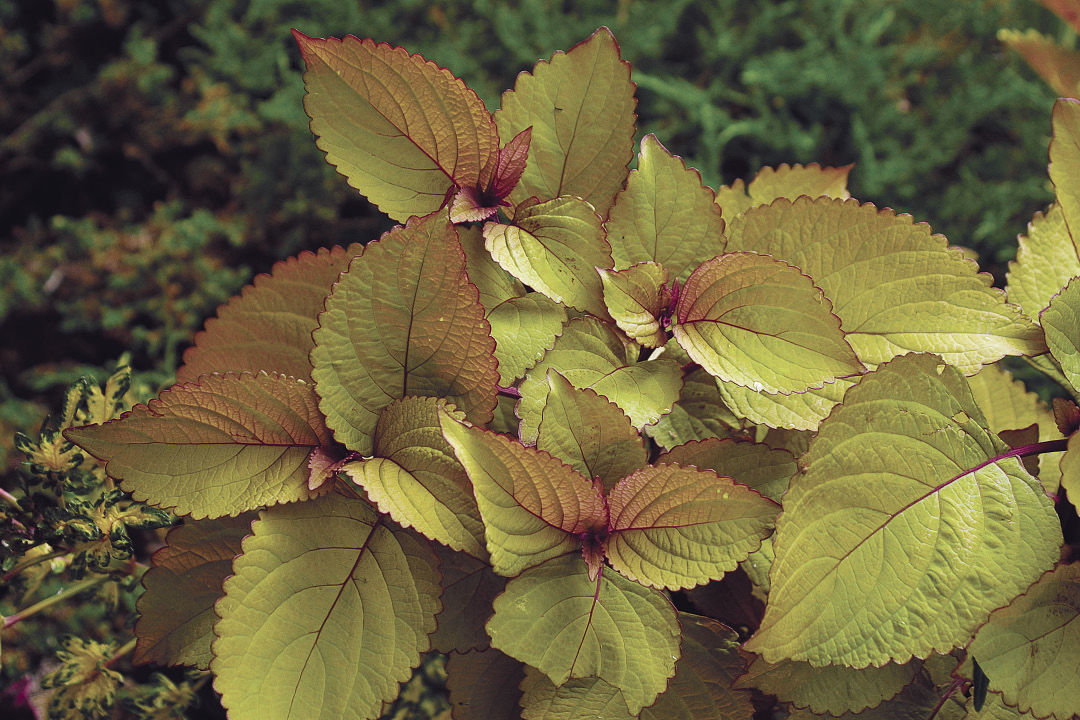 'Orange King' coleus is an all-out rock star. With its attention-grabbing copper-gold foliage and burgundy-purple accents, this tender perennial looks great flying solo and yet also makes an exquisite backdrop for nearby cohorts. It is happy in sun or shade, thrives in beds and containers, and only asks for regular water. Like all coleus, 'Orange King' responds well to pruning and pinching, and it propagates easily from cuttings.
USDA Hardiness Zones: 12 to 13
Size: 2 to 3 feet tall and wide
Conditions: Full sun to partial shade; moist, well-drained, fertile soil
'Strawberry Fields' globe amaranth is a thrifty fix
Gomphrena
'Strawberry Fields'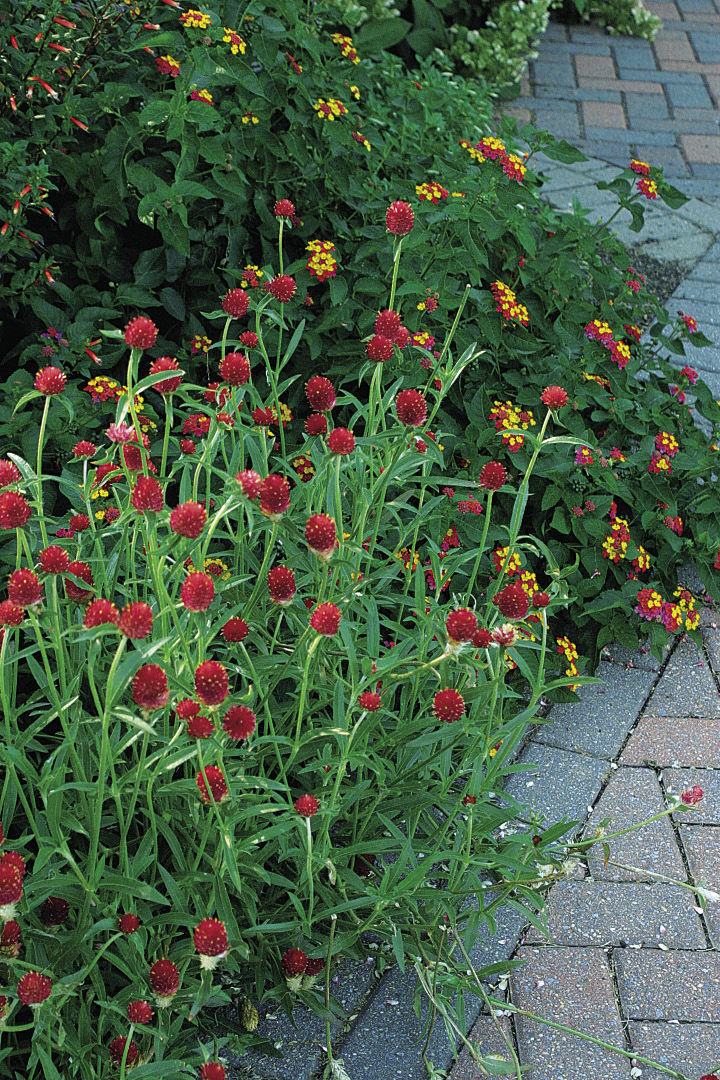 Although there are purple- and pink-flowering varieties of globe amaranth available, I've found the scarlet 'Strawberry Fields' to be the most vigorous of the bunch. Cheery round flowers (about 1 inch across) top this annual from summer to fall, and its fine stems and foliage provide an excellent contrasting texture beside bold-leaved plants. Globe amaranths are often sold in economical six-packs, which make them easy to pop into places where spring bulbs have gone dormant and left a hole. They also fill in well around young perennials and shrubs that are still puttering along. And as an added bonus, the flowers make great fresh and dried floral arrangements.
Zones: Annual
Size: 18 to 24 inches tall and wide
Conditions: Full sun; moderately moist to dry, well-drained, average soil
Castor bean takes plantings for a walk on the wild side
Ricinus communis

and cvs.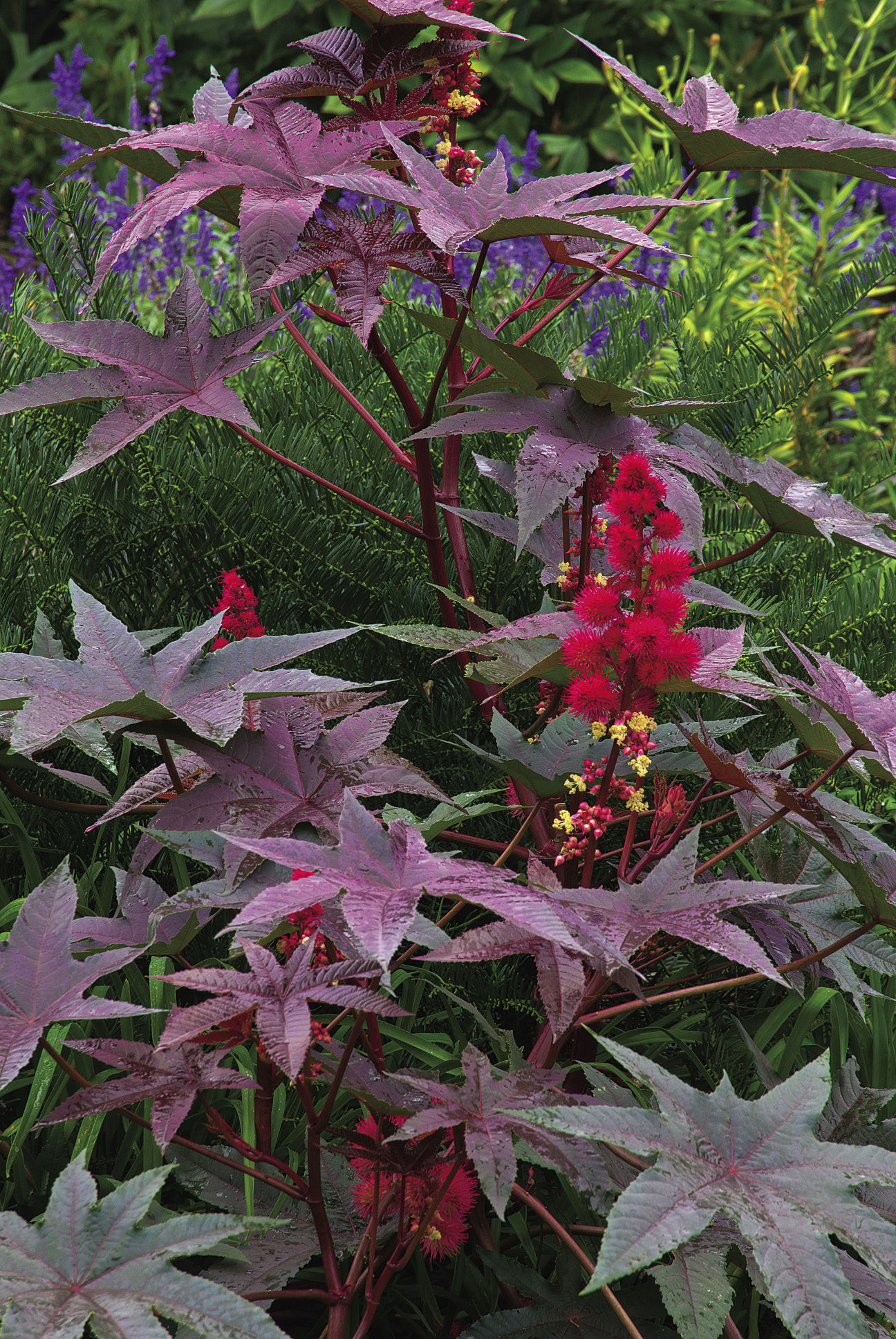 You want exotic? You got it. Castor bean looks like something straight out of The Jungle Book. The towering stems, sporting huge, deeply lobed leaves and funky red seedpods, instantly captivate gardeners. Once the summer heat is on, this plant shoots up like a rocket, filling in the back of borders or serving as a focal point in containers. Castor bean is easy to grow from seed and welcomes an early head start indoors. Just be cautious if small children or pets are around: All parts of this plant are poisonous.
Zones: Annual
Size: 4 to 8 feet tall and 2 to 4 feet wide
Conditions: Full sun; moist, fertile soil
'Prado Red' sunflower shines at the back of the border
Helianthus annuus

'Prado Red'
If you've ever seen a field of sunflowers in bloom, the image will live forever in your memory and at least one or two sunflowers will live forever in your garden. These jolly giants scream "Happy summer!" with their huge, traditionally yellow blooms. 'Prado Red' takes this theme and adds a spectacular twist: gorgeous, velvety red flowers as big as dessert plates. These plants are super easy to grow from seed: Simply sow them directly in the ground in late spring or summer. Use this cultivar to create a lovely screen or to fill in a hole at the back of a border. As the stalks reach for the sun, blooms start appearing about 60 days after sowing.
Zones: Annual
Size: 4 to 6 feet tall and 1 foot wide
Conditions: Full sun; moist, well-drained, fertile soil
Flowering tobacco mingles well with everything
Nicotiana langsdorffii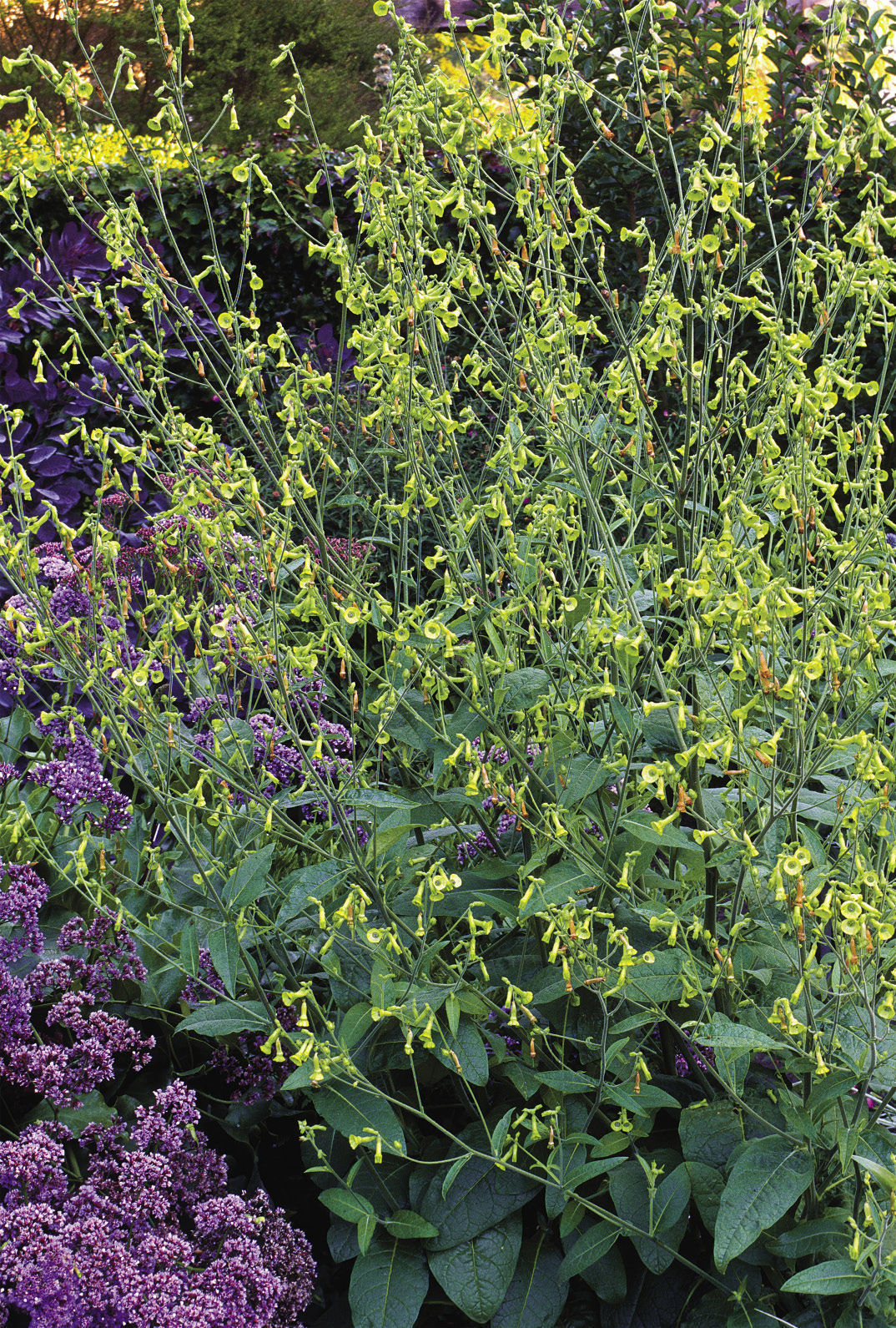 Another delightful annual that is readily available in six-packs, flowering tobacco is a charmer, with 2-inch-long, bell-shaped chartreuse blooms. The gorgeous hue goes well with any other in the color spectrum, making this plant a versatile filler. The flowers keep going through summer and into fall without deadheading and will happily disperse seed to continue the show the following year. If you live in an area with intense summer heat and humidity, use this gem as a filler in spots with partial shade, where it will appreciate relief from the sun.
Zones: Annual
Size: 3 to 5 feet tall and 2 to 3 feet wide
Conditions: Full sun to partial shade; moist, well-drained, fertile soil
'Coral Nymph' salvia packs a flowering punch
Salvia coccinea

'Coral Nymph'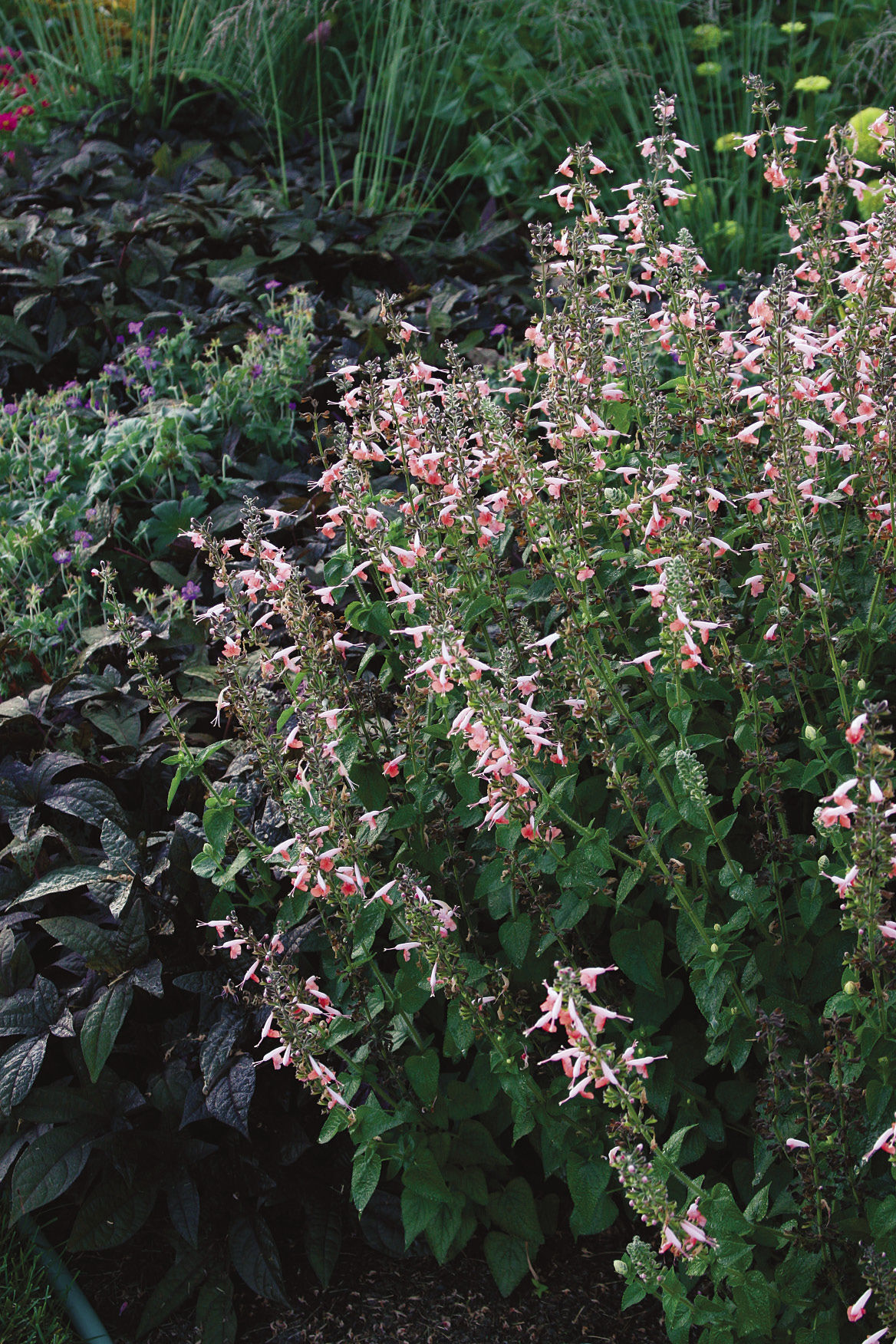 Salvias are widely known as flowering machines, and this selection is no exception. Salmon-pink flowers shoot from the stems throughout summer and bloom with even more abundance if deadheaded. This garden classic pairs nicely with fine-textured plants, like ornamental grasses, and with bold players, like cannas (Canna spp. and cvs., Zones 8–11). Like many other salvias, 'Coral Nymph' appreciates some afternoon shade and attracts hummingbirds in droves.
Zones: 9 to 11
Size: 16 to 30 inches tall and wide
Conditions: Full sun to partial shade; moist to dry, well-drained, average soil
Fusion Heat Coral Exotic impatiens adorns bed edges with lots of blooms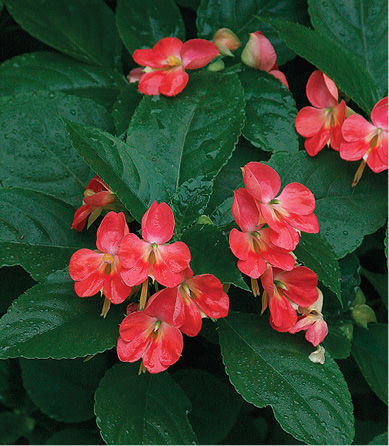 Impatiens

'Balfusheat'
This isn't your grandparents' impatiens. Fusion Heat Coral features unique, shell-shaped blooms that impress even the most sophisticated tastes. These flowers seem to pair well with just about any other shade-loving plant. It creates a striking ground cover along bed edges and quickly fills voids in containers. Like other impatiens, this selection thrives in heat and humidity, and it doesn't require deadheading.
Zones: Annual
Size: 12 to 16 inches tall and wide
Conditions: Partial to full shade; moist, well-drained, fertile soil
'Gingerland' caladium makes a splash in shady spots
Caladium bicolor

'Gingerland'
"Boring" is one thing you'll never call this fantastic ground cover. Its heart-shaped leaves have a creamy white base veiled in green with coral-red splotches and skirted with a soothing green margin. Once warm weather arrives, 'Gingerland' caladium grows like gangbusters, filling in bed edges and vacant spots in containers. Garden centers often sell this beauty potted and ready for planting, but you'll also spot it sold like a bulb—dormant in a bag. Start this dormant tuber indoors so that it is raring to go by the time it is safe to set tropicals and annuals outside (when nighttime temperatures consistently remain above 50°F).
Zones: 10 to 11
Size: 12 to 18 inches tall and wide
Conditions: Partial shade; moist, well-drained, fertile soil
---
Give your backups
a boost
As with all plants, your pinch hitters need specific growing conditions and ade­quate TLC to perform at their best. Here are some additional tips, however, that will give you an edge when trying to fill garden voids quickly.
Choose the largest sizes available. To make an impact quickly, splurge for the most mature plants you can find.
Plant more than one. Have you ever heard the phrase "Two is better than one"? Here's a case where two, three, and sometimes five are better than one. Plant your fillers in generous portions to speed things up. Most tender plants are inexpensive and easy to yank out later if space gets too crowded.
Keep a bullpen of plants. Plants are sometimes difficult to find after the spring-shopping rush, but that's often when you need them most. Buy your backups at the beginning of the season, and keep them waiting in the wings. Place them in extra containers on the porch or patio, where they can look great until you need them to spring into action.
Take out your pruners. Pinching and pruning encourage more growth and make plants bushier. If your new plants are looking a little rangy, don't be shy about pulling out the pruners. Also, keep up on deadheading—it encourages more blooms.
---
Jennifer Benner, horticulturist and coauthor of The Nonstop Garden, uses fast-growing fillers to stitch her plantings together in northwestern Connecticut.
Photos: Jennifer Benner; Jerry Pavia; Bill Johnson; Susan A. Roth
---
Sources
The following mail-order plant sellers offer the widest selection of the plants featured:
Avant Gardens, Dartmouth, Mass.; 508-998-8819; www.avantgardensne.com
Johnny's Selected Seeds, Winslow, Maine; 877-564-6697; www.johnnyseeds.com
Lavocat's Family Greenhouse & Nursery, Clarence Center, N.Y.; 716-741-3976; www.lavocatsnursery.com
Park Seed Co., Greenwood, S.C.; 800-845-3369; www.parkseed.com
Territorial Seed Company, Cottage Grove, Ore.; 800-626-0866; www.territorialseed.com
View Comments