Design
Adding Annuals to Your Garden: Six Inventive Ideas
Wise gardeners use these colorful, temporary plants to enhance their landscapes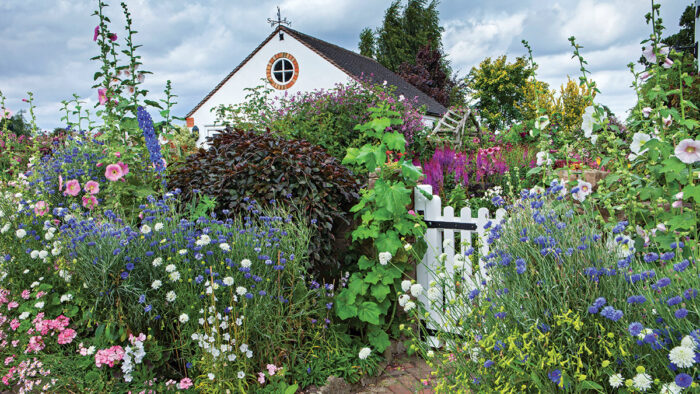 We've all seen them: the giant swaths of annuals demanding our attention with their ostentatious colors—in parking lots, at park entrances, lining the walkway to every local bank. They are used so often they have become boring. Every spring, teams of landscapers chuck them into beds by the dozens, leaving them there to scream at us with their ludicrously gaudy blooms. The other extreme is seeing annuals planted in a lonely ring around the mailbox, then left uncared for to sit, gaunt and sad, as though they are being punished.
For some reason, we blame the plants for all this, and our gardens are the worse for it. These one-and-done plants have countless roles to play in a design. Yes, they are often cheap, but, honestly, who doesn't love a cheap plant? Sure, their blooms can be, shall we say, overly vibrant. When they are used with discrimination, however, what could have been a garish smear instead becomes a delightful pop of color. True, they require a little more input than your hardy plants. But caring for plants is at the heart of gardening.
Forget all the wrong ways to use annuals. It's time to forgive them and add them to your design toolbox. Here are some right ways to put these useful plants to work. See more of this garden.
1. Announce an entryway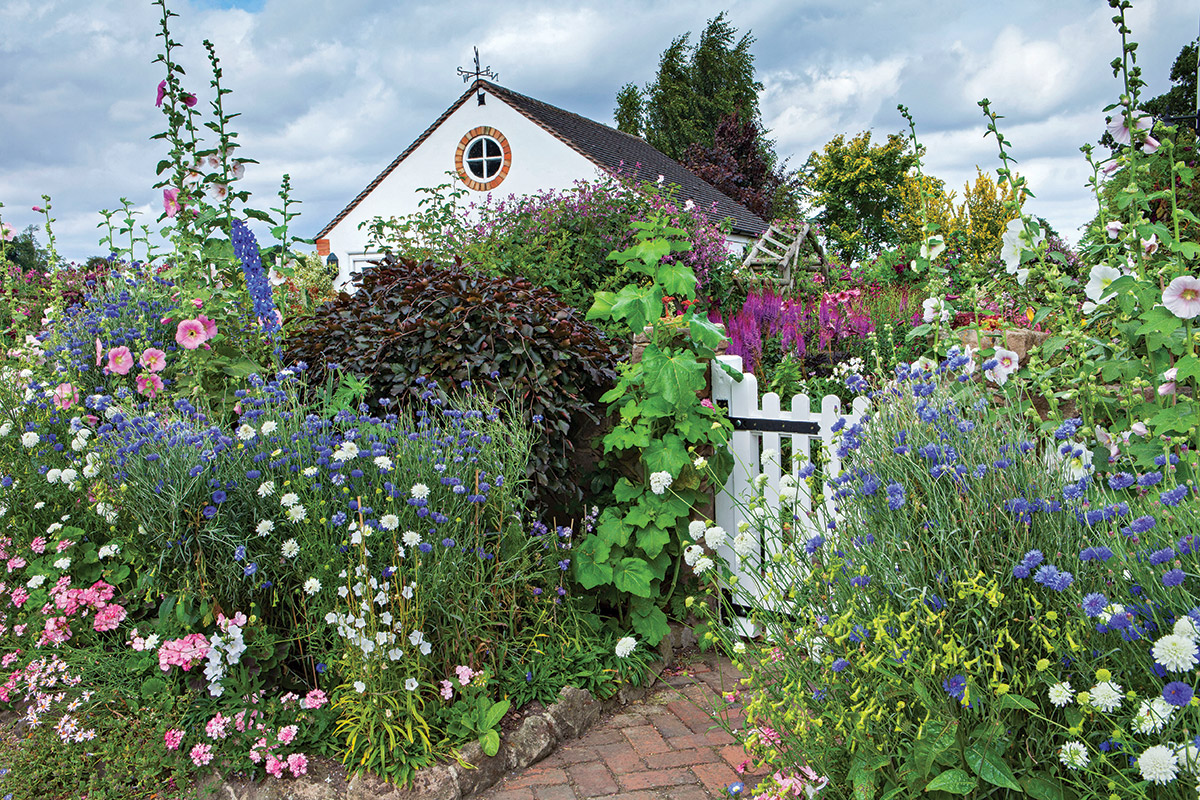 First impressions matter, and we want our gardens to say, "Beyond here you will find the work of someone who loves plants. Prepare to be delighted." One might attempt this with masses of flowers with colors straight out of the candy factory. As we have all seen, however, it is easy to go too far with this approach. A myriad of blooms is good, but they are best if they are small when borne in profusion. This profusion gives them presence, but their size and spacing keep them from being overwhelming. Support them with others that have like tendencies so the vibe is lushness and excitement. The goal is to announce your entryway with a jaunty brass band, not an air horn.
Here, the white puffs of 'Snowmaiden' scabiosa (Scabiosa atropurpurea 'Snowmaiden', annual) and blue cornflower (Centaurea cyanus, annual) share headlining duties and create the overflowing sense of abundance. The small yellow trumpets of ornamental tobacco (Nicotiana cv., annual) help too, and they add another color to the mix. The larger blooms of the zonal geraniums (Pelargonium cv., Zones 10–11) are wisely kept to a minimum, anchoring the planting and providing a precursor to the colors beyond the gate.
2. Cover up tropical bare legs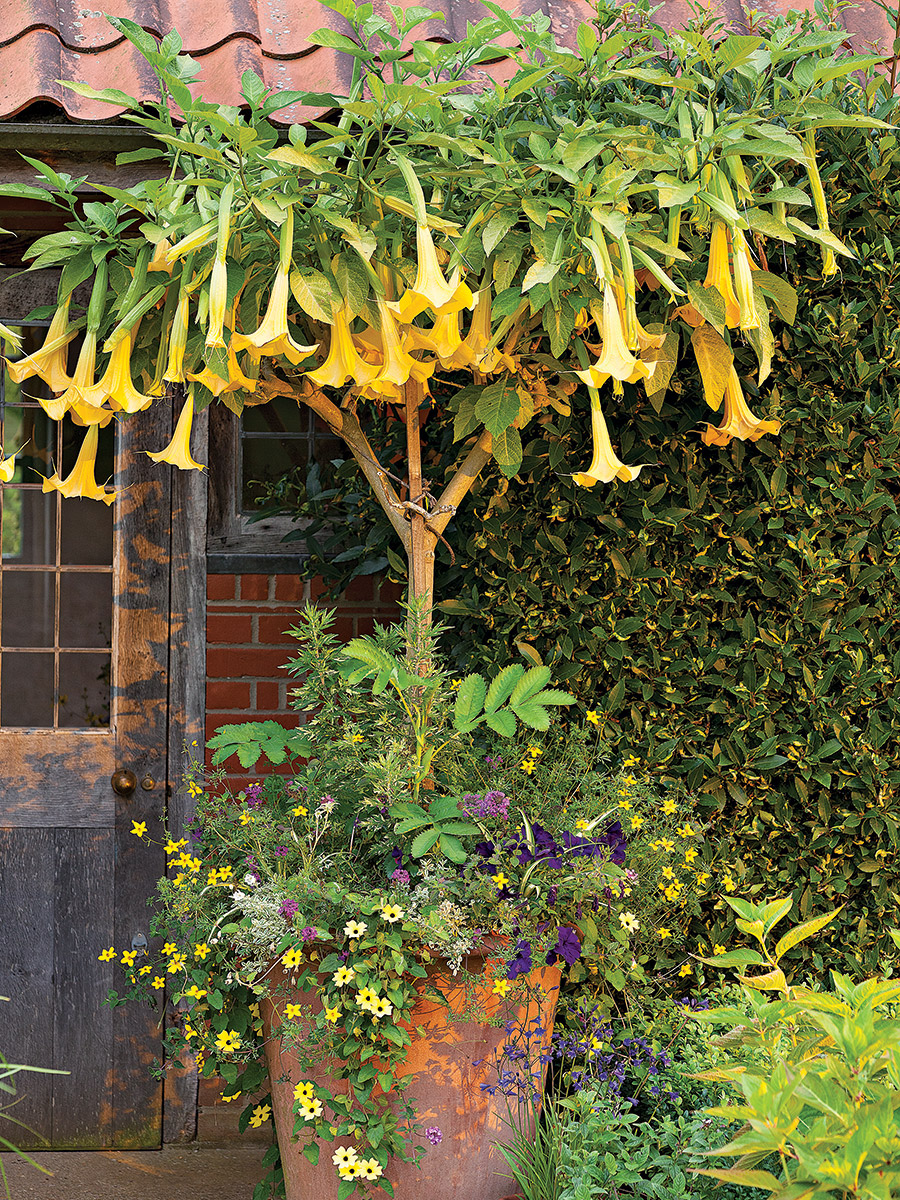 Virtually every gardener has been entranced by a plant that will not survive the climate and has said, "I'm growing it anyway." Many of these plants are tropicals that grow tall, developing trunks and stems that really aren't part of their appeal. Annuals are perfect for blocking the view and replacing it with something interesting to look at. Here, the trunks of 'Grand Marnier' angel's trumpet (Brugmansia × candida 'Grand Marnier', Zones 8–10) hide behind a screen of plants, such as black-eyed Susan vine (Thunbergia alata, annual), petunias (Petunia cv., annual), and honey bush (Melianthus major, Zones 8–11). The combination at the base of the angel's trumpet is so delightful and the blooms above so bodacious that no one notices what is in between.
Tip
What's the difference? Deadheading vs. pinching
Annuals require a little attention. Many need pinching or deadheading, two terms that are often confused. Here is what they mean.
Pinching
This is the removal of the growing tip on a stem, which allows the stems beneath it to grow fuller. Pinching gives a plant a chance to branch out and is done on plants such as coleus.
Deadheading
Sorry, there's no music involved here. Deadheading is the removal of spent blooms either for looks or to get the plant to produce more flowers. It can be done with pruners or with the fingers—which is why it is sometimes confused with pinching.
3. Jazz up green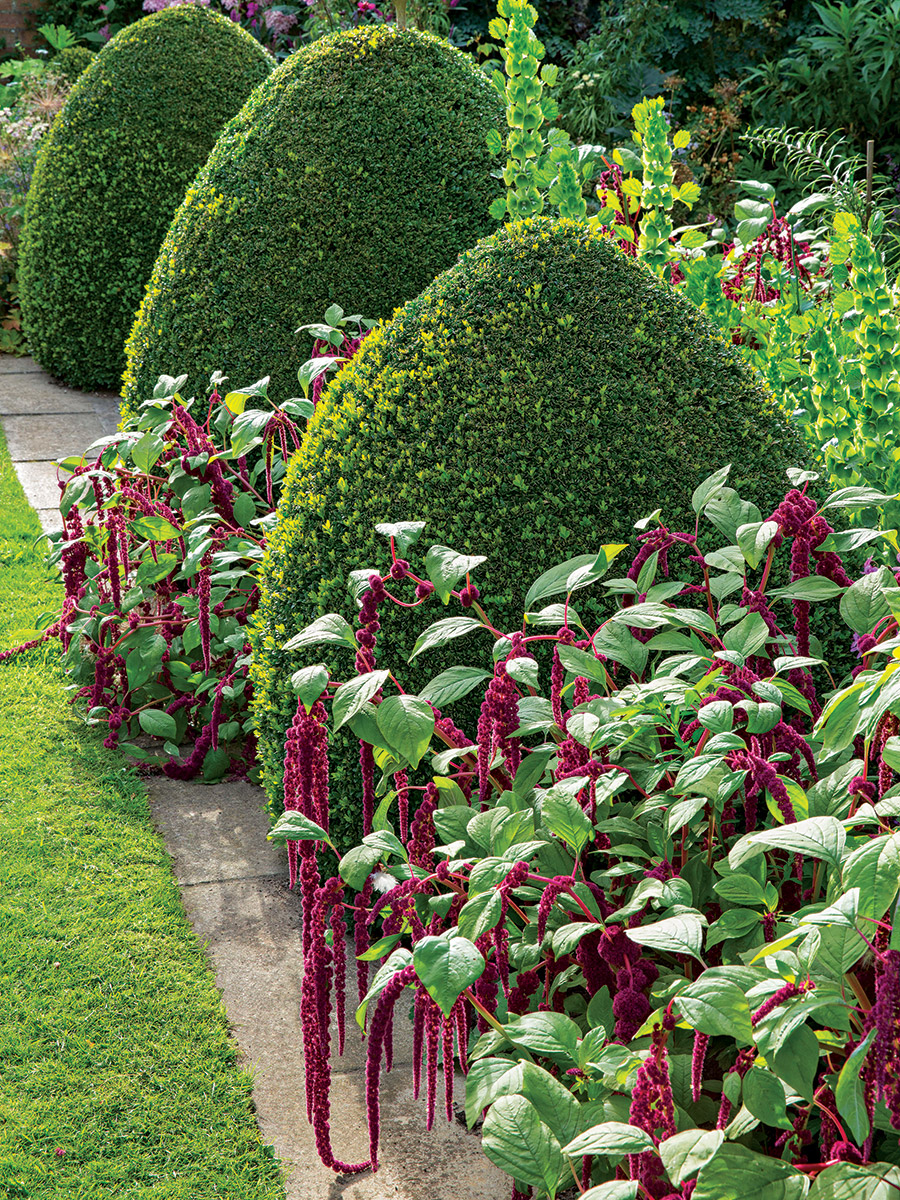 Green is the default color of a garden, and that's not a bad thing. It generally implies plant health, and it's easy to add some colorful energy to an all-green area. Green can be a blank slate to play off of, or a calming backdrop to keep a scene under control. These abilities offer the perfect opportunity to have a bit of fun. What is better for adding a little life to some formal boxwood topiary than the maroon funkiness of love-lies-bleeding (Amaranthus caudatus, annual)? And don't that annual's party-favor blooms really need a chaperone standing behind them? Balance is everything.
---
Tip: Finding that annual
If you are looking for a particular annual, you might have a hard time. Because their growth rate is so fast, annuals are easily bred, so countless improved cultivars are introduced each year. As a result, while you might not be able to find the exact petunia or pansy you were looking for, you will probably find something similar and almost assuredly better.
---
4. Bring some color to the shade
Annuals offer color, and no situation needs a jolt of color more than a shady area. Again, the temptation is to use glaring swaths of colorful annuals. Doing so would certainly brighten up the space, but to such a degree that the charm and subtlety found only in shady gardens would be lost. Here, just one begonia (Begonia cv., annual) is doing the work. Raising the plant to eye level gives it more of an impact, and its attention-grabbing red blooms also make one notice the softer yellow and chartreuse tones in the area.
5. Create a seasonal screen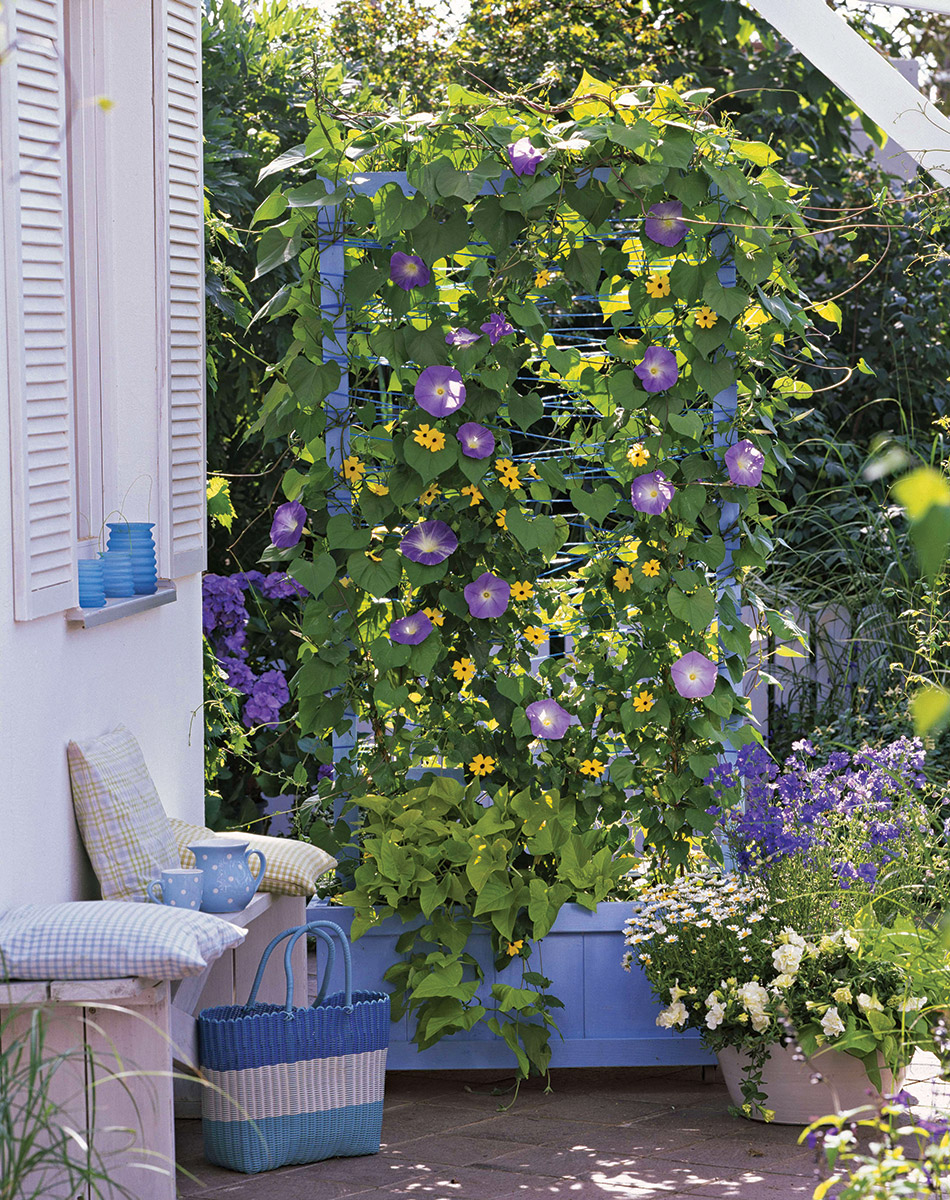 Sometimes you don't want to see things. Other times, you don't want to be seen. Permanent plant screens can take time and be oppressive with their size. Annual vines, however, grow quickly, cover effectively, and generally are loaded with flowers. This simple planter with some morning glories (Ipomoea cv., annual) and a black-eyed Susan vine (Thunbergia alata, annual) climbing up some rope creates privacy and separation for this little nook. What's behind it? You aren't supposed to know.
6. Add consistent color to a scene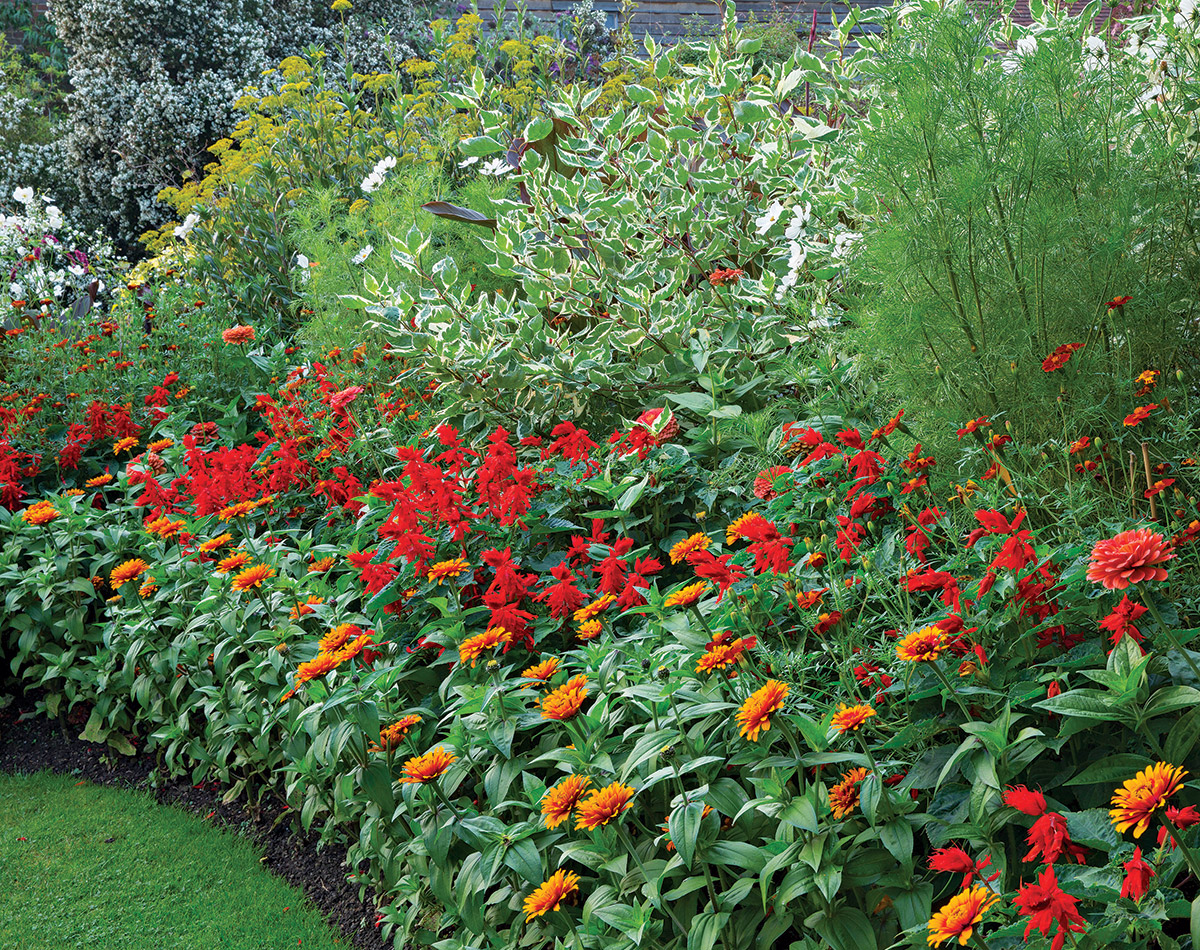 One of the best things about many annuals is their consistent color display. Anyone who has tried to get their perennials, trees, and shrubs coordinated in such a way as to present a steady show of color can attest to its difficulty. The addition of annuals eliminates the charts, the guesswork, and the lulls that inevitably come from seeking continuous bloom. This 'Elegantissima' redtwig dogwood (Cornus alba 'Elegantissima, Zones 2–8) will sport distinguished white-edged foliage throughout the season. The white cosmos (Cosmos bipannatus cv., annual) picks up on that color, while the rest of the annuals add hot-hued pizzazz to the stately scene.
---
Bring unity to a planting
Sometimes the plants in an area are growing just fine but need something to connect them, to turn them into a design. Perhaps they have that connection, but you just need to emphasize it. Or perhaps you aren't really sure what to do with that spot. Annuals can help with all of these problems—especially the last. Keep in mind that because annuals are temporary, they are a great way to try out an idea. If you think you might want to go with stronger colors, for example, or try to play off the texture of a nearby plant, you can use annuals to see how the area might look before you commit with more permanent plants. If the combination doesn't work, you can start all over again next year.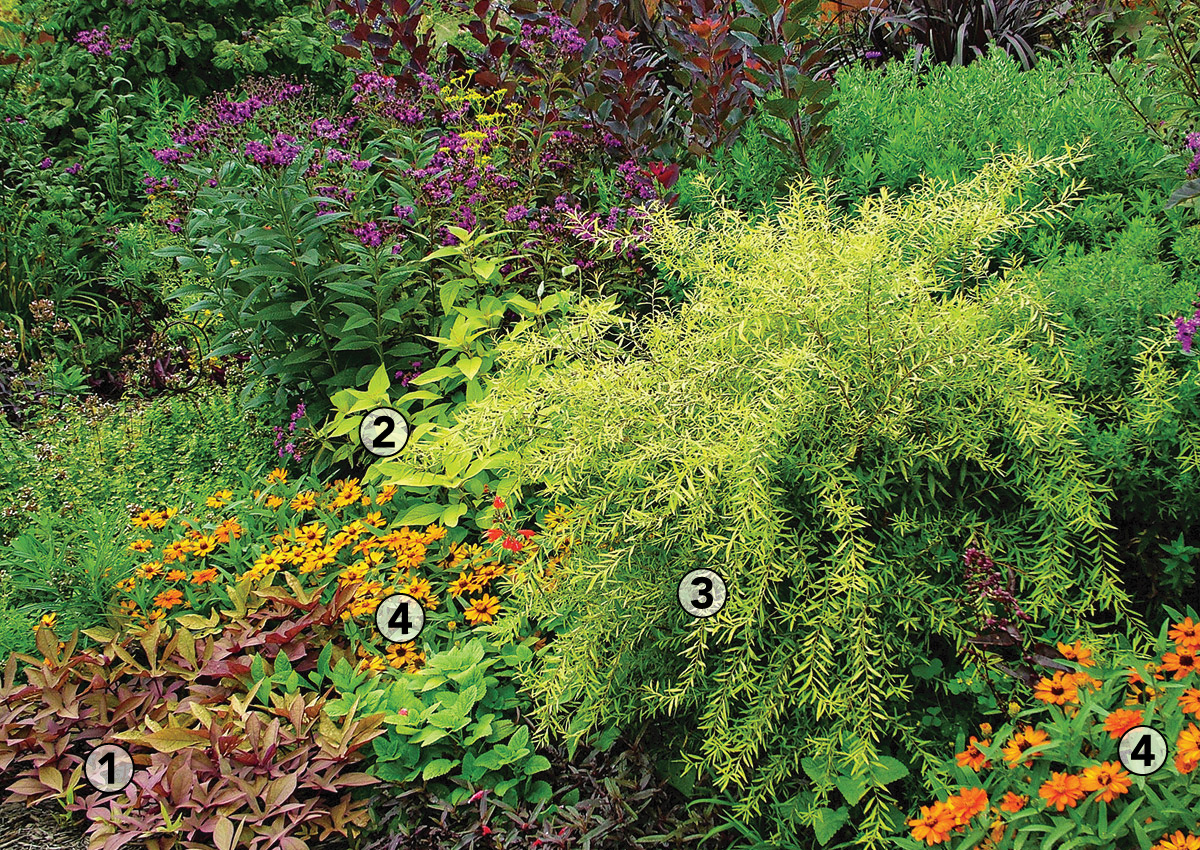 1. Bring it down
'Sweet Caroline Bronze' sweet potato vine (Ipomoea batatas 'Sweet Caroline Bronze', annual) brings the hues from the back and middle of the bed down to the front.
2. Connect through color
'Golden Delicious' sage (Salvia elegans 'Golden Delicious', Zones 8–10) reinforces the theme set by the spirea.
3. Make sure there is a star
'Ogon' spirea (Spiraea thunbergii 'Ogon', Zones 4–8) stands out by virtue of its size and by its placement in front of the complementary touches of purple and burgundy.
4. A twist adds excitement
Hot-colored 'Profusion Orange' zinnia (Zinnia 'Profusion Orange', annual) adds sizzle to the yellow tones of the spirea.
---
Steve Aitken is the editor at large and loves all kinds of plants in his Connecticut garden.
View Comments