Design
7 Easy Fruit Trees to Grow Right in Your Own Backyard
These varieties won't let you down
The main problem with many of the dwarf fruit trees available is that the fruit they produce rarely matches up to that of their full-size counterparts. Research continues, though, with the greatest strides made for peaches and nectarines. A number of excellent, full-flavor varieties are now available. Here are a few of my favorites.
Learn more about growing dwarf fruit trees.
1. 'Apple Babe' apple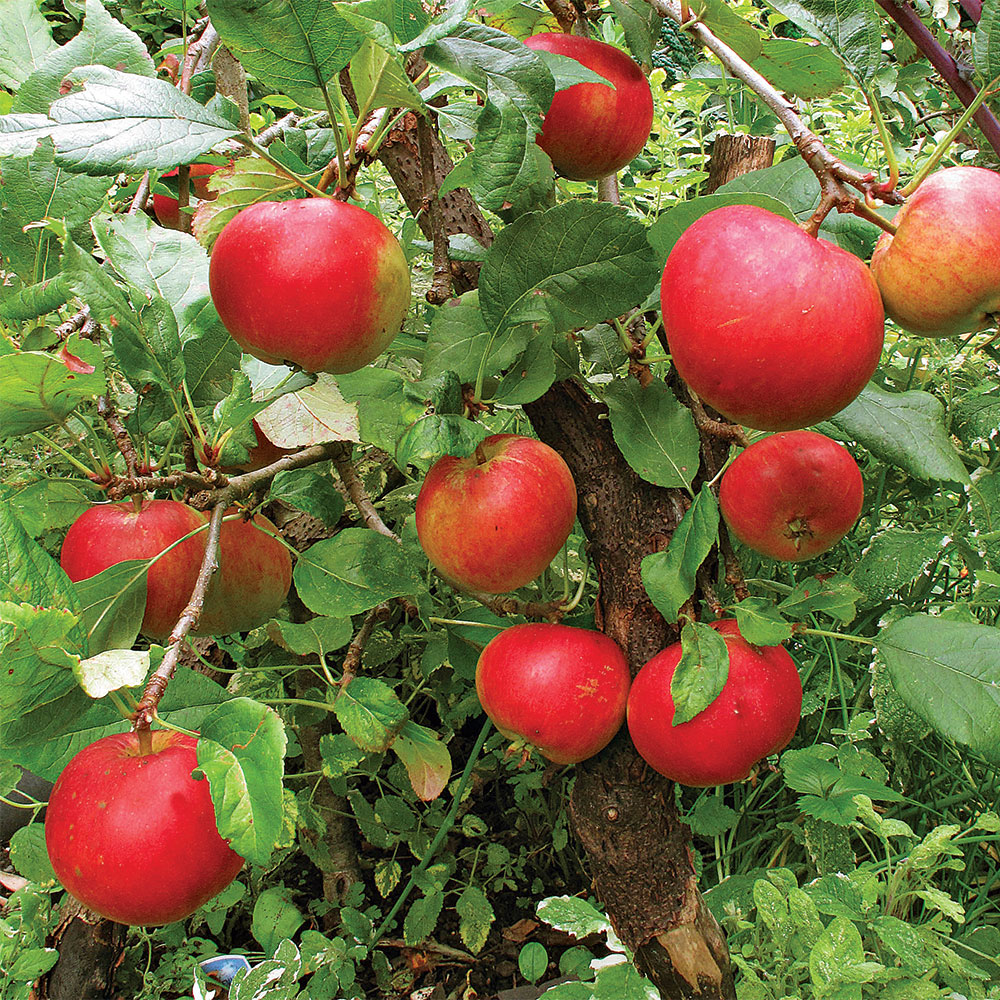 Name: Malus domestica 'Apple Babe'
Zones: 4–10
Outside of the peach and nectarine families, dwarf fruit trees usually produce less than their variety's normal yield. 'Apple Babe' is the exception. Reaching 8 to 10 feet tall at maturity if left alone, it can easily be kept below 6 feet tall with pruning. If it has a cross-pollinator (another apple tree within 2 miles as the bee flies), in two to three years 'Apple Babe' will produce generous crops of full-size, glossy, red-skinned, crisp apples in late summer, even in hot locations where apples are typically harder to grow. A perfect choice for a container, 'Apple Babe' requires full sun, well-amended fertile soil, and regular watering.
2. 'Nagami' kumquat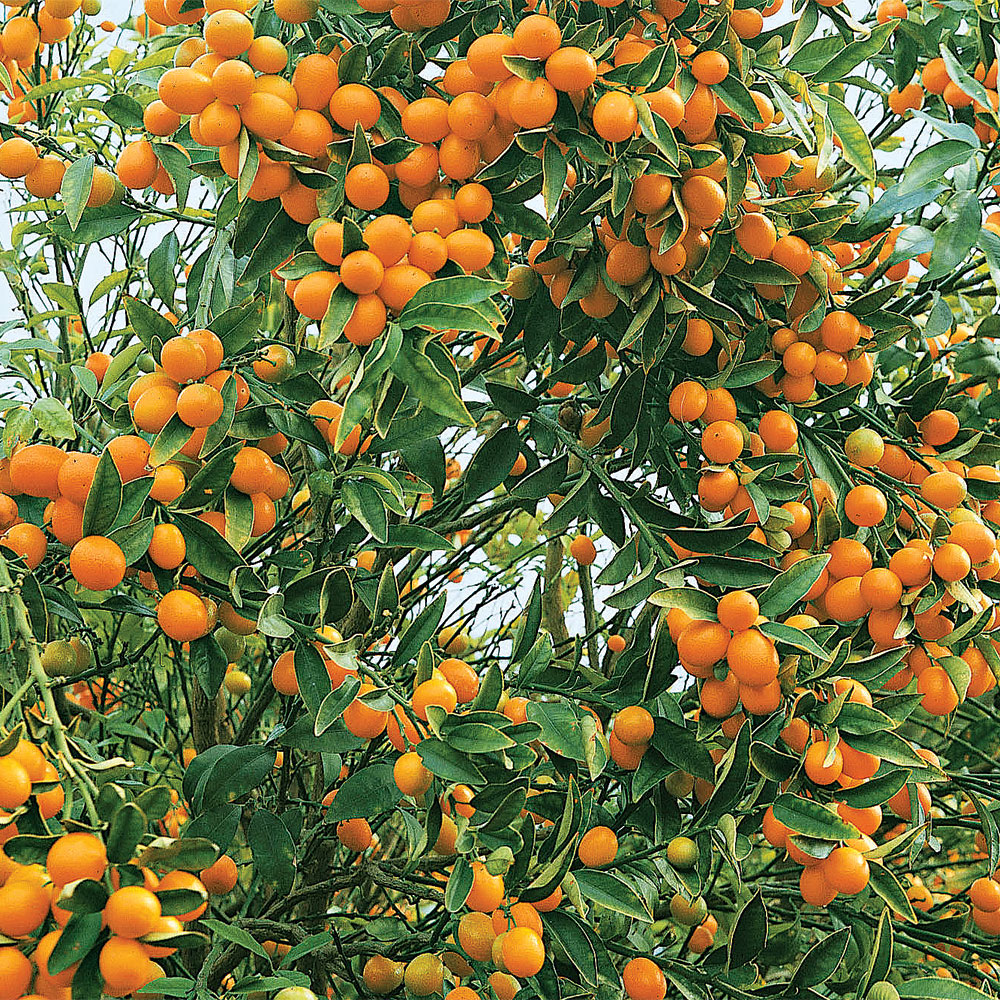 Name: Citrus margarita 'Nagami'
Zones: 8–11
If regular pruning feels too daunting, there are a number of marvelous naturally compact choices available, including 'Nagami' kumquat, which produces delightfully sweet-tart fruit best enjoyed fresh and whole, with no peeling needed. Out in the landscape, this bushy, upright evergreen reaches 8 to 12 feet tall at maturity. Grown in a large container and sheared lightly after a generous midwinter harvest of bright orange, teardrop-shaped fruit, it can be maintained at a tidier 5 to 6 feet tall. Container growing also allows for easier frost protection in cooler zones. Though this beautiful tree is tolerant of temperatures down to 24°F, it's better to cover it when frost threatens or even bring it indoors, where it can adorn a bright, sunny corner all winter long. Feed 'Nagami' every six weeks during the growing season with an organic fertilizer.
3. 'Compact Stella' cherry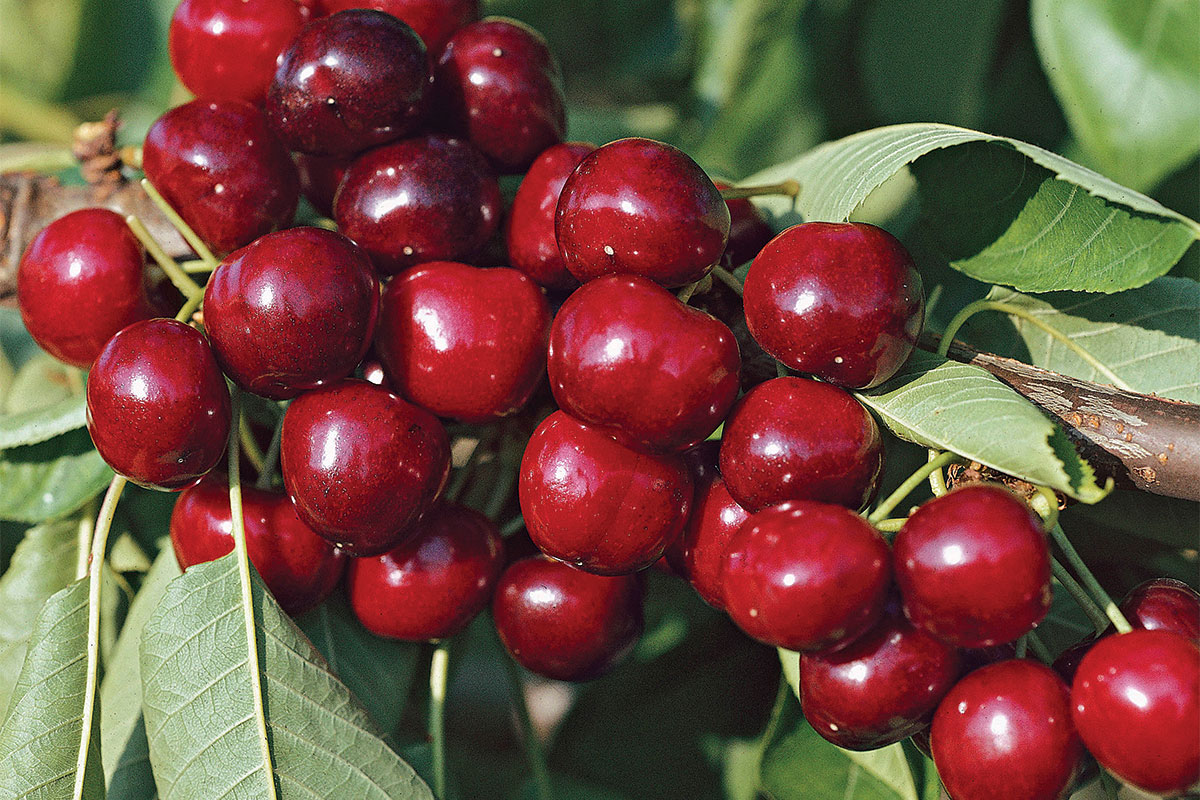 Name: Prunus avium 'Compact Stella'
Zones: 5–9
A fabulous cherry for any garden, 'Compact Stella' is a disease-resistant variety that grows 10 to 12 feet tall when left unpruned. With pruning, this self-fruiting, crack-resistant variety can easily be kept below 8 feet tall, making it almost effortless to protect as its juicy, dark red cherries ripen. This compact tree bears heavy crops of tasty fruit within 1 to 2 years of planting and prefers full sun, well-drained soil, and regular irrigation. Prune diligently (always in winter; summer if needed) to keep it as small as you desire, and plan on a springtime display of beautiful blossoms followed by a late spring/early summer harvest of delicious cherries.
4. 'Honey Babe' miniature peach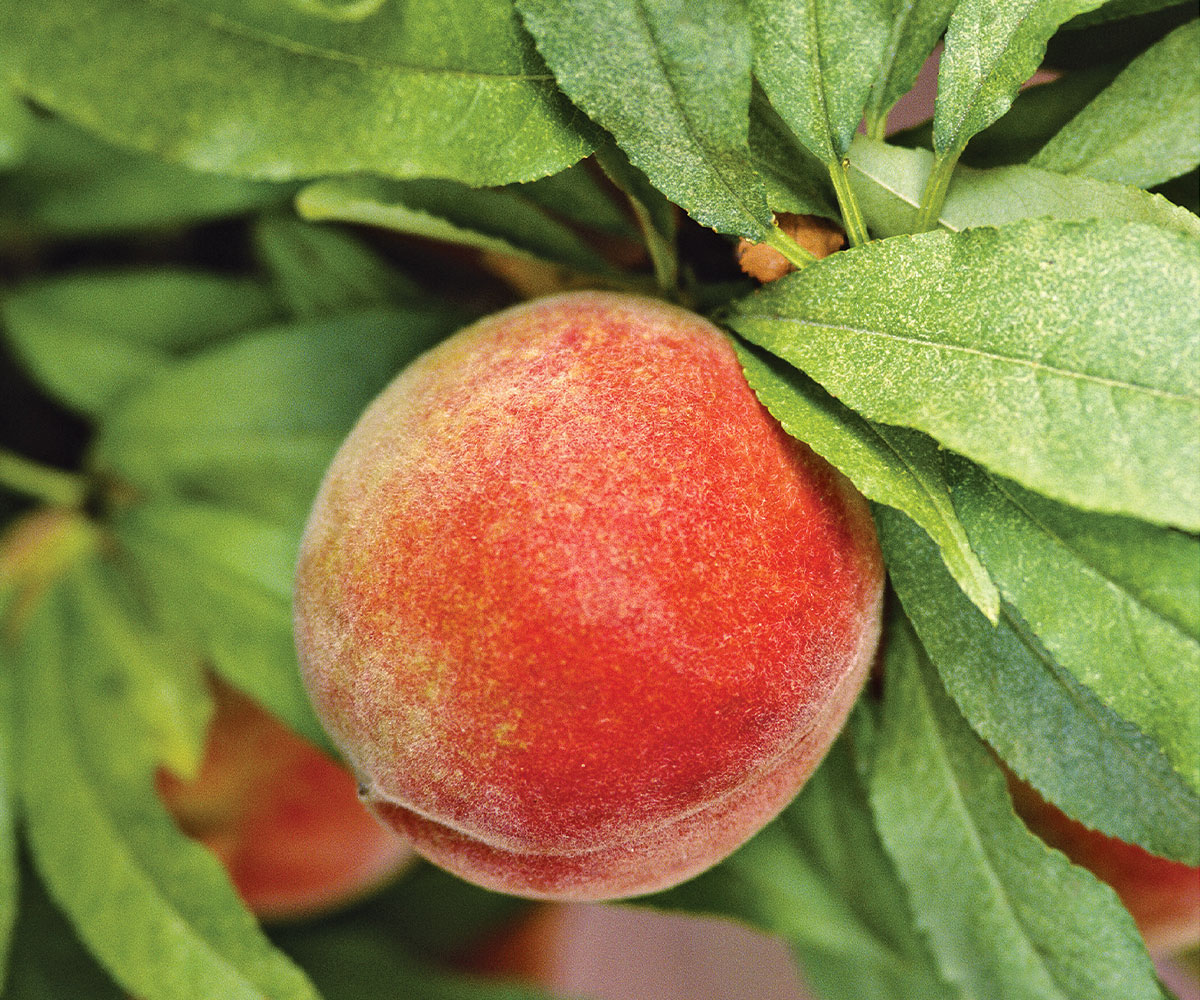 Name: Prunus persica 'Honey Babe'
Zones: 6–9
This tree is a fabulous choice for container growing, producing delicious, firm, full-flavor peaches on a dainty tree that barely reaches 6 feet tall even without pruning. 'Honey Babe' is also extremely ornamental, producing a pretty flush of springtime blooms followed by a late summer harvest. The firm, red-blushed, golden-fleshed, freestone peaches are great for fresh eating, cooking, baking, making preserves, and canning. Partly self-fruitful, 'Honey Babe' yields more if another dwarf peach or nectarine is nearby. This tree will produce abundant tasty fruit within two years of planting. Grow it in full sun in rich, well-drained soil, and water regularly. Prune in winter to remove dead, diseased, or broken branches. Like most peaches and nectarine varieties, 'Honey Babe' requires dormant spraying to help prevent peach leaf curl.
5. 'Pixie-Cot' apricot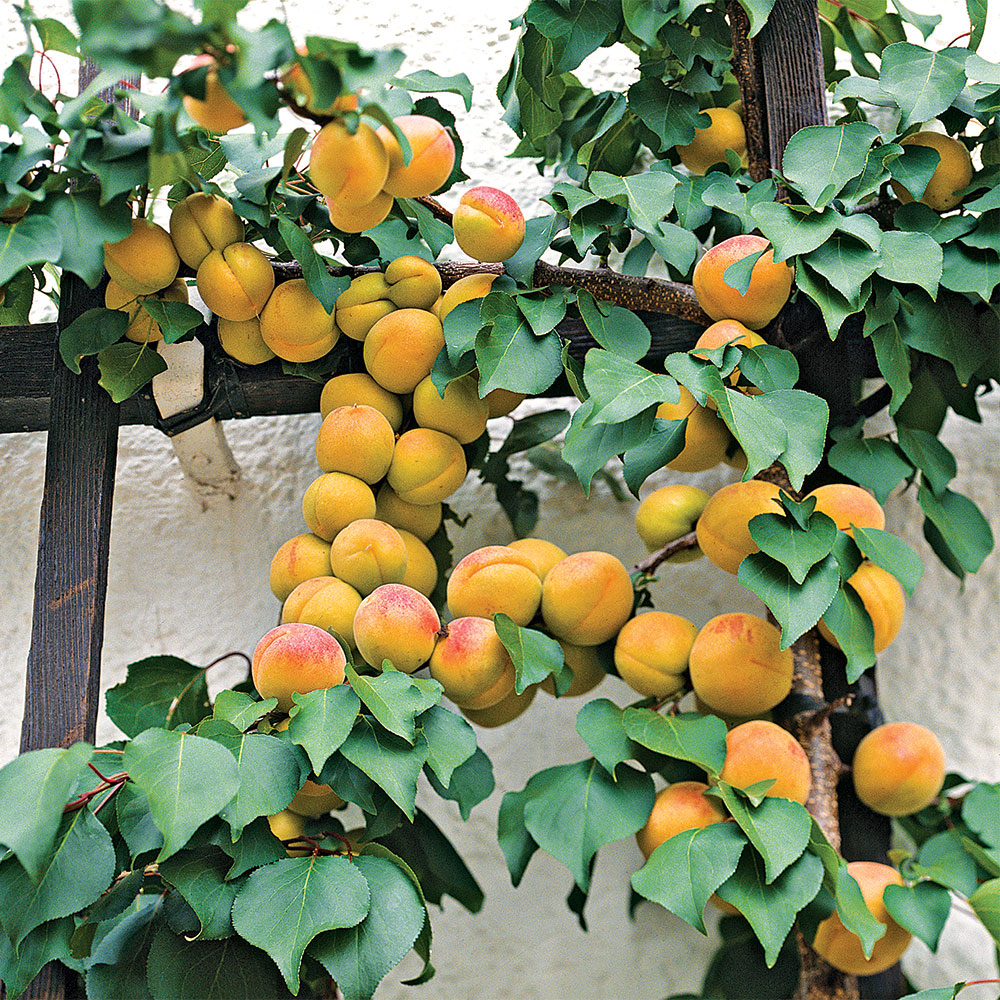 Name: Prunus armeniaca 'Pixie-Cot'
Zones: 6–9
Absolutely the best apricot variety you can grow when space is limited, 'Pixie-Cot' is a self-fruiting, high-yielding tree reaching 8 to 10 feet tall at maturity. It is easily kept lower with summer pruning. Uniform and of excellent quality, the medium-size, golden apricots ripen in early summer and are deliciously sweet and juicy— just like succulent apricots should be. Plant this lovely little apricot in full sun and compost-amended, well-drained soil. Water regularly for best results.
6. 'Violette de Bordeaux' fig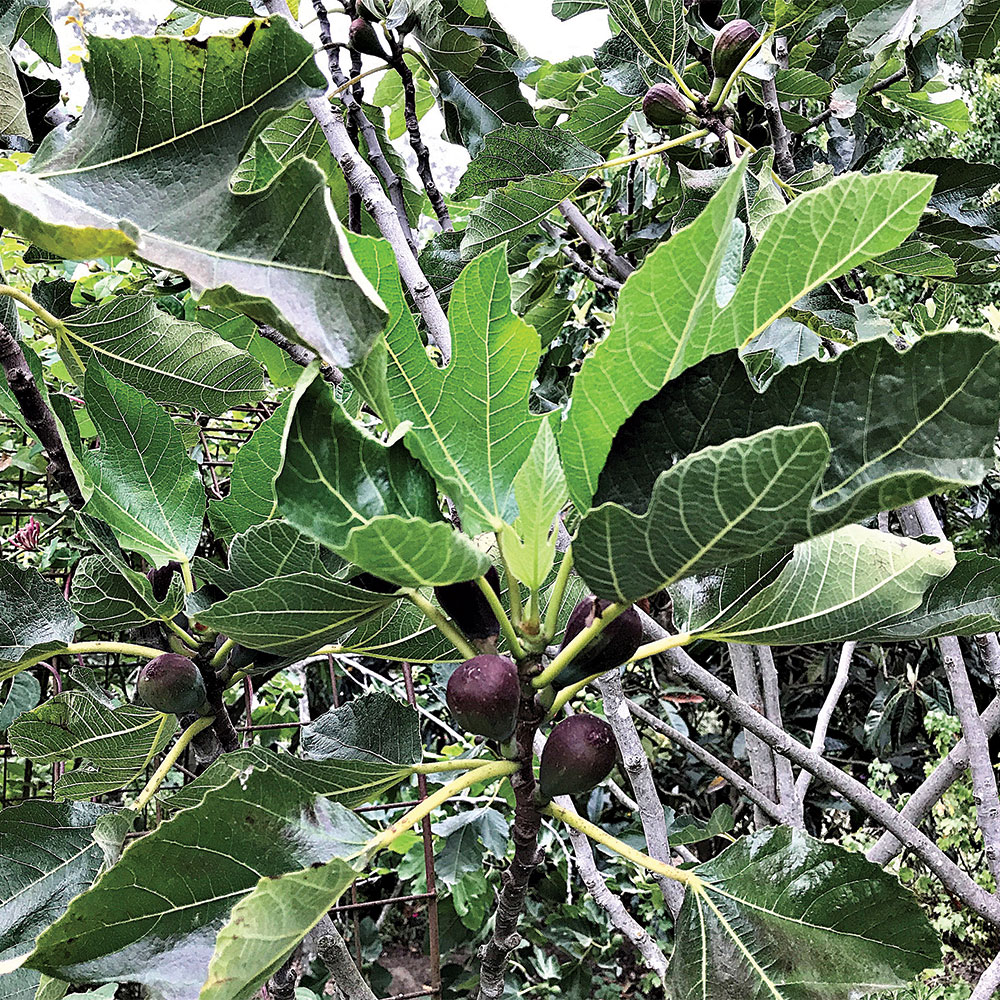 Name: Ficus carica 'Violette de Bordeaux'
Zones: 6–11
This fig has been grown and loved in the United States since the 1900s and is an outstanding, naturally dwarfing tree that's ideal for small spaces and containers. Reaching only 10 feet tall at maturity without pruning, this vigorous heirloom is self-fruiting, productive, and tough, resisting pests and disease and tolerating coastal conditions and temperature extremes easily. 'Violette de Bordeaux' is a beautiful tree that yields a moderately generous crop (two harvests per year in warmer zones) of rich, sweet, small, purple-black fruit that is excellent fresh or dried. Hands-down, 'Violette de Bordeaux' is my all-time favorite fig (I grow six different varieties in my Northern California garden). Plant it in full sun and in rich, well-draining soil, and remember to water lightly but regularly for best results.
7. 'Arctic Sprite' miniature white nectarine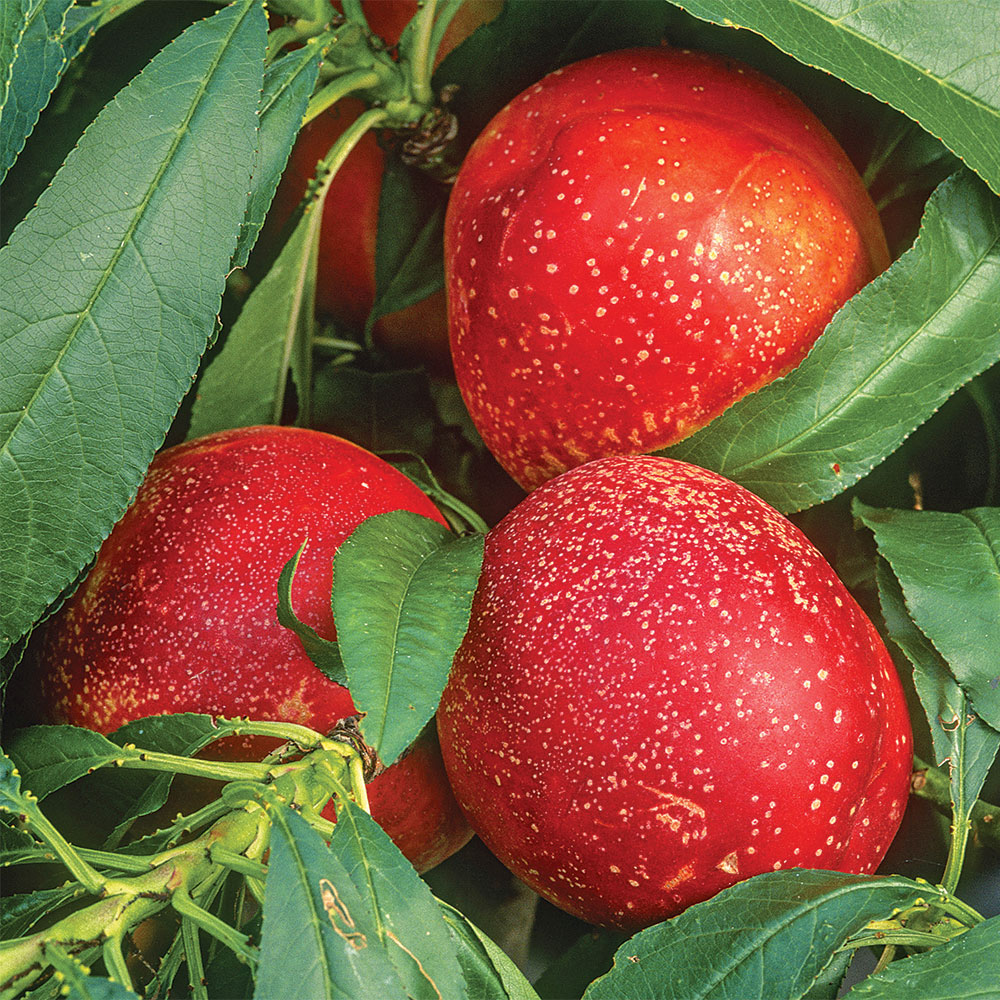 Name: Prunus persica var. nucipersica 'Arctic Sprite'
Zones: 6–9
A delightful new introduction for 2020, 'Arctic Sprite' is an attractive, self-fruiting tree that reaches 5 to 6 feet tall at maturity with no pruning at all and produces midsummer harvests of delicious, white-fleshed, super-sweet, freestone nectarines. Grow 'Arctic Sprite' in full sun in well-drained, well-amended soil, and avert peach leaf curl with copper spray while dormant. Perfect for half–wine barrels or other containers of a similar size, this tree is equally charming gracing the back of a sunny perennial bed.
---
Fionuala Campion is the owner and manager of Cottage Gardens of Petaluma in Petaluma, California.
Sources
To learn more about growing dwarf fruit trees, check out How to Grow Dwarf Fruit Trees.
View Comments