Kitchen Gardening
The Best Heirloom Tomatoes in Town
These 10 varieties are tops in flavor, color, and performance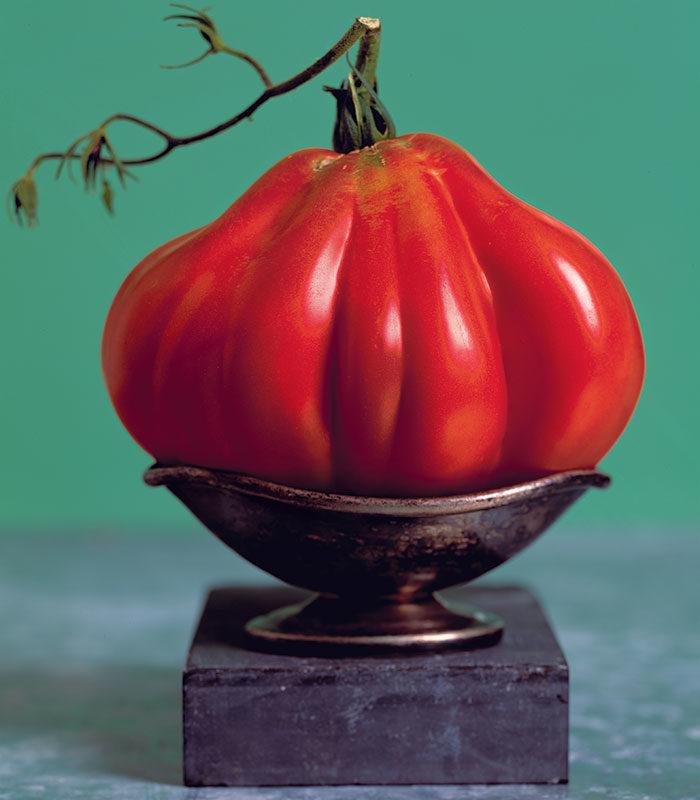 I've been growing tomatoes for—yikes!—almost 40 years. This is no casual acquaintance. We're talking true intimacy here, so I have a strong bias toward these fleshy, luscious, savory fruits. The most delicious tomatoes of all are heirlooms, usually ripened on indeterminate vines in full sun. Heirloom tomatoes, like 'Goldman's Italian American', have become the backbone of my garden—and gardens across the country—because they taste so damn good and are so versatile in cooking. With so many people returning to vegetable gardening and newbies just starting out, there's a hunger among these gardeners for natural beauty and flavor, which the industrial-strength, store-bought tomato simply can't satisfy.
There are many definitions of "heirloom tomato." Here's mine: a tomato of value that breeds true from seed (produces offspring like the parent) and can, therefore, be handed down to the next generation. Many are oldies but goodies and some are of a more recent vintage, but all of them are keepers, worth preserving. Most modern hybrids, by contrast, are notorious for their unyielding flesh and blandness. Even more worrisome to me, however, is that the saved seeds don't "come true." Some people think that heirloom tomatoes are a rarefied commodity only for gourmet foodies, but that's just not so. The heirloom tomato is the people's tomato, bred by amateurs, farmers, and gardeners—and designed to be homegrown.
People often ask me, "What's your favorite tomato?" I usually balk at that question because I've got 200 favorites. But I consider what follows to be a representative sample of the most beautiful, delicious, and unusual tomatoes in my garden—and in the world, for that matter. Most have excellent flavor and table quality, but taste isn't always the most important criterion for judging a tomato. Many tomatoes rated as only fair in flavor will grow in adverse conditions where fine-flavored tomatoes wouldn't prosper.
Tips for growing better tomatoes
Retrofit your tomato cages for better strength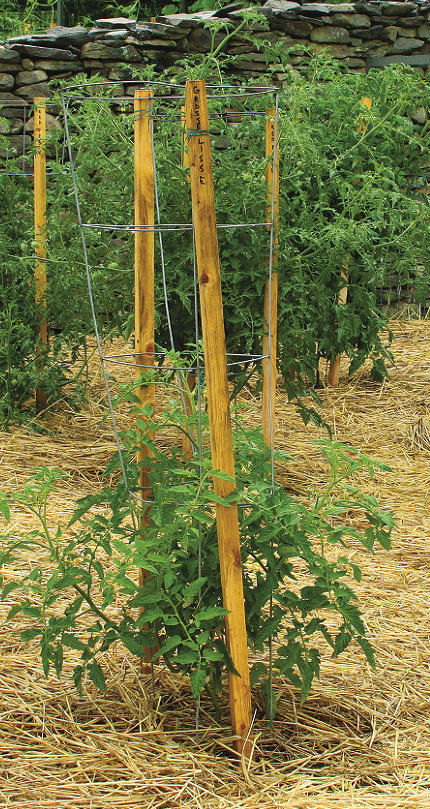 Providing upright supports for tomato plants will increase air circulation and sun exposure, prevent disease and insect damage, and lead to earlier and higher yields. I like to give the cages added support by reinforcing them with two pine furring strips (slats of wood that measure 5 feet long and 2 inches wide and 1 inch thick). These are driven into the ground with a sledgehammer and secured on either side of the cage with wire ties. I write the plant name on each furring strip at eye level to make it easy to identify later.
I recommend buying metal tomato cages that are sturdy, at least 5 feet tall, and have four rungs.
Give your tomato plants room for better harvests
The keys to my success with tomatoes are mulch and space. I use a black fabric mulch and top it with a layer of sterile straw; this helps keep moisture in and weeds out. I also abide by strict spacing in my beds: 5 feet between plants in a row and 7 feet between rows; this ensures proper airflow and robust harvests.
Great Heirloom Tomato Varieties
A sauce tomato like no other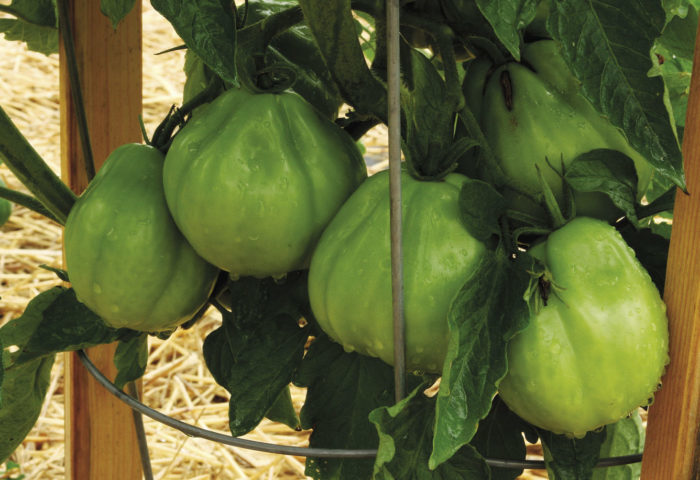 Name: 'Goldman's Italian American'
Plant habit: Indeterminate
Yield: High
Maturity: 66 to 80 days
Uses: Multipurpose but particularly great for tomato sauce
Tasty tidbit: This voluptuous, rich red tomato (unripe fruit, pictured) makes the creamiest sauce imaginable. I named 'Goldman's Italian American' for my father's Brooklyn grocery store. It went gangbusters in the extreme Northeast rains of last year, producing buckets of 1-pound fruit.
Offers more than just good looks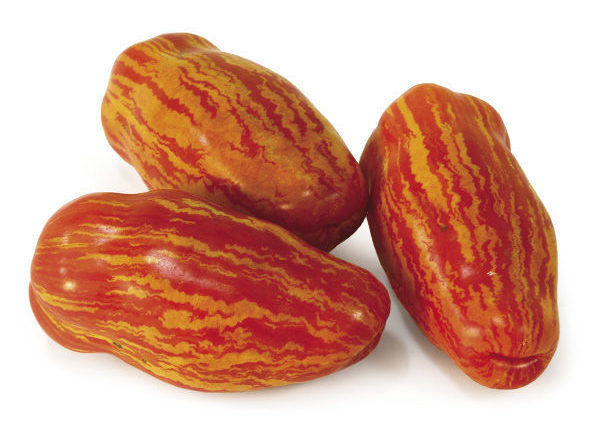 Name: 'Casady's Folly'
Plant habit: Determinate
Yield: Good
Maturity: 66 to 80 days
Uses: For slicing; makes a delicious dark sauce
Tasty tidbit: This variety is psychedelic (like a vegetable version of a Jimi Hendrix poster) with wavy zigzag stripes on the outside and excellent flavor on the inside.
Small, sweet, and wildly prolific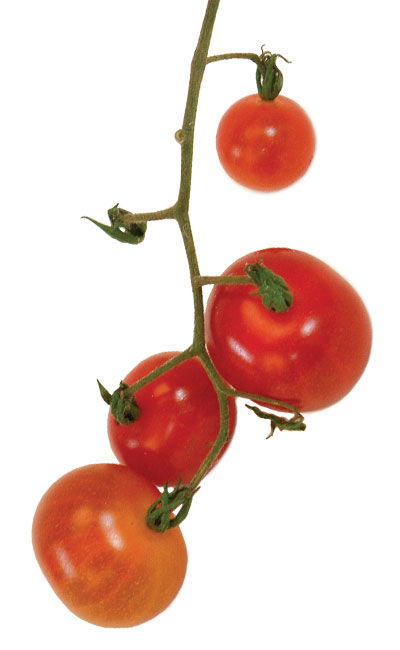 Name: 'Sara's Galapagos'
Plant habit: Indeterminate
Yield: High
Maturity: 45 to 50 days
Uses: Fresh eating, for garnish, and excellent in preserves
Tasty tidbit: With tremendous flavor and monumental output, this tomato wins the prize for being the most prolific and crack resistant. Be forewarned—this plant spreads vigorously and is often mistaken for a weedy tangle. Found in the Galápagos Islands and named for my daughter, this tomato is well worth the garden space.
Easy to grow but hard to stop eating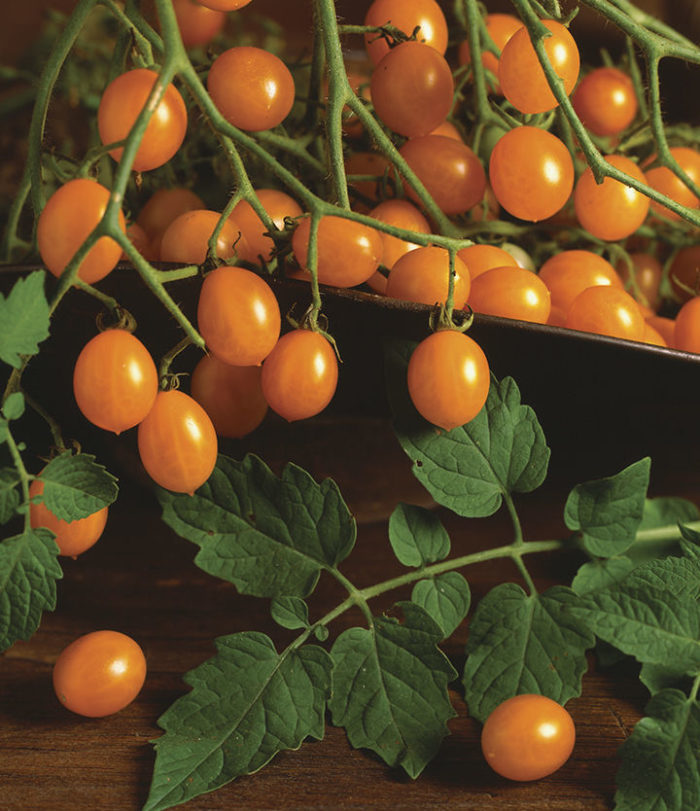 Name: 'Blondköpfchen' (BLOND-kawpft-chen)
Plant habit: Indeterminate
Yield: High
Maturity: 51 to 65 days
Uses: Multipurpose but especially great in salsa; can also be used ornamentally
Tasty tidbit: This is an excellent yellow baby plum tomato borne on huge sprays. Growing multiflora tomatoes (those that produce large, multibranched clusters of small flowers), like these, is effortless and rewarding.
A tough-as-nails tomato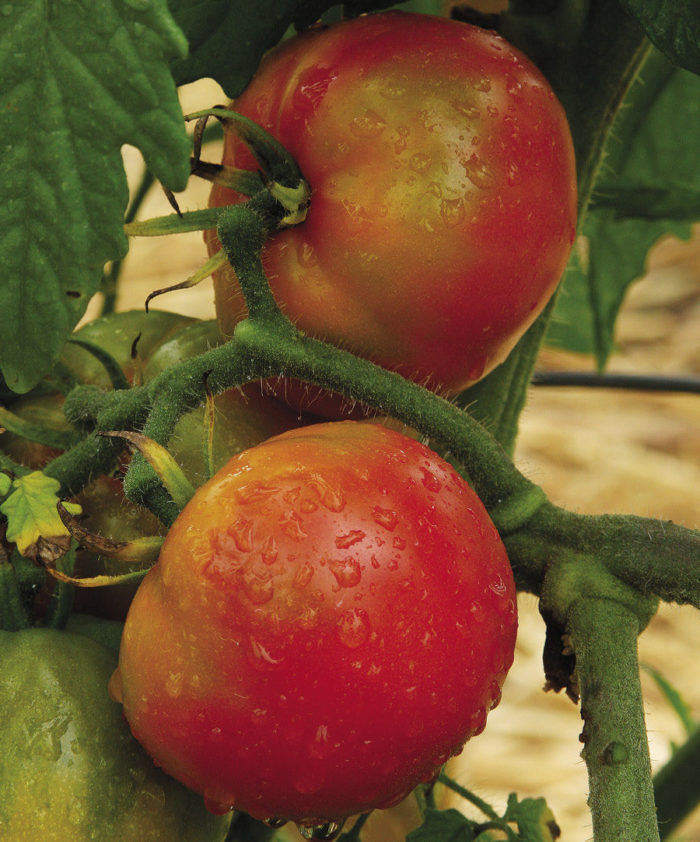 Name: 'Bison'
Plant habit: Determinate
Yield: High
Maturity: 45 to 50 days
Uses: Multipurpose but is best for short-season areas
Tasty tidbit: This variety thrives in adversity of all kinds, from drought to floods to high winds to extreme temperature fluctuations. It sets copious amounts of fruit early. Even though the flavor isn't the best (low acid and sugar), it can be improved by a sprinkle of salt or sugar.
If you only grow one variety, this is it
Name: 'Flamme'
Plant habit: Indeterminate
Yield: High
Maturity: 51 to 65 days
Uses: Multipurpose—for anything from eating right off the vine to cooking with eggs for breakfast
Tasty tidbit: No list of favorites is complete without 'Flamme'. It has an excellent germination rate from seed (100 percent within six days), and the fruit is endowed with beauty and intense flavor. It gets my highest accolade: It reminds me of apricots.
Pretty, pink, and perfect for roasting
Name: 'Thai Pink' (also 'Thai Pink Egg')
Plant habit: Determinate
Yield: High
Maturity: 66 to 80 days
Uses: Thai cooking or ornamental
Tasty tidbit: This is one of the most interesting tomato varieties. The flavor can be acidic, but the color—ripening from an egg white to a grayish rose—is extraordinary. This one should be grown for its looks alone.
Behemoth fruit that are worth the wait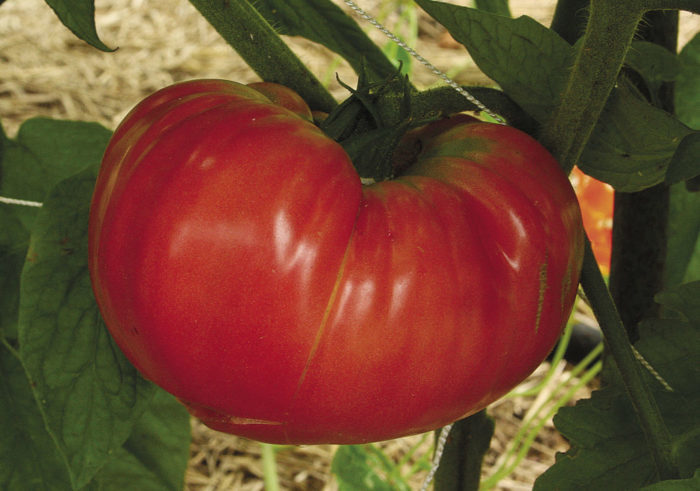 Name: 'Sudduth's Brandywine'
Plant habit: Indeterminate
Yield: Low
Maturity: 66 to 80 days
Uses: Fresh eating and for juicing
Tasty tidbit: This tomato has a rich flavor and a rich history. These pink globes have grabbed the limelight like no other for their meaty juiciness. Fruit often approach 2 pounds each. It is not the same as the original 'Brandywine' introduced in 1889 but, rather, a family heirloom from Tennessee.
An unexpected color and an unbeatable flavor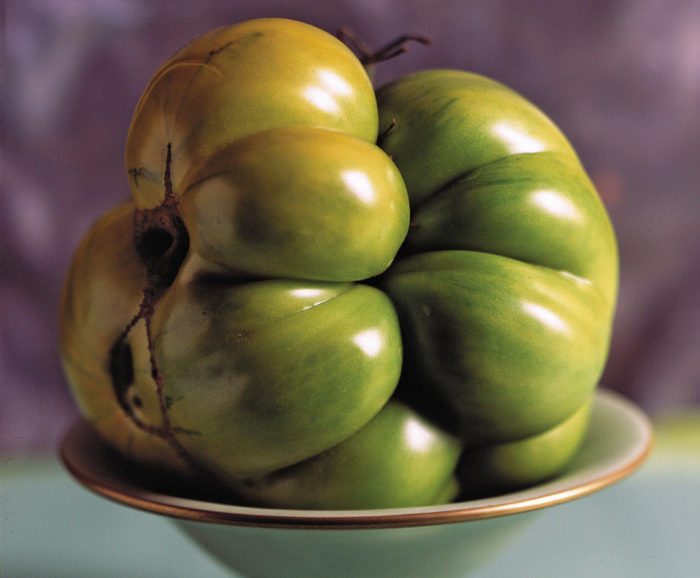 Name: 'Aunt Ruby's German Green'
Plant habit: Indeterminate
Yield: Low
Maturity: 51 to 65 days
Uses: Fresh eating
Tasty tidbit: This tomato has a finely balanced flavor: soft, melting, and custardy. Ruby Arnold ate these green-when-ripe tomatoes well into her 90s, which may have been a key to her lon­gevity. Fruit are usually well over 1 pound apiece and are overripe when amber in color.
Tastes like a plum—without the pit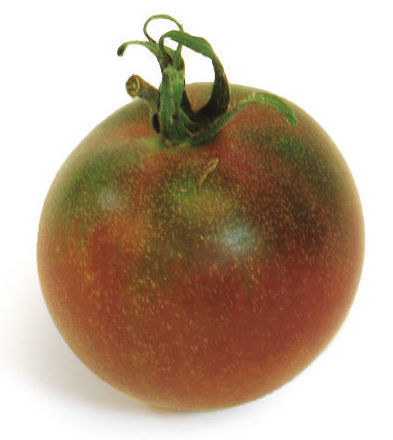 Name: 'Black Cherry'
Plant habit: Indeterminate
Yield: High
Maturity: 45 to 50 days
Uses: Fresh eating, for garnish, and great in focaccia bread
Tasty tidbit: There aren't enough superlatives to describe the flavor of this maroon cherry tomato. It's fruity and surprisingly sweet, like plums or cherries.
---
Oven-roasted tomatoes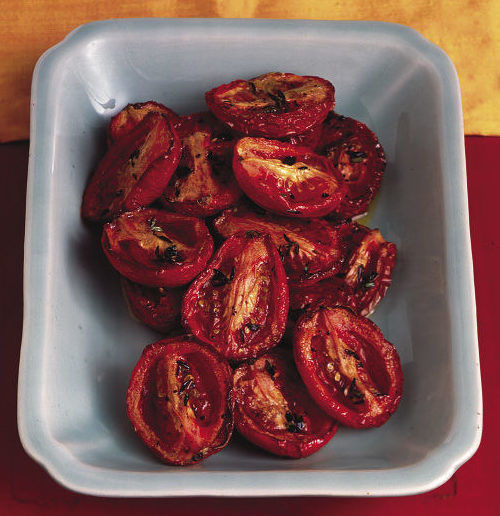 This quick-and-easy recipe is the perfect way to enjoy your plum tomatoes in something other than sauce. Once they are taken out of the oven and cooled, pair them with a piece of crusty Italian bread and a slice of mozzarella.
Yield: 20 tomato halves
10 small to medium-size plum tomatoes
2 Tbs. garlic-infused olive oil
1 tsp. salt
1 tsp. freshly ground black pepper
2 Tbs. chopped fresh thyme
Heat oven to 300°F. Cut the tomatoes in half, and put them, skin side down, on a rimmed baking sheet. Drizzle with olive oil, and season with salt and pepper. Sprinkle thyme over the top.
Roast until the tomatoes have wilted and shrunk by half. This should take 2 to 3 hours depending on the size of your tomatoes.
---
Amy Goldman grows hundreds of luscious tomatoes in Rhinebeck, New York, and is the author of The Heirloom Tomato: From Garden to Table.
Photos, except where noted: Danielle Sherry
Sources
View Comments